The Dodge, yes, Dodge GTX, 1970-1979
The Valiant—quickly renamed Plymouth Valiant—was an important move for Chrysler Corporation, since it was about to be challenged in the United States by small Chevrolets and Fords, and was rapidly losing its relevance in Europe, South America, Australia, New Zealand, and Africa. Naturally, the job of creating the Valiant was delegated to an underfunded, largely unsupervised group of relatively youngsters—who produced a miracle.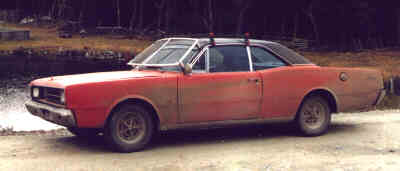 The Valiant was created to have either a four-cylinder or a small six, and indeed the first ones had the buyer's choice of a 170 or 225 cubic inch six-cylinder. The 225 was a late addition to the already crazy-rushed slant six project, and was largely intended for trucks and heavier cars at the time. Later, small V8s (the 273, then the 318 and 340, and finally the 360) were added to the mix.
In most parts of the world, four and six cylinder engines were the norm, and V8s were rarer, for various reasons—usually road size and fuel cost. The Valiant was just the thing; in Australia, it was even outfitted with a high-performance Hemi-headed inline six that set a long-standing speed record.
In South America, the Valiant and Dart spawned numerous Dodges—essentially the same car but with different styling and names taken from pricier American cars—Polara, Polara R/T, Coronado, Super Bee, and GTX. The American Polara was quite a large car, the Super Bee was a larger Plymouth stripped of creature comforts and loaded up with performance goodies, and the American Plymouth GTX was that same Plymouth loaded up with creature comforts and performance goodies.
South American Dodge dealers didn't just sell Valiants or Darts with sticker packages; the sheet metal and fascias were reworked, leaving sportier, more aerodynamic, and rather different-looking cars which in some ways resembled 1968 Chargers more than 1960 or 1970 Valiants. What's more, the cars were based on the first (1960-66) generation of Valiants, not the second generation.
The Polara was low on the price spectrum, and came with the slant six; the Dodge GTX, on the other hand, came with a 318 cubic inch V8 and a vinyl top. And then there was the Dodge Charger R/T, styled like the US Charger, but on a totally different car. Both the GTX and Charger featured an American-Charger-style "sport" gas cap and aluminum wheels, not to mention a center console between the front seats; it was a far cry from the American Valiants with their usual bench seats and low trim.
One wonders what would have happened if Chrysler had tried selling these cars in the United States, or at least redoing the Valiant and Dart to be more upscale in appearance. If nothing else, they would have been better prepared for the 1973 oil embargo.
Different varieties were made in different places; Chrysler built "A-body" cars in Argentina, Brazil, Columbia, South Africa, and Venezuela. However, the GTX would only be made in Argentina, by Chrysler-Fevre Argentina S.A., which sold their cars as Dodges. The company was started in 1959 as Fevre y Basset, making its first cars (in a joint venture with Chrysler) in 1962; they changed their name to Chrysler Fevre Argentina in 1965. Their plant and offices were in Buenos Aires.
Prelude: Valiant
Francisco J. Bóscolo pointed out that the Valiant first arrived in 1962; it had just the one 225 cubic inch engine into 1963, hooked up to a manual transmission. As it was an economy car in the United States, it was made and sold with few frills in Argentina; a taxi version came out shortly after. The Polara was added to bring up the feature list.
The Valiant III arrived in 1964, and in 1965 they started using the Coronado name as well. The Coronado in Europe was a limousine; in South America, it was a luxury Valiant III. Likewise, Chrysler brought out a Valiant III GT with a shorter differential and dual carburetors. That intake and carb setup is, needless to say, extremely rare and sought after.
The Valiant IV series came out in 1966, essentially the same but with a floor shift on the GT. The compression went up to 8.4:1 in 1968, but the GT went down to a single two-barrel carburetor.
The 1969 Dodge cars formerly known as Valiants—that name was dropped after 1968—took up the appearance of the Dodge 3700 GT from Spain (basically the same car), with a different grille and lights; the 3700 had a less powerful engine and less equipment, while the new Polara was somewhere above it. The Polara and Coronado both had a vinyl roof and some luxury features, with front disc brakes and the 225 engine. The Dodge Polara GT took up the mantle of the old Valiant IV GT, adding ten horsepower from the two-barrel carb (to 155 hp, gross).
The Dodge GTX arrives
For 1970, the Dodge Polara had a four-speed manual option; the Coronado had an optional automatic and, now, a coupe. The new Dodge GTX had a vinyl roof, and either the dual-carb GT engine or a 318 V8, with a four-speed manual either way. The 318 was rated at 212 hp (gross), with 308 lb-ft of torque. 0-62 mph (0-100km/h) came in 10.2 seconds, with a 117-mph top speed. The air cleaner featured, in bold letters, "V8 318."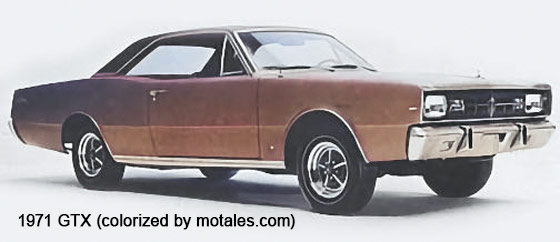 The Dodge GTX was officially classed as an executive car, and it was considered to be a luxury coupe. However, the main reason for its existence was because the Polara and Coronado were seen as luxury vehicles, not sporty cars. The GTX, while seen as luxurious, was clearly meant to be sporty, and caught the eye of buyers who would ignore the similar Coronado.
Even with the 225, the GTX carburetor was different from the American Valiants and Darts. The Carter BBD 4300S two-barrel was an advantage over any American slant six of the time. The engine, so equipped, was rated at 155 hp (SAE gross) and 220 lb-ft of torque; the DIN measure was 138 hp, net. The GTX was 197.8 inches long, 75 wide, 56 high, with a 110.6 inch wheelbase.
The 1972 Dodges were restyled with new grilles and lights, and the gauges were restyled as well. A beige interior was optional now; otherwise the only color was black. Gauges could be white with black letters, or black with white letters. The GTX was now a V8 only; the Polara Coupe went down to drum brakes and a three-on-the-tree, with front discs and four-on-the-floor optional. The magazine Corsa tested a base Dodge Polara coupe, and found a 12.1-second 0-62 with the slant six; the top speed was 107.
The 1974 Dodge Coronado got a standard automatic; in the same year, the Polara R/T was created, using a hotter version of the 225 slant six (using Chrysler Argentina's modifications). This was rated at 174 horsepower and 246 lb-ft of torque (gross, not net, figures). It was a well equipped car—and dropped the vinyl roof. The magazine tested it 0-62 and got an 11.5 second time. A diesel appeared in 1977 ads.
The cars went out of production around the end of 1979, with the closure of Chrysler Argentina. However, that was just the start of many GTXs' lives, as they were raced in the Turismo Carretera class; during the 1980s, the GTX won eight out of ten championships, thanks to their aerodynamics, reliability, and torqrue.
Dodge also made cars from Rootes Group, particularly the 1500; after Chrysler shut down, Volkswagen restyled the car and kept it going into 1988.
1970 Dodge GTX Specifications
| | | |
| --- | --- | --- |
| Specs | Metric | Imperial |
| Height | 1.4 m | 56 in. |
| Length | 5 m | 198 in. |
| Width | 1.9 m | 75 in. |
| Front track | 1.2 m | 55.9 in. |
| Back track | 1.5 m | 57 in. |
| Wheelbase | 2.8 m | 111 in. |
| Weight | 1590 kg | 3,505 lb |
| | | |
| Displacement | 5.21 liters | 318 cu in. |
| Compression | 8.5:1 | 8.5:1 |
| Torque | 42.6 kgm | 308 lb-ft |
| Fuel Capacity | 68 liters | 17.966 gal |
| Antifreeze | 15.65 liters | 4.14 gal |
| Max in 1st | 60 km/h | 37 mph |
| Max in 2nd | 89 km/h | 55 mph |
| Max in 3rd | 128 km/h | 80 mph |
| Max in 4th | 189 km/h | 117 mph |
| Clutch | 266 mm | 10 in |
| Front discs | 277.6 mm | 10.9 in |
Powertrain specs
| | |
| --- | --- |
| Spark Plugs | Champion N11Y |
| Horsepower | 212 at 4400 rpm |
| Carburetor | Carter BBD 4949S |
| Battery | 12V - 48A/h |
| | |
| 1st gear | 3.09:1 |
| 2nd gear | 2.10:1 |
| 3rd gear | 1.45:1 |
| 4th gear | 1:01 |
| Reverse | 2.67:1 |
| Differential | 2.87:1 |
| Mechanical steering | 24:1 |
| Power steering | 16:01 |
| 0-100km/h (0-62mph) | 10.2s |
| 0-140km/h (0-87mph) | 20.1s |
Books by MoTales writer David Zatz
Copyright © 2021-2023 Zatz LLC • Chrysler / Mopar car stories and history.