Plymouth cars: Chrysler's value brand, 1928-2001
All of our Plymouth car stories so far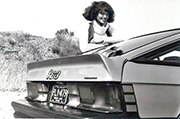 Plymouth TC3/Dodge O24: Lee's "second Mustang"
Quick little coupes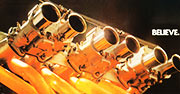 Kangaroo Hemi Six
Record-setting V8-beaters for Australian Valiants

Plymouth police cars of 1976
Downsized but strong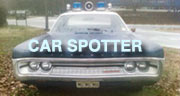 Car Spotter: 1971 Plymouth Fury Pursuit Car
Big and classy police car
1965 Plymouth Daytona?
It might have happened!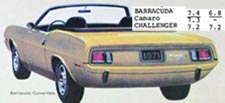 What did buyers think of the 1971-73 Mopar cars?
Market research revealed
Plymouth Cricket/Hillman Avenger (and the Dodge Polara, 1500, and 1800 and VW 1500) around the world
Global cars long before the Escort and Omni

1971 Dodge, Plymouth, and Chrysler cars
All the '71s

Birth and life of the Road Runner
Jack Smith creates a muscle legend

Car Spotter Plymouth Twofer: Belvedere and Horizon
New and old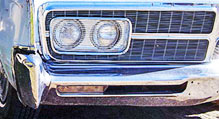 Car Spotter: Imperial Crown and Valiant
A classy 1965 Imperial Crown and a neglected 1960 Valiant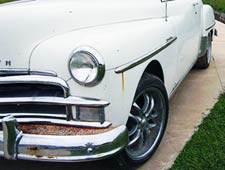 Car Spotter: 1950 Plymouth
Well-preserved 1950 Plymouth Special DeLuxe being sold in 2017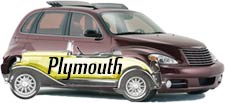 Plymouth cars: Chrysler's value brand
From 1928 to 2001, boom and bust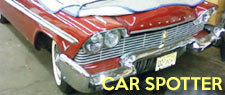 1957 Plymouth Belvedere Convertible
Car Spotter #1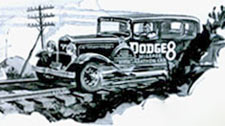 Chrysler 1929-30 vs General Motors
Snapshots of Chrysler, DeSoto, Plymouth, and Dodge, and technology comparisons to GM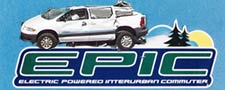 Electric minivans (the originals): TEVan and EPIC
Chrysler invented the electric minivan - three generations of them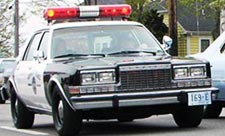 Prototypical police cars: Dodge Diplomat and Plymouth Gran Fury
Inside the M-body Dodge Diplomat and Plymouth Gran Fury that defined how police cars should look for at least a decade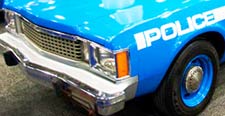 Mopar police cars of 1980: St. Regis/Gran Fury, Aspen/Volare, B-Van
The last of the big Plymouth and Dodge police cars, in their penultimate year, with the final F-body squads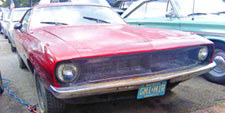 Plymouth Barracuda and Belvedere: Car Spotter #24
Spotting two vintage Plymouths - a flop that's now valuable, and a hit that isn't quite so popular today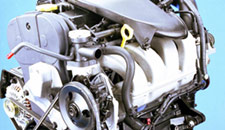 Neon 2.0: the final all-Chrysler four-cylinder engines
How the Neon ended up with a class-leading four-cylinder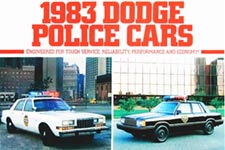 Mopar police cars of 1983: Diplomat/Gran Fury and Reliant/Aries
Two quite different approaches to police cars, with front and rear wheel drive, powered by V8 and four-cylinder engines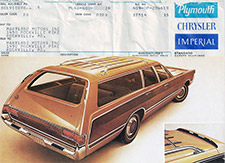 Inside the Monroney: 1970 Plymouth Suburban
Explaining every aspect of the 1970 Plymouth car price sticker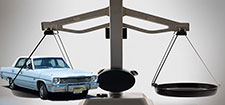 How much did it weigh? 1974 Valiant/Dart, 1972 Imperial, and their options
Diving into weight figures for cars at opposite ends of Chrysler's spectrum—the Plymouth Valiant/Dodge Dart and Imperial LeBaron

Sticker and receipt: 1993 Plymouth Sundance
Diving into the Monroney price sticker and bill of sale for a 1993 Plymouth Sundance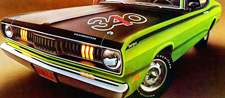 1970-1976 Plymouth Duster and Dodge Demon
Sporty compact cars based on the Valiant, running everything from the slant six to the hot 340 and 360 V8
Plymouth cars (a brief history)
The first Plymouth was a continuation of the Maxwell. After Walter Chrysler took over Maxwell Motors and put it into a new Chrysler Corporation, he dropped the Maxwell name and put the car, with new styling and features, into the Chrysler stable as the 50 and 52 (indicating their top speeds). Since Chryslers at the time had six-cylinder engines and the Maxwell had a four-cylinder, most people call this car the Chrysler Four. Regardless, it did not sell as well as it could have, though it did sell fairly well.

Chrysler relaunched it as an "all new" car, the Plymouth, on July 7, 1928, with another year of improvements. The Plymouth name was credited to the Pilgrams, but was really inspired by a farmer-trusted brand of twine, according to Joseph W. Frazer, head of sales. It was briefly sold as a "Chrysler-Plymouth," and despite being "all new,"  kept the prior year's Chrysler styling and 109 inch wheelbase. The new Plymouth Model Q also sold for much more than the top selling cars, the Ford and Chevrolet—the Plymouth sedan was $695, while the Ford was $585 and the Chevrolet was $495. Part of that money went towards the first four-wheel hydraulic brakes of any low-priced car.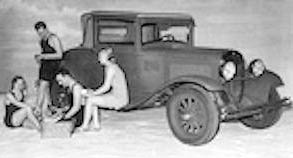 The 45-horsepower engine topped Whippet and Ford, and powered the car to 60 mph—well above the prior year's 52 mph. Engineering changes included full force-feed lubrication, larger intake valves, more durable exhaust valves, vibration dampening, an oil filter, an air cleaner, and an updated manifold. Buyers saw a new chromed radiator and new crown fenders; inside, they had a smooth ride, thanks partly to new suspension parts. The Plymouth was "hot stuff" when compared with the prior year's Chrysler 52.
Model Q production ended February 4, 1929, with 60,270 made in the USA and 5,827 in Canada, good for #15 in the sales rankings. the Model U which replaced it had few changes; the engineering focus was on the engine, which got bigger bearings, a longer stroke, and a rerouted exhaust. Engineers replaced the vacuum tank with a fuel pump and hydraulic shocks replaced friction models.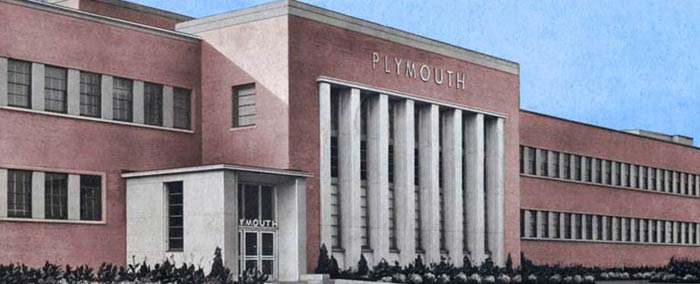 Chrysler built a new Plymouth plant at Lynch Road and Mount Elliott Avenue, which makes one wonder about the off-cited claim that they bought Dodge Brothers so they'd have production capacity to make Plymouths (Dodge Main remained dedicated to Dodges). With 23 acres of floor space, Lynch Road was the world's largest car plant; it is still up today, though not making cars.
Despite the Great Depression, Plymouth sales doubled in 1930. For 1931, friction-free coasting was added for thrifty buyers, along with an automatic spark advance, forming the Plymouth PA. The marketing focus was on "Floating Power" (Chrysler's rubber engine mounts). This was the first completely new Plymouth, and it had cost Chrysler $2.5 million and two years. It certainly looked more "styled." It was enhanced in 1932, in the Model PB, with a more rigid X-member frame and a three inch longer wheelbase (designed to make it look more like a six-cylinder).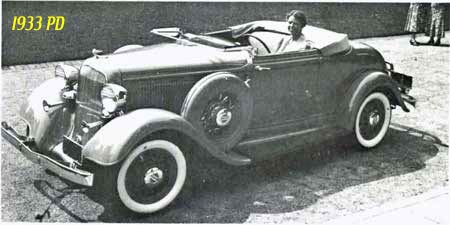 The company spent $9 million, in the depths of the Depression, to develop and produce the 1933 Plymouth PD, whose new L-head six-cylinder engine was rated at 70 horsepower. Yet, the price was now $495, a major drop. The one millionth Plymouth came in 1934—it was a PE model, whose main addition was an independent coil-spring front suspension.
Plymouth continued to innovate and reinvent their cars until World War II stopped production early in 1942. The 1946-48 postwar cars were extremely similar but with a new gasoline pump, tank-based fuel filter, and low-pressure tires. The next car was the 1949 -50 model, which followed some "cab forward" principles—overhangs were cut and the wheels pushed to the corners; but customers increasingly wanted high style, V8 engines, and automatic transmissions, and Plymouth had none of these.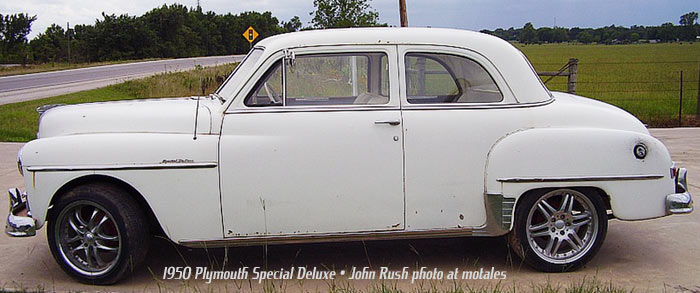 The 1951 Plymouth line went to modern-style model names rather than calling cars Deluxe, Special Deluxe, etc, though there was still just one car in several states of trim. The 1954 Plymouth finally gained a two-speed automatic, and the 1955 had a V8 engine (157 hp) and optional air conditioning. The 1955 models had much more modern styling, and were long, sleek, and low, as buyers wanted them to be; they sold quite well.
The first truly "in fashion"  Plymouths were the 1957 models, raced into production without much testing, and they were an absolute disaster—coupling superb sales with awful quality, giving the entire Chrysler Corporation a black eye it would never recover from, wiping away its "care in engineering" reputation (even though the problems were fixed in the 1958s). The massive switch of design from body-on-frame to unibody construction, which took place under the skin of every Chrysler vehicle (except Imperial and some wagons) in the 1960 models was a result of that—the company needed better rustproofing, but they could not pull cars through rustproofing baths with the body-on-frame design; the bodies had to be tougher. They switched to unibody designs mainly to gain that strength, to make rustproofing better.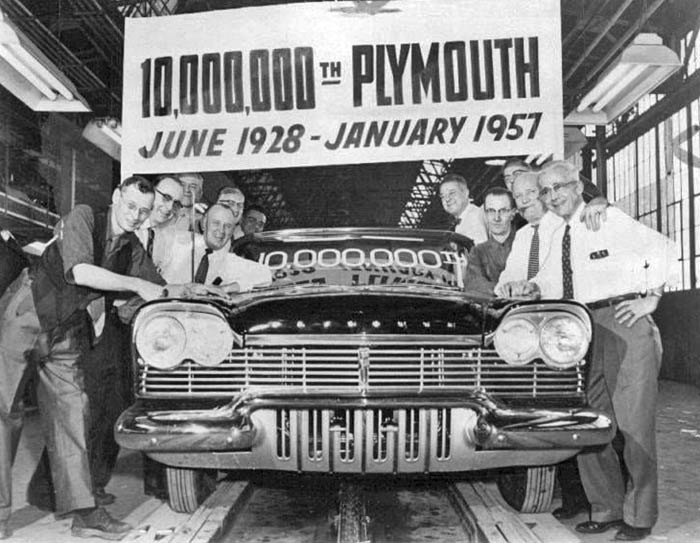 There was supposed to be a new brand in 1960, Valiant, but the new car ate so deeply into Plymouth sales that it was cannibalized; the Valiant became the Plymouth Valiant. Four years later, that car spawned a fastback version, the Valiant Barracuda (later just the Barracuda), to counter the upcoming Ford Mustang.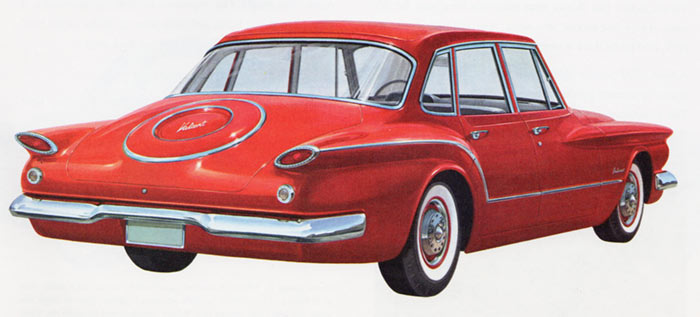 Plymouth led Chrysler through the muscle car years; it was the primary Mopar winner in NASCAR, the value-performance king with the 1968 Road Runner and 1970 340 Duster, and at least on par with Dodge everywhere else, but generally with a shorter wheelbase that made for a better power-to-weight ratio.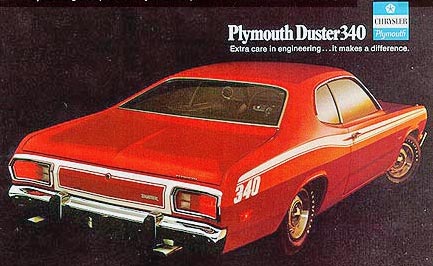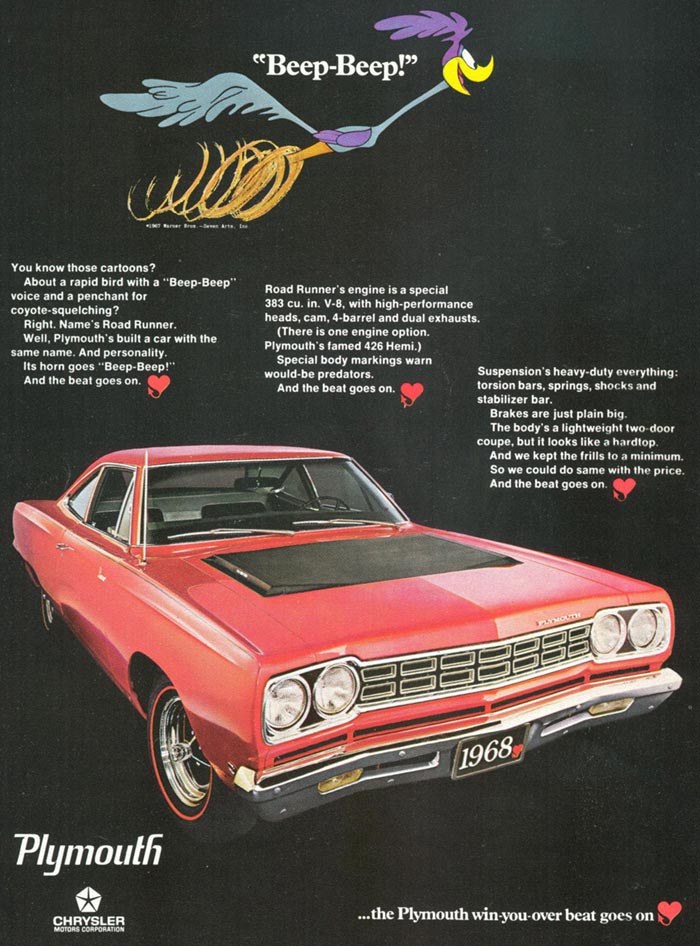 Not until the K-car era did Plymouth sales start falling to Dodge, which was still seen as a more premium brand—again, until 1974, pretty much every Dodge had a longer wheelbase than the equivalent Plymouth, with a higher price to match. The 1974 Valiant was the first one to be on a Dart wheelbase, a cost saving measure. As time went on, and Dodge's prices fell to meet Plymouth's, buyers chose the car with the more "costly" reputation.
When Lee Iacocca took charge of Chrysler Corporation, he decided that Chrysler and Dodge would have the more powerful engines to themselves, which limited Plymouth's range quite a bit. That decision lasted beyond Iacocca's time in charge, and Plymouth continued to lose sales to Dodge and Chrysler, which often shared the same body with only minor tweaks to separate them.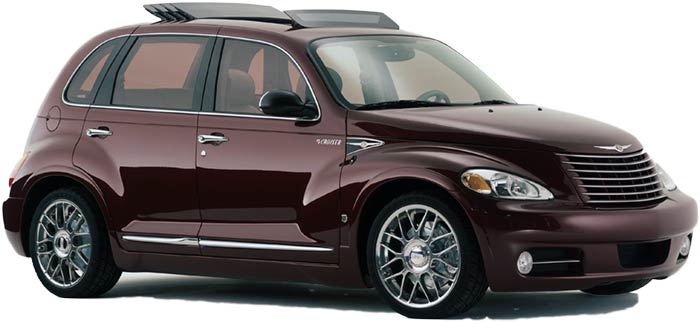 Finally, head of design Tom Gale proposed a new direction for each brand; like Iacocca, he saw performance as being Dodge's domain. Plymouth, though, would have immensely practical retromod cars, with the Prowler as their icon—as the Viper was Dodge's icon. The first of these was the PT Cruiser, which combined greater cargo space than the Neon with over a foot less bumper-to-bumper length and a smoother ride. However, DaimlerChrysler's leaders decided to kill off Plymouth, and the PT Cruiser, like the Voyager and Prowler, went to Chrysler. The last Plymouth ever made was a well-equipped Neon.
Follow us on Post! It's like Twitter, but without ads or Nazis!
Books by MoTales writer David Zatz
Copyright © 2021-2023 Zatz LLC • Chrysler / Mopar car stories and history.