Slashing the smart way: SCORE (Supplier COst Reduction Effort)
"Involving the supplier in the initial design of the vehicle, knowing they were going to get the business and that any savings up front were going to be shared equally with the supplier, turned the supplier into a Chrysler design, engineering, and manufacturing partner by default, with as much to lose as Chrysler if a mistake was made or subquality parts were used."  —Bob Sheaves
Lee Iacocca's resurrection of Chrysler started impressively, but was tied directly to his constant edicts. As Iacocca was distracted by politics, the death of his wife, and the Statue of Liberty resurrection, the company started falling downhill again. Fortunately, Lee allowed his underlings, including Bob Lutz, Tom Gale, Al Bosley, and others, to start a long-needed cultural change effort, which would tap the ideas and energy of every employee—even plant workers.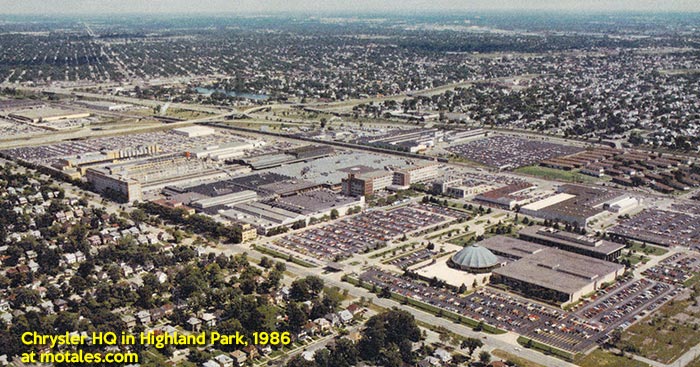 While it helps to get full use out of your own employees, it can also help to use outsiders, who may have different ideas and assumptions. With that in mind, Chrysler Corporation started up the tortured-acronym SCORE program (Supplier COst Reduction Effort) in August 1989. The goal was to cut costs; the incentive for suppliers was not just the success of a client, but a piece of the action—a cut of any savings they drummed up. SCORE encouraged proposals for cost reduction in design, manufacturing, logistics, sourcing, and administration.
In the past, if Chrysler had said, "If you save us $1 million we'll give you $500,000," suppliers would likely have laughed; the company had been known to get an idea from a supplier and turn to another supplier to actually have it made. This time, the company's leaders were trying to follow Toyota and Honda's model of having fewer, but more trusted, suppliers. Thus, from 1989 to late 1997, Chrysler reviewed 12,000 supplier ideas, saving $3.7 billion.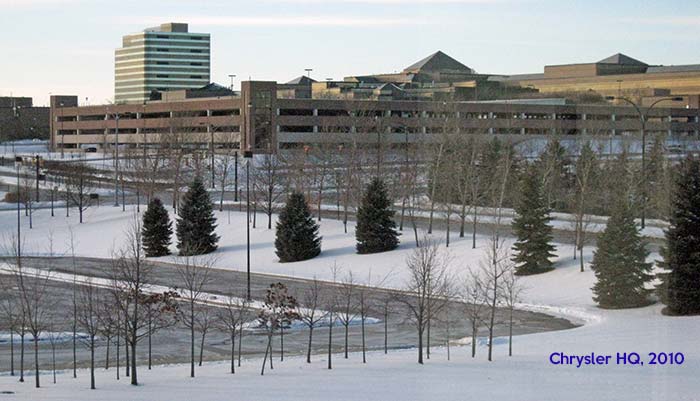 While Stellantis today is, like Fiat Chrysler before it, quite silent about cost initiatives, Chrysler Corporation was very open about what they were doing from around 1992 to early 1998; part of the reason was to gain credibility among the general public. Many still remembered the Carter administration's rescue of Chrysler in the 1970s, and then the stream of nearly-obsolete K-based cars of the early 1990s. Publicizing the details of how Chrysler had changed helped to alter perceptions of auto writers at the least, and the general public and supply chain at best.
Test case: Neon
Procurement rules were changed to fit the Neon, something unthinkable before or after. Something had to give; the Neon had a small budget ($1.3 billion) but was to be completely different from the cars that came before it. Indeed, the budget for creating the Neon, complete with new engine and transmission, was about the same as the budget for merging the Dodge Daytona suspension into a shortened Dodge Spirit to create the Dodge Shadow, creating a competitive, but not leading, compact car that sold at a loss.
Robert P. Marcell, general manager of the team, reportedly told his staff, "Don't tell me what you need to have, I'm telling you what we've got... There's no way to go back and ask for more money or resources. Our challenge is to get as much product as we can."
They cut the number of suppliers from over 500 on the Sundance/Shadow to 250 on the Neon, so they could build better relationships—and replace the "low-bidder" system run by Procurement with empowered sourcing teams, including Neon team engineers, to make decisions using new criteria. One goal was finding suppliers who could work effectively with them to develop systems or larger groups of parts.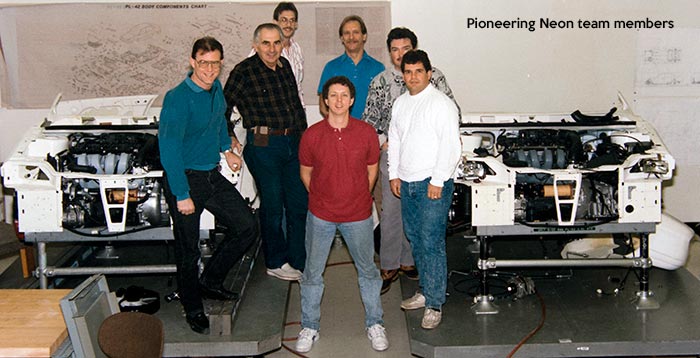 Major suppliers were chosen up to three years before production—before the Neon was approved; 80% of the money spent went to suppliers chosen well ahead of production time. Suppliers and Neon team members signed consensus agreements to define the parameters of investment, design needs, conformity, weight, and cost for each component or subsystem, which clarified mutual goals and prevented confusion or conflict later on.
Suppliers sent representatives to work within the team; they were sometimes responsible for large parts of the car, since they were subject matter experts. United Technologies, for example, led the engineering for much of the Neon's interior.
The Neon team cut down dramatically on the types of fasteners, using half as many as the Dodge Shadow/Plymouth Sundance which came before it. (The actual number of fasteners did not fall that much—despite errors by some pundits of the day—and the Neon was not as susceptible to rattles, aside from those caused by the frameless windows, as the cars before it.)
Textron's Davidson division developed machinery for and helped design the setup of the Belvidere satellite fascia plant. Body stampings were done by a new plant at Belvidere; underbody stampings came from Chrysler's Twinsburg Ohio plant; side glass was provided by Acustar's (formerly Chrysler's) McGraw Glass Plant in Detroit, windshields were supplied by Guardian Industries, and rear glass came from PPG.
Suppliers did not always meet their targets, and here the reaction was different than in the past. When Johnson Controls, for example, missed weight and comfort guidelines, Chrysler sent ten engineers to work with them. It took five days for them to agree on new weight, cost, and performance targets, which stayed final from that point in January 1991 to production in January 1994 (and beyond).
One non-obvious target was having both fold-down and fixed seats install the same way into the car, to ease final assembly (with a cost savings of around $1 million).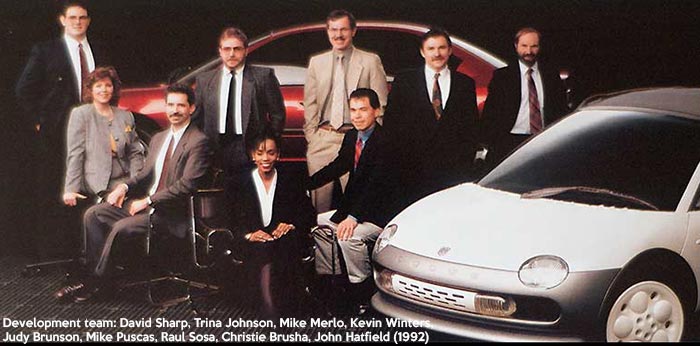 One major goal was to communicate better with suppliers, according to Neon procurement manager Bernie Bedard. With that in mind, supplier days (working sessions, rather than social networking) were held at key points in the development process; one included 900 supplier staffers and 300 Chrysler people, at the Belvidere plant. Bedard said, "We wanted to establish a good working relationship between our launch team and each of theirs." They had top management as well as project engineers, plant managers, and quality managers, with special symposia for executives of the top 30 suppliers. They also put machinery suppliers together with parts suppliers.
Going into manufacturing
Before full production started, the Neon team brought together people from manufacturing, engineering, and procurement to visit key suppliers and make sure they were ready to launch. Bedard said they reviewed machinery, personnel, training, quality systems, and such, and the team had to approve each supplier.
The Neon team also set up a materials management work group to improve scheduling, material handling, and inbound transportation of parts. One vendor suggested replacing cardboard boxes with reusable totes, to cut waste; rather than tossing cardboard into the trash and paying someone to remove it, they shipped the empty plastic boxes back. Fewer parts were broken this way, too. Overall, the plant saved hundreds of thousands of dollars.
The Neon did end up with some hefty design gaffes, but nearly all were from Engineering: poorly designed frameless windows, a noisy exhaust gasket, and a cheaper-than-specified head gasket (reputed to be a VP's decision).
Test case: Dodge Dakota
The original Dodge Dakota was engineered by an outside firm; the main Chrysler contribution, in terms of new engineering, was a 3.9 liter V6 engine created from the long-running 318 cubic inch (5.2 liter) V8. A brand new Dakota, destined to be a hit among critics and the public alike, was released for the 1997 model year, one of the very last vehicles created before Daimler stepped in.

In this program, SCORE found $27 million in savings (from 190 proposals) before production even started. According to Thomas Stallkamp, head of procurement, pointed out that involving suppliers earlier in the process brought more opportunity for savings. Two examples:
Textron Automotive of Troy, Michigan, made a panel below the rear window (above the back seats); in the past, the panel, whose sole purpose was to hide steel, was made by wrapping vinyl or cloth around foamboard. Textron suggested making a molded polypropylene panel instead, eliminating several manufacturing steps and saving $1.7 million.
Becker Manufacturing of Sterling Heights submitted ten cost-reducing proposals to Chrysler, saving $2.5 million in total. One of these was for a process that eliminated several manufacturing steps by using foam-filled trim panel bolsters; that removed $10 from each truck, while cutting two pounds of weight. They also switched from using fasteners to attach interior panels to the door, molding existing hooks onto each interior panel instead. That saved $200,000 and removed visible screws.
Head of Procurement Thomas Stallkamp told Chrysler's press writer, "Instead of bidding out every single part to the lowest bidder, we have established an honest two-way communication that allows us to work together and build a cost efficient automobile."
The Dodge Durango
Chrysler's new cross-functional team approach was applied first to the Dodge Neon and the large LH cars—vehicles at just about opposite ends of the spectrum—and from there on to the company's full-size pickups (Dodge Ram 1500), its small cars (Neon), medium-sized cars (Cirrus/Stratus/Breeze), the Dakota pickup, and the brand-new Dodge Durango, an SUV based on the Dakota.
The 1998 Durango was reportedly the biggest payoff in terms of SCORE, with $74 million in savings before production started—the result of 357 proposals from various suppliers.
Becker Group of Sterling Heights, Michigan, had two proposals which together saved $6 million by cutting part complexity and commonizing parts—which reduced manufacturing cost—and by improving the tooling designs to make the end product more cost efficient. Becker took a cut of the savings.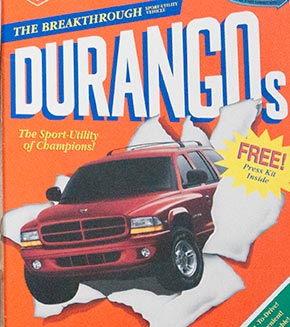 U.S. Steel cut almost $470,000 in costs by reducing the surface area of the wheelhouse, without compromising quality; to get there, they ran computer simulations to figure out how to cut the amount of raw material needed. A side benefit was slightly better fuel efficiency and performance, thanks to the weight loss.
Chrysler had $1.2 billion in cost savings through SCORE during the 1997 model year, an increase over 1996's $1 billion in cost savings through SCORE. As time went on and more suppliers shared in the benefits of the program, suppliers became more willing to join in. As Stallkamp said, "...cost savings are shared with suppliers. We are pursuing quality, efficiency and affordability without eroding our supplier's profit margins."
Chrysler had a history of penny-pinching with vendors beforehand, which had resulted in lower quality; and their poor supplier relations meant that they tended not to bring suppliers in when they could still have a positive impact. With SCORE and the Extended Enterprise system, suppliers were brought in early and could share in the savings they created, and profits shot up. After Daimler took over, the company reverted to the old system; and even in the 2010s, did poorly in surveys of suppliers. The future may be very different—or, better, more like the past, when SCORE scored Chrysler major savings and better products.
Current and future
Follow us on Post! It's like Twitter, but without ads or Nazis!
Books by MoTales writer David Zatz
Copyright © 2021-2023 Zatz LLC • Chrysler / Mopar car stories and history.