The "Kangaroo six": Hemi Six-Pack and other Australian engines
When Chrysler was trying to build its Australian sales with locally-produced-and-engineered Valiant variants, including the sporty Pacer and Charger, there was a key problem: speed. The slant six was not designed to be a sporty engine, despite the hot and racing-focused Hyper-Pak option from 1960; and even the 340 cubic inch V8 engine did not provide the power-to-weight ratio needed in Australian racing and driving. The car needed a good front/rear weight balance, and no Chrysler V8 could provide that. The slant six could only be expanded to a maximum of 225 cubic inches or so, and was too heavy for the purpose.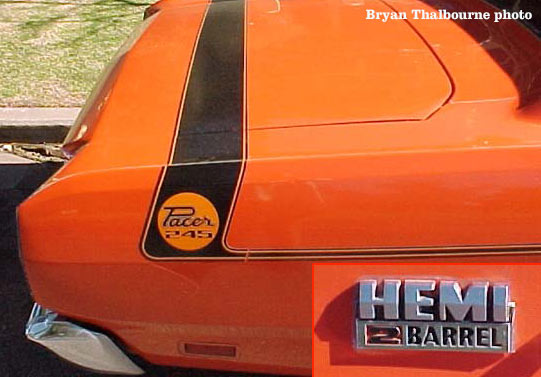 A new engine was needed for Australia, one which was meant for high performance and light weight from the very start. Ideally, they could adapt it for trucks in the United States and the rest of the globe, as well. The cost of tooling and equipment would be high, but local-content laws required the company to invest in both even if they used their usual engines. A custom design was approved.
The result was a series of three engines, 215, 245, and 265 cubic inches, with Hemi-style heads and, in the top-performing version, three Weber two-barrel carburetors. A Chrysler Valiant Charger with this setup set a speed record that lasted for well over a decade, standing up to GM, Ford, and Chrysler V8 power as well as anything else that could be thrown at it.
Despite its internal nickname, the "Kangaroo Six" was created in Highland Park, Michigan, by the same people who made other Chrysler engines.  Pete Hagenbuch, head of tuning for Chrysler Corporation, told me (which I was at Allpar) that an ultra-light engine was new for Chrysler; "They were pushing the boundaries, knowing that it would have to change in development, which is a hell of a nice way to develop and engine. We had always before designed bulletproof engines, and nobody ever knew how much lighter they could have been. This time, it was done the other way... The cylinder walls were thin, everything was thin."
They made it a long engine with a big more and a long cam; the distributor was towards the back, so torsional vibration went into the cam and then the distributor. The camshaft and such required a great deal of work to be practical.
The original engineers had created a very light engine, and as they tested it, the development engineers in Australia had to beef up the pan rail, main bearing bulkheads, crank, and other parts. This was all for the 245; Australian engineers developed the economy 215 and the performance 265 from it. The 265 was a bored, not strocked, 245. Pete added, "They did the 265 against our advice, and it turned out to be a very good engine."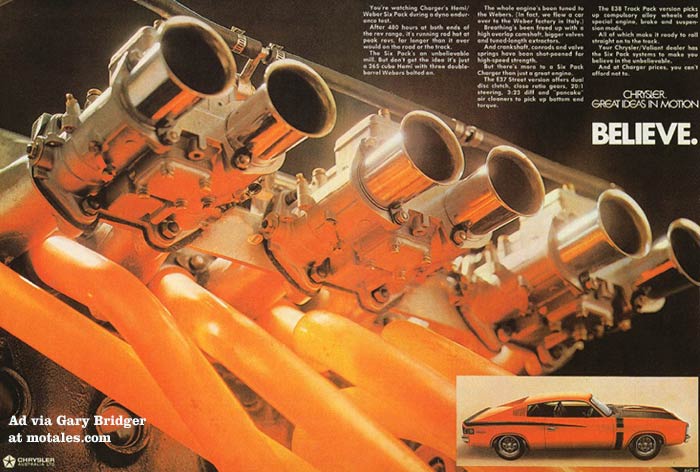 The legendary lead engine designer Willem Weertman said the American team had proposed a raised-block variant, which would have made the 265 beefier and allowed for a truck version; indeed, Willem Weertman later wrote that the company had already been considering a new six-cylinder with bores up to 3.91 inches, since 1962. They goal was a 300 cubic inch truck motor. Executives judged the engineering, development, and production costs and decided they were far too high for the low volume.
R. Dean Engle came up with the idea of canting the valves to increase air flow, a key issue in this engine; Chrysler Australia decided to go with hemispherical heads for the performance and marketing association with the 426 Hemi.
The engine was equipped with ball stud rockers, an idea that would work its way to the 426 Hemi (in testing, not production). Pete Hagenbuck wryly commented, "Fortunately, I didn't have to make them work ... our advice to the manufacturing plant was to form the ball socket, coin it, and then coin the rocker pad and the push rod socket in one operation, thus controlling the critical tolerances. Our stamping plant said, 'we can't coin those two surfaces at the same time! Hell, Highland Park is nuts,' so they didn't try to do it. The rockers were all over the map. Valve lift varied by 0.00050"  from a high one to a low one, and they were breaking [in testing]... when they finally bit the bullet, ... it was fine—just like we designed it and tested it."
On endurance testing in Australia, the engines started failing in the second ten hours, and Pete was sent across half the world to troubleshoot. "You know what I found when I got there? They were using car spark plugs, for Heaven's sake, hot spark plugs, the ones that keep from fouling while your car tootles around at 30 mph." The goal was testing the engine design, not the plugs, so Chrysler tested with the coldest plugs they could get. "Everywhere I went after that I was treated with respect. … It wore off when I had trouble with a few of their other problems, but for about a week I was a saint. And before I had been there a week they had completed a 60-hour endurance schedule, and the engine looked beautiful."
The 1970 Valiant VG was the first engine to get the new engine, with 245 cubic inches, 165 horsepower, and 235 pound-feet of torque, fed through a mere one-barrel carburetor (the 225 slant six was good for 145 hp—148 hp with the 1960, 170 cid Hyper Pak). A two barrel raised output to 185 horsepower and 240 pound-feet. The media reports were highly favorable.
For 1971, buyers could get the 215 economy version, with a smaller bore, or the Valiant VH's 265, which produced a hefty 218 horsepower and 273 pound-feet of torque (all numbers are gross). Finally, the 1972 VH Charger, with the E49 Hemi option, used the 265 cubic inch engine with three Weber carbs to produce 302 horsepower and 320 pound-feet of torque.
In 1972, Modern Motor took the mere E38 Valiant Charger, with a four-barrel 265, to 60 mph in 6.3 seconds, with a 0-100 of 17.2 seconds and 14.8-second quarter mile; that beat the Ford Falcon GT (351 V8) and Holden Monaro GTS (350 V8). The 245 Hemi, with its two-barrel, pushed the Valiant through the quarter mile in 16.4 seconds, while the Pacer, with a two-barrel, ran it in under 16 seconds. This was enough to beat many V8 engines. The E38 was rated at 280 horsepower and 310 pound-feet of torque. The E49, with its "Six-Pack"  carburetors, had another 22 horsepower and 10 lb-ft; it ran the quarter (in Sports Car World) in 14.4 seconds, with a 6.1 second quarter-mile that is still competitive today. Yet, they wrote, "It's so fuss-free that your mother could puddle back and forwards ot the supermarket."
The engine was never used outside of Australia, New Zealand, and Africa; Pete Hagenbuch said it was too large for Europe, and of no interest in the V8-obsessed United States. It remains a legend in Australia and New Zealand, and good fodder for bar bets about the "Hemi Six-Pack."
For more details, see Allpar, the excellent, definitive book Hey Charger (if you can find a copy), and Willem Weertman's fine, definitive book Chrysler Engines.
Follow us on Post! It's like Twitter, but without ads or Nazis!
Books by MoTales writer David Zatz
Copyright © 2021-2023 Zatz LLC • Chrysler / Mopar car stories and history.