New Process Gear and New Venture Gear
Thomas W. Meachem created a new process for toughening leather in the 1880s. He created a New York company named after the process—New Process Rawhide—in 1888. They started with boats and canoes, but gears for trolley cars and industrial machinery came the next year. The tough leather gears were quiet and reasonably long-lasting, and the company set up a new headquarters on Plum Street, in 1904. At some point between 1904 and 1912, following a plant fire, the company moved from Baldwinsville to Syracuse.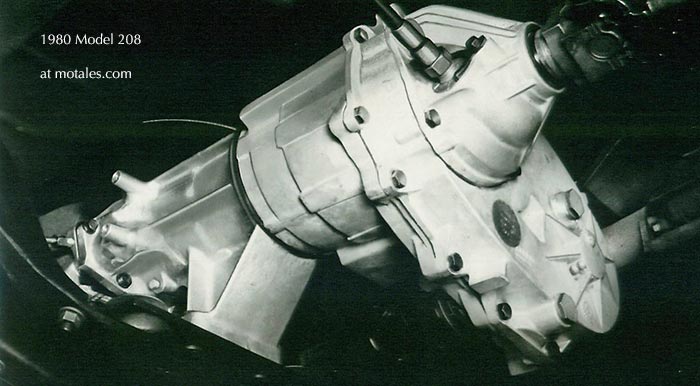 The company had branched out into steel, brass, and cast iron for its gears, launching the first bevel gears in 1912; to celebrate the move, they renamed the company to New Process Gear. They added automakers to their list of clients, including Locomobile and Citroën.
Meachem sold New Process to John North Willys (separately, president of Willys, the car company) in 1918. In 1921, Willys sold the company to General Motors, which mildly ironically provided GM founder Billy Durant with gears for Star Cars. Possibly to raise capital during the Depression, GM sold the company to Chrysler Corporation in 1934.
New Process Gear was still a separate unit. They made the first American-designed helical transmission (for Chrysler) in the 1930s; they made most of Chrysler's manual transmissions, and supplied truck transmissions. During World War II, they made four-wheel drive systems, with 1,700 workers; their product line was quite extensive, covering automobiles, light to heavy duty trucks, and industrial equipment. They did custom engineering on a global scale.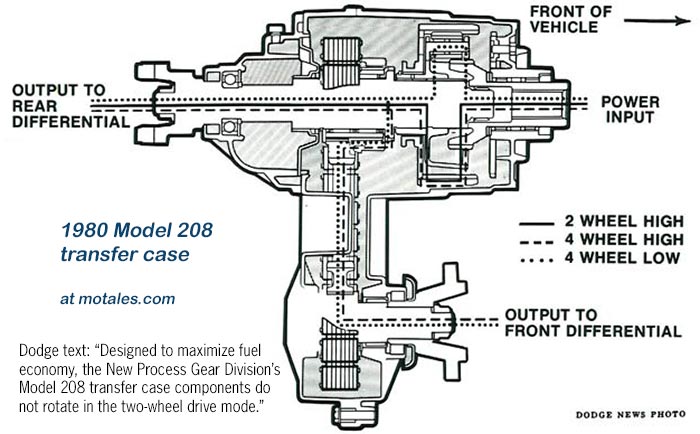 In 1960, the company moved to DeWitt, into a plant started in 1959; it had 370,000 square feet of space, and replaced three older facilities producing manual transmissions and rear axles.
The company's hundredth anniversary, in 1988, was largely ignored by Chrysler, though local Syracuse newspapers covered it. Two years later, New Process Gear became a joint venture of Chrysler's Acustar parts group and General Motors, dubbed New Venture Gear; GM had a minority share and half as many directors as Chrysler. However, they brought access to an under-used GM transmission plant in Muncie, Indiana. In that same year, possible as a result of this venture, New Venture Gear signed a four-year deal to supply transmissions for Rover's new diesel-powered car.
In early 2002, General Motors sold its stake to DaimlerChrysler; it was still run as a separate company, and still counted General Motors as a customer. The Syracuse plant still made transfer cases, transaxles and other parts, including the Dodge Neon and PT Cruiser T-350 manual transaxles, and European Chrysler Voyager manual transaxles (T-650 and T-750).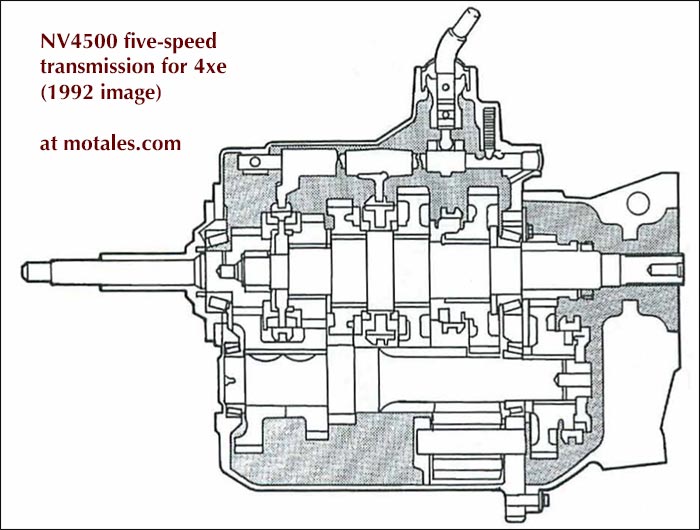 On September 29, 2004, DaimlerChrysler sold 80% of New Venture Gear to Magna International for $435 million (at that point, they had 4,000 employees). The plant in Muncie reverted to GM, but it closed in 2006 and was later destroyed. In September 2007, Magna bought the rest of New Venture Gear, including its German operation. Magna made some hefty cuts as demand slumped; but they kept going, making gears and transfer cases for BMW, Chrysler, Ford, and GM, among others. In 2009 the plant returned to profitability after losing money in 2007 and 2008.
The final day of the plant was August 20, 2012.
Some notable transmissions
Two major New Venture Gear transmissions made for Toyota, Chrysler, Ford, and General Motors were the NV3500 and NV4500. They were medium duty manual transmissions for trucks, with five forward gears. The NV4500 preceded the NV3500, despite the higher name; it too was a five-speed, which became popular for those converting vehicles to five-speed manuals. Dodge adopted it in 1992. Different versions were used for the regular engines and for diesel and V10 gasoline engines; the heavy duty variant, released in 1994, had a 460 lb-ft torque rating. GM called it the RPO MT8 and MW3, using it from 1992 to 2007.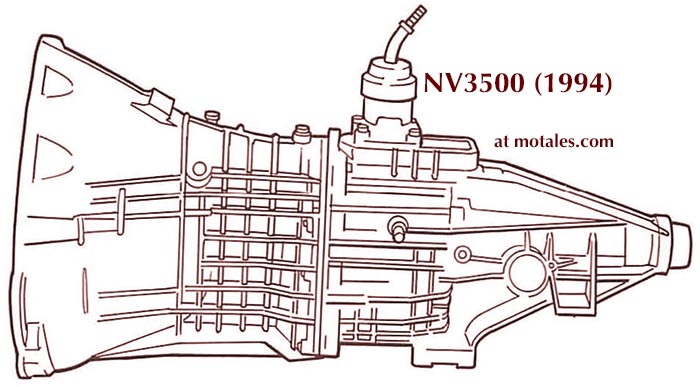 The NV3500 had a two-piece aluminum case with an integrated bell housing. The fully synchronized unit was 100 pounds lighter and quieter than the cast iron cased NV4500. Chrysler first used it in 1994 in the Ram and Dakota; the 1997 versions had new synchronizers that cut shift effort almost in half and other changes that increased shift quality and reduced gear noise. The shift pattern put Reverse all the way to the right and down, where a sixth gear would be, using a special synchronizer which clashed if the driver tried to use it at speeds over 5 mph. Chrysler stopped using the transmission with the 2005s, changing to Getrags for unknown reasons.
GM was actually the first company to use this transmission, with the 1993 full-size pickups; they kept using it through 2006. Jeep adopted it with the Cherokee (2000-01) and Wrangler (2000-04); the Wrangler version was actually the NV3550, a minor revision to fit into Jeep's engine bay.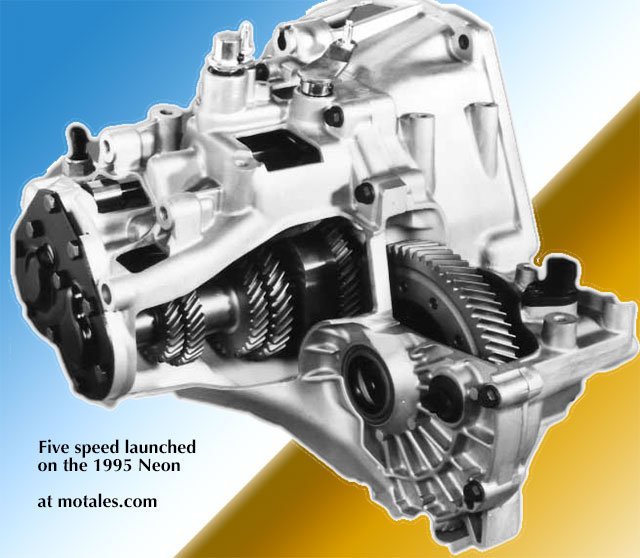 The 1995 Neon's NV-T350 manual transmission, was a major upgrade over Chrysler's past stick-shift units. It used dual-cone brass synchronizers in first and second gear, with paper-friction single-cone synchronizers on the other gears; these were, they said, more durable and clash-resistant than brass. By putting the paper-friction synchronizers on the input shaft, New Venture also cut rotating inertia, which made it easier to shift.
The transmission used a reverse brake mechanism to reduce clashing and make it easier to shift into reverse. It also used two-piece welded speed gears which were shorter than single-piece gears so the transmission could be smaller and have less shift travel. Needle roller bearings cut friction. The case, a two-piece cast setup, used structural ribs rather than overall thickness to provide strength while cutting weight, and was designed to have a natural frequency above the engine's, even at redline. The Neon's manual transmission was tough (helping the small car to win championship spots in stock car racing) but easy and pleasant to use.
New Venture made a heavier-duty version for the heavier PT Cruiser, and a later version, the T-355, was the manual option for the Compass, Patriot, and Caliber.
The New Venture / New Process Gear transfer case naming system
Each transfer case has three digits. The first one is the number of gears—1 if it has no low range; 2 if it has a low and high range. The second one is a combination of case size and transfer case strength; this ran from 2 through 7, with 7 being the biggest and strongest.
The third digit requires a key, because it described the kind of four wheel drive system:
| | |
| --- | --- |
| 1 | Part-time with manual shift; front and rear driveshafts locked together when engaged (e.g NV231). |
| 2 | Part-time with manual shift; but with a geared differential between driveshafts, providing full time and part time four wheel drive; some could switch into full rear wheel drive (e.g. NP242) |
| 3 | Part-time, electrically shifted; other than shifting mechanism, same as #1 (e.g. NP233) |
| 4 | Part+full time, electrically shifted, otherwise same as #2 (e.g. NP244) |
| 5 | Debuted with NV245 (Quadra-Trac II, Quadra-Drive II), full-time active four-wheel drive, with electronic shift and, unlike 6 and 7, a low-range gear and neutral setting |
| 6 | Active "on-demand" full time four wheel drive: a computer detects wheel slippage and automatically tells the transfer case to engage its clutches; not activated by the driver |
| 7 | Progressive on-demand full time four wheel drive: normally runs in rear wheel drive, transfers power to other axle when wheel slip is detected (like #6). |
| 0 | Full time system with even torque split front and rear, no driver interaction (Quadra-Trac I), e.g. NV140 |
Some New Venture transfer cases
The 1999 Jeep Grand Cherokee claimed to have "Quadra-Trac II"—Jeep's trade name for a hydro-mechanical progressive transfer case developed via Asha Corporation technology. The NV247 AWD transfer case eliminated the viscous-coupled transfer unit; those units were used in nearly all AWD systems at that point. The New Venture NV247 was cheaper than viscous coupled units; it also reacted far more quickly to wheel slippage, sending power to the other axle in around 40 ms rather than 2-3 seconds as in older designs. It integrated well with antilock brakes, as well.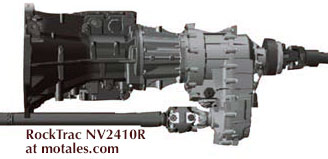 The Wrangler JK series used the NV241 transfer case with a 2.72:1 low ratio; a heavier duty variant, the NV241OR "Rock-Trac," had a 4.0:1 low ratio.
Starting in 1994, four wheel drive Ram pickups had a part-time, synchronized transfer case (NV231, NV231 HD, NV241, or NV241HD) with a 2.72 low ratio and no center differential. The NV241 was modified from the 231 with a new housing and shifter. The 241HD was 58 lb lighter than the 2331HD; it was made heavier duty than the 241 partly through a wider chain and sprockets.
Looking back further, the NP435, made from 1962 to 1997, was used by Dodge trucks from 1962 to 1993; by Ford from 1966 to 1992; and by GM from 1968-72. International Harvester also bought some. There was quite a bit of variety within this model, depending on year and manufacturer, including different gear ratios. They all had a direct fourth gear, but first ranged from 6.68 to 4.56. It was quite compact and weighed 135 pounds.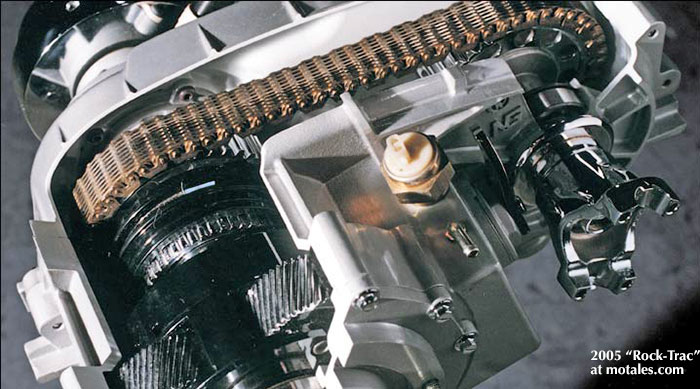 The NV144HD and NV244HD, used on the Dakota-based Durango and Aspen, had locking center differentials, a 48/52 front/rear torque split, and electronic shifting; the difference was that the 144HD was a single-speed unit, always in all wheel drive, while the 244HD had a neutral position and 2.72:1 low gear.
Follow us on Post! It's like Twitter, but without ads or Nazis!
Books by MoTales writer David Zatz
Copyright © 2021-2023 Zatz LLC • Chrysler / Mopar car stories and history.