Mopar car names: Trekkies, hotels, and crazy-long
The first Chrysler, Dodge, and Plymouth cars were named simply (e.g. Chrysler 80, Plymouth Deluxe); but each marque was a single car with numerous bodies. One exception was the Chrysler Imperial. The Airflow models were called "Airflow," admittedly, and were followed by the more conventionally styled Airstream series. Finally, in 1938, Chrysler started a modern naming system with the Imperial, Custom Imperial, New York Special (later "New Yorker"), and Royal. In England, the Royal was replaced by the Kew and Wimbledon.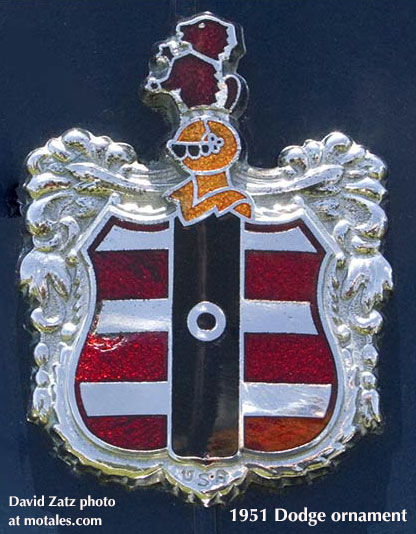 As Bill Watson pointed out, Chrysler names were clearly "royal." Indeed, the 1939 Windsor was sadly not named for their Canadian headquarters and factory; it was technically the Royal Windsor, named for King George's family. (The name may have been promoted by King George and Queen Elizabeth's 1939 tour of the United States.) Badges would later become more "royal" as well; the 1951 Dodge ornament certainly tried to be aristocratic.
Plymouth's first modern name was the 1939 Roadking but that model stood alone, joined by generic Deluxe and Special Deluxe type names. Dodge switched from these generic names with the 1949 Wayfarer, Coronet, and Meadowbrook—the latter named after the Dodge Brothers' mansion. A coronet is a small crown; and Wayfarer was exported as the Kingsway. The cars did not change, only the names.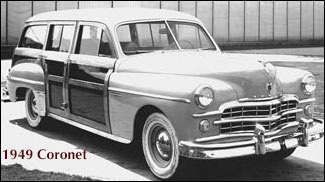 Two years later, Plymouth followed with the 1951 Savoy, Cambridge, Concord, and Cranbrook. Famed Plymouth historian Lanny Knutson pointed out that Cranbrook Drive, Concord Street, and Cambridge Avenue were all in the same suburban area. The Cranbrook School in Bloomfield Hills was a private school which hosted many executives' children, and its school for girls, Kingswood, got its own model later. The Belvedere name also launched in 1951 for a Cranbrook trim level (it became a full model with the 1954s), likely named for the nearby golf course.
Hotels inspired the later Plymouth Plaza and Savoy, and eventually the Dodge St. Regis. The Dodge might, actually, have been named after the Studebaker St. Regis, but that was a long time before. In the 1960s, the naming routine was made rather more purposeful, though stories such as the naming of the Volare, Valiant, and Road Runner point that it has never been an exact science.
The absurdly long Dodge and Plymouth names
Chrysler marketers tended to get a little carried away in the 1970s and then again in the 21st century, sometimes going far too far.
1970 Plymouth Sport Satellite Suburban (Suburban was their name for pickups)
1977 Dodge Charger Daytona SE (this was a thinly modified Chrysler Cordoba)
1986 Dodge Daytona Turbo Z C/S (the Z probably didn't stand for anything but C/S stood for Carroll Shelby.)

2007 Dodge Charger SRT Super Bee (with a 5.7 Hemi, it had acceleration similar to a 2013 Charger V6)
2018 Dodge SRT Hellcat Challenger Demon (this was a very low-production, 840-hp superharged car; Hellcat was the name of the engine.)
2023 Dodge Challenger SRT Demon 170 Jailbreak (this was a later production, also quite limited in numbers, car with 1,025 horsepower).
2016 Dodge Charger Road & Track R/T (Yes, Road & Track Road/Track!)
2020 Dodge Challenger SRT Hellcat Redeye (an extra-powerful version of the already potent Hellcat car)
2020 Dodge Challenger R/T Scat Pack Shaker Widebody (a "mere" 485 hp car with fender inserts to make room for bigger wheels)
The Star Trek (Trekkie) connection
Years ago, Ryan Connell told Allpar about the names shared between Chrysler and Star Trek ships. Star Trek had the names first more often than not; but Chrysler was (I believe) first with Valiant, Voyager, Challenger, Concord, and Dakota (Challenger was, incidentally, quite clearly based on the space shuttle, but who knows how that name was chosen?). I would appreciate guidance from any hard-core Trekkies out there; I am not hard core, and I had to do a good deal of searching to fill out this list.
Aries (shuttlecraft, K-car)
Avenger (early ship from "prequel" series; Hillman car, then Dodge badge for Eclipse, then Dodge sedan)
Challenger (CGI-generated ship, famed Dodge muscle car, badge also used on a Mitsubishi)
Concord (alternate timeline ship; AMC "upscale compact"; as Concorde, big 1990s Chrysler)
Cordoba (I couldn't find any actual starship so I think this was just brought up because Ricardo Montelbain did the commercials)
Dakota (heavy cruiser, might have only been in games; and Dodge midsize pickup)
Eagle (from the movies; AMC car, then brand assigned to ex-AMC/ex-Renault cars)
Horizon (the ship whose people made "mobster planet" and a 1970s-80s subcompact hatch)
Intrepid (full-size ship; 1990s full-size car)
Reliant (smaller ship, K-car)
Saratoga (full ship; name used on European version of Dodge Spirit)
Talon (Eagle version of Mitsubishi Eclipse; not sure of Star Trek tie-in)
Valiant (big ship; Chrysler compact-in-US, big-in-Europe car; Australian car; and spaceship for several episodes in Doctor Who)
Voyager (eponymous ship of an entire series; Plymouth full size passenger van, then Plymouth and Chrysler minivan; in use from 1970s to today)
Follow us on Post! It's like Twitter, but without ads or Nazis!
Books by MoTales writer David Zatz
Copyright © 2021-2023 Zatz LLC • Chrysler / Mopar car stories and history.