The Chrysler Cordoba: "Personal Luxury"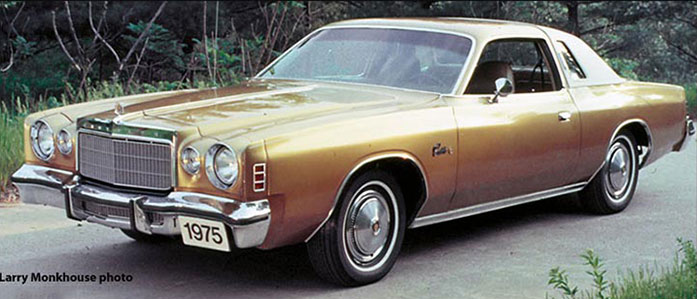 For many years, if you wanted more luxury in an American car, you had to get a bigger one. Chrysler, GM, Ford, and AMC all tied luxury trim, including sound insulation, to size. In Europe, things were different; for example, Rootes' most luxurious cars, Humbers, were up-trimmed Hillman economy cars.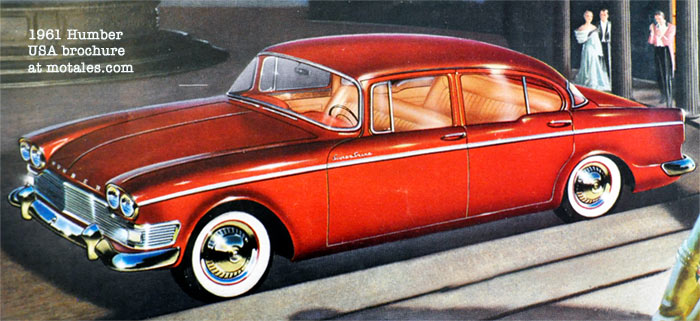 Then GM started making medium-sized (intermediate) cars with luxury trim, creating the "personal luxury car," the Buick Riviera, Pontiac Grand Prix, and Chevrolet Monte Carlo, coupes with unique styling and high trim for their size. Chrysler was late to the party; at the time, Chrysler waited for GM or Ford to prove new territory first. Only after GM had years of success did executives authorize the first-ever B-body Chrysler.


Chrysler used its corporate steering column with upmarket trim.
The car's name, Cordoba, was taken from a trim level of the 1970 Chrysler Newport. Spain was popular in American culture, possibly because of the musical "Man of La Mancha," which was still doing well on Broadway after debuting in 1965. To increase the Spanish aura, Chrysler gave the Cordoba gold trim, Aztec eagle adornments, and a series of Ricardo Montalbán television ads.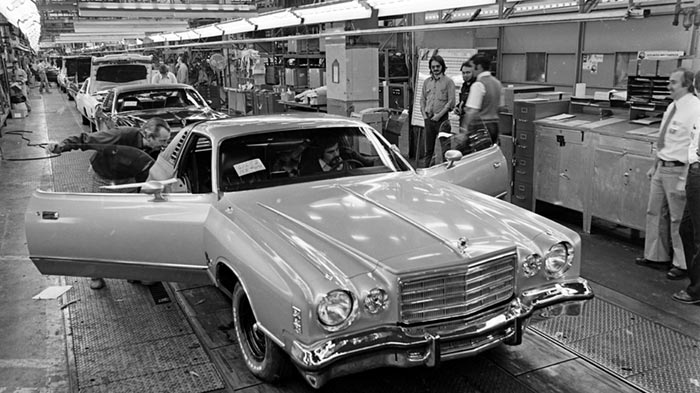 The Cordoba was based on the 1971-74 Dodge Charger (and similar cars such as the Dodge Coronet and Plymouth Satellite) but with new styling, sound insulation, and suspension tuning. The 115-inch wheelbase, borrowed from Plymouth and Dodge coupes, was a full nine inches shorter than other 1975 Chryslers' 124 inches (and seven inches longer than the Plymouth Duster's 108 inches). The Cordoba's smooth ride and quiet cabin were close to traditional Chryslers, and rather far from the Duster—or the Plymouth Satellite, for that matter.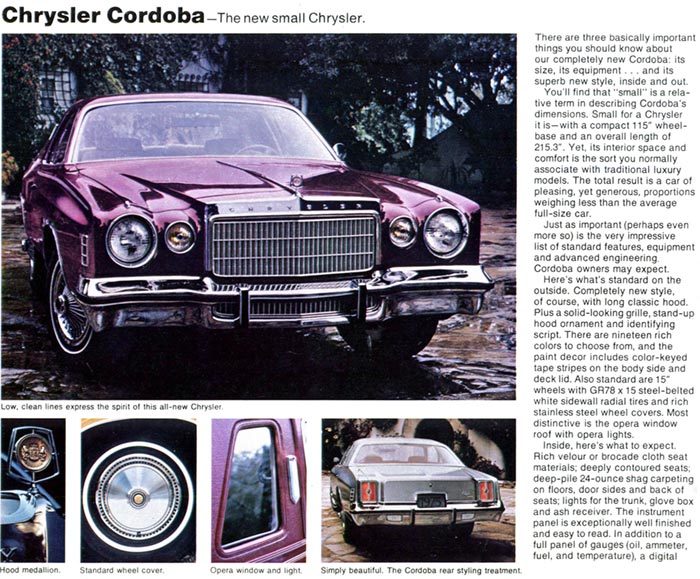 The suspension was taken from Plymouth and Dodge cars, with tuning changes; it had had longitudinal torsion bars with lower trailing links in front, and semi-elliptical rear springs in back. Thanks partly to standard front and rear anti-sway bars, handling was good for the time and class. Like the Charger, which was a premium car compared with the Plymouth Satellite and Dodge Coronet, the Cordoba had standard front disc brakes; the rear brakes used drums, like all domestic Chrysler Corporation cars and trucks of the time.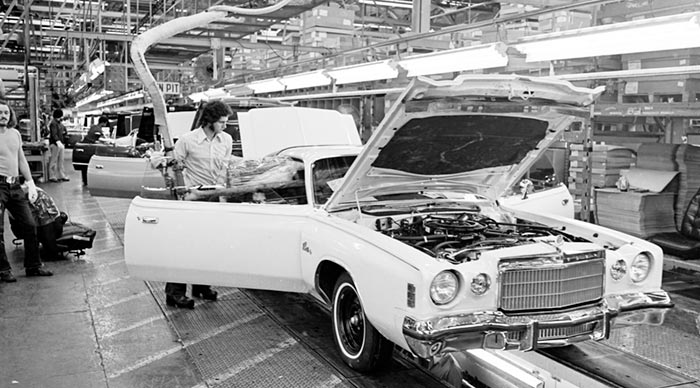 Standard luxury features included power steering, color-keyed stripe, 15-inch wheels with wheel covers and radial whitewalls, an opera roof, velour seats, carpeted trunk, digital clock, an oversized 25.5 gallon fuel tank with an LED warning light on the fuel gauge, and a three-speed automatic transmission.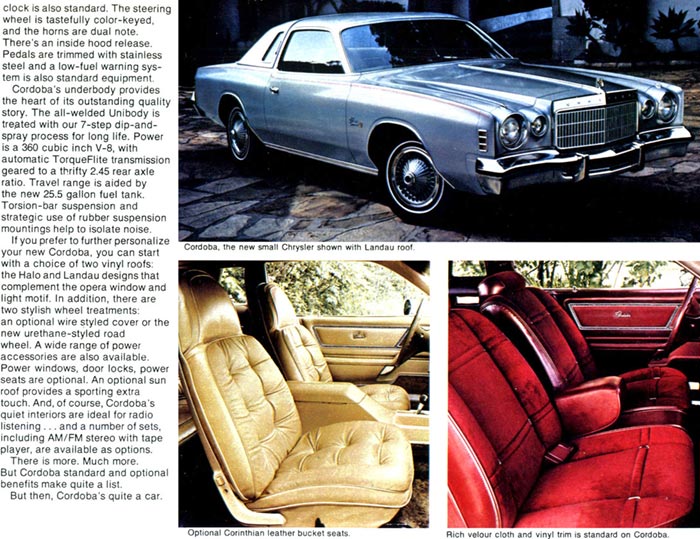 The base engine was a 360 cubic inch V8 with a two-barrel carburetor, which supplied a reasonable balance of torque, economy, and low-end torque without throwing off the weight balance. Buyers could also get a 400 cubic inch engine, based on the old reliable 383 B-engine, with a single two-barrel or four-barrel carburetor; this provided far more low-end torque, but didn't do the handling any favors. Finally, those caring more about gas mileage could get a 318 cubic inch V8 as a "no-expense" option.
The smaller V8s came with single exhausts; the 400 had a dual exhaust. The standard axle ratio was 2.45:1, regardless of engine. Chrysler had used electronic ignition and electronic voltage regulators on all its cars starting with the 1973 models.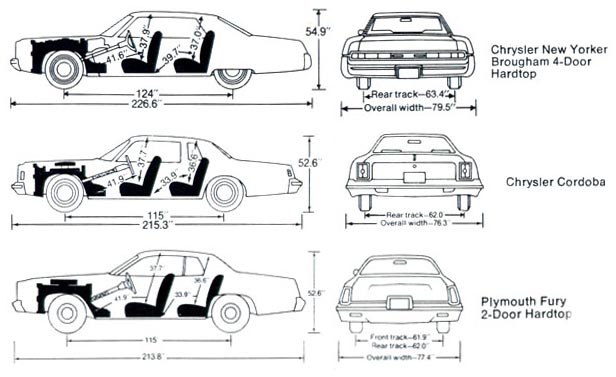 Options included wire wheel covers, halo and landau vinyl roofs, urethane-coated wheels, cruise control, air conditioning, 8-track player, and Fuel Pacer (fender-mounted lights which activated when manifold vacuum dropped too far, because the throttle was opened too wide or too suddenly). The chrome housing of the Fuel Pacer lights can easily be seen above the headlights in the photo below.
The 1975 Cordoba debuted at $5,581, considerably more than the Chevrolet Monte Carlo ($4,249 for the S or $4,519 for the Landau). The similarly sized Ford Elite was $4,721. Other competitors included the Pontiac Grand Prix, starting at $5,296 including a 400 cid base engine and Mercury Cougar XR-7, starting at $5,218. The GM cars were in their third year and the Mercury in its second, so the Cordoba may have gotten some attention for being the newest.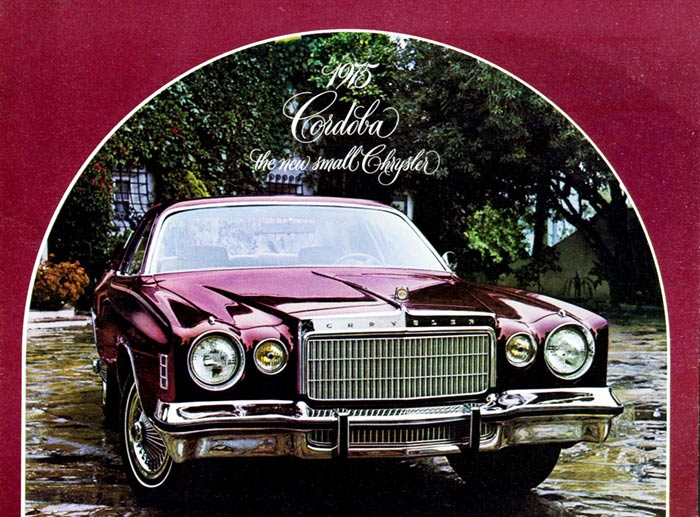 Dodging Chrysler
As the Cordoba was being created, Dodge found itself with no money for 1975 Charger updates. They felt the 1971-74 style had run its course in an era of annual styling changes, and chose to borrow the Cordoba instead.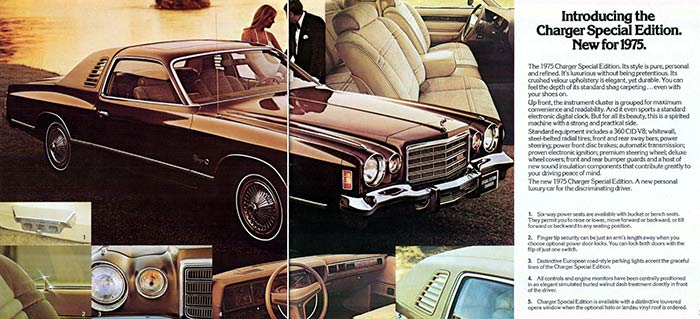 Thus, the 1975 Chrysler Cordoba and the 1975 Dodge Charger SE were nearly identical, separated by minor ornamentation, tail-lights, and trim. Product planner Burt Bouwkamp later said this was almost certainly a mistake, and keeping the old Charger body would probably have worked better than the rather severe change to the formal styles.
Cordoba and Charger SE in production
Car & Driver tested the Cordoba with the 400 cid engine as running 0-60 in 9.3 seconds, with a 17.0 second quarter mile; they praised the engine's near-instant acceleration. Cornering was quite good for a car of its time.

The car used Chrysler's standard steering wheel and column; climate controls were off to the left, out of reach of the passengers. The optional sunroof was operated manually. A certified chronometer on the dashboard signaled some luxury.

The Coroba had Chrysler trim, sound insulation, and acceleration in a smaller body; the company could sell it at much lower cost (and with higher gas mileage) than a bigger coupe and still make a good profit. Compared with the similar-chassis Dodge Coronet, the Cordoba weighed an extra 100 pounds heavier and cost $1,000 more; but the Cordoba was still by far the cheapest and lightest Chrysler-branded car.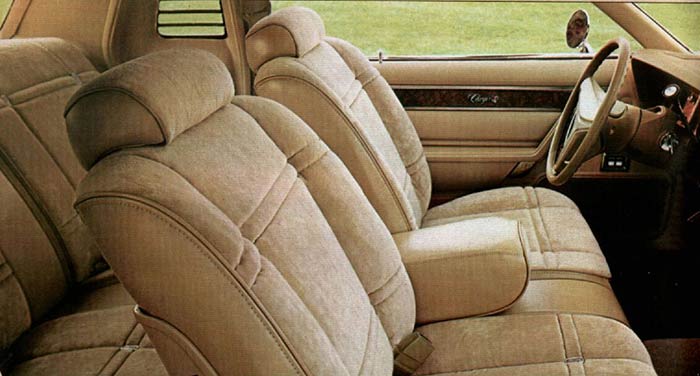 Dodge Charger version
Knowing this, it comes as little surprise that over half of the Chryslers made in the U.S. in 1975 were Cordobas. Chrysler sold 15,001* Cordobas in the last months of 1974, and then 148,943 in 1975. That dwarfed sales of their traditional "C-body" big cars—the Newport, New Yorker, and so on—which only reached 75,209.
* All references to sales are in the United States only, and are courtesy of Ward's Automotive.
There was less success at Dodge; the Cordoba was cheap for a Chrysler, but the Charger SE was pricey for a Dodge. What's more, it was out of character for the swoopy, sporty Charger; in the words of one disappointed customer, "It says Charger, but it isn't a Charger." Dodge later created a snazzy two-tone "Charger Daytona," taking the name from their old superspeedway monsters capable of 180 mph, but that didn't make the Charger SE a runaway success. Dodge sold just 33,701 Charger SEs in 1975; it was a niche vehicle for them, taking just 10% of the marque's sales.
The Cordoba's competitors did well. The Buick Riviera was a rather exclusive and expensive car, and only 14,878 sold in the U.S. GM sold 101,829 of the more mainstream Pontiac Grand Prix; Ford sold over 123,000 Elites. The Cordoba was the best seller in its segment, an unusual position for a Chrysler-branded car; and they managed that without taking sales from GM.
Cordoba Updates
For 1976 models, Chrysler upgraded the A-727 transmission for greater durability and coupled the 360 V8 to a new transmission, the A-999, which was a heavier duty of the light A-904 used with the 318 V8 (and, in other cars, with the slant six). This cut weight a bit for 360 buyers.
Later in the model year, the 400 engine gained Lean Burn electronic spark timing and became the standard engine, with the 360 and 318 becoming no-charge options.

Engineers also changed the parking brake mechanism to reduce effort while designers added a center medallion to the steering wheel. On January 1, 1976, Chrysler added GM's "tilt-wheel," or movable steering column, to the options list, and started using a new master cylinder with a bigger power brake booster.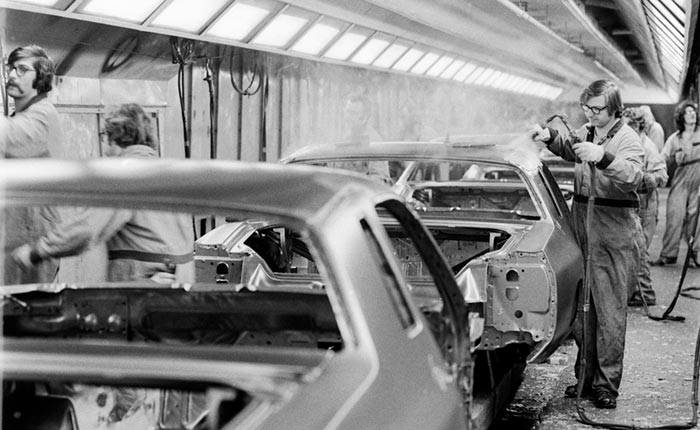 According to the 1976 brochure, the bench seats had "cashmere-like knit cloth and vinyl" fabric and a center armrest. Velour 60/40 split bench seats were optional. Still, most people associate the Cordoba with the "Corinthian leather" option, available in several colors. (There was no such thing as Corinthian leather, but it sounded good when promoted by Mexican actor Ricardo Montalbán on TV commercials.)
The Cordoba hit its peak US sales—a quite respectable 175,456. All other Chrysler cars combined only reached 102,353. The Dodge Charger SE rose to 51,685. Sales really exploded at GM with 251,952 Grand Prix sales alone. This was the golden year for the "personal luxury car" (as opposed to the compact luxury cars made by Toyota, Mercedes, Humber and others, which had been available to Americans for decades and would continue to be available for decades).

For 1977, Chrysler made some cosmetic changes reflecting its higher sales—a chrome-plated grille, more paint colors, updated tail-light lenses, and a medallion deck-lid lock cover. New options included T-tops, a padded landau roof with an illuminated opera band, Frenched rear quarter windows, color-keyed body-side mouldings, stripes, and black-and-white checked cloth-and-vinyl seat covers.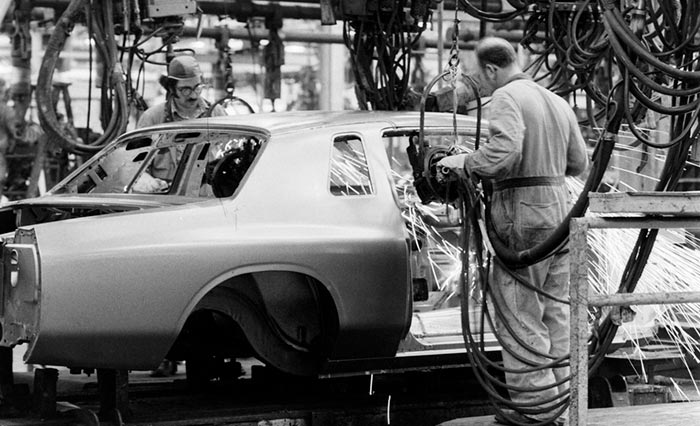 Engineering updates included weight reductions, new rustproofing for the suspension crossmember, fiberglass-belted tires, better underhood wire terminals, a higher-capacity ignition switch, a revised starter relay, and a more efficient torque converter for the 400 engine.
Cordoba sales dropped but were still respectable at 142,619; the big Chrysler cars also gained a little, to 104,356, combined. Midyear, Chrysler also launched the new M-body LeBaron, which continued the "high luxury trim on a smaller car" trend using the compact Plymouth Volare as its basis. The new "M body" cars were based on entry-level compacts, but were designed to be more luxurious, with better sound insulation and more elaborate dashboards. Chrysler sold 70,037 of the new LeBarons in their first year, though they were not released until May 1977. The LeBaron was not, like the Cordoba, just a hardtop; it was sold as both a two-door coupe and four-door sedan, and would later gain a wagon. The 1977 Grand Prix continued with 235,833 sales.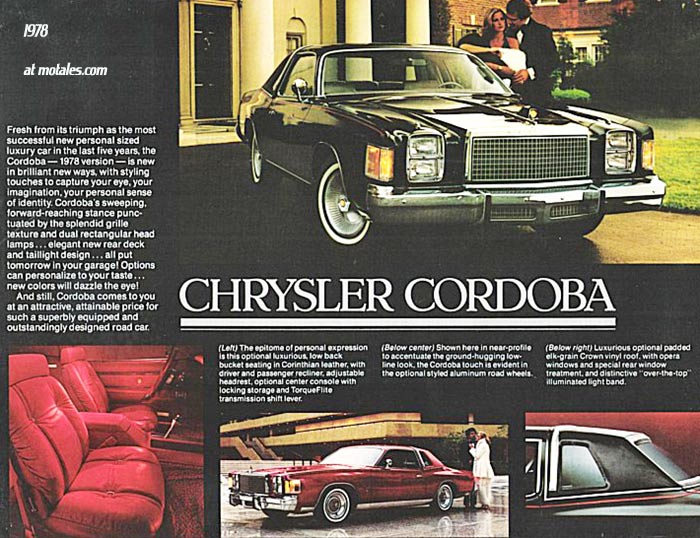 The 1978 Cordoba front end was restyled with stacked headlights, making it look more like some GM cars. The options list gained a power sunroof, GM-Delco electronic-tune radio, and a two-way CB. The optional rear defroster was paired with a 100-amp Mopar alternator, which for years was sought after by enthusiasts looking for upgrades. Chrysler engineers added a lockup torque converter to help with gas mileage as well.
Engine (1978)
Horsepower
Torque
318 2-barrel
140 @ 4000
245 @ 1600
318 4-barrel
(California only)
155 @ 4,000
245 @ 1,600
360 2-barrel
155 @ 3600
270 @ 2000
360 4-barrel
170 @ 4,000
270 @ 1,600
400 4-barrel
190 @ 3600
305 @ 3200
The LeBaron enjoyed 125,558 sales in 1978; the combined traditional large-body Chryslers only had 67,892 sales. Cordoba sales dropped to 105,442 in 1978—still 35% of all Chryslers—leading Chrysler to add a $200-cheaper S model for 1979; but only 8% of buyers chose this. The company also changed the grille, upgraded the defroster, and increased the power of the air conditioner. The options list grew with thermostatic air conditioning, alloy wheels, halogen headlights, two-tone paints, and a rear sway bar (formerly standard).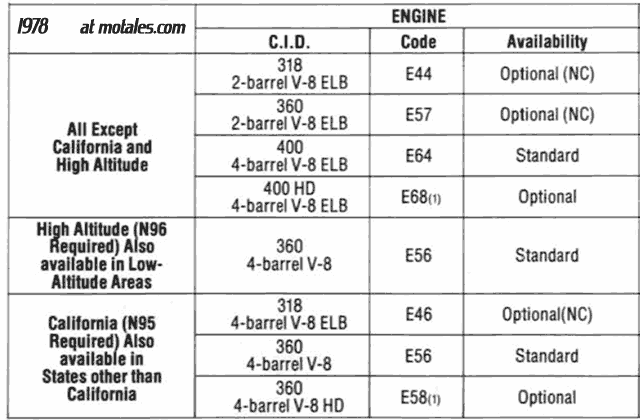 The company brochure held that the standard engine on the 1979 Cordoba was the two-barrel 318 (four barrel in California). The 400 continued for part of the model year, except in California; the last 400 engine had been made in August 1978, with a stockpile set aside mainly for motor homes.
In January or February 1979, Chrysler added a Cordoba 300 package; this model had aluminum wheels and a sportier suspension, white paint and bumper guards, stripes, special mirrors, fender louvers, and 300 decals. Inside, buyers got red leather bucket seats, a tachometer, and more 300 logos. Given its high cost and the lack of performance compared to past 300 letter cars, sales were just 3,811.
Overall Cordoba sales were down quite a bit, to 61,801, for 1979; the new R bodies and any leftover C bodies together accounted for 87,451 sales, but the LeBaron reached nearly 100,000.

Consumers Guide rated the first generation of Cordobas as being quite comfortable and roomy, with a sporty feel and decent handling; but they said that "fuel economy is a downer." They only listed three recalls—for cruise controls with the 1975 360 two-barrels, 1975-77 carburetor pump seals and premature EGR activation causing hesitation, and power brake booster failure in 1976 models due to manufacturing errors.
The Cordoba had been a sales success through the entire run, dominating Chrysler sales through most of its five model years.
Moving to a new body—1980 Chrysler Cordoba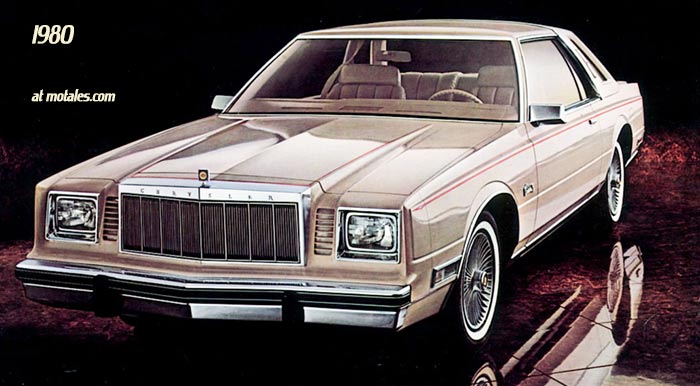 Years of fuel crises had made oversized cars anathema to Americans. With the 1979 models, Chrysler replaced its big C-bodies with smaller R-body cars. The 1979 model year was the last one for the long-serving B body intermediates, one of which was the Cordoba; but rather than dropping the popular car entirely, Chrysler moved its name to a smaller body.
The new "J" body cars were all but identical to the M body (Diplomat/Gran Fury), which was quite similar to the F body (Volare/Aspen); the windshield may have had a slightly steeper tilt, which would be enough to gain a new body code. The company image below shows the change in size from B-body to J-body Cordoba: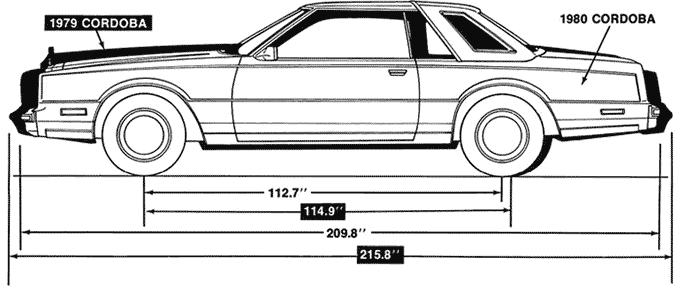 The wheelbase was now 112.7 inches, six inches shorter than the 1979 Cordoba. The new Cordoba was 400 pounds lighter, but had more leg room and cargo space; it was also four inches narrower on the outside, but about the same width inside. The real sacrifice was the cushy ride of past Cordobas; the new models were more stiffly sprung.
| | | |
| --- | --- | --- |
| 1980 | 1979 | 1980 |
| Length | 215.8 | 209.8 |
| Width | 77.1 | 72.7 |
| Wheelbase | 114.9 | 112.7 |
| Weight | 4,158 | 3,372 |
| Trunk | 16.3 c.f. | 16.7 c.f. |
| Frt. headroom | 37.7 | 37.5 |
| Legroom F+R | 74.7 | 78.3 |
| Front shoulder | 58.0 | 58.8 |
The Cordoba was still paired with a Dodge; now it was the new Mirada, but the two cars were far more differentiated than they had been in 1975. Cordoba interiors had four color choices and a faux-wood dash. Newly standard features were halogen headlights, a trip odometer, and tinted windows. The tires were still P195/75R15 fiberglass-belted whitewalls.

Some of the Cordoba's Spanish-themed ornaments made it to the Corinthian Edition, with its 60/40 front seats, "cashmere leather," and a leather-wrapped GM tilt steering wheel. A new Crown model had a padded vinyl roof, Frenched rear window, opera lamps, and extra chrome. Both these models had Cordoba "coin" ornaments on the hood and sides; similar inserts were used on the base cloth-and-vinyl seats. Opera windows and two-tone paint were optional on the Cordoba line. A press release heralded the return of the Chrysler 300 package midyear, with a four-barrel 360 V8 and dual exhaust; but this appears to have been renamed to an LS package, possibly because the powertrain didn't live up to the 300 aura.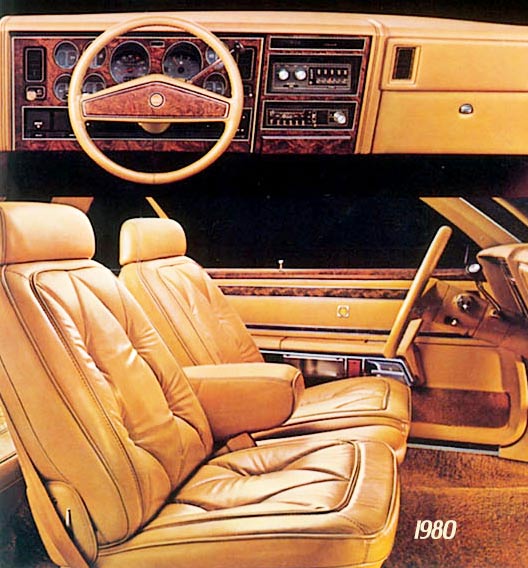 New to the Cordoba were tinted "T-tops"—glass roof panels which could be removed and stowed in the trunk. A less ambitious option was the sunroof, in gray or gold, with a trunk-mounted motor.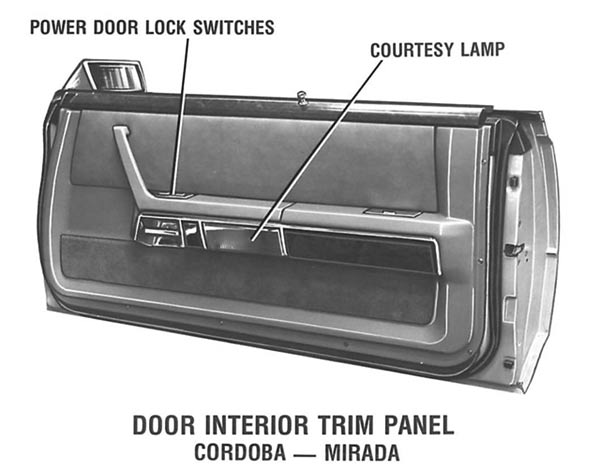 Luxury options included thermostatic climate control, an electric rear defroster with a 78-amp alternator (down from 100 amps), intermittent wipers, cruise control, power windows, six-way power seat, power locks, illuminated entry, and cornering lights.

With the drop in body weight, Chrysler switched to the 225 slant six for the base engine; the 318 V8 two-barrel was optional (in California and high altitude areas, it had a four-barrel carburetor). For 1980 only, buyers could also opt for the 360 V8 engine. The 225 was not ideal for the car, even with its lighter weight; but it was good for advertising.
| | | | | |
| --- | --- | --- | --- | --- |
| 1980 | 225 | 318 2V | 318 4V | 360 |
| Horsepower | 90 | 120 | 155 | 185 |
| Torque | 160 | 245 | 240 |   |
| Liters | 3.7 | 5.2 | 5.2 |   |
Buyers could choose from numerous radios—AM, 8-track or cassette with AM/FM, AM/FM stereo with and without quartz lock, and CB. Power antennas and premium speakers were also optional.
Consumers Guide praised the quiet interior but not the "mushy" handling, overboosted power steering, or understeer. Customers must have agreed: sales dropped down to 44,908 for the 1980 models—well above the 28,633 Dodge Miradas, but nowhere near 118,414 Grand Prix or 127,248 Thunderbirds. Still, within Chrysler, the Cordoba was beaten only by the LeBaron (65,519), which was a two-door coupe, four-door sedan, and wagon, while Cordoba was two-door-hardtop-only. The R-body Newport and New Yorker barely registered on the sales charts, with a combined 29,321 sales. The new Imperial, Lee Iacocca's baby, managed 2,497 sales with a late 1980 launch.
The 1981 Cordoba had a more powerful starter, an optional four-way passenger seat, new seat cushions and steering wheels, and stereo upgrades. Corinthian leather was no longer available. The front had updated parking and signal lights between the headlamps and grille; despite the lack of sales, a new LS model used a different grille, with a faux convertible top and front high-back bucket seats covered in vinyl. This may have been a late rename of the 300 option, since it had 300-like colored stripes and a 300 medallion holder on the grille (but not the medallion). One reason for changing the name might have been the loss of the 360 as an optional engine; without it, the "300" tag was even more misplaced.
The LS was around half an inch shorter than the normal Cordoba, and 57 pounds lighter; it accounted for a third of 1981 Cordoba production.
The Dodge Mirada had two special versions, the CMX package and the S. The latter had cloth trimmed bucket seats, a sportier steering wheel, taped stripes, and dual remote control mirrors.
| | | | |
| --- | --- | --- | --- |
| 1981 | 225 | 318 2V | 318 4V* |
| Hp | 85 @ 3,600 | 130 @ 3,600 | 165 @ 4,000 |
| Torque | 165 @ 1,600 | 230 @ 2,000 | 240 @ 2,000 |
| Liters | 3.7 | 5.2 | 5.2 |
* California only. California slant six was 90 hp rather than 85 hp with no explanation given. 1982 figures were the same for the 318 but the slant six went to 90 hp.
The 1981 Mirada and Cordoba both had a new wide-ratio automatic transmission which made the slant six more sprightly from a start. The eight-cylinders could have had better launches, but instead the company paired them with taller axle ratios for better fuel economy.
Chrysler launched new, surprisingly comfortable front wheel drive cars in 1981; these had acceleration and interior space comparable to the Cordoba and LeBaron, but with far better gas mileage, superior cornering, and a far smaller footprint. Only 23,904 new Cordobas sold in 1981, compared with 46,992 M-body LeBarons. The new Chrysler Imperial reached its all-time high of 4,649. Cordoba was still good for over a quarter of all Chryslers sold in the United States. Over at Dodge, the Mirada had a mere 13,947 sales, but it continued on into 1983, declining in sales every year.
For 1982, the Cordoba started using clearcoat paint and adding more zinc to the primer to stop rust, which over time would be major gains for owners. A rear anti-sway bar joined the options list—the first generation had standard rear sway bars, but not the second generation. The vinyl roof without opera windows was standard; buyers could pick from cabriolet or simulated-convertible, padded landau, and non-padded landau roofs. Dual remote-control sport mirrors were standard, and an optional stripe package included body-side, hood, and decklid stripes. The company switched to a compact spare to reduce weight, but buyers could pay for a standard-sized spare.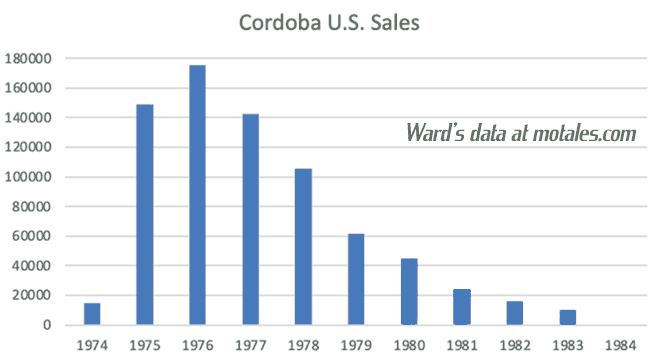 The first generation Cordoba had simply dominated Chrysler-marque sales; the second generation was not so successfull, and in 1982 it only had 9% of the division's U.S. sales (less than in 1974, when it was only on sale for three months). In traditional cars, Chrysler sold 15,828 Cordobas; 2,601 Imperials; and 62,725 rear wheel drive New Yorkers. The New Yorker was a renamed and restyled LeBaron; the 1981 New Yorker had been a bigger R body. The Lebaron name instead moved to a front wheel drive, four cylinder car. The two LeBarons combined—a few leftover 1981s along with the new front-drive cars—reached 88,575 sales. Two new front drive Chryslers also joined the ranks late in the year—the E Class (9,122 sales) and a new, confusingly named front drive New Yorker (119).
For 1983, the Cordoba LS was dropped; the faux convertible roof became standard. Chrysler's brochure claimed the Cordoba was "uncompromising;" the economy car chassis and tame engine said otherwise.
For this year, the front wheel drive LeBaron grabbed the lion's share of Chrysler sales (80,309); the New Yorker Fifth Avenue (soon to be just Fifth Avenue) did well, too, with 73,729 sales. The front drive New Yorker added 50,091 more, and the E Class joined in with 35,283. The Cordoba had only 10,291 sales, behind every other Chrysler model save the Imperial. Four doors were increasingly popular and hardtops were fading away.
This was the final year for the Cordoba name; one could argue that the real Cordoba had died with the B-bodies, and that everything else was just a fancy Diplomat. But then, what was the Cordoba but a fancy, well-sound-insulated Charger? Either way, Cordobas are still remembered today—if only for their "rich Corinthian leather."
Follow us on Post! It's like Twitter, but without ads or Nazis!

Books by MoTales writer David Zatz

Copyright © 2021-2023 Zatz LLC • Chrysler / Mopar car stories and history.