1975-77 Dodge Charger SE and Daytona (Chrysler Cordoba):
Not quite NASCAR
The first Dodge Charger was a sporty, midsize two-door set apart by its turbine-car styling; it was also set apart by very low sales, despite the attraction of the optional 426 Hemi V8. The car was put on the map by a critically acclaimed change in styling; the 1968-70 Chargers are probably the most desired today, and the Chargers people remember, even though the 1971-74 styling attracted more buyers—the 20th-century Charger sales peak was in 1973.

Product planners were faced with a problem for the 1975 Chargers. They had used the same basic look since 1971, but with the company in poor financial straights (and Charger sales nothing to write home about), they had no money for a new design. They had three choices: to soldier on with the 1971 style, to share with the Plymouth Satellite and Dodge Coronet coupes, or to share with another new car—the 1975 Chrysler Cordoba.
The Cordoba was about to launch as a high-trim, medium-size car, following the formula of the Grand Prix, Monte Carlo, Thunderbird, Riviera, and Toronado (also the Plymouth GTX, which had not been at all popular). The formula worked for the Cordoba: it hit 150,000 US sales in the first year, a rare home run for Chrysler. It did not work quite as well for the Charger.

As it happens, the base Charger's place in the lineup was taken by the Coronet hardtop, whose sales were almost invisible (roughly 21,000) for 1975 despite being visibly the same car as the more-popular 1977 Monaco. The new Charger SE was taken from the Cordoba, separating itself with unique tail-lights and such. Product planner Burt Bouwkamp asked Dodge styling chief Bill Brownlie to add ornamentation to "put some hair" on the Cordoba's "formal" design. The effort was not especially successful, but that's neither Bill's nor Burt's fault.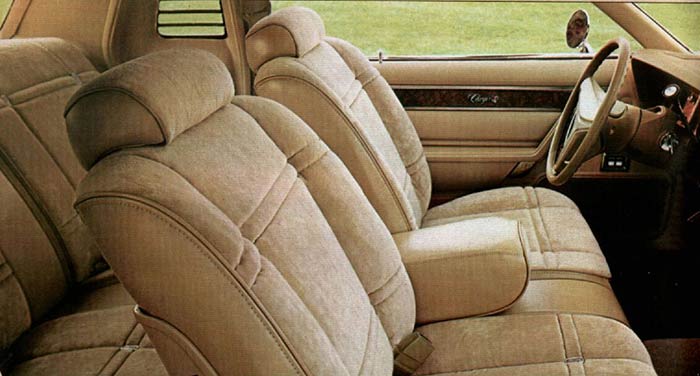 The Charger SE sold for just over $4,900 and weighed just shy of two tons, thanks to all the standard equipment and sound insulation; the Coronet hardtop, though having almost the same body, weighed around a hundred pounds less and sold for $1,000 or so less. Perhaps it would have been better to just call the Coronet hardtop a Charger, but the Charger had been a somewhat higher-level car, and the 1974 Coronet wasn't really sporty enough to pull it off—at least, not from the front. The massive grille was fine for a formal sedan, but not for a sporty car. Of course, you could say that about the Cordoba, too.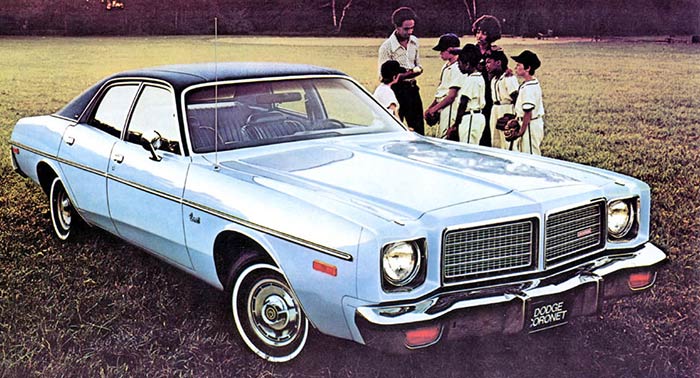 The new Charger SE looked nearly identical to the Chrysler Cordoba, under the ornamentation; in the rear, they had dual horizontal tail-lights. It was similar under the skin, too, with engines ranging from the 150-hp 318 V8 to the standard 180-hp 360 V8 and the two-barrel 400 V8, with 200 hp, adding $153 to the 360's price and providing stump-pulling torque. The top engine, a 400 cubic inch V8 based on the old 383, was topped by a four-barrel V8, producing 245 horsepower for $73 more.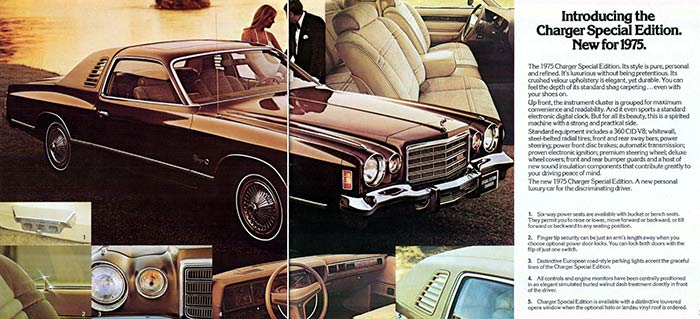 With the new Charger SE, for reasons lost to history, Dodge leaders decided to produce a new Dodge Daytona, albeit only as a trim-and-sticker package. The original Daytona, a 1969-70 car designed solely to homologate a NASCAR racing car, had a massive rear wing to assure stability at speeds over 160 mph and a nose-cone which allowed for a top speed of over 180 mph (a record of over 200 was set on a well-tuned car).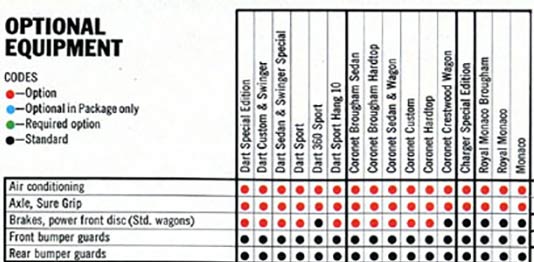 The new Charger Daytona was not quite the same creature. The main way to tell it from a Charger SE was the two-tone paint scheme, which was bright and attractive; the car also had accent stripes, decals, and vinyl bucket seats. This could not be mistaken for a stock Cordoba, but it really wasn't a Charger Daytona, either. The new $132 package was launched in March 1975, with three color combinations; buyers were already paying substantially more for the Charger SE than the Coronet Charger.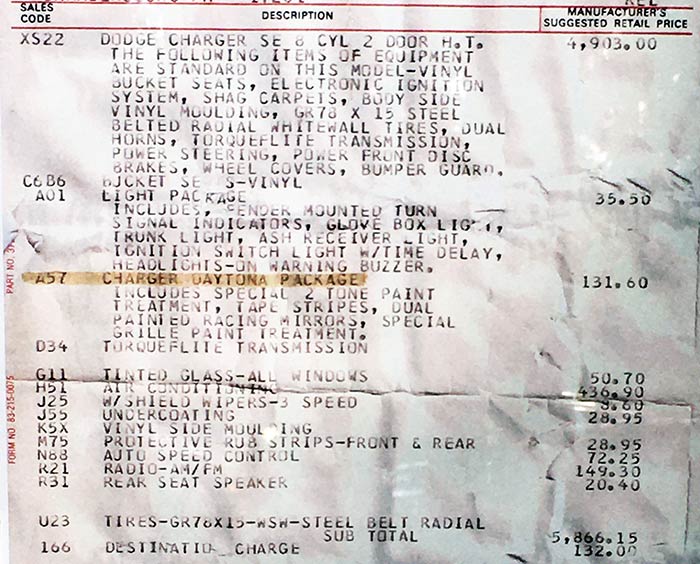 The sticker tells the story: the Charger Daytona was a $132 package including the two-tone paint, stripes, special mirrors, and a special grille. To get it, you had to opt for the Charger SE hardtop, which included a fairly tame two-barrel 360 V8 and automatic transmission.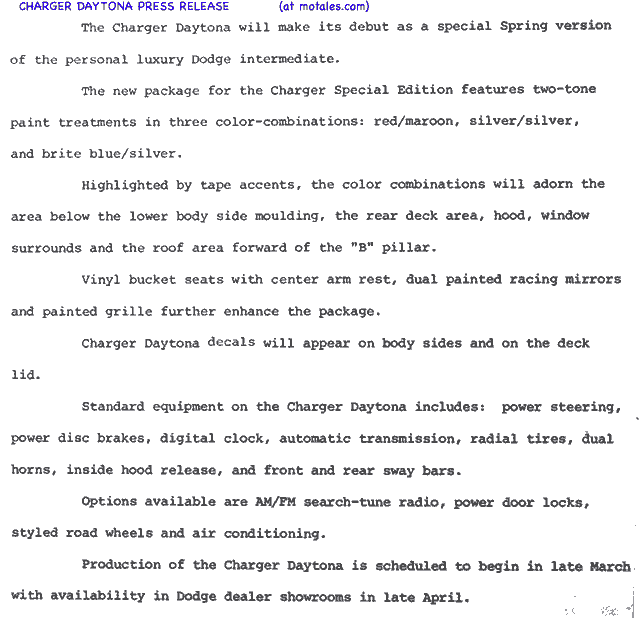 The Charger SE had 24-ounce shag carpeting, electronic clock (of the "rolling-numbers"  style, not LED), indirect interior lights front and rear, front and rear sway bars, GR78x15 radial tires, power steering, disc brakes, three-speed automatic, electronic ignition, and, compared with other B-bodies, added sound insulation; the net result was, to quote Dodge, an "expression of personal luxury"  which was "luxurious without being pretentious."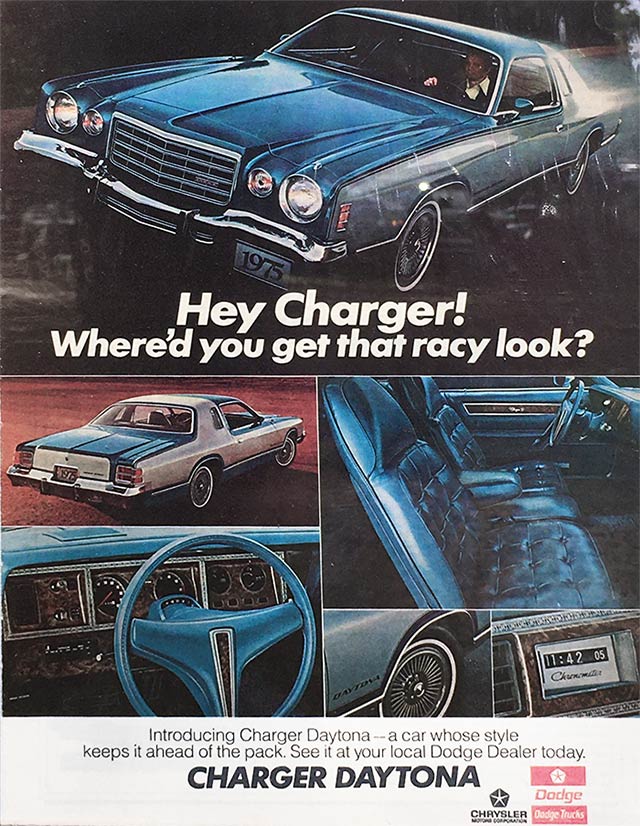 The Charger was, as always, a two-door hardtop coupe, with a long hood/short deck design; the SE had opera windows and rear pillar louvers, which were not a boon to aerodynamics. Dodge kept running the 1974 Chargers in NASCAR as long as they could; in 1975, they tallied 14 Grand National wins in the older cars.
All the "B-bodies"  used recirculating ball steering; longitudinal front torsion bars with lower trailing links; semi-elliptic rear leaf springs; and rigid front and rear axles. The Charger SE had a standard rear anti-sway bar with front disc, rear drum brakes; the Coronet had drums all 'round. The cars were all unibodies, with isolated front crossmembers. All engines used downdraft carburetors; Charger SE choices were two-barrel and four-barrel.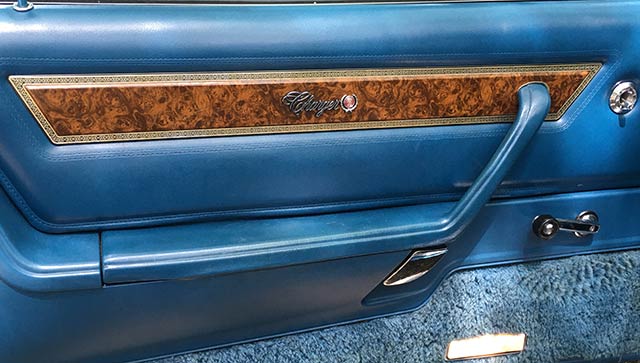 The 318 and 360 engines were closely related (and historically could be traced back to the original Hemi), while the 400 was a completely different design; all used wedge-style combustion chambers with overhead valves. Automatic transmissions were three-speed TorqueFlites, with the tamer engines having the lightweight A-904 and more powerful engines (or those with heavy duty packages) carrying the A-727. For 1975, Dodge did not need catalytic converters, but had hardened valve seats, so they could run either leaded or unleaded fuel.
"Scounge"  pointed out,
The 1975-1978 Charger wasn't a bad car, but it was no longer a real Charger. The emissions-controlled engines weren't as powerful as a few years prior, the extra weight from safety mandates [and noise reduction] also held it back, and it lacked similar aerodynamics at racing speeds, which admittedly wasn't a priority given the national 55 mph speed limit. This design prompted Richard Petty to quit Chrysler and start racing Pontiacs.

Perhaps Dodge should have given it a different name to promote personal luxury rather than performance. Polara was available, though that might have been confusing; or maybe another Spanish name could have been used, to go along with Cordoba.
1975 Charger SE sales were just 30,812 in the US, even as the Cordoba passed 150,000.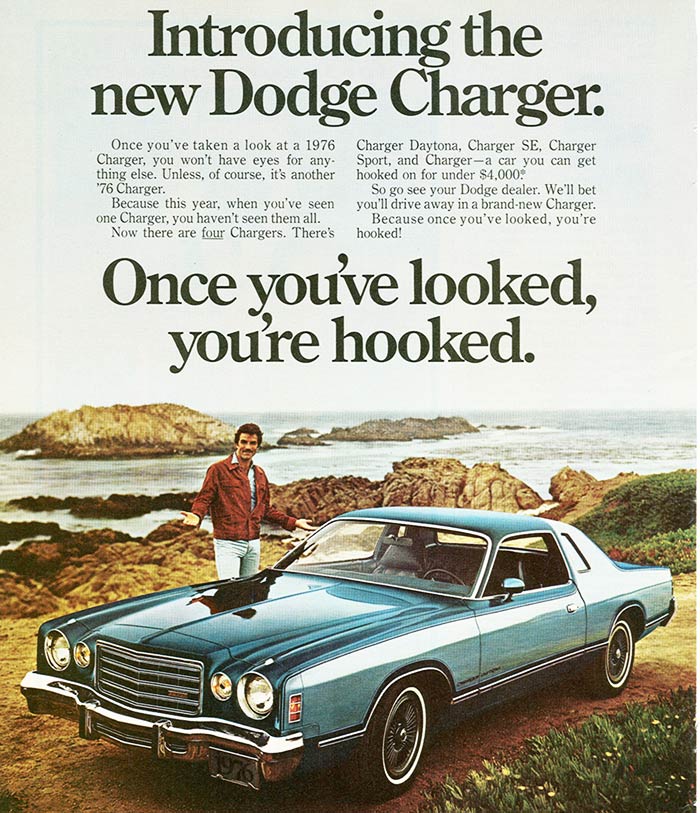 The 1976 Chargers were a bit more successful, except when compared to the Cordoba's 167,618 U.S. sales. The base Charger and Charger Sport managed just 17,424 sales; the SE (including Daytona) registered a more respectable 35,337. Together, they managed to reach one third of the Cordoba's sales.


As a running change in 1976, Chrysler switched from asphalt-based rustproofing to a seven-step autophretic coating system. They cleaned parts numerous times with recirculating and fresh water, including de-ionized water, before adding an autophoretic coating and letting it all cure and dry; this used less energy than asphalt, worked better, was much lighter, and reduced pollution.

Changes for the 1977 Charger SE included bucket seats with thinner backs to increase passenger space, new colors, door-mounted courtesy lights, and recessed armrests. Every corporate V8 was available, but the 318 moved from its old 3.2:1 rear axle to an economy 2.7:1 axle. T-bar roof and power sunroof were optional. The Charger's performance suspension greatly increased cornering ability, at the expense of comfort, versus the Cordoba; visually they remained nearly identical.
New features for the year included a high-efficiency, low-slip torque converter, new wire terminal system, double-contact starter relay, upgraded batteries, and weight losses from changes such as aluminum transmission cases (manual) and lighter fans. Radios, including those with tape decks and CBs, were built by the Huntsville Electronics Division. Specific Charger changes included bucket seats with thinner backs to increase passenger space, new colors, door-mounted courtesy lights, and recessed armrests.
For 1977, sales were only 36,204—a gain of fewer than one thousand. Meanwhile, the Cordoba registered another banner year, with 163,138 cars sold in the US. "Scrounge" pointed out that this was not solely a Charger issue:
Sales were lower for 1975 because of the lingering recession, and the higher gas prices. Economy cars sold well, but sales of larger ones didn't improve until 1976.

The Cordoba could have been considered an economy car compared to larger Chryslers, but the 1975 Charger was topped in price by only the Royal Monaco in the Dodge line-up. For 1976, Dodge cut the Charger's base price by about $1000, partly by making its standard engine (for only that year in this generation) a slant six. The SE's price only dropped by around $100.
In 1978, the Charger SE was joined by the Dodge Magnum, which was, save mainly for its front clip, identical to the Charger SE. In its final year, just 2,735 Charger Special Editions left the lots, compared with nearly 48,000 Magnums and 108,054 Cordobas. The Charger name would return twice: once as a front-drive coupe, and once for a rear wheel drive sedan. The second time, it would, year after year, eclipse the sales of its best year in the 1970s, and positively drown the sales of the Charger SE. That doesn't mean the Charger SE was a bad car; the Daytona package was incredibly sharp, and many still admire it today. The SE was comfortable, smooth, and, for the day, quiet. But most people chose to get the same car with the Chrysler nameplate, and Dodge gave it all the time it could before pulling the plug.
| | | |
| --- | --- | --- |
| Specifications | 1974 Charger | 1975-78 Charger and Magnum |
| Wheelbase / length | 115" | 115" |
| Length | 205 | 215 |
| Headroom, front/rear | 37" / 36" | 37.7 / 36.6 |
| Legroom, front/rear | 42" / 34" | Same as 1974 |
| Cargo volume | 14.2 cubic feet | 16.3 cubic feet |
Books by MoTales writer David Zatz
Copyright © 2021-2023 Zatz LLC • Chrysler / Mopar car stories and history.