Lee's Next Mustangs:
The Dodge Omni O24 (Charger) and Plymouth TC3 (Turismo) story
Lee Iacocca is mainly known for rescuing Chrysler Corporation, and as the father of the Ford Mustang. The two came together with the Dodge O24 (aka the Charger) and Plymouth TC3 (aka the Turismo), coupes based on the economy Horizon and Omni.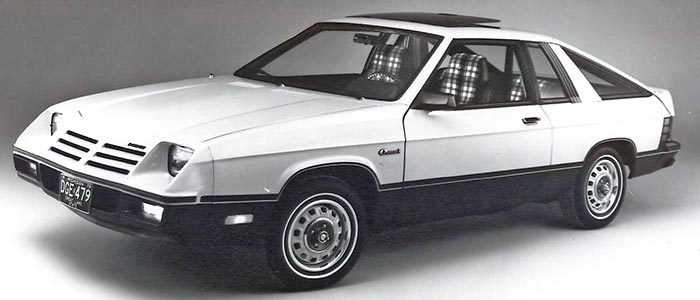 Lee was king of Chrysler, in his prime; he fired off new car ideas one after the other, and some took off (convertibles) while some failed (luxury cars based on the economy Reliant).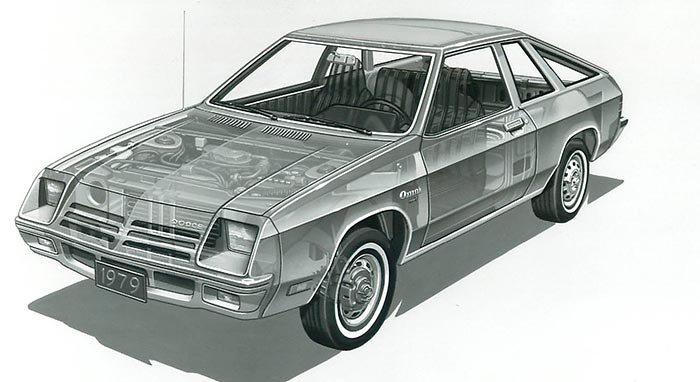 In 2021, Burt Bouwkamp—former head of product planning—wrote that Lee hoped to resurrect the spirit (and sales) of the 1964 Ford Mustang with a new coupe based on the European-engineered Dodge Omni and Plymouth Horizon. The original Mustang, after all, was a trim, sporty version of the Ford Falcon, and the base engine was a very tame six-cylinder; today it's known mainly for impressive the D-code four-barrel 289 V8 (which wasn't actually sold in the early cars, but appeared later). Unfortunately, when Lee wanted his "new Mustangs," there was no powerful, small engine to put under the hood; that would have to wait until 1984.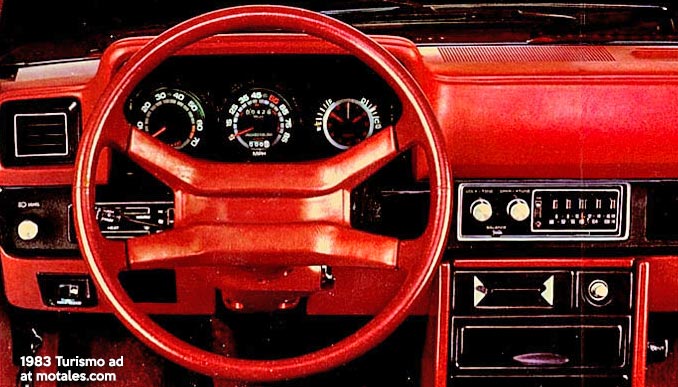 The creation of the Omni and Horizon itself (as told at Allpar) was an odd tale, but the hatchbacks were voted Car of the Year on both sides of the Atlantic. The Mustang-heirs-apparent, the Dodge O24 and Plymouth TC3, were launched in 1979, while the Omni and Horizon were relatively new, and before the K-cars showed up. Higher-performance versions could run circles around the original (or current) Mustangs on a curvy track, despite their trailing-arm rear suspensions; but their sporty looks were belied by underpowered base engines. (Front suspensions were "Iso-Struts," and base models had 13" wheels.)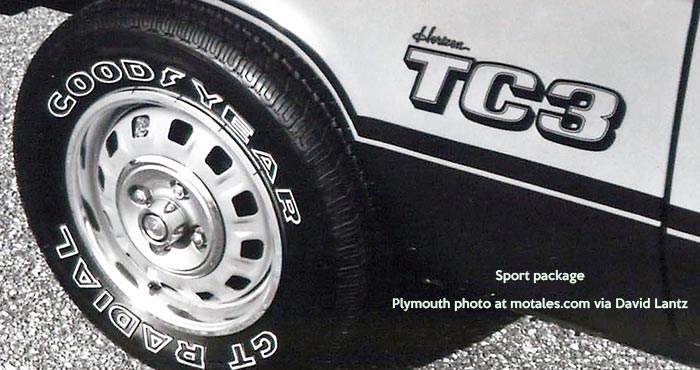 In the first years, since Chrysler had no four-cylinders of its own and no suitable Mitusbishi engines were available, they purchased blocks from Volkswagen and added the "dressing" at their own factory. What the sporty coupes really needed was the 2.2 liter four-cylinder, a true Chrysler design; it was still in the design phase, but would have 84 horsepower and a generous helping of torque. Even that would only have been suitable as a base engine; from the start, the sporty coupes really needed turbocharged four-cylinders that would not be available for years to come, and that was likely their downfall.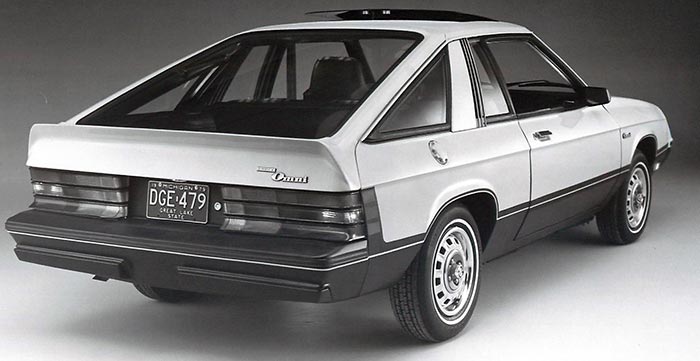 According to Burt Bouwkamp, the one thing that bugged Lee was the C-pillar and backlight; Styling trued numerous appliqués and even an opera window, but Lee was never happy with it. Finally, he chose a quarter window appliqué (Styling preferred an exposed window with no appliqué but was overruled).
The original cars were the Dodge O24 and Plymouth TC3; presumably, the "24" came from "two door, four cylinder" while TC3 was based on being a Coupe-3-door. (To this day, people disagree on whether hatchbacks should be called two-door or three-door.) It's possible neither of these theories is accurate.


The Plymouth TC3 had Rallye and Sport Appearance packages with a rear spoiler; one option with the Sport Appearance pack was plaid-upholstered seats. The base engine was the 1.6 "Peugeot" powerplant, actually designed for the Omni/Horizon - it became a Peugeot engine when Chrysler sold their European operations (which had designed it) to Peugeot. (history).
As with the Mustang, the base engine was far too tame for the looks; the little four-cylinder had just 63 hp and 83 lb-ft of torque, making the 84-horse 2.2 a far better deal when it finally arrived. Fuel economy was good either way, given the light weight; buyers could expect 25-30 mpg in mostly-city driving from the smaller four-cylinders, around 1 mpg less with the standard 2.2, and around 21-26 mpg from the high-performance (110 horsepower) 2.2 when that arrived. According to Consumers Guide, which was by no means a Mopar fan magazine, the TC3/Turismo and O24/Charger were "on the crude side" (a fair assessment) but with 2.2 had "plenty of zip," while the 110-horse 2.2 provided "eye-opening pickup."  They believed that the 1979-81 models had the most problems.   Californians, incidentally, could not buy the 1.7 and had to splurge on the (superior) 2.2.

The cars were quite small (56 inches wide, 51.4 inches high, and 172.7 inches long) and very light; the dashboards were proportioned to the cars, and the gauge clusters were quite small. From the start, there was a base cluster and an optional Rallye cluster, in keeping with company traditions from the rear-drive days.
John Rush pointed out that early Dodge O24 promotions declared, "Its competition is still on the drawing board," suggesting that Iacocca, who had come from Ford, was thinking of an upcoming car—perhaps the Escort EXP.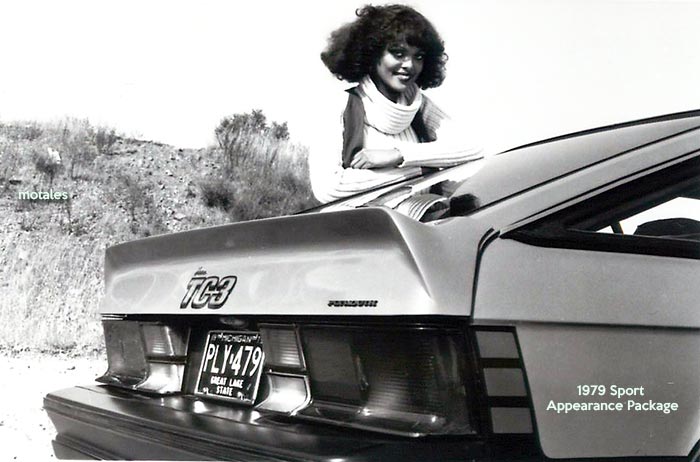 Power at last
The "1981 ½" 2.2 liter sport version was the first to wear the new Plymouth Turismo name and the vintage Dodge Charger name; they had a hood scoop, stripe kit (tape), and two-tone color scheme. The engine was just 84 horsepower, with 111 pound-feet of torque, but that was far better than the 1.7 liter (which did 70 hp at best), and the car could hold its own against its contemporary competition—for the moment, at least.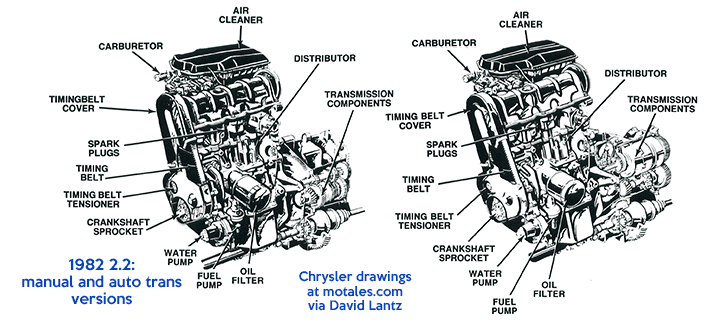 Car & Driver lauded the Charger 2.2, calling it "one of this year's most pleasant surprises" and claiming that it easily beat the Volkswagen Scirocco in acceleration, and was more aligned with Audi in speed.
Ordinary TC3 and O24s could also have the 2.2 option, without the graphics, faux hood scoops, and handling package (which included stiffer springs, tighter shocks, front and rear sway bars, and P195/60R14 Firestone HPR tires). The base transmission was a four-speed manual, with an optional three-speed automatic. New for 1981 was a Chrysler-engineered, Chrysler-made four-speed manual (A-460), with a wider spread between gears for better fuel economy, larger-capacity synchronizers to help with the 2.2, and a reverse gear with easier (but not easy) engagement; ratios went from 3.29 (first) to 0.88 (fourth), with reverse at 3.14 and an overall top gear ratio of 2.69:1. This transmission was standard on the Horizon and TC3 (and the 2.2 Reliant). Buyers who wanted a five-speed, then still fairly unusual, would have to wait; it was three-speed automatic or four-speed manual.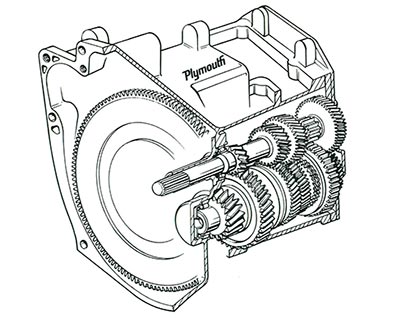 The 1982 cars gained a linkless anti-sway bar, which had altered attachments to the lower control arm; the change, made on all Chrysler front-drive vehicles at once, was designed to improve the ride while cutting body roll.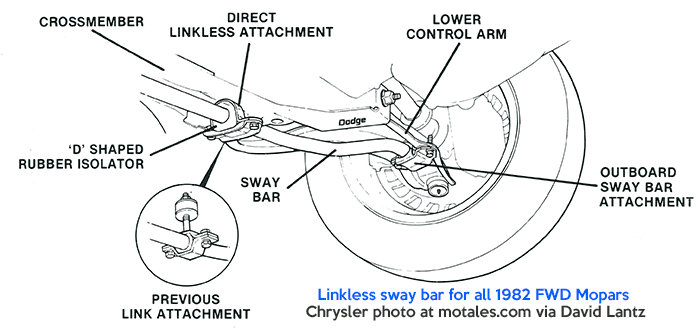 The Charger and Turismo names were made standard on the 1983 cars.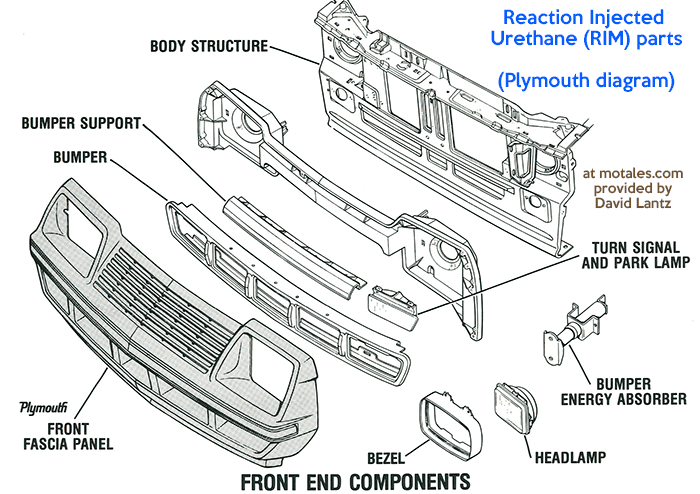 The mid-1983 Shelby Charger, which was mainly a Chrysler Engineering effort mixed with Shelby merchandising, was a midyear addition using a 107 horsepower version of the 2.2 engine, combined with a stiffer suspension, closer-ratio transmission, and quicker (14:1) steering; it had a special two-barrel carb and was only sold with a five-speed manual transmission. Shelby appearance items were an air dam, spoiler, and skirts; quarter-window plug and stripe; blue and silver paint and upholstery; and Shelby logos. Standard features on this relatively high-priced car were the rallye gauge cluster, four-spoke steering wheel, high-back bucket seats, freestanding center arm rest, and extra sound insulation. Tires were a sporty P195/50R15, with steel-belted radials.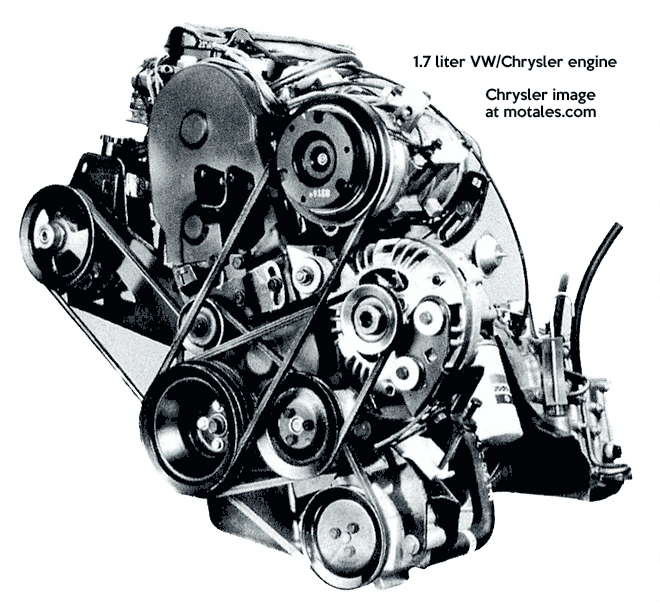 Partway into in 1983, the Omni, Horizon, Turismo, and Charger dropped their base engine from the 1.7 VW to a 1.6 liter Peugeot engine. This was not the former Simca engine used in European Chrysler Horizons, but an actual Peugeot design. The Volkswagen engine had produced 63 horsepower and 83 pound-feet of torque with a two-barrel Holley carb; the 1.6 liter produced 62 horsepower and 86 pound-feet of torque, also with a two-barrel carb. On the lighter side, the company could claim 32 mpg city, 50 highway with the 1.6 liter engine with the four-speed manual, using the rather realistic testing standards of the time. Those who chose the 2.2 engine could get a five-speed manual transmission.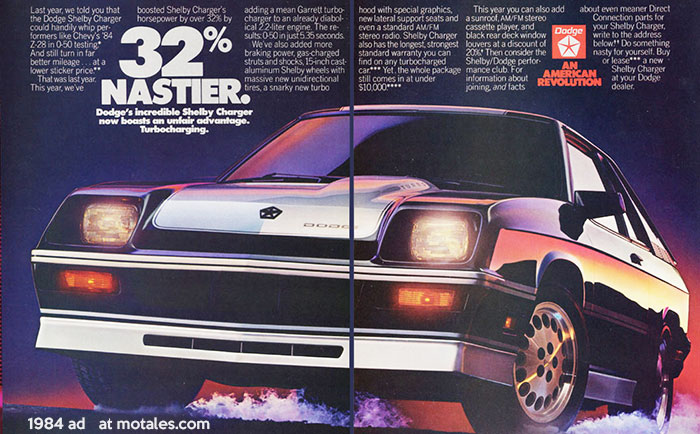 Sales continued to be disappointing, but Lee didn't give up, and for 1984 there were new quad headlights (halogens); and a new gauge cluster, with an optional full-instrumentation setup, was installed, at great expense to the company. The hood pannels were new, inside and out, as were the quarter window appliqués. The "2.2"  models got a black rear liftgate spoiler.
The Shelby Charger now had a unique cam and a higher (9.6:1) compression ratio, with unique digital tuning; a chrome-plated valve cover set the engine apart from ordinary 2.2s even when it wasn't moving. A five-speed manual transmission, the only transaxle in the Shelby version, made the most of the power. Wide stripes from head to toe emphasized the package, now including 50-profile Goodyear Eagle GT tires on 15-inch wheels (the same diameter used on the most potent Mopar muscle). The package ran a substantial $2,000, but gave buyers a sub-16-second quarter mile time which was good enough to beat much of the old muscle. The car could go from zero to fifty in 5.5 seconds, which again was good for the time, but not good enough.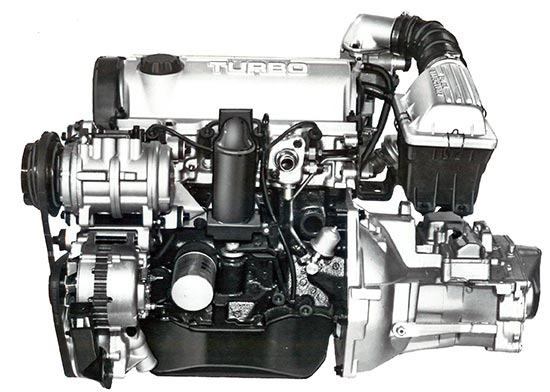 Finally, 1985 brought the engine that would have probably put the Charger and Turismo on the map in 1979: the 2.2 turbo. Running at 146 hp, finally using multiple-point fuel injection, this engine was good for 35 horsepower more than the prior year's best (now optional in the base Chargers). That made the Charger very potent for the era, and fairly potent for the 1960s as well. This setup used a Garrett AiResearch T3 turbocharger and a unique fuel injection setup, developed by Chrysler and Bosch, which didn't get to any of the company's other cars.
The new Plymouth Turismo Duster package included a rear spoiler, rallye wheels, and stripes. The Shelby Charger included a a close-ratio transmission with a 2.57:1 overall top gear ratio, along with the usual upgrades to the brakes and suspension, and heel/toe-capable pedals.
| | | | | |
| --- | --- | --- | --- | --- |
| 1986 Turismo engines | C/R | HP | Torque | MPG |
| 1.6 liter (Peugeot) | 8.8 | 64 | 87 | 31/39* |
| 2.2 carb (normal) | 9.0 | 96 | 119 | 26/36** |
| 2.2 turbocharged | 8.1 | 146 | 170 | 20/27 |
| 2.2 carb, high output | 9.6 | 110 | 129 | 22/30 |
The EPA changed its methods for evaluating gas mileage and re-estimated mileage for all 1986 cars. The current adjusted mileage for the 1.6 Charger manual, for example, is 26 city, 35 highway rather than 31/39.
* For five-speed. Four-speed manual rated at 28/33
** Plymouth Turismo 5-speed 2.2 oddly rated 26/35 rather than 26/36
The 1986 cars had newly-required center-mounted brake lights along with anti-rattle padding for the jack and lug wrench. The 96-horsepower 2.2, still using a two-barrel carburetor, was optional on base models; 13 inch wheels were standard with the base engine (with 14 inch wheels optional).
The Turismo line was base, Duster, and 2.2; the Duster had special seats, wheels, and trim, while the 2.2 had most of the Shelby items (air dam, side sill spoilers, stiffer suspension, close-ratio five-speed, performance exhaust, and high-performance 2.2). The 2.2 engine came with 14-inch wheels. The air dam was serious: it cut drag by 3.5% while directing more air to the radiator. The rear spoiler cut drag by 9%.
Every Turismo had a tachometer, speedometer, temperature, voltage, and oil pressure gauges.
Overall top gear ratios on the automatic were 3.02 or 2.78; on the manuals, 2.69 (4-speed), 2.20 (five-speed), or 2.78 (Turismo 2.2 only). Weight was only around 2,155 pounds. The 96.6 inch wheelbase yielded a surprisingly long 175 inch length, with long overhangs front and rear; the car was less than 51 inches tall, and 66 inches wide. It did hold a rather hefty 32.4 cubic feet of cargo.
Sales continued to fail to impress, and after 1987, Chrysler finally gave up. Just 2,011 copies of the 1987 Shelby Charger were made. The Duster package was combined with the "America" cut-price program for steep discounts. (The America package included a full console, power steering, AM stereo/FM stereo, high-back reclining bucket seats with better lateral support, and carpeted cargo compartment; the package would be a bit more lavish with the Sundance later on.)
Who bought the Turismo? According to Plymouth, 63% of buyers were under 35, with a median age of 29—by far, the youngest buyers of any Plymouth (#2 was the Sundance, with 38% under 30 and a median age of 35). Just 45% were married. 60% of buyers were women; it was by far the Plymouth most likely to be purchased by women (63% of Voyager minivan buyers were men). The median income was low ($26,000), the lowest of any Plymouth buyers.
The last thousand Chargers were sent to Shelby for conversion into the Shelby Charger GLHS, which was basically a coupe version of the 1986 Dodge Omni GLHS. It clocked zero-to-sixty miles per hour in less than 7 seconds, and easily outhandled just about any classic muscle cars; indeed, it could beat most of the 1960s/1970s muscle cars on any reasonably curvy track. It had a sunroof, air conditioner, and cassette deck as standard equipment, all for just under $13,000—admittedly at a time when cars started at around half that price.

There were some trouble spots in these cars, including shift linkages whose bushings tend to wear out every few years, and strut tower bushings on older models.
Even in its final year, the Turismo Duster compared well to its competition, including the Ford EXP and Mustang, and the Chevy Cavalier. The Ford and Chevy only mustered 90 horsepower from their base engines, while the Turismo Duster ran 96; gas mileage on the four cars was similar. The Cavalier and Turismo Duster both had 13-inch wheels, even with the 2.2 engine; the EXP and Mustang had 14-inch wheels. The Mustang also had an optional 225-horsepower V8, which easily outpowered the Turismo's optional 146-horsepower four-cylinder.
The Charger and Turismo—and their O24/TC3 predecessors—were geared more to handling than customers may have wanted them to be; and the interiors were fairly small and low to the ground, as well. Still, had Chrysler been able to equip early models with suitable engines—which Chrysler did not have until 1984, five years later—perhaps they could have fulfilled Lee Iacocca's dream. As it was, sales were always low, and it seems unlikely that Chrysler made much, if any, money off of them, even if some enthusiasts still love the cars.
Books by MoTales writer David Zatz
Copyright © 2021-2023 Zatz LLC • Chrysler / Mopar car stories and history.