1973 Dodge taxi brochure
The first true Chrysler taxis, sold as a special package, were 5,014 1935 DeSotos, with a 116-inch wheelbase and an easy five-passenger capacity. They had big brakes that stopped quickly but didn't require a lot of servicing, and an economical 100-horse straight six engine. The number of cabs doesn't sound like much, but total U.S. DeSoto sales were only 26,800 or so—so the taxis were a success, and the packages later spread to Plymouth and Dodge.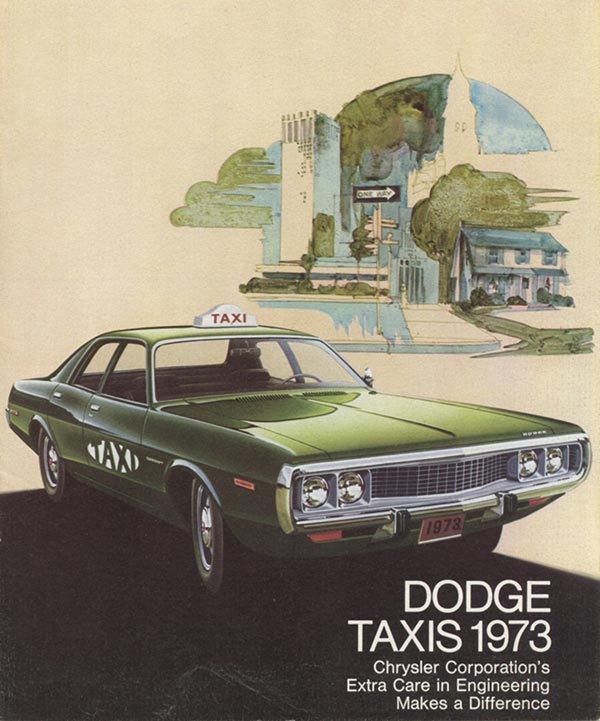 Chrysler still used their "extra care in engineering" slogan in the 1970s—and, to be fair, it was usually true, compared with GM and Ford.
In 1956, Chrysler dominated the taxi trade in many cities—selling over half the cabs in New York and Detroit, and nearly every single cab in Los Angeles, Kansas City, and Cincinatti, among others. In the 1960s, cabs were usually based on midsized or large cars, such as the Dodge Coronet and Polara, respectively; they had optional alternators including 100-amp units, and were set up with heavy-duty suspensions and interiors, oil-bath air cleaners, and either six-cylinder or V8 engines.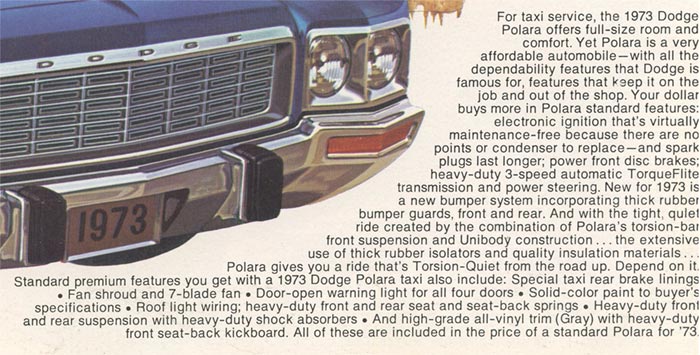 For 1973, the slant six was the standard taxi engine, with an optional 318 cubic inch V8—no big block taxi packages. Standard equipment included a heavy duty (A-727) automatic, light switches on the rear doors, electronic ignition, bumper guards, fan shrounds, roof-light wiring, and heavy duty rear seats with thick vinyl and no unnecessary seams. The car sat on a heavy duty suspension, and the engine had a big, heavy-duty radiator with a seven-blade fan and a fan shroud.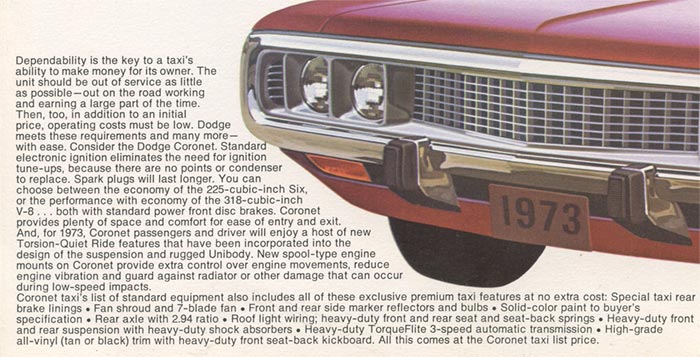 Options included air conditioners, bigger alternators, remote control deck lids, a manual fast-idle control (presumably to keep the battery charged), spotlight, even heavier duty suspension and front sway bar, fleet keys (multiple cars with the same keys), locking gas cap, even heavier duty cooling, and partial horn ring on the steering wheel.
Most taxis were probably the midsized Plymouth and Dodge cars; though the larger cars had two and a half more inches of rear legroom and a larger trunk they were also 13 inches longer, two inches wider, more expensive, and less economical. The Polara required a V8 to have air conditioning or the California clean air system. Seats were green or black in the Coronet, gray in the Polara.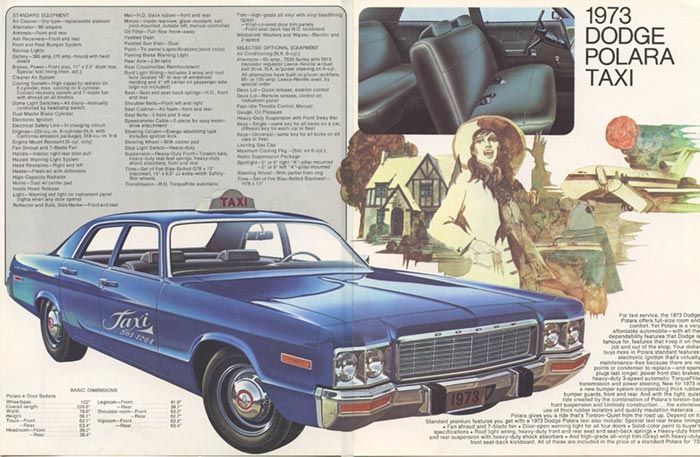 The brochure may have had a good deal of artwork, but you can see that it also included a fairly lengthy feature and specification list which would likely be of more interest to most prospective buyers, especially fleet buyers. The inside was fairly plain, but that was mostly because they wanted the seats to endure a good deal of abuse without showing wear or tears.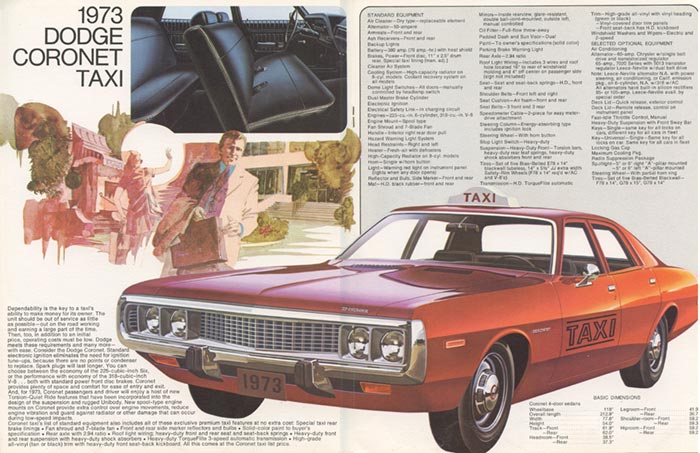 The Coronet was almost certainly far more common as a taxi, given its lower weight, giving it better gas mileage and acceleration, and its lower price; the Polara was more of a luxury car for Dodge, though as a taxi it would have fairly plain interior trim (the dashboard would at least be in common with other Dodges).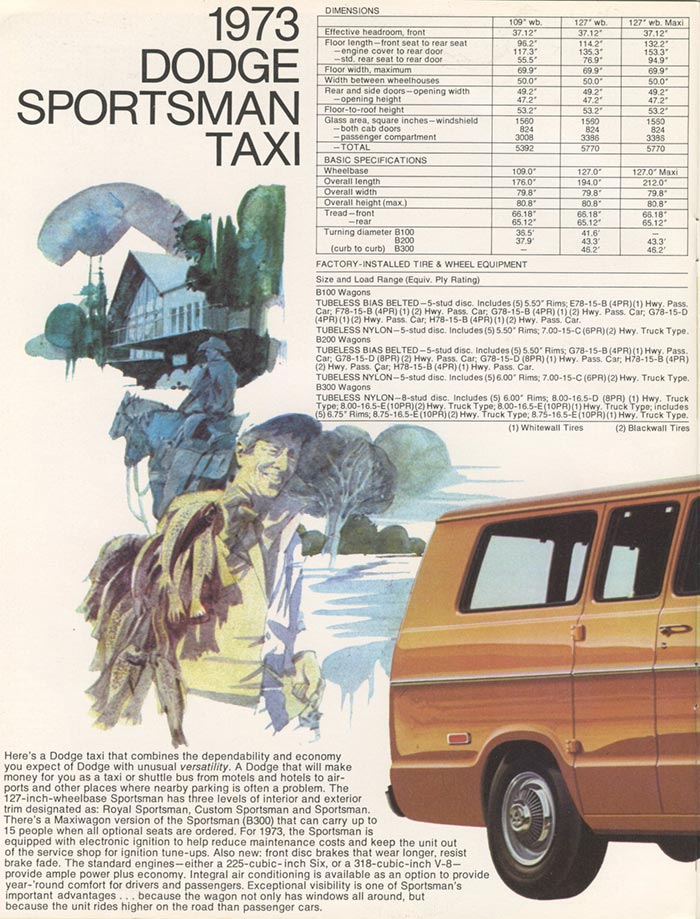 The Dodge B-van was also sold, with rear seats, as a taxi. In these larger images, you can see the various specifications Dodge provided to its fleet buyers.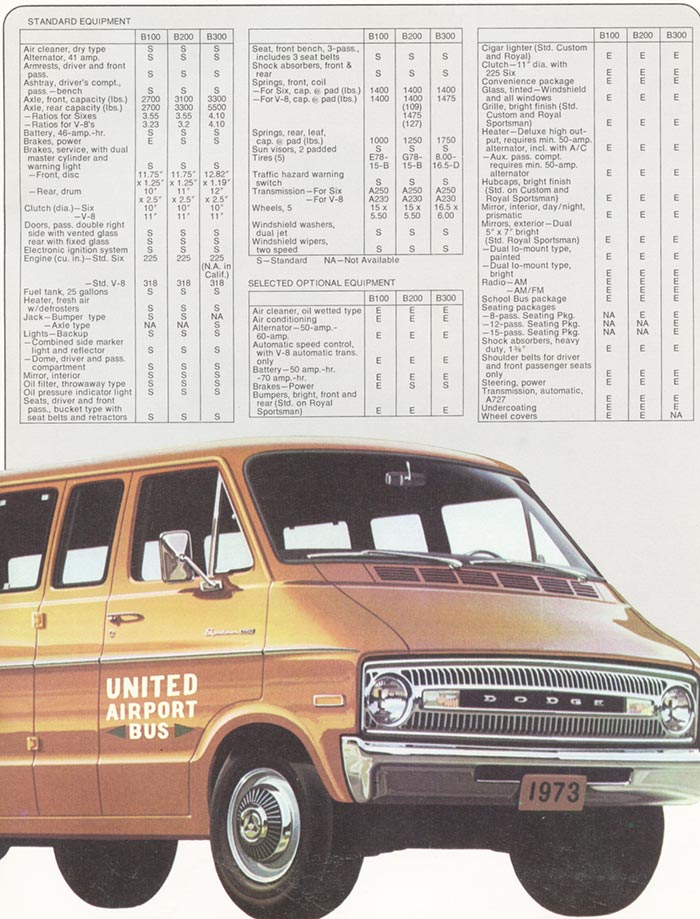 As a side note, much of the taxi package was shared and developed with the police packages; this would include the heavy duty cooling and electrical systems, some of the suspension components, and the tough seats. The police cars would be more likely to have bigger engines—though many police cars, e.g. for detectives or inner-city police, did make do with the slant six or humble two-barrel 318 V8.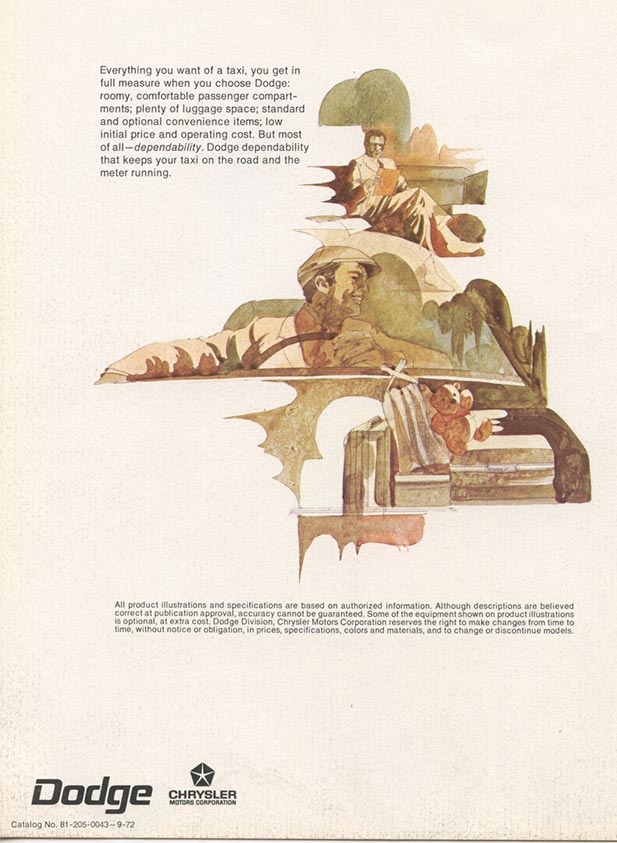 This particular brochure is currently on sale at ebay.
Car brochures are generally created by ad agencies, not the automakers, and reflect what they hope are the latest fashions as well as hopeful brand images.
See other Chrysler materials •  If you are interested in buying brochures or press kits, see our writer's literature for sale list
Follow us on Post! It's like Twitter, but without ads or Nazis!
Books by MoTales writer David Zatz
Copyright © 2021-2023 Zatz LLC • Chrysler / Mopar car stories and history.