The "letter platforms" for classic rear wheel drive Chrysler, Dodge, and Plymouth cars
Chrysler adopted single-letter codes (A, B, C, and D) to lump cars together by size with the 1964 model year. Before 1960, the company had essentially split its cars by size, with each marque getting progressively larger cars. The 1960 Valiant started a new compact line, which by 1964 had three nameplates across two brands. Both Dodge and Plymouth sold these compact cars—and intermediate (midsize) cars. Chrysler sold large cars, one of which was shared with Dodge. The new body codes simplified matters. A bodies were compact, based on the Valiant. B bodies were intermediates, and C bodies were full size; D bodies were all body-on-frame Imperials.

1976 domestic Plymouths: From left to right, C, B, and A body sedans
One could ask about the impact of the 1962 model year, when Chrysler suddenly downsized most of their Dodge and Plymouth cars to a 116-inch wheelbase. What do we do with the 1960-61 Plymouth and Dodge cars? Chrysler itself never put them into any class, and while we can argue about whether they were B or C bodies today, they technically were neither.
After the 1960 switch to unibody designs (for all but Imperial and most wagons, which changed over later), Chrysler refreshed all its intermediates or all its full size cars at once, regardless of marque. Changing a unibody car is relatively hard because the sheet metal plays a structural role; so the company changed all the B-bodies or all the C-bodies or all the A-bodies as groups, rather than changing all the car lines from Plymouth to Imperial at once, as was the custom before 1960.
A bodies: compact Plymouth and Dodge cars, 1960-76 (and beyond, outside the USA)
The A-body included some of the most remembered Plymouth and Dodge cars, since the company's market share for compacts was far greater than its market share in most classes. This was good and bad—the bad part was that the compact cars rarely added much in the way of profits, at least after the first few years. They were created by a skunkworks team, working together in a "platform team," and some of their innovations (new axles, new brakes, standard alternators, and a revised torsion-bar setup) were quickly adopted by other Chrysler cars.
At Plymouth, all Valiants and Dusters were A-bodies (except AP Valiants designed in Australia); so were 1964-69 Barracudas. The Barracuda name was moved to a custom platform in 1970, and the Duster took its place as a Valiant-based coupe.
The Valiant and Barracuda had a 106 inch wheelbase up to 1966; it was reported as being 106.5 inches in 1960-62, but the head of Valiant body engineering later said they had "re-estimated" it to meet Marketing needs, because, production variances being what they were, the car could very well be half an inch longer than the design specification.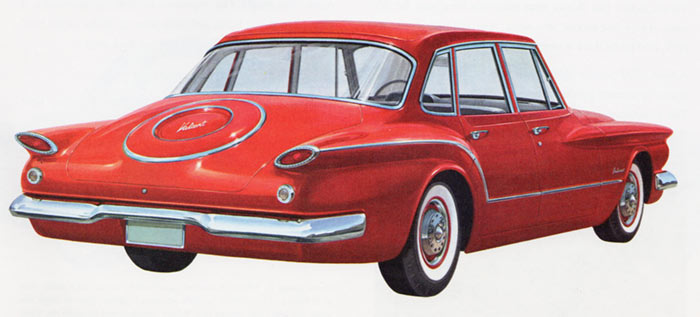 When the 1960 sales figures came in, Plymouth had poor sales because most of their traditional customers had gone for Valiants. The executives belatedly re-assigned the Valiant to Plymouth Division—it was launched as its own marque, like Imperial. Dodge demanded its own version, and, as usual, got it: the 1961-62 Lancer, a restyled Valiant. That bought enough time to create a more "Dodge type" version, which debuted on a longer (111 inch) wheelbase as the 1963 Dodge Dart (the Lancer name disappeared until Mitsubishi adopted it). The Dart wagon, incidentally, stayed on the Valiant wheelbase, because sales were too low to justify two wagon bodies.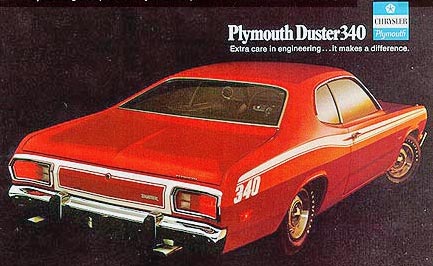 The "widebody" Valiants appeared for 1967. The redesign was meant to fit bigger engines into the Barracuda and Dart, but Plymouth went to a 108-inch wheelbase as well. These longer, wider Valiants didn't have the tight, premium feel of the originals, but they were still rated as the best compacts by one famous "consumer" magazine to the end and enjoyed strong sales. The 108 inch 1967-73 Valiant wheelbase was shared with the 1967-69 Barracuda, the 1970-76 Duster, 1971-72 Demon, and the 1973-76 Dart Sport. The 1971-76 Scamp, a Plymouth version of the Dart Swinger, used the Dart's longer wheelbase; the 1971-72 Dodge Demon, a copy of the successful Duster, used the shorter Valiant wheelbase.
The complicated lineup was simplified with the 1974 Valiant, which moved to the Dart's 111-inch wheelbase. For 1974-76, the Valiant, Dart, and Scamp were on the long wheelbase, and the Duster and Dart Sport coupes were on the short one. (Canadian Valiants were on the Dart's 111-inch wheelbase from 1963 on, to simplify production.)
106" (including "106.5" inches)—1960-66 Valiants, 1961-62 Lancers, 1964-66 Barracudas, 1963-66 Dart wagons
108" — 1967-73 Valiants, 1967-69 Barracudas, Valiant Duster, Dart Demon, 1973-76 Dart Sport
111"—1971-76 Scamp, 1974-76 Valiant, 1963-76 Dart sedan/coupe, Canadian 1963-76 Valiant
B Bodies: midsize Mopars, 1962-79
The B body may have been the result of a mistake—Chrysler's president thought GM was downsizing its cars, and immediately demanded that Chrysler shorten all its Plymouth and Dodge cars for the 1962 model-year, though tooling was already being made. This incredibly expensive crash program resulted in a new line of cars on a wheelbase between the Valiant and "full size" cars—the B bodies.

While 1962 was a sales disaster, the midsize cars turned out to have a definite value and place in the company's lineup, and might otherwise never have been produced at all. The company was likely quite happy to have intermediate cars available when the 1970s fuel crises started slamming its full size models; they were also quite handy during the muscle car era.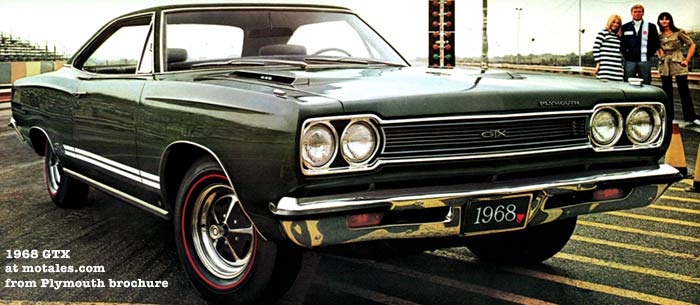 There were five different wheelbases for the B bodies, as well as a stunning 15 different names. In their first year, these cars were sold as the Belvedere, Fury, Savoy, Dart, and Polara, all sitting on a 116 inch wheelbase. The wheelbase grew in time—and eventually shrank to 115 inches for various two-door cars, the final B-bodies.
WB
Dodge
Plymouth
115"*
1978-79 Magnum
1971-78 Charger
1971-75 Coronet 2-door
1977-78 Monaco 2-door

1975-78 Fury 2-door
1971-74 Satellite 2-door
1971 GTX
1971-75 Road Runner

116"
1962 Dart
1962 Polara
1962 220**/330/440
1963-64 wagons (exc. Dart)

1962-64 Savoy
1962-64 Fury
1962-66 Belvedere
1968-70 Road Runner
1967-70 Belvedere sedans and coupes

117"
1966-70 Charger
1965-70 Coronet
1967-70 Belvedere wagons
1971-74 Satellite 4-door/wagons
117.5"
1975-76 Monaco
1977-78 Monaco 4-door, wagon
1975-78 Fury 4-door/wagons
118"
1971-74 Coronet ***

***
* Also 1975-79 Chrysler Cordoba
** Dodge 220 was Canada-only
*** Chrysler also used this wheelbase for the pre-1962 Dart, Savoy, Belvedere, and Fury, which was likely a coincidence.
C bodies: big size and midline-to-luxurious fittings, 1960-78
The C body started in 1960; it was the unibody version of the company's existing large cars—at the time considered "standard size," while the A bodies were "compact" and the B bodies were "intermediate." Chrysler only had C body cars until the 1975 Cordoba, but kept using C bodies until the last one was made in 1978. Dodge had at least one C-body car from 1960 to 1978, too, in addition to A bodies from 1961 onwards and B bodies from 1962.
Plymouth had the C-body 1965-74 Fury series, which included the Sport Fury, VIP, and Gran Fury. For 1974, the Fury I and II kept their old 120-inch wheelbase, but the Fury III and Gran Fury shared a 122-inch wheelbase (also used by the 1967-73 Polara and Monaco, and by the big 1967-73 Plymouth, Dodge, and Chrysler wagons). The 1975 Fury moved to the B body, leaving the 1975-77 Gran Fury as a C-body, sharing a 121.5 inch wheelbase with the 1974-77 Royal Monaco and 1974 Monaco. The reason for "downsizing" the Fury and Monaco was likely to advertise higher gas mileage and lower prices at a time of gasoline shortages and inflation; the smaller versions were roughly 500 pounds lighter and could sell for around $1,000 less—for a 1975 Plymouth Fury sedan, $3,591 rather than the Gran Fury's $4,565.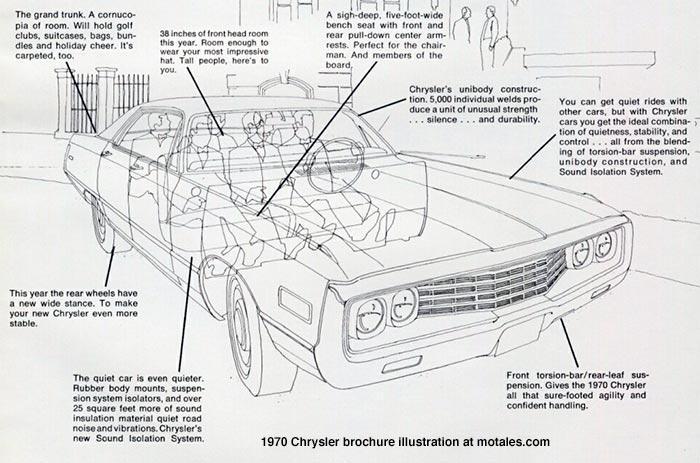 Dodge Matador and Polara and used a 122-inch wheelbase in 1960-61, as did the 1960-61 DeSoto, Chrysler Windsor, 1961-64 Chrysler Newport, 1962-64 Chrysler 300 "letter cars," and Plymouth Savoy, Belvedere, and Fury wagons. In 1963-64, all Chrysler cars rode a 122 inch wheelbase, while Dodge shrank down to 119 inches (except for the Custom 880, a car shared with Chrysler as the Newport). DeSoto disappeared entirely. For 1960, the Chrysler New Yorker, Saratoga, and 300F had a 126-inch wheelbase. A new 1961 Newport joined the Windsor on the Dodge wheelbase, while the New Yorker and 300G kept the 126 inch wheelbase.
The 124 inch wheelbase was used by 1974-77 Gran Fury and Royal Monaco wagons, the 1965-78 Chrysler sedans (300 until 1971, Newport, and New Yorker), 1974-78 Chrysler wagons, and 1974-75 Imperials. The absolute biggest C-bodies were the 1967-73 Imperials, with a unique 127 inch wheelbase.
WB
Dodge
Plymouth
119"
1963-64 Polara, 330, 440

1965-68 Fury sedan and coupe

120"
(None)

1969-73 Fury sedan and coupe
1974 Fury I and Fury II

121"

1965 Custom 880
1965-66 Polara, Monaco


1965-66 Fury wagon
121.5"
1974 Monaco sedan
1974-77 Royal Monaco sedan
1975-77 Gran Fury sedan
122"
1960 Matador, Polara
1962-64 880, Custom 880
1967-74 Monaco, Polara
1975-78 Royal Monaco sedan, coupe
1960-61 Suburban
1967-74 Fury wagon
1975-77 Gran Fury sedan/coupe
124"
1974 Monaco wagon
1975-77 Royal Monaco wagon
1974 Fury wagon
1975-77 Gran Fury wagon
Other
(See below)
Chrysler/Imperial:
WB
Chrysler/Imperial
121"
1965-66 wagons
122"
1960-61 Windsor
1961-64 Newport
1962-64 300
1963-64 all
1967-73 wagons
124"
1965-78 sedans
1974-78 wagons
1974-75 Imperial
126"
1960 Saratoga
1960-61 300F/G
1960-62 New Yorker
127"
(1967-73 Imperial)
D bodies
Imperial, whose premium prices brought low volumes, didn't get unibody until 1967. From 1957 to 1966, Imperials had a 129-inch wheelbase which was defined as the D body (the only body-on-frame body to get a letter code). Some believe the 1967-73 Imperial is on a D body as well, with its unique 127-inch wheelbase; but Chrysler called it a C body.
E bodies
The E body consisted of just two cars, and was created largely from the B body, with some A body, mainly to put the 426 and 440 engines into compact cars with room to spare. As such they were wider than the A body, but the Plymouth Barracuda version shared the Duster's 108-inch wheelbase; and the Dodge Challenger version had a 110-inch wheelbase which was smaller than the 1967-76 Dart's. They are extremely valuable today, but were a sales failure when new—they did not sell anywhere near enough to break even, much less reach their optimistic projections. The E body lasted from 1970-74.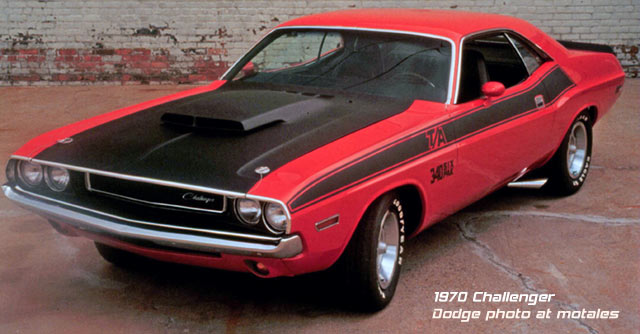 F and M bodies
The F body was a "clean sheet" design with an architecture similar to the Valiant and other existing cars. Rushed into production well before it was ready, the F body garnered a poor reputation with the 1976 Volare and Aspen; after that, the cars were reliable enough, but the damage had been done, and the 1980 Volare and Aspen were the last (until the 21st-century Chrysler Aspen, which auto writers gleefully compared to the 1976 model).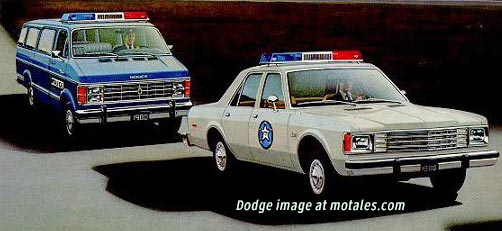 The M body designation was given to upscale versions of the same cars, using the same wheelbase—112.7 inches—for four-doors (1977-79 two-doors used that wheelbase; 1980-81 two-doors went down to 108.7 inches; and there were no 1982-89 two-doors).
The M-bodies were the 1978-89 Caravelle (Canada only), 1977-81 LeBaron, 1977-89 Diplomat, and 1982-89 Gran Fury, New Yorker, and Fifth Avenue.
J bodies
The J bodies were arguably simple variants on the M body, but changing the windshield tilt was enough to merit a new platform code.
There were only three J bodies—the 1980-83 Dodge Mirada, 1980-83 Chrysler Cordoba, and 1981-83 Chrysler Imperial—all with two doors, and all using a 112.7 inch wheelbase, the same as the early M body two-doors (and the F and M four doors). None had an enviable sales record. Some refer to the J-body Imperial as a Y-body, but it was listed as a J-body throughout development.
R bodies
The R body replaced the C bodies when fuel costs went up and downsizing became all the rage. The company realized before long that making R bodies had been a mistake, when they could have lengthened or tarted up B bodies instead; but by then it was too late. The line lasted from 1979 to 1981, just three model years, overlapping with the final B bodies.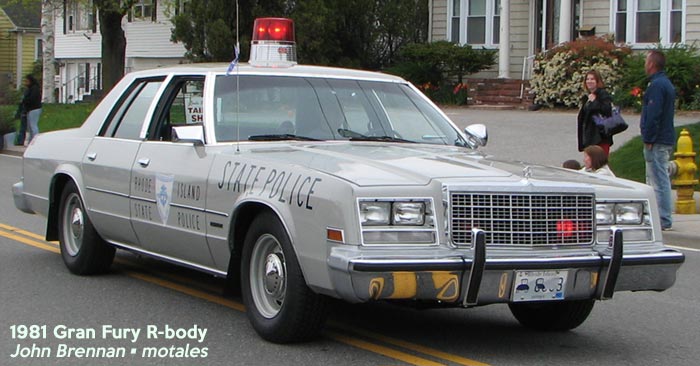 All R bodies had a 118.5 inch wheelbase—between the longest B body and shortest C body wheelbases. Model names for 1979-81 were:
They were quite popular as police cars.
Follow us on Post! It's like Twitter, but without ads or Nazis!
Books by MoTales writer David Zatz
Copyright © 2021-2023 Zatz LLC • Chrysler / Mopar car stories and history.