Dodge and Plymouth police cars of 1980: St. Regis/Gran Fury, Aspen/Volare, B-Van
As the 1980 model-year approached, Mopar police car planners were in a pickle. They had no big-block V8 engines, and none of their police-favorite Fury/Monaco midsize (B-body) sedans or big C-body sedans to put them in. They still had two lines of rear wheel drive cars, though.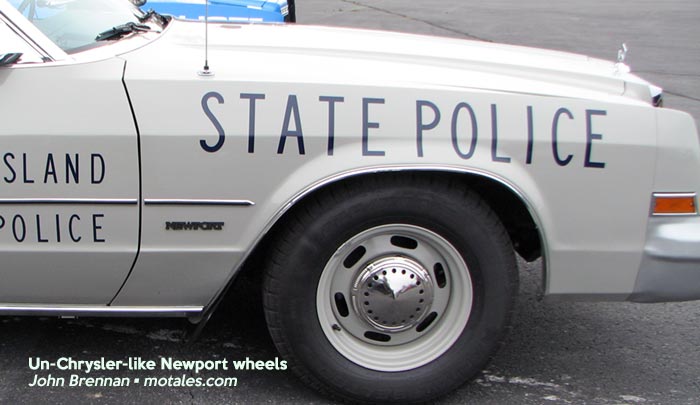 The Dodge St. Regis/Chrysler Newport, new for 1979, had been packaged for the police in their first year. For the 1980 model year, they were joined by a Plymouth Gran Fury version, so the Newport was dropped (police cars with "luxury" marques were sometimes frowned upon as being too expensive for public servants).
The "R body" cars—St. Regis, Newport, New Yorker, and now Gran Fury—were similar to the B body in most respects, with their unibody chassis, front torsion-bar suspension, rear leaf-springs, rear wheel drive, and such. However, according to both press releases and insiders, they were a clean-sheet design. Looking at the underside of a St. Regis, one could be forgiven for thinking they were looking at a B-body—but a great deal of money was spent on that "totally new" design.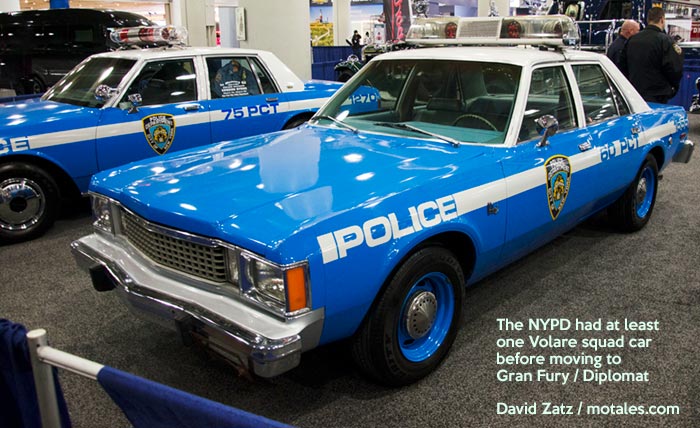 Meanwhile, the "F body" Dodge Aspen/Plymouth Volare had been launched as a 1976 model, and was in its last year in 1980; it was the company's mass-market economy car, and a true clean-sheet design when originally launched. It shared nearly all important features of the other Chrysler cars, using unibody construction, front torsion bars, rear leaf springs, rear drive, and other core Chrysler technologies and (in many cases) parts, but its front torsion bars were mounted sideways to make room for emissions gear. 1980 saw a new grille with rectangular headlights which was similar to the contemporary Nova's, a one-year feature.
There was also the Dodge B-van, dubbed Sportsman in passenger-van trim, which was not a pursuit car but designed for uses from moving dogs and equipment to moving police or prisoners. The dimensions of Dodge's three police vehicles were:
| | | | |
| --- | --- | --- | --- |
|   | Aspen | St. Regis | Sportsman |
| Wheelbase | 112.7 | 118.5 | 109.6 to 127.5 |
| Length | 204.3 | 220.2 | 177 to 223 |
The Aspen had nearly 92 inches of overhang, but the St. Regis "beat" that with over 100 inches of overhang, which affected cornering. Its primary goal was to replace the premium big cars, not to be a police or performance car.
Engines, transmissions, and "cop gear"
The Aspen, St. Regis, and even the Dodge Sportsman van essentially shared engines. The St. Regis was not available with the slant six engine, and the Sportsman did not have any pursuit rated engines. The E58-coded 360 V8 four-barrel was the only Mopar police performance engine for 1980. The vans' 318 V8 came with a four-barrel carburetor rather than a two-barrel, to deal with its extra weight.
The 360 was dropped from all passenger cars after March 1980, replaced by the E48 318-four-barrel (not shown below).
| | | | |
| --- | --- | --- | --- |
|   | Aspen | St. Regis | Sportsman |
| /6 Power | 90 |   | 95 |
| /6 Torque | 160 |   | 170 |
| 318 power | 120 | 120 | 135-140* |
| 318 torque | 245 | 245 | 240 |
| 360 power | 185 | 185 | 170 |
| 360 torque | 275 | 275 | 270 |
* 135 hp for manual transmissions, 140 for automatics
California emissions added a four-barrel to the 318 engine, raising output to 155 hp and 240 lb-ft; but there was no 360 V8 with California emissions, which was a serious issue for the California Highway Patrol.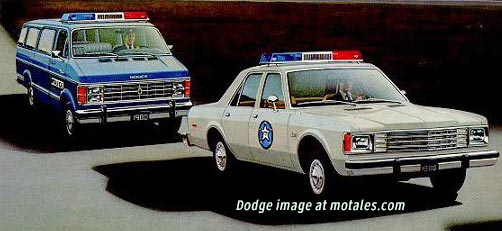 The slant six had molybdenum-filled top rings for durability; the 318's police-car treatment included these rings, plus high-temperature valve seals and shields and a double-roller timing chain. The police 360 had the 318 updates as well as a windage tray between the crank and oil sump, a select-hardness cast nodular iron crank, dual-snorkel air cleaner (St. Regis only), forged rods, heavy-duty valve springs and rocker arms, specially treated cam, Nimonic exhaust valves, special steel intake valves, and a larger-bearing water pump.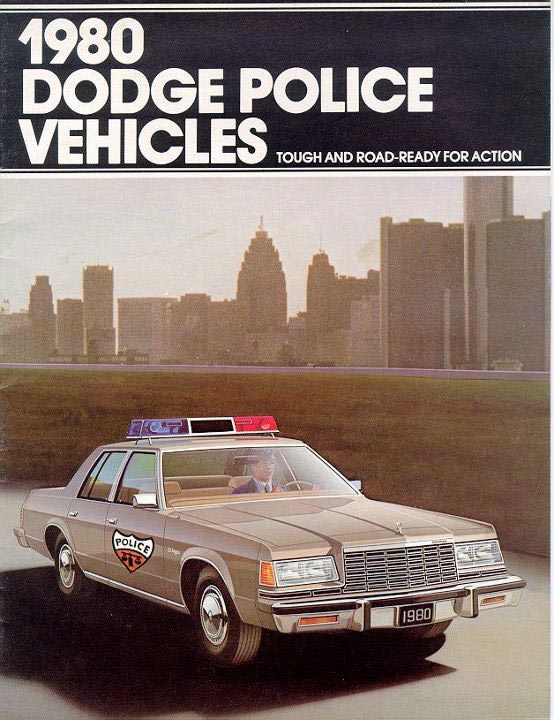 All pursuit cars (not including Sportsman, which wasn't set up for pursuits) had numerous extra welds, special cooling systems, upgraded electrical systems with larger alternators (65 amps standard, 100 amps optional) and big, insulated batteries. They also had transmission fluid coolers, more durable interiors, better anti-rust treatments, and heavy-duty automatic transmissions; to keep prisoners in place, they also had reinforced locks and hinges. The optional air conditioners had automatic high-pressure cutoff switches, to avoid issues with extended idling. Cars with V8s had an oil cooler for the power steering. The precise police power steering chuck alone made a big difference in the feel of these cars, but the heavy duty suspensions also played a role. See the full list of typical police-car changes and who made them
Fleet engineer Bob Lees said, "The police are like greyhounds at a rabbit track, when they see somebody doing something wrong they have complete focus on them and they take off after them. They don't care if they are jumping curbs, or going over ditches or through hedges, they want to catch that person, so you do a lot to reinforce the suspension. You do things to the engine to make it last longer, and handle high speed work."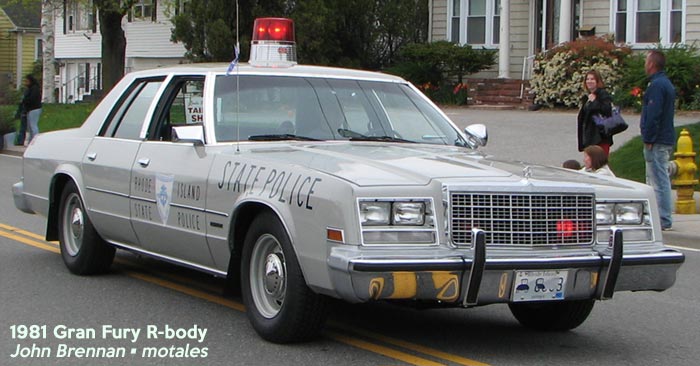 Pursuit-car brakes (even on the slant six) used semi-metallic brake pads on the front discs, and larger drums on the rear, with a high capacity tandem power booster. Special order equipment included a certified speedometer, switch to sound the siren with the horn button, an extra radio speaker, and a two-way radio antenna.
The St. Regis and Aspen each had five options for seats, differing in whether they had split bench seats, armrests, and police-duty vinyl or standard cloth-and-vinyl. They were firmer than standard car seats, for greater longevity and driver support. Colors varied by option, but included dark blue, cashmere, green (St. Regis only), and red. Special heavy duty trims were made for K9 duty.
The Sportsman and Dodge B-Van were not pursuit cars, but available for other jobs, such as carrying extra gear or extra policemen, seating up to 15 passengers in their longest wheelbase form.
St. Regis
The St. Regis was part of a new line of "R" body cars launched as 1979 models, which only lasted into the 1981 model year. They were billed as clean-sheet designs, and they were designed as new from the ground up, though they had the same basic engineering features as the existing midsized "B" body and "C" body cars.
 
B
R
C
Sedan
Wheelbase
115-118
118.5
119-124
Years
1962-1979
1979-1981
1965-1978
Sample
Coronet
St. Regis
Polara
The idea behind the "R" was that they would replace the company's big "C" bodies, whose sales had been flagging as fuel economy became more important. Their wheelbase was half an inch shorter than the shortest of the old C bodies. One former product planner said they were the result of tunnel vision—company executives were used to thinking of their midsized and big cars as completely different, and somehow didn't consider just using a slightly longer version of their midsized car for their new big cars. As a result, the R bodies wasted a colossal amount of money in new-car design, and ended up being just one half-inch longer in wheelbase than the midsized cars... and one half-inch shorter than the shortest of the large cars. Adding to the absurdity, they were only made for three years.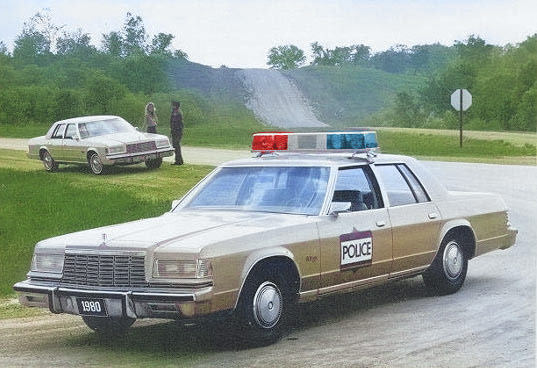 Had product planners thought longer about it, or gone "out of the box," they'd likely have seen that having a new body for maybe an inch more space was not sensible, and simply luxuried-up the B-bodies—which they'd already done to a large degree to create the higher-end Plymouth Fury, Dodge Monaco, and, for that matter, Plymouth GTX. It would have saved a great deal of development money—and warranty money. That might have meant not having to sell off their European divisions.
GM had downsized their full-sized cars for the 1977 model year, generating acclaim, but that program had started in 1973.  Mopar's downsizing seemed like a hasty response. Ford kept their large vehicles into 1979; they sold well at first, as they were the only large ones left, but rising gas prices reduced sales, and downsized Fords replaced them in the 1980 model year.  
In any case, the brand new Dodge St. Regis R-body was just two inches longer than the midsized Plymouth Fury sedan, and somewhat less space-efficient: it had just one inch more leg-room (front and rear seats combined). Oddly, the Volare/Aspen had almost identical legroom as the St. Regis, despite the St. Regis' length; but the bigger car was much wider, with over five inches more shoulder room than the Aspen.
| | | |
| --- | --- | --- |
|   | Aspen | St. Regis |
| Length | 204.3 | 220.2 |
| Width | 72.4 | 77.6 |
| Leg room | 80.5 | 80.6 |
| Shoulder Room | 55.8 | 61.0 |
The Chrysler and Dodge "R" body cars launched as 1979 models, replacing the old big cars. The Dodge had a new name; the Chrysler took the Newport name from the outgoing C-body. In the United States, Chrysler and Dodge sold a combined 167,908 R-bodies in 1979; then gasoline prices rose again and a recession moved in. Sales fell off a cliff in 1980, despite the addition of the new Plymouth Gran Fury (added, in essence, because police wanted a Chrysler-Plymouth car, and without a Plymouth, they ended up driving around in 1979 Chrysler Newports.)

The R-body 360 ran from 0-60 mph in 11.5 seconds, with a top speed over 120 mph and 0-100 mph in around 35 seconds, in Michigan State Police testing. The R-body won 5 of 7 of the 1979 Michigan State Police events, the main downside being poor gasoline mileage. Police rated the St. Regis quite high in comfort and handling compared to other police cars, including prior and later Dodge and Plymouth models, in a later survey.
The R bodies did have many issues in quality; the powertrain was sturdy and reliable, but exhausts fell off, windows got stuck, windshield wipers failed, wiring harnesses burned out, rear brakes were delivered unadjusted, and power steering pump were misaligned. A brand new car released without sufficient testing or manufacturing support was not what Chrysler needed at this time, especially after the disastrous 1976 Aspen-Volare launch.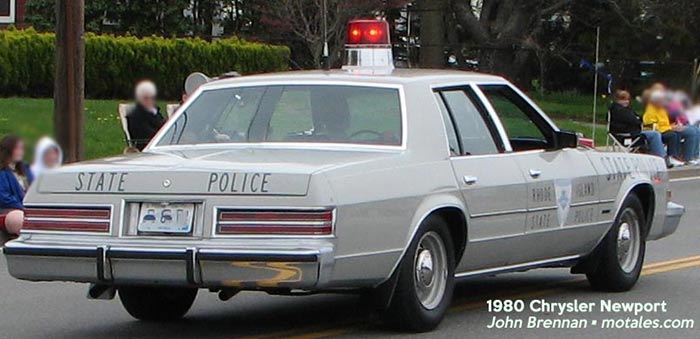 Sales plummeted in 1980 (not just for R-bodies, but also for Chrysler, Ford, and GM) and kept falling in 1981, with the new K-car having similar leg room, better handling, double the gas mileage, and similar acceleration (except against the 360 V8) at a lower cost. The new Imperial also drew off some higher-end buyers. In fairness, Chrysler sales as a whole plummeted in 1980—from 934,454 to 625,463 U.S. sales in 1979 to 1980. 1981, though, was the Year of the K-Car; and the new R-bodies simply did not sell well enough to keep going.
Aspen
The Aspen had an oddly designed transverse torsion bar front suspension, designed to make more room for components under the hood; it had been launched as a 1976 model, replacing the popular Dodge Dart. The first year or two of Aspen production were absolutely disastrous, as the car had been rushed into production without proper testing—and reportedly with an incompetent head of manufacturing at the helm. Lee Iacocca reportedly grew red in the face shouting at the man to reduce defect rates in the key Aries/Reliant K-cars.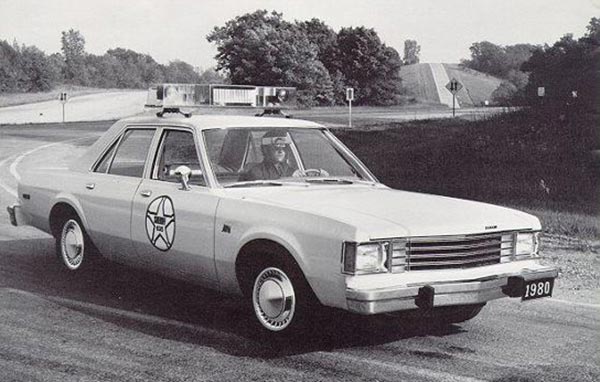 Early police cars had an issue with the shock towers, resulting in a factory service bulletin and a beefy insert/support bracket.
In any case, very few police departments in the United States chose the 1980 Aspen, though its interior was nearly as large as that of the St. Regis, and its lighter weight made for much better acceleration (given that the two cars shared engines). The most visible Aspen/Volare police car may have been the one featured in the oddball comedy Strange Brew. Perhaps the reason was because the police had a hard time downsizing so far, so quickly.
The Aspen name was likely part of the problem. In the next year, agencies from the California Highway Patrol to the New York City Police were happily buying Dodge Diplomats—which were essentially upscale Aspens with new sheet metal and interior. Launched as 1977 models, the Diplomat first gained a police package in 1981, probably because the lower-priced Aspen was considered to be better for a police car. However, the Diplomat did not inherit the Aspen's reputation for early rust and other quality issues. The Diplomat and similar Plymouth Gran Fury would end up with 80% of the police car market before ending their run as the last rear-drive Mopar sedans of the 20th century.
Police cars at Motales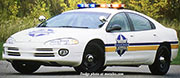 Dodge Intrepid: the police car
Agile, surprisingly quick front while drive pursuit vehicles

Plymouth police cars of 1976
Downsized but strong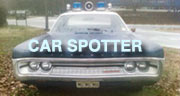 Car Spotter: 1971 Plymouth Fury Pursuit Car
Big and classy police car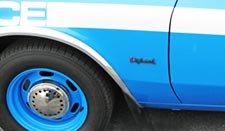 Making police cars: who and what was involved?
Diving into the changes that make an ordinary car into a pursuit vehicle (or just an ordinary police car)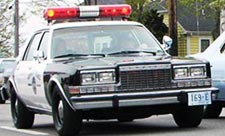 Prototypical police cars: Dodge Diplomat and Plymouth Gran Fury
Inside the M-body Dodge Diplomat and Plymouth Gran Fury that defined how police cars should look for at least a decade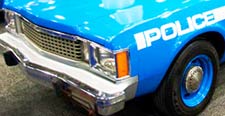 Mopar police cars of 1980: St. Regis/Gran Fury, Aspen/Volare, B-Van
The last of the big Plymouth and Dodge police cars, in their penultimate year, with the final F-body squads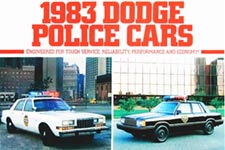 Mopar police cars of 1983: Diplomat/Gran Fury and Reliant/Aries
Two quite different approaches to police cars, with front and rear wheel drive, powered by V8 and four-cylinder engines
Books by MoTales writer David Zatz
Copyright © 2021-2023 Zatz LLC • Chrysler / Mopar car stories and history.