Dodge and Plymouth police cars of 1983: Gran Fury, Diplomat, Aries, and Reliant
In late 1982, police seeking to buy new squad cars saw two completely different sets of 1983 Mopars: the Plymouth Reliant/Dodge Aries (K-car) and the Dodge Diplomat/Plymouth Gran Fury (M-body). The K was a light front wheel drive design with French origins; the M was a traditional American car, with a slant six or a V8 driving the rear wheels.
 
Diplomat
Gran Fury
Aries
Reliant
Wheelbase
112.7
100.1
Length
205.7
176.0
Width
15.6
15.0
Trunk
15.6 c.f.
15.0 c.f.
Base power
90 hp
84 hp
Top power
165 hp
92 hp
Weight
~3,880
~2,350
Top hp÷lb
.042
.039
The Aries/Reliant was almost as large inside as the Diplomat/Gran Fury, including in the trunk, despite a one-foot difference in wheelbase and a roughly 30-inch difference in length—largely the result of better packaging from a team which started completely fresh. The power to weight ratio for the base engines favored the smaller cars; only with the four-barrel V8 did the M body have a better power to weight ratio than the K-car.
Diplomat / Gran Fury
The Diplomat had started out above the Dodge Aspen, and was not meant to be a police car. When the company's other rear drive sedans were all dropped at the end of the 1981 model-year, the Diplomat ended up as Dodge's main police car by default; and "value-brand" Plymouth had to get its own copy, the Gran Fury, to fill fleet orders. The Chrysler version, originally called New Yorker and later renamed to Fifth Avenue, sold well at retail, and over time it seemed that just about all the Dodge and Plymouth "M-bodies" went to police and taxi fleets, while civilians purchased the Chrysler version. The vast majority of M body cars were Chryslers.
They may have been pressed into service as a sort of last resort, but they were highly rated by the police and only left production (in 1989) because Lee Iacocca demanded it. (See a deeper look at the police version of these cars.)
Dodge itself positioned the Diplomat as "a heavy-muscled car built for maximum performance at high-speed pursuit or routine assignments. Evidence of this is the continued popularity of this vehicle: it is used in great numbers throughout the country. You have a choice of three heavy-duty engines, with heavy-duty suspension, brakes, steering and electrical equipment necessary for tough pursuit work." The three engines were the slant six, two-barrel 318, and four-barrel 318, all connected to a three-speed automatic with a column shifter and auxiliary transmission cooler. The slant six was equipped with electronic fuel control and electronic spark advance—the only year it had both systems. The E48 318 four-barrel engines had modified "587" J heads with larger coolant packages; these were used through 1989, coded as the 345 head. They were not available in pickups.
The 1983 Diplomat/Gran Fury police package was outfitted with a special suspension including front and rear sway bars, heavy duty springs and bushings, and 1 3/16 inch front and rear shocks. Brakes were power discs up front, with semi-metallic pads, and rear drums. Wheels were 15 x 7 JJ with P215/70R15 fabric-belted tires. V8 engines included a steering fluid cooler. The radiator was the highest capacity Chrysler could supply. A variety of seats were available with heavier-duty or standard springs, in cloth, vinyl, or heavy-duty vinyl.
The Standard Catalog of Chrysler shows that Chrysler Corporation made 8,400 Gran Furys and 13,106 Diplomats with the police package in 1983; the Gran Fury and Diplomat base models sold at the same price. The Diplomat did have a higher-priced Medallion series that wasn't as popular.
Reliant / Aries
The Reliant and Aries were unusual choices for American police cars, though they had some success in Canada, on military bases, and in at least one city. Much smaller than the rear-drive cars, outfitted with four-cylinder engines, they are much, much lighter and far more agile around turns. Many scoff at them today—and scoffed then—but they could likely keep up with the two-barrel V8 Diplomats and Gran Furys. Whether a "K-car" could stand up to the punishing duties of American policing, even with beefed up bodies and cooling systems, is another question which we cannot answer.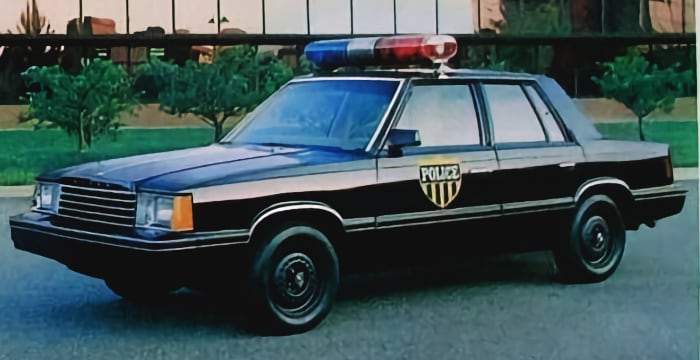 The base engine was a 2.2 liter four-cylinder, with an optional 2.6 liter Mitsubishi; police had to get the three-speed automatic with a column shift and heavy-duty transmission fluid cooler. Until 1986, all the M-bodies and K-cars had carburetors; starting in 1986, Chrysler outfitted the K with an optional 2.5 liter fuel-injected engine and provided single-point fuel injection on the 2.2 as well. That increased output to 93 hp with the 2.2 and 100 hp with the 2.5; the New York City police found the 2.5 attractive enough to buy hundreds of cars.
Plymouth called its version the Reliant Scout Car, and assigned it the standard police ordering code—AHB. Dodge positioned the Aries as "an economical four-cylinder front-wheel-drive vehicle that's great for most police duties. The Aries Police Car is fuel efficient and comfortable, yet it is equipped with a new police handling suspension, new brakes, new steering and electrical equipment, and front-wheel drive to provide excellent traction."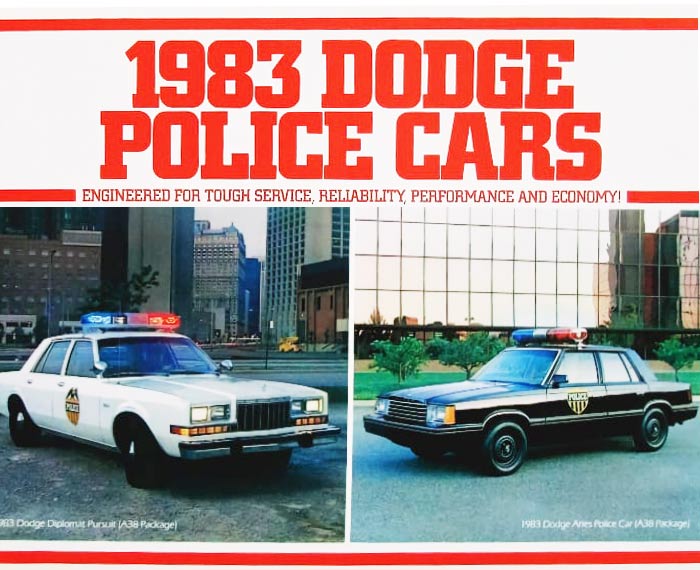 Chrysler took the police package on the K seriously, with a special top gear ratio for police (with order code Y47); special transmission fluid cooler; heavy duty front and rear sway bars and springs; and 1.25-inch front and 1 3/16-inch rear heavy-duty shocks. The front disc brakes had semi-metallic pads; rear brakes were drums. Wheels were 14x6.0 JJ with P185/70R14 fabric-belted tires. More to the point, the body was specially reinforced with extra welding. Heavy duty seats were standard, though more comfortable front bench or bucket seats in regular or police vinyl were available.
The police edition of the Reliant and Aries debuted in 1982 and continued at least to the K-car's 1986 redesign. The final year of the K was 1989; the company sold nearly 350,000 of them in calendar-year 1988 and, due to the end of production, just over 100,000 in 1989. By 1989, the Reliant/Aries police package was history; and by 1990, so were the Diplomat and Gran Fury.
Engines, transmissions, and "cop gear"
Both cars used silicone-based brake fluid, which was fire resistant in extreme use, and firm-feel steering chucks.
For both vehicles, Chrysler supplied a 500-amp heavy duty battery, the Diplomat/Gran Fury adding a heat shield as well; the Diplomat had a Chrysler-made 114 amp alternator, while the Aries made do with a 78-amp unit; both had electronic voltage regulators. The battery feed wire for police accessories was 8 gauge. The body had numerous extra welds and a reinforced structure for durability.
Options for both cars included an extra dome light, taking out the door-activated dome light switches, remote deck lid release, heavy duty floor mats, stainless-steel screw-type hose clamps, single keys for all cars in the fleet, trunk lights, calibrated speedometer, and right and left spotlights. The Diplomat alone also had a manual fast idle control (to keep the alternator output high), auxiliary engine oil cooler, and anti-spin differential with a 2.9:1 ratio.
See the full list of typical police-car changes and who made them —  Fleet engineer Bob Lees said, "when [the police] see somebody doing something wrong, they have complete focus on them and they take off after them. They don't care if they are jumping curbs, or going over ditches or through hedges, they want to catch that person, so you do a lot to reinforce the suspension. You do things to the engine to make it last longer, and handle high speed work."
Engines
The 360 was dropped from all passenger cars after March 1980, replaced by the E48 318-four-barrel (not shown below).
| | | |
| --- | --- | --- |
|   | Horsepower | Torque |
| /6 Power | 90 | 165 |
| 318 2V | 130 | 235 |
| 318 4V | 165 | 240 |
| 2.2 | 94 | 117 |
| 2.6 | 93 | 132 |
The Michigan State Police did test the 1983-84 cars, but we only have the M body results (courtesy of dippy.org)—
| | | | |
| --- | --- | --- | --- |
|   | 0-60 mph | 0-100 mph | Quarter mile |
| 225 | 18.75 sec | n/a | 22 @ 63.5 |
| 318 2V | 13.1 sec | 60.75 sec | 19.5@71.8 |
| 318 4V | 12.4 sec* | 39.7 sec* | 19.1@76.5* |
| 2.2 | n/a | n/a |   |
| 2.6 | n/a | n/a |   |
* The 1984 car had an optional axle ratio which resulted in 0-60 in 11 seconds for the four-barrel, with an 18.2@77 mph quarter mile time.
The Diplomat weighed in at around 3,880 pounds with the V8. The Reliant/Aries came in at under 3,000. Slant six gas mileage was rated at 19 mpg; 318 two-barrel mileage at 16.5 mpg; and four-barrel mileage at 14.6 mpg. The four-barrel was a police-only option which included some of the power gear of the old 360 V8; its advantages for police work can easily be seen in the 0-100 mph time, which was far better than the same engine with the tame two-barrel. The four-barrel had different heads and a different cam, not just a different carburetor.
Despite the clear gas mileage advantage of the slant six, 1983 was its final year in cars; it was relegated to trucks starting in 1984. In police work, the six may not have had as much of an advantage as in EPA tests, and its 0-60 times were outrageously slow even for a city car—it was far slower than the worst of the 2.2 Aries/Reliants.
Performance figures for the 2.2 and 2.6 are tricky, since we were unable to get Michigan State Police tests for either car. What's more, the 2.2's output varied by year. From 1982 to 1983, it had jumped from 84 to 94 hp, invalidating Motor Trend's 14.0-second 0-60 mph time. Popular Science ran a 13.4 second 0-60 time with the 1985 Reliant LE automatic, which provides a very rough estimate of the 1983 series—between 13.4 and 14.0 seconds. Motor Trend had run a 12.4 second quarter mile with the Reliant automatic and a 2.6 liter four-cylinder back in 1981. Unfortunately, it is hard to compare Motor Trend, Popular Science, and Michigan State Police numbers due to different track conditions, test methods, and drivers. We can probably conclude that the Reliant/Aries police cars were quicker than the slant-six Diplomat/Gran Fury, and a rough match for the two-barrel V8s.
The slant six had molybdenum-filled top rings for durability; the 318's police-car treatment included these rings, plus high-temperature valve seals and shields and a double-roller timing chain. Chrysler did not specify internal upgrades for the 2.2 or 2.6 liter engines. Since the 2.6 was supplied by Mitsubishi, it likely did not have any upgrades. Chrysler did not position the K-cars as highway pursuit vehicles. The V8s both had Carter carburetors; the slant six had a single-barrel Holley electronic feedback carburetor; the 2.6 had a Mikuni; and the 2.2 had a Holley two-barrel.
The Diplomat and similar Plymouth Gran Fury would end up with 80% of the police car market before ending their run as the last rear-drive Mopar sedans of the 20th century. The Plymouth Reliant and Dodge Aries dropped out of the police market; it would take years and a Dodge Intrepid police package before Chrysler offered another front wheel drive police package.
Police cars at Motales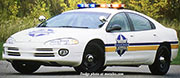 Dodge Intrepid: the police car
Agile, surprisingly quick front while drive pursuit vehicles

Plymouth police cars of 1976
Downsized but strong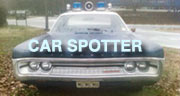 Car Spotter: 1971 Plymouth Fury Pursuit Car
Big and classy police car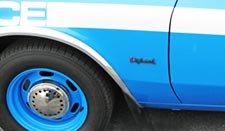 Making police cars: who and what was involved?
Diving into the changes that make an ordinary car into a pursuit vehicle (or just an ordinary police car)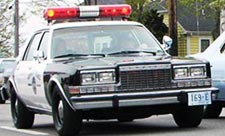 Prototypical police cars: Dodge Diplomat and Plymouth Gran Fury
Inside the M-body Dodge Diplomat and Plymouth Gran Fury that defined how police cars should look for at least a decade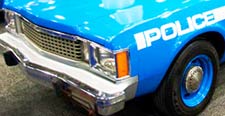 Mopar police cars of 1980: St. Regis/Gran Fury, Aspen/Volare, B-Van
The last of the big Plymouth and Dodge police cars, in their penultimate year, with the final F-body squads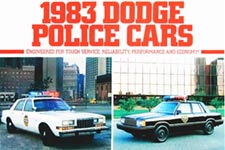 Mopar police cars of 1983: Diplomat/Gran Fury and Reliant/Aries
Two quite different approaches to police cars, with front and rear wheel drive, powered by V8 and four-cylinder engines
Follow us on Post! It's like Twitter, but without ads or Nazis!
Books by MoTales writer David Zatz
Copyright © 2021-2023 Zatz LLC • Chrysler / Mopar car stories and history.