Car Spotter: 1960s Dodge 200 Pickup
In March 2011, I saw this truck in Liberty State Park, just outside Jersey City, New Jersey.  This Dodge 200 pick-up truck had a daily view of the Manhattan skyline, the Statue of Liberty, and the Jersey Central Railroad Terminal.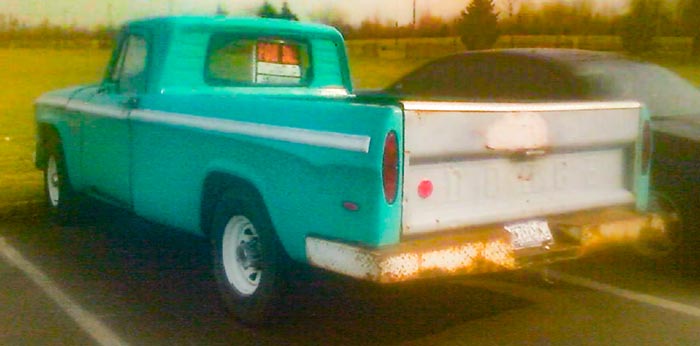 The For Sale sign said it is a 1967, but the grill suggests mid 1965 through 1966.  Though the seller didn't provide a phone number, the sign said, "V-8, low mileage, $3,500 or best offer."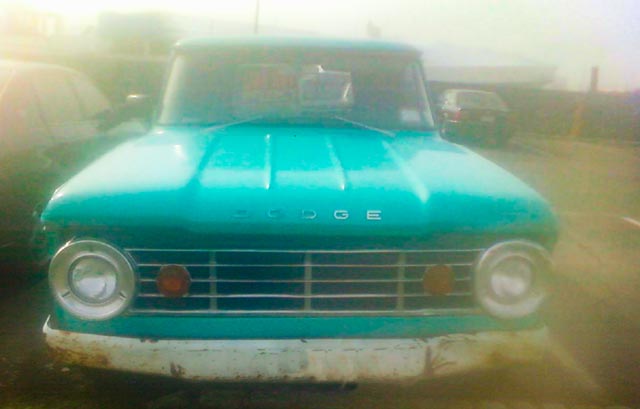 Note the standard rear window, not the optional full-width window.  Also note the optional rear bumper (painted white) and the side trim, which I have seen in 1965 publicity photos.  The hot-rodder in me noticed a manual shifter on the floor, but I don't know if it has the standard 3 speed or an optional 4 speed.  Being a 200 Series truck, it likely has a 128" wheelbase, three-quarter ton chassis, and a 318 V-8 engine. 

The exterior and interior are light green, probably original factory paint.  I think it has aftermarket wheels and certainly an aftermarket passenger side mirror.  The bottoms of the doors and surface of the rear bumper are rusty.  The front bumper is dented, but all things considered, it looks like a complete truck that has potential.   I saw lap belts and jumper cables standing by on the passenger seat.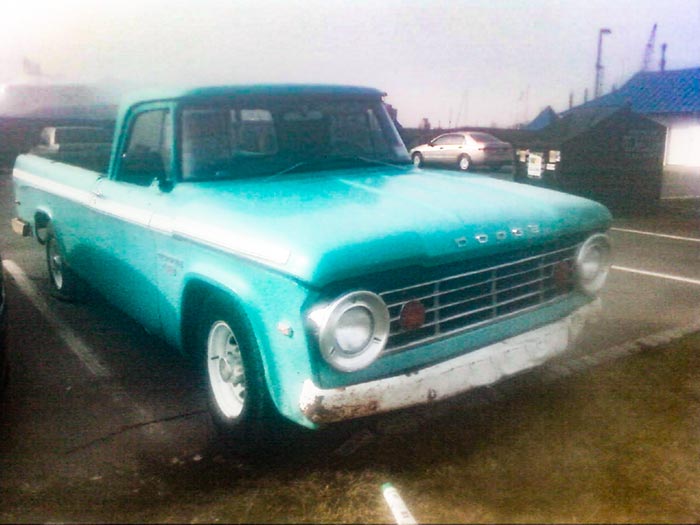 The truck had New York plates, which makes sense considering the Holland Tunnel is just around the corner.  I don't know if it was driven daily, but the tires were inflated so I'm guessing it could be driven. 
Too bad I didn't need an 8th vehicle.  It would have made a nice tow-and-show truck.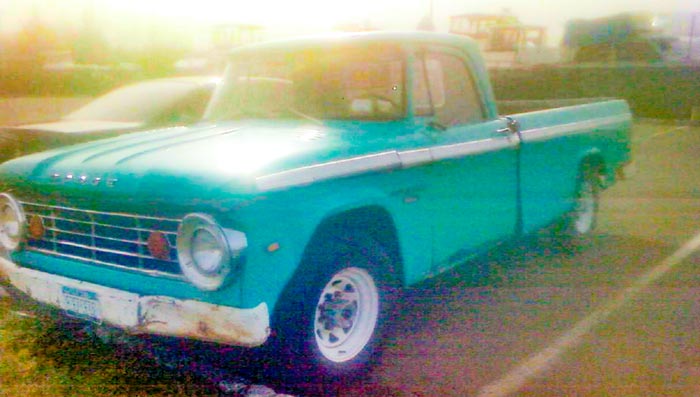 ---
This story originally ran in the National Chrysler Products Club Journal.
Follow us on Post! It's like Twitter, but without ads or Nazis!
Books by MoTales writer David Zatz
Copyright © 2021-2023 Zatz LLC • Chrysler / Mopar car stories and history.