Car Spotter: 1976 Dodge ice-cream van
In July 2012, we flew to California for a family wedding.  It was our first time in California, so we decided to make it a short vacation.  We spent a few days in Simi Valley for the wedding, went south to Los Angeles and ended our trip in San Diego.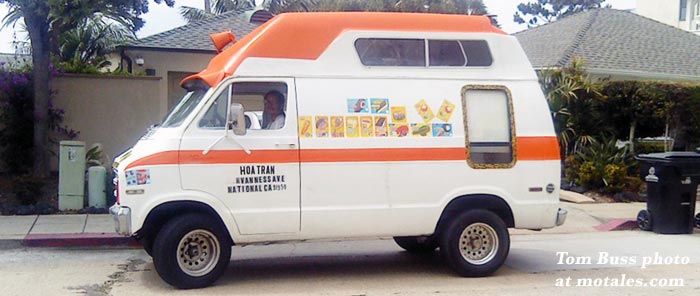 I'd heard that Southern Cali is a great place to see older cars, because the climate doesn't rust the cars away like on the East Coast.  California is also known for its Car Culture, and many national trends in customizing started in Southern California.
I found it easy to spot older cars on the highways and back roads, even when I wasn't trying.  Many were used as daily drivers.  However, the pristine and customized cars were highly visible in Los Angeles, particularly in Hollywood and Beverly Hills.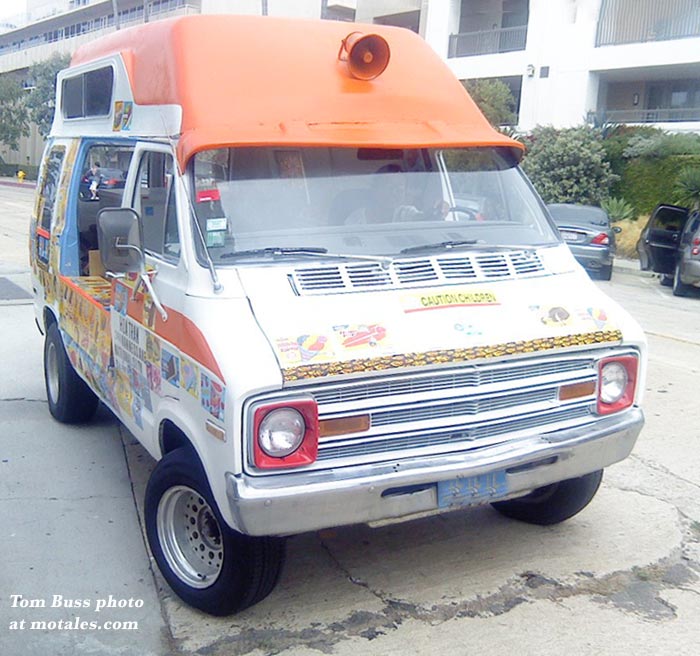 On our last day, we went to a rocky-cliff beach in San Diego.  Beaches go hand-in-hand with ice cream trucks combing the streets, playing their synthesized version of Camptown Races on their loudspeaker to get your attention.
I never expected the ice cream truck approaching me would be a Mopar, particularly a 36 year old van.  According to the nice lady driving, this is a 1976 Dodge Van which has spent its whole life slowly driving the beachfront roads of San Diego peddling ice cream.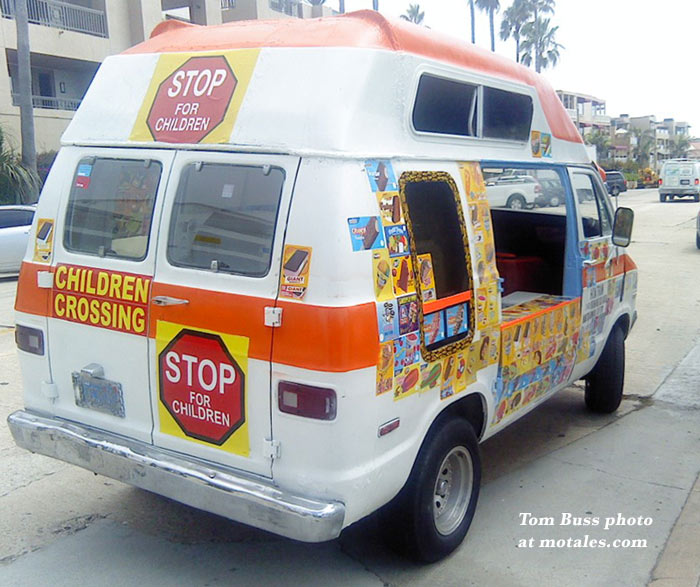 Here is what I learned about this van by looking it over:  It sounded like a slant six and is automatic, and is clearly a short wheelbase model. The seats and transmission cover are orange-red; and orange shows up in a stripe wrapped completely around the van, a sun visor over the windshield, and part of the roof extension (probably fiberglass). 
I think this van was built as a pseudo-camper and was converted to ice-cream duty.  Ice cream is sold through the opening where the side doors used to be.  The lower half of the side doors remain, now topped with a counter.  The upper door frame shows where the hinges were mounted.  The seats, dashboard and transmission cover look factory-original, including the simulated wood grain cup holder.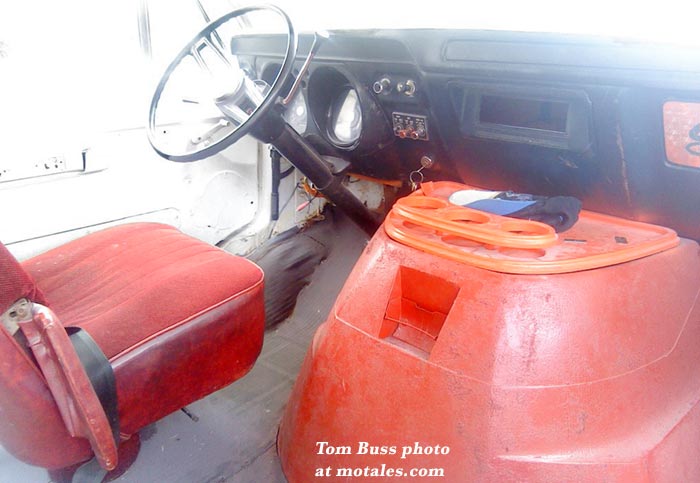 I've eaten a lot of ice cream from trucks down-the-shore and in Manhattan, but I never expected to see a rust-free, driven-daily, slant-six, 36 year old, short wheelbase Dodge Van… converted to an ice cream truck… rumble past me.  I love restored cars.  I also love old cars that aren't restored but are maintained and driven.  But I really love the idea that this time capsule from Mother Mopar is going out every day and selling ice cream, just as it has for 36 years. 
I hope other Mopar lovers notice this unusual workhorse, doing what it has always done and waving the old Mopar flag. 
---
This story originally ran in the National Chrysler Products Club Journal.
Follow us on Post! It's like Twitter, but without ads or Nazis!
Books by MoTales writer David Zatz
Copyright © 2021-2023 Zatz LLC • Chrysler / Mopar car stories and history.