D-bags for washer fluid: Before bottles
Today, under the hood of any car you will find at least one, and sometimes two, oddly shaped, translucent containers with built-in funnels or tubes, holding windshield washer fluid. But that was not always the way it was done.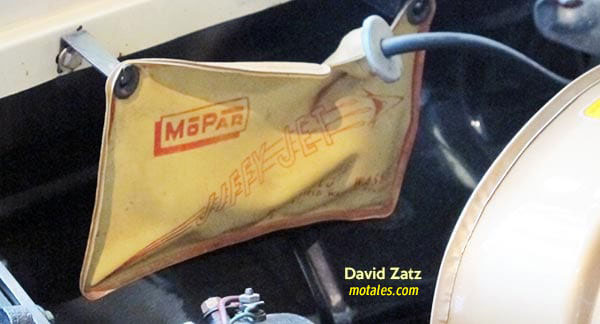 Into the 1960s, cars had plastic bags, which denizens of the time sometimes called douche bags, to hold washer fluid; they hung by grommets on sheer-metal brackets, so they could easily be replaced or removed for a quick refill. In some years, they were yellow; in other years, black and white (or black and silver); or any other color the factory wanted.
The tube leading to the washer fluid pump was held in place by the removable cap; Mopars used a press-and-twist system, like the radiator cap.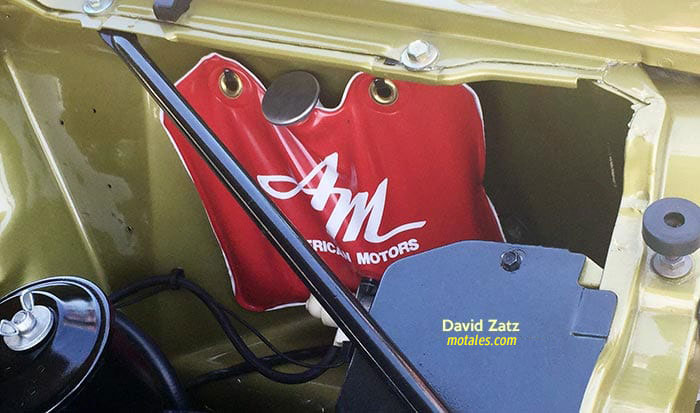 You can ask why the companies switched, and one reason was holding far more fluid; another was likely having less space to hang them on the firewall. As time went on, that space got rather crowded with electronic ignition circuits, ballast resistors, and such; the plastic containers could be made in just about any shape to fit wherever there was space, and in some modern cars there can be a foot of filler tube before reaching the reservoir. The bags also did not last quite as long as the essentially permanent containers, though they were less likely to be damage by a sudden freeze. But when is the last time you saw a fun logo on a windshield washer bottle?
Follow us on Post! It's like Twitter, but without ads or Nazis!
Books by MoTales writer David Zatz
Copyright © 2021-2023 Zatz LLC • Chrysler / Mopar car stories and history.