1971 Dodge, Chrysler, and Plymouth cars
In 1971, relatively few buyers bought trucks, vans, or SUVs unless they had to. All of Jeep's U.S. sales, across the CJ, Wagoneer, Commando, and J-series trucks (née Gladiator), totalled a mere 38,979—while nearly 300,000 Valiants and Dusters found new homes. Traditional sedans, coupes, and wagons were the mainstream; and two-door cars were both common and popular.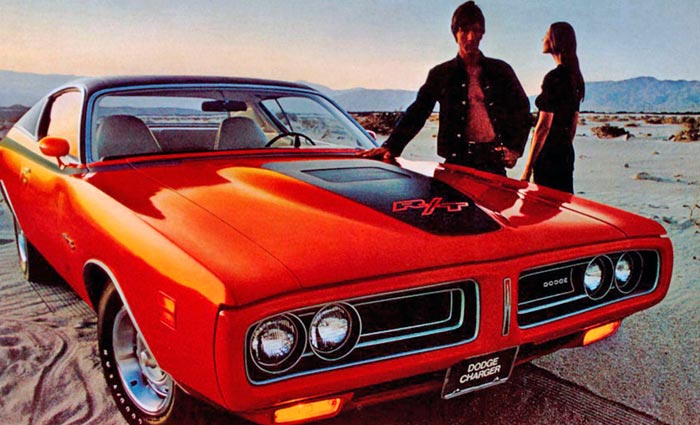 Chrysler Corporation had three basic car lines, dubbed A, B, and C, from smallest to largest; all had similar or identical architectures and could share many parts. The compact Valiant was "more different" from the others, due to its off-the-beaten-trail development, but you could still use brake cylinders from Chryslers on a Valiant, or swap engines from a Dart to an Imperial if that was your thing. Plymouth and Dodge both had various A-body cars—Dart, Duster, Demon, Valiant—and B-body cars; Chrysler, Plymouth, and Dodge all had C-body "full sized"  cars; and Imperial was solely on C (some call it D). There were also imported cars with minimal sales, and the new E-bodies, which fit between A and B.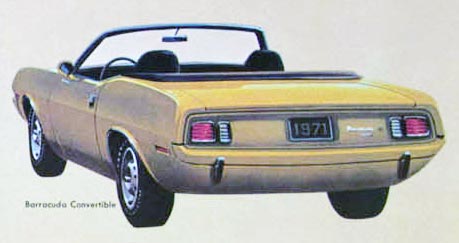 Chrysler had the highest volume in the break-even A-bodies, the lowest volume in the profitable C-bodies, and a mix of reasonable volume and reasonable profitability in the midsized B-bodies.
Many look back and remember that Dodge was the sporty/muscle division, but at the time, it wasn't quite true. The Plymouth Road Runner and then the 340 Duster really epitomized the muscle car, and sold far better than their Dodge equivalents. Plymouth was the usual NASCAR champion, as well. But Plymouth no longer survives, and Dodge certainly sold more muscle cars than Chrysler.
The muscle cars
1971 was the last year of the 426 Hemi in production cars, not to mention the old standby 383, but the muscle era was still going strong and would keep going for some time yet.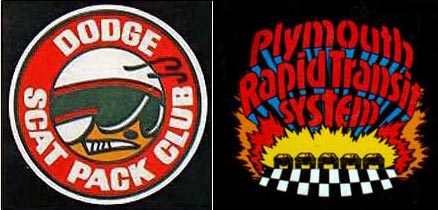 Both Plymouth and Dodge had clubs for members, providing a copy of the Direct Connection catalog (so they could buy the same parts factory-supported racers used), newsletters, racing guides, and various goodies. The Plymouth version was the Rapid Transit System, while Dodge's was Scat Pack. Plymouth's official Rapid Transit cars were the Duster 340, 'Cuda, Sport Fury GT, Road Runner, and GTX; Dodge's Scat Pack cars were the Dodge versions of those cars—Demon 340, Super Bee, Charger R/T, and Challenger R/T.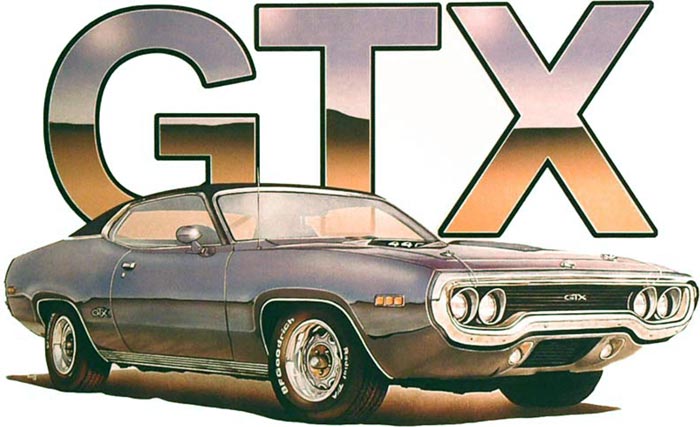 In the B-body realm, Road Runner and GTX buyers could choose between fake hood scoops and (real) Air Grabber remote-controlled scoops which could pop up at the driver's will (using engine vacuum), or go back down again so nobody would know it was a performance car (if they couldn't read the badges). Road Runner and GTX buyers could also get spoilers, road wheels, elastomeric bumpers, dual racing mirrors, backlight louvers, smaller steering wheel, or hood tie-down pins.
| | | | | |
| --- | --- | --- | --- | --- |
|   | Duster 340 | GTX | Road Runner | Sport Fury GT |
| Wheelbase | 108 | 115 | 115 | 120 |
| Length | 188.4 | 203.2 | 203.2 | 215.1 |
| Rear Track | 55.5 | 62.0 | 62.0 | 62.0 |
As for engines, the Road Runner and Super Bee each had a choice of the hot 340, 383, 440, and Hemi V8. While the Hemi was tops, the 440 Six-Pack was often considered to be its equal on shorter acceleration runs due to its abundant low-end torque; and it was far cheaper to buy. The GTX, an odd semi-luxury Plymouth, came with a standard 440; but despite the name still being known to enthusiasts, it had fewer than 3,000 sales in 1971, and was generally a flop.
| | | | | |
| --- | --- | --- | --- | --- |
| 1971 Engine | Gross HP | Net HP | Gross Torque | Net Torque |
| 383 four-barrel | 300 | 250 | 410 | 325 |
| 340 four-barrel | 275 | 250 | 340 | 310 |
| 440 four-barrel* | 370 | 305 | 480 | 400 |
| 440 triple carb | 385 | 330 | 490 | 410 |
| 426 Hemi | 425 | 350** | 490 | 390 |
* This is the high output version of the 440, requiring premium fuel, sold as Commando, Magnum, and TNT, depending on brand.
** Most sources claim 425 hp, net, for the 426 Hemi in 1971. The source for these tables are Dodge and Plymouth brochures, and they are generally thought to have deliberately understated the Hemi's power to reduce owners' insurance rates—a practice that likely covered the gross power figures, too.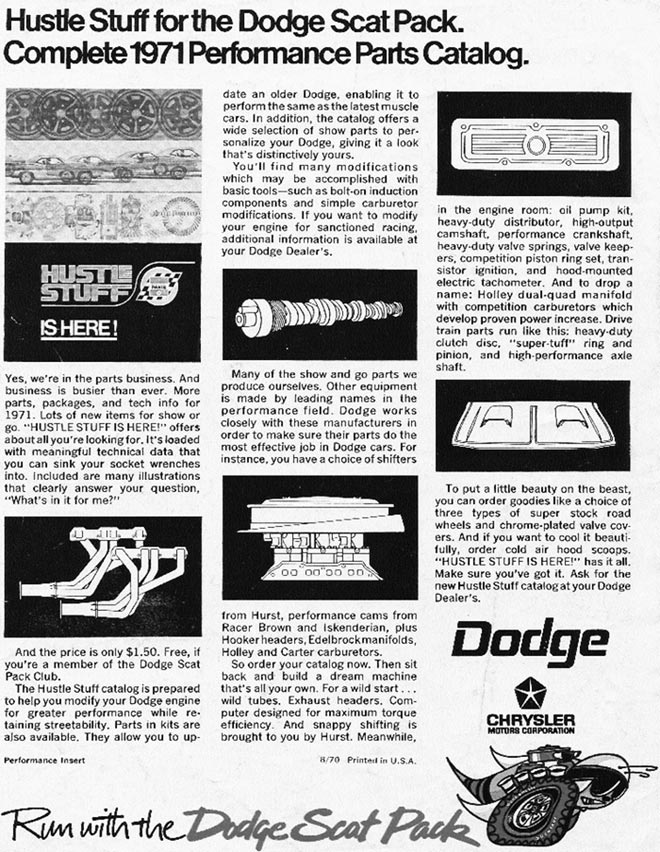 Plymouth claimed that the 383 and 340 Road Runners, despite their high performance, were considered to be standard cars by insurers—a definite selling point for youthful buyers.
| | | |
| --- | --- | --- |
| Details | 340 4V | 383 4V |
| Bore | 4.04 | 4.25 |
| Stroke | 3.31 | 3.38 |
| Compression | 10.3 to 1 | 8.5 to 1 |
| Carburetor | Carter | Holley |
| Cam specs | 268˚/276˚/44˚ | 268˚/284˚/46˚ |
| Intake valve | 2.02 | 2.08 |
| Exhaust valve | 1.60 | 1.74 |
The biggest engines included the triple-carburetor 440, which generated nearly as much power as the "elephant"  426 Hemi, named for the vast size of its free-breathing, efficient heads (which had the plugs in the center with valves on either side). The center two-barrel carburetor on the "six-pack"  setup provided fuel for normal driving; when more power was needed, the other two carburetors were brought on-line via a mechanical system, operating like secondaries in an ordinary four-barrel. The result was an "on/off" feel, where owners would get a massive amount of power in quite quickly on hitting the gas pedal.
| | | | |
| --- | --- | --- | --- |
| Details | 440 4V | 440 3-Carb | 426 Hemi |
| Bore | 4.32 | 4.32 | 4.25 |
| Stroke | 3.75 | 3.75 | 3.75 |
| Compression | 9.5 to 1 | 10.3 to 1 | 10.2 to 1 |
| Carburetor | Carter | 3x Holley | Carter AFB |
| Cam specs | 268˚/284˚/46˚ | 268˚/284˚/46˚ | 284˚/284˚/60˚ |
| Intake valve | 2.08 | 2.08 | 2.25 |
| Exhaust valve | 1.74 | 1.74 | 1.94 |
More muscle-car details are in the various body type sections.
1971 Chrysler Corporation car engineering
The Chrysler engineering setup included torsion bar front suspensions; leaf-spring rear suspensions; rear wheel drive; front liquid-cooled engines; and hypoid rear axles. There were two versions of the efficient, durable three-speed automatic transmission (light A-904 and heavy duty A-727), which was also sold to exotic European automakers, along with various three-speed and four-speed manual transmissions. Chrysler had developed and built its own automatic and manual transmissions.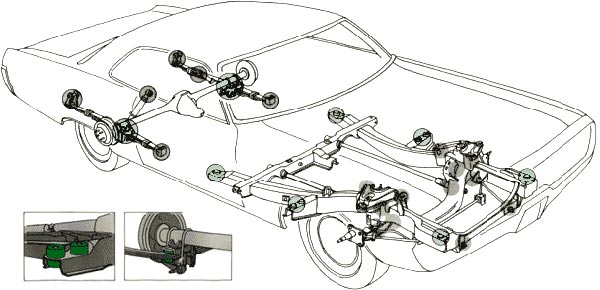 The torsion bar front suspension provided better handling than Ford and GM's spring-based front suspensions, and while all three used leaf springs in back, Chrysler's was praised for its greater control under high acceleration, honed by engineer-racers over many years. However, GM and Ford could comfort-tune their cars more easily, and tended to work harder at sound insulation.

Regardless of brand, the cars shared engines—in rough order of power, 198 and 225 slant six; 318, 340, and 360 LA-series V8s; and 383, 440, and 426 Hemi B and RB-series "big block"  V8s. The slant six was a straight-six engine known for durability and providing greater efficiency than similar GM and Ford motors, always fitted with a single-barrel carburetor. The LA engines could trace their ancestry back to Chrysler's very first V8 engines, the "original Hemi,"  but had been modified quite a bit since then; the 318 was an inexpensive, durable workhorse V8 while the 340 was an all-out high-performance engine, and the new 360 was somewhere between those two.
Finally, the 383 had tame, luxury, and performance tunes; the 440 had luxury and performance tunes; and the 426 Hemi was a true racing engine, available at great cost (it could be a third of the car's price just for that option) to the very few buyers who could afford it (and who could live with it).

In 1971, every carmaker showed both gross and net horsepower and torque. It was part of their move from numbers measured with the engine on a stand, without mufflers, alternators, water pumps, and such, to numbers created with all accessories attached.
That makes the 1971 tables very useful indeed: one can (roughly) see how classic engines would be rated today, and how much of past engines' power ratings were due to the measuring method. It was a definite bonus that the legendary 426 Hemi was still being sold in 1971, so it could be measured both ways.
Most buyers picked one of these. The 198 replaced the high-revving 170; its advantage to Chrysler was sharing a common block with the 225, and a slight increase in power over the normally carbureted 170.
| | | |
| --- | --- | --- |
|   | 198 Six | 225 Six |
| Gross hp | 125 | 145 |
| Net hp |   | 110 |
| Gross Torque | 180 | 215 |
| Net Torque |   | 185 |
| Carburetor | 1V | 1V |
| Compression | 8.4 | 8.4 |
| Cam timing | 244-244-26 | 244-244-26 |
Clean air regulations were just starting out, first in California and then elsewhere, due to the way the Los Angeles basin tended to keep pollution from leaving the area. In 1970, rules governing fuel vapor emissions had gone into effect in California, and Chrysler created and used a system to store the vapors in the crankcase and then burn them later. This was only used nationally in the 1971 cars; for 1972 and newer cars, right into the present day, the vapors were stored in a separate canister, and still pulled into the engine to be burned when needed. The system was and is very reliable with no bad side effects.
Typical V8 engines—all of these ran on regular fuel and all but the 440 had two-barrel carburetors. This was the lowest-power 440 for 1971—see the muscle chart for the high performance versions.
| | | | | |
| --- | --- | --- | --- | --- |
| Ordinary V8s | 318 | 360 | 383 | 440 |
| Gross Torque | 320 | 360 | 375 | 460 |
| Net Torque | 260 | 295 | 305 | 350 |
| Gross hp | 230 | 255 | 275 | 335 |
| Net hp | 155 | 175 | 190 | 220 |
| Compression | 8.8 | 8.7 | 8.7 | 8.8 |
| Cam timing | 240-248-26 | 252-256-32 | 260-268-38 |   |
A bodies
A huge proportion of Plymouth and Dodge sales were the A-bodies, which sadly were considered a success if they broke even—if they didn't make a profit but also didn't lose money.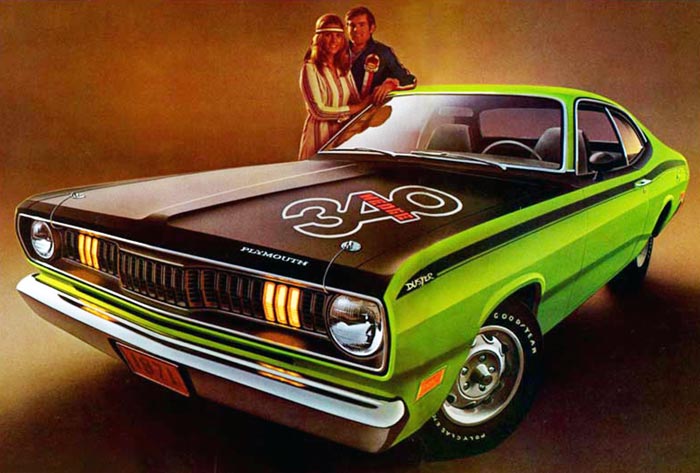 The Duster had been launched in 1970, and was a Valiant forward of the front doors, sharing dashboards, and differed mainly in styling and the rear window design. Most buyers chose the six-cylinders, not hot V8s, though the 340 Duster was serious high performance at low cost.
Planning for the Duster had begun in the mid-1960s, and it was similar to the 1964-69 Barracuda as a cheap way to get a new model off the basic Valiant design. The Duster was also more aerodynamic than the Valiant or Dart; the company had realized that the inward-sweeping rear window glass actually caused an immense amount of drag. They felt it would cost too much to fix the sedans (or Swinger and Scamp), so they all carried forward; and the Duster was quieter, more economical, and had a higher top speed and more trunk space than its siblings (other than Demon).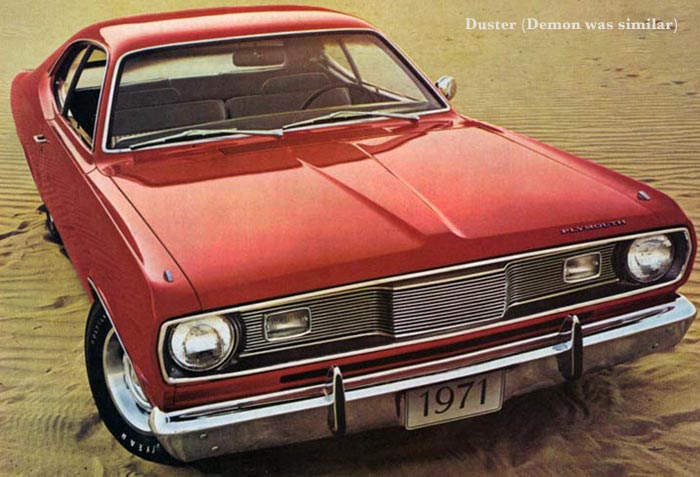 The Duster was so big a hit (pushing Plymouth into third place in U.S. sales) that Dodge demanded its own, which launched as the 1971 Demon; in return, Plymouth got a copy of Dodge's less popular Swinger, dubbed Scamp at Plymouth. The Scamp had half the sales of the Swinger in 1971, but the Demon had less than a third of the sales of the Duster, so it worked out.

Dusters dominated Valiant sales; of 296,081 Valiants in 1971, 186,478 were Dusters. The Scamp took up 48,253 sales. At Dodge, 250,420 Darts and Demons left the factories; 102,480 were Swingers, and roughly 80,000 were Demons.

For people who wanted the Duster 340 and Demon 340 appearance, but didn't necessarily want premium fuel or higher insurance premiums, both divisions provided some of the looks of their hot cars without the hot engines. The Duster Twister had stripes and faux hood scoops, belying an economy engine; the Dart Demon Sizzler had racing mirrors, 8.95 x 14 whitewalls, Tuff steering wheel, carpeting, flat-black hood treatment, stripes, Rallye wheels, body-color grille frame, and decals, but wouldn't "bug you with high insurance prices," because, again, it had a mere 318 or slant six.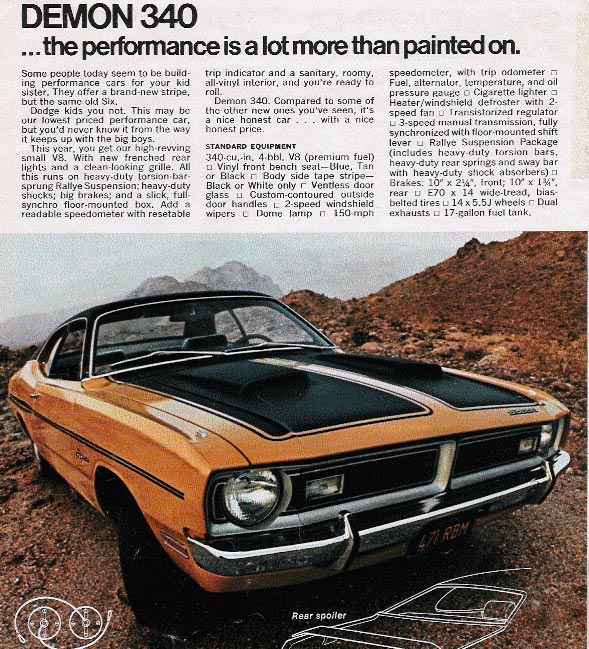 Other changes included dropping Plymouth emblems from the grille of the Duster and some Valiants; and new grille paint and tail lamps for both Dodges and Plymouths.
B bodies: Satellite, Coronet, Charger, and more
The midsized cars had both high volume and good profitability, so they were key to Chrysler's success. They were also new for 1971.
The B-bodies had the widest range of engines, from the bottom slant six to the top 426 Hemi (not all engines were available on all trim levels or models). Floor mounted automatics came with a "slap stick" shifter which let drivers quickly slap into second without fearing an accidental shift to neutral. Satellite had 18 different paint colors, some quite bright. High end versions had round gauges and low-end versions had ribbon speedometers.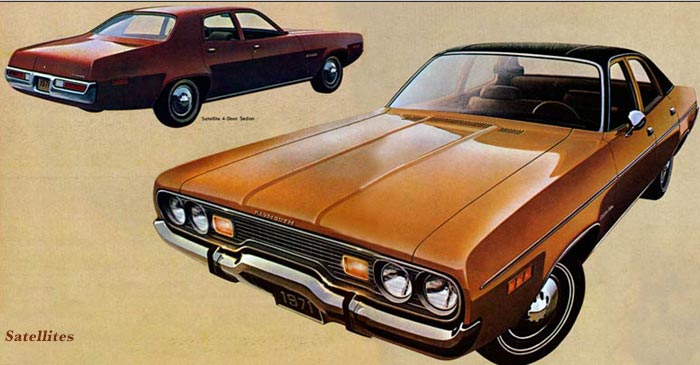 This generation gave coupes a shorter wheelbase than sedans or wagons, and also raised the cars by roughly two inches in height and widened them by 1.8 inches. Wagons saw their track grew by 3½ inches, to handle a 4x8 plywood sheet between the wheelhouses—with half an inch to spare.
The 1971 wagons added tailgates that could open either as a tailgate or as a door, and automatic tailgate locks on three-row versions. An air deflector option was meant to keep the rear window cleaner.

Plymouth, seeing lower sales of its Belvedere, decided to rename it "Satellite,"  which had been a Belvedere trim level. The sedans were on a 117-inch wheelbase, and had completely different noses (front fenders, hoods, and grilles) from the 115-inch-wheelbase two-doors. Trim levels included the Sebring, Brougham, and Regent; they had five hardtop versions, three sedans, and five wagons. Aerodynamics had been considered for this generation, particularly in the rear windows, as with the Duster. Door handles were flush and wipers were concealed.

Dodge had kept the Coronet name, despite slowing sales. The Super Bee moved to the Charger body for 1971, from the Coronet body in 1970, and the Coronet R/T had not returned. The Coronets were four-doors or wagons, and came only with the humble 318 or six.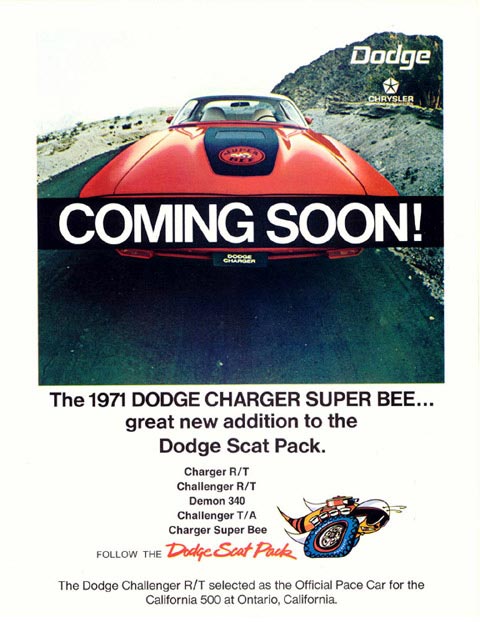 The hot Charger, despite its acclaimed and popular styling, was redesigned for 1971. It now sat on a 115-inch wheelbase, and came in six versions (coupes and hardtops), looking more like a GTO than a Charger. It did have more interior space than its direct competitors. The top-of-the-line Charger R/T had a standard 440 "Magnum" V8, with options limited to the 426 Hemi and 440 "Six Pack"  (three dual-barrel carburetors). It had the same hood and stripes as the Charger Super Bee, but had two more stripes on the doors, and simulated vents. Base Chargers could be ordered with the slant six.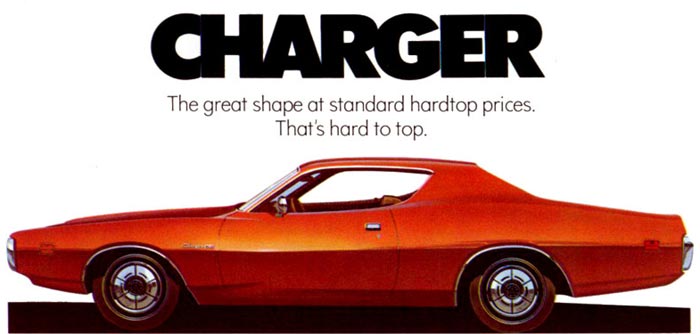 The Charger 500, once a special aero package for NASCAR racing, was now a trim level. The Charger SE came with a 318 V8 and three-speed manual, and was focused more on comfort, with added sound insulation, woodgrain-appearance plastic, concealed headlights, center arm-rest, carpeted trunk, and other luxury cues. The Super Bee, a lighter-weight car with high power named after its own body type (B), was now in its last year. Finally, a "Charger Topper" was advertised—it came with various appearance options from vinyl roof to fender-mounted turn signals, and the economy V8.

The Charger had one of its best years in 1971, but to get there, it had taken over all the two-door Dodge intermediates, so comparisons to past years isn't quite fair.
Both Dodge and Plymouth sold their intermediate and large cars with police pursuit packages engineered for a variety of uses, including low-power versions for cities and suburbs and all-out packages for highway patrols. The sensible option was the B-body Coronet or Satellite, but police often preferred the full-size cars.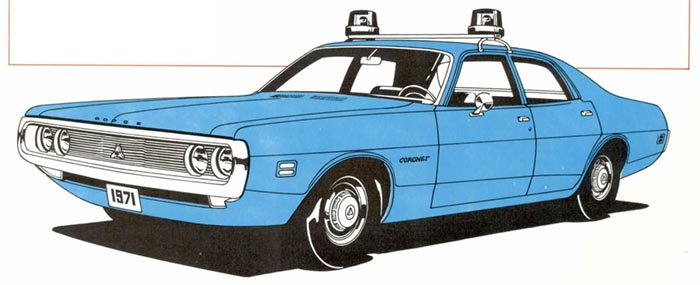 Police cars were given numerous extra welds for better stiffness and durability; heavier-duty brakes and suspensions; and stiffer seats with more durable coverings; upgraded electrical systems; in some cases, extra oil and transmission fluid coolers; and various other upgrades. Engines ranged from the 225 slant six up to the four-barrel 440 high-performance model with special cam and dual exhaust, rated at 370 horsepower (gross). Due to their finicky nature, triple-carburetor 440s and 426 Hemis were not options for the police.
C bodies: Plymouth Fury, Dodge Polara and Monaco, Chryslers
The "full size" C-bodies had recently been revised, so changes were relatively minor. The Plymouth Fury dropped its "power bulge" hood and had a revised grille; Polara and Monaco had minor trim changes. There were some major changes—Torsion Quiet Ride, described later as Torsion-Quiet, which added sound insulation and rubber insulators; and the new 360 engine, a tamer alternative to the hot 340 which provided a more economical alternative to the 383 two-barrel. Ventless window glass came to the series, along with new tail lamps and urethane-covered rear bumpers. Inside, the seats were more deeply padded than in lesser cars.
Today, they seem enormous, not "full sized,"  but the packaging was less than ideal (though normal for American cars). For example, the 1971 Chrysler New Yorker had a 124 inch wheelbase and a 225 inch length, while the 2007 Chrysler 300C had a 120 inch wheelbase and 197 inch length—that's 24 inches less overhang in the newer car. Cargo capacity was rated differently for the two cars, but the 300C's trunk is much deeper and can hold more luggage, in practical terms, even if "ping-pong ball capability" (one way to measure volume) is the same.
Leg room on the old Chrysler—the car which was 27 inches longer—was just 1.3 inches greater, and chances are it was measured under somewhat less exacting conditions. The old Chrysler also weighed around 500 pounds more than the newer one. It was considerably wider in shoulder room—63.3 inches vs 59.5 inches in the newer car.
| | | |
| --- | --- | --- |
| 1971 Four Door Sedans | Imperial | New Yorker |
| Headroom: front/rear | 38.3/37.2 | 38.7/37.9 |
| Legroom: front/rear | 41.9/41.2 | 41.8/41.5 |
| Shoulder room | 62.7 | 63.3 |
| Cargo (cubic feet) | 17.8 | 19.2 |
| Weight | 4975 | 4240-4455 |
| Wheelbase | 129 | 124 |
| Length | 229 | 225 |
The Fury sold fairly well with its easy to understand trim levels: I, II, III, Sport Fury, Fury Custom, and Sport Fury GT—it was an expensive car from a cheap brand, and getting a Dodge or Chrysler made more sense—the reasonably well equipped Fury III sold very well (167,960), as did the Sport Fury (84,922).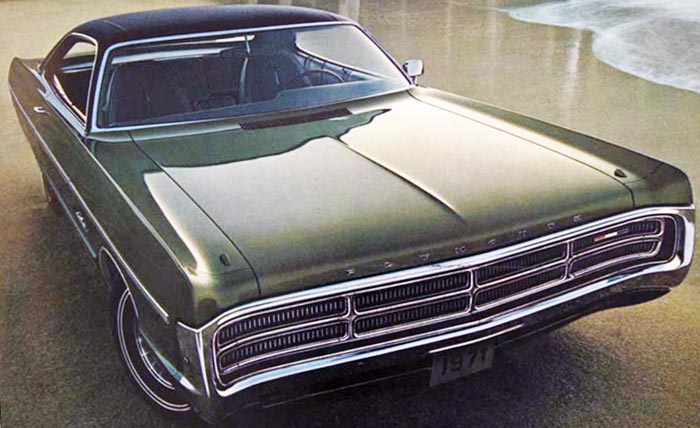 John Rush pointed out that the original Sport Fury was a hardtop or convertible with a standard V8, living up to its name; the 1970 Sport Fury added four-door sedans and wagons, diluting its intent though increasing sales. He also wrote that the Fury GT, added for 1970, might be the most collectible 1970-71 Fury, with its base 440 Commando engine. The rest of the Sport Fury line could have optional 360, 383, or 440 engines. The 1971 Sport Fury sold far better than the 1970.
| | | |
| --- | --- | --- |
| 1971 Four Door Sedans | Fury | New Yorker |
| Headroom: front/rear | 38.8/38.4 | 38.7/37.9 |
| Legroom: front/rear | 41.8/38.0 | 41.8/41.5 |
| Shoulder room | 63.2 | 63.3 |
| Cargo (cubic feet) | 19.7 | 19.2 |
| Weight |   | 4240-4455 |
| Wheelbase | 120 | 124 |
| Length | 215 | 225 |
Dodge had two C-body cars, the Polara and Monaco. Most sales were the Polara (91,056), but the Monaco, which competed rather directly with Chrysler, brought in another 25,000 or so sales.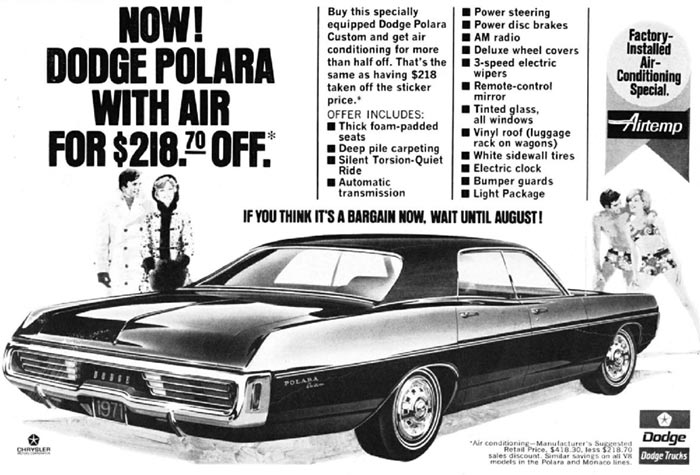 All Chrysler cars were C-bodies. The line started with the Newport, and went on to 300, New Yorker, and Imperial, not counting the Town & Country wagons. The Chryslers were largely the same car under the front and rear clips, and trim and sound insulation, and like the Dodge and Plymouth wore "fuselage"  styling from 1969.
Chrysler cars had better insulation than the Plymouth or Dodge, carrying a half inch of wood-fiber insulation under the roof, with asphault-impregnated felt, fiberglass blankets, and hardboard throughout the car. Those who wanted to tow a trailer could add a package with a larger radiator, seven-blade fan, hood air seal, heavy duty suspension and brakes, special electricals, and added oil cooler; that gave a 5,500 pound trailer capacity.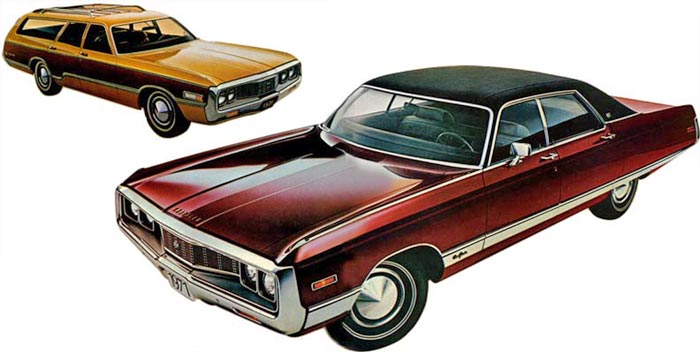 For 1971, the Chryslers had new instrument panels with a tilted gauge panel to avoid reflections and a deep brow to avoid sun glare; the white-on-black gauges were flood-lit at night instead of being backlit. The package was rounded off with two ashtrays and a trip odometer.
The 300 was no longer a high performance car, though it did have a sportier front clip; it was essentially a lower-trim New Yorker, and had only 14,000 sales, lacking as it did a carpeted spare tire cover, three-speed wipers, and such. The Newport and Newport Custom did not have those amenities, either, but it was cheaper, albeit only sporting a 383 and making the automatic optional.
The cheapest Chrysler was the Newport Royal, coming with the new 360 cubic inch engine, launched in 1971, and running on regular-octane fuel. The Newports were the only Chryslers to break 100,000 in volume—and one of the very few Chrysler Corporation vehicles where the four-door sedans were most popular.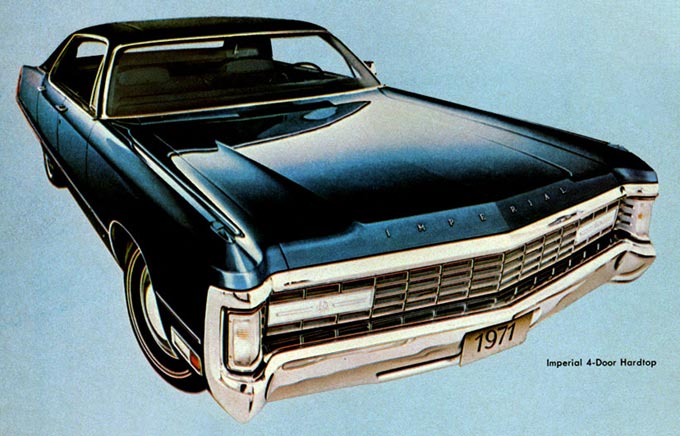 The top of the line was the slow-selling Imperial, which for 1971 was officially a Chrysler Imperial rather than an Imperial. It had five inches longer wheelbase and four inches greater length than the biggest Chrysler, and the world's first production antilock brake system, which was recalled that year. Chrysler's longest car, the Imperial LeBaron was a full 230 inches long, with a massive rear overhang, and 79 inches wide. With all that, the 1995 Chrysler LHS managed to be considerably larger inside.
The Imperial came with leather and a 440 V8 engine, with an automatic transmission and power disc brakes (as did the New Yorker); standard features ranged from normal (air conditioning, fender-mounted turn signals, cruise control) to the unusual (vinyl covered pillows on the four-door).
Somewhat less normal options or features included optional headlight wiper/washers, power operated sunroof, cassette stereo or eight-track with microphone, dual air conditioner with thermostatic control ($747), automatic headlights, and cornering lights. Front seats naturally had power adjusters.
Around 11,400 people paid the over-$6,000 price for Imperials in 1971—that's around triple the entry fee for a Valiant.
E-bodies: Barracuda and Challenger
The original Plymouth Barracuda was, like the Duster, simply a Valiant, with different bodywork behind the windshield. That made it rather hard to put in any engine larger than a slant six, which was all the Valiant had been designed for—though engineers did install 273 cubic inch V8s and, for limited purposes, a massive 383 cubic inch V8.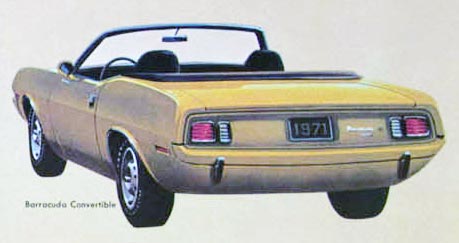 To fix that, and to change styling to match the long hood, short deck of the Camaro and Mustang, Chrysler developed a whole new body design, largely based on the intermediate cars, and coded "E" body ("D" was taken by Imperial). It could, and did, easily hold the big Hemi or 440 engines. The high-performance 340 cubic inch engine was light and strong enough to create a well-balanced car for better cornering.
Sales had started off well the previous year—until the newly restyled 1970 Camaro and Firebird showed up, in February 1970. Then sales plummeted, and Chrysler lost its shirt on the E-bodies. Ironically, they are now among the most highly prized Mopars of all time, along with "wing cars"—which had also flopped on the showroom floor in 1969 and 1970.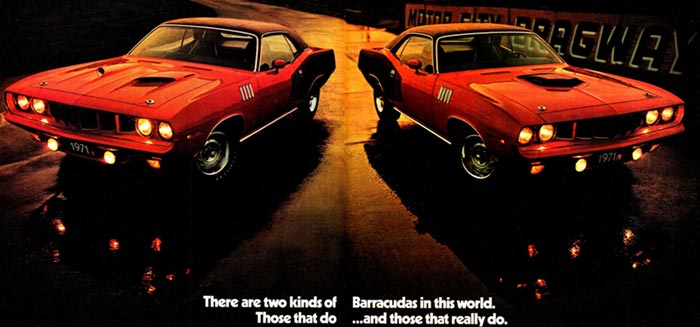 The 1971 Barracuda gained a new grille which was inspired by barracuda-fish teeth, with chrome faux-louvers inspired by gills (both associations were likely missed by most buyers). This was the only year for dual-headlight Barracudas; Challengers always had them. The Barracuda's tail-lights were also changed, and massive black decals showing the car's engine size joined the option list. On the 'Cuda, the high-performance Barracuda model, buyers could get a special hood with a hole cut out for an engine-mounted hood scoop; it was dubbed a "shaker hood"  because the engine shook, and the scoop, sticking out through the hood, shook with it.
Famously, Challenger T/A did not return, despite 1971 ads.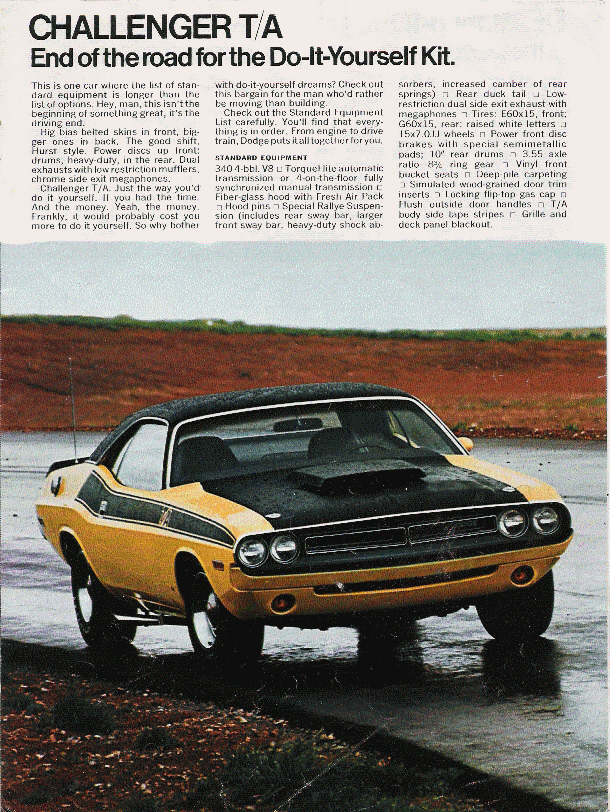 Dodge tried a lower-cost Challenger, the Deputy, which had fixed rear side glass and the smaller slant six (198 cubic inches). Dodge buyers could also get the base, SE, or R/T model, in order of performance.
This was the last year for the slow-selling Plymouth and Dodge convertibles. Production fell to about a third of the prior year's run, which had been disappointing to begin with.
The import
Chrysler brought in the Americana-styled Plymouth Cricket, otherwise known as the Hillman Avenger, from the UK. Scott Harvey won a Michigan rally in a Cricket; the small engine had little weight to push around. Sales were fairly slow; it had a 70-horsepower engine and was small, and, mostly, poorly made if well engineered.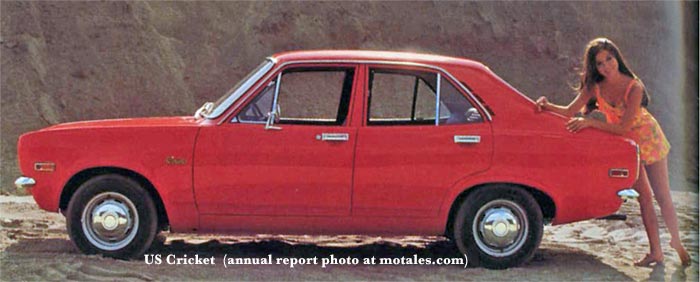 Cricket had just a 98 inch wheelbase, and was only 167 inches long; it was 62.5 inches high, and its little 91 cubic inch engine produced 70 horsepower at 5,400 rpm, with 75 lb-ft of torque at 3,500. It ran on regular gas, with an 8.5:1 ratio. The car used 13-inch wheels; the rear seat could be folded down into a "sleeper position" leading to 80 inches of room. (In comparison, Satellite was 205 inches long, nearly 79 inches wide, and had a minimum 110 horsepower, 185 lb-ft engine.)
The Dodge Colt was made by Chrysler's newest fling, Mitsubishi. It was somewhat larger and had a 98 cubic inch engine. It was far better made than the Cricket, and was the eventual corporate pick for captive import of the decade.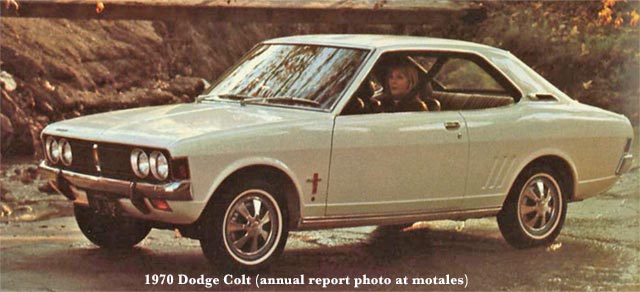 Since Chrysler owned companies in France and England as well as a chunk of Mitsubishi, it also brought over the Simca 1204. Simca, unlike Hillman's parent company, was very profitable and successful, and the 1204 was a fairly advanced car. Simca essentially created the front wheel drive, transverse engine hatchback design, popularized by the Volkswagen Golf. The 1204 was based on the popular-in-France Simca 1100, but with a larger engine, making 62 hp; it had disc brakes and rack and pinion steering, with torsion bar suspensions not just in front but also in back. It also had fully reclining bucket seats and radial tires, luxury items on domestic Chryslers. When first put on sale in 1969, it cost under $2,000, and buyers could option it with a three-speed automatic and air conditioning.
Technical changes from 1970
Part-throttle downshift on the automatic transmission dropped a gear when the driver pressed a third of the way on the throttle, so people did not need to "floor it" to get a downshift. Buyers of the Hemi and performance 440 missed this one.
Engineers dropped compression on the 318, 383, and standard 440 to run on regular gasoline, keeping performance engines on premium. They also cut emissions with a new intake port in the heads of all 383 and 440 V8s, directing the fuel-air mixture toward the center of the cylinder bore, which let them lean out the mixture. Six-cylinder camshafts increased overlap to cut pollution. California cars used a nitrogen oxide reduction system.
The new 360 V8 was launched in 1971, used only on the largest cars for the moment. It was quieter than the 340, had good low-speed torque, and beat the 383's gas mileage, with nearly as much power; it was a good inexpensive alternative to the 383 for most Chrysler buyers.
Power steering was modified to increase road feel. Some cars had new door handles that prevented accidental locking, and some bench seats had integrated head restraints.
| | | |
| --- | --- | --- |
|   | Standard engine |  Wheel diameter |
| Valiant, Duster, Dart, Demon | 198 or 318 | 14 |
| Duster 340, Demon 340 | 340 | 14 |
| Barracuda, Challenger | 198, 225, or 318 | 14 |
| 'Cuda | 383 | 14 |
| Satellite, Coronet | 225 or 318 | 14 |
| B-body wagons | 225 or 318 | 15 |
| Road Runner | 383 | 14 |
| GTX | 440 | 14 |
| Fury, Monaco | 225 or 318 | 15 |
| Plym/Dodge C-wagon | 318 | 15 |
| Sport Fury GT | 440 | 15 |
| Newport, Town & Country | 383 | 15 |
| 300, New Yorker, Imperial | 440 | 15 |
All Chrysler engines had hydraulic tappets, heated intake, low restriction intake manifold, and fast-action chokes.
1971 was a big year for Chrysler, and remains one of classic car lovers' favorite years. It was the final year for Hemi 'Cudas, well, for Hemi Anythings; and it was the last year when safety, gas mileage, and emissions were still pretty minor considerations, and profits were immense. In fairness, there were things we should never miss: noise, poor aerodynamics, brakes that either locked up or faded, and packaging that made the outside of the car much larger than it had to be. But for their time, the 1971 Chrysler, Plymouth, and Dodge cars were very competitive, well engineered, and lovable.
1971 Dodge, Plymouth, and Chrysler trucks
1971 Sales: Cars and Trucks vs GM and Ford
Warning
: include(/4.php): Failed to open stream: No such file or directory in
/home/mot/public_html/years/cars-of-1971.php
on line
549
Warning
: include(/4.php): Failed to open stream: No such file or directory in
/home/mot/public_html/years/cars-of-1971.php
on line
549
Warning
: include(): Failed opening '/4.php' for inclusion (include_path='.:/opt/cpanel/ea-php81/root/usr/share/pear') in
/home/mot/public_html/years/cars-of-1971.php
on line
549