The famed Mopar slant six: Durable workhorse, 1959-1991
Chrysler needed a new six-cylinder engine long before engineers started working on it; the old flat-head six, while durable, was badly outmoded. That was no reflection on its designers; a great deal of time had passed since the 1920s. The situation came to a head when corporate leaders ordered the creation of a new compact car, the future Valiant, to be on the market by model-year 1960.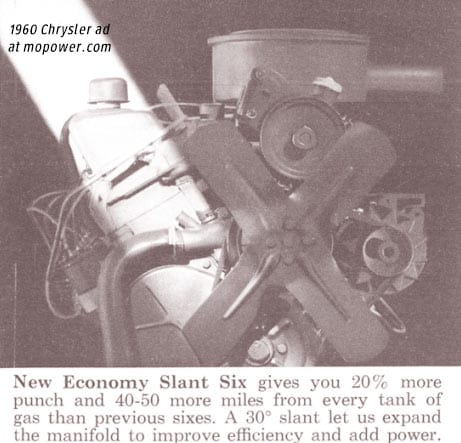 As the specifications were developed, it became clear a four-cylinder would not provide enough power for the Valiant; a six-cylinder would be needed, but it would have to fit into a small space. The old six was too long for the new cars, and the company needed a new inline six-cylinder anyway.
Creating a new engine
Robert S. Rarey had led the B-and-RB V8 project, which created brand new, highly competitive, and inexpensive-to-make engines in roughly a year; they turned out to be extremely reliable, and capable of great power. Willem Weertman, in his book Chrysler Engines, wrote that he and Robert S. Rarey gave the Valiant team the choice of various forms of engines, including four-cylinders and V6 designs, with both aluminum and iron blocks. A typical in-line six, with the water pump in front, would not fit; but then Fred Rose, the lead designer, and Ray Latham, the engine design supervisor, thought of leaning the engine over by 30 degrees, which let them move the water pump to the side of the engine.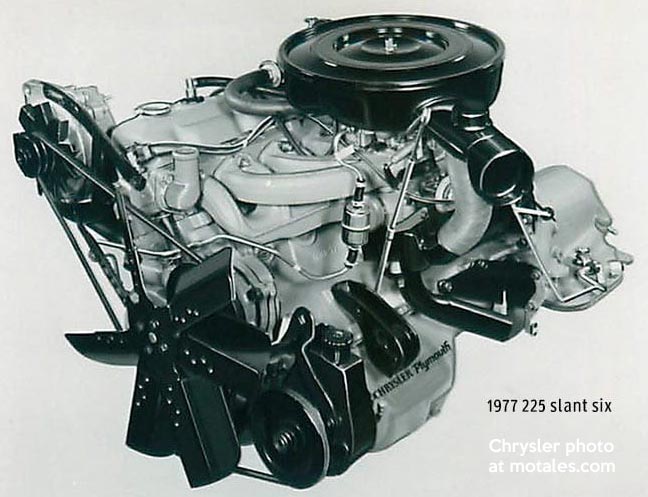 They leaned it to the right rather than the left to give the fan just the right spot, near the center of the radiator; the engine was moved a little to the right of the car's centerline to make more space for the driver's foot.
The Valiant team specified a 170 cubic inch in-line six, with a 3.4 inch bore, 3⅛ inch stroke, and the 30° tilt; fortunately, the proposal landed on Plymouth chief Harry Chesebrough's desk. That same day, he approved it—and asked for a more powerful version to replace the flat-head six in other cars and trucks. The slant six size and type was finalized in April 1958, and it was in production for model-year 1960 cars.
There was no way to increase the cylinder bores with Valiant program chief Bob Sinclair refusing to give even a quarter-inch more. Within five days, though, engine designers Bob Rarey and Willem Weertman had figured out how to add one more inch of stroke (to 4 ⅛ inches) instead. They did need a different crankshaft, a new block with greater deck height, and longer connecting rods and pushrods; but everything else would be the same. The 225 cubic inch version joined the development program around a week after the 170, in April 1958.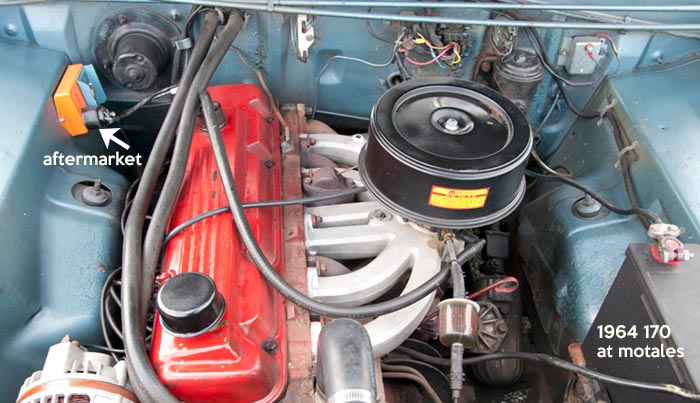 At that time, engines were given a code name (A for small-block V8s, LB for big-block V8s, RB for raised-deck big-block V8s); the new six was coded RG for the raised stroke and LG for the low stroke.
The next step was for Paul Ackerman, head of Engineering, to weigh three proposals for the Valiant and for replacing the flat-head six. Two of those required the company to create new four-cylinder and new six cylinder engines, and one called for the one slant six in two sizes. It was probably a no-brainer in 1958; on the same day, April 16, Ackerman gave the go-ahead to the slant six, without any four-cylinder.
The engineers wanted to use aluminum for the engine blocks to cut weight and use fewer machine tools; but they also created an iron version in case they couldn't make the aluminum version work. Bob Kring, an engineer from Kokomo Casting, worked with the engine design people to speed up the creation of the new block and heads; his actions as a go-between were invaluable, since the casting people had never done engines and the engine people had never done aluminum. Like current Chrysler engines, it used bore liners (iron, in that case) to prevent cylinder wear—a simple, cheap, effective method.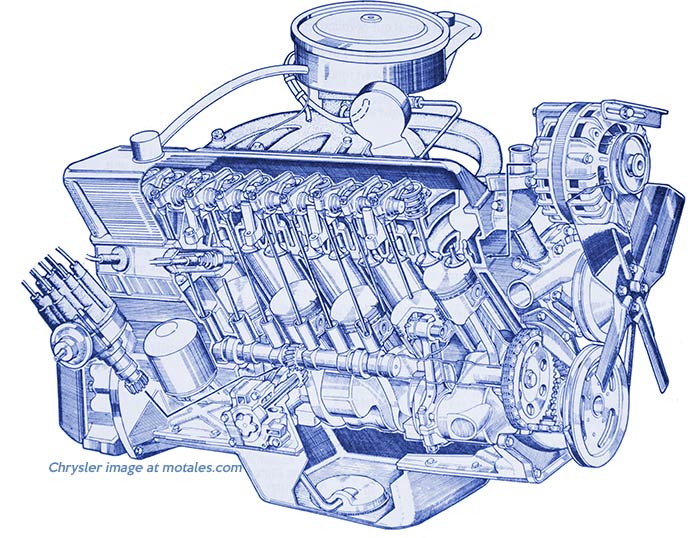 John Hurst, an engine designer at Chrysler, created the idea of the slant six's unique and efficient "bunch of bananas" intake manifold; John Platner and Don Moore developed and fine-tuned it. Since the intake and exhaust ports were on the same side of the head, exhaust gases warmed the floor of the intake, making warm-up faster and helping to keep fuel vaporized—which in turn helped cylinder-to-cylinder balance.  Other companies' straight-six manifolds had some cylinders share tubes or had sharp bends—or larger differences in the tube lengths.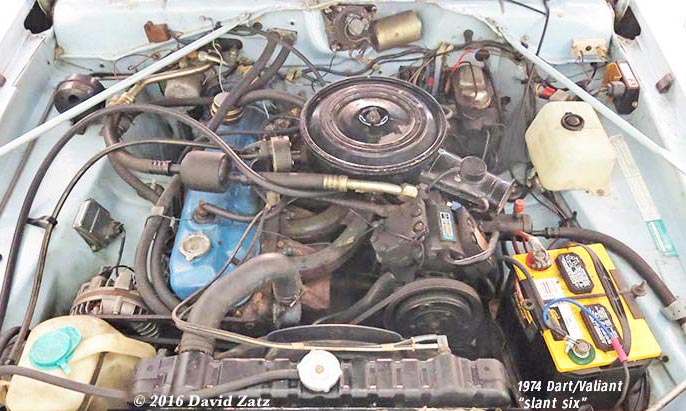 The first slant six engine was dyno-tested in the final days of November 1958, less than six months after the green light had been given. Drawing by hand, working with both iron and aluminum versions, the engineers had created a working iron-block 170 cubic inch engine. Two weeks later, the long-stroke aluminum 225 took its turn on the dyno. The plant in Kokomo (Indiana) started casting aluminum 170 cubic inch blocks in March 1959, less than one year after the green light had been given.
In addition to Valiants, slant sixes were used in Dodge Darts—but these were not yet slightly longer Valiants. They were, for 1960-62, a midsized car, "compact for a Dodge;" Dodge's version of the Valiant was the Lancer, for now. (The Dart, incidentally, also got an optional alternator; the Valiant was the first car in the world with a standard alternator.)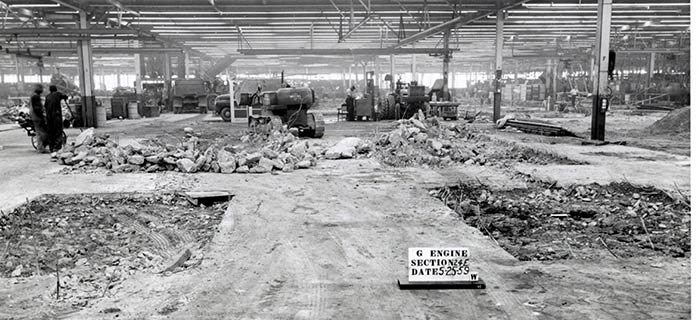 Preparing Trenton Engine for the new slant six assembly line, 1959; they would also be made in Ontario, Canada. Chrysler photo via Dave Van Buren
The aluminum engines are treasured by some slant six owners; but production was much faster using the iron design, and the slant six was needed for a huge number of cars and trucks. For a while, Chrysler made both engines, trying to increase the aluminum production speed; but the aluminum version was eventually dropped. The executives might have regretted that, a decade later. Daniel Stern commented that it was a relatively trouble-prone design, especially given maintenance practices of the time such as running straight water in the summer instead of anticorrosion coolant.
Less than two years after executives approved the plans, the slant six was being installed in Chrysler Corporation cars; it would stay there through 1983 (longer, outside the US) and in trucks through 1987. The marine version stayed in production all the way into 1991. Production was in Trenton, Michigan; Windsor, Ontario; Adelaide, Australia; South Africa; Turkey; and Mexico.
Slant six engineering and design
Pistons were a tin-plated aluminum alloy; steel struts kept the dimensions correct during engine warmup. The top ring was chrome-plated and the second ring was tin-plated; the oil control ring had chrome-plated steel rails.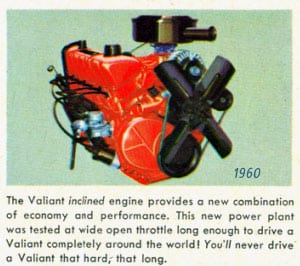 According to Pete Hagenbuch, early sixes had oil burning issues; his team looked at the pistons and cylinders, and decided that the 170 was satisfactory but the 225 needed something different—Chrysler's first-ever steel rail oil ring, the chrome-plated Sealed Power SS 50. For the 1961 model year, this chromium plated top ring was complemented by a reverse twist second ring (with the chamfer on the bottom of the ring instead of the top); and the supplier had developed a way to abrade the chrome plating, as would happen during a long engine break-in, which helped the engines get off to a good start.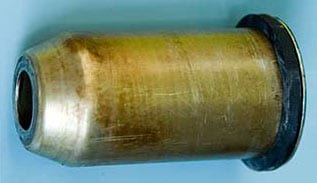 Spark plug tube from 1974 slant six
The oversquare design helped with torque, as did the long stroke on the 225, but the small bore size limited valve size. Other than working around the tight cylinder spacing, the heads were similar to those of the big B V8s, with similar designs for overhead valves, wedge chambers, and the tappet chamber drip/splash lubrication. Rocker arms were steel stampings. A great deal of ingenuity went into using the same types of parts as in the B series V8 engines—lessons learned from the parts proliferation of having three very different Hemi V8 series earlier.
Until the end of the 1974 model year, the slant six used aluminum tubes to separate the spark plugs from the pushrods, given the lack of space for cast walls. This method created opportunities for leaks, and 1975 models had a redesign which eliminated the tubes.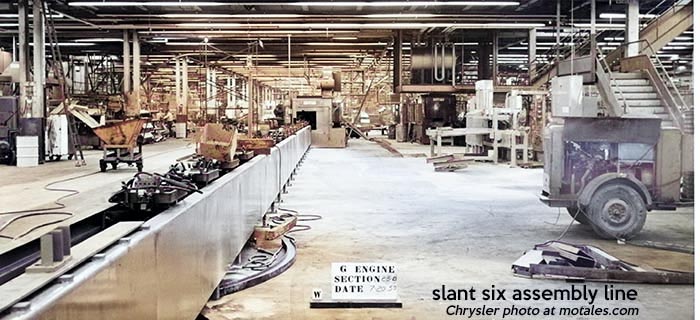 The distributor was always on the spark plug side of the engine; the alternator was on the manifold side in the 1960 model year, but was usually on the opposite side after that. The starter was always on the manifold side. Service parts were mostly easy to reach, though the fuel pump and distributor were far down in the engine bay.
The slant six was not straightened, even when used in trucks that had plenty of space; though that might have eased maintenance, especially in terms of spark plug, starter, and distributor access, it would have added to the cost and eliminated the clever intake.
Performance
While it was normally used only in trucks and economy cars, the one time Chrysler put some effort into performance, it paid off quite well. The 1960 Hyper-Pak, installed by dealers, included a four-barrel carburetor, hot cam, and other parts to bring a rating of 196 brake horsepower (on the 225; the 170 was rated at 148bhp), beating many V8s of the day. Modern racers have used turbochargers and different carburetion (or fuel injection) and manifolding to produce far more than that now-quaint figure, and the slant six holds up well under the load.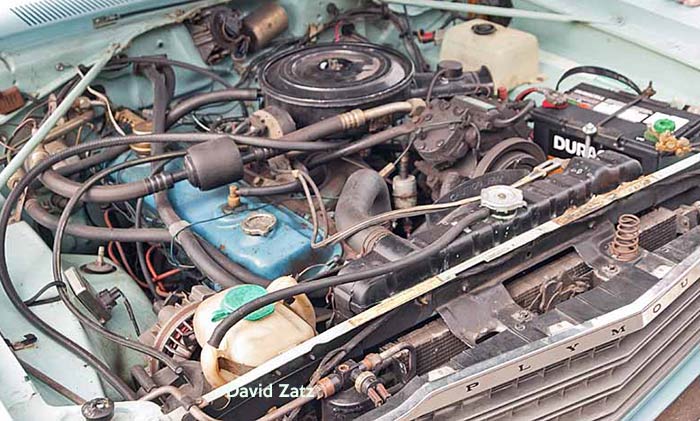 The Slant Six edged out equivalent Ford and Chevrolet motors in power and economy, even though Chrysler had something of a reputation for understating horsepower and torque ratings. Consumer Reports consistently praised the engine for beating GM and Ford's straight sixes in speed and economy. An internal GM test of a 1961 225 Slant Six showed that it produced 126.5 horsepower at 3800 rpm, with 210.7 pound-feet of torque at 1600 rpm.
These were gross readings, without accounting for the effects of things like the engine-driven accessories and the exhaust system. Under more realistic, as-installed conditions, similar to the SAE net horsepower rating system (which would introduced industry-wide in 1971-72), the engine GM tested produced 104.5 hp and 189.4 lb·ft of torque—close to Chrysler's 1972 published figures for net horsepower and torque. This, along with Consumer Reports' tests of similar cars, suggests the Ford and Chevrolet numbers were exaggerated. (We have a separate page comparing net power ratings for 1974 straight sixes.)
| | | | |
| --- | --- | --- | --- |
|   | Mopar 225 | Ford 223 | Chevy 236 |
| HP | 145 | 145 | 135 |
| Lb-ft | 215 | 206 | 217 |
There were many changes to the slant six from 1960 to 1971—different camshafts and cam timing; different carburetors and ignition advance maps and compression ratios, etc—with no change in the published ratings, which suggests the early numbers were more about marketability than accuracy. While there likely was a real increase in 1967, when the 170 got the 225's larger carburetor and camshaft, who knows whether the new 115-horsepower rating was any more accurate than the old 101?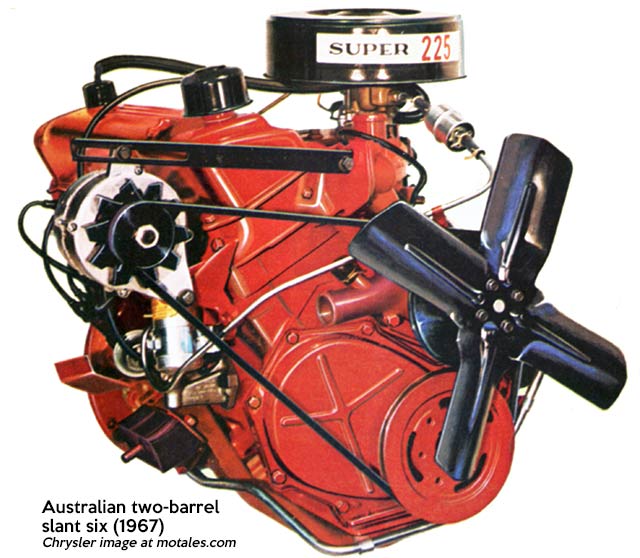 For export markets such as South America, where six cylinder cars were taken more seriously, Highland Park engineers created higher output variants of the slant six, using either two-barrel or twin single-barrel Holley and Carter carburetors; these were rated at 155, 160, 175, or 190 bhp, depending on year and configuration. Daniel Stern added that the two-barrel versions were based on a marine-engine setup, and that Australia used locally made intake manifolds and other minor tweaks, but that the setup was substantially the same as in Spain, Mexico, Argentina, and South Africa.
Back in North America, the 1977-and-later "Super Six" package used a special Carter BBD carburetor to increase responsiveness without loss of economy, increasing horsepower by 10% (to 110 net hp). The 1976 Feather Duster package, which went for economy rather than speed, brought a 30 mpg EPA highway rating.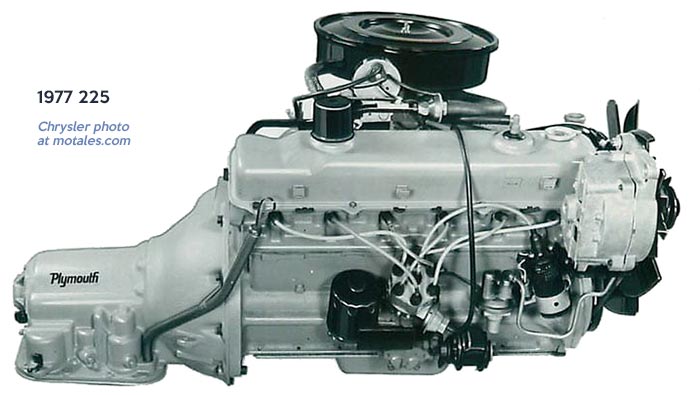 Pete Hagenbuch told Allpar that the Super Six was developed in 1975 by one valve engineer and two road-test mechanics. Most of the benefits came simply mounting a more appropriate carburetor; even small European and Japanese engines had two-barrels, while Americans had stuck with single-barrels. They also tested numerous spark advance schedules and added a low-restriction air cleaner. Performance was far more sprightly than with the single-barrel setup.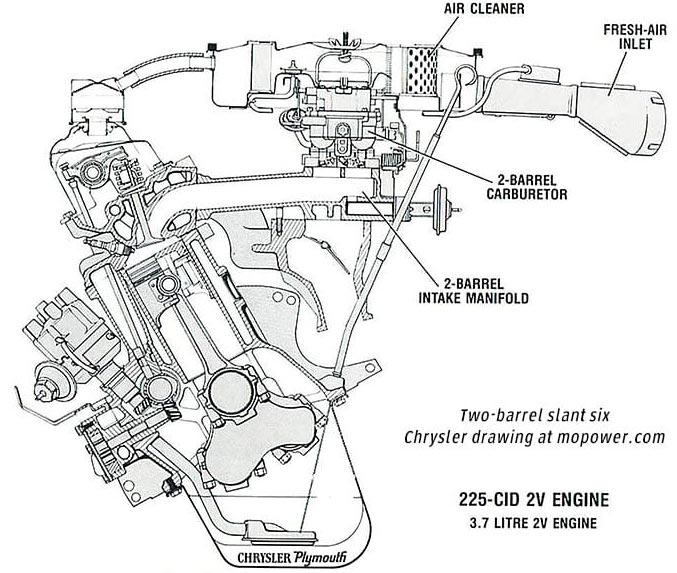 Production numbers
Trenton Engine was one of the plants making V8 engines; they were the first to produce slant sixes and were the main source of the leaning tower of power. The following numbers are for Trenton Engine's production (Trenton was not the only plant to make slant sixes, but it was the primary one); it shows V8 and four-cylinder production for contrast and comparison.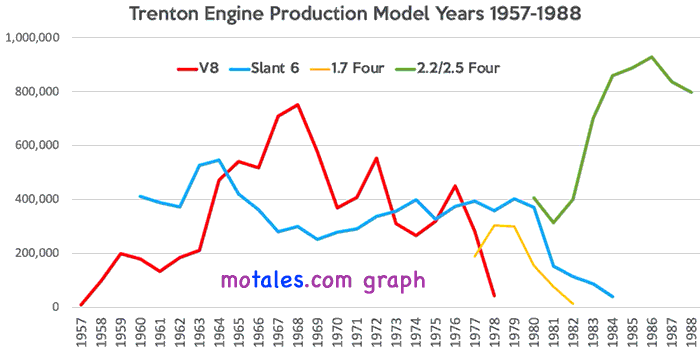 All in the slant six engine family
As they had with the flat-head engines, Chrysler engineers quickly went to work on special versions for industrial, commercial, and marine use; some of these had special equipment such as two-row timing chains, chrome-plated upper piston rings, valve rotators, Stellite-coated exhaust valves, high-volume oil pumps, and polyacrylic valve stem seals (depending on the use and the year). Ordinary car slant six owners can retrofit some of these parts, such as the double roller chains.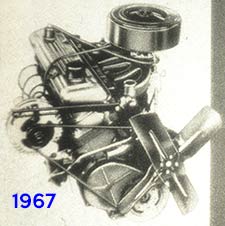 The heads were redesigned for the 1963 model year, and as a result, owners had to install spark plugs without the little "crush washers"—until the 1975 model-year. Chrysler launched another revised head for 1967; it increased both economy and power, by eliminating dead spots, adding quench/squash areas, and keeping the fuel/air mix around the exhaust valve, with the spark plug igniting the center of the mix.
Cams were changed over the years. The 1960-64 170 and 225 both used a 232°/228°/8°/0.375" camshaft. For 1965, the 225 got a 241°/236°/16°/0.395" camshaft. For 1967, that cam was also put on the 170. In 1971, Chrysler started using the export-and-marine two-barrel cam in all US-and-Canada-made slant sixes with solid lifters; it had a 244° duration, 26° overlap, 0.406"  intake lift, and 0.414" exhaust lift, and continued in use until 1980.
With the 1970 model-year, the old 170 was dropped; customers could instead get a 198 cubic inch slant six which shared blocks with the 225, but had a shorter crankshaft throw and longer connecting rods.
| CID | Years | C/R | bhp | Torque |
| --- | --- | --- | --- | --- |
| 170 | 1959-63 | 8.2 | 101 @ 4400 | 155 @ 2400 |
| 170 | 1964-66 | 8.5 | 101 @ 4400 | 155 @ 2400 |
| 170 | 1967-69 | 8.5 | 115 @ 4400 | 155 @ 2400 |
| 198 | 1970-71 | 8.4 | 125 @ 4400 | 180 @ 2000 |
| 225 | 1960-62 | 8.5 | 145 @ 4000 | 215 @ 2800 |
| 225 | 1963 | 8.2 | 145 @ 4000 | 215 @ 2400 |
| 225 | 1964-71 | 8.4 | 145 @ 4000 | 215 @ 2400 |
Net horsepower, again, will be lower due to measurement changes.
| CID | Years | C/R | hp | Torque |
| --- | --- | --- | --- | --- |
| 198 | 1972 | 8.4 | 100 @ 4400 | 160 @ 2400 |
| 198 | 1973 | 8.4 | 95 @ 4000 | 150 @ 1600 |
| 198 | 1974 | 8.4 | 95 @ 4000 | 145 @ 2000 |
| 225 | 1972 | 8.4 | 110 @ 4000 | 185 @ 2000 |
| 225 | 1973 | 8.4 | 105 @ 4000 | 185 @ 1600 |
| 225 | 1974 | 8.4 | 105 @ 3600 | 180 @ 1600 |
| 225 | 1975 | 8.4 | 95 @ 3600 | 170 @ 1600 |
| 225 | 1976-78 | 8.4 | 100 @ 3600 | 170 @ 1600 |
| 225-2V | 1977-78 | 8.4 | 110 | 180 |
* Federal numbers only; California differs in some years.
The easiest way to tell the 170 from the long-stroke 198 and 225 versions is the hose from the water pump into the head; the 170 has a hose that's less than two inches long, while the 198 and 225 have a three-inch hose. As for telling the 198 from the 225, well, you might have to look at the emissions sticker, if it still exists; or check the engine stampin numbers; or take the engine apart.
Chrysler started installing hardened valve seats while leaded fuel was still available to prepare for a future of unleaded fuel. Federal law required unleaded fuel to be universally available by July 1974. Hardened valve seats were brought to V8s in 1972 and to slant sixes in 1973. Leaded fuel was still available for many years.
Electronic ignition was added in the 1973 cars; it was a good, reliable system over the long haul, other than ballast resistor failure causing starting problems. Another change for the 1973 cars was a new oil filter standpipe, shortened to allow use of the same short oil filters as Chrysler V8s. Catalytic converters arrived in the 1975 model year.
During the 1976 model year, Chrysler started using a cheaper nodular iron crankshaft instead of the forged steel version; both are strong enough even for hefty power gains, according to many tuners. Steel-backed aluminum-alloy main bearings replaced the original ones in 1978.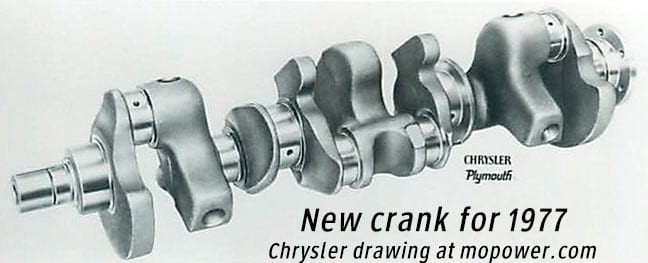 According to Roar Sand, tightening emissions forced Chrysler to replace the mechanical lifters with hydraulic ones; the plant wasn't able to consitently set valve lash to the tighter specs needed to meet the rules. Chrysler Canada started working on hydraulic lifters at the Windsor Engine Plant in 1976. Instead of adding an oil channel, the engineers grooved the rear cam bearing to feed more oil to the rocker shafts; it went through the rocker arm bodies and hollow pushrods to reach the lifters.
Testing in fleet service (and possibly some engines sold to the public, more or less at random) took place in 1978, and full production finally started in the 1981 model-year. According to a service bulletin issued in 1978, the new system required a different cam, rocker arm, rocker shaft assembly, tappet assembly pushrod assembly, intake valve stem seal, and exhaust valve stem shield. The 1978 test cars were all Volares and Aspens, with sales code Y39, a decal on the valve cover which likely would have disappeared by the 2020s, and an emissions label lacking a valve lash setting.
1978 Dodge Aspen sedans with two-barrel slant sixes and air conditioning also started using an aluminum intake manifold which saved twelve pounds compared to the iron one.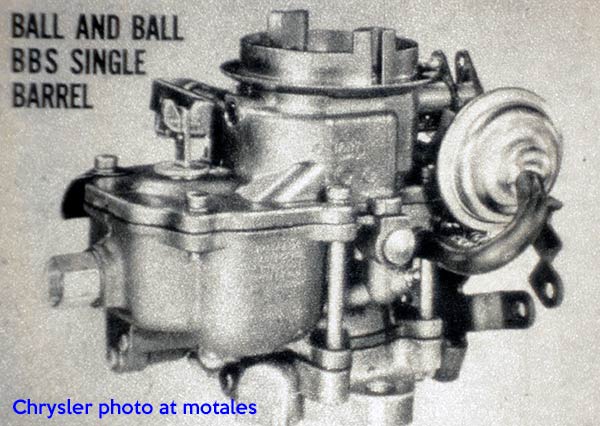 Numerous carburetors were used over the years, starting with the Carter BBS (the BB a flourish standing for Ball & Ball, which Carter had taken over years earlier). This lasted all the way into 1971 on US and Canadian cars, until 1974 on US and Canadian trucks, and until 1977 or 1978 on export engines; along the way, the power valve and choke systems, throttle body port arrangement, and bowl vent configuration changed from time to time. From 1962 to 1973, they could also use a Holley 1920 (which also underwent changes as time went on), and only in 1963, a Stromberg WA-3 carburetor ended up in some cars. Manual and automatic cars had different carburetors.
Clean air regulations caused many year to year changes. Ignition timing varied by engine size, vehicle application, transmission, and such, so there was no specific ignition timing for the slant six as a whole. In 1969, many changes were made to shut off the choke more quickly and to vaporize fuel more effectively; and the thermostat went from 180° to 190°  on the 225, and from 190° to 200° on the 170. Holley 1920 carburetors now had a cap on the idle mixture screw to limit its range of motion, too. One last device for 1969 was an anti-icing device for the carburetor, using air heated by the exhaust, and added to the 225 slant six and 318 V8 only.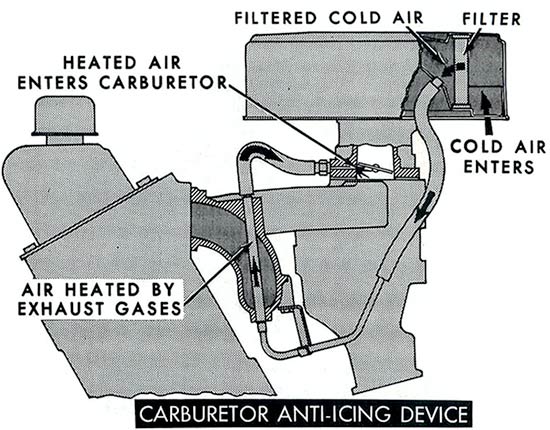 For 1970, Chrysler started using manifold-heated air in a different way, familiar to most classic car folk: an "exhaust stove,"  created by putting a sheet of stamped metal over the exhaust, was connected to the air horn. When temperatures in the air cleaner were below 100° (as measured by a thermostat mounted below), a flap moved to prevent ambient air from entering, and to allow air in from the "stove."  When the temperature climbed, the flap moved and ambient air was taken in. It helped the cars warm up much faster, and starting in 1973 was used in conjunction with another new gadget: a choke heater. The idea there was to have a little wire heat up the choke coil, so the choke would open earlier and the car would not run as rich, saving fuel and cutting emissions.
The Holley 1920 gave way to a Holley 1945 starting with the 1974 cars. Much lambasted by those who missed the simpler 1920, the 1945 works well over the years while supporting emissions systems; however, it was introduced along with much leaner jetting to scrape through emissiosn tests.
The 1975 slants had a new head, which eliminated the old spark plug tubes and required owners to use tapered-seat plugs—with the crush washers. At the same time, the design change required owners to remove the heads to replace the lifters.
From 1977 to 1983, the Super Six setup used a Carter BBD two-barrel which was somewhat smaller than the one used on V8s.
The single-barrel carb linkage also changed for 1979 slants, to reduce pedal effort and make the throttle open more for the same amount of pedal travel, with a presumed goal of making the slant six feel more powerful in heavier vehicles, including B-body cars.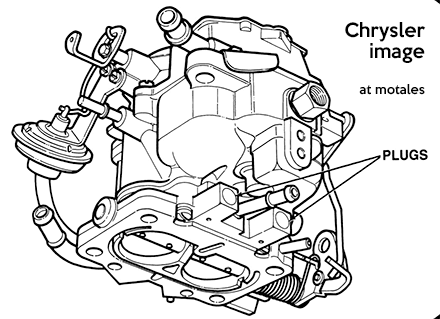 Chrysler started using electron beam welded aluminum intake manifolds for 1979; these are reportedly more troublesome than the usual version. Chrysler had an industry first with that method, which did cut weight by 14 pounds per car.
In the same year, the company started using concealed idle adjustment screws on the Super Six—the screws were put into little tunnels and plugs were pushed in after them. The goal was to prevent ordinary people from adjusting their own carburetors "by ear," leaving it to professionals who would be more likely to follow factory procedures.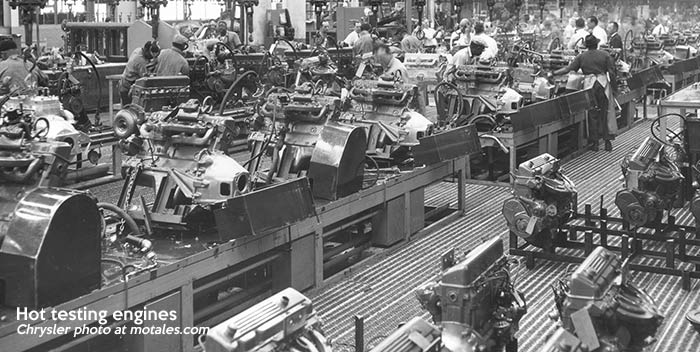 Another 1979 introduction—only on some California cars with one-barrel slant sixes—was the electronic feedback carburetor, a clever idea that used an oxygen sensor to adjust the fuel/air mixture. This early system only came into effect for warm-up and heavy acceleration. The Holley 6145-based system was complicated and not particularly reliable; they became standard on federal-emissions cars in the 1981 model year. (Trucks followed a different schedule, as did industrial and marine applications.) Electronic feedback systems were used with dual catalysts, one for nitrides of oxygen and unburned hydrocarbons, and one for hydrocarbons and carbon monoxide. A light flashed on every 15,000 miles to remind the driver to maintain the system.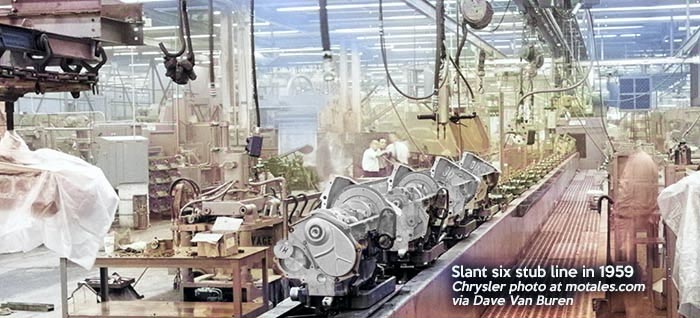 There were no slant sixes in cars in 1984 cars in the US or Canada; they were now exclusive to trucks in their home markets. The only cars which had used it (M-body Diplomat, Gran Fury, and Fifth Avenue/Newport) were now restricted to the 318 cubic inch V8, choked by relatively crude emissions equipment, with executives still refusing appeals from Engineering for fuel injection.
For 1984, buyers could still get the 225 slant six, oddly equipped with a single-barrel carburetor only, on the D100, D150, and even D250 pickups; and, with four wheel drive, on the W100 and W150 (the W150 and D250 were not sold in California). Canadian versions had different emissions systems, and slant six trucks were not available with tow packages.
The final slant sixes, sold in Mexican cars through the 1987 model-year, were made in Toluca, Mexico.
Oddball slants
Many alternatives were tested by engineers, including a 1967 version with hydraulic lifters, which needed an extra oil gallery in the block; and turbocharged, fuel-injected, and diesel versions.
Early on, in 1962, engineers tried out an overhead cam version of the 225; this was tested from 1962 to 1966. Slightly larger versions, at 180 and 246 cubic inches, were tested in 1964-65; the larger one may have helped for truck use. The hydraulic-tappet version tested in 1967-68 was based on the bigger of these.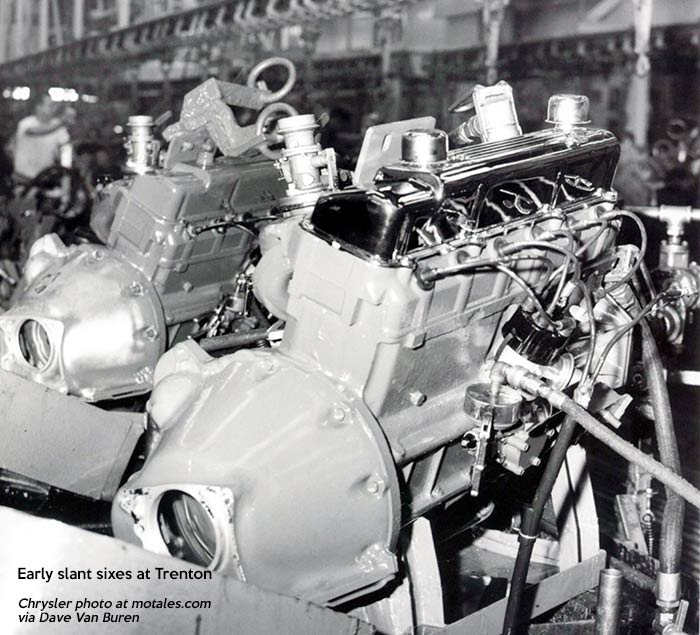 A "slant four" was tested in 1969. The idea was brought back in 1980 to 1983, this time based on a 1975-80 diesel slant six; one of these had a turbocharger, the other did not. From 1981 to 1983, the company tested another diesel conversion, this time turbocharged. Chrysler actually built a lightweight 225 from 1976 to 1980, but it only saved 12 pounds.
Jim Grundy, a Chrysler engineer in 1967-71, told Allpar that he had designed an overhead cam slant six at Chrysler, installing it into a Dart, but couldn't find any interest in the project; he sold the Dart and bought it back in 1992.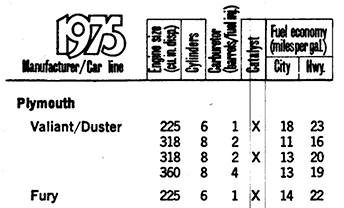 The 1976 Feather Duster and Dart Lite used aluminum body panels, special gearing, and carburetor tuning to jump up to 30 mpg highway, by the very easy test procedures of the day; it was quite an achievement when the regular Duster only reached 23 mpg. You can see the impact of weight on city mileage in this 1975 EPA gas mileage extract; the light Valiant achieved 18 mpg while the midsize Fury could only manage 14 mpg with the same slant six engine. Highway mileage is more a factor of aerodynamics, so the two cars were very similar when powered by the same slant six engine.
That was not all. A third-valve pre-chamber, similar to the Mitsubishi MCA-Jet system, was tested in 1973-74, as Chrysler owned a large share of Mitsubishi; this would presumably have slashed emissions and increased economy. An aluminum fast-burn cylinder head was tried out (in the lab) from 1976 to 1979.
Finally, the company tried turbocharging in 1977-78 and using multiple-port electronic fuel injection in 1979-80. Fuel injection, while not as sexy as turbocharging, would have made the cars far more drivable and desirable; but executives likely blanched at the cost, which one engineer remembered as being roughly $100 per injector (he commented that it would be cheaper than a carburetor plus one warranty claim for stalling). The turbo six was tested in at least one Dodge Monaco, a full-sized car.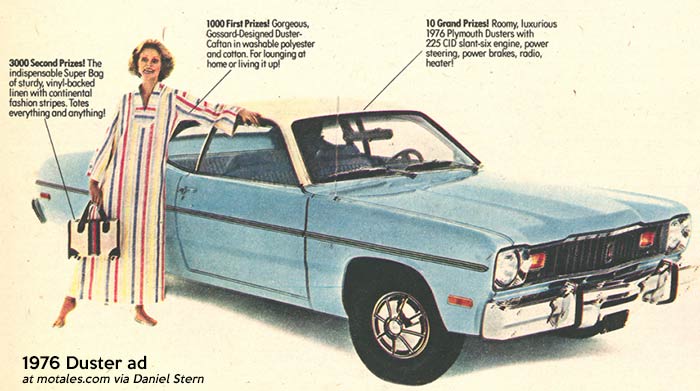 A computer controlled slant six helped with emissions; this used Electronic Spark Control and then Lean Burn. Reliability was not helped by putting the computer on the air cleaner. Early versions had two pickups in the distributor; a later one was able to use just one pickup. Vacuum leaks and electrical problems can wreak havoc with these systems, and many owners replace them with plain carburetors and older control systems; some owners say to keep them in place until they develop insurmountable problems.
Finally: the first Bricklin concept car used a slant six engine, though their first production cars used AMC V8s pushing out 220 horsepower (net).
Success
It took less than two years to fully develop the slant six from nothing to production. Yet, it ended up as a legend of durability, more efficient than GM and Ford sixes for two decades, with a national club (the Slant 6 Club of America) and a national racing series.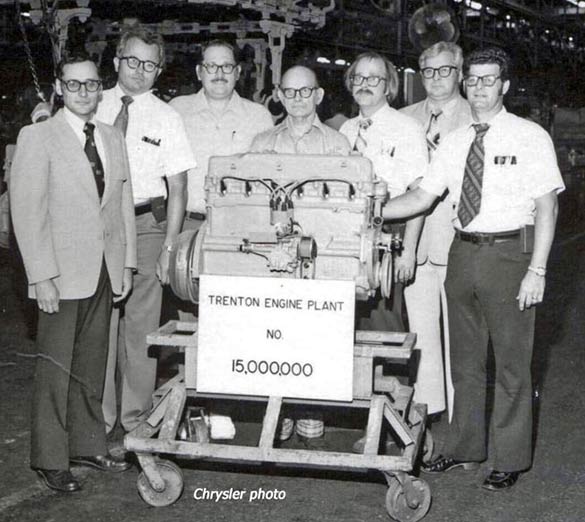 Slant sixes are still beloved, especially in Mexico and South America (and, after the Hemi Six, in Australia), where they were in more upscale cars. People still modify slant sixes for racing and street performance. Turbochargers are common among modifiers, along with advanced fuel injection systems; you can even get newly machined high-performance heads and manifolds. It's quite a tribute to Bob Rarey, Willem Weertman, and the host of engineers who created it practically overnight.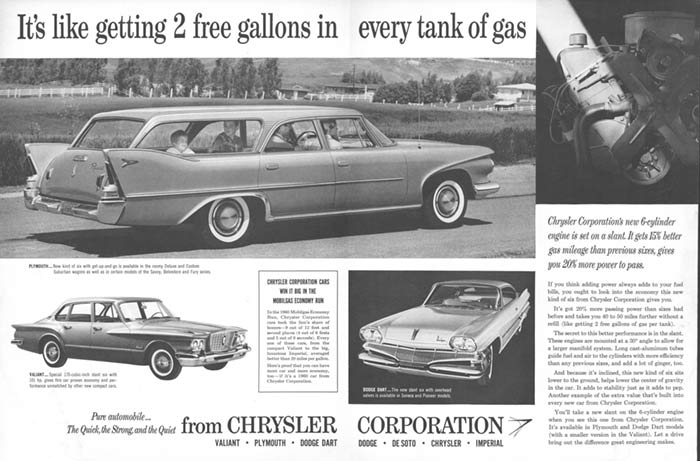 Appendix: intake manifolds
Daniel Stern pointed out that the exhaust manifolds are interchangeable from 1960 to 1986, despite various changes which added strength and changed the choke stove pocket. Early manifolds, for example, had no ribs, and could crack easily; ribs were added in 1963 and again in 1970. In 1980, they were changed to allow an oxygen sensor ot be added.
Dan noted that the manifold is designed to have some movement as it heats and cools; stamped steel gaskets aid this but are hard to seal. Special washers are part of the system, and care must be taken to get those right. Details at slant-six.org.
Appendix: spark plugs
From the 1960 to 1962 model years, owners are supposed to use the "crush washer" (the loose metal ring at the end of the spark plug) in their cars when changing plugs. The 1963 model year brought a slight redesign, adding a relief at the top of the spark plug hole; the spark plug tube itself is the seal, so for cars and trucks from the 1963 to 1974 model years, the washer must be removed before installing spark plugs to avoid "ping" and spark plug overheating. Daniel Stern, incidentally, recommends the NGK ZFR5N spark plug for various reasons, including extra-long electrodes that move the spark point closer to the center of the chamber, to reduce misfires. A head redesign in 1975 finally eliminated the spark plug tubes, and mandated taper-seat plugs—with the washers. For these, Daniel Stern recommended the NGK UR5GP.
When changing plugs on car with spark plug tubes, changing the spark plug tube gaskets can prevent oil leaks. Step by step instructions are at slantsix.org.
Slant Six Club • Slant Six Forums • Making slant sixes at Trenton Engine (at motales) 
Appendix: Slant six specifications
Four aluminum-alloy-on-steel babbitt crankshaft main bearings had oil grooves in the upper half (and in the lower half of the #1 bearing). Connecting rod bearings were also aluminum on steel.
Positive crankcase ventilation (PCV) started in the 1960s, with crankcase vapors routed to the cylinders through a valve so they could be burned. This did not hurt power or economy.
Oil pressure ranged from 35-65 p.s.i. at 2.000 rpm.  Crankcase oil capacity was five quarts including the filter.
1968 Engines
170 + 225
Bore spacing
3.98 (1-2, 3-4, 5-6);
4.0 (2-3, 4-5)
Firing Order
1-5-3-6-2-4
Head and block
Cast iron
Mounting points
Two front, one rear
Piston weight
16.4 oz
Skirt top clearance
.0005 - .0015
Skirt bottom clearance
-.0005 - +.0005
Ring groove depth
.179 #1/#2; .181 #3
Piston Pins
 
Length
2.965
Diameter
.9008
Type
Press-fit in rod
Clearance (In piston)
.00045 to .00075
Clearance (In rod)
.0007 to .00014 interference
Offset in piston
Right .06
Connecting Rods
 
Bearing
Lead-based babbitt on steel
Bearing overall length
.985
Bearing clearance
.0002 to .0022
Bearing end play
.006 - .012
Idle air-fuel mixture
14.0 – 14.4
Where the engines were different:
| | | |
| --- | --- | --- |
| 1968 | 170 | 225 |
| Bore and Stroke | 3.4 x 3.125 | 3.4 x 4.125 |
| Compression | 8.5 | 8.4 |
| Gross horsepower | 115@4400 | 145@4000 |
| Torque (lb-ft) | 155@2400 | 215@2400 |
| Connecting Rods | 170 | 225 |
| Weight (oz.) | 25.7 | 26.8 |
| Length | 5.707 | 6.699 |
Oil rings varied based on application, e.g. truck, taxi, and police configurations.
1980 journals: 2.75"  x 0.877 (except journal #3, 2.75"  x 1.107").
Making slant sixes at Trenton Engine (at motales) 
Current and future
Follow us on Post! It's like Twitter, but without ads or Nazis!
Books by MoTales writer David Zatz
Copyright © 2021-2023 Zatz LLC • Chrysler / Mopar car stories and history.