Where they make it: Mopar plants and what they've made before
This page lists current factories, what they make, some key products they used to make, and what we expect them to do next.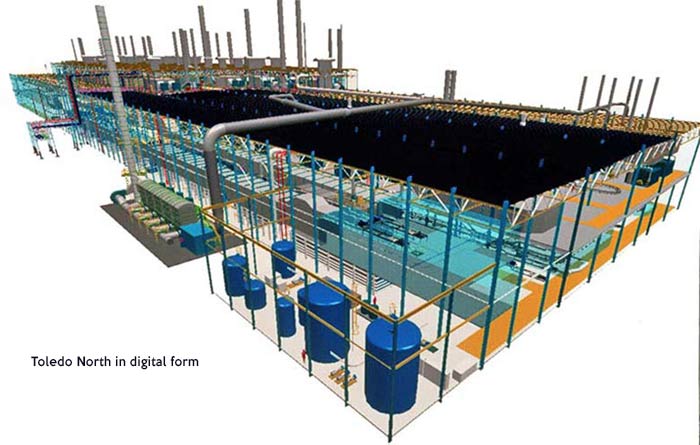 Plant rumors and future prospects
These are our projections for changes, so far (see the full list for plants that are not expected to change, e.g. Sterling Heights)
| | |
| --- | --- |
| Belvidere | To stop making Cherokee in mid-2023; new product after this, likely EV based. |
| Brampton | To be "retooled and fully modernized, beginning in 2024. When production resumes in 2025, the plant will introduce an all-new, flexible architecture to support the company's electrification plans." Currently makes 300, Charger, Challenger. |
| Detroit | Former Mack making Grand Cherokees. Former Jefferson may stay with Grand Cherokee if volume remains. |
| Saltillo | No change; sole home of Hurricane and Hemi engines and ProMaster; also makes Ram pickups/chassis-cabs. |
| Toluca | Makes Compass. Might shift to both Renegade and Compass with new replacement for Renegade on the way. |
| Warren | Wagoneers plant; may add related Dodge; may or may not drop Ram Classic. |
| Windsor | Minivan plant, to be upgraded for "a new multi-energy vehicle (MEV) architecture that will provide battery-electric (BEV) capability for multiple models" (STLA Large) in 2023 - appears to include a new generation Pacifica and three other models. Samsung joint venture battery plant being built nearby. |
| Trenton Engine | North Plant to be used for logistics and distribution; North Plant production moving to South Plant, which will make two forms of Pentastar (original and PUG) as well as heads, cranks, and blocks. Three month closure at the end of 2022 to make the moves. |
| Dundee | Plant makes WGE 2.4 and Pentastar. 2.4 leaving mid-2023; new Peugeot 1.6 coming in 2025. |
| Kokomo | 2.0T production, transmission and aluminum plants continue. 1.3T engines—using some die-cast machines once devoted to 62TE transmissions. New battery joint venture plant with Samsung SDI. |
Current engine and transmissions
WGE. World Gasoline Engine. Based on modified Hyundai blocks, DaimlerChrysler built twin Dundee plants to make these for Mitsubishi, Hyundai, and Chrysler (all three shared some development along with Mercedes); however, Mitsu and Hyundai developed their own engine dressings and related systems and Chrysler shut down one Dundee plant. Of three displacements, only the 2.4 remains and it is almost certain to be shut down in 2023-2024 depending on when ProMaster City and Compass get new powerplants. Of note, new Dodge Hornet is using a 1.5T and Compass may switch to that powerplant, which is more capable than the 2.4 or 1.3T.
GME. Global Medium Engine. 2.0T née "Tornado" and 3.0T "Hurricane" are GME engines, closely related, invariably turbocharged. 2.0T replaces Pentastar, 3.0T may be replacing Hemi V8—two Hurricane versions replace the 5.7 and 6.4, each with more power than the original. GME was developed by a team drawing from Chrysler, Fiat, and Fiat Brazil, and have elements of the old Neon engine, the Pentastar and Hemi, and the old Fiat FIRE engines. GME was likely influenced by primarily-Jeep-and-Alfa use.
GSE. Global Small Engine. 1.3T to be made in Indiana; currently only in Renegade and Fiats. 1.5T rumored to be coming to Dodge Hornet and is rumored to be slated for replacement by Peugeot 1.6T. GSE was developed by a team drawing from Chrysler, Fiat, and Fiat Brazil, and have elements of the old Neon engine, the Pentastar and Hemi, and the old Fiat FIRE engines. GSE was likely influenced by primarily-Fiat use.
EP6 / PureTech. Peugeot 1.6 liter turbo engine to be made at Dundee, solely in hybrid form. Expected to produce ~360-400 hp based on current hybrid versions in Europe. New versions will use Punch Powertrain automated manual transmissions with integrated motors and probably axle motors as well.
Pentastar. 3.2 liter V6 expected to end production in summer 2023. Twin turbo variety developed from the basic Pentastar design for Maserati Quattroporte and Ghibli, with 404 hp, ending. 3.6 expected to continue on.
Hemi. 5.7, 6.4, 6.2 long rumored to be ending in 2023. Truck 6.4 may continue.
Hurricane: straight-six GME-based 3.0 liter engines with twin turbos and two versions, with power ratings above the 5.7 and 6.4 Hemi. Made in Saltillo, Mexico. Used in Wagoneer, Grand Cherokee; likely going to trucks as well.
ZF based transmissions are the 9-speed and 8-speed automatics. 8-speed is entering a second generation with more hybrid capability. Both are made by Chrysler as well as by ZF; Chrysler versions have some differences either for truck capability (e.g. more serious parking pawl) or for manufacturing differences. Chrysler transmissions meet the same standards and specs as ZF ones.
Car and truck assembly plants
Belvidere, Illinois
Cherokee plant; many believe that in mid-2023, the plant will start making electric vehicles, possibly including an STLA Large replacement for the Cherokee.
Belvidere started cranking out cars in 1965; in 1977, they switched over to front drive, making the Omni/Horizon and its derivatives into 1987. Starting in 1988 they went upscale with the Dynasty, New Yorker, Imperial, and Fifth Avenue, which they made until 1993. The first Neons rolled off the line in January 1994, and kept coming until 2005 until switching to Caliber, Patriot, and Compass; and finally Dart. Though Dart and 200 were on the same platform, Dart came from Belvidere and the 200 from Sterling Heights. Dart was replaced by Cherokee in 2017.
Brampton, née Bramalea, Ontario
This plant in the Bramalea section of Brampton, Ontario, has made the Chrysler 300, Dodge Challenger, and Dodge Charger for those cars' entire lifespans (not counting the original 300, Challenger, or Charger); it was also sole home of the Dodge Magnum. It's expected to keep on pumping out Chargers and Challengers in their new generation, if there is one.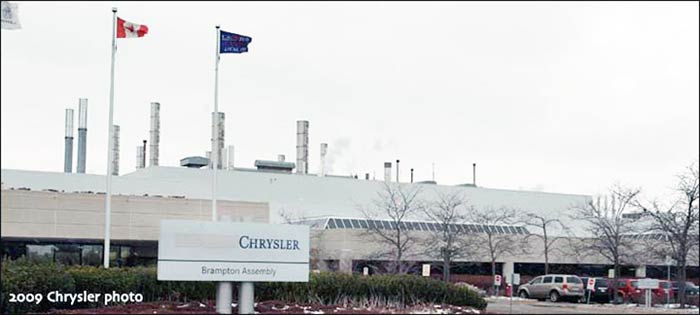 Built as "Bramalea" (the name of the development it's in), the Brampton plant was put up by AMC just before Chrysler bought the company. It made the Eagle Premier, an AMC-developed version of a Renault which did not live up to expectations, from 1986 to 1992, joined after a time by the Dodge Monaco (a badge engineered car). From 1992 onwards, they made Chrysler's large cars—the LH series until 2004, then the LX and related models, including the Lancia Thema.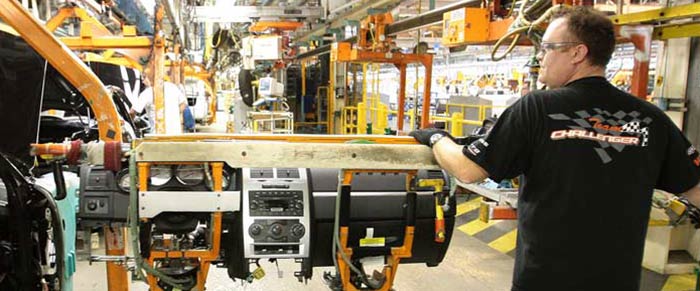 Conner Avenue
The former spark plug factory that went on to build Vipers is now home to part of Chrysler's car collection, and is used for meetings and education.
Detroit Assembly Complex, née Mack Avenue and Jefferson Avenue (Michigan)
The Mack Avenue complex was a pair of engine plants, right next door to the new Jefferson Avenue assembly plant, which has always made Jeep Grand Cherokees (an older plant nearby no longer exists); the Conner Avenue plant that made Vipers is now a corporate event center and internal museum. Mack was created to make new Jeep Grand Cherokees, and it does so; Jefferson has continued to make the old Grand Cherokee and Dodge Durango. If anything else is planned for the new Grand Cherokee platform, it will likely be made there as well.
The original Jefferson Avenue plant was built by Chalmers in 1909; Chrysler took it over along with Chalmers, finally closnig it in 1991. The Jefferson North plant was put up nearby in 1993. The Mack Avenue plants include one created by Briggs Body (the former Mack I) and another made by Chrysler for engines.
Toledo, Ohio Jeep Plant
There are two plants in Toledo, the South one making Gladiators (originally also making Wranglers), and the North plant making Wranglers. These are relatively new assembly plants, surrounded by a supplier park, and parts are run by other companies.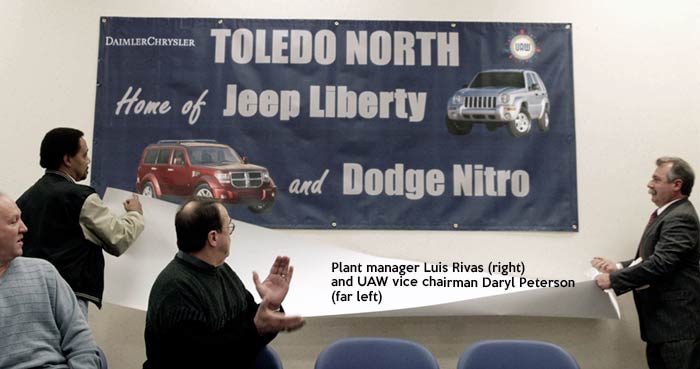 Toledo North was created to make the Jeep Liberty, designed to be the next generation of the Jeep Cherokee. (When the Cherokee proved to still be popular, they renamed its replacement.) Liberty went into production in 2001; Nitro was added in 2014. They were replaced by production of the new KL Cherokee, and in 2017 by the Jeep Wrangler, with Cherokee moving to Belvidere. Toledo South has always made Wranglers or Gladiators, since being built in 1986 to replace the old Willys plant in Toledo.
Toluca, Mexico (near Mexico City)
Toluca has in modern times gone from making Neons to PT Cruisers, and then Journeys and Fiat 500s; today it makes the Jeep Compass, which shares a platform with the Renegade (made in Italy). During the early 2000s, Toluca was one of DaimlerChrysler's highest quality plants. It was built in 1984 to make K-cars; it made offshoots of the K from 1987 to 1994, when it went to Neons and was the only home of two-door Neons. The PT Cruiser displaced Neons in 2001; Journeys joined the line in 2008 and stayed on until their end. Fiat 500 was added in 2011, leaving in 2017. The Toluca plant is the furthest former-Chrysler factory from Detroit—Saltillo is close to the border.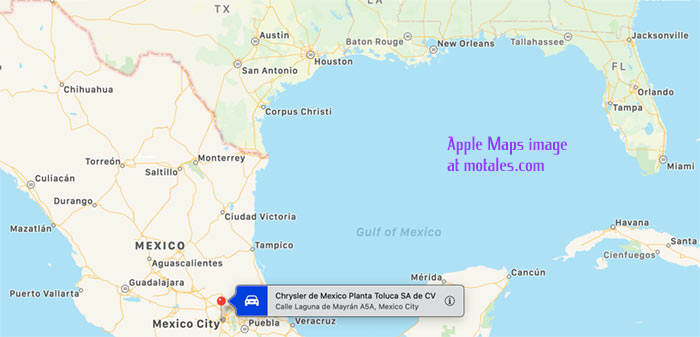 Windsor, Ontario
A historic plant which has been expanded numerous times and gutted several times since 1980, Windsor is a modern plant using a flexible pallette system which raises and lowers vehicles as needed. Windsor makes all of Chrysler's minivans, as it did in 1984. The Windsor complex used to have five separate facilities pumping out cars, trucks, and engines, but it's all come down to one minivan factory. The last of the older facilities, at Pillette Road, made vans. For a full history of Windsor, see our pictorials.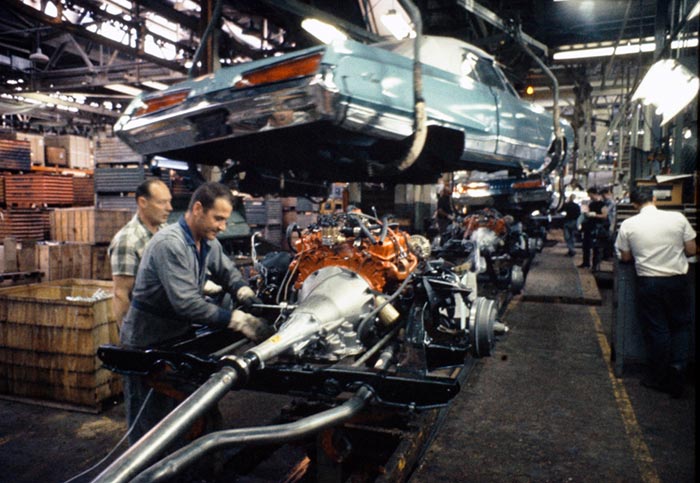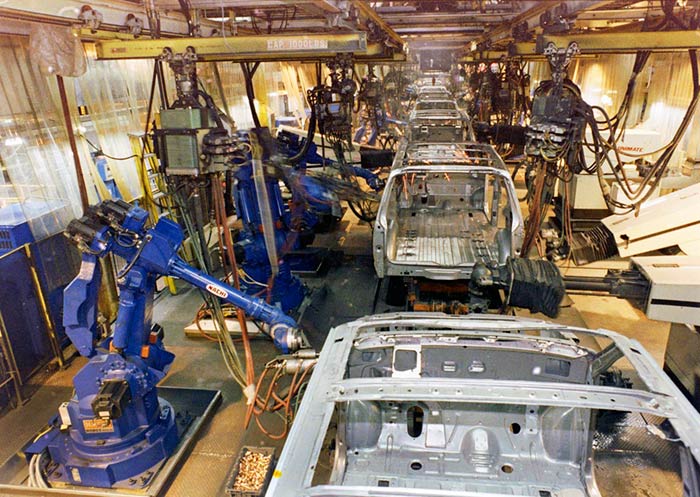 Windsor Pictorials: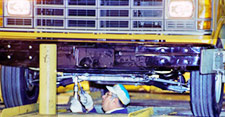 Making Mopar Vans in Windsor
Dodge B-van factory photos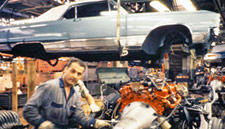 Making Cars in Canada: Factory Photos
A pictorial with some captions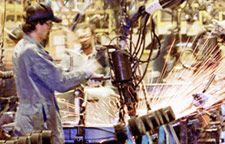 Making Minivans in Windsor
Chrysler factory photos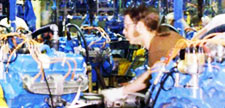 Mopar Engine-Based Windsor Factory Photos
Putting engines together in Canada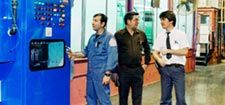 Off the Line: People Doing Other Things in Chrysler Canada Plants
A pictorial of the labs, factory, and computer control areas
Truck plants: Warren and Sterling Heights, Michigan; Saltillo, Mexico
FCA US has three truck plants. Warren is the traditional American facility, and currently makes the luxury Wagoneer and the low-end Ram 1500 Classic, in what can best be described as irony. Sterling Heights was converted from making midsized cars and now makes the "DT" body Ram 1500 Quad and Crew Cabs; its capacity is quite high, with a massive new body shop. Finally, the Saltillo complex makes all the heavy duty trucks and chassis cabs, including one unique to Mexico; a separate building produces the Ram ProMaster; and an on-site engine plant makes every Hemi V8 and Hurricane inline six.

Warren Truck has made Dodge or Ram trucks and Dodge B-vans from 1938 to the present, including the Dakota, Mitsubishi Raider, and Ramcharger SUV. The Jeep Wagoneer joined the crew in 2022. Saltillo was originally meant to replace Lago Alberto, a 1930s era factory; it was opened in 1995. Surprisingly, the plant has a zero discharge policy and through filtration provides a surplus of clean drinking water which is used by local residents. Waste is treated on site.
Sterling Stamping used to make K-based cars such as the Lebaron GTS, Shadow, and Daytona; it went on to make midsized "cloud cars" (Cirrus, Stratus, and Breeze) in the 1990s, and continued to make midsized cars until 2017, when the Chrysler 200 was dropped. The factory was heavily rebuilt with a new body and paint shop when the 200 was brought in, and converted over to truck manufacturing in 2017-2018.
Engine and transmission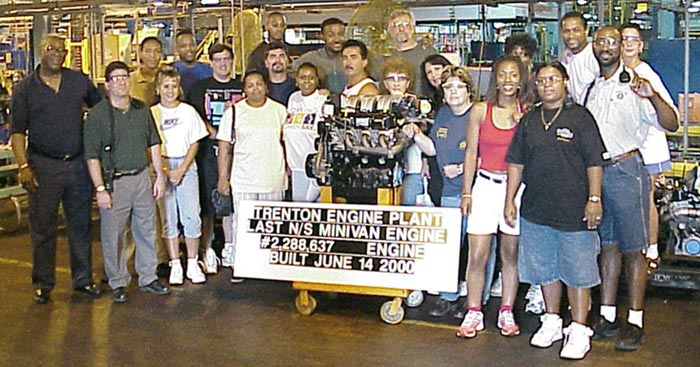 The oldest engine plant is at Trenton Engine, which has an old and new building; they make three varieties of Pentastar V6 and a multitude of parts. Trenton Engine is a decent drive south of Detroit, served by rail and highway, and right on the edge of a nature preserve; it's also quite close to Grosse Ile.

Moving south, Saltillo, again, makes every Hemi and the Hurricane, as well as two varieties of Pentastar (PUG and PHEV) in a separate facility.
Then there are the new plants: Dundee, built under Daimler, which makes 2.4 liter engines (now in danger of being dropped) and the 3.6 liter Pentastar PUG. The new 2.0 liter engines are made at the newest plant, in Kokomo—formerly the Indiana Transmission Plant II. 1.3 liter engines are imported from Europe but will be made in Kokomo.

All of Chrysler's home-built transmissions are made in Indiana, near Kokomo or Tipton; there are two plants near Kokomo which make transmissions, one for nine speed automatics, one for eight-speeds. Kokomo Transmission, which makes eight speeds, also machines nine-speed components. Tipton makes nine-speeds, including a special one for the Pacifica PHEV. A new battery plant in the Kokomo area will make batteries and cells—most likely pure Samsung designs.
Trenton pictorials: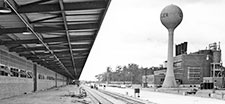 Building Trenton Engine
to Make Classic V8s and Air Raid Sirens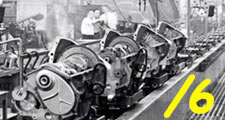 Building and Running the Slant Six Line at Trenton
Making the legendary Leaning Tower of Power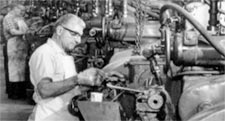 Making V8 engines
Trenton in pictures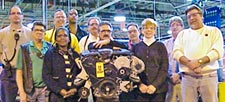 Trenton Engine milestones
1964 Hemi to Pentastar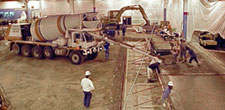 Trenton Engine: Building New V6 Lines in 2000
A pictorial with explanations and stories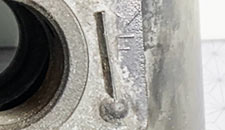 Tales From the Factory: Matching Pistons and Blocks
How the factory managed precision problems, back in the day
The rest
There are four stamping facilities: Warren, Sterling, Toluca, and Saltillo. Each is near an assembly plant. Warren and Sterling Heights are off Van Dyke Avenue, a reasonably short drive from Detroit.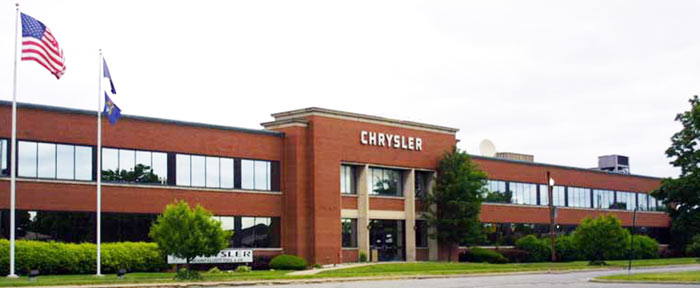 There are also three other support plants—Etobicoke, which makes powertrain components and aluminum die castings; Toledo, which makes steering columns and torque converters; and the beautiful Mt. Elliott Tool & Die (in Detroit), which makes stamping dies and checking and stamping fixtures. Etobicoke, west of Toronto, was built in 1942 and purchased by Chrysler in 1964, and expanded in 1965 and 1998.
Mt. Elliott is on the border of the scenic Outer Drive and Mt. Elliott Street; Chrysler has used both names, sometimes calling the facility Outer Drive. The building itself was put up in 1938 by Briggs Body as a stamping plant; it was purchased by Chrysler, with most of Briggs' assets, in 1956 and used until 1983. At that time, the stamping presses were removed and tool and die manufacturing equipment was brought in from Vernor Tool & Die, which was being closed down. The Mt. Elliott facility also had did pilot plant operations and stamping plant engineering into the 1990s, but these facilities were moved into the Chrysler Technology Center. The plant was idled in 2018 and remains so in May 2022; we don't have any information on future plans.
More stories about current product...

Ram ProMaster Commercial Van
Following the only large front-drive commercial van from 2014 to the present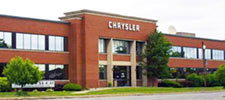 Mopar plants: rumors, what they make, and what they made
August 17, 2022 update

Chrysler rumor wrap / upcoming models
April 7, 2023 update

Renegade: Fiat-based Jeeps
Oddly capable little crossovers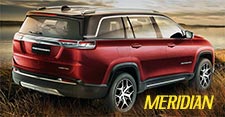 Meridian: Lux Compass with Three Rows
Sorry, it's only in India so far

GSE 1.3 Turbo
Modern "Firefly" Four-Cylinder
Books by MoTales writer David Zatz
Copyright © 2021-2023 Zatz LLC • Chrysler / Mopar car stories and history.