Making Mopar Vans in Windsor: Dodge Factory Photos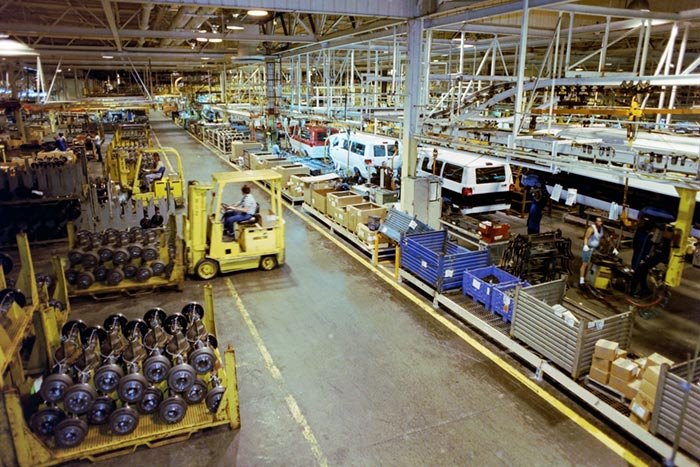 Before there was a Chrysler Corporation, Maxwell and Chalmers each, independently, established factories in South Walkerville (created by Hiram Walker, and annexed by Windsor in 1935). Chrysler inherited these, and when they purchased Dodge Brothers, moved that company's Canadian headquarters to Windsor as well. They ended up with a complex of factories including an engine plant, car and truck assembly plants, and what became a van assembly plant on Pillette Road.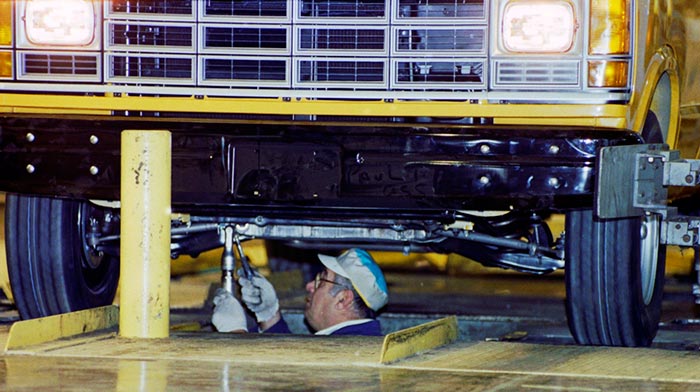 Pictured: Merrill Aligner tightening toe end of the steering linkage (via Jerry Bentley)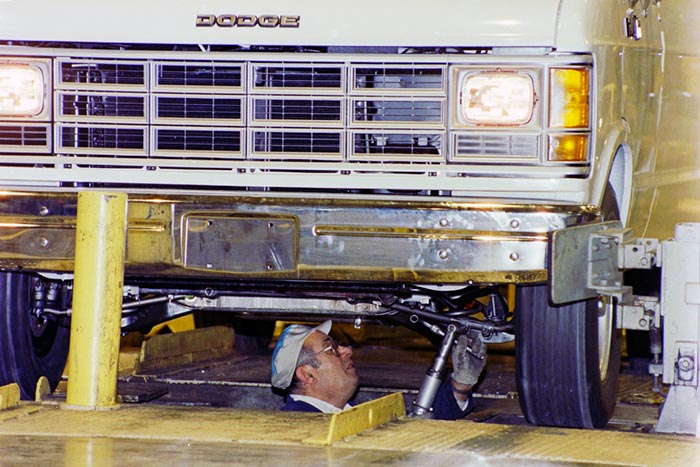 The Maxwell-Chalmers factory on Tecumseh Road, later called "Plant One,"  started making trucks in 1931; in 1955, it expanded and took in a building across the street. The plant was closed in 1978, becoming the Imperial quality assurance center from 1980-83.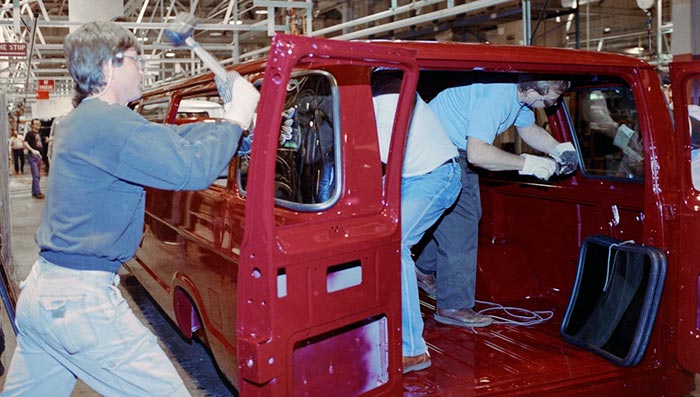 Above: installing glass (thanks, Ragman).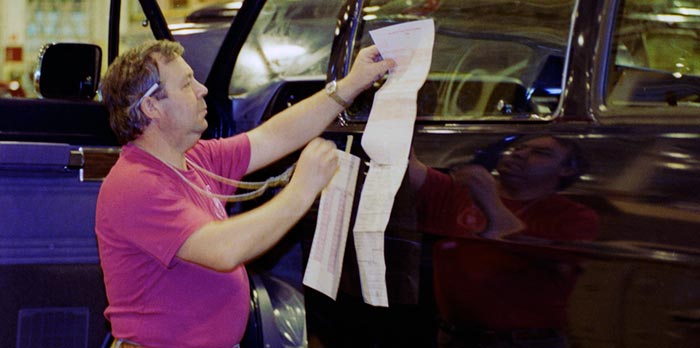 Windsor Engine was Plant 2; it ran from 1938 to 1980, and was just south of the current minivan plant (Plant 3), which originally made cars.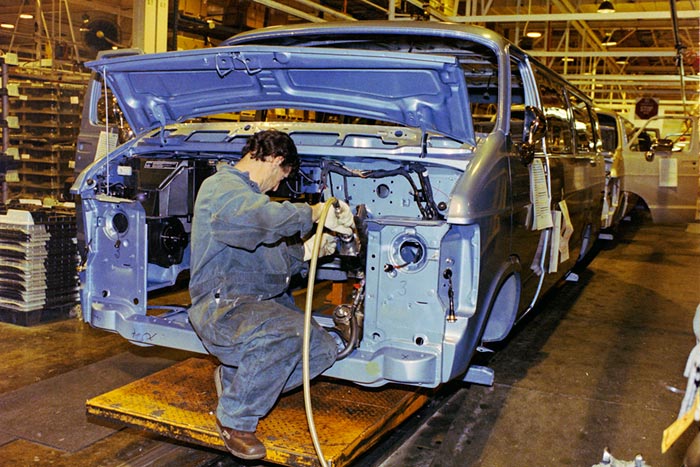 Photos are by Chrysler Canada photographer Lawrence Monkhouse.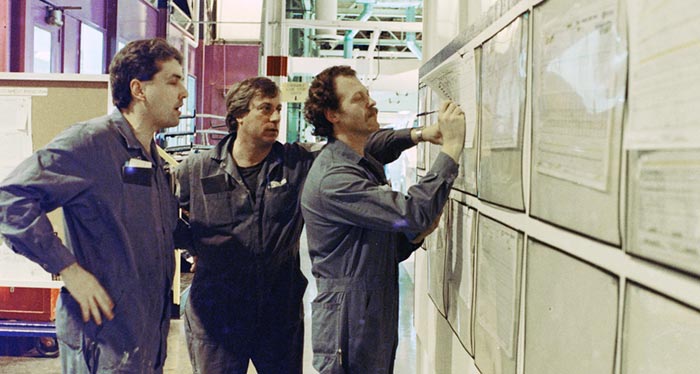 Pillete Road, or Plant 6, was built in 1974 specifically to make B-vans—and, unlike just about any other Chrysler plant, that was the only product they ever made. Until 1979, Dodge vans were the market leaders. Dodge upgraded their vans considerably in the last few years before Daimler took over, but when that happened there was a clear problem: Daimler also made a van. Obviously the B-vans had to leave, and in 2001 the Pillette Road plant shut down for good.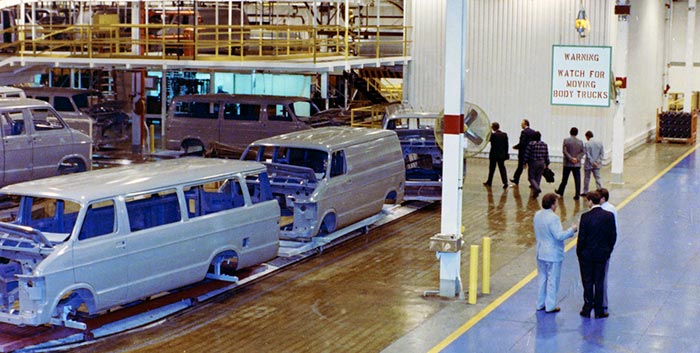 We do not have the names for most of the people pictured here. These pictures are not in any particular order, for the most part. We would appreciate your input on who is in these images, and if anyone wants to volunteer to put them in order, we'd certainly appreciate the help.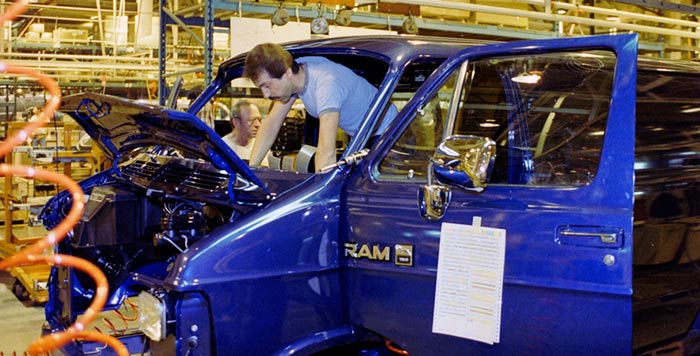 Stacey Buchhorn, who until October 2000 was a Materials Manager, wrote that Americus Crawford was the Plant Manager and Russ Campbell was the Production Control Manager.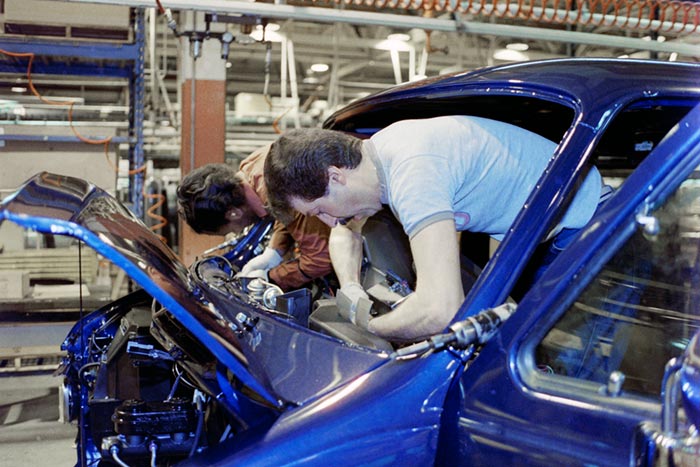 Ragman wrote that the two photos above are dash installation.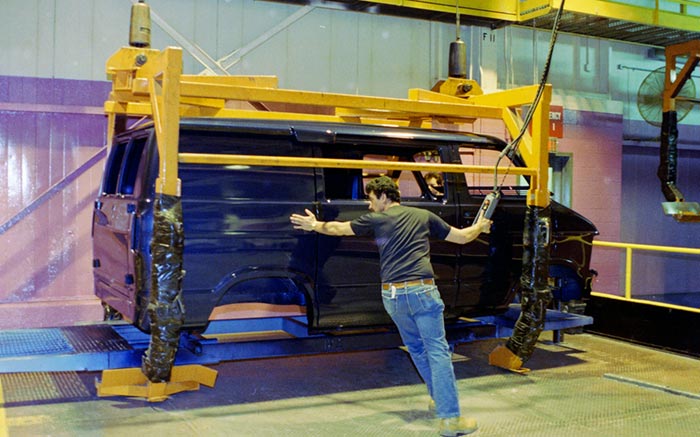 John Rush added:  "Walkerville was founded by Hiram Walker, who opened a distillery there.  The town was annexed by Windsor in 1935 (along with Sandwich and Ford City).  The area was pretty active during the Roaring Twenties, as Prohibition was the law in the United States, but alcohol remained legal in Canada.  The Detroit River was a favorite crossing point for rumrunners.  The river between the cities was usually patrolled, so the rumrunners shifted several miles south of the city limit, which wasn't as heavily populated."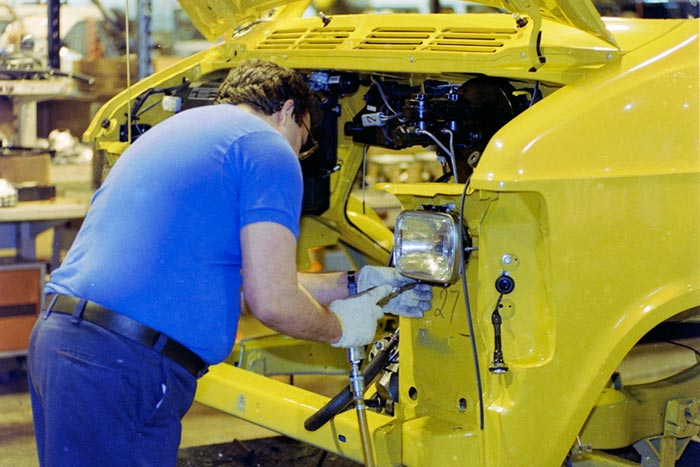 Ragman: the photo below was CO2 welding.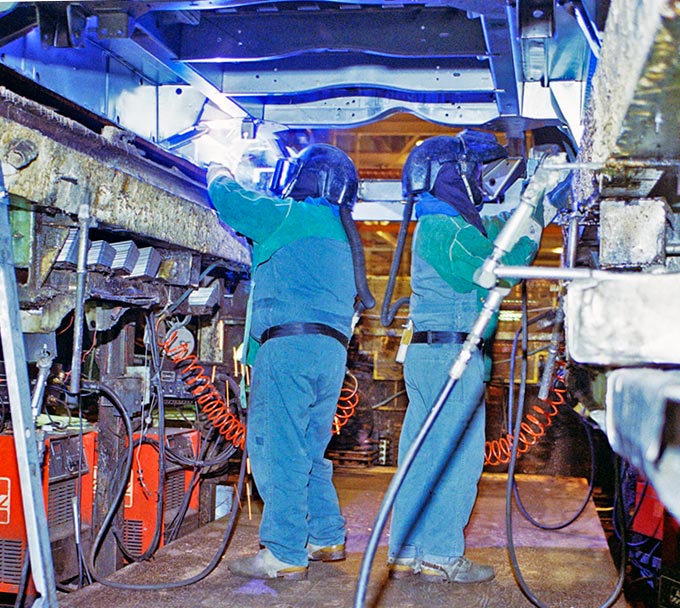 David Milec identified the man in this photo below as Gil Lafaive, who went on to become steward for paint and Body-in-White.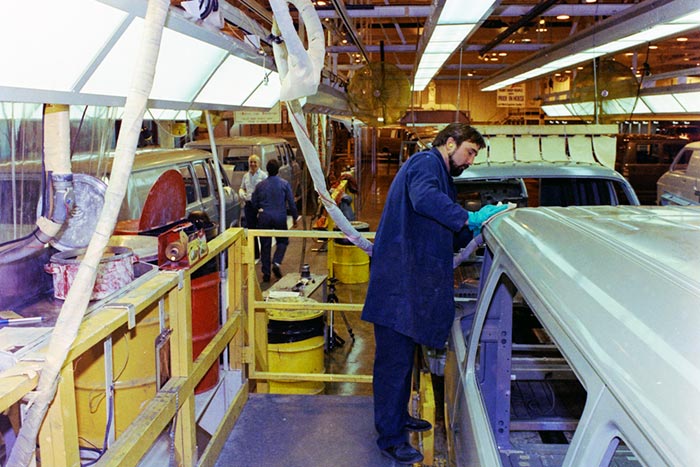 Chive wrote, "I remember my first day in Paint, removing excess sealer. I showed the leader a great big glob of sealer near the bottom of the side door; he looked at me and said, "It's okay, no one ever looks that far down in the van"—then used his shoe to smear it in.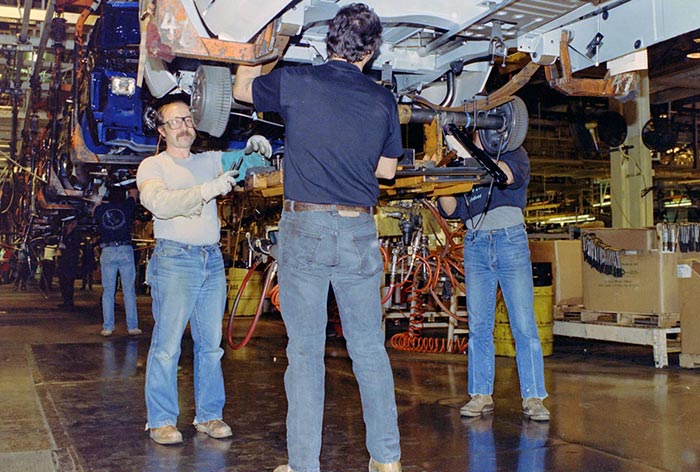 "ChrycoDriver" wrote, "I was an absentee guy in department 9731 for years until Plant 6 closed in June 2003. The pic showing the installation of the rear axle was in 9731. Most heavy chassis component installations were done in that department, including decking the engine/transmissions, upper and lower control arms, all heat shields, all exhaust components, coil springs, leaf springs, brake hubs and calipers, gas tanks, front and rear shocks, along with the C&C machine which set caster and camber. A lot of heavy work and it was sure nice to get that break every hour!"
In response to a question, he added, "9731 was the first department in Chassis after Trim. Chassis was 9731 and 9732; 9733 was the flat line, and 9735 was the motor line."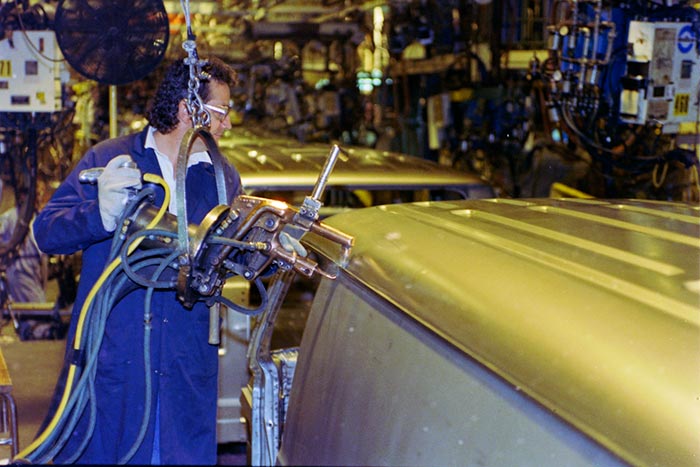 Lou Kepler wrote that they made the side and rear swing-out doors at the Twinsburg, Ohio stamping plant.
Pete McLallen commented, "I visited Pillette Road many times. They didn't have all the automation that other plants had, but they did a great job. People loved the B-Van."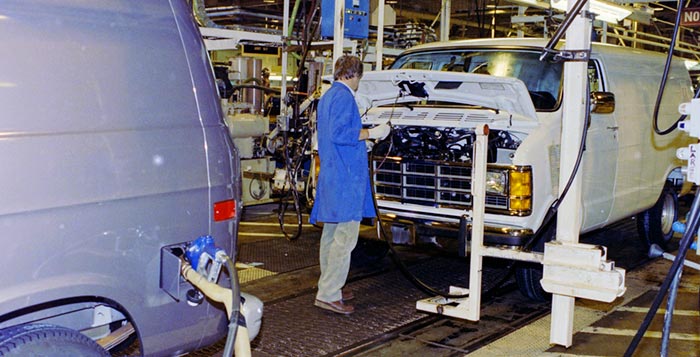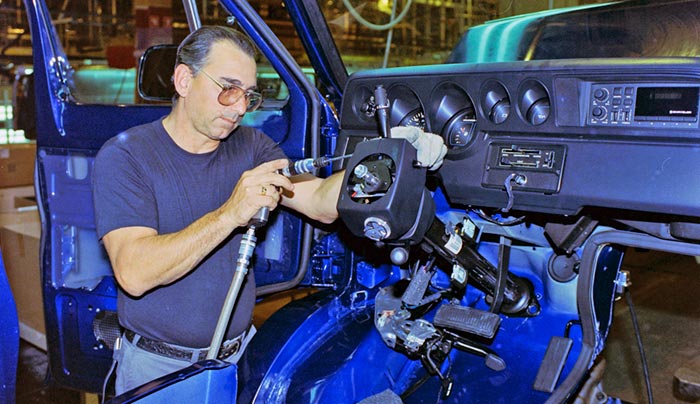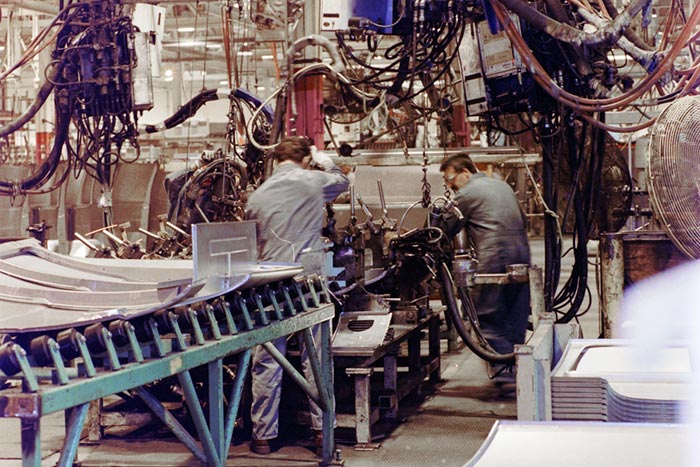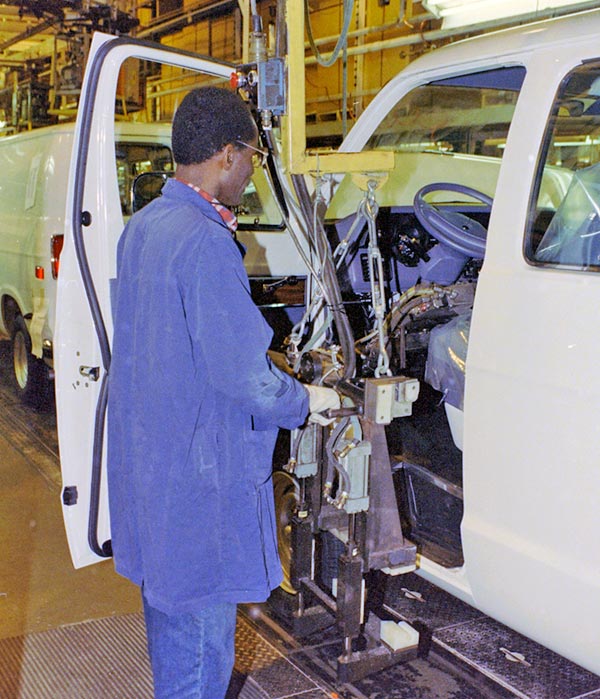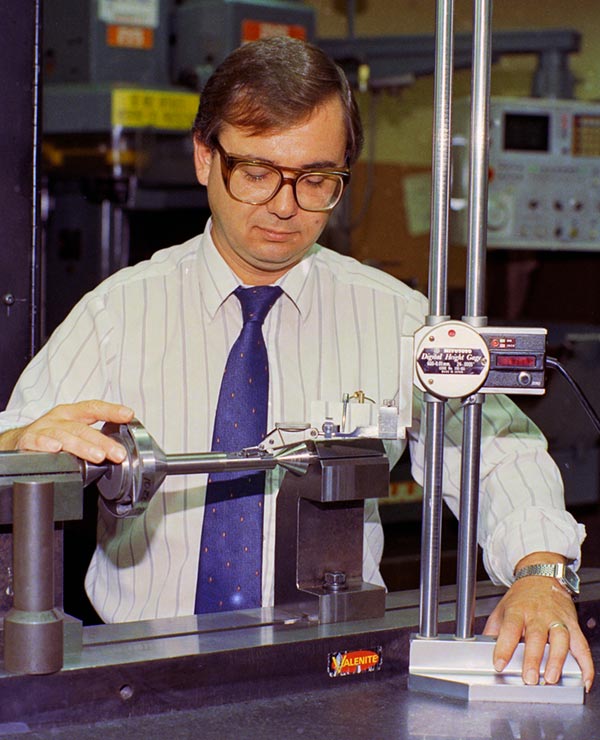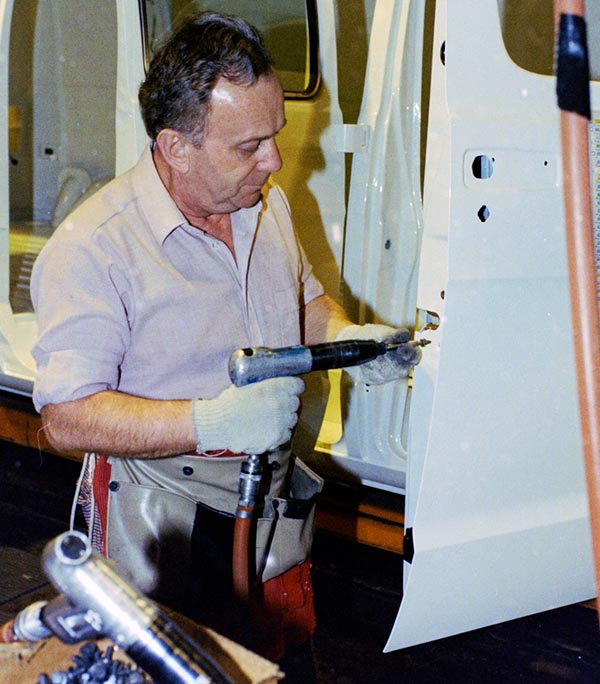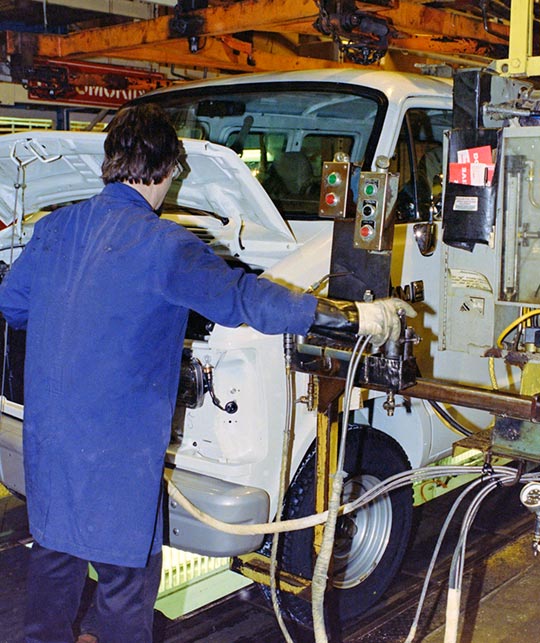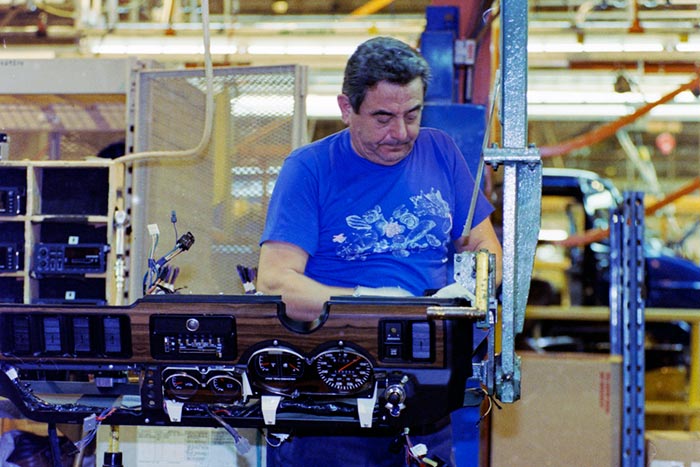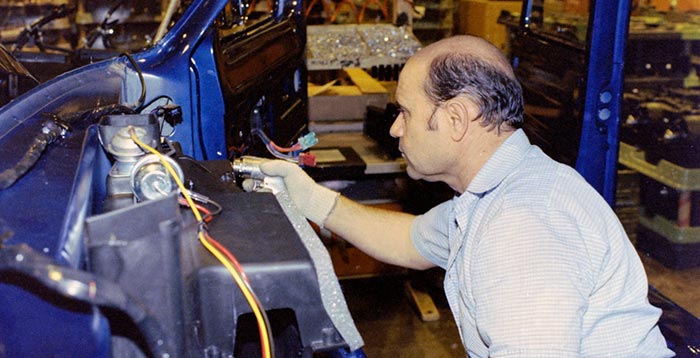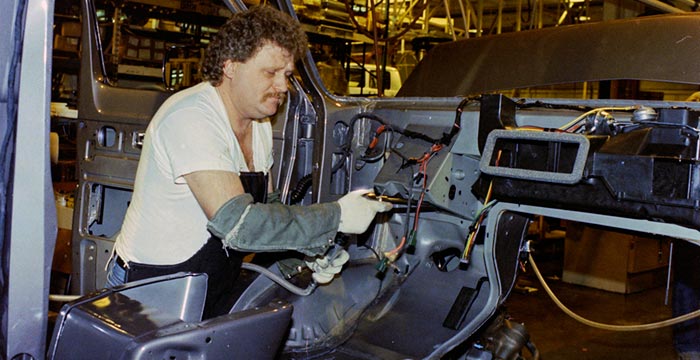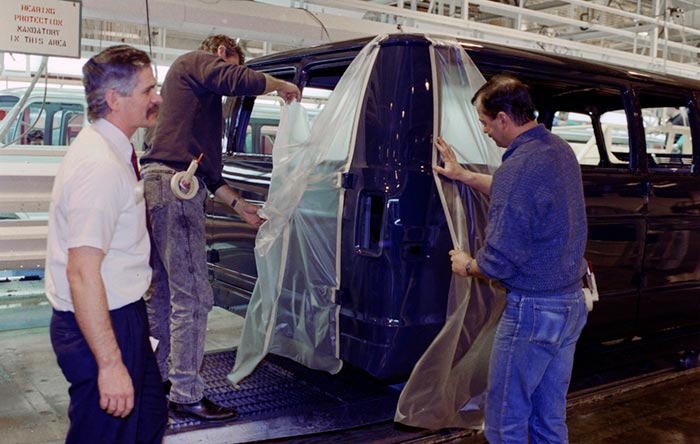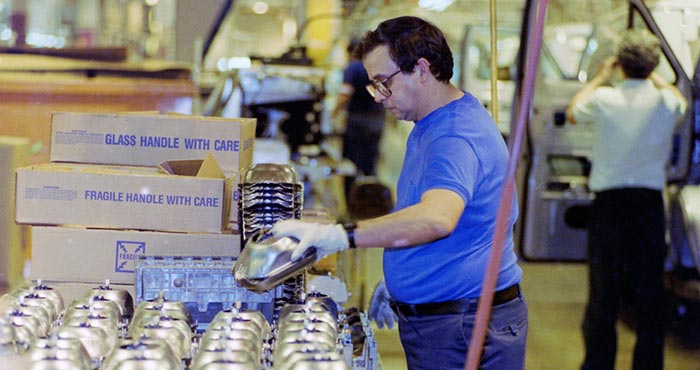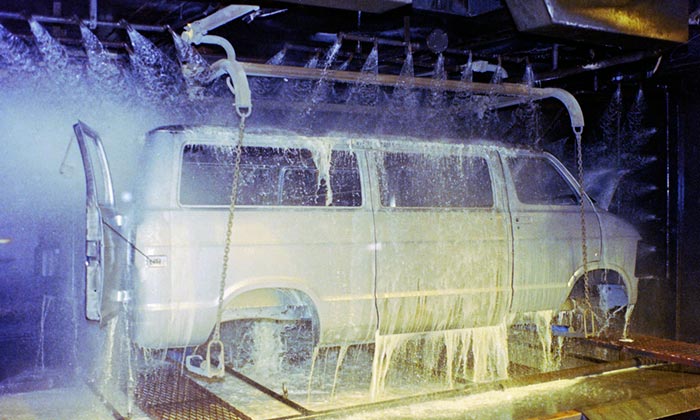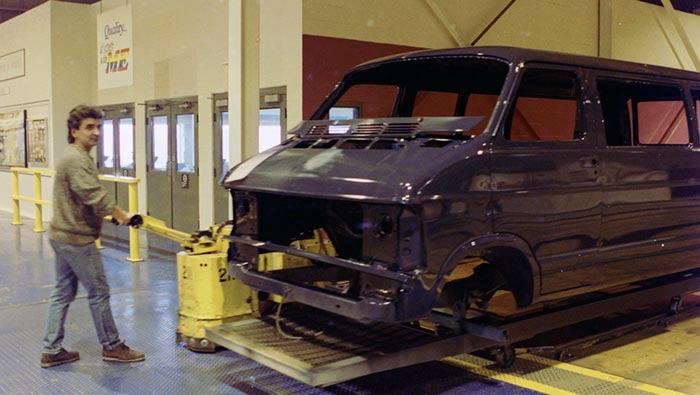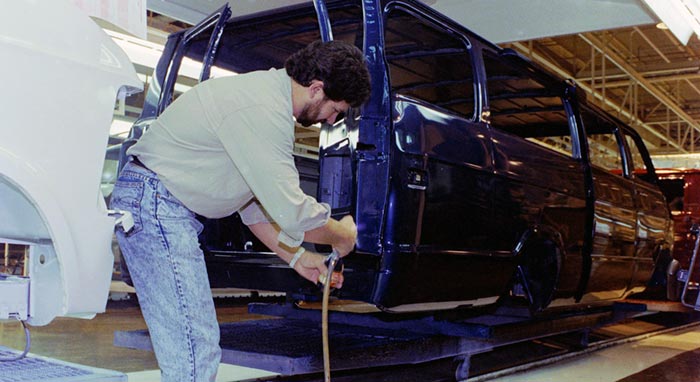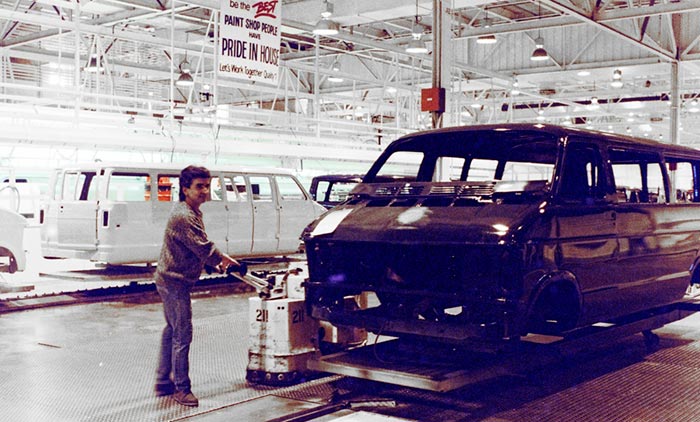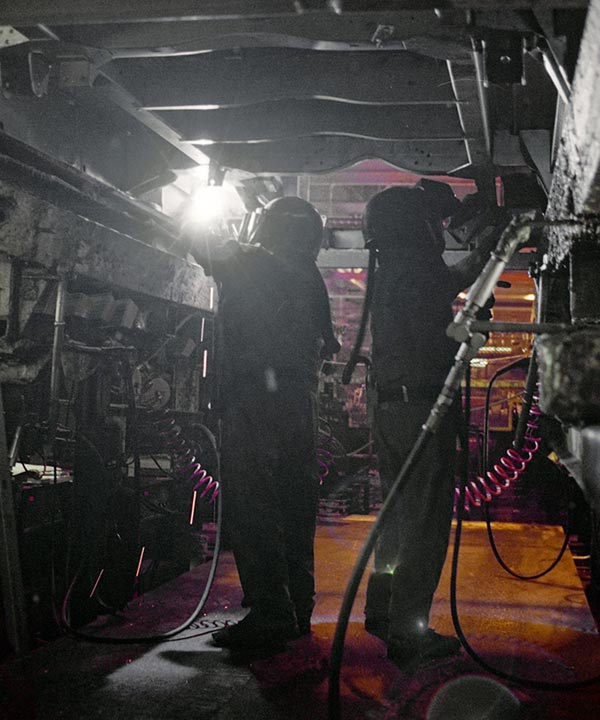 More CO2 welding, according to Ragman, above and below: "the worst jobs I ever did."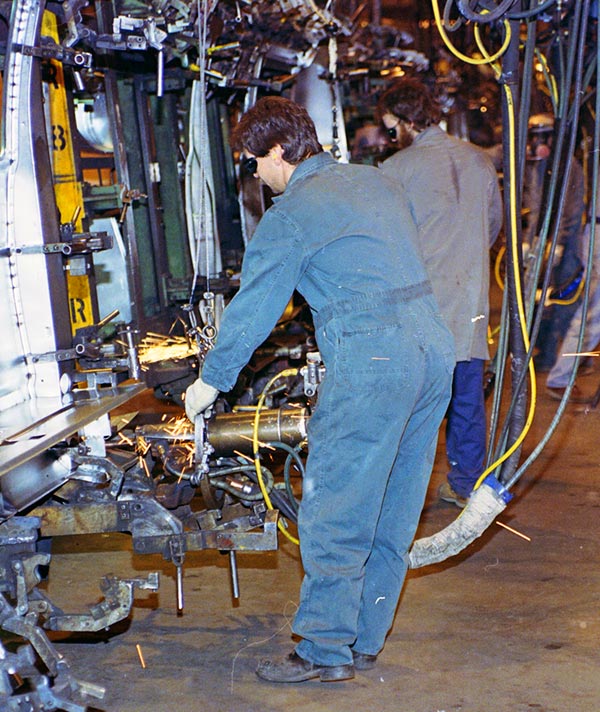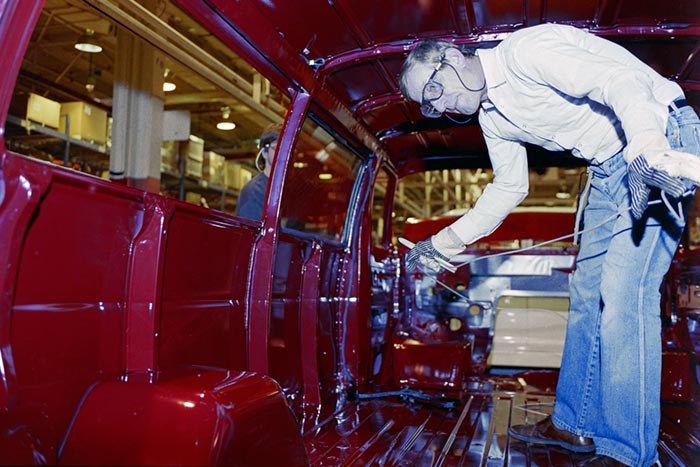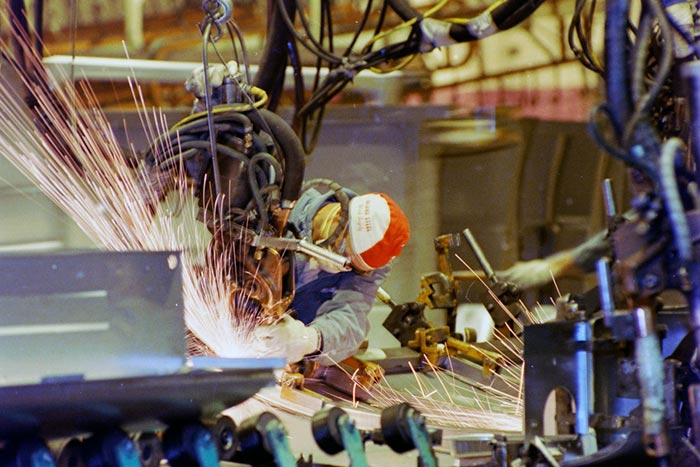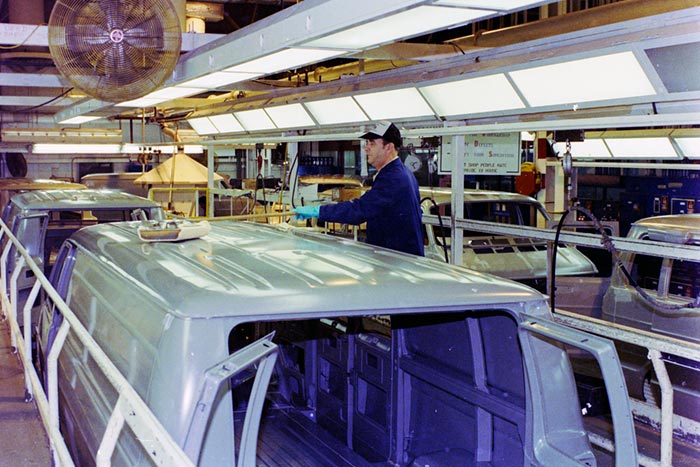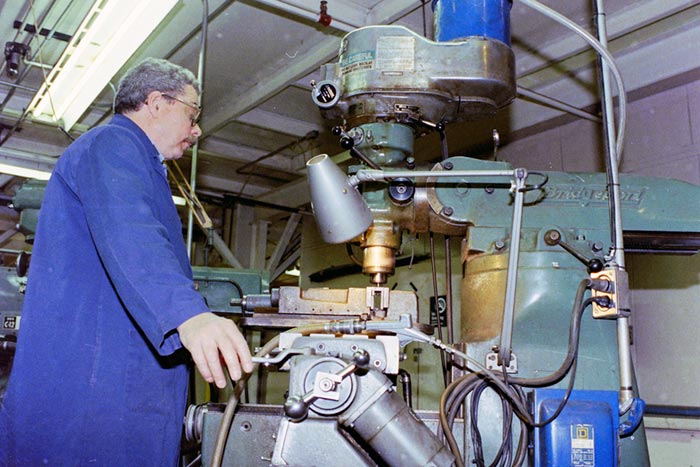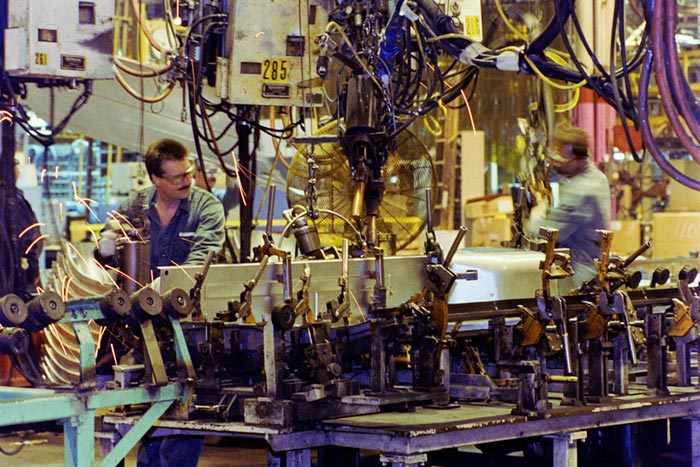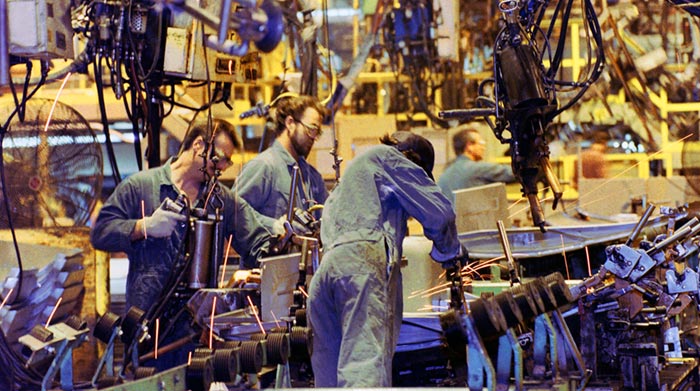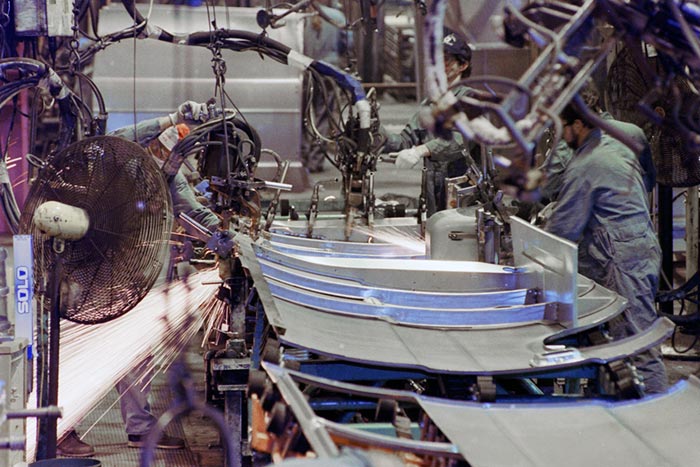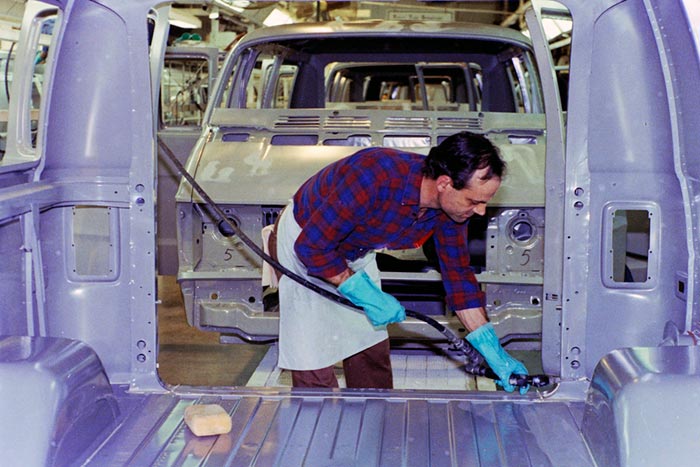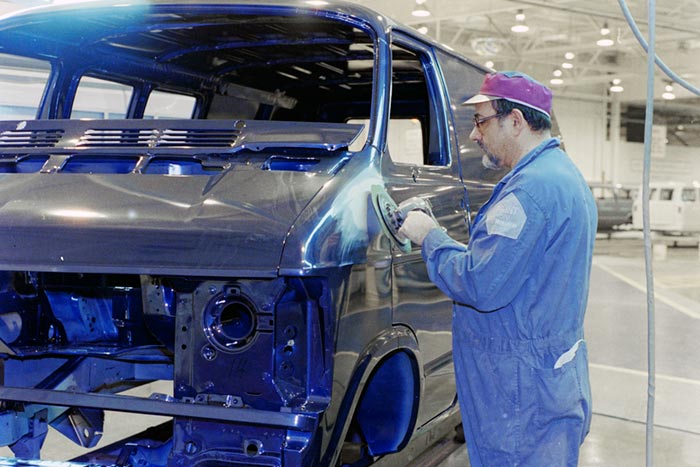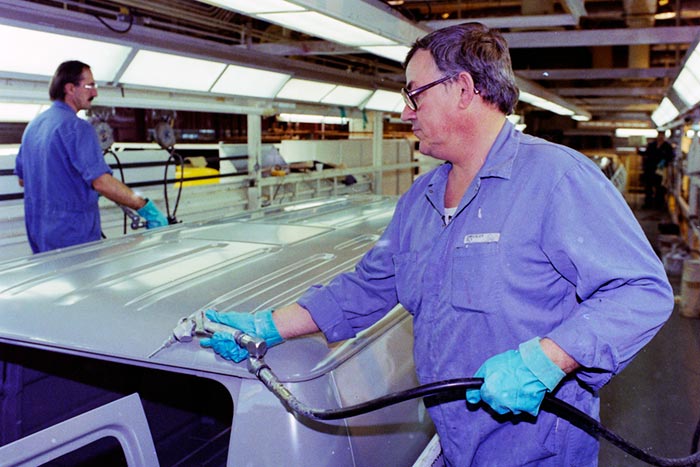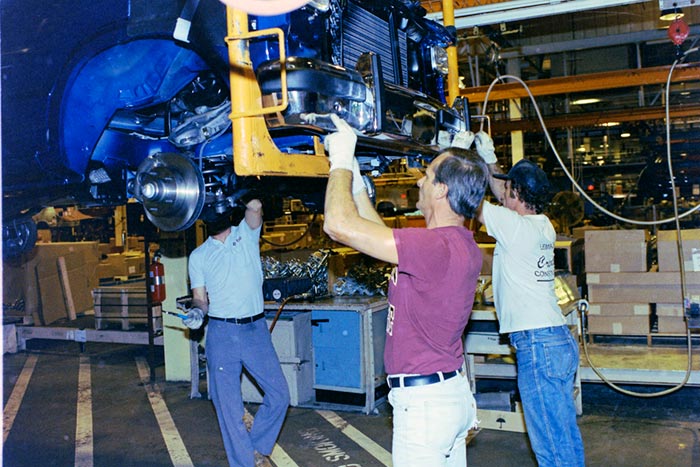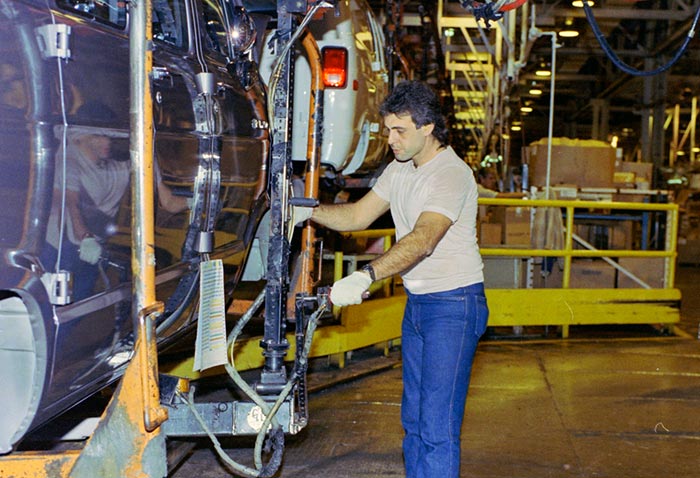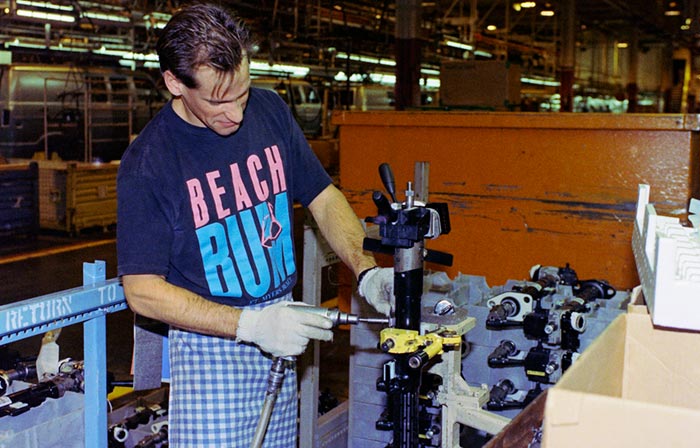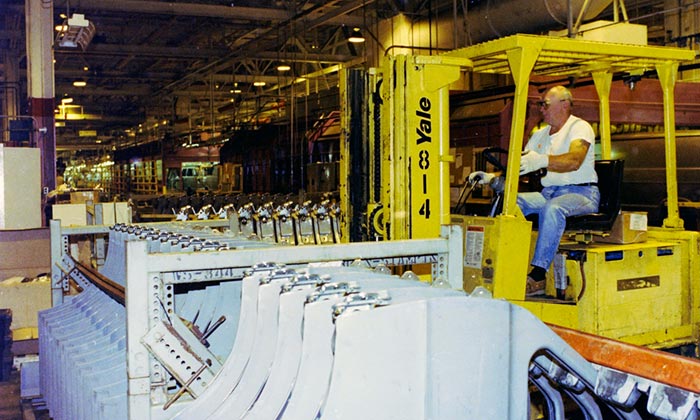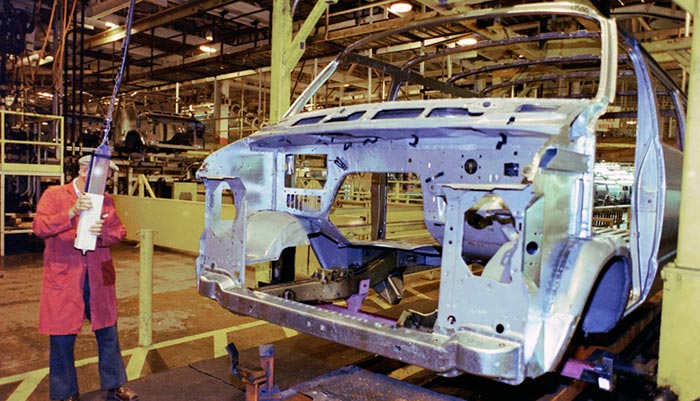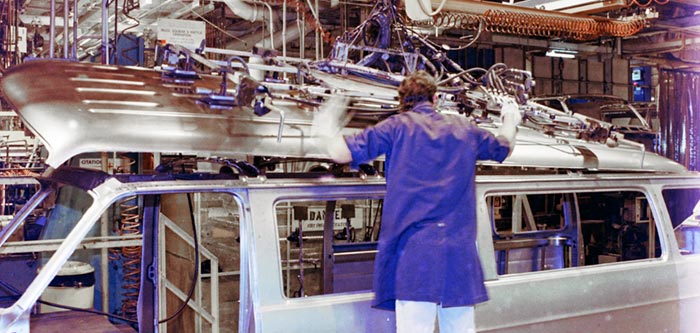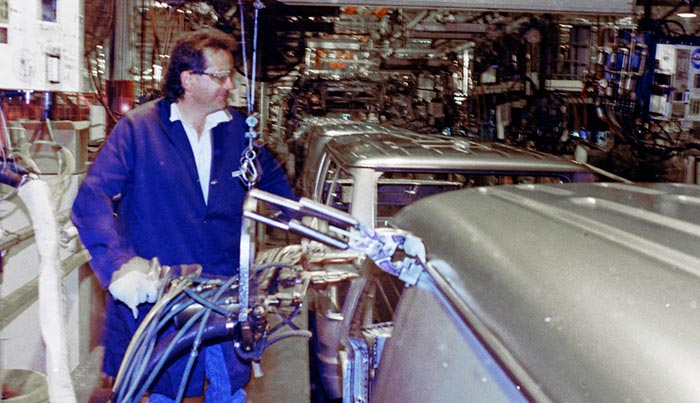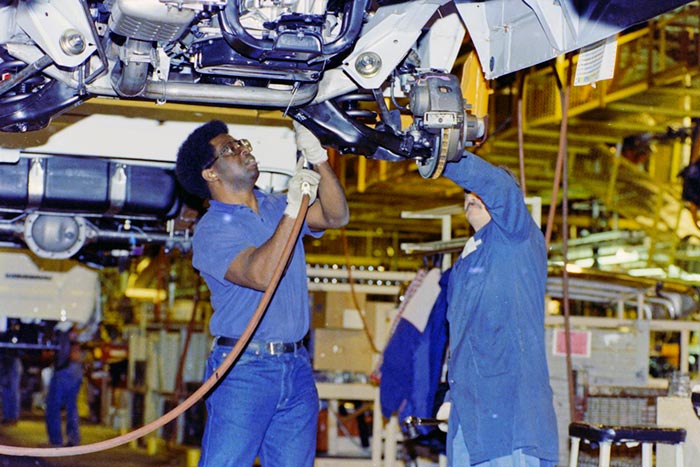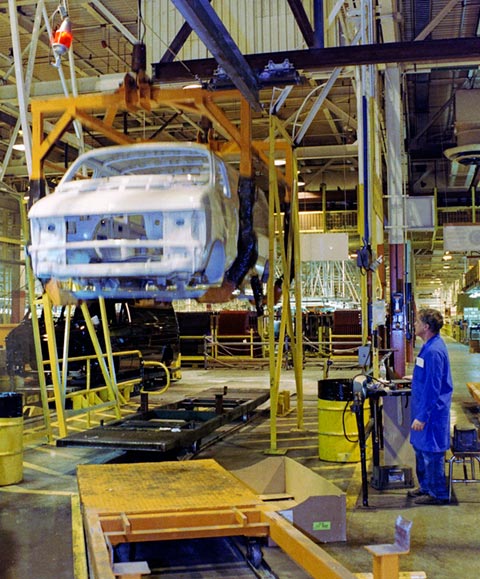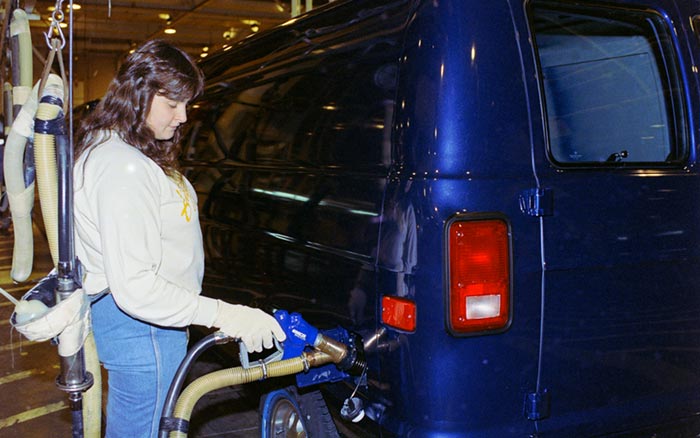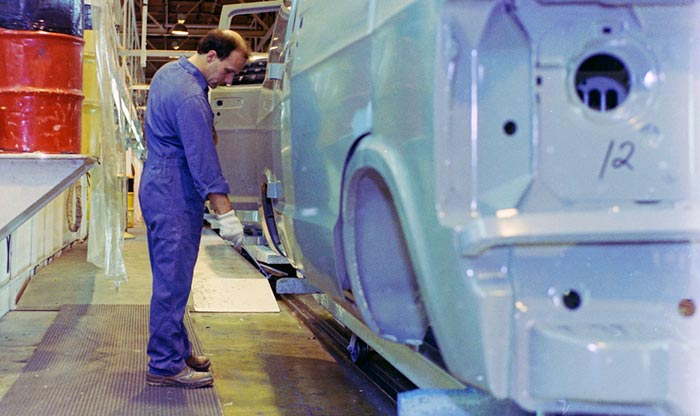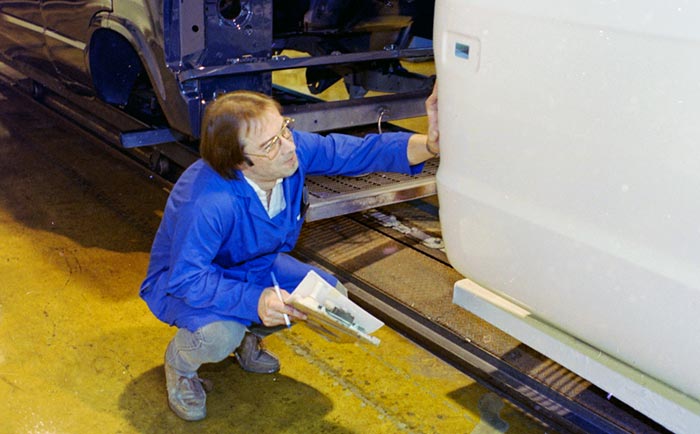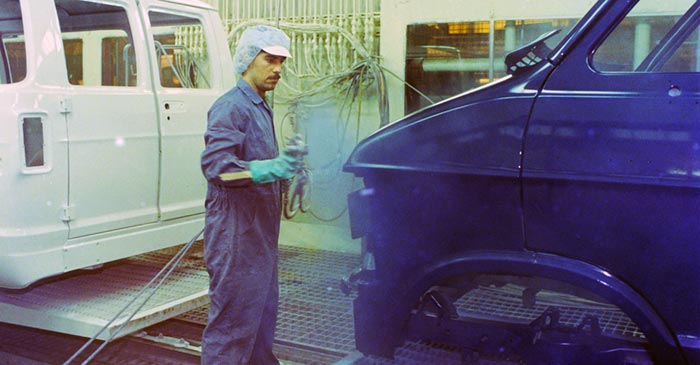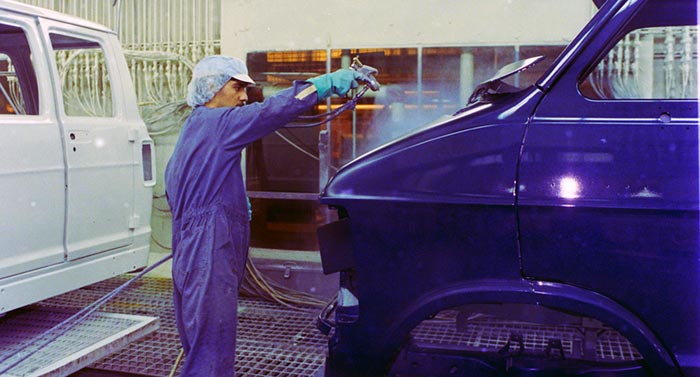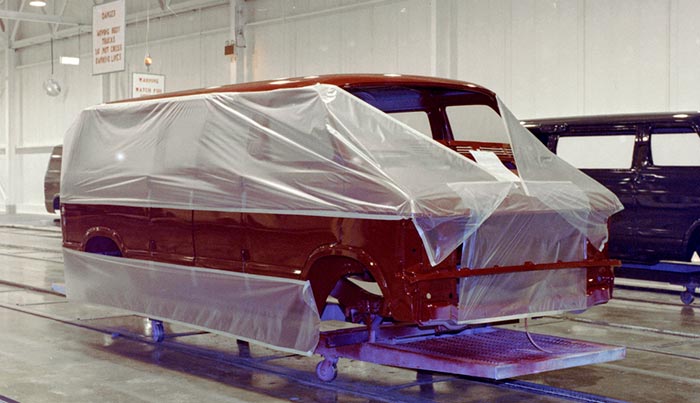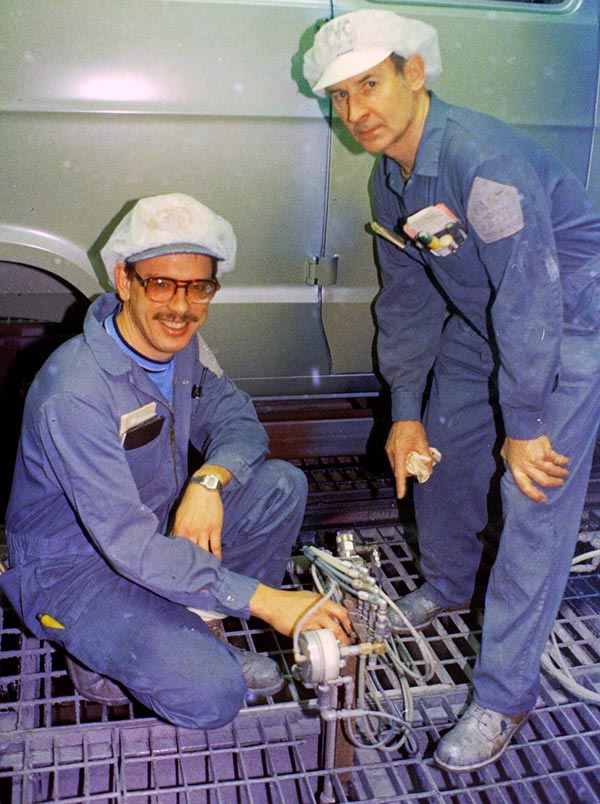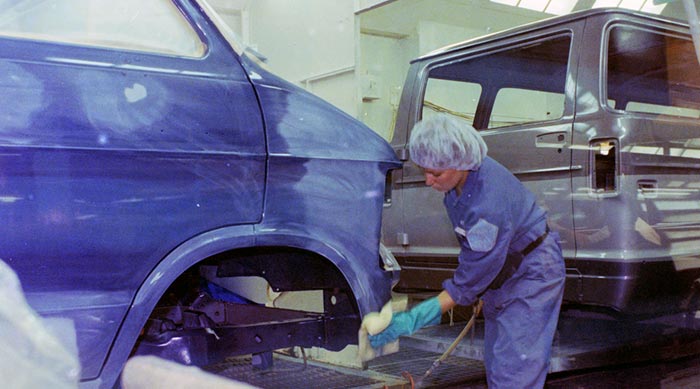 The one person we were able to identify: Paul MacNeill.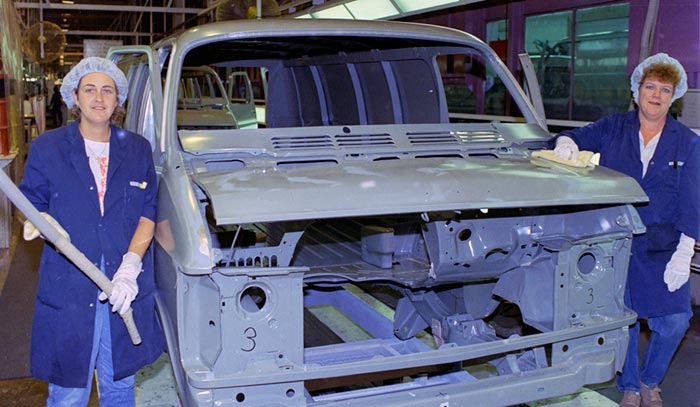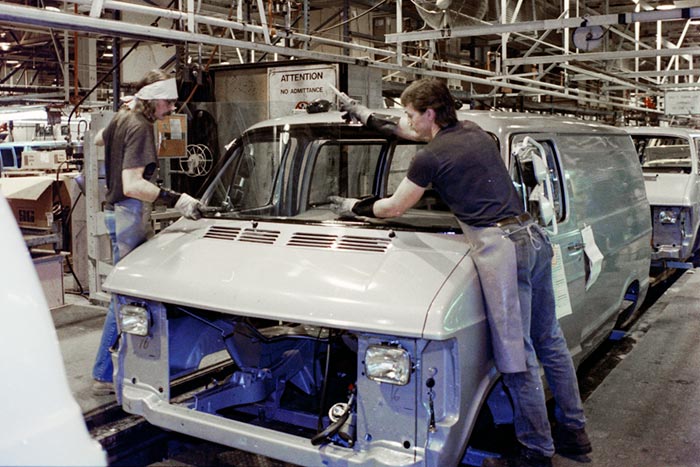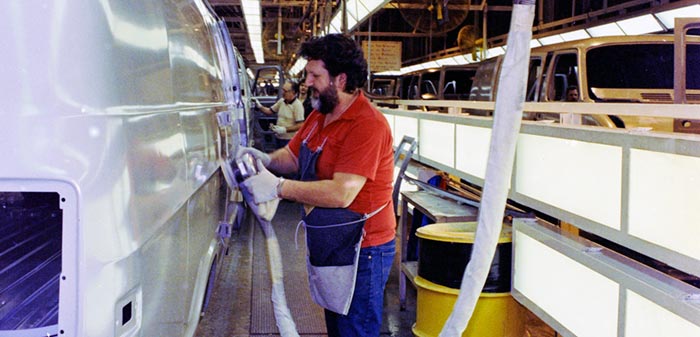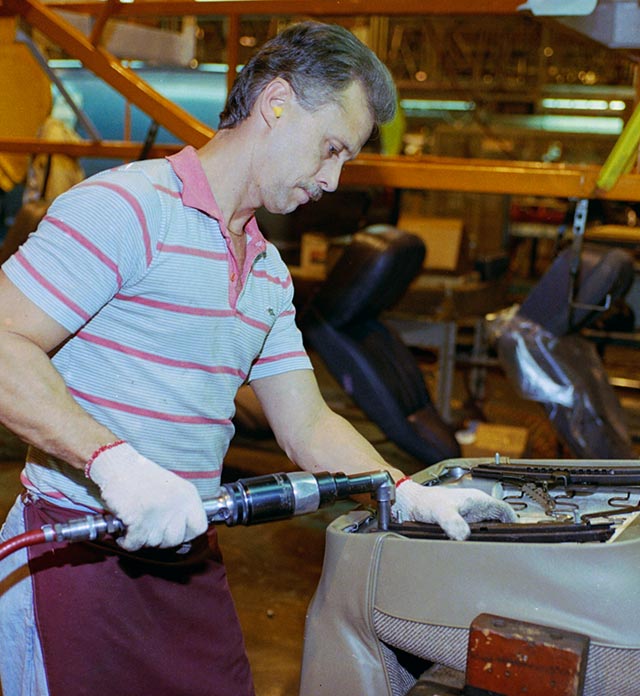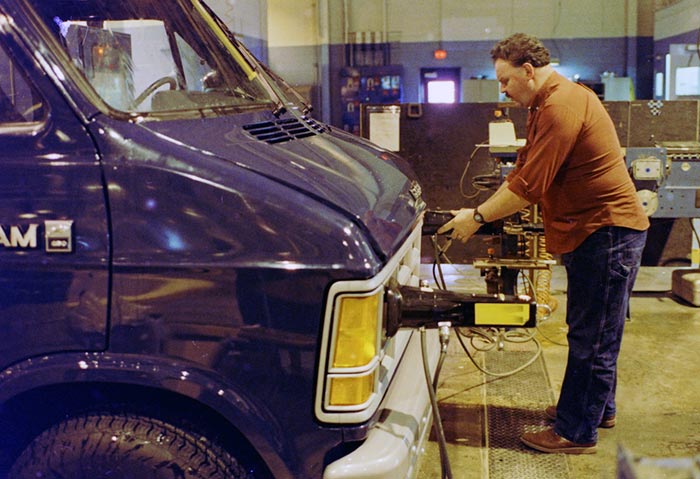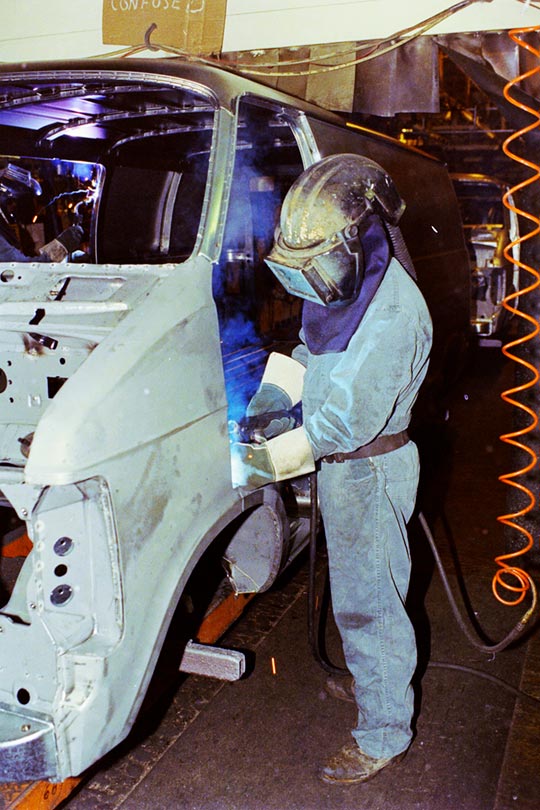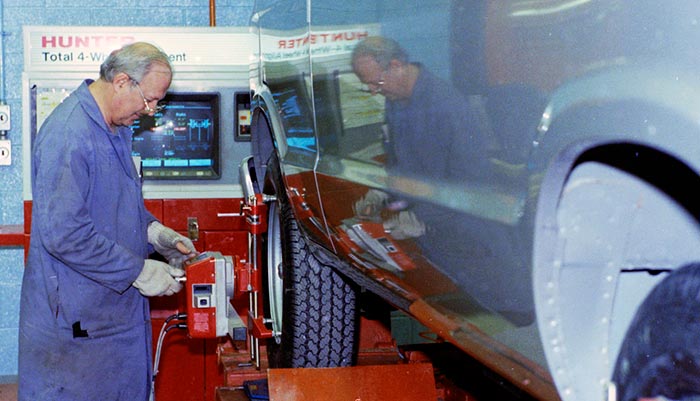 All Windsor Pages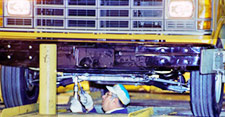 Making Mopar Vans in Windsor
Dodge B-van factory photos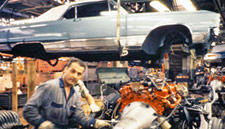 Making Cars in Canada: Factory Photos
A pictorial with some captions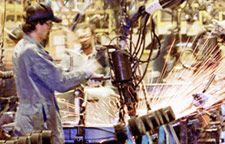 Making Minivans in Windsor
Chrysler factory photos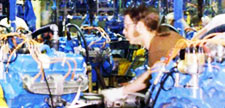 Mopar Engine-Based Windsor Factory Photos
Putting engines together in Canada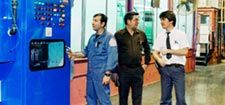 Off the Line: People Doing Other Things in Chrysler Canada Plants
A pictorial of the labs, factory, and computer control areas
Other Chrysler plants and such