Brampton: Making big Mopars at a former AMC plant
American Motors built a plant in Brampton, Ontario, many years ago. Over time, downtown grew, and the plant was both dated and no longer quite as welcome as it could have been; and the company started building a new factory in a somewhat more remote area, still in Brampton, calling it Bramalea. Pronounced "bram-a-lee," the plant was named for the satellite community of Brampton it was in, neighboring Malton. William Shard created the name Bramalea out of Brampton, Malton, and Lea, meaning "meadow."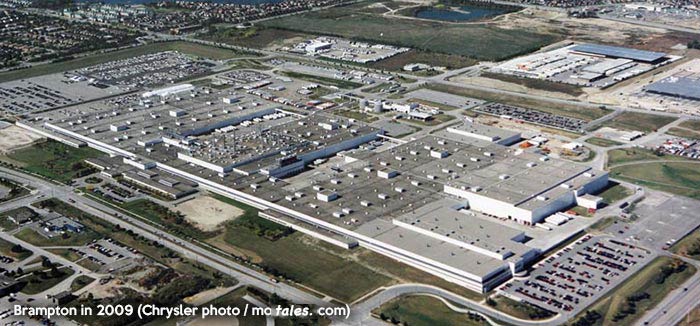 AMC's new Bramalea plant was a state-of-the-art facility created to make the Eagle Premier, coded X58/D59, which was supposed to save AMC from its long down-turn. The products made at the old Brampton plant were replaced by the new Wrangler "YJ" and the continuing AMC Eagle 4x4, shifted from the ancient Toledo, Ohio plant. That allowed the Toledo plant to be renovated and modernized without losing most of the company's sales. This was the only time CJ or Wrangler production was centered outside the United States.
Oddly, AMC's Kenosha plant (KAP) was subcontracted to build the last of the Chrysler M-bodies (Diplomat, Gran Fury, Fifth Avenue) from 1987 to 1988 (the final ones being 1989 models). Kenosha went on to make the last of the L-bodies (Horizon, Omni, and such). The M-bodies started up in March 1987; Chrysler finished buying AMC that July. At that time, Bramalea was then the most modern plant in both companies'  inventory.
Once Toledo was ready, the Wrangler moved back—it was 1992, six years later—and the old Brampton plant closed and was sold, paving the way for Bramalea to eventually and confusingly be renamed to Brampton.
Bramalea's Eagle Premiers and Dodge Monacos had an efficient and clever design, but the PRV (Peugeot-Renault-Volvo) engines were unreliable and reviews were mediocre. Few thought to try the unusual if cleverly engineered cars.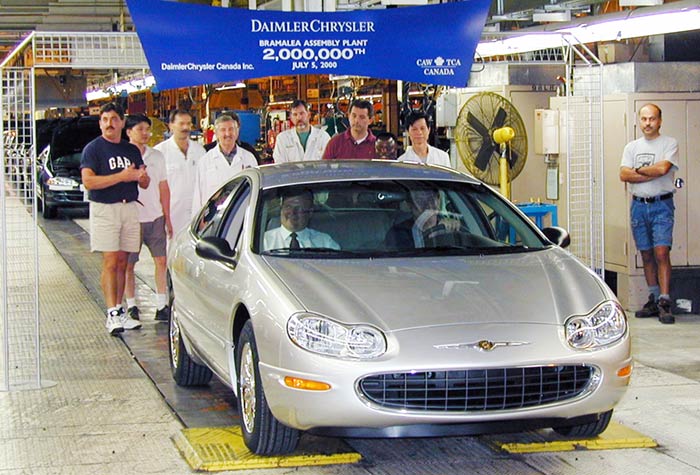 Fortunately, Chrysler had developed a fine replacement for the Premier—a series of them, dubbed the LH cars. They boasted massive interiors, good handling, and far greater reliability than the Premier; they were designed to fit the needs and desires of American customers. These cars took the country by storm, revolutionizing the global large car market and causing Chrysler stock to quadruple within weeks. The Dodge Intrepid, Eagle Vision, and Chrysler Concorde arrived at the plant in 1992; from this point on, Brampton would be the "large car" plant.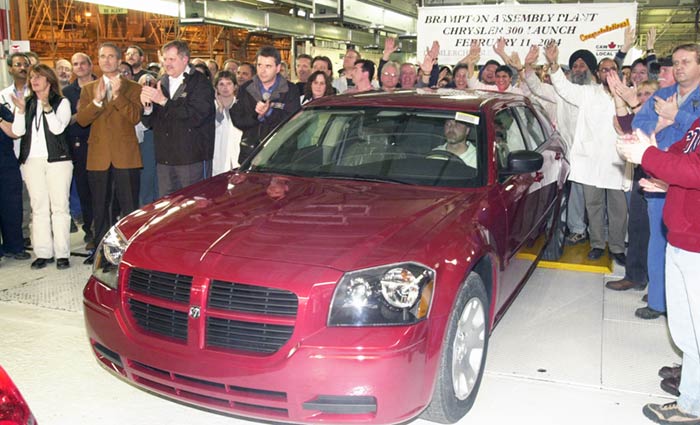 A stamping plant, added in 1991, helped with the production of hundreds of thousands of big cars a year.
The plant was still called Bramalea in 1998, when the second generation LH cars were launched; but shortly after was renamed to Brampton at the city's request. (Dale Koch wrote that "we called it Bram, it covered both names.")
When the third generation LH cars were due, the company switched to rear wheel drive, and the plant produced the LX cars—Dodge Magnum and Chrysler 300. The lineup eventually grew to include the Dodge Charger and Challenger, and the Magnum was dropped.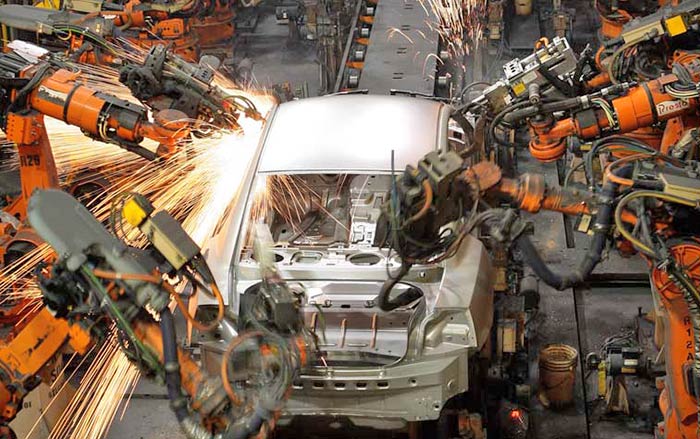 Brampton Assembly's 3 million square feet of floor space sit on 269 acres of land, with a 230,000-square-foot stamping plant nearby. In 2010, they had 20 miles of conveyors, 581 robots, and 2,723 employees on two shifts. the stamping plant made 96 body stampings with five automatic transfer presses, a single blanking line, and 90 die sets; it could change dies in four minutes. Sheet metal was stored and brought forward via an automated system. Employees are represented by Unifor.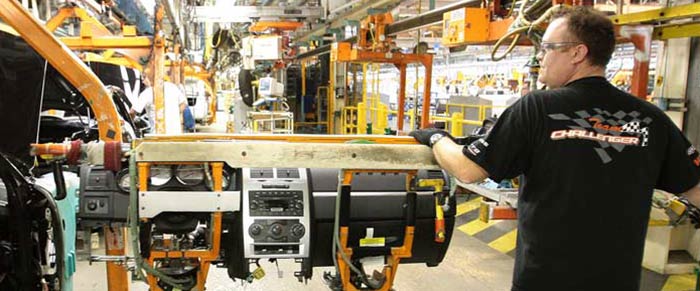 Overall, Chrysler has four factories in Canada: Brampton Assembly, Brampton Stamping, Windsor Assembly—all that remains of a large complex of plants, and making minivans since 1983—and Etobicoke Casting, which is near Ontario and makes aluminum die castings and pistons.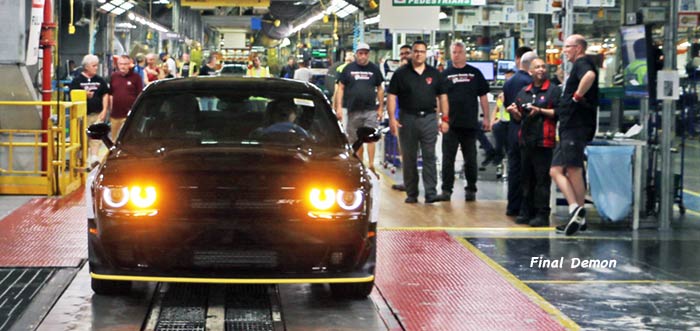 The future of Brampton is currently unknown; product commitments last until 2024, and the current generations of the Charger, Challenger, and 300 are expected to leave production in 2023. New "electrified" large cars have already been announced, and Stellpower reported that a new 2024 Challenger, body code LB, is being developed. A Charger is likely to accompany it.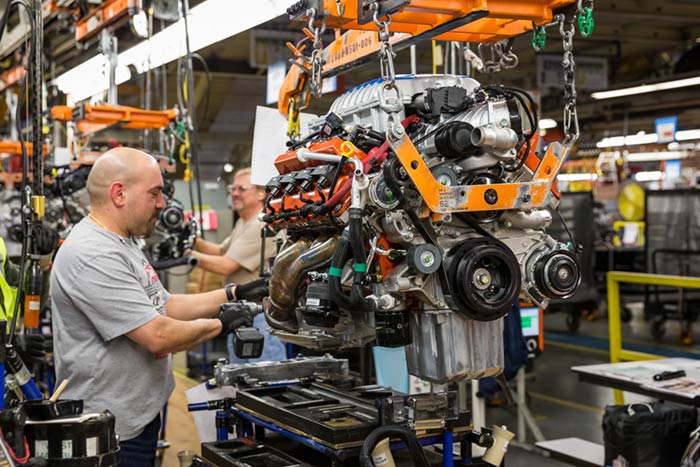 Some believe the plant will simply be updated with a new paint shop and retooled to make a new generation of Chargers, Challengers, and Magnum wagons; these would all share a basic architecture and platform, and have hybrid-electric and battery-electric options. Others believe it may be sold or turned into a battery plant. Speculation has been running a bit wild; time will tell.
Chrysler Canada has had a larger market share than Chrysler US for almost every year from 1938 through the present, allowing it to periodically be the #1 or #2 automaker in Canada.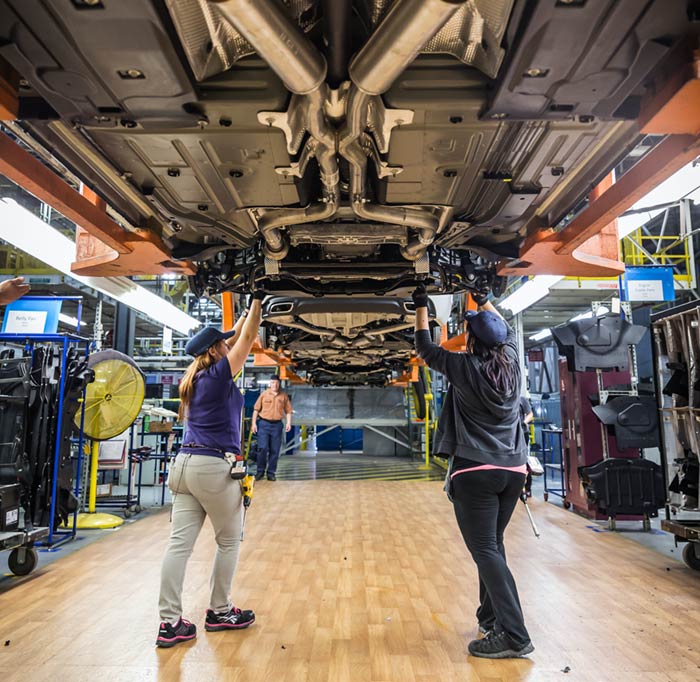 Follow us on Post! It's like Twitter, but without ads or Nazis!
Books by MoTales writer David Zatz
Copyright © 2021-2023 Zatz LLC • Chrysler / Mopar car stories and history.