Building Trenton Engine to Make V8s and Air Raid Sirens
Trenton Engine North has 2.1 million square feet of floor space, and covers 136 acres—but it wasn't always that way. The original plant was much smaller—and the original-original plan was to make it half that size.

Trenton, Michigan is a good ways south of Detroit, sitting by a wide, fast-flowing section of river. Chrysler's Amplex, chemical, and friction-materials divisions had some facilities there, so it wasn't unknown to corporate leaders. Trenton may even have been chosen because the head of the Highland Park factory it was replacing lived there. Whether the power plant (below) was built because Chrysler was moving in, we don't know—yet. (Contact us if you do.)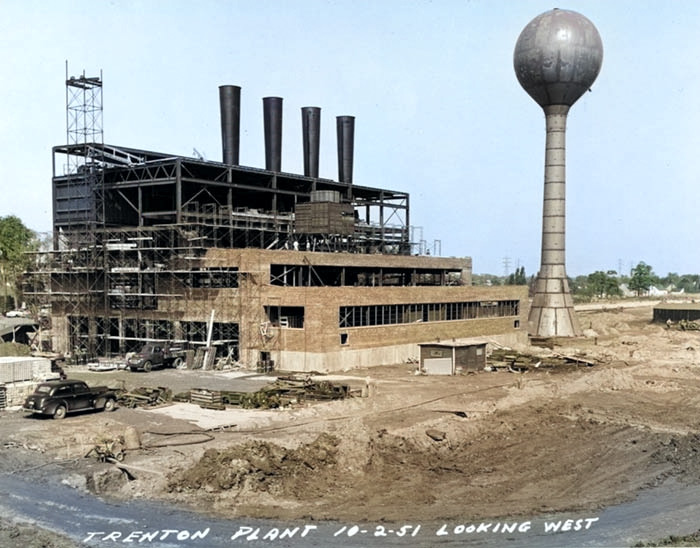 In 1951, the first part of the engine plant (shown below) started construction; it was intended to make water pumps, air raid sirens, and industrial engines.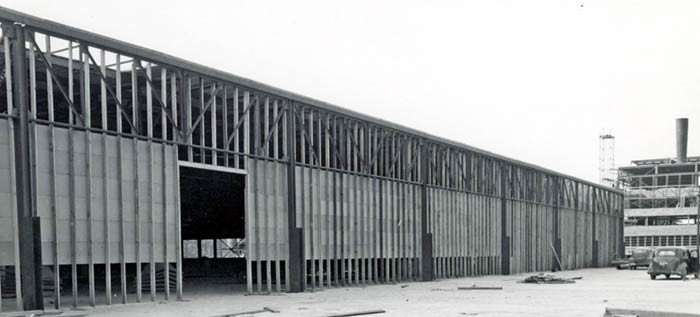 These photos show construction proceeding in late 1951. In some cases, the inscriptions were moved into the uncropped parts of the photos.

The plant was constructed in two phases. The southern unit was built first; construction of that part began on January 19, 1951, and was, as you can see in some of the photos, nearly complete by the end of the year, when the work of installing equipment began. The northern unit was built next, starting in early 1952. The plant was predicted to have 6,000 workers when finished.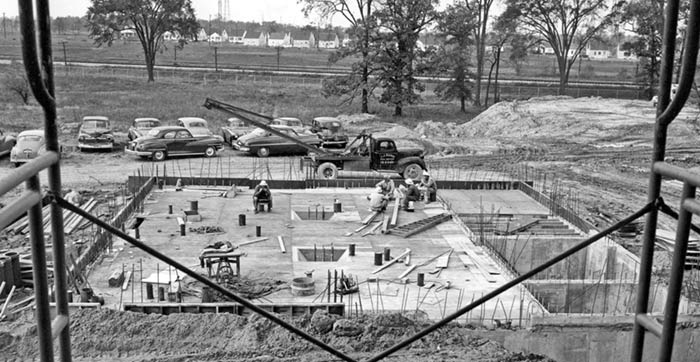 The company said in early 1952 that they planned to make four Dodge truck engines and two industrial engines (truck and industrial engines were very similar) by the end of 1952; that included not just assembly but also engine block machining and the creation of cylinder heads.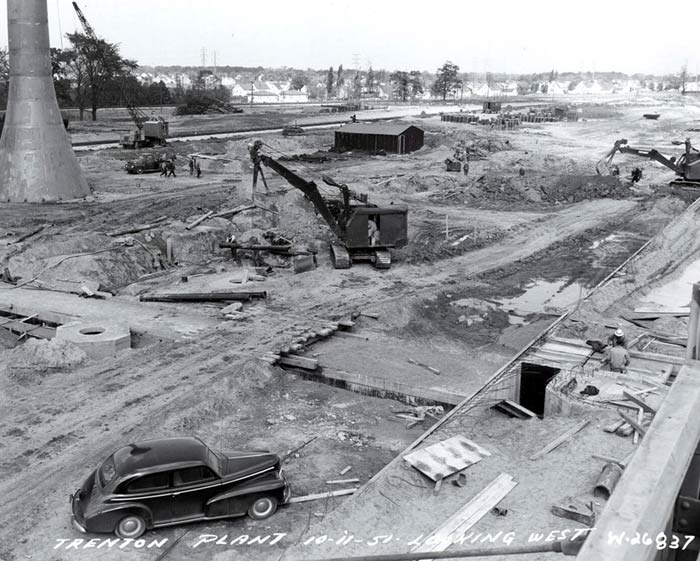 The massive water tank was a new design at the time, holding 100,000 gallons of water.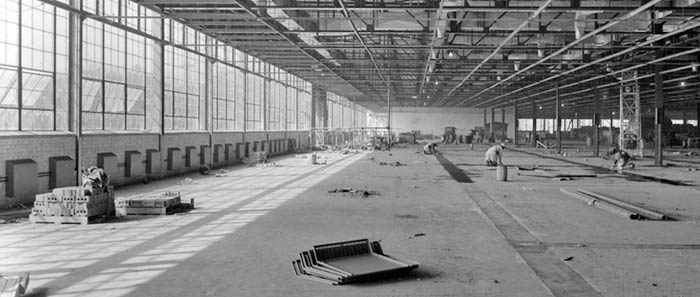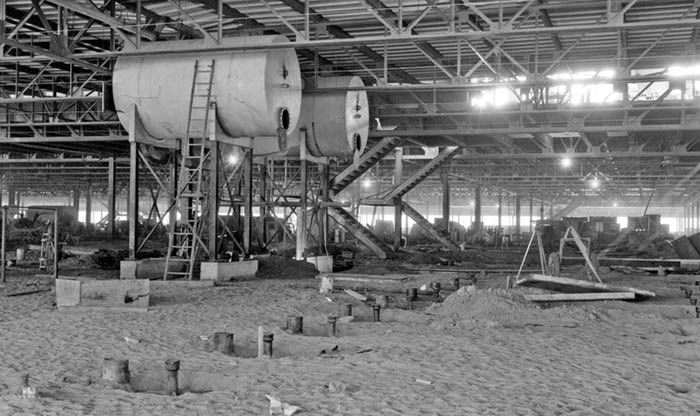 Much of the machinery to build the V8 engines was taken from the Highland Park plant, which was being shut down; employees were invited to move to Trenton, following their jobs.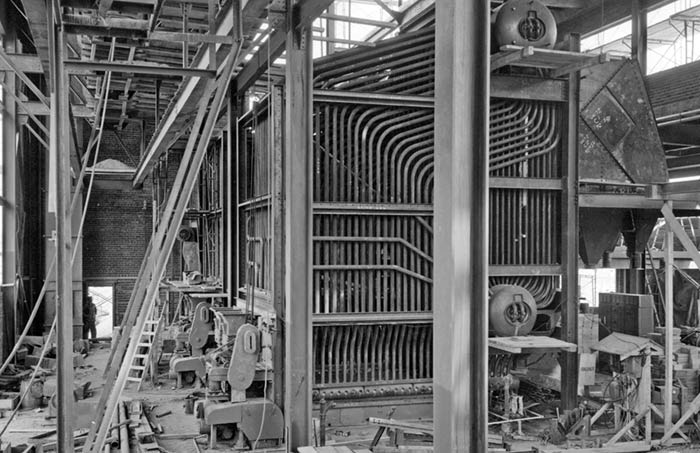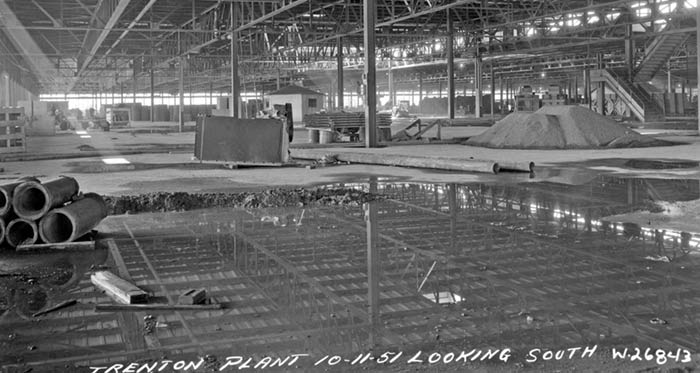 The site was right by a river and the New York Central Railroad.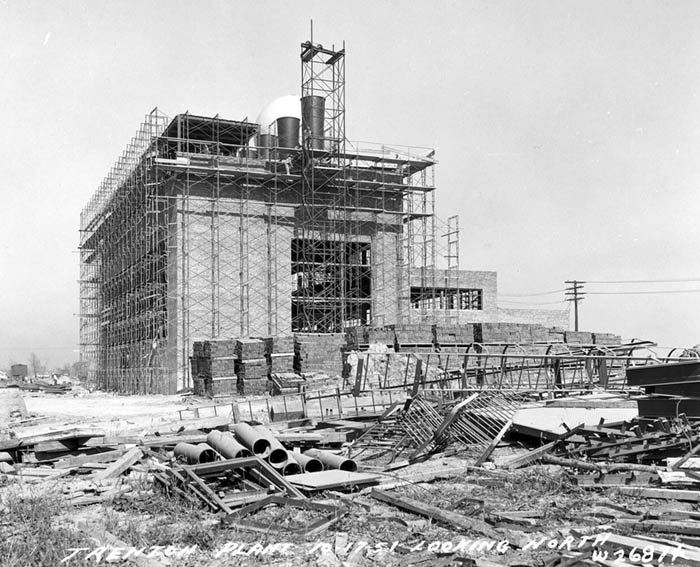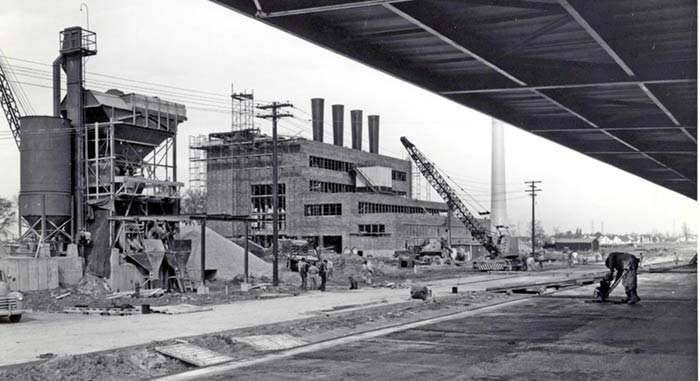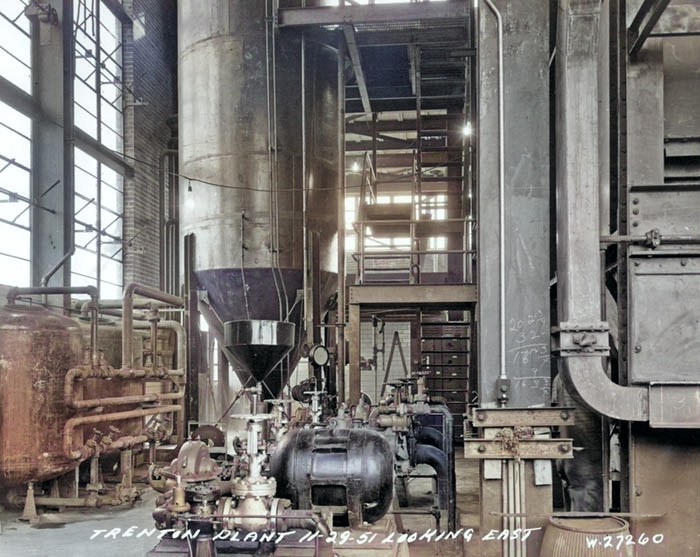 Trenton Engine was completed in 1952, as predicted. The first plant manager, then called superintendent, was A.L. Meserve, who had run Highland Park Plant #4 for six years. Kansas-born Meserve had joined Chrysler as a machine operator in the Jefferson Avenue plant in 1926, working his way up. Though he worked in Highland Park, Meserve already lived in Trenton, 25 miles away. Meserve was assisted by:
Carl D. Aubrey, head of personnel, who had joined the company in 1928
Ralph W. Batten, safety engineer, who had joined in 1936
Fred W. Bryson, head of planning, a Chrysler employee since 1927;
George H. McGaw, inspector, and at Chrysler since 1933;
Sharon Talley, material control, at Chrysler since 1928.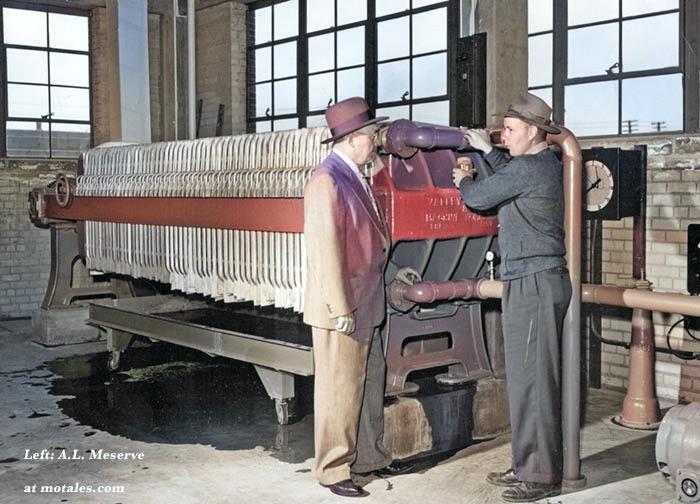 The first production employee was officially 64-year-old George King, of Detroit, a 24-year veteran of the company born in Ontario. The company showed him with Meserve when he transferred in.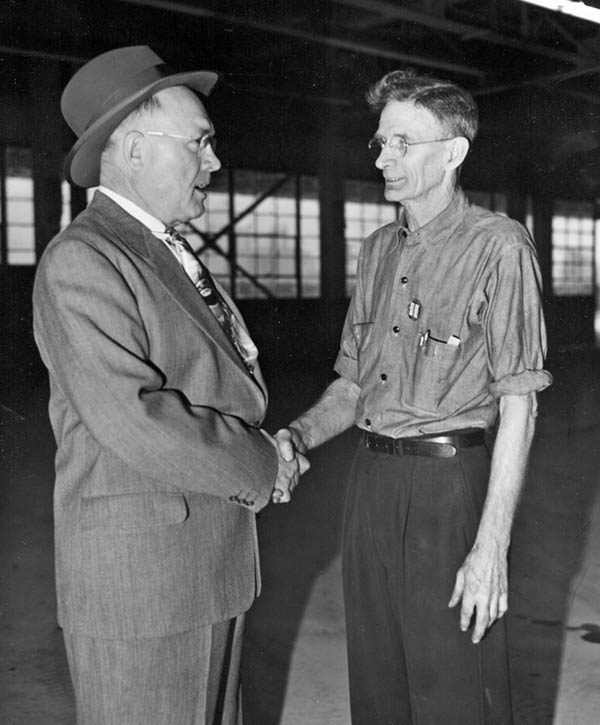 The plant started up on February 6, two days after the first machine tools (for machining flywheels) were moved over from Highland Park. Other machines machined flywheel ring gear assemblies. The move from Highland Park was designed to have little impact on production and to preserve all jobs. Contractors were still laying air and water lines as the machinery was moved in.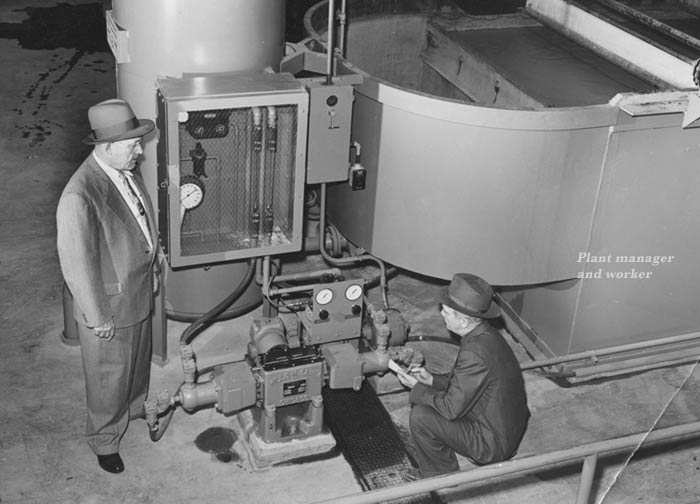 Just 31 days after that first machine was moved in, the plant was building truck engines. 508 machines had been moved over during 31 days. Only two days of production were lost.
As soon as production started, Chrysler announced that they would move over 384 machines and various plant equipment from Jefferson Avenue to make and test marine and industrial engines, again with minimal loss of production. The marine engines ranged from 85 to 165 gross horsepower; the industrial engines ranged from 218 to 377 cubic inches.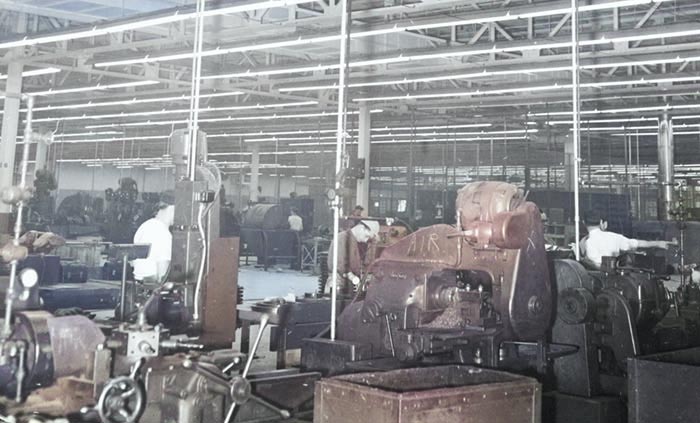 One the plant's most famous products was the Hemi-powered air raid sirens; the 180-horsepower (gorss) industrial FirePower engine powered the sirens, which could be heard for eight miles under ideal conditions. They used American Blower Corporation three-stage compressors, which drive air into six horns at 400 mph. Trenton Engine's own siren is shown below, as it was decommissioned in 2013.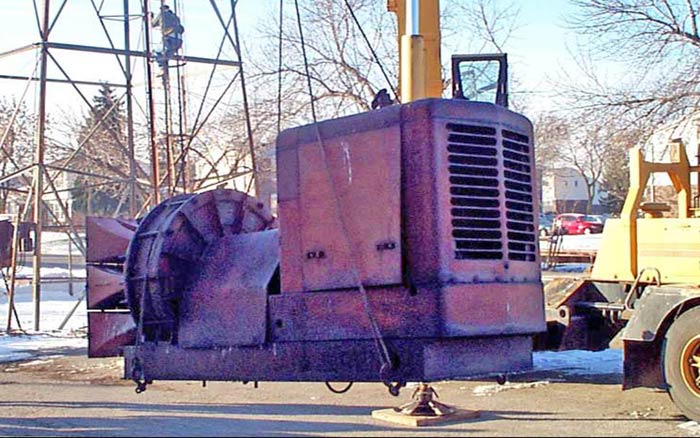 The first part of the plant was set to be 840 feet by 600 feet; they quickly decided to double the size, reacing 1,680 by 600 feet. The northern part of the plant was started about a year after the first unit, resulting in a total 1.1 million square feet, with parking for 1,200 cars; the popularity of V8 engines in Chrysler cars was likely the impetus for this move. Passenger car and service replacement engines would be added to Trenton Engine's duties, a good thing for the plant workers.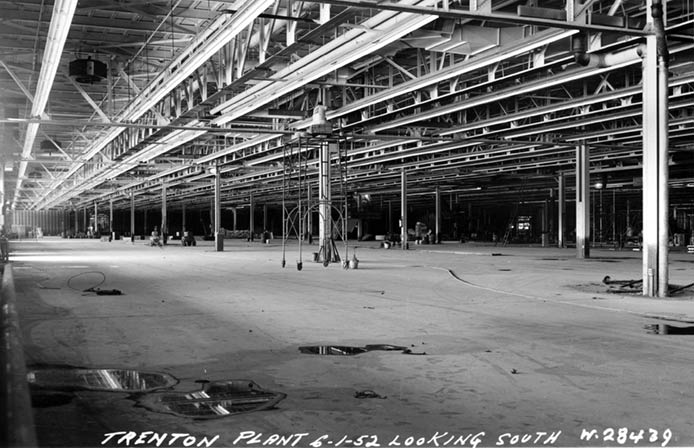 Later they would add a production line for the company's new B engines, and a second one for the RB V8 engines. This led to some confusion for a couple of years, as there was too much demand for B-engines but not enough for RB engines, but then engineers figured it out and life went on.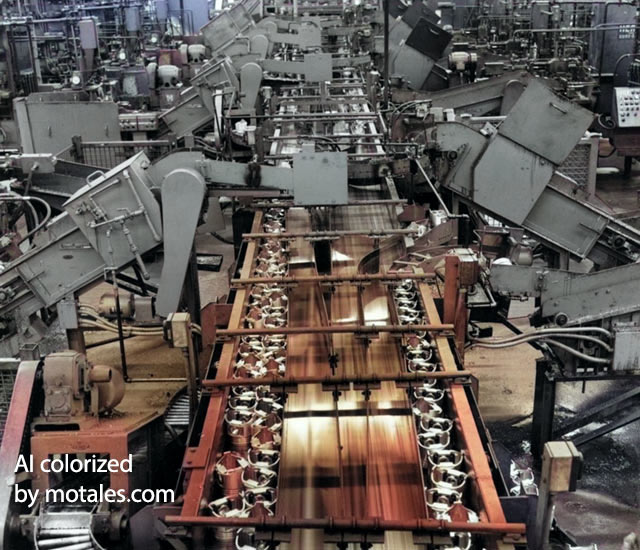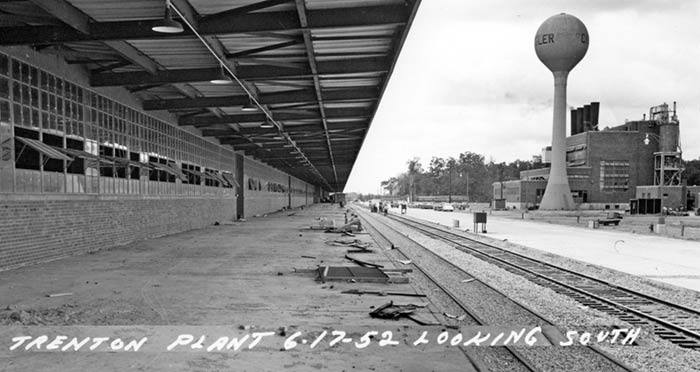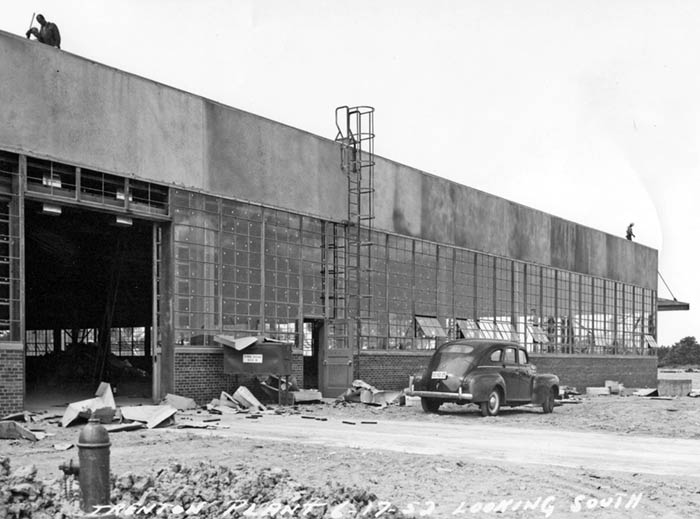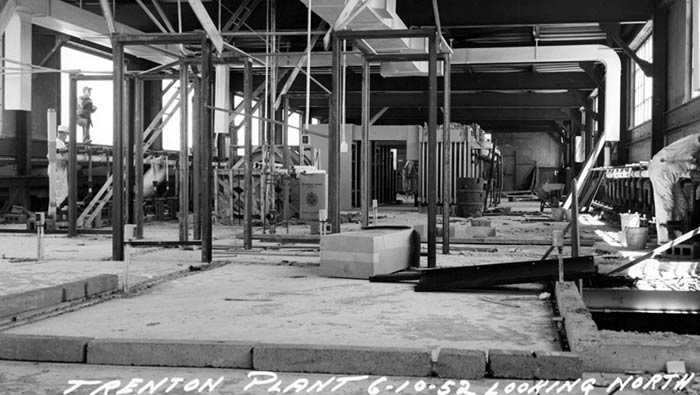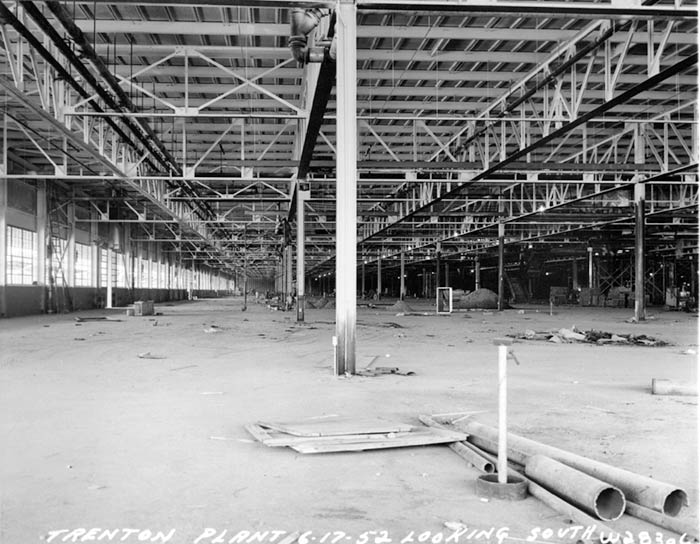 Production began quickly, and the plant began cranking out the first-generation Hemi V8s, as well as the later "poly" V8s (essentially the same engines with different heads and valvetrains), and finally the brand-new B and RB engines, with one line for each.
The plant was expanded in 1969, and then in the next century, a new building ("Trenton South," which made the old building "Trenton North") was added—but that's a story for later. We're not even in the 1960s... yet.
Our next pages show the plant installing and running the slant six line, and producing V8 engines. Later, we will show the 1969 expansion and move forward into the modern era.
Other Trenton Engine pages at motales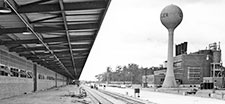 Building Trenton Engine
to Make Classic V8s and Air Raid Sirens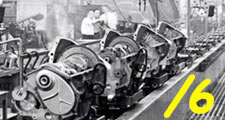 Building and Running the Slant Six Line at Trenton
Making the legendary Leaning Tower of Power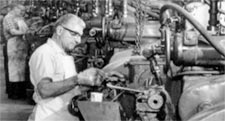 Making V8 engines
Trenton in pictures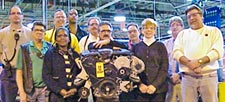 Trenton Engine milestones
1964 Hemi to Pentastar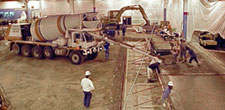 Trenton Engine: Building New V6 Lines in 2000
A pictorial with explanations and stories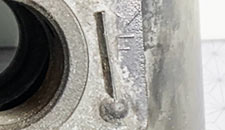 Tales From the Factory: Matching Pistons and Blocks
How the factory managed precision problems, back in the day
Other Chrysler plants and such