1974 Dodge Dart-and-Challenger Foldout
The 1970s were good years for factory brochures; new methods had brought down the cost of color printing and photo-based typsetting machines had slashed the cost of producing nice camera-ready copy. As a result, companies issued numerous large catalogs and brochures. At Chrysler, this included a full-line 40-page catalog covering all the brands' cars; a full 32-page Plymouth catalog; 36 pages of Dodge trucks and, separately, 12 pages of Dodge school buses; separate booklets specifically for the Duster, Scamp, Valiant, and Sportsman; and other literature.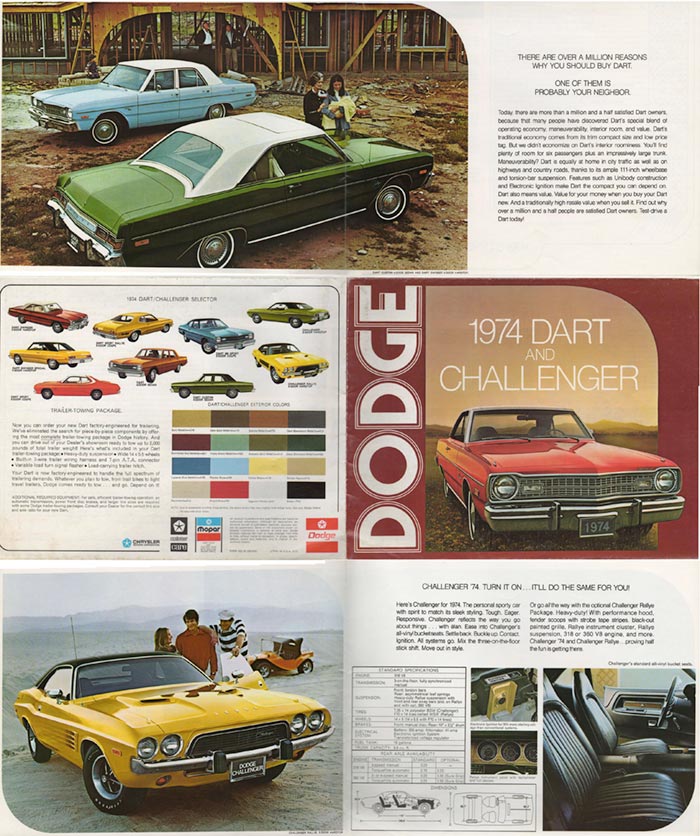 With all this, two puzzling pieces featured the Dart and Challenger on the one hand, and the Duster and Barracuda on the other. One might not think the two cars had that much in common; the A-body Dart and Duster based on ordinary family sedans (the Dart name, indeed, covered pokey four-door Valiant sedans as well as sportier V8 two-doors), while the E-body Barracuda and Challenger were both specifically created to be high-performance muscle cars capable of handling the 426 Hemi and 440 triple-carb V8s. The Dart GT and Duster 340 arguably appealed to the same people as their heavier, more musclebound brethren—but so did the Plymouth Road Runner and Dodge Charger.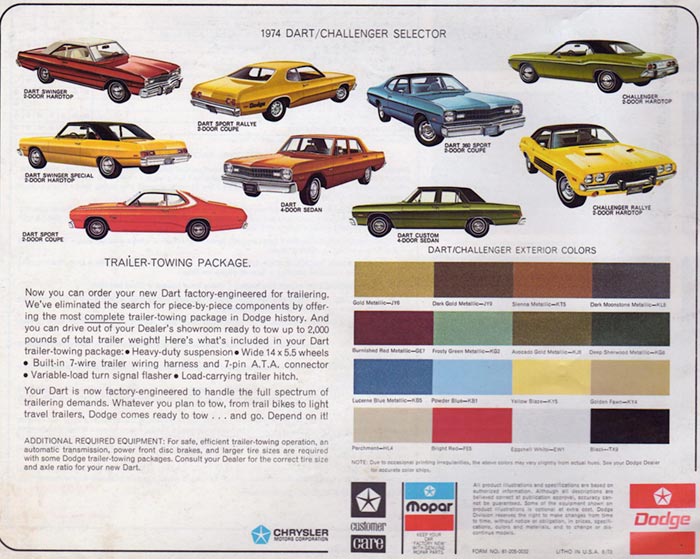 Adding to the puzzle: while low-budget Plymouth had a full brochure, Dodge settled for a big foldout. The foldout format was handy for the back of the brochure, at least: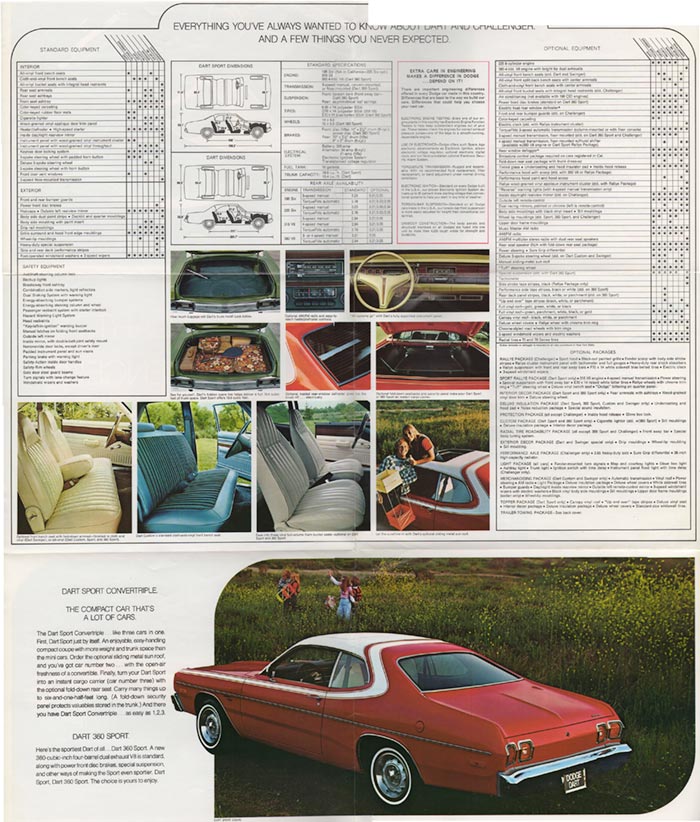 One reason for the setup was likely that dealers were being charged for the brochures, and they did not think that the lower-budget cars (Dart) and younger buyers (Challenger) were a good target for more expensive print setups. In addition, they could expect many people who were not able to buy cars at all to take the brochures as keepsakes or aspirational pieces.
The Challenger was a much higher trim car inside than the budget Dart; it had a sporty dashboard and bucket front seats, and the standard engine was a V8 with a three-speed stickshift. Buyers could also choose an optional four-barrel 360 V8 but not the big-block engines the Challenger had originally been created to use. That said, for 1974, Chrysler created a special high-performance version of the 360 (which had been launched in the 1971 cars and trucks) using the outgoing 340 V8's cam and carburetor, and it generated 245 hp (net) and 320 lb-ft of torque, quite hefty numbers compared with the 318's 150 hp and 255 lb-ft. (By now all Dodges had alternators, electronic ignition, solid state voltage regulators, and hardened valve seats so they could use unleaded fuel.)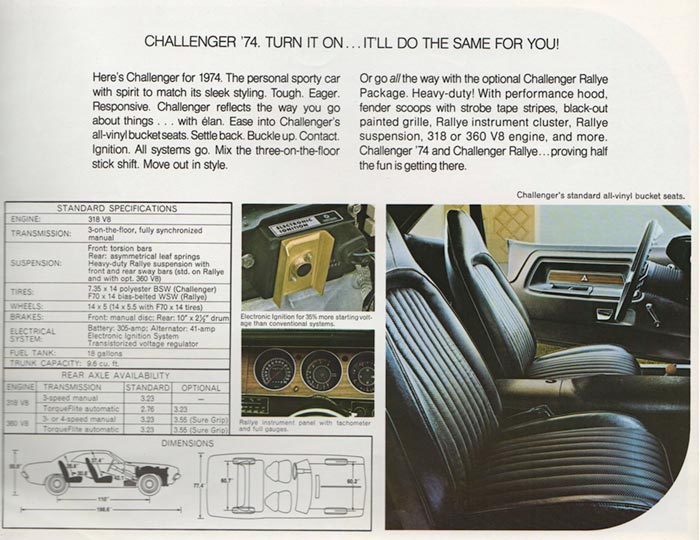 With that in mind, the foldout was probably a practical design—though leaving out the Charger still seems a little odd. The Challenger was in its final year, and the Charger was rapidly approaching the end of its existing body. The Dart would continue on into 1976, with a part-year production run.
The Dart came with a 198 slant six, except in California, where a 225 was standard. The 198 produced 95 hp and 145 lb-ft of torque, while the 225 was rated at 105 hp and 180 lb-ft.
Most Dart buyers took one of the two slant six engines, but those who did choose an optional V8 generally opted for the economy-tuned, two-barrel 318 (150 hp/255 lb-ft). The Dart really came alive with the 360, only available in the Duster-clone Dart Sport model, with a four-barrel carb and big valves for easy breathing.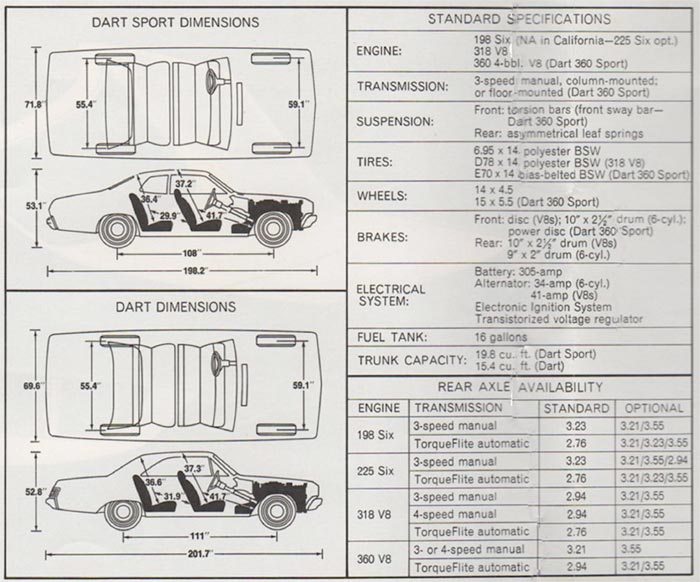 One rather nice part of the brochure is this little specs panel, which gives some indication that Chrysler was still, among the American automakers, the engineering company.
How well did all this promotion work? It's impossible to tell, but in the United States, Dodge went from selling 231,180 Darts in 1972 to 250,619 in 1973—some of those sales being due to the oil crises which started in 1973. Challenger sales were roughly stable, dropping a little from 25,983 to 24,410. Dodge as a whole went from a 6.3% to a 6.1% share, or from 583,392 cars to 590,901 (these numbers are only for passenger cars and commercial vans fitted with rear seats). The domestic industry as a whole gained in U.S. sales, from 9.3 million to 9.7 million cars; Chrysler Corporation gained in volume but its share fell from 16.3% to 15.8% (Ford's share also fell; General Motors and AMC were the beneficiaries. Note that these figures, from the 1973 Ward's Automotive Yearbook issued in 1974, calculate market share based solely on GM, Ford, Chrysler, and AMC, though Toyota, Volkswagen, and others did sell cars in the United States in this period.)
The next year, 1974, would see Dodge Dart reverting to roughly its 1972 sales, while the Challenger, in its final year, plummeted to just 9,532—maybe that 1973 foldout really worked! More likely, other factors were at play...
Car brochures are generally created by ad agencies, not the automakers, and reflect what they hope are the latest fashions as well as hopeful brand images.
See other Chrysler materials •  If you are interested in buying brochures or press kits, see our writer's literature for sale list
Follow us on Post! It's like Twitter, but without ads or Nazis!
Books by MoTales writer David Zatz
Copyright © 2021-2023 Zatz LLC • Chrysler / Mopar car stories and history.