2023 Dodge Hornet: hot compact crossover
It started with a GM-Fiat platform. Then American and Indian engineers made it wider and longer, adding all wheel drive and offroad capability, and it became the Jeep Renegade and Compass with different powertrains. Italian engineers modified again, yielding the Alfa Romeo Tonale; and now, it has become the Dodge Hornet.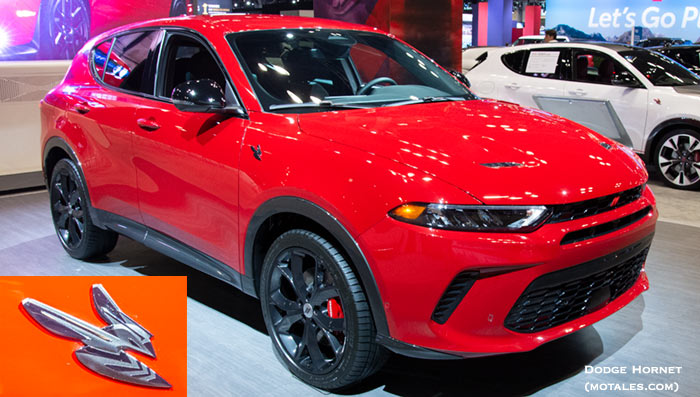 There are two versions—the cheaper one having a larger gasoline engine, the pricier one with a smaller engine and an electric motor; both are made in Naples, Italy. The name comes from the Fabulous Hudson Hornet; Hudson joined with Nash to form AMC (briefly making an AMC Hornet), which was purchased by Chrysler in 1987.
The 2023 Dodge Hornet was the fastest, quickest, most powerful compact utility vehicle under $40,000 when it was revealed in 2022. Volume sales started in late May.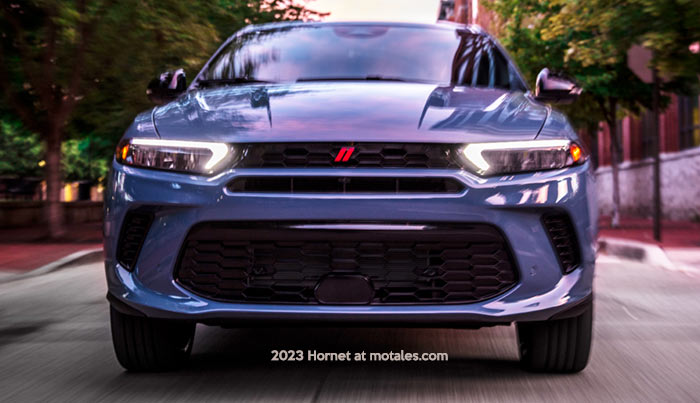 Most photos are the GT.
The 2023 Hornet GT listed at $30,735—$35,735 for the well-appointed GT Plus. Buyers had to add $1,595 for destination charges, but by July 2023, could get a $500 rebate (on 2023 models). Getting any paint other than black added $495-$595. The 2024 Hornet GT was the same price, without a rebate, when it launched.
Hornet R/T: GSE 1.3T plus motor (PHEV)
The Dodge Hornet R/T has the 1.3 liter "GSE" four-cylinder, which has been fairly undistinguished. However, it will now be paired with an electric motor hooked up to the rear axle, with a 15.5 kWh battery; this results in a 7.1 second 0-60 time, normally, which is decent for the segment but not outstanding. PowerShot, which sends an extra 25 horsepower into the system for a brief time, drops the 0-60 run down to 5.6 seconds—a 1.5 second difference.

PowerShot provides bursts of extra electric power, up to 15 seconds worth, which can be repeated after 15 seconds of cool-down; that's more than enough to get onto the freeway and up to clearly illegal speeds. It activates by pulling both of the paddle shifters and kicking the gas pedal down. The system makes sure battery charge and temperature are acceptable first, then lights the PowerShot symbol in the gauge cluster.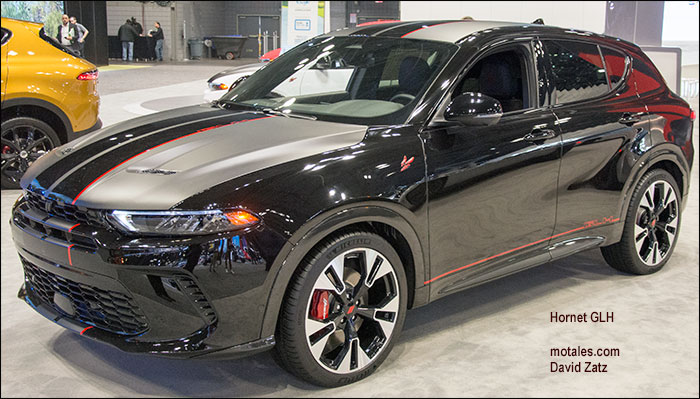 There will be three driving modes: hybrid, full electric (for around 30 miles of range), and E-Save, which preserves the battery charge as much as it can (E-Save actually has two modes, Passive to maintain the existing charge and Active to recharge the battery). The only transmission is a six-speed automatic. The car is a PHEV since it can be plugged in to charge the battery and then run on full electric for roughly the length of a normal commute; some buyers may only need to buy gasoline every couple of months (though leaving old gasoline in the tank for that long is a bad idea without fuel stabilizer).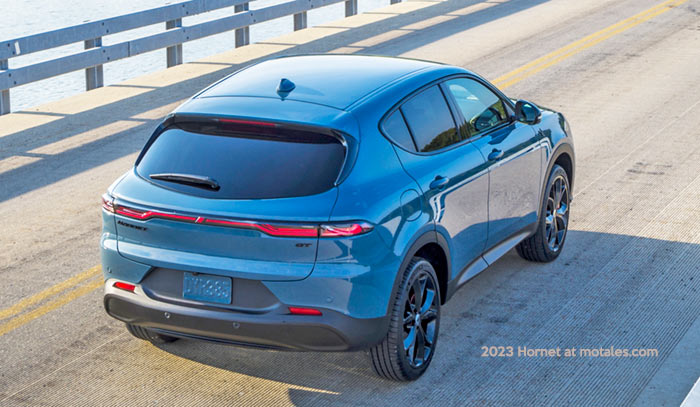 The electric motor is good for 90 kW, with 1844 lb-ft of torque—yes, 1,844 lb-ft—at 0 rpm, making for generous launches. The battery uses refrigerant to stay cool. A starter/generator helps to recharge the battery (with up to 44 hp) when coasting, which also has brake-powered regeneration. The 7.4 kW provides for full battery charges in around 2.5 hours with a level 2 charger; the motor runs at up to 306V, and the battery uses 84 cells in series, weighing 276 lb.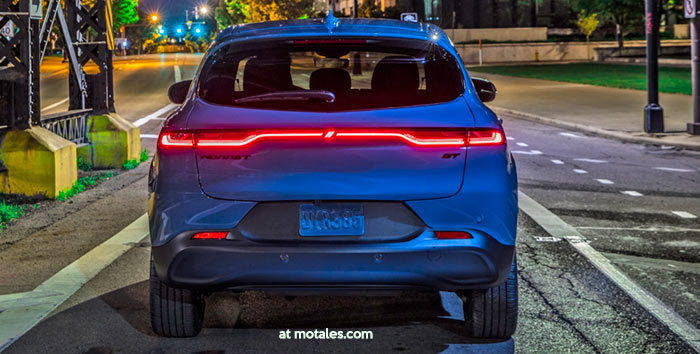 The sport mode has a physical button; it provides a sharper throttle, aggressive shifting, "optimized power and torque" from the hybrid system, tighter steering, and, if the active suspension is ordered, a stiffer ride. Power steering is electrical rather than hydraulic. All wheel drive is standard, using the electric motor for the rear wheels on the R/T.
The 2024 Hornet R/T starts at $42,530 including destination; the R/T Plus added $5,000. Again, these prices only counted for black cars—any other color added $495-$595.
Hornet GT: GME 2.0T
The Hornet GT has the well-tested and well-regarded 2-liter "GME" four cylinder, which runs to 265 hp and 296 lb-ft of torque. The wastegate is electrically activated, and a water-to-air intercooler is mounted directly to the head. High pressure direct injection is included along with dual overhead cams, each individually timed, and cooled EGR.
The 2-liter comes with a nine-speed atuomatic; it too has Sport Mode, which provides "access to full power and torque and a tighter steering wheel feel" as well as throttle and shift schedule adjustments. In Sport Mode, the Hornet GT can run from 0-60 in 6.5 seconds, just behind the Mazda3 Turbo's 6.3 seconds.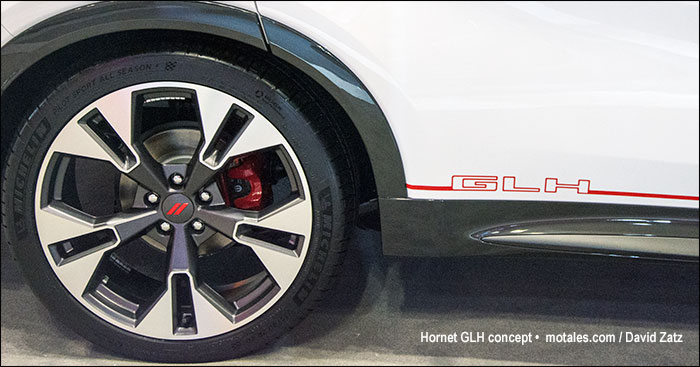 All wheel drive is standard, and fuel economy is rated at 21 city, 29 highway; the Mazda 3 turbo, with all wheel drive, is rated at 23 city, 31 highway, exactly 2 mpg above the Hornet (both have automatics). The Hornet is likely to be larger than the Mazda, though.
Suspension and braking performance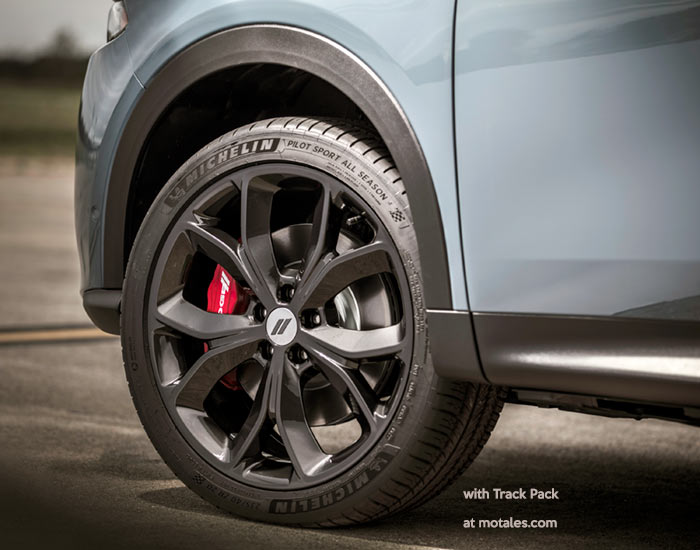 Performance isn't just straight-line acceleration in the Dodge Hornet, which is lucky, because its numbers are good but not incredible. Buyers also get:
Koni FSD shocks with passive springs and bypass valves; these can provide stiffer feel and control during cornering (low frequency) with a softer feel on high-frequency events (bumpy roads).
Brembo calipers—four-pistons in front. These are the only fixed front calipers in the class, and they use cast aluminum ventilated discs. In back, large solid discs do the trick. Hornet R/T has black calipers; the Track Pack has red ones.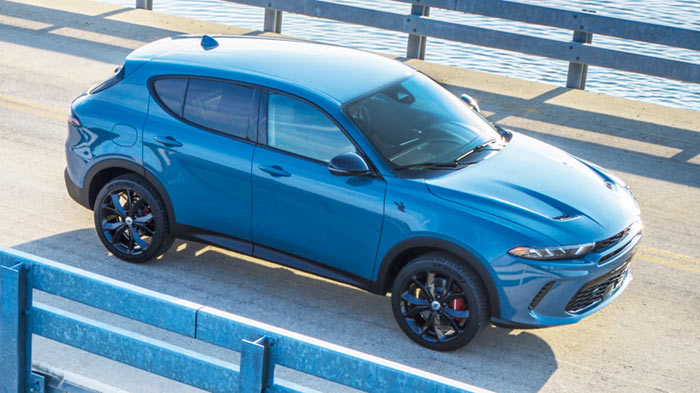 Dual stage valve suspension (optional), using Marelli shocks; these providce different characteristics in sport and normal mode.
Dynamic torque vectoring: with Sport Mode, this acts as an electronic limited slip differential, helping with stability and reducing understeer.
Fully independent suspension (MacPherson front, 3-link Chapman rear).
Balanced chassis: 52/48 weight distribution (R/T).
2023 Dodge Hornet telematics and such
The line of identical-looking buttons under the vent seems like a poor idea from an ergonomics perspective. Dodge generally has smaller groups of buttons, often giving them different sizes and shapes so they can easily be differentiated by a glance or by touch.
12.3 inch gauge cluster screen (standard) with selectable graphics
10.25 inch UConnect 5 infotainment screen which can be connected to two phones at once. Wireless Apple CarPlay, Android Auto, and nosy Amazon Alexa are included, as is SiriusXM including a safety and security trial package, navigation trial, and hotspot trial.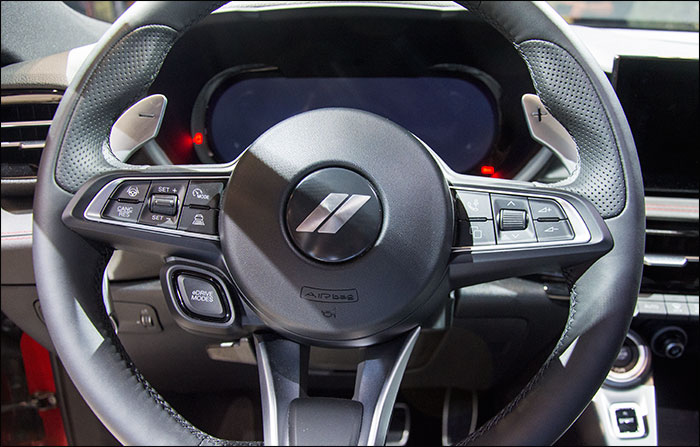 Plus versions have a Harman Kardon sound system with 465 watts of power and 14 speakers; and wireless charging for smartphones, including an LED indicator.
All Hornets have passive entry, rain sensing wipers, and rear seat reminder. Options include heated steering wheel and seats and hands-free liftgate.
Safety
Automatic emergency braking with pedestrian and cyclist alerts
Lane-holding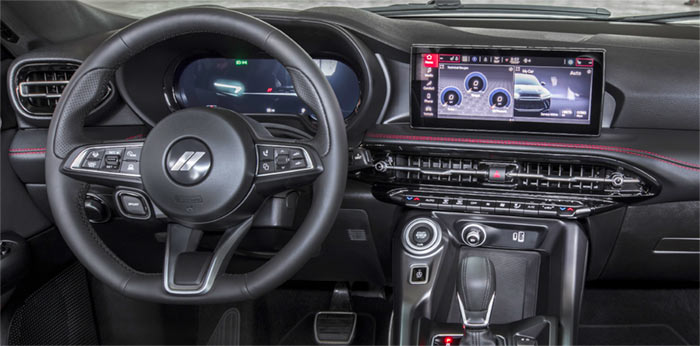 Blind spot detection with rear cross path
Optional with Tech Pack: 12 parking sensors and 360° camera system
Optional self-parking
Level 2 autonomous driving ("Highway Assist") optional with Tech Pack: intelligent speed assistance with traffic sign recognition; driver fatigue warnings; intelligent cruise with stop and go; lane control and traffic jam assistance
Styling, design, and such

The full-width tail-lamp includes a new, illuminated "Dodge Rhombi" logo in the center (the Rhombi is just the two slashes which have been Dodge's logo for some time, not to be confused with the Fratzog, which is reserved for BEVs). A Blacktop package, also called "murder Hornet" in the press release, has 18-inch black alloy wheels with gloss black badges, mirror caps, and daylight opening moldings. The Track Pack has 20-inch black wheels. Colors are Acapulco Gold, Blu Bayou, Blue Steele, Gray Cray, Hot Tamale, Q Ball, and 8 Ball.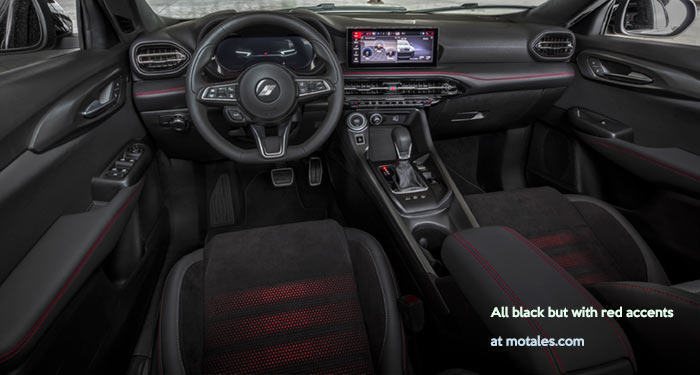 The driver-focused design tips the stack controls and display screens toward the driver. The instrument panel has a wrapped and stitched mid-bolster that extends through the instrument panel. Red stitching accents flow throughout the black interior. Performance controls are at the fingertips; the sport/hybrid mode button is on the flat-bottom steering wheel. The Track Pack has class-exclusive perforated Alcantara seats with subtle red accents (see above) and an embroidered Dodge Rhombi logo. The Plus versions come with leather seats; red leather is optional.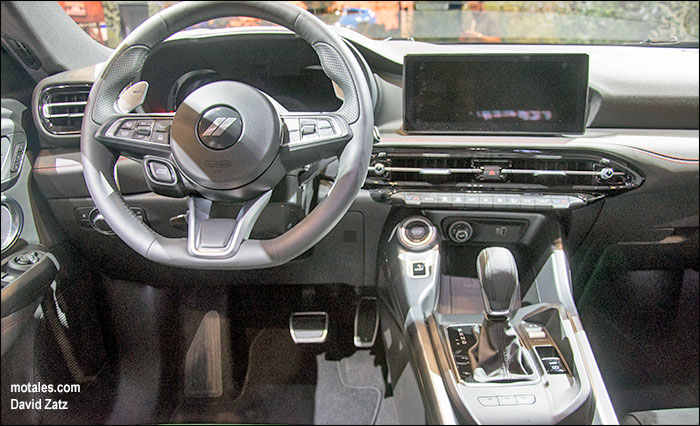 The profile view is almost identical to that of the Tonale; the interiors are very close, too. The front look is very different but the rear look is extremely similar to the Tonale, possibly to save money in crash testing. Both use similar full-width graphics. "pumadog" at Allpar noted that "the Hornet even uses the same two layer seats as the Tonale;" controls are very similar in appearance and layout.
Specifications
|   | Hornet GT | Hornet R/T |
| --- | --- | --- |
| Engine | 2.0 GME | 1.3 GSE |
| Trans | 9-speed | 6-speed |
| Price | $29,995 | $39,995 |
| Plus Price | $34,995 | $44,995 |
| HP | 268** | 288 |
| Torque | 295 | 383* |
| Ground clearance | 8.0 | 6.1 |
| Weight | 3,715 | 4,140 |
| MPG | TBA | TBA |
| Fuel tank | 13.5gal | 11.2gal |
| Steering ratio | 13.6 | 14.5 |
| Turning circle | 37.95 ft | 37.86 ft |
| Std Wheels | 17" | 18" |
| Top speed | 140 | 128 |
| 0-60 | 6.5 | 6.1 |
| Front discs*** | 12.08 | TBD |
| Rear discs*** | 10.94 | TBD |
| Height | 63.8 | 63.0 |
| Towing | 2,000 | 2,000 |
* 199 lb-ft from the engine. 184 lb-ft from the electric motor.
** Premium fuel.
*** Track Pack: 13.53 front, 12.08 rear
Generations: Compass to Tonale to Hornet
Compared to Compass and Tonale show the family resemblance. The Compass is a bit shorter, possibly because overhangs are critical to offroad use.
| Specifications | Compass | Tonale | Hornet |
| --- | --- | --- | --- |
| Length | 173.4 | 178.3* | 178 |
| Height | 64.6 | 63 | 63.8 |
| Width (w/mirrors) | 80 | 82 | 82 |
| Wheelbase | 103.8 | 103.8 | 103.8 |
| Trunk vol. | 27.2 cf | ? | 27 cf |
| Front overhang |   |   | 37.4 |
| Rear overhang |   |   | 37.0 |
* Originally provided in millimeters. It's possible the Dodge Hornet is the same length, but rounded to the nearest inch.
| Specifications | AMC Hornet | Dodge Hornet |
| --- | --- | --- |
| Length | 179.3 | 178 |
| Height |   | 63.8 |
| Width (w/mirrors) | 70.6 | 82 |
| Wheelbase | 108 | 103.8 |
| Weight | 2,807-2,884 | 3,715-4,014 |
| Power | 100-175 hp | 268-288 hp |
* Sportabout version, not in any way a direct or valid comparison
Also see: Fabulous Hudson Hornet •  AMC Hornet ("not absolutely fabulous")


Ram ProMaster Commercial Van
Following the only large front-drive commercial van from 2014 to the present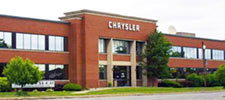 Mopar plants: rumors, what they make, and what they made
September 21, 2023 update including proposed closings, sales

Chrysler rumor wrap / upcoming cars and trucks
10-30-23 update

Renegade: Fiat-based Jeeps
Oddly capable little crossovers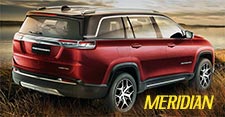 Meridian: Lux Compass with Three Rows
Sorry, it's only in India so far

GSE 1.3 Turbo
Modern "Firefly" Four-Cylinder

Ram ProMaster Commercial Van
Following the only large front-drive commercial van from 2014 to the present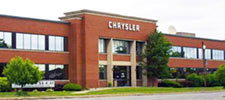 Mopar plants: rumors, what they make, and what they made
September 21, 2023 update including proposed closings, sales

Chrysler rumor wrap / upcoming cars and trucks
10-30-23 update

Renegade: Fiat-based Jeeps
Oddly capable little crossovers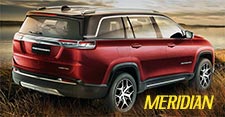 Meridian: Lux Compass with Three Rows
Sorry, it's only in India so far

GSE 1.3 Turbo
Modern "Firefly" Four-Cylinder
Current and future
Follow us on Post! It's like Twitter, but without ads or Nazis!
Books by MoTales writer David Zatz
Copyright © 2021-2023 Zatz LLC • Chrysler / Mopar car stories and history.