Ram ProMaster Commercial Van with 2021-22 Changes
The Ram ProMaster was based on one of the first Fiat vehicles promised to North America, the Ducato. The Fiat Ducato was one of Europe's favorite commercial vans, and by far the favored van for recreational-vehicle conversions. Its advantages included an efficient diesel, but every European van had those; its unique feature was front wheel drive, which meant that upfitters didn't have to deal with a long driveshaft (and also allowed the van to sit closer to the ground). What's more, the ProMaster remains the best commercial van to drive unloaded (or lightly loaded) through rain or snow.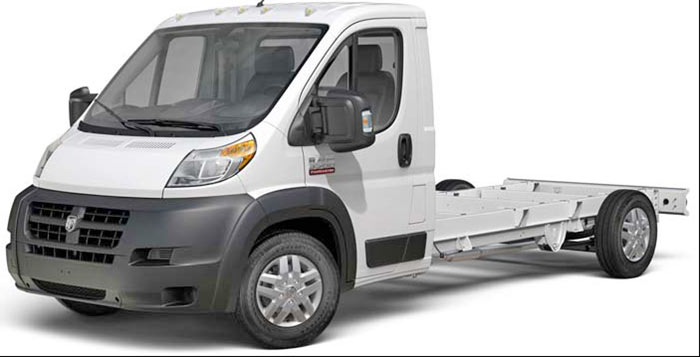 The van took a long time to come to the United States, largely because the suspension failed durability testing on simulations of American roads (Europe, by and large, has far superior road surfaces.) In addition, they felt more capacity was needed. Though Allpar featured many artists' renditions of what a Ram version of the ProMaster might look like, the final product was hard to tell from the original Fiat from the outside. The interior was another story, given that designers and engineers were allowed to make many changes. The suspension design was quite similar, but most of the actual parts were different to create that higher capacity and ability to withstanding a pounding from potholes and cracks. Had it come earlier, it would have beaten some competitors to market, but would probably have gotten a bad reputation and gone the way of the full-size Chevrolet/Nissan vans. (The ProMaster also competed against the Sprinter and Transit, which are both still around.)
Work on converting the van started in 2009; some of the engineers had already worked with the Sprinter and could apply their lessons learned. They moved the radio, changed the knobs, added big cupholders, and made the controls understandable for Americans—to quote one engineer, for example, "There's no squiggly-line button"  so drivers won't ask, "What the heck does that button mean?" The exterior stayed mostly the same, with the high headlights (to avoid collision damage) and easily replaced front sections.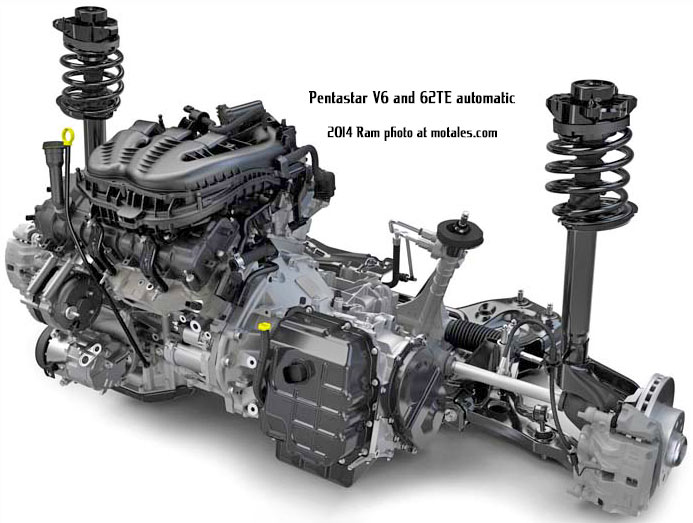 The conversion took three long, difficult years.
The 2014 Ram ProMaster had two engines, a Fiat four-cylinder diesel displacing 3 liters, and the "minivan six,"  a Pentastar 3.6 liter gasoline engine which, within a few years, would be the only option. While the Ducato had a top payload of 3,472 pounds, the ProMaster ended up at 5,145 pounds. Towing was 11,500 pounds with the gasoline engine (12,500 with the diesel). The van had three wheelbases, three capacity grades, an extended-length version of the longest wheelbase, and low and high roofs; the high roof easily allowed a six foot tall person to walk around in the van. There were cargo van, cutaway, and chassis cab versions, but they never sold a passenger van version. The lack of a passenger van has always been puzzling; Ram makes the ProMaster with windows on both sides, so it can be converted to a passenger van or RV, but they don't sell them with seats installed.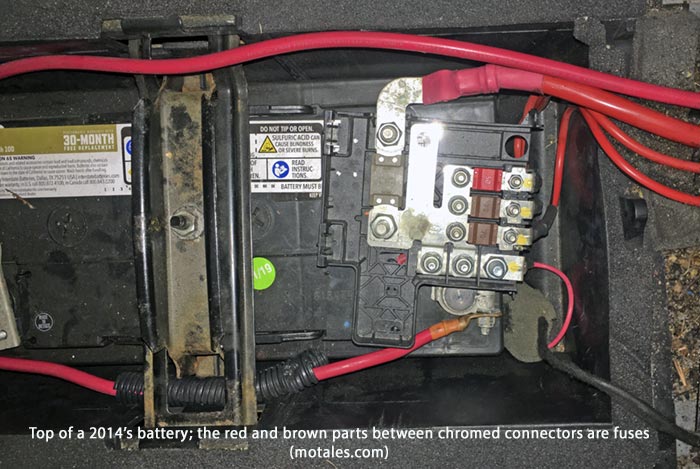 The wheelbases were 118, 136, and 159 inches; lengths were 195, 213, 236, and 250 inches (the 159-inch wheelbase, again, had two lengths, the extra 14 inches added to the rear overhang). Roof heights were 88 and 99 inches, the latter coming with roof lights that are surprisingly expensive to replace. The Ram version was the first to have a gasoline powertrain, which appears to have been taken from the minivan, with some internal changes to the six-speed automatic so it would last longer. The engine produced 280 horsepower (more than in minivans) and 258 lb-ft of torque; the diesel, 174 hp and 295 lb-ft. The diesel was used in Fuso trucks, too. Diesels came with an automated manual gearbox, which may be one reason they tend to be rare.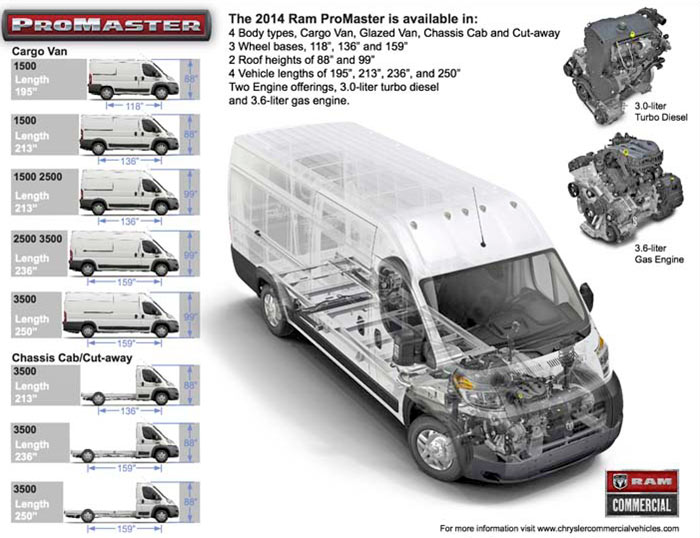 Pricing started at $29,625 for the 118-inch wheelbase model with a low roof and low capacity. The 1500 series, the most comfortable, lowest to the ground, and least capable of hauling heavy loads, was only sold in the two shorter wheelbases; the high roof option was around $1,500 and the longer wheelbase was around $1,900. The ProMaster 2500 started at $32,515 with the 136 inch wheelbase; it came with the high roof. The longer 159" wheelbase added around $1,300. Finally, the Ram 3500 had the longest wheelbase and a high roof, starting at $36,345; the extra length added around $900.
The vans did not come with a lot of creature comforts at first, and cruise control was optional. They could be ordered with items like a rear window delete and cargo barrier to protect the front occupants; a dealer could, though, order the rear window delete, cargo barrier, and a rear-view mirror. In later years they finally added a virtual rear view mirror, based on a camera. The backup camera was well-engineered, mounted above the doors so the driver got a good view of the back and both sides, and could easily back up to practically touch an obstacle; the camera would stay on if the back door was open so the driver could monitor any activity.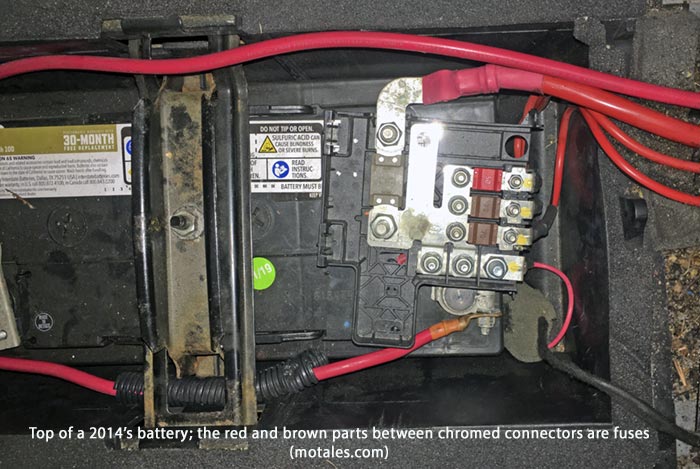 Wiring was designed for upfitter friendliness within reason; an optional upfitter electrical box was placed between the side and front passenger door (though you will have to get rather overpriced adapters to actually use it; a man in England sells these fairly cheaply, having bought them in bulk). There was no option for another box on the other side of the vehicle. The battery was easy to reach under the driver's side floor, where it remains today, under a rubberized section of floor; taking it out may take some strength, but adding or checking electrical connections is easier that way. The van uses standard truck fuses. In back, there are numerous tie-down rings and several choices of floor finish, the most popular of which seems to be resin-finished (rubberized) wood, followed by painted steel, then rubber-coated steel. The roof can carry 400 pounds.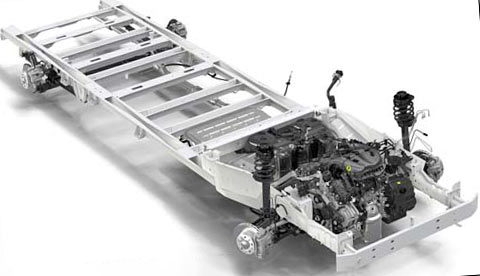 The rear doors are also quite handy, opening all the way to be flush with the sides. The front doors are both light weight. A sliding left-side door was optional, but I've never seen one. The step-up is relatively low on the 1500 (compared to Transit, Sprinter, Metrics, and such), but it gets higher on the heavier duty models. Driving the ProMaster is easy other than the sheer size of the vehicle (ours was the 159" wheelbase), but driving the Chevrolet Express was also easy enough. The steering is surprisingly light, but reasonably tight; driving dynamics are good enough that you can be tempted to drive rather aggressively, until you peek underneath and see the suspension design. Though it never happened to me, I suspect it's easy to get just a bit too overconfident; but it is a pleasantly responsive suspension tune, for the class of vehicle.
The telematics system was, in early years, poorly designed from several perspectives. The TomTom navigation was not bad, and the system provided interesting information, but it can periodically crash and the hardware was reportedly problematic. After a few years the standard Chrysler/Garmin UConnect replaced the Fiat/Microsoft/TomTom setup. The basic radio was a four-speaker setup with a monocrhomatic display and steering wheel mounted controls. Overall, the interior was clearly designed to a cost and a purpose; it was more durable than luxurious, and did have some clever features, such as the top-of-dashboard documents holder, the under-glove-box bin, the change holder below, and such. The climate controls were the usual Dodge design, well conceived and engineered, and a pleasure to use.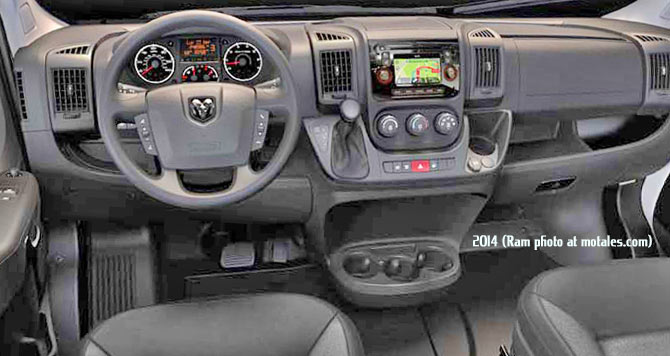 Some other quick notes: interior lights automatically shut off after 15 minutes. Drivers can set a speed alert when passing 55, 60, 65, or 70 mph. The suspension was based on model and gross weight, with five levels; the vehicle handled well enough to make a glance at the primitive-looking setup a surprise. In back, a tubular beam axle was coupled with leaf springs; in front, double A-arms worked with MacPherson struts. The steering was rack and pinion with variable assistance and loud squeaky noises when cold; it takes a special European fluid which was shared by some Rams.
Options on the original models included both a backup camera and a distance sensor that beeped; no forward warning was optional. Cruise control was optional and appears to have been relatively uncommon. A factory installed driver's seat with an adjustable air suspension was one of the more interesting features for those not used to commercial vans. A USB thumb drive and auxiliary input panel was under the steering wheel area.
The ProMaster had four-wheel disc brakes with Brembo dual-piston calipers. Electronic lining wear sensors provided a telltale on the dash when pad replacement was needed. Brakes were overspecified versus competitors. Stability control included emergency stopping assistance, trailer-sway control, hill-start assist, drift compensation technology, rollover mitigation, and automatic brake lamp actuation.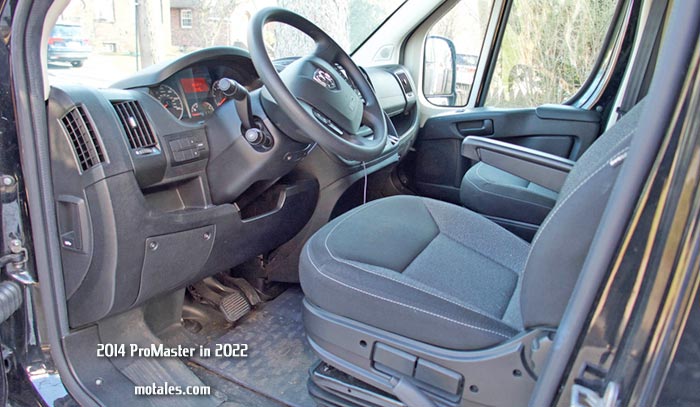 Some may wonder why the original ProMaster was styled so oddly. The main reason is that's how Fiat did it; Ram didn't change much about the appearance. While the 2022 model proved that you could have a better looking ProMaster without sacrifice, it's worth mentioning that the headlights are up high to avoid damage in minor collisions; for the same reason, the front fascia was in three separate parts, reducing repair costs.
The oil change interval was a stunning up-to-18,500 miles for the diesel, and up to 10,000 miles for the gasoline engine. This was allowed because of the use of an oil level sensor and computer-based estimates of oil condition (using temperature, acceleration, and other variables along with extensive research to customize intervals to drivers).
The original generation did have problems, including issues with headlights burning out in fleet use—sometimes every few months. Door mechanisms tended to loosen up, causing rattles and air leaks. There could be other electrical problems. Upfitting could be a little tricker than it could have been, with a single small and oddly placed optional panel in back, and no apparent provision for a second cargo-area battery. The main oddity was never making a true passenger van with seats included.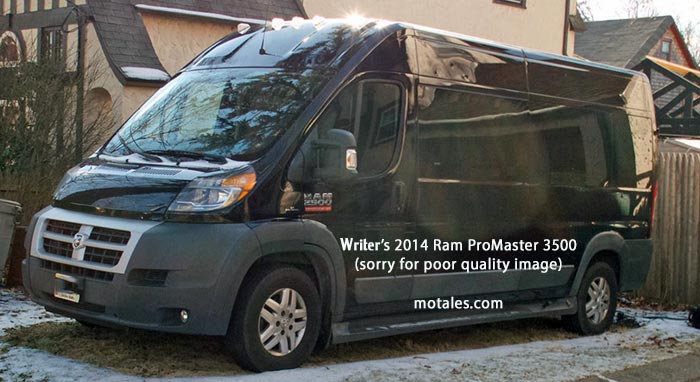 Updates, 2015-2020
In 2016, UConnect 3 (with five-inch screens) was optional ; chassis cabs and cutaways got a wide rear axle option and more wiring prep and (with the diesel) an electronic parking brake; and a rear-of-cab second battery was added to the options list, with 20 amp switches integrated into the dashboard for upfitters. A chrome grille option was also added for upfitters—such as Winnebago, which sold $100,000 RV versions of the ProMaster. People buying the extended length 159" wheelbase versions could get windows for the first time.
Former options became standard for the 2017 model year: UConnect 3.0, a standard wide rear axle on all chassis cab and cutaway versions, upfit interface connectors, and rear speaker wiring prep. The smoker's group became a dealer addition, and the diesel was no longer sold with the 118 inch wheelbase.
The 2018s had standard integrated voice control and steering-wheel audio controls, standard backup camera on all cargo vans, and a new option for right and left sliding doors: a window grate with fixed glass.
Major changes for the 2019 ProMaster
For 2019, payload and towing and up and a new front fascia, with RAM shown in big silver letters, were the most visible changes; but Ram officials said a great deal of effort had gone into reliability and durability. The doors were one area of focus; other complaints about early Rams seemed to disappear after the 2019s appeared. Amazon started buying Rams experimentally, and then dove in heavily to convert their fleet over from Ford.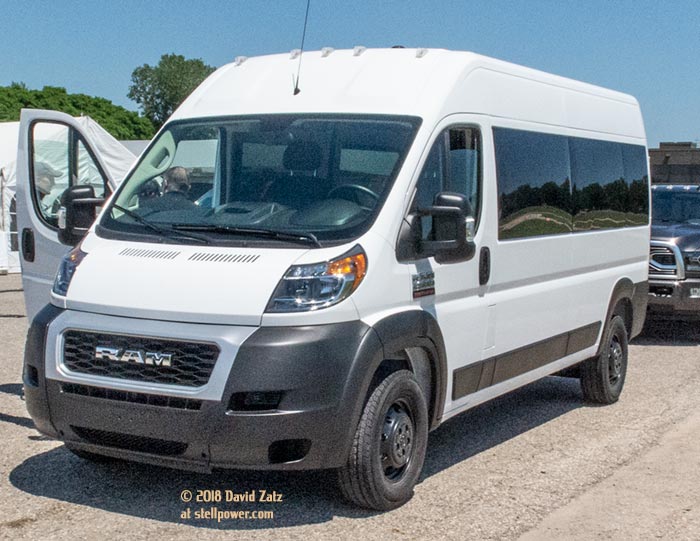 A new Verizon system, Ram Telematics, allowed fleets to track vehicle and driver behavior, providing real-time vehicle diagnostics and performance data. Another fleet-aimed feature was a dealer-activated speed limiter, with 60 mph, 65 mph, 70 mph, and 77 mph options.
While fleets stood to benefit from telematics and speed limiters, a new, modernized dashboard reached all customers.

The 2019 Ram ProMaster was tested by Amazon on some routes, and apparently it passed the test, because Amazon started ordering ProMasters in increasing numbers. They rapidly replaced Amazon's collection of Ford Transits, which remained the best selling van in America, but by an increasingly diminishing margin.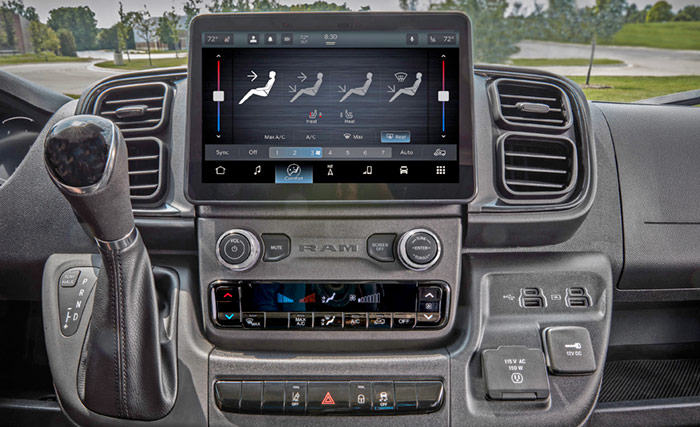 Finally, they brought out low-roof Ram 2500 and 3500 versions of the 136 inch wheelbase. The Fiat diesel engine did not make it to the new 2019 series; it was never a popular option.
Payload increases were as high as 240 pounds, giving Ram ProMaster the highest available standard payload in its segment in all three payload classes:
ProMaster 1500 – 4,000 pounds
ProMaster 2500 – 4,230 pounds
ProMaster 3500 – 4,680 pounds (best-in-class)

Towing went up by 30%, reaching 6,800 pounds at its peak, helped by a new towing group with a Class IV receiver hitch and two wiring harness connections. For upfitters, an optional system interface module with 13 inputs and 41 outputs (54 total) provided quick and reliable connections to vehicle systems. New, optional LED interior lighting was 20 times brighter, with integrated motion sensors. Finally, polycarbonate (rather than glass) cargo-area side windows became optional for higher security on high-roof vans.  Ground clearance was 6.9 inches on all models.
| | | | | | | | |
| --- | --- | --- | --- | --- | --- | --- | --- |
| ProMaster | 1500 | 1500 | 1500 | 2500 | 2500 | 3500 | 3500 |
| Wheelbase | 118* | 136* | 136 | 136 | 159 | 159 | 159 |
| 2014 GVWR | 8550 | 8550 | 8550 | 8900 | 8900 | 9350 | 9350 |
| 2014 payload | 3922 | 3852 | 3794 | 4113 | 3998 | 4420 | 4340 |
| 2016 payload | 3990 | 3890 | 3770 | 4120 | 4010 | 3930 | 4740 |
| 2019 payload | 4,000 |   |   | 4,230 |   | 4,680 |   |
| Base weight (2016) | 4560 | 4657 | 4776 | 4218 | 4773 | 4922 | 5009 |
* Low roof; all others are high roof
"Payload" is maximum payload with V6
X-ray vision: The 2021 ProMasters gained an optional, class-exclusive digital rearview mirror using a 9.2 inch wide LCD monitor instead of the glass mirror; it could be put into a faux "standard rear view" mode for those with a solid wall between driver and cargo. In addition, the formerly optional Crosswind Assist became standard to help keep vans stable in the face of wind gusts.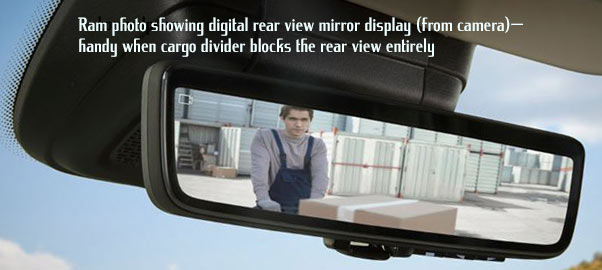 Two more new options were Blind Spot Detection with Rear Cross Path Alerts, and Forward Collision Warning with Emergency Brake Assist. Forward collision could use partial braking, but the driver still had to hit the brakes to come to a full stop. New LED ambient/courtesy lights also became optional. By this time, the diesel was gone.

2022: Revamped, upgraded interiors and technology; nine-speeds
For 2022, the ProMaster's biggest outstanding issue, the six-speed automatic—fine for most, but problematic for some—was replaced by a nine-speed unit. That shift helped with acceleration and economy; first gear was a low 4.71:1 but the highest overdrive wais 0.48:1.
A new two-row Crew Cab option allowed for five people up front; the second row was accessed by the big sliding door. The only access to the cargo area in Crew Cab vans was via the back door.
While electric parking brakes are often an annoyance for regular drivers, they are handy for fleet owners, replacing cable-driven systems that need to be adjusted and can freeze up in winter. The electronic parking brake, which automatically released if the driver seat belt is buckled and the operator accelerates the vehicle, activates a motor-on-caliper setup at each rear wheel which replaces the harder-to-service "drum in hat" configuration.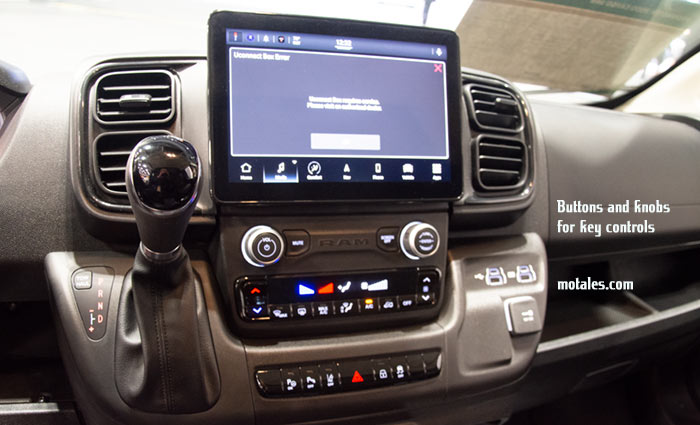 The 2022 ProMaster seemed to leap forward by decades in technology, with full-speed forward collision warning; post-collision braking; drowsiness detection; traffic-sign recognition; and a keyless pushbutton starter. New options included 360° cameras, front parking sensors, auto high beams, cornering fog lamps, adaptive cruise with stop and go ability, intelligent speed assistance, lane keeper, and active driving assistance.
UConnect 5 was standard, five times faster than the prior setup; it included Alexa, wireless Apple CarPlay and Android Auto, and simultaneous connection to two phones. The screens came in 7 or 10 inch sizes, with an additional 3.5 inch driver's screen (a 7 inch driver's screen was optional). The old hydraulic power steering was replaced by an electric setup, designed for a natural steering feel and variable assist and incidentally eliminating "cold squeak."  The new system was also handy for the impending battery-electric version.
New comfort features included a leather-wrapped steering wheel and revised air vents; the second row had fixed polycarbonate windows, a built-in safety partition, and an elevated bench seat. The driver touchscreen could be adjusted with steering-wheel controls, and included a speedometer, vehicle information, fuel economy, trip information, audio, stored messages, and turn-by-turn navigation, if the vehicle is equipped with navigation.
Active Drive Assist provided lane centering and active cruise control using both radar and cameras; Ram Assist enabled vehicle tracking and driver behavioral data, as well as real-time diagnostics and performance data, for fleets. The standard Telematics Module enables nearly fifty service functions, including firmware over the air.
2023: Finally, an updated front end; a higher roof; and other changes
The 2023 Ram ProMaster included the 2022 updates but added a new front end design, superior headlights, and other, less obvious features. An optional higher roof configuration brought best-in-class cargo volume and interior cargo height, while an optional rollup rear door made loading easier in crowded areas (and when parked on the side of a busy street, where sometimes there was not enough room to open the doors fully). The changes had already been made to the Ducato. Ram's chief, Mike Koval Jr., said the changes were the result of customer input.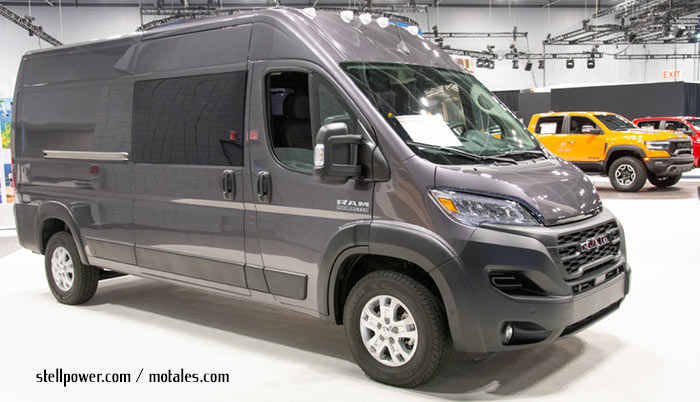 The front fascia was redesigned with new fog lights and far better headlights. Even the halogen headlights have 29% higher output than the 2022 ProMaster; the optional LED headlights are 70% brighter than 2022's halogens. A new integrated step made it easier to clear the windshield or change the wiper blades.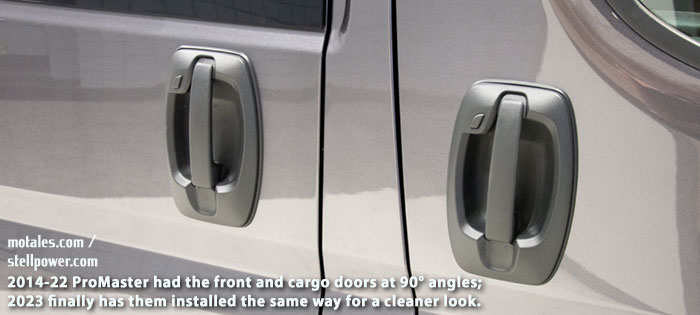 New wheel options included silver or black with a machined face; two new paints were Ceramic Gray and Spitfire Orange, and customers could get a Black Appearance Package. These were not aimed so much at fleet buyers, as at those who convert their vans into RVs—a popular past-time not just for Winnebago but also for people with handyman skills.
The 2023 Ram ProMaster was still sold in 1500, 2500, and 3500 form, with different payloads; with lengths of 8, 10, and 12 feet, and with the low roof, high roof, or box design. The extra-high roof was added to the extended-length 13.5-foot version to get the best in class interior cargo volume and interior height. The main change to configurations was the extra-high roof on the longest ProMaster, and the new door.
Standard features included full-speed forward collision warning, Crosswind Assist (the computer compensates for cross-winds, working with the power steering), a high-mounted rear backup camera with dynamic gridlines, pre-collision braking, drowsiness detection, push-button starter, keyless entry for all doors, an electric parking brake, and a 7-inch infotainment screen.

Options included the Parallel and Perpendicular Park Assist system, Intelligent Speed Assist, lane keeping, traffic sign recognition, adaptive cruise with stop-and-go for heavy traffic, front parking sensors, auto high beams, cornering fog lamps, rain-sensing windshield wipers, a digital rearview mirror, the 360-degree Surround View camera system, and a 10-inch infotainment screen (many of these carried over from 2022).
The engine was downrated to 276 horsepower and 250 lb-ft of torque. Payload remained up to 4,680 pounds and towing, up to 6,910 pounds. A battery-electric version was slated to be released later in the model year, sharing with the Fiat already released in Europe.
Specifications
Weights and such are for cargo vans—not window vans, chassis cabs, or cutaways.
| | | | | | | | |
| --- | --- | --- | --- | --- | --- | --- | --- |
| 2014-2015 | 1500 | 1500 | 1500 | 2500 | 2500 | 3500 | 3500 |
| Wheelbase | 118* | 136* | 136 | 136 | 159 | 159 | 159 |
| Length | 195 | 213 | 213 | 213 | 236 | 236 | 250 |
| Load floor length | 105 | 123 | 123 | 123 | 146 | 146 | 160 |
| Cab to rear axle |   | 81 | 81 | 81 | 104 | 104 | 104 |
| Base weight (2016) | 4560 | 4657 | 4776 | 4218 | 4773 | 4922 | 5009 |
* Low roof
More in the memory cards series

Ram ProMaster Commercial Van
Following the only large front-drive commercial van from 2014 to the present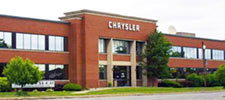 Mopar plants: rumors, what they make, and what they made
September 21, 2023 update including proposed closings, sales

Chrysler rumor wrap / upcoming cars and trucks
10-30-23 update

Renegade: Fiat-based Jeeps
Oddly capable little crossovers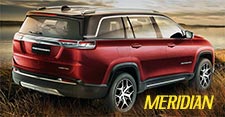 Meridian: Lux Compass with Three Rows
Sorry, it's only in India so far

GSE 1.3 Turbo
Modern "Firefly" Four-Cylinder
Current and future
Follow us on Post! It's like Twitter, but without ads or Nazis!
Books by MoTales writer David Zatz
Copyright © 2021-2023 Zatz LLC • Chrysler / Mopar car stories and history.