Hurricane Six: 21st Century Turbocharged Inline 3.0 Liter Powerhouse
Named after a British fighter plane of World War II, but sharing with a Jeep four-cylinder of the prior century, the Hurricane is a fully modern 3.0 liter six-cylinder powerhouse. There is no naturally aspirated version, but there are two turbocharged versions with different power ratings. It is based on the four-cylinder 2.0 liter GME engine unofficially dubbed Tornado—another fighter plane and classic Jeep engine name.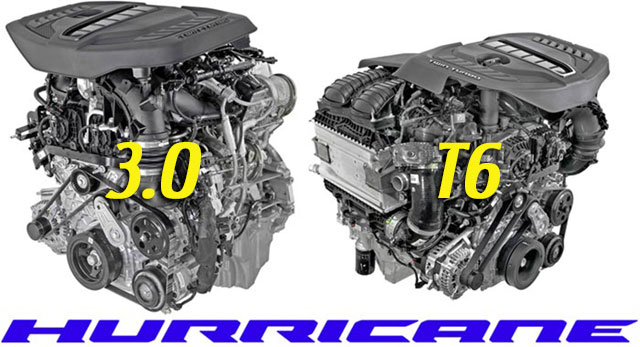 The engine was developed for North American-based vehicles—mainly Ram and Dodge. Maserati is largely relying on Ferrari for its engines, including a 90° V6.
Two variants: standard and high output
There are currently two variants of the engine, standard and high output, with a rumored higher-performance version still unannounced and likely awaiting the next-generation Dodge Challenger, which should be unveiled in 2023. When looking at these numbers, consider that 90% of peak torque is delivered from 2,350 rpm all the way up to redline (this means at least 405 pound-feet of torque by 2,350 rpm). Each of the twin turbochargers feeds three cylinders, and are responsive low-inertia, high-flow designs; the charge air cooler ("intercooler") is a water-to-air deseign with a dedicated cooling circuit.
The power ratings are estimates and actual power may be higher.
|   | Standard | High Ouput | Performance |
| --- | --- | --- | --- |
| Horsepower | 400+ | 500+ | 520? |
| Torque | 450+ | 475+ | 490? |
| Turbochargers | Twin | Twin | Twin |
| Fuel injection | One pump | Twin pumps |   |
| Intercooler water inlets | One inlet | Two inlets |   |
| Fuel | 91 octane* | 91 octane | Premium |
| Compression | 10.4:1 | 9.4:1 |   |
| Redline | 5,800 rpm | 6,100 rpm |   |
| Weight | 430 lb | 441 lb |   |
| Dimensions | 33.4 x 28.7 x 32.7 | 33.9 x 29.0 x 33.4 |   |
| Oil | 0W20 (API SP) | 0W40 (API SP) |   |
| Peak boost | 22.4 | 26 |   |
* Regular may be used with less power, but only on the standard-output version
Common measurements / specifications between the two inline six-cylinder engines:
Bore x Stroke
3.31 x 3.54
Displacement
183 cid
(2.993 liters)
Peak boost
22.4 psi / 26
Oil
7.5 qt (w/filter)
Coolant
16.6 qt high
2.85 qt low*
* The cooling system has a low temperature circuit for the charge air cooler, using an electric pump, and a high temperature circuit with a belt driven pump and low restriction ball-valve thermostat; the turbochargers use an electrically driven after-run pump.
The aluminum block and small displacement compared with the 5.7 and 392 Hemis allows it to have the same or better power output, with 125 pounds less weight. They share bore and cylinder spacing with the 2.0 liter GME.
The twin cam engine provides independent variable valve timing. For durability and heat resistance the exhaust valves are sodium filled. The engine has hydroformed tubular camshafts and roller finger followers with hydraulic lash followers. The block itself is a deep-skirt cast aluminum design with cross-bolted steel main bearing caps. The oil pan is die-cast. The aluminum alloy heads have a pent-roof design, with a forged and twisted steel crankshaft, forged steel connecting rods, and die-cast aluminum alloy pistons with DLC-coated pins. The standard output version has a cast iron top ring land insert. The firing order is 1-5-3-6-2-4.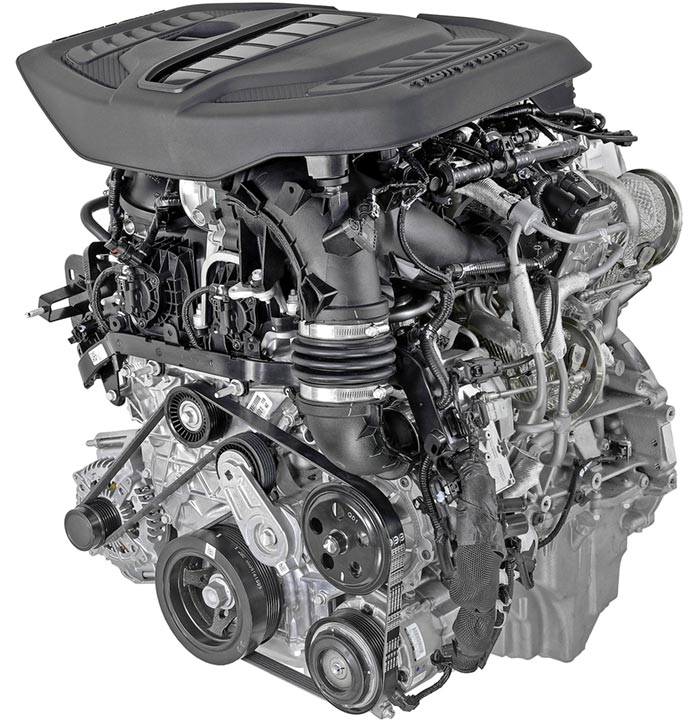 As predicted by Stellpower, Chrysler's GMET6 3.0 liter engine will be produced by the Saltillo Engine Plant; this includes applying the cylinder hardening, using the PTWA process where a steel alloy wire is melted at 2,300°C (4,150°F) inside the cylinder. that sprays steel onto the walls at high velocity, bonding them to the aluminum. The steel is then honed for a fine cross-hatch pattern for oil retention. This process is more compact than iron liners, and leaves more aluminum between the cylinders for heat transfer and cooling.
Fuel pumps are chain-driven, from a dedicated shaft, and run at 350 bar (5,075 psi) with a single fuel rail.
Mechanical losses are reduced with a high-flow ball-valve thermostat and a continuously variable-displacement oil pump with an integrated scavenge stage, to tailor pump output to engine demand. That oil pump is chain driven, using a vane-type pressure stage and single georotor scavenge stage; the engine also has six pressure-activated piston cooling jets and an oil-to-coolant heat exchanger. Stop-start is standard.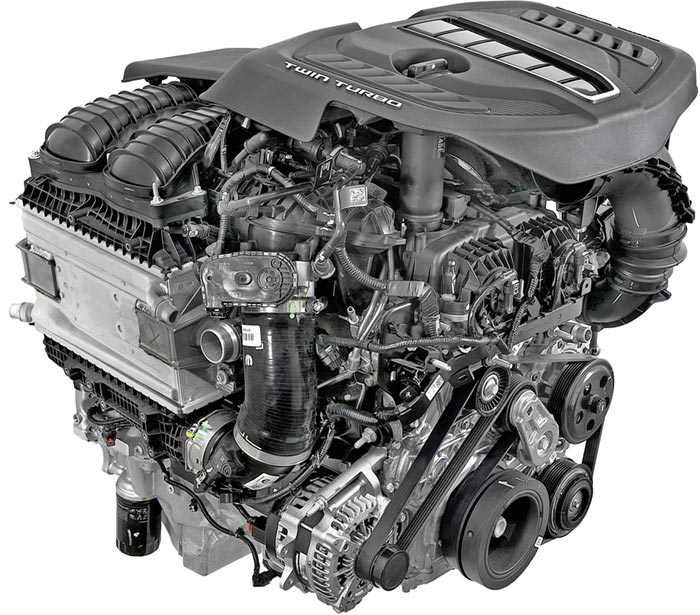 The high output version is optimized for performance and towing, pushing out 500 horsepower with 475 pound-feet of torque compared with the heavier "392" V8's 485 horsepower and 475 pound-feet of torque. Both the 392 and high-output Hurricane require premium fuel, but the Hurricane is "up to 15% more efficient than larger engines," according to Stellantis. Actual power output will vary based on the vehicle.
The first Hurricane engines will be sold this year; production has already begun. 
See the modern Tornado Four — officially, the GME T4.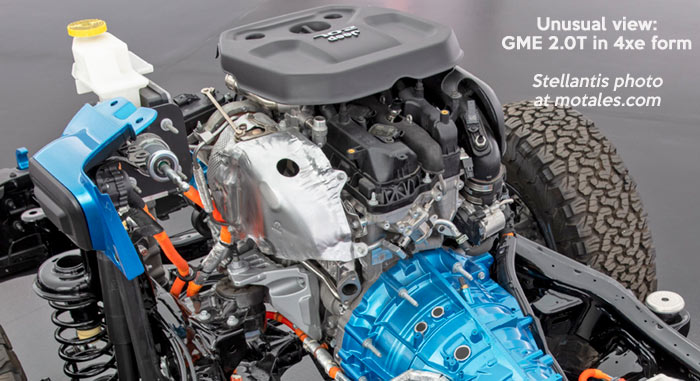 What about the original Jeep Hurricane Six?
The fine book Jeep Wagoneer, Gladiator, Comanche, and Scrambler: Jeep's Go-Anywhere Vehicles tells us that the original Hurricane Four was basically the old Willys Go-Devil engine used in Jeeps for quite some time, but fitted with an F-head to increase output to 72 horsepower and 114 pound-feet. The Go-Devil engine had been quite good for its time, but that time was pre-war, and it was starting to show its age; the Hurricane was needed for the higher expectations of the 1950s.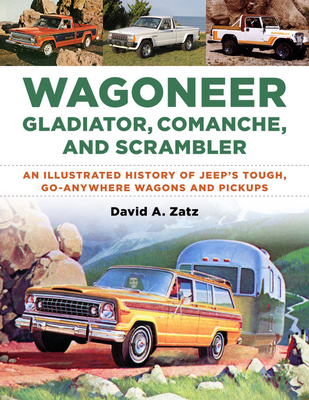 To use the Hurricane Four, Jeep had to raise the hood and grille of the CJ, creating the CJ-3B. Next, for 1954, Jeep launched its 115-horsepower "Super Hurricane"  six-cylinder engine for trucks; this was an L-head in-line six-cylinder.
What is MoTales?
MoTales has new and old stories of Mopars, Chrysler Corporation, FCA US, AMC, and such. Check out the menus at the top of the page to learn new things about how it all happened—and to see notes about current and vintage vehicles and engines.
Current and future
Follow us on Post! It's like Twitter, but without ads or Nazis!
Books by MoTales writer David Zatz
Copyright © 2021-2023 Zatz LLC • Chrysler / Mopar car stories and history.