Chrysler rumor wrap / upcoming models
The latest: New engine (Aug 1-2) and Challenger/Charger BEV/gasoline (7/31)
Chrysler's Canadian plants are being renovated for "electrification"—STLA's word for both hybrids and BEVs. Brampton (Challenger/Charger/300) will shut down at the start of 2024—quite probably without major changes to its products—for renovation. In 2025, Brampton will produce "an all-new, flexible [electrified] architecture." Windsor, the minivan plant, will be renovated in 2024 for STLA Large, "a new multi-energy vehicle (MEV) architecture" that brings "battery-electric (BEV) capability for multiple models" (and also gasoline power). STLA Large will have at least eight vehicles. This suggests more vehicles than are shown below.
Three upcoming events will show new "electrified" cars. Ram may reveal either a BEV Ram 1500 concept or the American ProMaster BEV. Jeep will presumably add 4xe power to another vehicle. Chrysler is not on the schedule but the company has been clear that it has a future with Stellantis—at least through 2030.
Chrysler
In 2022, Christine Feuell said that the first BEV (battery electric) is due in 2025 (or as a 2025), with two more showing up in 2026-27 and an all-BEV line by 2028. She promised at the 2022 New York shwo that the 300 will be updated and continue past 2025.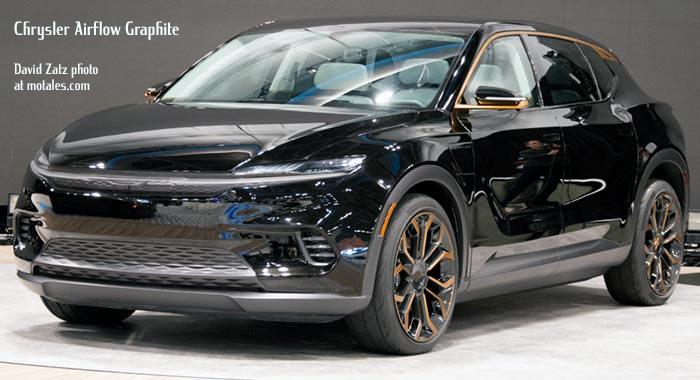 Pacifica: plant retooling runs October-January 2023; we've heard it may go 24 weeks beyond January. Electrified vehicles beyond Pacifica Hybrid were promised to Windsor in the 2020 union agreement, by the 2025 model year. A companion crossover is likely but not the previously predicted American version of the Grand Commander.
Airflow: BEV to start production in 2024 or 2025, sits on STLA Large. The name may or may not stay.
Dodge
2025 Challenger and Charger: A new Challenger was coded LB and was set to be produced with 4xe base engine, Hurricane optional, BEV version. In late July, Motor Authority quoted Dodge spokesperson Dave Elshoff as saying, "...the Charger/Challenger platform and its Hemi (V-8) power go away after 2023. The unnamed replacement will be BEV," he said. (FCA US has renewed its Cuda trademark for vehicle names again)
Our information came from an impeccable source; the only conclusion we can draw is that plans changed, as they do.
August: Dodge announced three new vehicle launches on August 15-17—Current Muscle, Gateway Muscle, and Future Muscle. Current Musc le is likely a "Super Challenger" since many are expecting the old Challenger to go out with a bang—since the Mopar kits allow around 900 warranty-protected horsepower, some figure a 2023 Dodge Challenger Hellcat SRT will top 850 hp; Mopar Insiders said it would be an E85 capable car using the 3-liter Hellephant supercharger with a 6.2 liter block. This may include a Super Charger, so to speak, as well.
The Gateway Muscle is probably the Compass/Tonale-based Hornet, but Stellpower suggested a hybrid using ZF's 8HP transmission, which is designed for hybrids. They suggested it could be a Hurricane hybrid—the top Hurricane engine is currently rated at 510 hp and 500 lb-ft of torque, which puts it in final-Viper turf. Indeed, it's possible this powertrain will be shown without a car.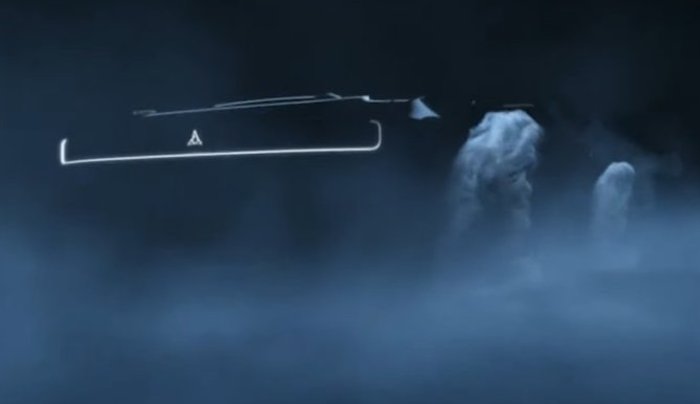 In other news, Belvidere, IL may get STLA Large-based vehicles including a possible Cherokee replacement. Full EVs are likely to be made in Brampton. The next generation is due for model-year 2024, and Belvidere is likely ending Cherokee production midyear in 2023. (Brampton cannot handle tall vehicles, Belvidere can, but this may change during the renovation.)
For the BEV large cars, Stellantis targeted a top 0-60 mph acceleration of under 2.0 seconds, with a 500 mile range. They may follow the Hyundai Ioniq 5 model, where one model has two driven wheels and a longer range, while the other is much faster and AWD, but with a shorter range (in Hyundai's case, the difference is less than 50 miles).
New Dodge Hornet, based on Compass-based Alfa Romeo Tonale, is due for an August 2022 unveiling as a plugin hybrid, but perhaps downtuned from Tonale a little, and perhaps even running on regular gas. Actual cars may not arrive until 2023.
Durango is now expected to be based on the Wagoneer, focusing on towing. Similar basic body, stripped of the luxury. Unlikely to have the 392 V8; likely to have at least the standard output Hurricane.
Ram
Ram pickups to be freshened in 2023; one update will be a 12-inch customizable gauge cluster. A BEV is slated for 2024 with two teasers. Actual redesigns of the 2500 and 3500 are still years off but will include hydrogen versions.
The Hurricane Six almost certain for the Ram 1500, 2500, and 3500. A hydrogen version of the Cummins 6.7 liter diesel engine may be used on the Ram 2500-3500 and chassis cab series; it might be ready by 2024 or 2025. They may use fuel cells instead.
The ProMaster gets a BEV version in 2023; ProMaster City likely too as well since it's needed for Europe. ProMaster City will be redesigned for 2024 and that's when the 2.4 engine is likely to gasp its last breath. 1.3T production has to go up first. There may be a hydrogen fuel cell version of the ProMaster eventually, using Peugeot's swap-power technology.
A Mitsu L200/Ram 1200 replacement is being developed; this may be key to spreading Ram through the rest of the world. Whether the existing Peugeot compact truck goes further is an open question. FCA US trademarked "Dakota" and has been talking about a midsized pickup for a while—but allowed the Dakota trademark to lapse in October 2021, suggesting that a replacement, if sold in the US, won't carry the same name.
Ram 1500 BEV detail
Stellantis claimed:
They will have a "no-compromise" solution meant for truck use, not drag racing. Range, towing, and payload are being maximized. 0-60 will likely not be in under five seconds. (Ford has a 10,000 pound tow rating on their BEV F-150.)
Tech features include onboard power, charge station locator, range estimates, trip energy predictions, and several drive modes
The battery will be anywhere from 159 to 200 kWh with a top (optional) 500 mile range and fast charging up to 150 kWh. Rivian's batteries are 105-180 kWh with range of 230-400 miles on a smaller pickup.
Ram 2500-5500 "Low Carbon Fuels"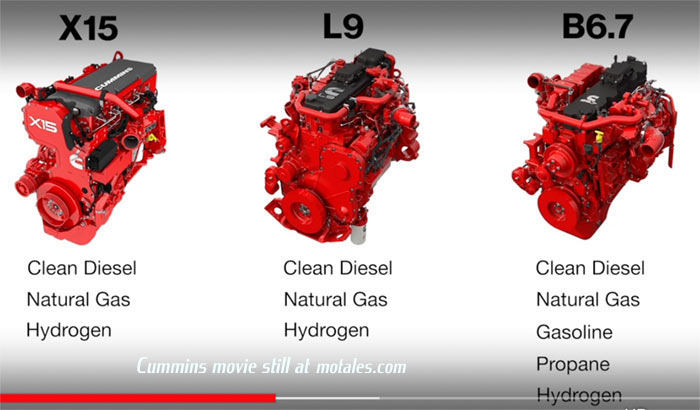 Cummins is reworking its B-engine family to adapt it to natural gas, propane, gasoline, or hydrogen; and Ram uses the 6.7 liter B-engine in its Ram 2500 to 5500 series trucks. This move could help end payments for fuel-economy credits to Tesla, because it makes hydrogen, propane, and natural gas powered trucks easier to produce and service. Cummins' plan is to try to keep as many parts as possible the same below the head gasket, changing fuel delivery systems and such as needed; and Cummins plans to deliver full systems, including fuel storage, injection, and such, easing the investment demands on Ram itself. Ram is not guaranteed to buy the engines, which should start appearing in 2024; but they do have hydrogen as a solution for heavy duty pickups in their long-term plans. Of note, this is not a fuel cell system but a hydrogen internal combustion engine.
Jeep
Renegade is due to be replaced with a completely new vehicle going first to Fiat, around 2024. "The vehicle maybe to be known as Jeepster" will slot in underneath the Renegade in Europe and India; it's around 16 inches shorter in length, runs a little Peugeot engine, the Peugeot BEV system, or a Peugeot hybrid powertrain, and may only have AWD in hybrid and/or BEV form. This vehicle will sit on Peugeot's CMP, along with (we think) the future Fiat Panda and an Alfa Romeo whose name hasn't been released yet.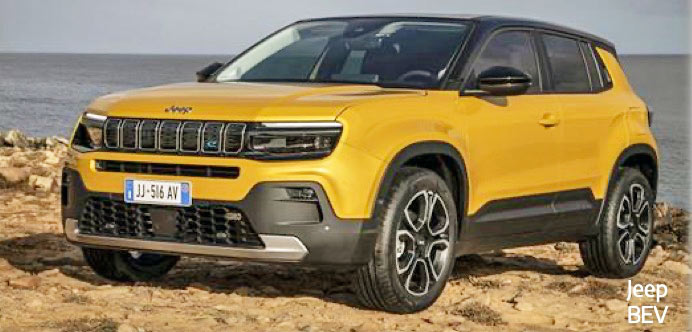 Cherokee ending mid-2023; Compass, which is moving to a new platform, might grow to replace it instead of being almost the same size as the Renegade. If a new version is indeed made, it may share with the Dodge Dakota and be built in Mexico. Regardless, Compass is certain to drop the 2.4 liter engines, possibly late in 2023, possibly in 2025 when the new 1.6 is out.
Grand Cherokee: Jim Morrison, head of Jeep, said a 392 engine was unlikely to return, and Trackhawk badge might be dropped. Hurricane seems very likely. Full BEV seems likely. 4xe four cylinder hybrid is already here and seems to be a critical success.
Wagoneer is new-ish; Wagoneer L just launched at NYC in April 2022; Hurricane 510 (hp) is standard on Grand Wagoneer L.
A new BEV, we believe the size of the Renegade, is due in 2023. Compass redesign due for 2024.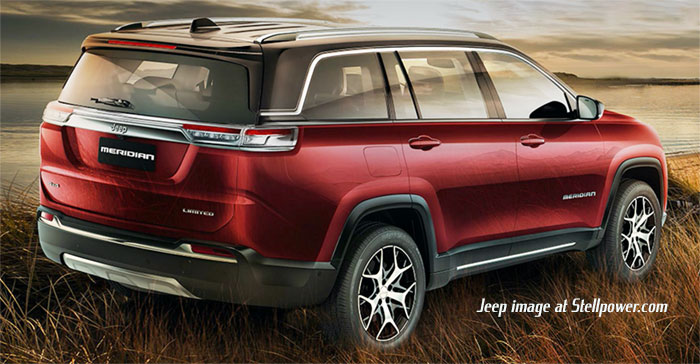 The Jeep Meridian (pictured above) is an upscale, extended-wheelbase version of the Compass for India and other countries—possibly not the US or Canada, though it might be sold there under a different badge (or even as a Jeep if it's really as tough as Indian reviews suggest).
Wrangler has a few years left till its planned 2027 redesign in spite of a great deal of new competition—both real (Bronco) and planned (VW's new Scout brand). A Gladiator 392 is unlikely due to relatively low sales of Gladiator vs Wrangler. Hurricane might be possible as a 392 replacement. If nothing else, Bronco and Scout may push Jeep to be more capable off-road—and perhaps to have an independent front suspension on all but one or two trim lines. (Jeep had an optional IFS on the original Wagoneer.)
Platforms and engines
Platforms: STLA Small, Medium, Large, and Frame. Frame is for pickups, Wagoneers, and possibly Durangos. Alfa Romeo is moving the Giulia and Stelvio to Medium around 2025-2027. A large number of new Larges is expected around 2024-25.
Engines: 1.3T GSE; 1.5T GSE is probably Hornet-only; 2.0 GME likely replacing Pentastar around 2025; Hurricane Six likely replacing Hemi in 2024-26; Tigershark 2.4 and 3.2 dying in mid-2023. Hellcat and 392 might stick around into 2024; 6.4 truck version of 392 may continue beyond.
A 1.6 liter turbocharged engine for use with hybrid powerplants was announced in August 2022; it will definitely be based on the Peugeot EP6 series. The existing EP6CDTX has 201 hp and 203 lb-ft with a twin-scroll turbo and direct injection; a hybrid version pumps out 296 hp. A new version, likely to have even more letters in the name, will include an updated hybrid-electric system and transmission. We can speculate it would replace the 2.4, though it's a large jump in power, and possibly also sit in for the Pentastar V6. As you can see in the chart below, the 2.0 4xe system is a fine replacement for the Hemi V8, while the plain 2.0T can replace the Pentastar.
| Old | HP | Torque | New | HP | Torque |
| --- | --- | --- | --- | --- | --- |
| 2.4 | 184 | 177 | 1.3T | 177 | 200 |
| 3.6 | 305 | 269 | 2.0T | 270 | 295 |
| 2.4+3.6 | ↑ | ↑ | 1.6T | 180-300? | TBD |
| 5.7 | 395 | 410 | 4xe | 375 | 470 |
| 3.0D | 240 | 420 | 4xe | 375 | 470 |
| 5.7 | 395 | 410 | 3.0T | 420 | 468 |
| 6.4 | 485 | 475 | 3.0T | 510 | 500 |
| 6.2S | 797 | 707 |   |   |   |
The chart above shows the best power from each outgoing engine (the 3.6, 3.0 diesel, and 5.7 Hemi are all taken from the Ram 1500; the Hemi was rated at 375 hp and 410 lb-ft of torque in the Challenger with manual transmission and 372/400 in the Challenger automatic, for example). The Hellcat (6.2S) comes in 707 and 797 horsepower flavors, but an extra-high-power final version is expected to beat even the Demon.
The peak torque range of the new turbocharged engines is usually higher than in the models they replace. As an example, replacing the Pentastar with the 2.0T looks foolish on paper, but the usable torque of the 2.0T is stronger, and the engine is much quicker, in the same vehicle, than the V6 was.
Both the 4xe setup, which is a plug-in hybrid, and the 3.0 liter Hurricane straight-six clobber the old Hemi in torque; with the 4xe, electric assist is strongest where gasoline engines are weakest. The 4xe is more responsive, and in the Wrangler, it comes close to the 6.4 Hemi in acceleration.
The Hellcat is the toughest act to beat. The Hurricane currently tops out at 510 hp, 500 lb-ft, though a higher performance model was teased. Still, topping the Hellcat might require electric motors. Dodge is unlikely to settle for lower acceleration.
All of the newer engines increase the gas mileage of the vehicles they are in by a good margin, saving money for both the driver and for Stellantis, which has to pay hefty sums for fuel-economy credits each year.  
More current / future cars and factories

Ram ProMaster Commercial Van
Following the only large front-drive commercial van from 2014 to the present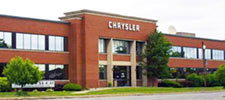 Mopar plants: rumors, what they make, and what they made
May 24, 2022 update

Chrysler rumor wrap / upcoming models
Aug. 3 update

Renegade: Fiat-based Jeeps
Oddly capable little crossovers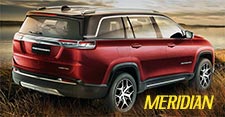 Meridian: Lux Compass with Three Rows
Sorry, it's only in India so far

GSE 1.3 Turbo
Modern "Firefly" Four-Cylinder
Please comment if you have updates!
Books by MoTales writer David Zatz
This site is copyrighted © 2021-2022 Zatz LLC and is meant to cover Chrysler / Mopar car history.