2025 Ram 1500 Ramcharger: Range-Extended Electric Pickup Truck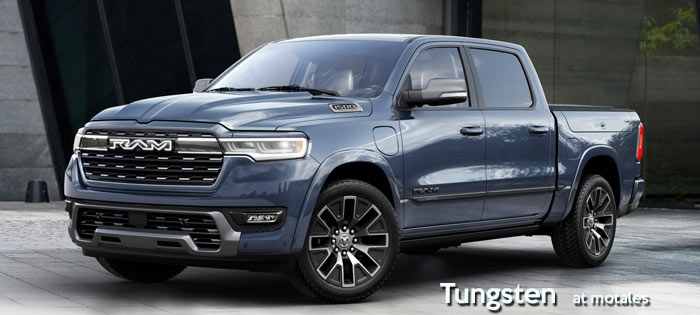 The 2025 Ram 1500 Ramcharger is one of the world's longest-ranged electric vehicles, able to run up to 690 miles. The Ramcharger can tow 14,000 pounds, or, with its 663 horsepower, 615 lb.-ft powertrain, run a 4.4-second 0-60 mph. It is entirely electrically powered in terms of motion; its 92-kWh battery pack drives electric drive modules, 250 kW in front and 238 kW in back. A Pentastar V6 engine, probably running on the Atkinson cycle as it does in the Pacifica PHEV, can power a 130 kW on-board generator to lengthen the truck's range—or provide up to 7,200 watts of power via a bed outlet.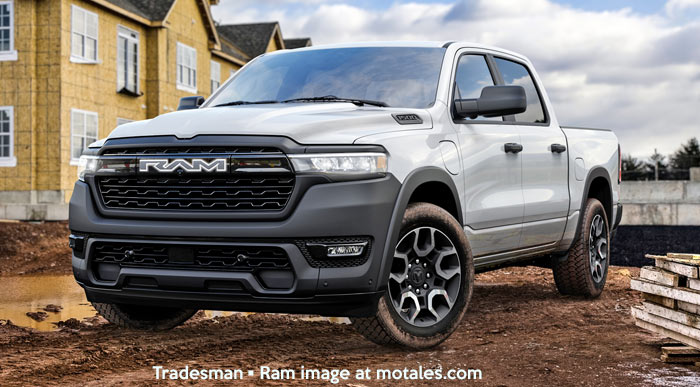 The best-in-class 14,000 pounds of towing requires a Class 5 hitch and tow package; the maximum payload capacity is also best in class, 2,625 pounds.
The Ramcharger is not just one package: it is sold in Tradesman, Big Horn, Laramie, Limited, and Tungsten trim.
Powertrain
The electric drive modules, or EDMs, combine a motor, gearbox, and inverter; the pair of EDMs provide all wheel drive. The 2025 Ram 1500 Ramcharger's front EDM has an automatic wheel-end disconnect that allows the front wheels to spin freely in certain conditions, maximizing efficiency. The rear EDM has an optional electronic locking rear differential. Both EDMs are mounted on axles.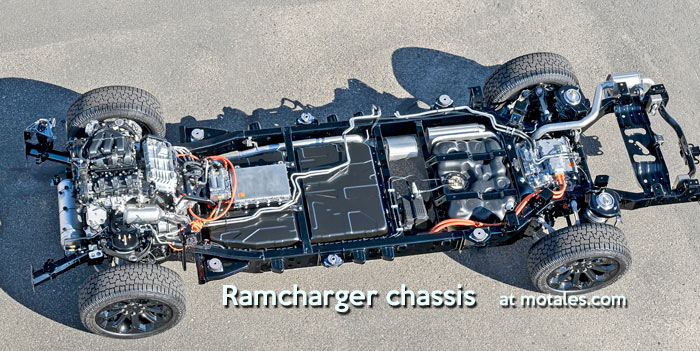 When the battery is low, power flows from the Pentastar V-6 engine to the on-board 130-kW generator, which charges the battery or goes straight to a high-voltage bus where it can power the EDMs. The motors can, in short, use both the generator's and the battery's electrical power at once, making the truck a serial hybrid (like a diesel locomotive). There is no direct mechanical path from the engine to the wheels.
The Pentastar V6 gasoline engine was likely chosen over the 2.0 liter four-cylinder to reduce noise and cost and because it's easily adapted to Atkinson cycles (heat and the size of the turbo system may have been factors), and has more availability. It has special packaging to make room for the front drive module. The generator mounts directly to the engine; a power inverter module is connected to the body. While the 2023 V6 with a 33 gallon tank can go further than 692 miles, this vehicle likely has a much smaller fuel tank.
The liquid-cooled 92-kWh battery pack has a pouch cell format in a parallel configuration; it is under the floor, in the center of the truck, allowing for a flat floor above. 400VDC fast recharging adds up to 50 miles of electric range in around ten minutes with 400-volt DC fast at up to 145 kW.
Body
The 2025 Ram 1500 is the first vehicle using STLA Frame, which was designed to allow for body-on-frame electric and gasoline vehicles. The new high-strength steel frame is lightweight but stiff and durable; it widens in the middle to include and protect the battery pack.
Given that this is a Ram 1500, it has a multi-link independent rear suspension with a standard active-leveling four-corner air suspension, unique in the class. The air suspension has five modes: entry/exit, aero, normal, off-road 1 and off-road 2.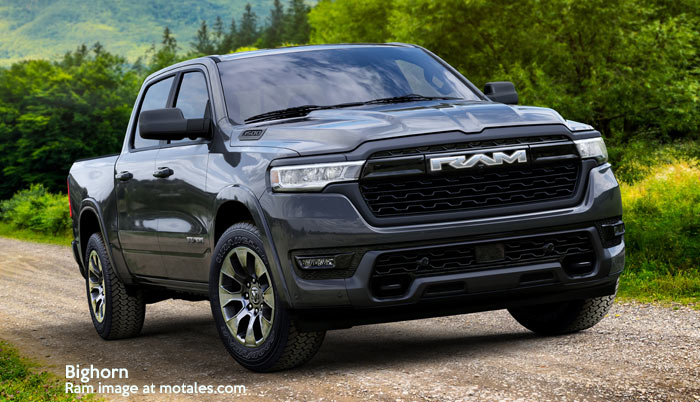 The Ram 1500 Ramcharger's truck bed is about the same as the gasoline-powered counterpart's; it can carry plywood and drywall with ease. The 2025 Ram 1500 Ramcharger has the best lockable bed storage in the segment with RamBox, along with a 115-volt outlet. RamBox is illuminated, highly versatile, weatherproof, and lockable, and includes drain plugs on the bottom of the storage bins.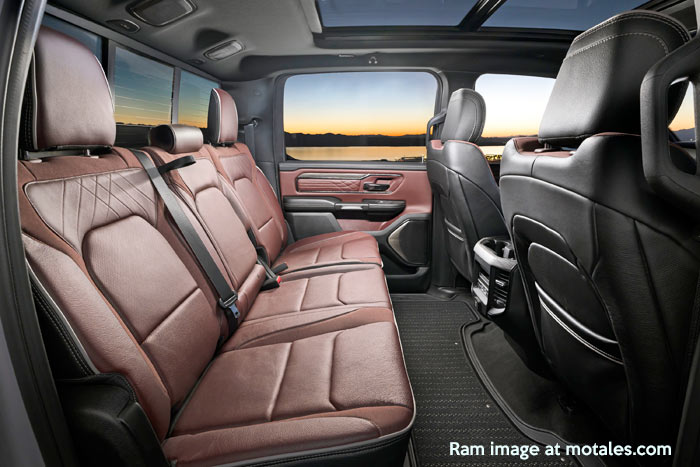 Inside, the team used premium textures and materials and tried to provide unexpected luxury and functionality. Materials include carbon fiber, metal, and leather.
Technology
Autonomous systems allow Hands-free Highway Assist (L2+) with hands-off driving at all speeds and lane centering on approved roadways. The system will predictively slow the vehicle down in tight curves, resume control after driver override, and verify that the driver is paying attention. Autonomous parallel and perpendicular parking assist are optional. Both system use radars and cameras together to avoid problems.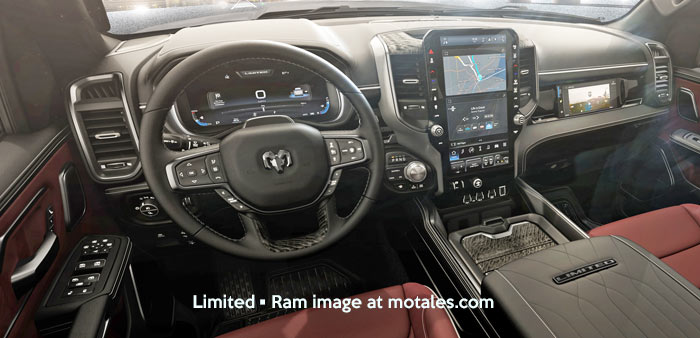 Technology include Uconnect 5 with an optional 14.5-inch touchscreen, 12.3-inch digital instrument cluster, segment-first 10.25-inch passenger screen, digital rearview mirror, Head-up Display (HUD), and a Klipsch Reference Premiere audio system. (Some of these are optional.) The 1,228-watt Klipsch system is standard on the top Tungsten model; it is the most powerful factory sound system in a truck, and the first automotive Klipsch system—and the only P4 audio system available in a pickup truck. It uses 23 tuned speakers, including a 12-inch subwoofer and two 1-inch titanium dome tweeters.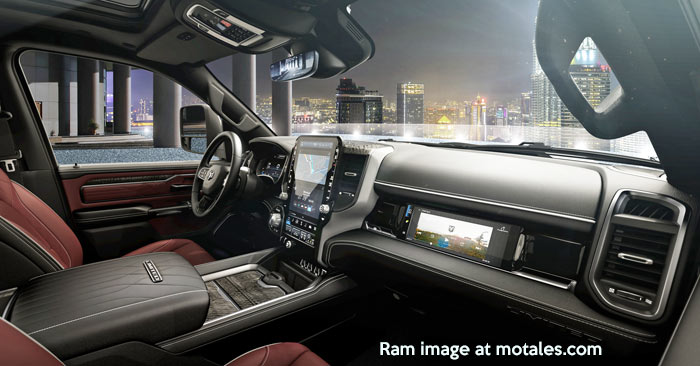 The e-shifter has P/R/N/D functions with buttons for eco mode, e-save and electric+; buttons for normal and one-pedal-driving regeneration; a push-button trailer steering knob; and an accessory switch bank that, when paired with the 14.5-inch touchscreen, uses buttons both on the bottom of the touchscreen and directly off screen below.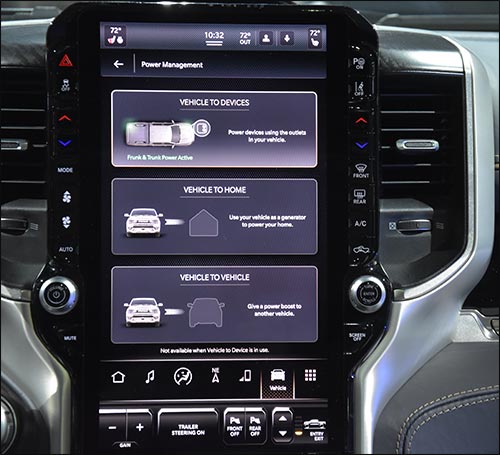 From Ram 1500 REV
The 2025 Ram 1500 Ramcharger has five dynamic modes (Auto, Sport, Tow, Snow, and Off-road) which separately control the drive system, accelerator response, regeneration level, suspension, and steering.
Details
The two center touch screens are 12-inch and 14.-5 inch; they are both reconfigurable, with split-screen capability to run two applications at once. They have Full Array Local Dimming technology for a higher contrast ratio. The passenger screen provides a co-pilot feature (navigation and device management), HDMI entertainment, and viewing of the car's cameras.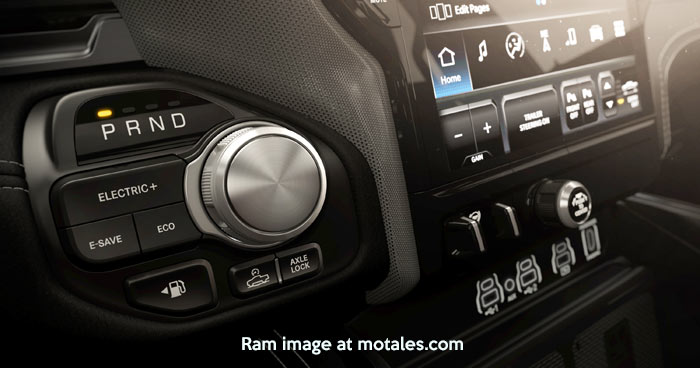 The EV screen can show power flow (in kW), range impact, regeneration, driving history with bar charts in current, weekly, two-week, and four-week intervals, charge schedules, and a choice of 80% charge for daily use while preserving the battery or 100% for long-distance.
The 2025 Ram 1500 Ramcharger HUD is in full color and can go up to 10 inches; it can show several things at once, including Lane Departure, Lane Keep Assist, adaptive cruise control, turn-by-turn navigation, current speed, current gear and speed limit. All HUD settings can be personalized and saved within the driver profiles.
Styling
Styling brings together themes from the Ram 1500 gas-powered truck and the Ram 1500 REV electric vehicle. A large, forward-leaning grille has subtle styling differences. The Ram 1500 Ramcharger uses a body-color front fascia to differentiate it from the rest of the light-duty lineup.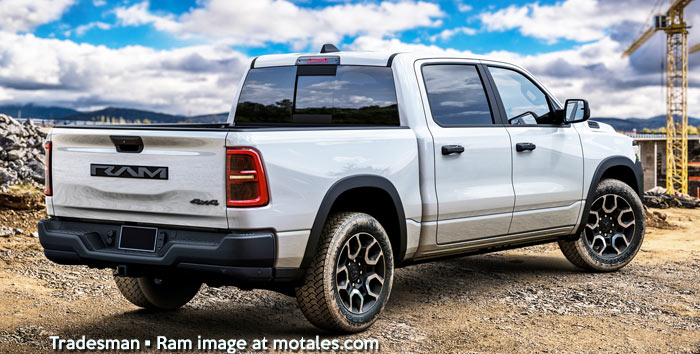 A drawn body-side character line stretches from front to rear, tying together the front fender, cab doors and bed fenders for a consistent horizontal profile. The bed and cab are sub-flush to reduce aerodynamic disturbances. The charge port has been thoughtfully placed on the driver's side front quarter panel and, when plugged in, the R-A-M badge pulsates to indicate the charging status. An audible sound signals the Ram 1500 Ramcharger is plugged in and charging has begun. The charge port features Level 1 and Level 2 AC charging on the top half and DC fast charging on the bottom half of the charger.
A new power tailgate and a new R-A-M badge are joined in back with EV-specific LED taillights that spans onto the tailgate.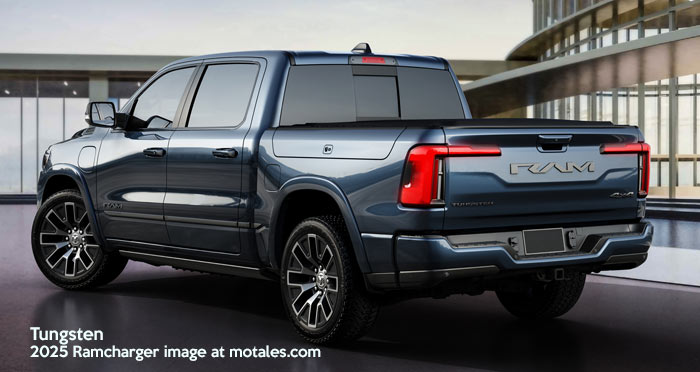 We are going to quote to end this story, rather than having to read the description of the top-end Tungsten model:
[The] Tungsten's Indigo/Sea Salt interior includes new platinum patina/semi-bright dual-textured metal accents, featuring diamond knurling, suede-wrapped headliner, A- and B-pillars and visors, and heated and ventilated premium quilted Natura Plus leather driver and front passenger seats with 24-way power, including memory settings and a massage function, power lumbar support and four-way powered headrests. Other features that give Tungsten a well-crafted, high-quality feel and appearance include a Tungsten badge on the center console featuring inlaid metal lettering and diamond knurling, which also proudly displays the vehicle identification number or VIN, brushed platinum patina aluminum litho bezels, a unique crystal-effect shifter center cap, an ultra-premium Klipsch Reference Premiere audio system with 23 speakers, all-new dual wireless chargers and a metal pedal kit.
Also see Ram 1500 REV.
Current and future
Follow us on Post! It's like Twitter, but without ads or Nazis!
Books by MoTales writer David Zatz
Copyright © 2021-2023 Zatz LLC • Chrysler / Mopar car stories and history.