Mopar engine and powertrain rumors
(As of November 10, 2023 •  See car/truck rumors)
Ram 2500-5500
Cummins' B-engine family will work with natural gas, propane, gasoline, or hydrogen by adapting the entire top of the engine. Ram uses the 6.7 liter B-engine in its Ram 2500 to 5500. The engines should start appearing in 2024, and Ram has hydrogen as a solution for heavy duty pickups in their long-term plans. Ram using Cummins hydrogen engines rather than fuel cells is still speculation.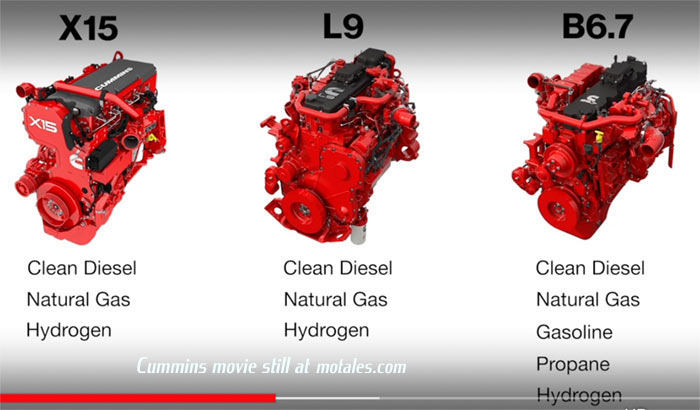 Fuel cells are still a more likely path for Ram to follow with the 2500, 3500, and so forth. Peugeot has a good deal of hydrogen fuel cell technology to share. The company also has pure-electric-with-range-extenders on tap.
V8s vs Hurricanes
There are persistent rumors at one particular site about V8 engines, but Hurricanes are a known-definite, and there's no mentions of V8 parts in the union agreements. There is likely to be another Hurricane line at some point, and Indiana will be making more Hurricane parts. The straight six provides more power than current Hemi V8s (Hellcat excluded) with 10% better economy, and as a hybrid could likely run with Hellcats. STLA is unlikely to return to V8s for cars and crossovers, given fuel economy concerns and their desire to avoid subsidizing Tesla any more—especially since they compete head to head in Europe and other parts of the world.
Stellpower suggested a hybrid using ZF's 8HP transmission and the Hurricane Six—the top Hurricane engine is currently rated at 510 hp and 500 lb-ft of torque, which puts it in final-Viper turf (the Viper's main advantages were boundless low-end torque and lighter weight). The work put into the E85 Hellcat Demon 170 suggests that new technologies for the Hurricane engine; the Demon 170 is a 1,025 horsepower monster with production up to 3,300.
Dodge Durango will continue as a police car almost unchanged in the 2024 model year with Hurricane engines replacing Hemis in the 2025s.
The Hellcat-powered Ram TRX is having its final run, but rumors from various places, supported by spy videos and photos, show a Hellcat-powered Ram TRX to replace it.
Not all BEV!
There will be a new Charger and possibly a Challenger with a choice of full-BEV or gasoline engines, with or without a hybrid setup, made from the same body. The electric version will have a "frunk" with some power or computer equipment lining the sides, hidden behind removeable dividers. Reportedly the car has entered the advanced tooling stages. There is a small chance that updated Hemi power will be one of the options.
BEVs
Top range battery-electric cars will have automatic transmissions, unlike many electrics out there. The company has a faux automatic technology and might be able to license Toyota's reportedly impressive faux manual transmissions, too.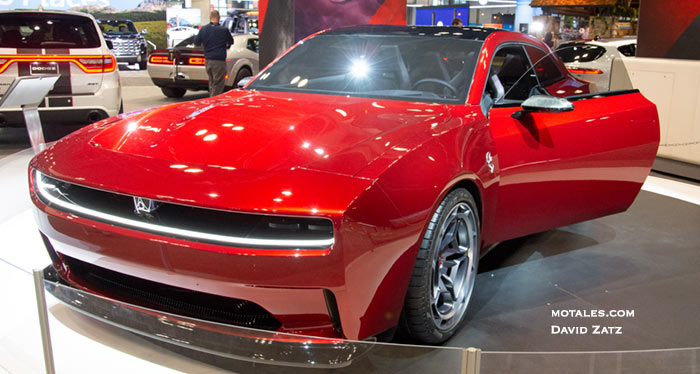 Stellantis targeted a top 0-60 mph acceleration of under 2.0 seconds for its large battery powered cars, with up to a 500 mile range. One approach is a single-motor RWD model and a dual-motor, 500-mile-range AWD model. The Charger Daytona, at least, will have a multi-speed transmission; the company also has a "multi-speed transmission emulator" system for single-speed BEV transmissions.
Solid state batteries may improve range and weight figures in the 2027 models.
The Ram 1500 REV is the BEV version of the popular pickup—we have the full story on this 14,000-pound-towing serious work truck, with interior and exterior pics. A range-extended version with 690 mile capacity is to be sold soon as the Ramcharger. This powertrain will also be adapted for the Wagoneer around 2025.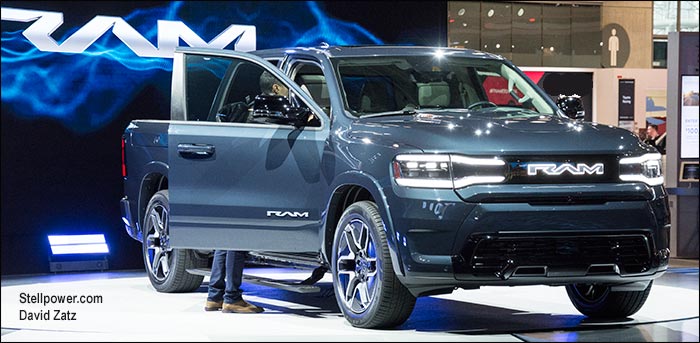 ProMaster gets a BEV in 2023. In Europe, all three van series are being refreshed, and second-generation battery-electric technology is being adopted by the end of 2023. There's an open question on ProMaster City (dropped in 2023) and a new platform ProMaster. There may be a hydrogen fuel cell version of the ProMaster eventually, using Peugeot's swap-power technology.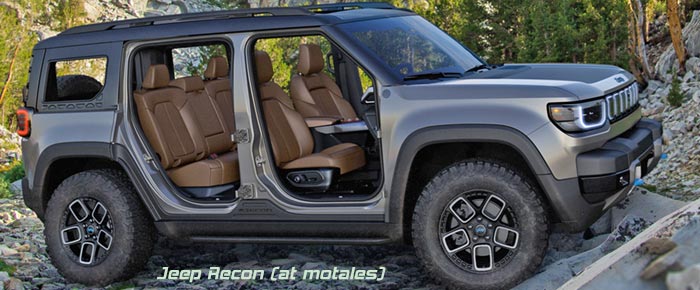 The Wagoneer S and Recon, again, will both be sold entirely as BEVs. The Wagoneer S target range is 400 miles, with target power of 600 hp, and a 0-60 time of 3.5 seconds. Production versions of both vehicles will be shown next year and production will start in 2024, probably in Canada.
STLA Medium
STLA Medium covers compact and midsize cars and crossovers (C and D), with sizes that would include the Renegade, Cherokee, and even the original Plymouth Duster. It is based on Peugeot e-VMP and has FWD or AWD forms, the latter using a second electric drive unit in the rear. STLA Medium Mopars will be made in Brampton.
Output ranges from 215 to 382 hp. Range runs from around 310 miles with (435 with the Performance Pack), using the optimistic EU test procedure. Batteries will be 87 kWh or 98 kWh (the latter optional), with a 400V power system. Efficiency may be better than 14 kWh/100 km; charging can go from 20% to 80% in 27 minutes.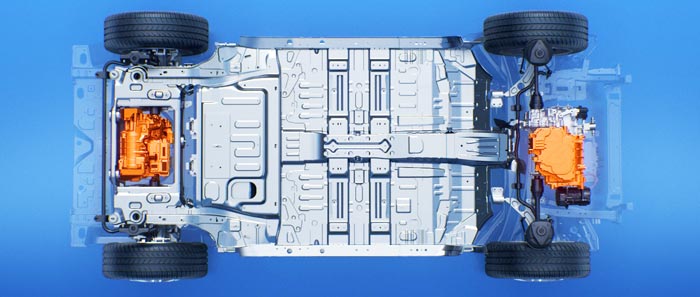 The single-layer battery pack maximizes interior space, ride, and handling (low center of gravity); standard and performance packs share dimensions and cooling designs. Secondary systems such as HVAC were engineered to reduce energy use. There will be just three drive modules shared by all the various forms of vehicles. STLA Medium has provisions for future battery chemistries, as well as the one it will use at launch; like all serious automakers, Stellantis has invested in several different battery chemistry technologies.
From an excellent French-publication (Largus) article: Medium may only be BEV or "Prince" 1.6 liter turbo four-cylinder PHEV in the United States. Battery power is to range from 218 to 388 hp. In Europe a 1.2 engine will also be used. It's possible other engines will be optional e.g. the 2.0.
Engines (ICE)
The future engine list: 1.3T GSE; 2.0 GME; 2.0 Hurricane 4; 3.6 Pentastar for a while; Hurricane Six; Peugeot 1.6. Already gone: Tigershark 2.4 and 3.2. Dropping soon: Hellcat, other Hemis but not necessarily all at once. Dodge Fleet confirmed that the Hurricane Six was engineered to work with hybrid systems. An extra Hurricane Six line is likely to end up at Trenton Engine.
A 1.6 liter turbocharged engine for hybrid powerplants was announced in August 2022; it will be based on the Peugeot EP6 series. The current EP6CDTX has 201 hp and 203 lb-ft with a twin-scroll turbo and direct injection; a hybrid version pumps out 296 hp. A new version, likely to have even more letters in the name, will include an updated hybrid-electric system and transmission.
The 2.0 4xe system is a fine replacement for the 5.7 Hemi V8, while the plain 2.0T can replace the Pentastar. (2.0H and 1.3H are hybrids, but both are also turbocharged.) A new 2.0 engine is slated to enter production at the Dundee plant, which is also to make the new Peugeot 1.6. The 2.0 has nothing in common with the Peugeot engine, and apparently shares very few parts with the GME 2.0 series. One major difference might be the use of plasma cylinder coating rather than iron sleeve liners.
| Old | HP | Torque | New | HP | Torque |
| --- | --- | --- | --- | --- | --- |
| 2.4 | 184 | 177 | 1.3T | 177 | 200 |
| 3.6 | 305 | 269 | 1.3H | 288 | 383 |
| ↑ | ↑ | ↑ | 2.0T | 268-270 | 295 |
| 2.4+3.6 | ↑ | ↑ | 1.6T | 180-300? | ? |
| 5.7 | 395 | 410 | 2.0H | 375 | 470 |
|   |   |   | 3.0T | 420 | 468 |
| 3.0D | 240 | 420 | 2.0H | 375 | 470 |
| 6.4 | 485 | 475 | 3.0T | 510 | 500 |
| 6.2S | 797 | 707 | 3.0TH | >520 | >520 |
The chart above shows the best power from each outgoing engine (the 3.6, 3.0 diesel, and 5.7 Hemi are all taken from the Ram 1500; the Hemi was rated at 375 hp and 410 lb-ft of torque in the Challenger with manual transmission and 372/400 in the Challenger automatic). The Hellcat (6.2S) comes in 707 and 797 horsepower flavors, but an extra-high-power final version with electric motor assistance is expected to beat even the Demon. There's nothing yet on the new 2.0, and the Pentastar will be continuing for a while.
This chart shows our speculation of where each engine is going.
| Engine | Medium | Large | Frame |
| --- | --- | --- | --- |
| 1.3T | X |   |   |
| 1.3T/H | X |   |   |
| 1.6 PSA | X | | |
| 2.0 "4xe" | X | X | X |
| 2.0 "H4" | X |   |   |
| 3.6 |   | X | X |
| 3.0 TT |   | X | X |
The peak torque range of the new engines is higher than in the models they replace. As an example, replacing the Pentastar with the 2.0T looks foolish on paper, but the usable torque of the 2.0T is stronger, and the engine is much quicker, in the same vehicle, than the V6 was.
Both the 4xe plug-in hybrid and Hurricane I-6 clobber the old Hemi in torque; with the 4xe, electric assist is strongest where gasoline engines are weakest. The 4xe is more responsive, and in the Wrangler, it comes close to the 6.4 Hemi in acceleration.
The Hellcat is the toughest act to beat. The Hurricane tops out at 510 hp, 500 lb-ft. Topping or matching the Hellcat might require electric motors and ligher car bodies. Dodge is unlikely to settle for lower acceleration.
Hemi engines were supposed to be phased out by the end of 2024, but whether this happens or not is a good question. They remain a selling point for Ram but are almost certainly gone from Dodge.
All of the newer engines increase the gas mileage of the vehicles they are in by a good margin, saving money for both the driver and for Stellantis, which has to pay hefty sums for fuel-economy credits each year. 
More current / future cars and factories
Future / upcoming cars, trucks and crossovers (rumors)

Ram ProMaster Commercial Van
Following the only large front-drive commercial van from 2014 to the present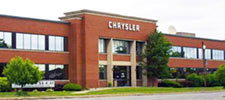 Mopar plants: rumors, what they make, and what they made
September 21, 2023 update including proposed closings, sales

Chrysler rumor wrap / upcoming cars and trucks
10-30-23 update

Renegade: Fiat-based Jeeps
Oddly capable little crossovers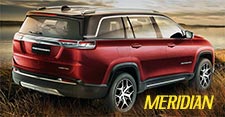 Meridian: Lux Compass with Three Rows
Sorry, it's only in India so far

GSE 1.3 Turbo
Modern "Firefly" Four-Cylinder
Please comment if you have updates!
Current and future
Follow us on Post! It's like Twitter, but without ads or Nazis!
Books by MoTales writer David Zatz
Copyright © 2021-2023 Zatz LLC • Chrysler / Mopar car stories and history.