Getting parts for your Mopars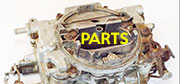 There are many good places to get parts for your Mopars, other than your dealer—which likely rakes in as much profit from parts as they can, from a largely captive audience. This is a list we've assembled which includes discount dealer parts, the aftermarket, and even used parts from wrecking yards. We try to keep it up to date, but keep in mind we are not endorsing any of these links or dealers or stores, nor do we get profit from them. We come to list Caesar, not endorse him.
We do not get affiliate payments from any of these sources. We have no business relationship with them.
Dealers: authorized Mopar parts, at a discount
Few Mopar dealers consider parts sales to be a primary business, so they tend to have poorly designed, slow, and confusing web sites, with high restock fees and high shipping rates. Many parts can't be returned at all. Pricing is usually 20% below list but can vary rather dramatically. Sometimes the same dealers sell the same part on ebay or Wal-Mart.com with free shipping and lower prices.
We R Mopar: Cheaper than usual shipping, 20% restock fee.
Mopar Parts Giant: claims up to 40% off but I haven't seen that item yet. Customer pays shipping on returns if they are non-defective items; they "work with you" on defective items. The 20% restock fee may be waived in some cases.
MyMoparParts: claims up to 40% off. Garland, Texas dealership. No returns of electrical or installed parts; 20% restocking fee. Cancellations of special-ordered parts carry a 15% fee.
MoparAmerica: North Carolina dealership. 20% restocking fee. Damaged parts or packaging cannot be returned. No refunds on electrical, catalytic converters, vintage, or special order parts. No refunds on parts ordered without your VIN.
Koller Dodge / Pomoco: appears to have left the parts business
Coming soon: comparison chart.
Manuals and tools
Tech Authority has official Mopar manuals and training materials for current and vintage cars.
Troxel's sells manuals, paint guides, and other materials
Mopar Essentials sells Mopar-specific tools
Recycling depots (junkyards)
Global recyclers
Obselete Auto Parts, Australia
Jürgen Roterberg (Germany) with 30,000 parts
The Old Cave parts and spares, Argentina, ships globally
Hissjö, Sweden
South-West Automatics (stock or race-ready Mopar transmissions and parts), Australia
General parts, and paint
RockAuto has a massive catalog, and often has discontinued parts at very low prices; buy multiple items from the same warehouse to save money; good returns policy and history
AutoAccessories Garage - like the old J.C. Whitney
Commons Auto Parts in South San Francisco. (650) 583 1242 - lots of Mopar parts.
Body parts and lighting (especially for restoration)
Restoriation and specialty items
Performance parts
Follow us on Post! It's like Twitter, but without ads or Nazis!
Books by MoTales writer David Zatz
Copyright © 2021-2023 Zatz LLC • Chrysler / Mopar car stories and history.