Changes in the 2023 Mopars
In the past, Chrysler tended to release all its model-year changes at once; for the 2023 model year, though, Jeep has issued 2023 updates at random intervals, Dodge has been saving up special editings and releasing them roughly once a week in addition to some general updates, Chrysler hasn't changed much, and only Ram has faithfully stuck to the schedule. With that in mind, here are the changes for the 2023 model year.
Dodge
The biggest news for the 2023 Dodge lineup was the first new Dodge model since 2011—the 2023 Dodge Hornet. The compact corssover is based on the Alfa Romeo Tonale, which in turn was based on the Jeep Compass, which was based on the Jeep Renegade, which traced its way back to a GM-Fiat project.

Dodge launched a number of special editions, including Jailbreak (more customized) version of "normal" (rather than Redeye) Hellcat Chargers and Challengers. 14 colors are available for the Charger and Challenger—B5 Blue, Destroyer Grey, F8 Green, Frostbite, Go Mango, Granite, Octane Red, Pitch Black, Plum Crazy, Sinamon Stick, Sublime Green, TorRed, Triple Nickel, and White Knuckle. Challenger convertibles, through DropTop Customs, are now sold directly by Dodge. (Links in the list below go to Stellpower.com)
The Durango continues into 2023. The big Dodge Durango news was the return of the Hellcat model, which can tow 8,200 pounds—and has 710 horsepower. The Hemi Orange package from the 2022 Charger and Challenger is available on 2023 Durango R/Ts; it includes dark gray and orange stripes, gray and orange badges, 20-inch black wheels, and black taillight assemblies, with four colors (Destroyer Gray, Diamond Black, Octane Red, and white). The interior has orange accent stitching. There are also Orange Plus and Orange tow packages.
This is the final year for police pursuit Chargers and Durangos; the Durango SSV was dropped.
Past 2023
The electric Charger will be built in Ontario. It appears there will be a considerably smaller electric Challenger, too. We also have reason to believe there will be gasoline powered Chargers and Challengers, using the Hurricane twin-turbo straight six instead of Hemi V8s, with base 4xe powertrains. These may be made in a different factory, and the relationship would be like Wagoneer and Wagoneer S—except they might share more than their names. These are all due in 2024—possibly late in 2024.
Ram
Ram made some substantial upgrades across every vehicle other than the ProMaster, which gained many serious upgrades for 2022, and the ProMaster City, which is being dropped.
The Ram 1500 has two special editions, Limited Elite—with a multifunction tailgate that includes a bed extender, as well as a special dial shifter and gauge cluster theme, upgraded heated/ventilated front leather seats, heated steering wheel, bright pedals, and suede headliner; and Ram RED on Limited Crew Cab, which is a charity vehicle and badge kit. The Ram 1500 SSV (police version) gained an optional 3.92 gear ratio and optional forward collision avoidance.
Aside from vans, Ram has three basic vehicles: Ram 1500, Ram 2500/3500 pickups ("Heavy Duty"), and chassis cabs. The changes below are only to those vehicles, not the vans.
An optional 12-inch digital gauge cluster with "nearly two dozen" different menus, five tiles for quick data, analog or digital readouts, and user profiles is on all core Rams.
Rebel has been upgraded with standard Selec-Speed Control.
On Ram 1500, 12-inch touch screens now include emergency vehicle alerts; 22-inch all-terrain tires are optional with the Off-Road Group on Laramie and above; rear seat reminder alerts and LED hitch lamps are standard; and the glove box has a UV light which can go on for three minutes to kill bacteria.
Heavy duty trucks and chassis cabs have trailer reverse steering control; after entering measurements, the computer can control the steering wheel as you turn a dial in the direction you want the trailer to go.
Digital rear view mirrors are optional (to act as though there is nothing blocking the rear view) on heavy duty pickups and chassis cabs, after debuting on ProMaster.
Trailer Tow pages on chassis cabs and heavy duty trucks include trailer tire pressure, auxiliary camera shortcuts, towing gauges, brake status, and tow specific navigation
A wireless trailer kit (all but Ram 1500) has up to four cameras, including night vision, is optional across the lineup, with limited availability for wired cameras.
Power telescoping tow mirrors are optional (all but Ram 1500).
360° view has been enhanced with larger screens and other improvements.
A mirror-mounted camera system includes front and side camera views activated by parking and blind spot views activated by turn signals.
Heavy duty Laramie and Limited pickups can have sport performance hoods.
A new Ram Rebel HD package, based on the Ram 2500 Power Wagon, joined the lineup.
An EMS Built to Serve package joined Ram 1500.
The battery-electric Ram ProMaster is due in 2023; a battery-electric Ram 1500 has been promised for 2024.
Chrysler
There was no news on the Pacifica. No substantial changes were issued for the 300, though the SafetyTec group became optional on the base Touring model. The Hemi is still an option on the 300S. A special edition, 392-Hemi (6.4 liter) powered 300C is a final hurrah, with 2,200 cars to be made (2,000 for the US, 200 for Canada).
Jeep
Coming up: a new Jeep Cherokee, body code KM, for 2024 or 2025—the rumor mill has this on STLA Large. The KL Cherokee goes away in mid-2023.
The 2023 Jeep Avenger is a not-for-the-US-or-Canada compact model with electric power, to be sold in Europe, and built at the Polish plant which makes Renegades now.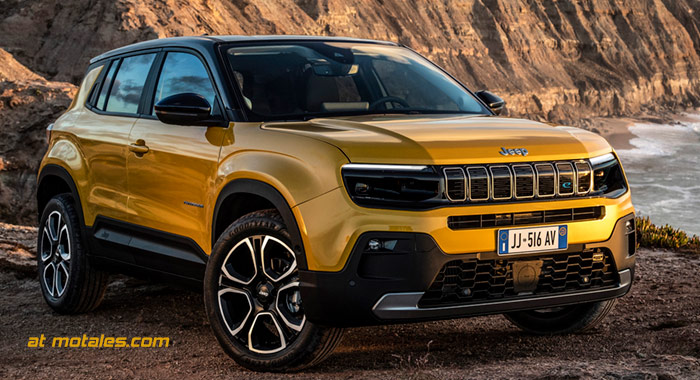 For 2024, Jeep will have an electric Recon and Wagoneer S (for Small?) model built in North America. These appear to be on STLA Large, are about the same size, and will probably be made in Ontario. Wagoneer S has a footprint slightly smaller than Grand Cherokee, but with more interior space. It appears that Wagoneer is being developed as a sub-brand competing with Range Rover. (The 2024 Jeep Wagoneer will also have a 4xe version, according to Automotive News).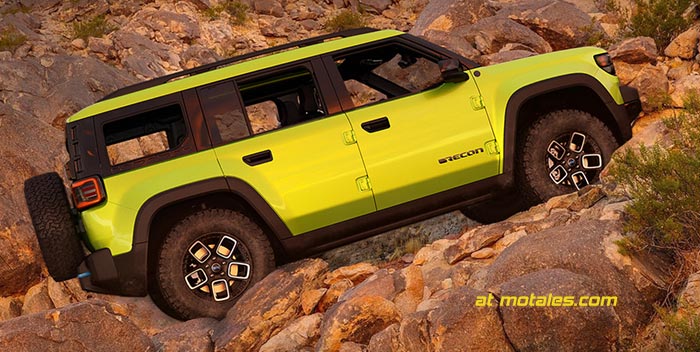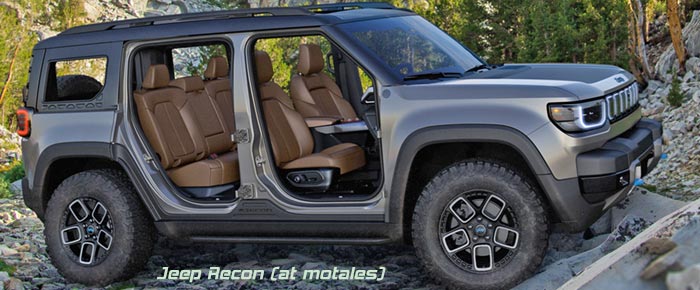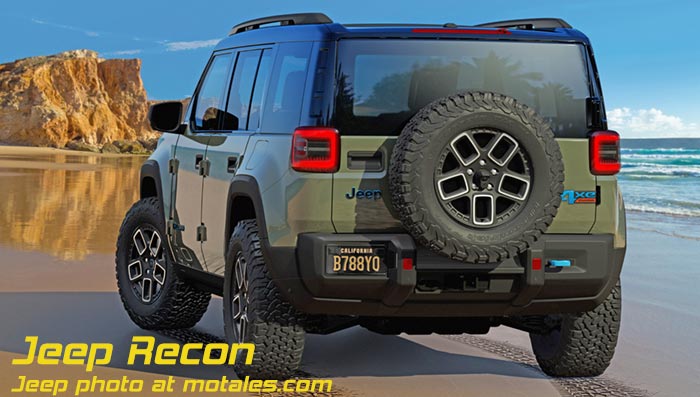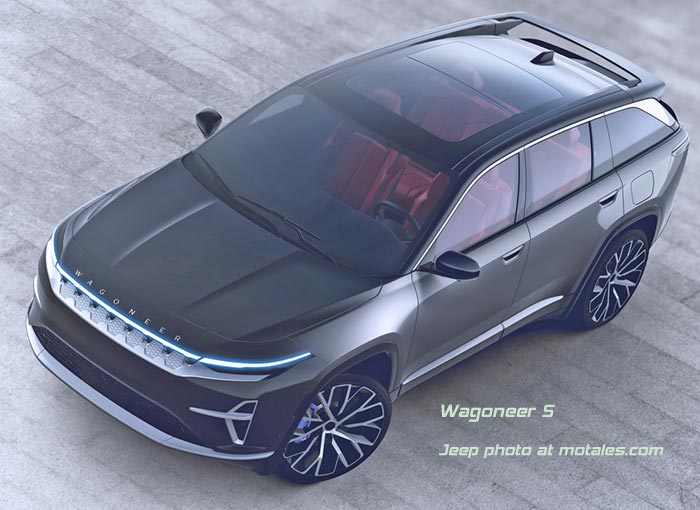 Jeep has released Grand Cherokee, Wrangler, and Gladiator changes for 2023; the Wagoneer and Grand Wagoneer spawned longer-wheelbase versions, Wagoneer L and Grand Wagoneer L. For 2023, Wagoneer has a new "carbide package" with unique wheels (Series II only). More importantly, while the base Wagoneer sticks with the 392-hp 5.7 Hemi, the Series II and III get the Hurricane (420 hp, 468 lb-ft, and 1 mpg better mileage).
Cherokee and Compass. The Cherokee is set to leave production, at least in its current form, midyear. Months ago, the company made every Cherokee but the base model AWD-only and dropped the 2.4 liter engine. The 2023 fleet guide has this image (below), which suggests that the 2.4 is rejoining the Cherokee—possibly only for fleet buyers—and the 3.2 V6 is being dropped—again, possibly only for fleet buyers. Meanwhile, the Compass has a rather exciting new engine, the 2-liter turbo GME four-cylinder, which should dramatically improve acceleration over the old 2.4.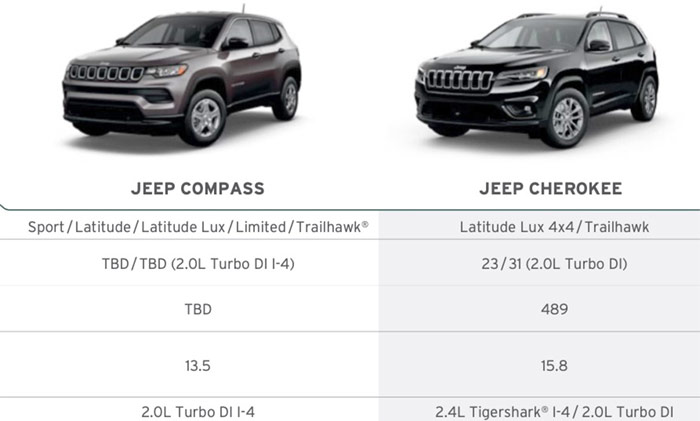 Grand Cherokee has a standard 4xe plugin hybrid—only on the Trailhawk, and as the only engine on that model. It has the highest torque of any Grand Cherokee engine, with 375 hp and 470 lb-ft. UConnect 5 and navigation are standard on the Limited and Overland, with a 10 inch screen; Overland and Summit can get McIntosh audio.
The new "Capability Package" for the High Altitude Gladiator has a winch-capable steel front bumper, steel rock rails, and a front off-road camera.
Gladiator Willys comes with keyless entry, 7-inch instrument cluster screen, remote start, and garage door opener. A new High Velocity color—think lime green—replaces Snazzberry, as announced in early August. Finally, Gladiator will have an American-flag decal at each front fender, at least when sold in the United States.
Wrangler and Gladiator get a Freedom Editions, with Oscar Mike badges, American flag decals, and other upgrades which vary by model; they are not available with the 4xe, which on Wrangler is restricted to Sahara and Rubicon four-doors.
Wrangler gets the same new colors as Gladiator. Engines continue to be plugin hybrid 4xe (270 hp, 295 lb-ft), base V6 (285 hp/260 lb-ft), diesel (260 hp, 442 lb-ft), and 392 (470 hp, 470 lb-ft). The Jeep Wave loyalty program will include the Wrangler and the Rubicon is getting new wheels.
Renegade added Detonator Yellow paint and a number of new option packages.
The 2023 Jeep Wrangler Willys 4xe has 470 lb-ft of torque, 49 MPGe, a 2.72:1 low range, Dana 44 axles, lift to 10.1 inches of ground clearance, and a lower price point than the past 4xe Wranglers, for the US and Canada.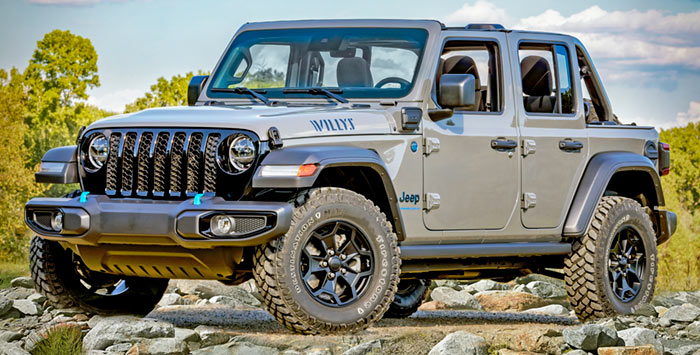 The 30th Anniversary 4xe Grand Cherokee has 25 miles of electric range and 56 MPGe with 375 hp and 470 lb-ft; it can tow up to 6,000 pounds. The special edition includes black Capri leather seats, ventilated in front; 10.1 inch screen; Alpine audio; navigation; front/rear park assist; Intersection Collision Assist, passive entry; rain-sensing wipers; digital rearview mirror (for towing); and 360° cameras.
Books by MoTales writer David Zatz
This site is copyrighted © 2021-2022 Zatz LLC and is meant to cover Chrysler / Mopar car history.