1970-1976 Plymouth Duster (Dodge Demon)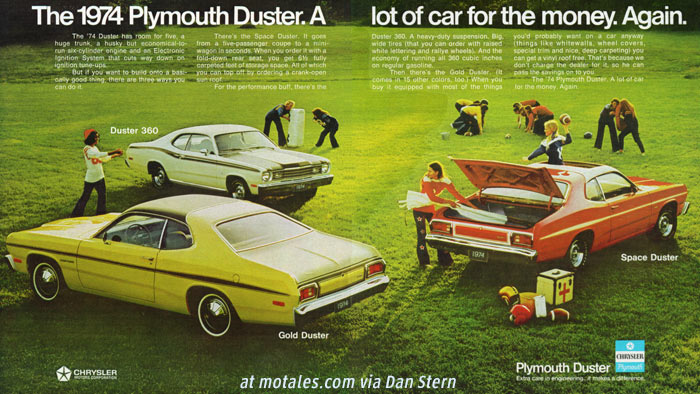 1970 Plymouth Duster development story
The little 1960 Valiant was a sporty little car, and, in a few years, Plymouth followed it up with a fastback version, the 1964 Valiant Barracuda—based on an idea by assistant design supervisor Irving Ritchie. The Barracuda's basic idea was to use the Valiant front with a fastback rear. As the muscle race heated up, though, product planners wanted the Barracuda to have bigger engines, resulting in a 1970 Barracuda that was not Valiant-based.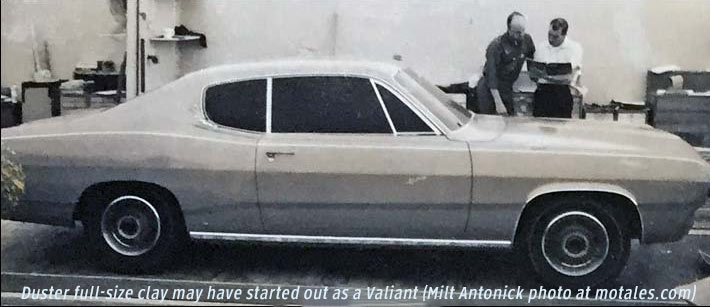 1970 therefore held no performance version of the formally styled Valiant sedan. Some would have dumped a hot V8 into a two-door Valiant, but Plymouth's Gene Weiss had seen Dodge do that with the Dart Swinger—and knew it wouldn't work. He had to do something better, but had no budget—only $15 million meant for a facelift. He decided to use that money for a fastback Valiant.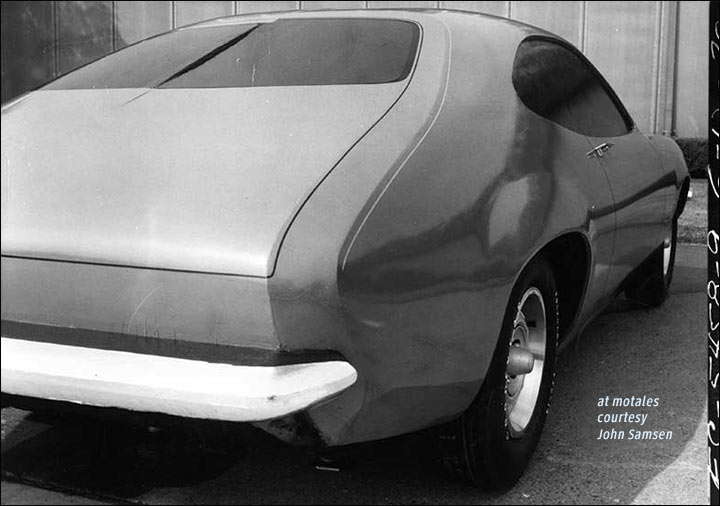 Weiss put in Milt Antonick, an expert in low-budget or "junk yard styling," to take charge. Antonick brought in Neil Walling, pulling the junior stylist from the full sized Plymouth. The low budget meant keeping most parts, such as the floor pan, suspension, front fenders, and hood. Designer John Samsen took off from there to create a concept for the "Valiant sportwagon"—which sets the creation date for the Duster at least at 1966. This was a fast project, but setting up the design and all the tooling was a matter of years, not weeks.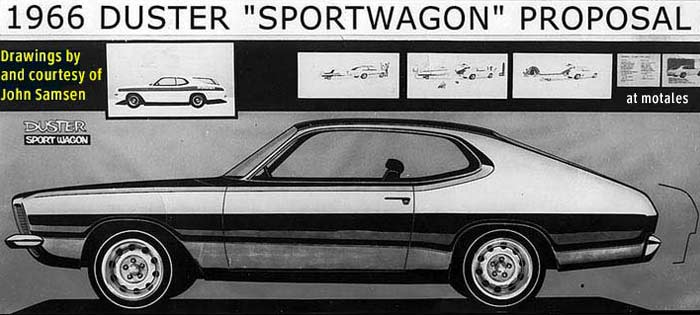 Walling had the sloped rear, wide rear fenders, and metal crease lines within days. He was helped by John Herlitz's Barracuda SX concept car, which integrated the roof C-pillar with the rear quarter panel in a fashion similar to the (later) 1968 Pontiac GTO. John Samsen wrote that most designers liked the idea of integrating the roof with the body, which meant more curves. He wrote that a designer named Thorley asked him to work on the full size Valiant clay which was being modified to become the Duster.
Antonick and Walling had already made the smaller roof with more curve in the side glass, and wanted to integrate the roof into the new rear quarter panel. The Valiant door had a character line coming off the front fender that made the door thicker at the belt, and difficult to make the C-pillar continuous with the quarter panel. ... After some study, I drew lines on the clay that curved the door shape upward and forward into the roof, and carried the lower character line into the quarter panel, making it rise and suggest a big rear wheel. This design was approved and went into production. The Duster was a great little car for the money, for utility as well as performance.

A problem for production was the curved side glass, which needed a 45-inch radius to fit inside the existing doors. That was literally half the industry's 90-inch maximum radius for side glass, but PPG (Pittsburgh Paint and Glass) took on the task.

Meanwhile, Advanced Car Engineering's John Worthy worked on adapting the doors to fit the new windows; he did it in mere days, making the Duster possible. All this effort was needed to make the Duster look curvy above the belt-line, unlike the squared-off Valiant.
The Duster had a higher trunk lid which ironically provided three cubic feet more storage than the Valiant. Using lesson from the Charger 500, they flush-mounted the rear window, slashing air drag and cutting noise and fuel guzzling at higher speeds; the Valiant's concave window had been a hefty source of drag. The rear track was shared with the Valiant, though drawings had made it two inches wider, to cut costs.
Some unforeseen flaws included the bezel-free tail lights causing rust, a high lift-over to the trunk, and small creases or dent from the flat deck lids; Plymouth responded to the latter early in the 1971 model-year with a redesigned lid.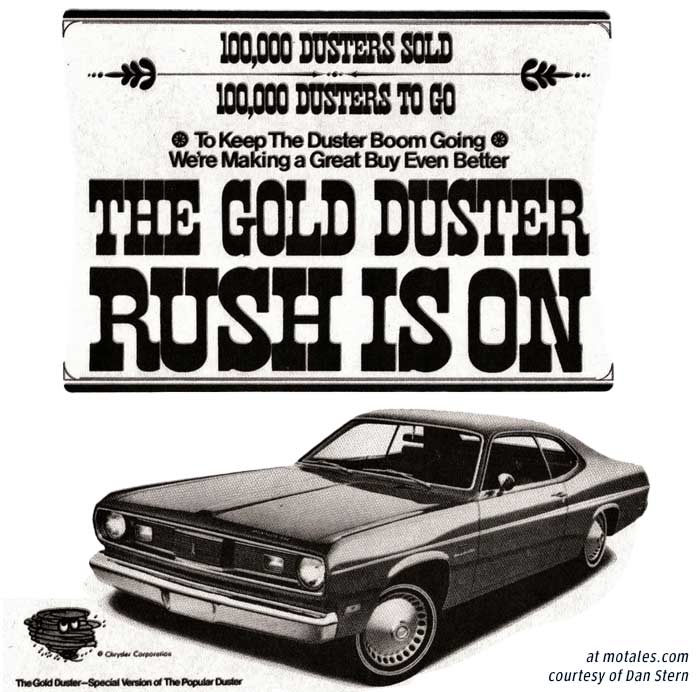 From sketch to final design, this phase of creating the Duster had taken just six weeks. The Duster likely at least doubled Valiant sales for the next five years.
The Duster, overall, built on the Valiant's strengths, but looked better, had a larger trunk, and cut wind resistance. The name itself, provided by the ad agency, was based on the racing term—someone who had been seriously outraced was "dusted."
Plymouth wanted to use the Looney Tunes Tasmanian Devil, but negotiations did not work out as well as they had with the Road Runner, and they ended up creating a fairly similar but not-named and not-copyrighted character.

The Duster 340, like the Dart Swinger, used the hot 340 V-8, boasting 275 horsepower and possibly under-rated at that. The 340 Duster outran the Nova 350 and some of the big-block cars; it could reach 130 miles an hour, and pulled a 14.5 second quarter mile at 99 miles an hour — within the range of the 440 V-8-powered B-bodies. (Car Life's March 1970 automatic ran 0-100 mph in 17.5 seconds, with a quarter mile time of 14.7 seconds at 94 mph and 14.8 mpg. Weight was 3,520 pounds as tested, and the list price was $2,547.)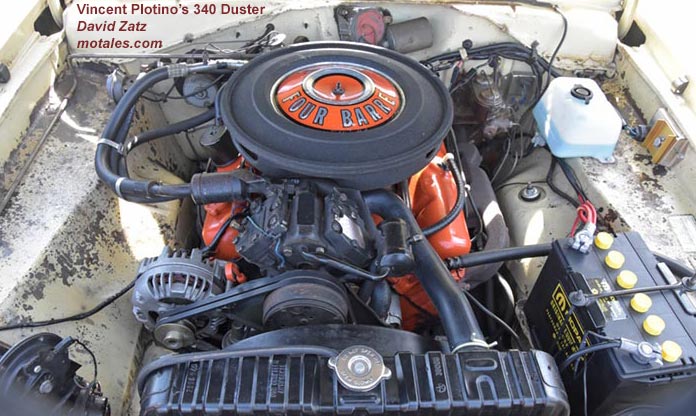 Milt Antonick wanted to use that to create a Duster CK model; he created a decal design with a telephone booth and the letters "C K" for Clark Kent (Superman) below it, and a 36-square-inch Superman logo on the air cleaner cover. He even secured the rights from DC Comics. However, Chrysler-Plymouth's assistant general manager, R. K. Brown, rejected it out of hand.

The 1970 model was officially a Plymouth Valiant Duster to draw from the strong reputation of the Valiant; it was followed by the 1971 Plymouth Duster, dropping the Valiant name. In this it followed a definite tradition: the 1960 Valiant was its own brand while the 1961 was the Plymouth Valiant, and the 1964 Plymouth Valiant Barracuda gave way to the 1965 Plymouth Barracuda.
Engineering, reception, sales, lifespan, and Dodge Demon
The Duster was mechanically just about identical to the Valiant. It had the usual unibody construction, Torqueflite automatic or manual transmission, choice of slant six or LA-type V8 engines, and front torsion bar/rear leaf spring suspension. It tended to understeer but was often rated as having better handling than GM and Ford options. A sportier dashboard was standard, and the 340 had an optional tachometer.
The 1970 Duster went on sale on September 23, 1969; and Plymouth racked up sales of 217,192 for the model year, trouncing any Barracuda. With the Duster, Valiant easily broke its previous sales record hitting 268,002; and sales had been trending down.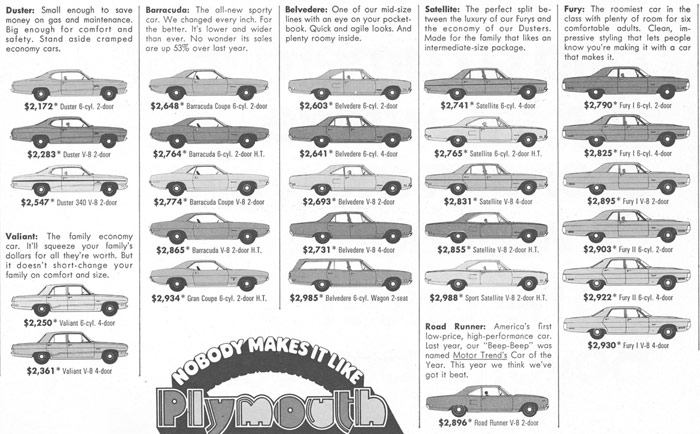 Starting at $2,172, the Duster was a strong value play, though the smart customer paid extra for front disc brakes (power discs and power drums were also optional, and V8 cars had standard front discs; rear disc brakes were not available). It had 4.5 more cubic feet in the trunk, 11 inches more hip room in the rear seat, 3.5 inches more hip room up front, and a better warranty than the Ford Maverick.
Motor Trend's (July 1970) John Lamm started his article on building up the Duster for drag racing by saying "There was a time you couldn't buy a car like the Duster, you had to build it," comparing the Duster to the 1968 Road Runner and the Shelby Cobra. Their stock Duster 340 ran a 15.02 second quarter mile, which a good deal of engine tuning improved on.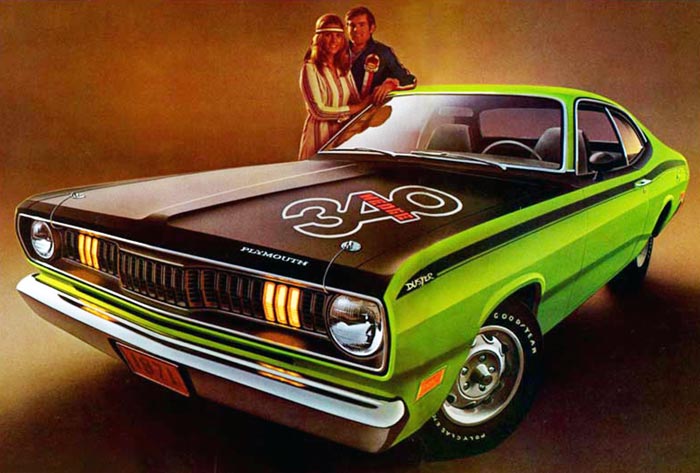 Chrysler updated to Carter ThermoQuad carburetors for 1971 340 cars. The Duster had new front-end styling, twelve new colors, and a new side tape treatment since sales had been so strong.
Naturally, Dodge demanded a version of the Duster, selling it as the Dodge Demon and trading the slow-selling Dart Swinger in return; that was dubbed the Plymouth Scamp. Product planner Burton Bouwkamp wrote that , "The Dodge Demon was named by the Dodge sales department because they envisioned an ad that said 'Come in for a Demon-stration.' The Demon name didn't last because some religious groups formally objected to the Demon name." These groups also led a boycott to make their point.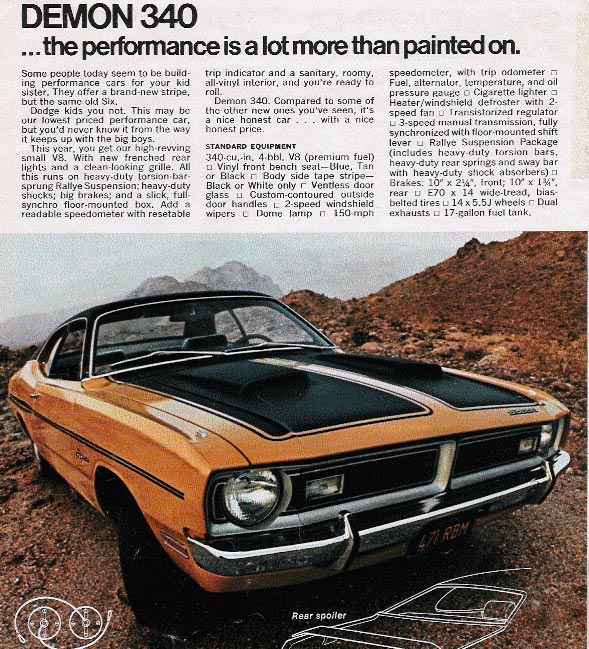 Electronic ignition started on some 1971 cars and was standard late in the 1972 model year. It eliminated replacement parts and adjustments, while boosting voltage by up to 35% for easier starting. Increasing emissions standards resulted in exhaust gas recirculation (not on all cars until later), an orifice spark advance system which was often bypassed in later years as it failed, and a heater for the choke spring which shut off the choke more quickly.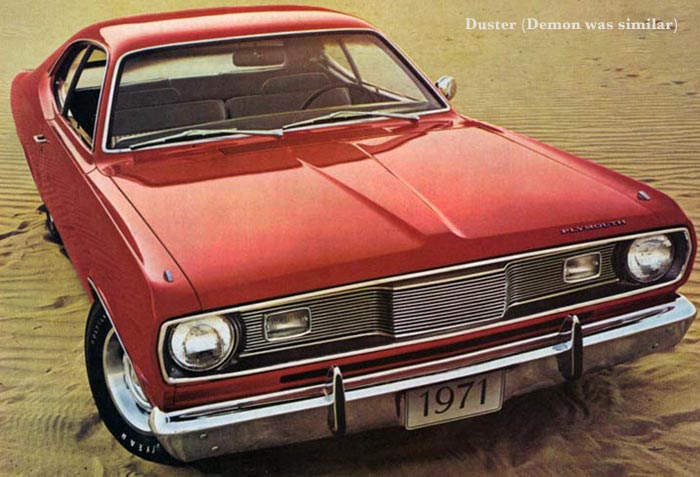 In mid-1971, a Duster Twister package (A51) joined the lineup. Coded as A51, the $100 package included stripes, Rallye wheels, "racing mirrors," a flat black hood, Swinger 340 hood scoops and grille, drip rails, and wheel lip mouldings. It did nothing to the engine and was not even available with the 340. For 1972 the Twister lost the special hood but (1972 only) gained a cartoon "twister" near the tail-lights. For 1973-74, the package had a hood stripe and scoops, and a front sway bar; the wheels had no trim rings.
The new 1973s
Back in 1970, the company had planned an all-out makeover for the 1973 model year. The stylists prepared for softer, rounder Darts, Demons, Dusters and Valiants. This proposed 1973 Duster, provided by John Samsen was one of those. "Except for the door handle, it could pass for a contemporary car design." However, Chrysler ran short on cash as its profitable big cars stopped selling in light of the oil crisis. There was no new 1973 series.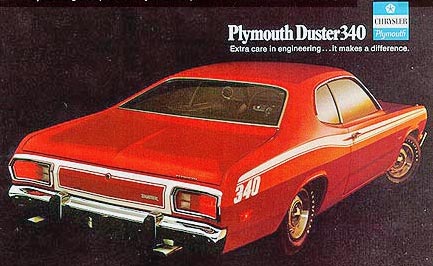 After selling 100,000 cars, Plymouth created the Gold Duster, a dress-up package with the 225 slant six or a 318 V8, added trim, dual horns, a cigar lighter, and a neat deca and in some cases matching color scheme.
The Valiant and Duster had their final major styling change with the 1973 cars instead, replacing whatever parts they could afford to—and getting more formal rather than softer. The hood was more aggressive, and the grille had squared headlight bezels. The oversized bumper, later to get vertical steel-and-rubber guards to meet tougher crash standards, was needed for new rules. In back, the Duster had large taillamps which flowed with its rear sheet metal.
The 1973 cars had standard shoulder belts (optional in prior years), but they were not attached to the lap belts and did not self-adjust; instead they were stored above the doors, usually permanently, and could be brought down and manually adjusted—and woe to the driver who adjusted their shoulder belt, then had to lean forward to take off the parking brake!
The Twister and Gold Duster continued while new Space Duster and Special Coupe models came in. The Space Duster had a folding rear seat and carpeted trunk, with an optional sun roof. The Special Coupe had special vinyl trim inside and on the outside roof to look more upscale, and included the Space Duster package.
To save money, Chrysler started using a common block on its two slant six engines with the 1973 cars. The 170 therefore became history, replaced by the 198, rated at just 95 hp. This was also the best sales year for the Duster 340 with 15,731 US sales. Fuel shortages helped put the little engine into the grave, but it had a decent successor, a performance 360.
The gas crisis boosted sales of Valiants, Dusters, and Darts. Calendar year 1973 Valiant production rose to 402,805, including around 265,000 Dusters. Since Chrysler had a larger compact car share, their overall market share rose, but since they didn't make much money off these cars, it didn't help their profits much.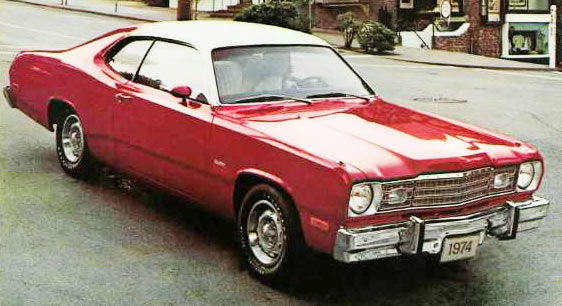 The 1974 Duster had a 360 V8 in place of the 340; while it never had as good a reputation, its 245 net horsepower and 320 lb-ft of torque was quite impressive. The fuel crisis and insurance surcharges, though, resulted in just 3,979 Duster 360s being sold.
Comparing the 1974 engines to the Olds Omega version of the Chevy Nova
|   | cid | hp | torque | compression |
| --- | --- | --- | --- | --- |
| Base Duster six | 198 | 95 | 145 | 8.4:1 |
| Opt Duster six | 225 | 105 | 180 | 8.4:1 |
| Nova six | 250 | 100 | 175 | 8.5:1 |
| Duster V8 | 318 | 150 | 255 | 8.6:1 |
| Nova V8 | 350 | 145 | 250 | 8.4:1 |
| Top Duster | 360 | 245 | 320 | 8.4:1 |
| Top Nova | 350 | 185 | 270 | 8.5:1 |
Nova also had a milder 160-hp 350 V8. Those wanting a more serious engine could get the Camaro, which was based on the Nova, and had up to 245 hp and 280 lb-lb of torque—the same power rating as the Duster but with much lower torque.
The 1974 cars had an engine lockout if the driver's seat belt was not latched, but engineers put a bypass under the seat—disconnect a wire (with the easy plug provided) and that feature was gone. It was gone anyway by the 1975 model year. On the lighter side, the seat belts now had a single buckle, though the driver had to pull them from a low-mounted reel—and any pause or yank would cause the system to lock, so the belt had to be guided back down and the driver had to start again. Rear seats still had lap belts only, and would for the Duster's entire run, but this was the norm for the 1970s. Rear passengers' heads would be "restrainted" by the padded backs of the front seats.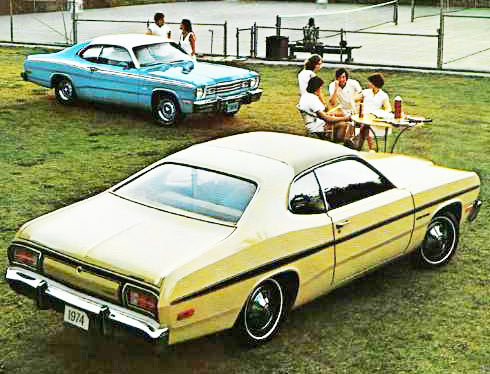 The Dodge Challenger and Plymouth Barracuda ended production in April 1974; the original formula had been the best formula after all... though early Challengers and Barracudas had been criticized for their poor build quality, among other things, and were quite a bit more expensive. Few predicted the 1973 fuel crisis, either.
Following 1974's Valiant Brougham sales success, Plymouth created an upscale 1975 Duster Custom for people moving to compact cars due to the fuel shortage. It had full-length rocker and taillight panels which were optional on other Dusters. The company also used a more upscale front grille on the Valiant and Duster, with a more finely-meshed plastic that was silver coated in front and black behind. White parking light lenses hid amber bulbs, and improved seat belts caused less frustration than in the 1974s. Continuing models were the Gold Duster and Space Duster Pak.

New technology for 1975 were radial tires, a "fuel-pacer" system (when vacuum dropped below a certain point, an amber light went on), and a tighter torque converter. Just 1,421 360-powered Dusters were sold in 1975, their final year.
For 1976, the main change was going to amber parking light lenses with white bulbs instead of the other way around. The Duster, in its last year as an A-body, managed just 26,688 sales despite a lightweight, high-mileage Feather Duster and the less inspired Silver Duster trim-and-appearance package.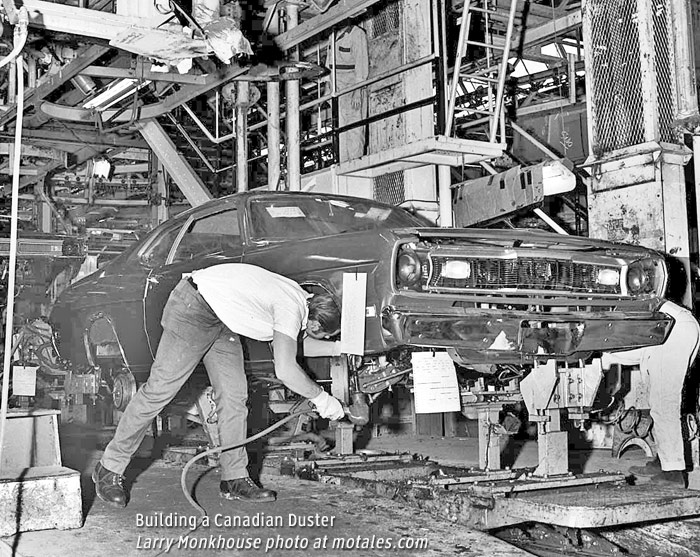 The Feather Duster used aluminum in the trunk bracing, inner hood, bumper brackets, and intake manifold to cut 180 lb. For better mileage, it had a smaller carburetor, new distributor calibration, bigger exhaust, and 2.8:1 axle ratio. The only manual transmission for the Feather Duster was a four-speed overdrive unit. It sacrificed some speed to get EPA mileage of 22 city, 31 highway with the automatic or 24 city, 36 highway with the manual (keeping in mind the standards were lower in the 1970s). It was still larger inside than most other economy cars, and imports were often even slower.
Car and Driver's William Jeanes reported on a Plymouth show car, the "Fonzmobile," using a Duster 360 with pained flames, exhaust under the body sill, spotlights, wide whitewall tires, and baby-Moon hubcaps.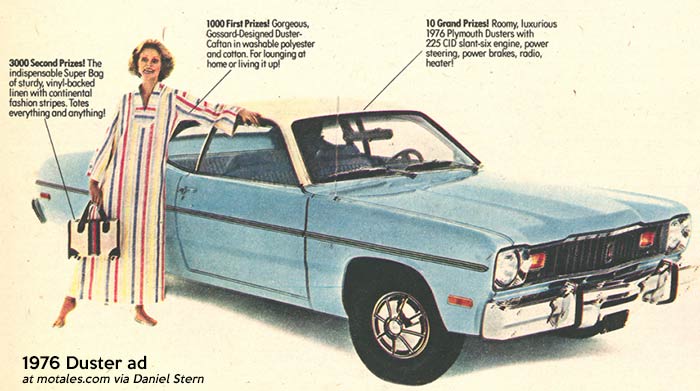 When 1976 Valiant/Duster production ended, they had made 1,328,377 Dusters in a mere seven years.
The next Duster was based on the Volare and looked quite similar—but that's a story for another day.
Specifications (1970)
Spring size and rate varied by engine, not by body—Valiant and Duster shared. Rear springs were always 55 inches long, 2.5 inches wide.
 
Six
318
340
Front spring height
35.8
35.8
35.8
Front spring diameter
0.83
0.85
0.87
Spring rate at wheel (lb/in)
85
92
100
Stabilizer bar (0.88")
Opt.
Opt.
Std
Rear spring rate (lb/in)
85
85
110
Rear spring rate at wheel
105
105
132
Leaves
5
5
6
Track bar
None
None
None
Standard brakes
Drum
Drum
Ft Disc
Front drum diameter
9
10
n/a
Rear drum diameter
9
10
10
Wheel diameter
14
14
14
Ax;e ring gear
7 1/4
8 3/4
8 3/4
Wheel bearing type
Ball
tapered roller
tapered roller
Timing
TDC
TDC
5° BTC
Spark plugs
N14Y
N14Y
N9Y
Base alternator
30 amp
37 amp
37 amp
Carb
Carter BBS
or Holley
Carter BBD
Carter AVS
Intake valve dia (head)
1.62
1.78
2.02
Exahust valve dia (head)
1.36
1.50
1.60
Compression
8.4:1
8.8:1
10.5:1
Gross hp
125/145
230
275
Gross torque
180/215
320
340
Fuel
Regular
Regular
Premium
340 cars got front proportioning power brakes. 340 cars were set up for 65/35 front/rear master cylinder distribution; 340 cars were set up for 60/40.
Wheel alignment: –0.5° ± 0.5° manual; +0.75 ± 0.5° power
Camber: left 0.5° ± 0.25°; right 0.25°± 0.25°
Toe-in: 1/8"  ± 1/32"
Axles: 2.76, 3.23, 3.55, 3.91 ratios (availability varied by engine and transmission; 2.87 only used with automatics, 3.91 only with V8s). Transmissions: three-speed standard on all engines; four-speed optional on 340; three-speed automatic optional on all. Manual transmissions had a steering column console with slant six, column or floor shift on 318, and floor or console on 340.
| 1970 | Valiant | Duster |
| --- | --- | --- |
| Curb weight (/6) | 2935 | 2930 |
| Curb weight (V8) | 3015 | 3025* |
| F/R weight dist. | 49/51 | 49/51 |
| Side glass area | 1117 | 1323 |
| Back glass area | 912 | 1025 |
| Front head room | 38.4 | 37.2 |
| Rear head room | 37.3 | 35.5 |
| Rear leg room | 34.5 | 29.6 |
| Luggage bay | 14.5cf | 15.0cf |
| Liftover | 21.4" | 30.2" |
| Max width | 71.1 | 71.6 |
| Ground clearance | 12.5** | 12.5** |
| Approach angle*** | 23.2° | 23.4° |
| Departure angle*** | 16.6° | 16.2° |
| Ramp breakover*** | 12.6° | 12.4° |
| Min running clearance | 4.5 | 4.5 |
* 340 added 200 lb
** 12.4 with V8
*** With slant six. Slightly lower with V8.
| 1976 | Valiant Sedan | Duster |
| --- | --- | --- |
| Wheelbase | 111 | 108 |
| Length | 199.6 | 197 |
| Width | 71 | 71.7 |
| Height | 54 | 53.4 |
| Leg room | 77.1 comb. | 71.3 comb. |
| Trunk | 16.6 cf | 20.1 cf |
Sources included Dave Duricy, John Samsen, AMA data, the Standard Catalog of Chrysler, Ward's Auto, and the Plymouth Owners Club's Jim Benjaminson.