2023 Dodge Challenger Demon 170: a 1,025 horsepower "last call" muscle car
In the final year of their production on LX-based bodies, the Dodge Charger and Challenger formed the basis of seven "Last Call" special edition cars. Some of these were forgettable, but not the final one, the last special edition of many—the 2023 Dodge Challenger SRT Demon 170.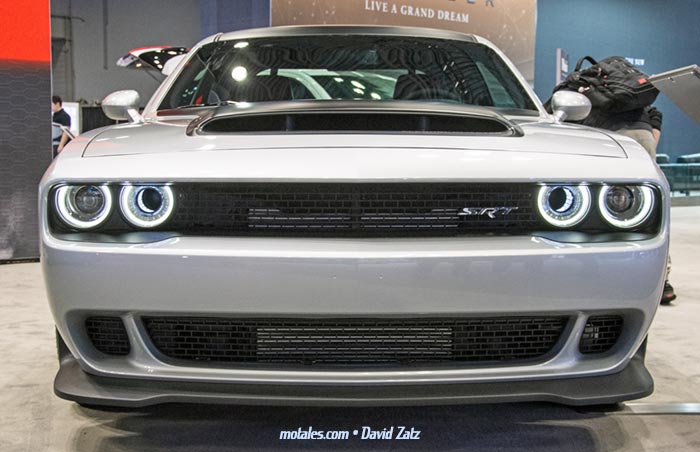 The Hellcat V8 engines had stunned the world with 707 horsepower when they first came out; supercharged, 6.2 liter versions of the time-tested 392-cubic-inch 6.4 SRT Hemi V8s, they simply clobbered the performance of competitors' engines. Before long, the Dodge Challenger Demon broke that number—hitting 840 horsepower on race gasoline and 808 on premium. Next came the "Redeye" Challengers with a "mere" 797 horsepower—a number unheard of from regular production engines. Indeed, 797 horsepower was more than double the old 426 Hemi's net ratings—and the 426 was made before serious emissions controls, drinking in good amounts of oil with its gasoline and returning solid single-digit economy. The Hellcat, even in 797 hp form, was docile, reliable, quiet, and relatively economical.
|   | Net Horsepower | Torque (lb-ft) |
| --- | --- | --- |
| Gasoline | 900 | 810 |
| E85 | 1,025@6500 | 945@4200 |
Then came the 2023 Dodge Challenger SRT Demon 170, powered by that same 6.2-liter Hemi. This time, it used 3.0-liter IHI supercharger, with an ethanol sensor in the fuel line. On premium fuel—93 octane gasoline, 10% ethanol—it is rated at 900 horsepower and 810 pound-feet of torque. That would have been more than enough to go out with a bang, but the Dodge engineers had more in reserve.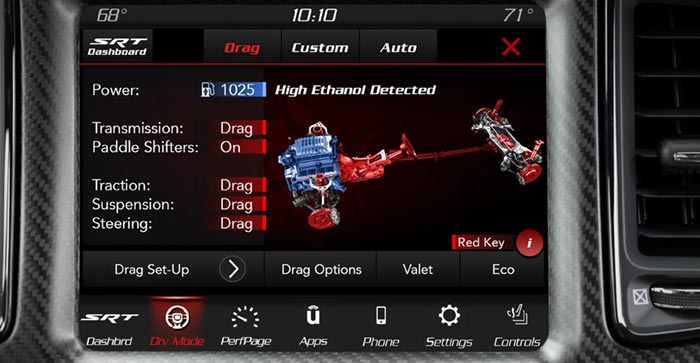 On E85 (85% ethanol), the ratings shot up to 1,025 horsepower and 945 pound-feet of torque, a stunning achievement—over two-and-half time the power of the 5.7 Hemi, or around 3.4 times the power of a Pentastar V6. The switch occurs without driver intervention—when the level of ethanol is over 65%, the computer switches to the ethanol program, and the extra power is unlocked. If you want to run at this level of performance on an NHRA track, you'll (officially) need a safety cage and parachute.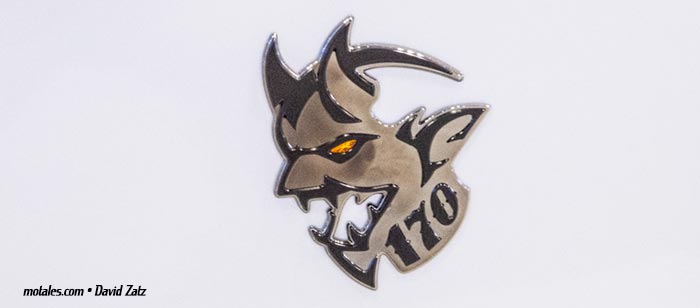 The Demon 170 comes with Mickey Thompson Street ET R drag radial tires, which bring stunning 0-60 mph times of 1.66 seconds (with rollout; 2.0 seconds without rollout). The NHRA-certified quarter mile time is 8.91 seconds, finishing at 151.17 miles per hour. The launch brings 2.004G of force, the highest ever recorded by a production car. (For reference, the Tesla Model S Plaid has a 0-60 time of 1.99 seconds with rollout, and a quarter mile time of 9.23 seconds.) Full power is only unlocked by using the red key fobs—ordinary black fobs provide a far tamer experience.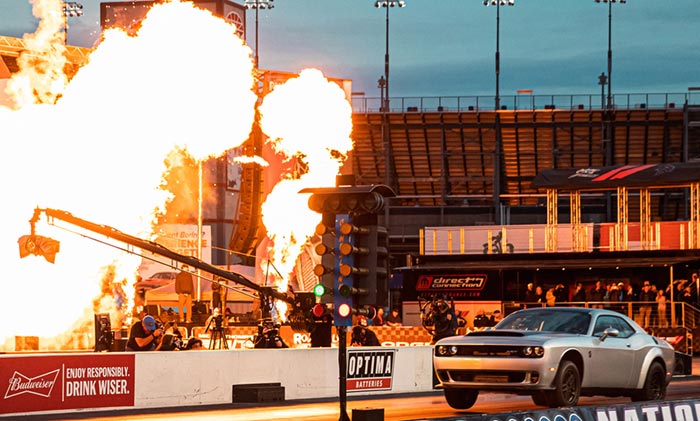 This level of performance does not come cheap, but it does come cheaper than some may expect—$96,666 plus gas guzzler tax and destination fees, far less than any other production road car with that kind of acceleration. The goal is to build 3,300 of them (300 set aside for Canada), like the 2018 Challenger Demon. However, production constraints may result in fewer being made; at the least, Dodge leader Tim Kuniskis is hoping for at least 2,500. Allocations to dealerships were listed at the Dodge Garage, with production starting in July 2023. (Owners of a 2018 Dodge Challenger Demon who are able to acquire a 2023 Demon 170 can get matching numbers at the end of their VIN.)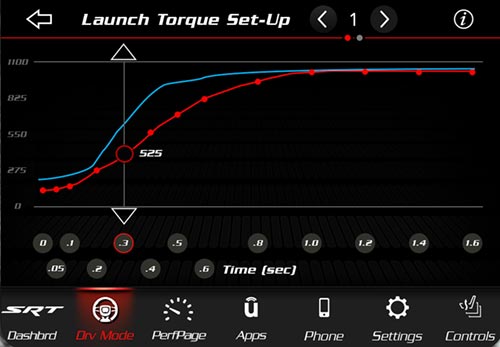 Drag-strip tools borrowed from the 2018 Demon include:
Line Lock (for stationary or rolling burnouts)
Race Cool Down (cooling the engine after shutoff)
Launch Control (puts the computer in charge of acceleration)
Power Chiller (diverts air conditioning to cool the supercharger's charge air cooler)
Drag Mode (revised) and customizable settings for transmission, suspension, and steering
Stripped-down interior (no passenger seat or rear seats by default, to save weight)
Air Grabber hood and Air Catcher headlights to increase airflow (the Air Grabber hood bezel is laser-etched with "Alcohol Injected")

Drivetrain
The first American production car with over a thousand horsepower, factory stock, was a substantial achievement. The basic 6.4 liter engine produces 485 horsepower and 485 pound-feet; the most the supercharged 6.2 Hemi could reach before, on pump gasoline at least, was 808. The changes made to the car were quite extensive, and touched on both performance and durability.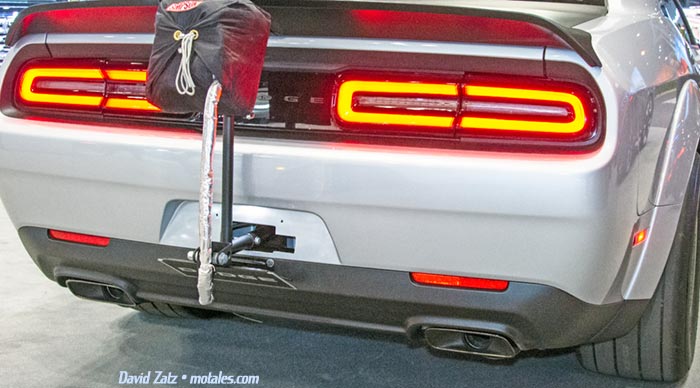 The transmission is a ZF 8HP90 eight-speed automatic, upgraded for this purpose. It uses a new version of the TransBrake system for drag racers, dubbed TransBrake 2.0; it now lets the driver adjust torque delivery on launch and afterwards. They can reduce torque output at any point, if the wheels spin on launch or just after a shift. That helps to match runs to surface conditions. The transmission also has an upgraded output flange for the new driveshaft.
That driveshaft is bigger than the 2018 Demon's in three ways—tube diameter, tube wall thickness, and CV joint size—increasing strength by 30% overall to deal with 22% more power. There have been reports of broken driveshafts—this should resolve the problem. The rear propshaft is 30% stronger than the original Demon, too. The half-shafts have a 43-spline design and larger CV joints; a larger inner-connecting spline; and a new heat treatment, all for greater strength.

The rear differential was processed using hot isostatic pressing—making the Demon 170 the first production vehicle to use that process for a driveline component. It also has a 240mm ring and pinion, larger rear cover mount fasteners, a larger input flange and CV joint, and greater case depth; and the case itself was pressure-cast. The differential housing has new geometry and is 53% stronger than the older Demon's.
Engine
The camshaft is shared with the "Redeye" Hellcat engine; just about everything else is new for the Demon 170. That includes the 3-liter IHI supercharger, which is similar to the Hellephant crate engine design; it has a 3.02-inch pulley. This provides 40% more boost and 30% better flow than the 797-hp Redeye Hellcat; peak power comes at 21.3 pounds of boost. The throttle body is 105mm (twice the size of a Neon unit). Fuel injectors can flow a massive 164 gallons/hour (which would be typical for a showerhead), mainly because E85 requires about twice as much fuel as gasoline.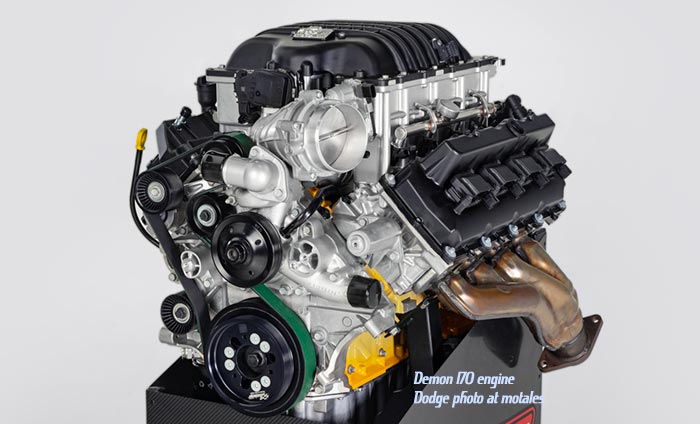 The Redeye, by comparison, uses a 2.7-liter supercharger and 3.35-inch pulley and a 92mm throttle body; its peak power comes at 15.3 pounds, and it needs just about half the fuel flow.
The heads have a design similar to the Redeye's, but needed to be much stronger and held on with stronger fasteners. As a result, the heads are clamped on with high strength steel studs; steel inserts take the load of the stud, saving the aluminum of the heads, and providing 38% more clamping load. The heads themselves have nitride-coated intake valves and upgraded valve guides and seats, partly to deal with the greater corrosion of ethanol. Special spark plugs were also needed for this application.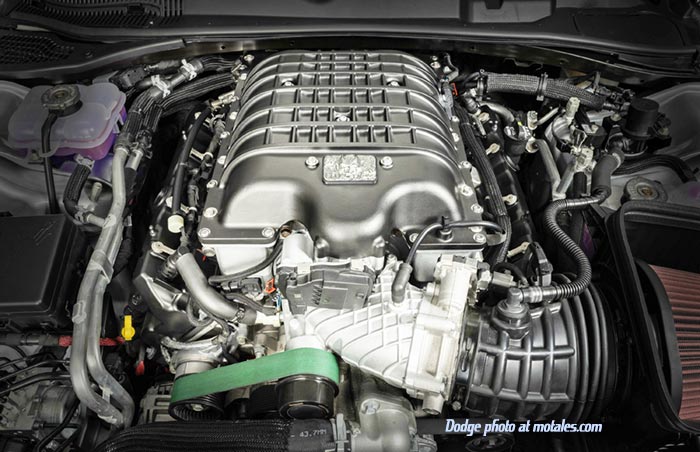 The Demon 170 creates over 2,500 pounds of cylinder pressure at peak power (32% more than the Redeye). While the cast iron engine block, similar to other Hellcats, can take that, it needed special machining for new billet main caps and stronger main cap fasteners. Main and rod bearings had to be beefed up, with an upgraded copper-lead design, to handle the pressure—indeed, the pistons, rods, crank, connecting rod pins, and various fasteners all had to be upgraded.
Out in front, a new fluid damper reduces torsional vibration from the crankshaft.
Suspension, wheels, and tires
Bilstein supplied adaptive-damping shocks as it does with all Hellcats, but the Demon 170 tuning is different, to optimize weight transfer. The front springs are 35% software and the rear springs are 28% softer; the sway bars are 75% softer in the front and 44% softer in the rear. Under Drag Mode, the front shocks have firm compression and soft rebound; the rear shocks have firm compression and rebound. That provides 1.2x 60-foot times, with the front wheels in the air. Taking off the front flares saved 16 pounds.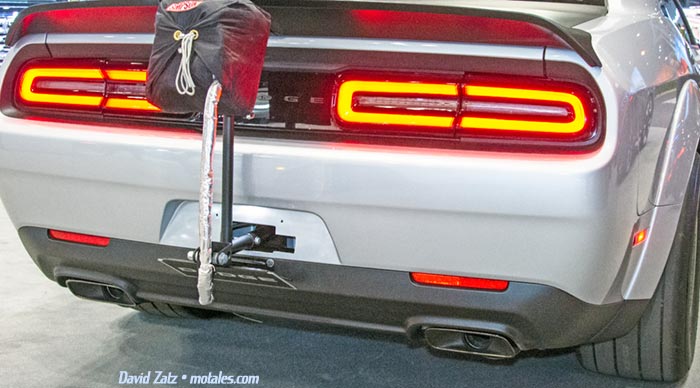 The rear suspension ride height was increased by 10 millimeters, with rear jounce travel cut by 17 milimeters, to make room for the tires. Rear camber changes were needed to increase the contact patch, supporting over 2G of launch force. Better tires were needed, too, bringing Mopar to one of the best in the business—the Mickey Thompson ET Street® R. The front wheels are 18x8 while the rears are 17x11; tires are 245/55R18 and 315/50R17.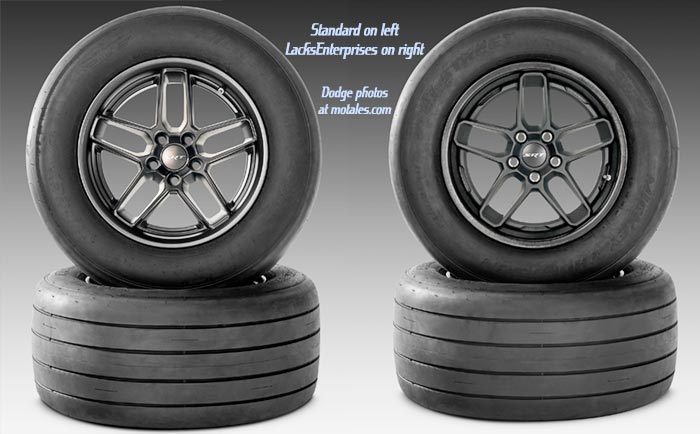 Optional wheels are provided by Lacks Enterprises; instead of forged aluminum, their wheels have an aluminum center section and a carbon fiber barrel, held together with titanium alloy fasteners. That cuts over 20 pounds up front and nearly 12 pounds in back, compared to Redeye wheels. The 315/50R17 Street R drag radials have never been sold on a production car before.
The convertible
Dodge contracted with Drop Top Customs for Challenger convertibles; this company adapted the R/T, R/T Scat Pack, and SRT as a dealer option. However, Dodge has officially said that there would be no convertible option. This makes sense—convertibles remove the roof, which takes away rigidity, which must be replaced by chassis reinforcements. Overall, a great deal of weight is added, which is the opposite of what a drag racer needs. Dodge would prefer that people be out racing the Demon 170, rather than putting them into the garage as a "future collectible."  Dodge is also trying to steer people away from the sun roof by making it a $10,000 option.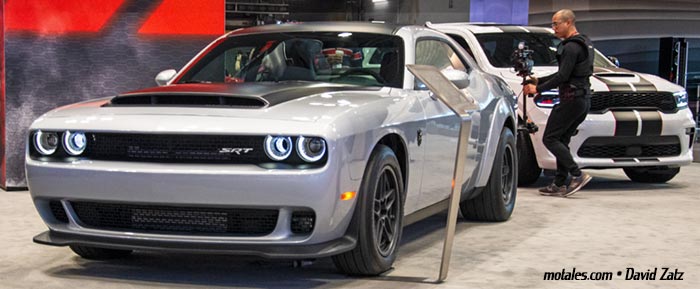 Drop Top Customs will still likely convert a Challenger Demon 170 on request, as they did before the Dodge partnership, but it won't be a factory option.
Option prices
Researched by Patrick Rall.
Colors for the 2023 Dodge Challenger SRT Demon 170 are surprisingly varied, and costs and ranges are the same as other Challengers. No-cost options are Granite, Destroyer Grey, Triple Nickle, F8 Green, Sublime, B5 Blue, Frostbite and Plum Crazy. White Knuckle, Pitch Black and TorRed cost an extra $95 and Go Mango, Octane Red, Sinamon Stick and Sublime are an extra $395. A center hood in satin black costs $1,995; making the full hood, roof and trunk lid in satin black costs $3,695.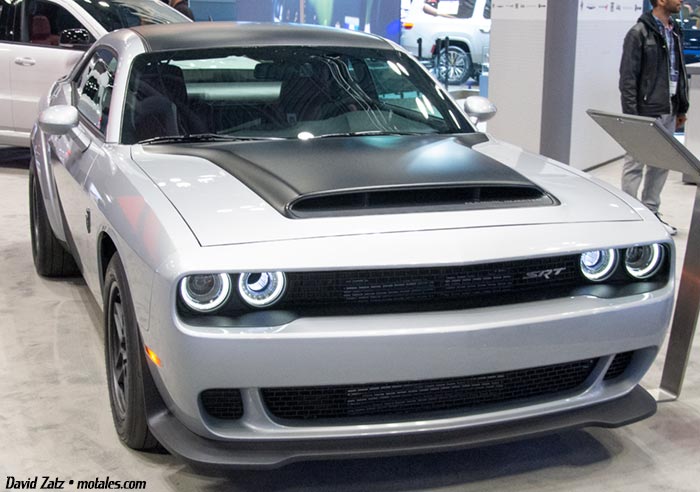 The carbon fiber wheel package costs $11,495, but this is par for the course.
The 2023 Dodge Challenger SRT Demon 170 comes with a single houndstooth cloth seat, but a full interior (adding the passenger seat, rear seat and seat belt assemblies) is $1,995. Black Alcantara/leather interior or Demonic Red Laguna leather come with the Premium Group ($5,995) which adds the premium heated/cooled seating, 18-speaker Harman Kardon sound system, suede headliner and door trim, power tilt and telescoping steering wheel, rain sensing wipers, and such. The Premium Group includes a rear seat but the factory will keep it if you want.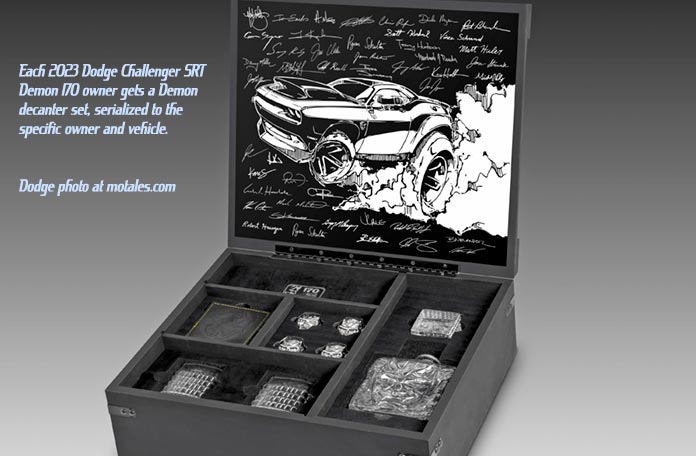 Demonic Red seat belts costs $395, the Trunk Dress kit costs $295, and navigation is $995. Dodge, as noted earlier, wants to avoid selling a sunroof; it costs $9,995. The Gas Guzzler Tax, mandatory in the United States, is $2,100.
The odd story of the "stolen" Demon 170
On March 21, 2023, a Facebook poster claimed that the Demon 170 was stolen after the show. It was a false report, but it kept being spread on Facebook, Instagram, and YouTube, largely, one suspects, because it was getting clicks. The car had never been stolen.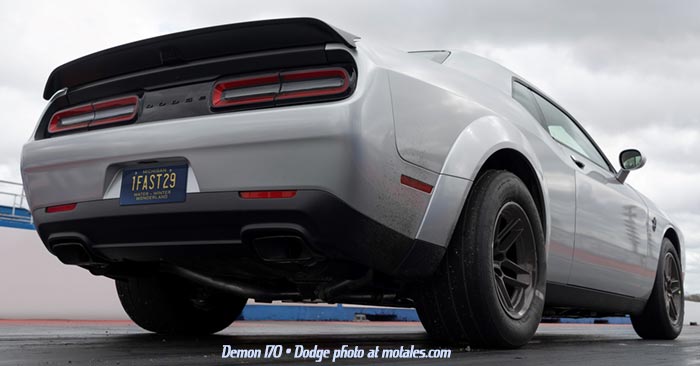 Patrick's original articles
More photos from Dodge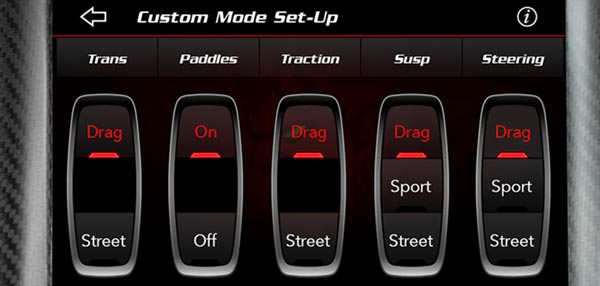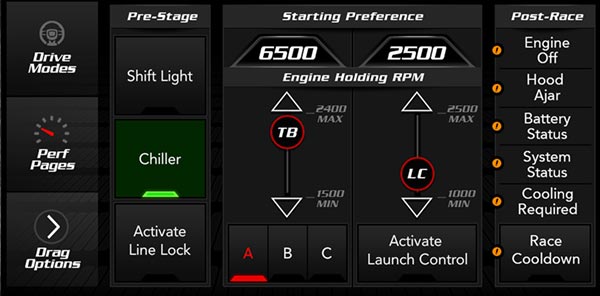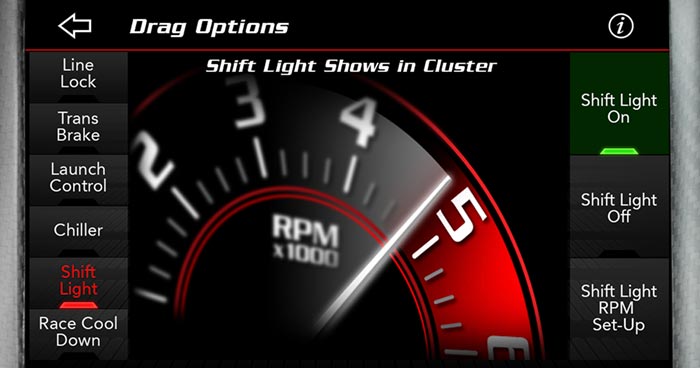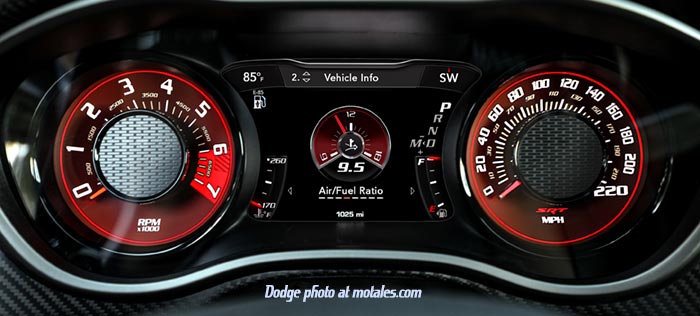 Current and future
Follow us on Post! It's like Twitter, but without ads or Nazis!
Books by MoTales writer David Zatz
Copyright © 2021-2023 Zatz LLC • Chrysler / Mopar car stories and history.