Dodge Durango, 2011-23: the Unibody Muscle SUV versions
The third-generation Durango started production on December 14, 2010. It was five days short of two full years after the second generation was shut down.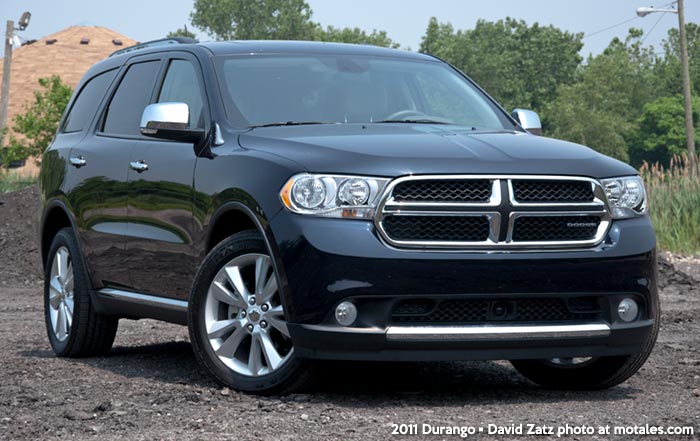 Under the skin, the 2011 Dodge Durango was vastly different from its predecessors. Coded WD, it was built with the unibody architecture of the also-new Jeep Grand Cherokee—which was an evolution of the 2005-2010 Grand Cherokee's WK platform—rather than coming from a body-on-frame pickup.
The unibody design helped to give the Durango a more car-like ride and dramatically improved handling, reshaping Durango into a "performance SUV." The chassis made heavy use of mix of high-strength and ultra-high-strength steels, with over 5,500 welds and 4,100 mm of arc welding, to increase torsional stiffness and reduce body flex. A short/long arm front suspension and isolated multi-link rear suspension setup also improved handling and ride quality; and large sway bars and aggressive shock and spring rates cut body roll.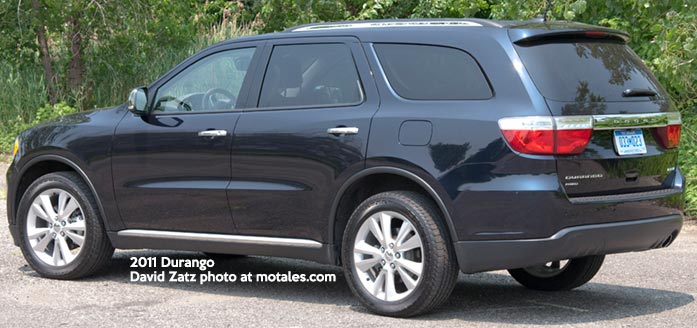 The design was meant to be more aerodynamic than its predecessor, too, and the 0.35 drag coefficient represented around a 14% cut in wind drag from the outgoing second-generation Durango. This cut wind noise and raised fuel efficiency. The interior used better materials and a more modern design, created in the same design studio as the Ram pickups and the Grand Cherokee.
The Durango's wheelbase was five inches longer than that of the Grand Cherokee, and its overall length was ten inches longer, to make room for a third row of seats. The suspension architecture was altered because Dodge did not need as much off-road prowess, and what is good off-road can be bad on-road; what's more, the Dodge had a higher towing capacity.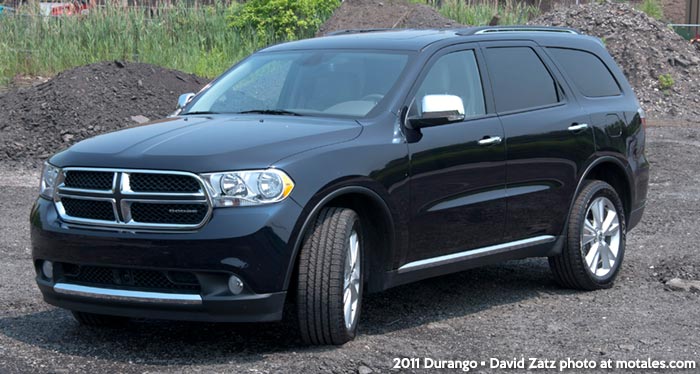 Every "WD" Dodge Durango was assembled in Detroit (Jefferson North plant); transmissions were made in America, including the later eight-speeds. In safety tests, using the tough 2014 safety scale, NHTSA gave the 2011-14 Durangos with four stars — five stars for front driver and both front and rear seat side crashes; four stars for passengers in front crashes; and three for rollovers.
Buyers had a choice between the 3.6 liter Pentastar V6 (290 horsepower and 260 lb-ft of torque) and 5.7L Hemi V8 (360 horsepower and 390 lb-ft of torque); the V6 was paired with a Mercedes five-speed, while the V8 hooked up to Chrysler's 65RFE five-speed automatic transmissions. The Hemi was, for 2011, only available on the R/T and Citadel. Full time all wheel drive was optional with both engines; the V6 used the MP3010 (50/50 torque split, no low range) and the V8 used the MP3022 (2.72:1 low range, variable torque split). Alternators ranged from 160 to 220 amps. Oddly, the power steering varied by engine—electro-hydraulic with the V6 and hydraulic with the V8.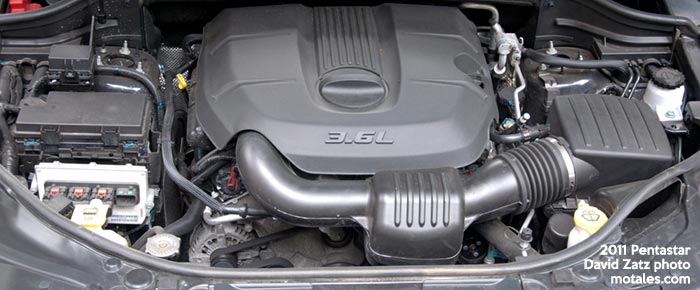 V6 towing capacity was best in class at 6,200 pounds, but the Hemi topped that by a good margin—reaching 7,400 pounds.
For 2011, the trim levels were Express, Heat, Crew, R/T, and Citadel. The Express was well-equipped despite being the base model, coming with 18-inch alloy wheels, fog lights, remote starter, cruise control, three-zone climate control, reclining second row seats, roof rack, satellite radio, and split and folding third-row seats. The Heat emphasized sportiness, so it had no roof rack or third row seat, but did have a sport suspension, performance-tuned steering, load-leveling rear suspension, body-colored exterior accents (replacing chrome), a premium sound system, and 20" wheels.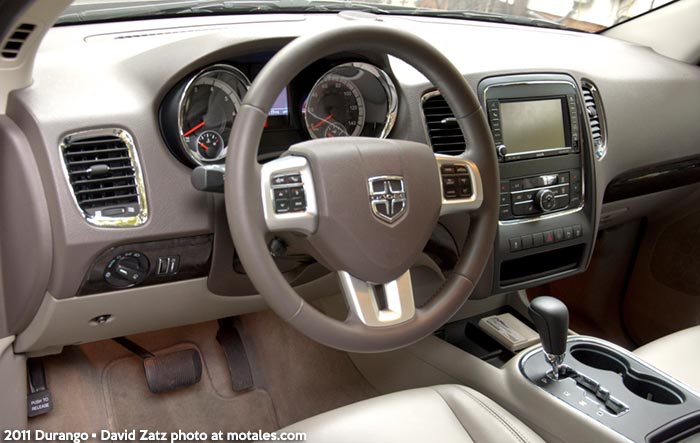 The Crew brought back the chrome accents, third row seat, and roof rack, as well as a power liftgate, power folding mirrors, a driver memory seat, dual power seats, a leather wrapped steering wheel, ultrasonic rear parking sensors, and a back-up camera. The R/T added merged Crew features with the Heat's 20" wheels and sportier appearance; the Hemi V8 was standard on the R/T, and all-wheel-drive was optional.
The Citadel sat atop the Durango's trim lineup for 2011, with standard HID headlamps, a chrome mesh grille, rain-sensitive automatic windshield wipers, a sunroof, heated first- and second-row seats, ventilated front seats, adaptive cruise control, V8, and an upgraded infotainment system.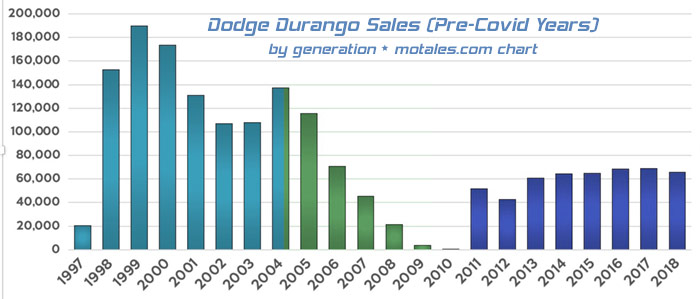 Throughout its 2011-2022 run (and perhaps into 2023), the Durango played second fiddle to the hot-selling Jeep Grand Cherokee. Starting in 2013, the Durango could be relied on to sell roughly 60,000 vehicles per year. It didn't sell as well as the original, which had no internal competition; but it sold at a surprisingly consistent pace for nearly every year of its run, and since its basic design and assembly line were shared with the Grand Cherokee—and tended to sell at a fairly premium price—the Durango didn't need six-figure sales to return good profits.
2012-13 Updates
The 2012 Durango lineup dropped the Heat and changed the Express to the SXT, which had 18-inch aluminum wheels, fog lights, chrome trim, and satellite radio, and was V6-only. The Crew added a 6.5" touch screen infotainment system, back-up camera, Alpine sound, power liftgate, keyless locks, dual power front seats, and a leather-wrapped steering wheel. The R/T added new Crew features and continued otherwise; the Citadel gained any new features of the others. The Hemi was now paired with a six-speed Chrysler truck automatic (65RFE), and some trim levels could option second-row captain's chairs.
| | | |
| --- | --- | --- |
| 2012 | Pentastar V6 | Hemi V8 |
| Type | 60° V | 90° V |
| Block | Aluminum | Iron |
| CID | 220 | 345 |
| Horsepower | 290 @ 6,400 | 360 @ 5,150 |
| Torque | 260 @ 4,800 | 390 @ 4,250 |
| Axle ratio | 3.45:1 | 3.09:1 |
| Octane | 87 | 89 |
| MPG (RWD) | 18/25 | 14/23 |
| Trans | WA580 | 65RFE |
The 2013 Durango brought a Rallye Appearance Group for the SXT, which replaced the Heat's appearance features. The 2013 Durango Crew added leather seats, heated first- and second-row seats, and chrome door handles; R/T buyers could pay extra for heated and ventilated Nappa leather seats, blind-spot monitoring, and rear cross-path detection. A new Blacktop package added black exterior accents to the Rallye or R/T; when purchased with the SXT, it allowed buyers to add leather-and-suede seats with red accent stitching. Finally, second-row captain's chairs, with two center console options, were optional on all models.
2014 Dodge Durango Refresh
The 2014 Durango refresh was likely meant to draw buyers' attention to the standard new eight-speed automatic transmission and to make the 2014 Durango look more like other Dodges. The visible changes included a new front fascia, bumper, grille, and headlights, and LED daytime running lights; in the back, Dodge swapped in a new rear fascia and new tail lamps, with the LED "racetrack" lighting signature that had been used on the Dodge Dart and Charger. The 2014s also included $2,500 more in standard equipment (not counting the upgraded automatic), with the same starting price.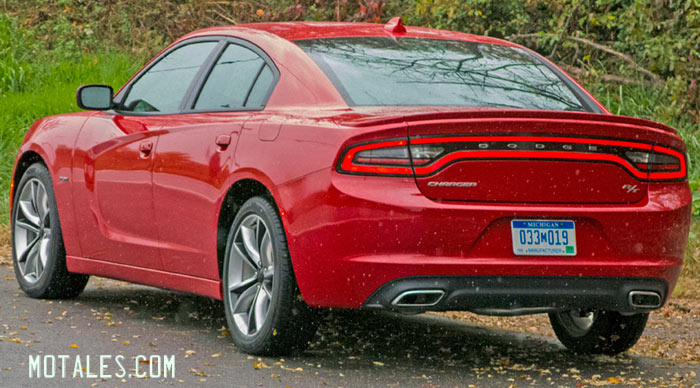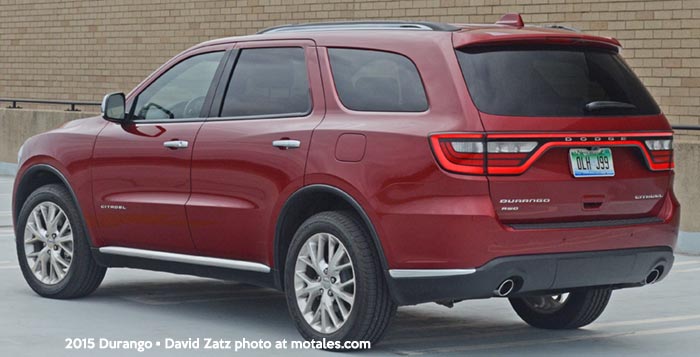 The interior gained new switchgear and infotainment systems, with the top-end version having a big 8.4" center screen. Drivers also gained a customizable 7-inch gauge cluster similar to the one on the Dodge Dart (the cheapest Dodge). The upgraded rear entertainment option gained Blu-ray support. The shifter was replaced by a rotary gear selector, inspired by commercial trucks, to make more room up front; one good thing about the Durango getting the eight-speed automatic long after the Charger and 300 was not having a "monostable" shifter.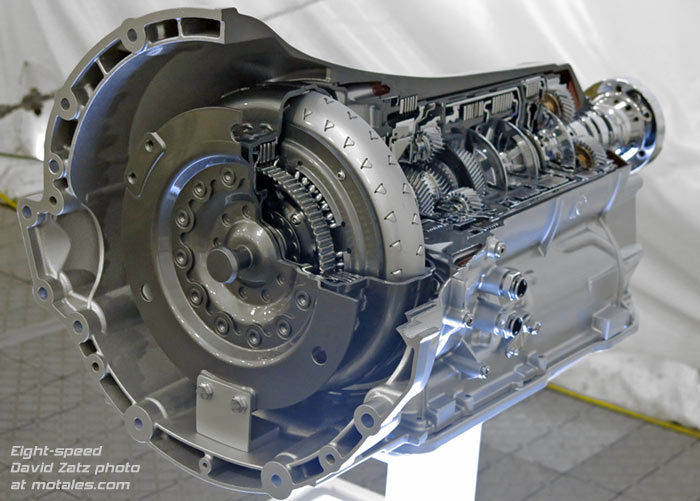 The Rallye package turned into a full-fledged model, and the Crew was renamed to Limited, so the line was now SXT, Rallye (formerly Heat), Limited (formerly Crew), R/T, and Citadel. The SXT gained pushbutton start, triple-zone auto climate control, and a five-inch Uconnect system. The Rallye added 20-inch wheels, the sport appearance, dual polished exhaust tips, and a clean roof (no roof rails).
The Limited included leather seats, a driver memory seat, power passenger seat, remote start, and the 8.4" touch screen. The R/T added monochromatic exterior trim, a sport suspension, Xenon low-beam headlights, premium sound, 20-inch wheels, power liftgate, and a standard Hemi V8—the only model other than SRT to have a standard V8. Finally, the Citadel added chrome trim, automatic high beams, rain-sensing wipers, sunroof, power tilt-and-telescoping steering wheel, ventilated front seats, and heated second-row seats.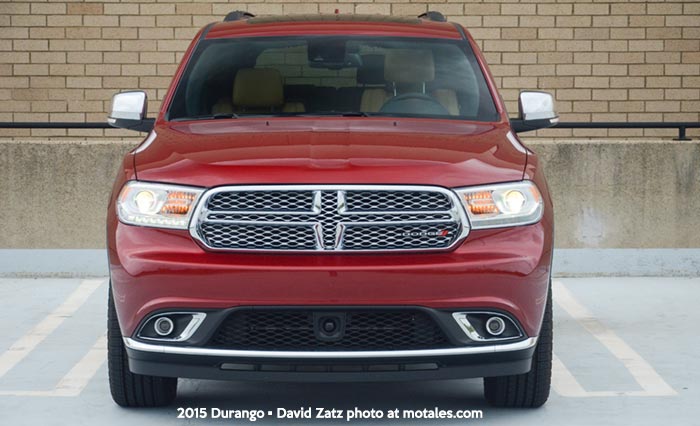 A new Technology Group, limited to the R/T and Citadel, had adaptive cruise control, forward collision warning, and a blind-spot monitor. The Blacktop package, with its black-painted room and black trim, was optional on SXT, Limited, and R/T.
2015 to 2017
The 2015 Durango R/T came with Beats sound (optional on Limited and Citadel); other R/T options were ventilated front seats, heated steering wheel, rain-sensitive wipers, HID headlamps, a cargo compartment cover, and Nappa leather seats in black or red.
2015
Durango
Suburban
Explorer
Expedition
AWD

17/24 V6
14/22 V8
15/22
base V8
17/23 V6
16/22 V6T
15/20
V6T
The 2016 Durango shifted to the upgraded Pentastar V6 engine, which didn't gain much power but was more efficient and durable, and also added a stop-start system. All models now had a sport mode which changed the steering, pedal, and shift calibration, and the year also brought new wheels and appearance packages.

The Anodized Platinum Appearance Package on Citadel added 20" Satin Carbon wheels and platinum accents on the mirrors, grille, fog lamp bezels, badges, and door handles. The Brass Monkey Appearance Package on the Limited had 20" bronze wheels, a black grille, black exterior badges, and body-colored door handles, mirrors, fascias, side sills, and wheel flares.
For 2017, the SXT came with five-passenger seating, making the third row an option; and the Limited was renamed to GT, with monochromatic exterior accents. The R/T gained a hand-wrapped soft touch dash with accent stitching and black roof rails. The Blacktop and Brass Monkey package were expanded to be available on GT and R/T as well as Limited. Regardless of options, the back-up camera could be set to work while in motion, so owners could see their trailers while on the move.
2018 Updates: Durango SRT and more
The 2018 Durango was heavily updated, but the biggest news was Durango's first SRT—complete with a 475-horsepower 6.4L "392" Hemi V8 engine pumping out 470 lb-ft of torque. That sped the big SUV from zero to 60 mph in 4.4 seconds—a stunning time for such a large vehicle, especially since it was engineered for towing, not racing. The SRT had the highest towing capacity of any Durango, at 8,700 lbs.

In keeping with SRT's standards of "power all day long," rather than hitting peak for a short time (sometimes under a minute) and then needing a good deal of rest—common to some competitors—the SRT had special fascias with a different grille to increase airflow, and a hood with a functional center air inlet duct and heat extractors on both sides. (The R/T also gained the new hood and grille, as did the GT when it had the Blacktop or Brass Monkey packages.)

Inside, the SRT featured standard leather and suede seats with available Laguna leather seating and carbon fiber dash trim.

The 2018 Durango introduced the fourth-generation Uconnect system, dropping the five-inch center screen so buyers could get the 7-inch or 8.4-inch versions; both supporitng Apple CarPlay and Android Auto. The rotary shifter was replaced with a traditional shifter from the Charger and Challenger, which worked electronically but felt mechanical. Every Durango had a backup camera and a sportier steering wheel; the SXT gained rear parking assistance and the GT added a power liftgate and leather/suede seats. The Technology Group was optional on the GT, while the Citadel and SRT offered an available suede headliner; the R/T, Citadel, and SRT gained a front park assist.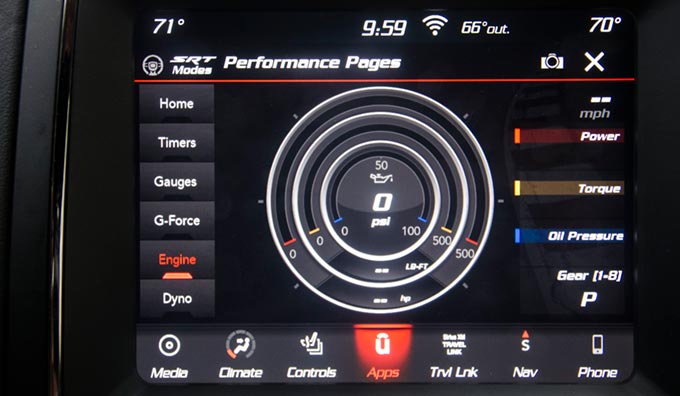 Later in the model year, stripe packages were offered on the R/T and SRT; and the Durango GT gained a Rallye Appearance Package that added the performance fascia and hood from the R/T and SRT.
Overshadowed by the new Hellcat news was a Durango police pursuit car, powered not by a 710-horse monster engine but by the standard V6 and 5.7 V8 options. They had standard all wheel drive, heavy duty disc brakes, special seats, vinyl floor coverings, load-leveling pursuit suspension, cabin air filter, a module to integrate computers (stored in the trunk with a keyboard/monitor setup in the cab), and a stealth mode that kept all the lights dark. Police had special dash-mounted shifters, as well. The pursuit car was a bit slow with the V6, in Michigan State Police tests, but the Hemi did well enough.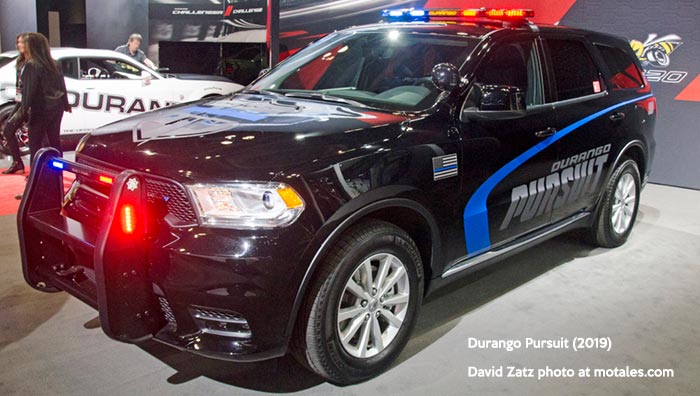 Dodge had already tested the waters for some time with a Durango Special Service Vehicle, which had beefed up brakes and other features for helping police and other emergency services. These continued, with rear wheel drive, stalk shifter, V6 or V8 engines, and heavy duty brakes, alongside the full pursuit-rated editions. 
2019-20 Updates
For 2019, the performance fascia from the R/T and SRT, once part of the Rallye Appearance Package, was standard on the GT; the "performance hood" was optional. The Citadel added second-row captains chairs; R/T, Citadel, and SRT added an optional 19-speaker Harman/Kardon sound system. Rounding out the changes were a few new wheel designs, and a new trailer brake controller as part of the Trailer Tow package.
Only a few changes were made for the 2020 model year; SRT had a black appearance package and a redline appearance package, the latter having a full-length satin black center stripe with red accent tracers on each side. The Durango R/T added Hemi fender badges and an optional Premium Interior Group, which added a hand-wrapped instrument panel with accent stitching and a suede headliner.
2021: Hellcat pushes SRT Durango to new records
The third-generation Durango received its second extensive refresh for the 2021 model year—and, drawing a good deal of attention, a Hellcat SRT with the supercharged 6.2L Hemi V8 engine producing 710 horsepower and 645 lb-ft of torque mated to an 8-speed automatic transmission. Buyers were told this was a one-year-only model, because engineers could not meet 2022 emissions rules with the hot Hellcat. The Durango SRT Hellcat could accelerate to 60 MPH in 3.4 seconds (faster, in ideal conditions) and run the quarter mile in 11.5 seconds. Like the Charger and Challenger SRTs, the Durango SRT had a backlit SRT logo on its flat-bottom steering wheel (that wheel was also available on GT and R/T as an option).
The Hellcat had an upgraded suspension with driver-selectable modes. Changes to the suspension increased total rebound control by 20%, reduced understeer by 2.5%, and improved the roll gradient to 5%.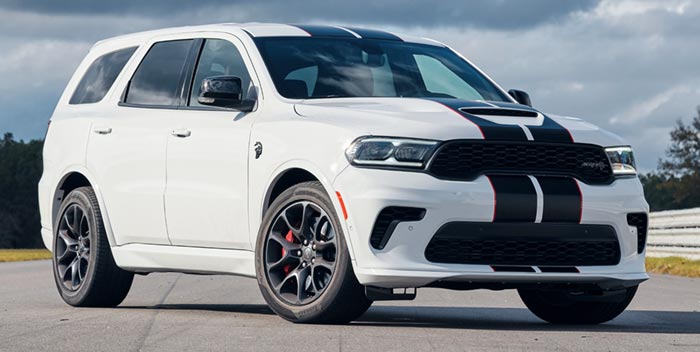 The rest of the 2021 Durango lineup got a new front fascia inspired by the Charger Widebody, with LED headlamps and daytime running lights, and higher fog lamps. Models were the SXT, GT, R/T, Citadel, SRT 392, and SRT Hellcat, with minor styling variations between each one.
The fifth-generation Uconnect system had either 8.4 or 10.1 inch center touch screens (the 7-inch was gone); the redesigned dash looked more like that of the Challenger, including a center stack tilted 7° toward the driver. Physical buttons controlled heated and cooled seats; materials on every trim level were improved, and all models had a new center console and optional soft-wrapped instrument panel.
The towing package, whimsically renamed "Tow 'N' Go," was optional for the Durango R/T; it added SRT 392 wheels, tires, brakes, fender flares, and sills, and the adaptive suspension—with drive modes including a tow mode. The R/T with Tow 'N' Go had a towing capacity of 8,700 lbs and a top speed of 145 MPH.
2022-23: Updates and Return of the Hellcat
The 2022 Durango was largely a continuation of the 2021, but without the Hellcat. A Mopar '22 version of the Durango had a blackout (or white paint) package with a blue stripe, the Hemi V8, and various Mopar aftermarket accessories built in at the factory.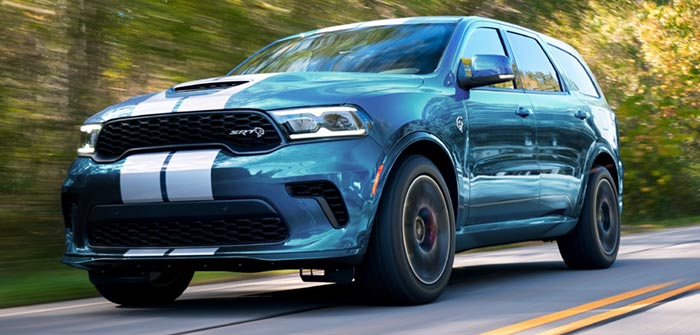 The 2023 Dodge Durango SRT Hellcat brought a new Hemi Orange package for vehicles with the Hemi engine, pairing one of four paint colors with orange accents and stripes; there was also a Hemi Orange Plus and Hemi Orange Tow 'N' Go package. More substantially, the Hellcat made a surprise comeback; engineers had not thought they could tune it for 2023 emissions, but apparently they found a way that didn't even reduce the power ratings. That made some people very happy, though some who already had Hellcat Durangos were upset at their "exclusive" option being available again.
Most observers believe the 2023 or 2024 Durango will be the final model-year for the "WD" generation; opinion is mixed regarding whether the next series will be based on STLA Large, Ram 1500 (like the Wagoneer), or the new Grand Cherokee platform.
Reception
The Dodge Durango was not a global vehicle like the Grand Cherokee; even in the United States, the Durango never had half of the Grand Cherokee's sales despite being at least as pleasant and arguably a better deal. Sales never broke 70,000 in one year, while the Grand Cherokee never went below 127,744, and broke 200,000 per year from 2016 through 2021—passing a quarter-million in 2021.
| US Sales | Grand Cherokee | Durango |
| --- | --- | --- |
| 2011 | 127,744 | 51.697 |
| 2012 | 141,669 | 42,589 |
| 2013 | 174,275 | 60,727 |
| 2014 | 183,786 | 64,398 |
| 2015 | 195,958 | 64,186 |
| 2016 | 212,273 | 68,474 |
| 2017 | 240,696 | 68,761 |
| 2018 | 224,908 | 65,947 |
| 2019 | 242,969 | 67,599 |
| 2020* | 209,786 | 57,828 |
| 2021 | 264,444 | 65,935 |
| 2022* | TBD | TBD |
* Industry-wide sales impacted first by COVID lockdowns, then by production shortfalls due to parts shortages.
Dodge Durango personal impressions
During the Durango's run, I reviewed it twice—once with the 2014 SXT, once with the Citadel. I found the cornering to be quite good, and liked the feel. The suspension filtered out bumps and bad pavement, even as it can be whipped around sharp curves at speed; yet felt in touch with the pavement.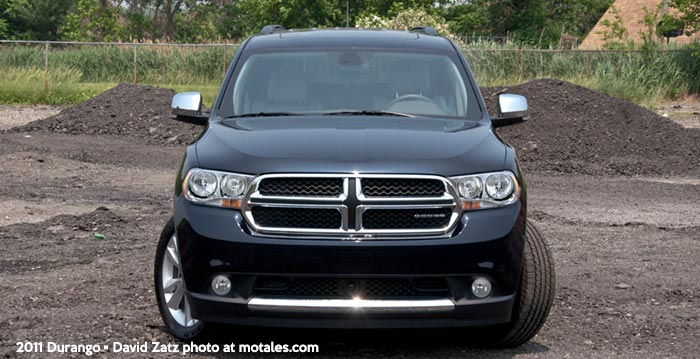 The ride had a nice balance between comfort and performance; between the tight steering and decent cornering, it was pleasant to drive, but mainly it was a fine highway cruiser which could be driven for hours without fatigue. It took well to being whipped around turns, in exactly the same way most oversize SUVs did not. With the all wheel drive, driving the Durango through days of rain and storm, including deep highway puddles, was confidence-inspiring.
Engine and powertrain
The 2011 transmissions were good, but the eight-speed downshifted more easily, with a faster kickdown, and the wide range meant quicker launches and quieter running at highway speed. All the Durango transmissions had manual overrides for drivers anticipating or rolling down hills.
2011-13 gas mileage roughly matched or beat the best competitors; 16/23 mileage (V6 AWD) was about the same as the Buick Enclave and Ford Explorer, though the V8 fell a little below the Suburban's base V8; the Durango V8 also beat the 2013 Ford Expedition's 13/18 mpg with a 13/20 rating. 2013 acceleration was quick and smooth for the size; it took about nine seconds to run 0-60 mph with the V6, and around 7 1/2 seconds with the V8.
The eight-speed made the V6 much more responsive, largely due to the wider gear range. The eight-speed transmission used with the V6 was made by Chrysler; the one used with the Hemi was made by ZF itself, in the United States. (The prior five and six speed automatics were Chrysler designs.) Switching to the eight-speed increased mileage by 1 mpg, both city and highway (2 mpg highway on V8s).
The Pentastar V6 engine was smooth from idle to redline; kickdown with the eight-speed had a pause, kickdown, pause, then another kickdown if needed. The computer cut fuel while coasting on either engine, which takes some getting used to because it causes a drag while the engine is warm.
Dodge Durango interior
The interior was cleverly designed, including the "headrests down" button to improve the driver's rear vision when nobody was in the back seats—which could also fold flat, except in the SRT, whose well-bolstered seats could only be folded partway down. This post-Daimler vehicle was nicely trimmed, with backlit controls, audio buttons on the steering wheel, and soft-touch surfaces with tight tolerances. Physical controls supplemented the touch screen; past 2014, the audio system had multiple knobs as well as buttons (sound quality improved quite a bit, too). Each part of the Durango looked and felt good.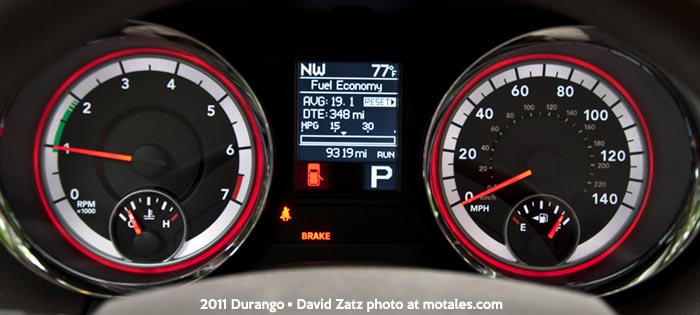 The rear seats were inhabitable though lower to the floor than usual and without much legroom; foot space under the back of the middle-row seats helped there. Each row had reading lights and was fully trimmed—unlike some SUVs where the front row is luxurious and other rows are barebones.
The trip computer was easy to read and filled with information; it was light-gray on black lettering on the 2011-13, adding the compass heading, odomoter, and temperature to most screens; and more elaborate, in full color, on later models. As with other Chrysler vehicles, the trip computer was also an easy way to set driver preferences.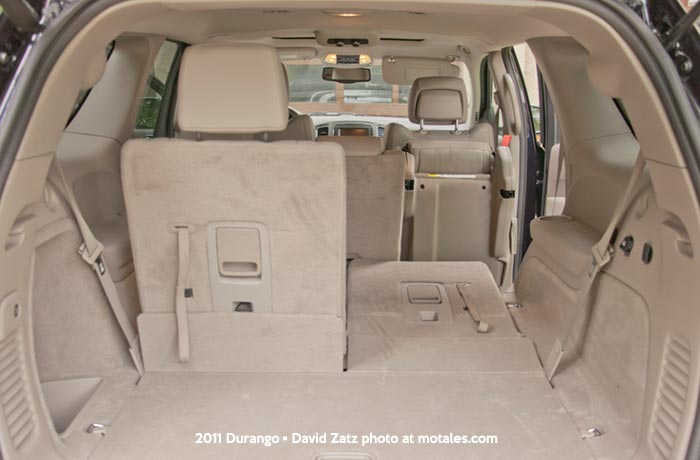 It was easy to get into the back, by flipping the middle seat forward—two methods were provided for this; there was also a panel under the cargo floor for extra storage.
Early years had conventional gauge clusters; later ones were customizable, with a physical tachometer, fuel gauge, and thermometer, and computer-generated speedometer—in analog or digital form. The setup combines trip computer and speedometer. A wide variety of gauges could be added for extra information, paged through via a button on the steering wheel. The only downside is that, to emphasize sport or muscle, both the conventional and digital speedometers went up to 140 mph, leaving little space between the speeds people will actual go.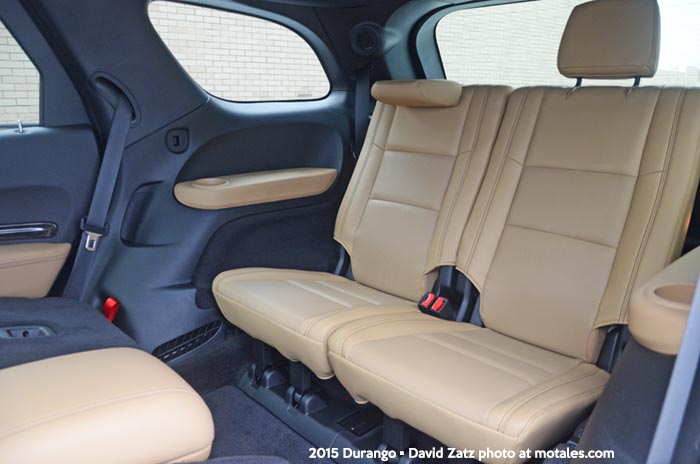 Gizmos and tech
Dodge Durangos had a nice set of basic features such as an overhead console with sunglass holder, garage door opener, and power rear hatch opener where applicable. The center console was okay in the 2011-2013s but vastly improved with the 2014s, adding physical knobs for volume and tuning/selection. Soft lighting from LEDs were practical and attractive at night.
The bass-heavy stereos had surround sound, without any control beyond on and off—no special settings for just the driver, driver and passenger, etc. Auxiliary inputs were standard audio, USB, and SecureDigital (SD); fairly large USB cards were supported, and up to 32GB SD cards. (Mac users have to delete .DS_Store and other hidden files; OptumUSB does that automatically.) Chrysler stereos do an excellent job of dealing with USB and SD media. The navigation system was fast, fully featured, and set up to provide turn by turn directions in the gauge cluster for driver convenience; it could also tell how many mph the driver was going in excess of the speed limit.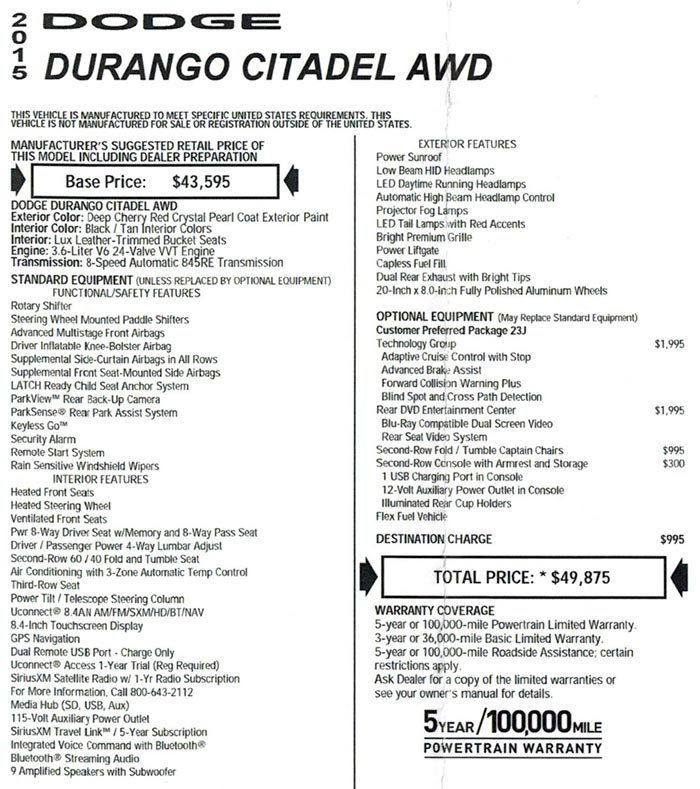 The Durango remained competitive through its long 2011-2023 run; for years it had similar power and economy as the Explorer, but with more space and towing capacity. Comparisons to the Ford Expedition were also favorable to the Durango, which had much better handling. As an example, we can look at the 2015 Expedition, rated 15/20 mpg vs Durango's 14/22 (both RWD V8); comparing the Ford turbo V6 to the Dodge V8, both vehicles had similar power and economy (but Dodge also had a more economical version). The Ford was bigger inside (and outside), heavier, and around $10,000 more expensive.
|   | Dodge | Ford |
| --- | --- | --- |
| Weight | 4913 | 5846 |
| Pass space | 141 c.f. | 160 c.f. |
| Length | 201 | 206 |
| Cargo | 85.1 c.f. | 108.3 c.f. |
| Trans speeds | 8 | 6 |
| Fuel | Midgrade | Regular |
| MSRP | $30,495 | $40,285 |
The cornering, ride, interior quality, towing capacity, and power all enticed buyers year after year—even as Dodge's reputation increasingly centered on muscle cars. Sales were never stellar, but they were steady and likely very profitable; and they were also all icing on the Grand Cherokee cake. This Durango undid the damage of the prior generation, and then some; and it seems likely there will be a new generation to replace it in 2024.
Specifications and dimensions
| | | | |
| --- | --- | --- | --- |
| Dimension | Durango | Jeep GC | '09 Durango |
| Wheelbase  | 119.8 | 114.8 | 119.2 |
| Track, F/R | 63.9 / 64.1 | 63.9 / 64.1 | 64.4 / 64.5 |
| Length | 201.2 | 189.8 | 200.8 |
| Width / w/mirrors | 75.8 / 85.5 | 76.3 / 84.8 | 76 / ? |
| Height | 72.7 at antenna  | 71.7 | 74.3 |
| Load floor height  | 32.2 | 31.9 | 33.2 |
| Ground clearance | 8.1*  | 8.1+* | 8.7 |
| Approach angle  | 16.3°  | 26.3°+ | 27.2° |
| Breakover   | 18.1° | 18.8°+ | 29.9° |
| Departure angle  | 21.5° | 26.5°+ | 30.2° |
| Legroom (comb.) | 110.4 | 78.9 | 113.3 |
| Shoulder Rm (f) | 58.5 | 58.6 | 59.4 |
| SAE cargo vol | 17.2 cf | 36.3 cf | 19 cf |
| Drag (cD) | Around 0.35 | 0.37 |   |
| MPG (V6)* | 16 / 23 | 16 / 22 | 14 / 20 |
| MPG (5.7)* | 14 / 20 | 14 / 20 | 14 / 20 |
* Varied by package and engine; for Durango, with P265/60R18 tires and V6. For Jeep the minimum possible; ground clearance went beyond 10 inches with off-road packages. MPG from EPA web site; press release showed higher numbers.
For 2011, weight started at 4,756 lb for the SXT or Rallye with rear drive and V6; moving up to a 4x4 added 157 lb. The Limited package added 82 pounds; the Citadel added 67 pounds more. Moving to a V8 added around 192 lb; the 4x4 setup used on the V8 added nearly 200 lb. The heaviest was the Citadel 4x4 V8 at 5,397 lb. For reference, the 2004 Durango weighed in at 4,671 for the base model and engine—a surprisingly similar weight; but, then, the two vehicles had similar dimensions.
Follow us on Post! It's like Twitter, but without ads or Nazis!
Books by MoTales writer David Zatz
Copyright © 2021-2023 Zatz LLC • Chrysler / Mopar car stories and history.