2025 Ram 1500 REV: Ram's First Electric Pickup Truck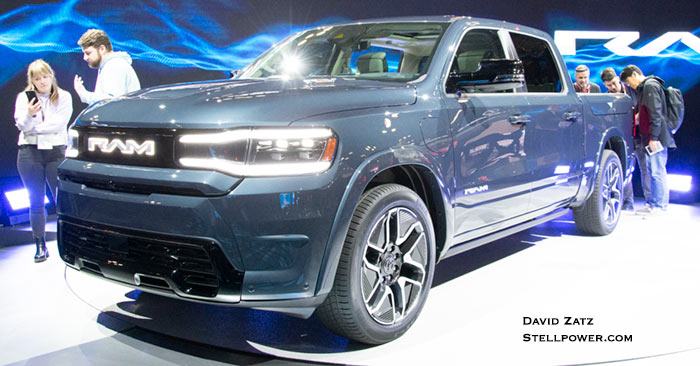 Chrysler has sold battery-electric trucks before—but only in the United Kingdom. The 1500 REV will be Ram's first battery-electric pickup truck, with an emphasis on "truck."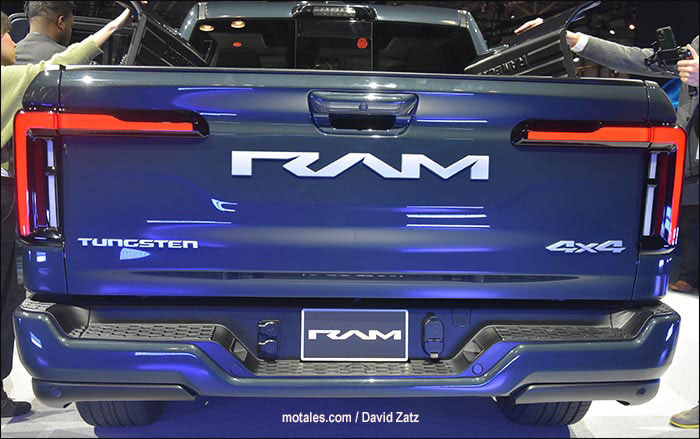 This is no car with a pickup bed, no "lifestyle truck." The Ram 1500 REV has a payload up to 2,700 pounds, up to 14,000 pounds of towing, and, for farmers and adventurers, up to 24 inches of water crossing. While the only model shown at the New York Auto Show was in the top Tungsten trim, it will also be sold in the workaday Tradesman trim, as well as Big Horn/Lone Star, Laramie, and Limited. All, though, will have the same cab and box size as the one shown—at least until initial demand is satisfied.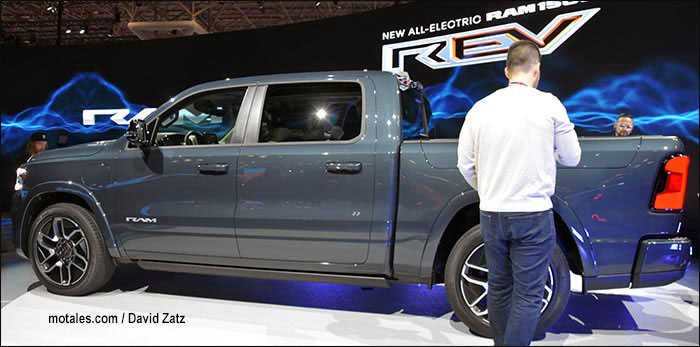 For on-road chops, the Ram 1500 REV will leap to 60 mph in just 4.4 seconds, with 654 horsepower and 620 pound-feet of torque. Charging is reasonably fast, with 800VDC charging at up to 350 kW; 110 miles of range can be added in ten minutes. There will be two battery packs, one with 168 kWh for a 350-mile target range, and one with a 229 kWh battery pack for a best-in-class 500-mile target range—and a Ram 1500 REV XR with a range extender will be added later.
The Ram can also provide power to a house or work or camp site, provide extra power to the grid, or charge another Stellantis electric vehicle. The bed electrical panel provides up to 7,200 watts of power and the frunk panel provides up to 3600 watts.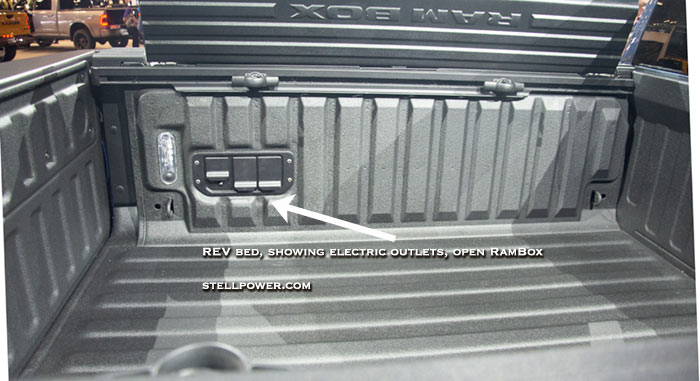 As for motors, the Ram 1500 REV has twin 250-kW electric drive modules (EDMs) which combine motor, gearbox, and inverter. It has all wheel drive because one motor is on the front axle and one on the rear axle; the front module has an automatic disconnect so the front wheels can spin freely, to increase mileage. The rear module can be combined with an optional electronic-locking differential.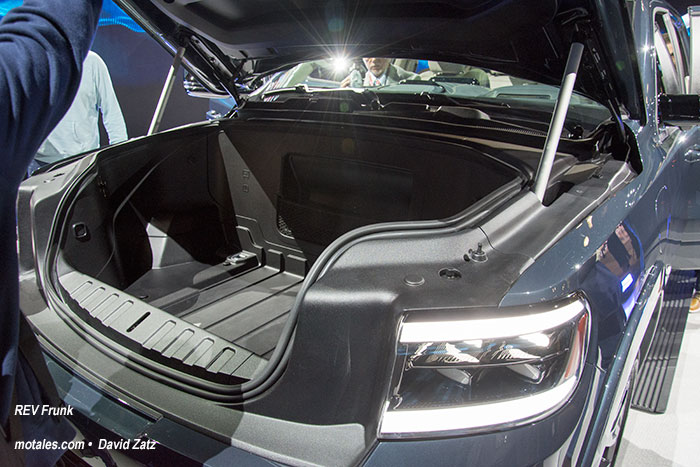 The shifter (shown below, in prototype mode) will have buttons for economy mode, axle lock, and hill descent control, as well as Park, Reverse, Neutral, and Drive; drivers have a setting for one-pedal driving (maximum regeneration). The Ram REV also has a push-button trailer steering knob and accessory switch bank.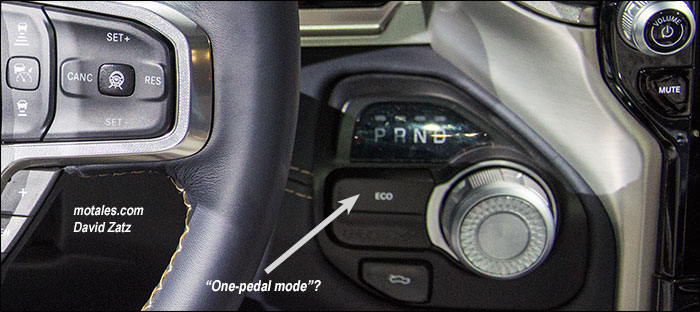 The frame, made of high-strength steel, is wider in the middle so it can protect the battery pack. The full-length aero belly pan cuts drag, resulting in an estimated .340 coefficient of drag (cD).
Not mentioned in the press releases but visible in the display model were automatic steps which lowered themselves to provide easy access to the cab, and later went back into their recessed spaces to become unnoticeable. This is presumably a step to improve both aerodynamics and accessibility.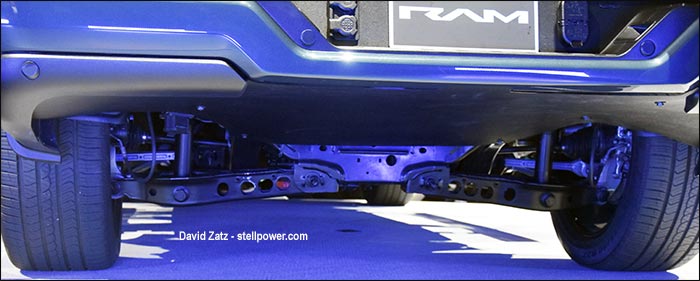 Note: production trucks will have different parts from this concept/pre-prototype version.
Ram praised their truck's ride and handling, due to its multi-link independent rear suspension and standard active-leveling four-corner air suspension with adaptive damping. The air suspension has five modes: entry/exit (lowest), aero (low), normal, and two off-road (raised) settings. The wheels are 22-by-9-inch wheels with 275/50R22 Pirelli Scorpion tires for wear resistance and low road noise.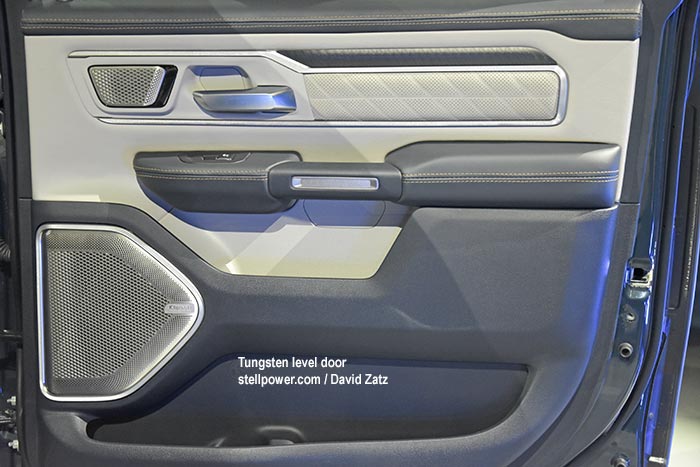 Gadgetry on the top end includes automated parking and active driving assistance (lane centering with adaptive cruise, guided by radars and cameras).
Ram REV BEV design and features
The Tungsten edition has carbon fiber, metal, and leather elements, with the usual UConnect 5; lower trims have a 12 inch touch screen, higher trims have a 14.5-inch screen. The Tungsten also boasts a 12.3 inch digital instrument cluster; a 10 1/4 inch passenger screen; a digital rear view mirror; a head-up display; and a Klipsch Reference Premiere audio system. The 14.5 inch screen has a series of physical buttons as well.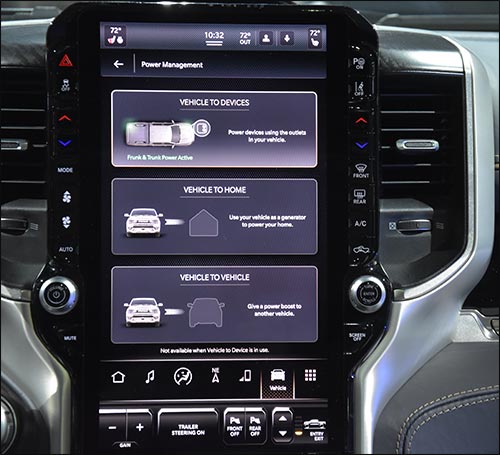 The big passenger screen, shown below, can show navigation, device management, entertainment (playing from an HDMI port), and the outside cameras.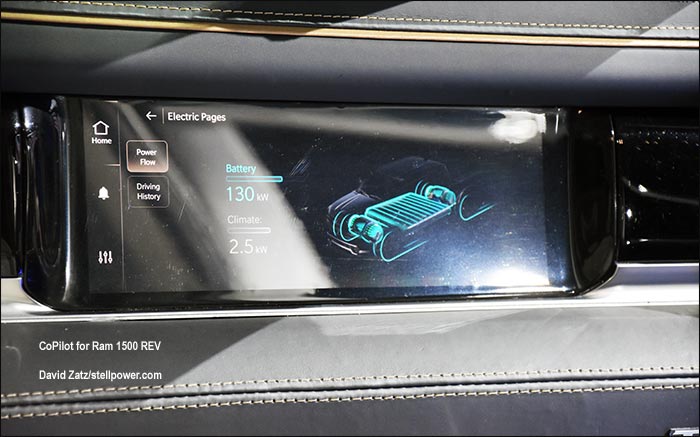 The top of the line Ram 1500 REV Tungsten is quite premium, with comfortable, form-fitting seats in front and back. The interior has platinum patina dual-textured metal accents with diamond knurling; suede-wrapped headliner, visors, and pillars; and heated/ventilated quilted leather front seats with 24-way power, memory, massage, power lumbar support, and four-way powered headrests. The Tungsten console badge has inlaid lettering to show the VIN and a Klipsch Reference Premiere audio system with 23 speakers, not to mention new dual wireless chargers, and a metal pedal kit.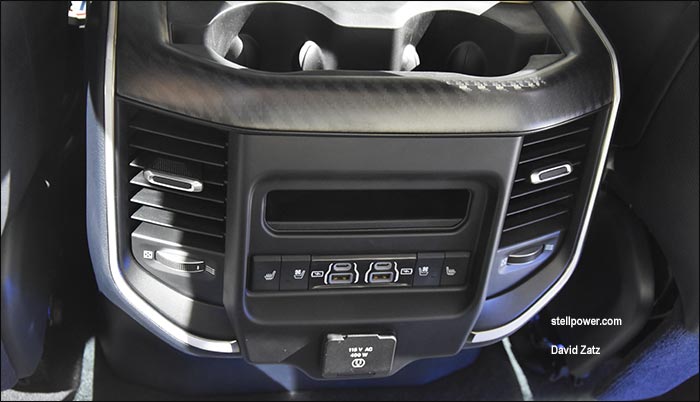 To set it off from standard Ram pickups, which it resembles, the Ram 1500 REV has lighted "tuning fork" LED headlamps and a lighted Ram badge; a body-color front fascia; and the Ram letters are in a new typeface. The one-touch power frunk has a best-in-class 15 cubic feet of space with power outlets under a cover on the side.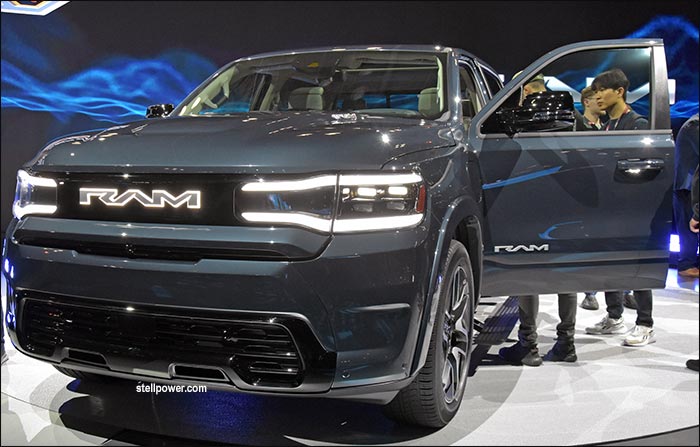 The fender openings were stretched to cover 20- or 22-inch all-terrain tires. A body-side character line stretches from front to rear.  In back, the Tungsten has a new power tailgate and EV-specific LED taillights.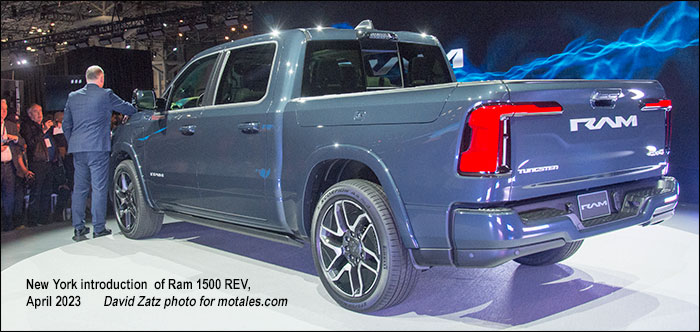 The charge port is on the driver's side front quarter panel; when it is plugged in, LEDs blink; a sound signals that charging has begun. The charge port combines Level 1 and Level 2 AC charging on the top half, and DC fast charging on the bottom half.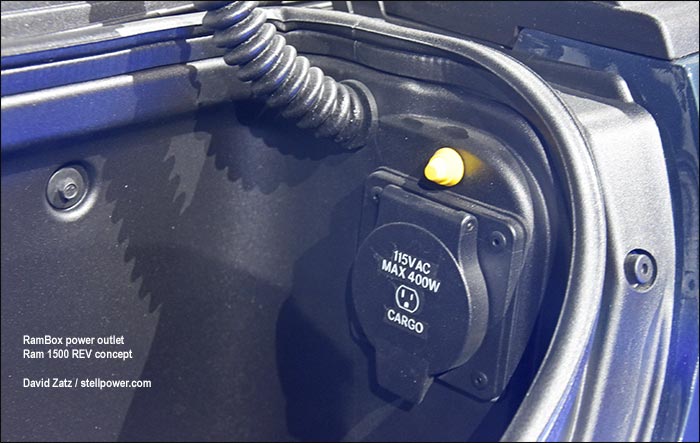 The bed provides locking storage with the Rambox and an AC outlet. The RamBox storage is illuminated, highly versatile, and weatherproof, and includes drain plugs on the bottom of the storage bins.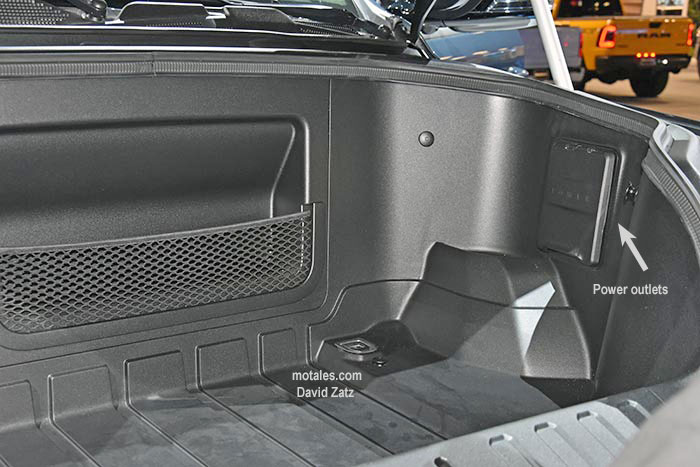 The center display is reconfigurable, with split-screen if the driver wants to run two programs. The 10.25-inch passenger screen has a choice of Co-Pilot (navigation, device management), HDMI entertainment, and the ability to view the exterior vehicle cameras. The new EV Pages on the center screen, like SRT pages, show a number of key performance figures and settings:
Power flow
Range-increasing advice
Driving history (bar chart showing energy use and regeneration for four intervals)
Charge recommendations
Plug & Charge: authorizes payments at compatible charging stations
Choice of maximum battery level—80% for battery longevity, or 100% for higher range
Charging level
Current power, regeneration, range, and battery temperature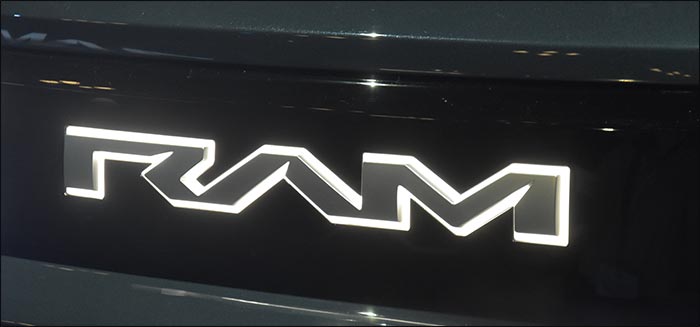 The color head-up display (HUD) can range to 10 inches wide, including several content areas at once. It can show status for lane departure/assistance, cruise control, navigation, speed, gear, and speed limit; and the HUD settings are saved within the driver profiles.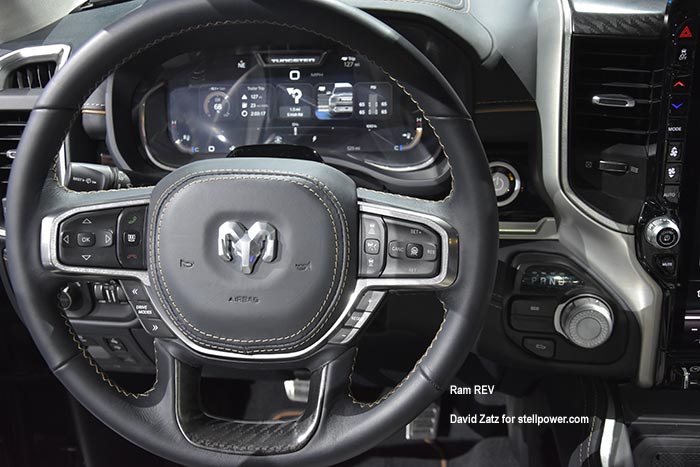 The 12.3-inch digital gauge cluster shows estimated charge times for the chargers and for one-pedal driving; it is programmed with over twenty menus, including speed limit sign recognition.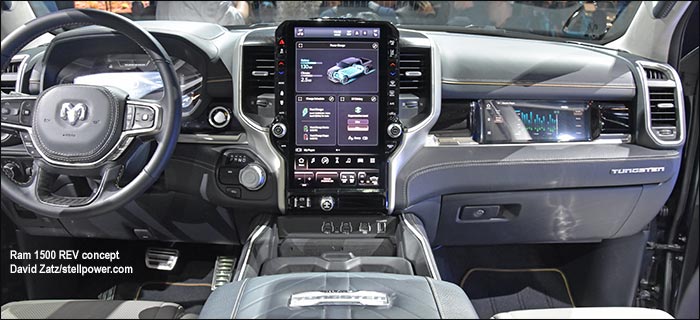 As an option, the Ram app can be used to turn phones into truck keys, without having to take out the phone; owners can create digital keys with access control, to share the truck with friends or family. For those not wanting to use their phone, or having a dead phone, a card key can be used. The standard way to unlock and run the truck is a standard traditional key fob.
Bits and pieces
The Ram 1500 Tungsten has a standard Klipsch audio system with 23 tuned speakers.
The first run of Ram REVs was quickly reserved, and Ram scheduled more production even before it officially went on sale.
When asked if the Ram REV performed well in snowplow duty, a Ram representative responded that it had not been tested in that use case yet. By comparison, on the same day (April 5, 2023), Ford reps said the Lightning was not checked out for plowing snow; and Jeep reps said the 4xe would work well as a snowplow.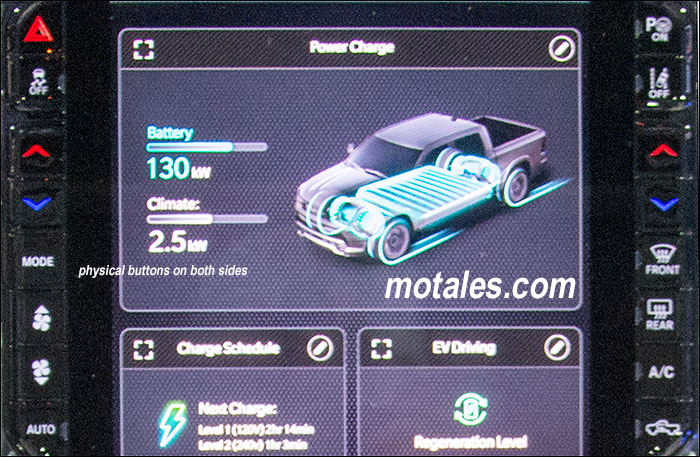 The REV's electronics architecture is named Atlantis—and is proprietary to Stellantis.
The seats are molded to the driver and quite comfortable in the Tungsten model; even the rear seats are very comfortable.
Also see the Ram 1500 Ramcharger range-extended electric pickup
Current and future
Follow us on Post! It's like Twitter, but without ads or Nazis!
Books by MoTales writer David Zatz
Copyright © 2021-2023 Zatz LLC • Chrysler / Mopar car stories and history.