PureTech EP6: the Peugeot 1.6 liter turbo engine replacing the GSE 1.5T
In August 2022, FCA US announced that it would be making a 1.6 liter turbocharged engine for use with hybrid powerplants in two American cars. The company later confirmed that it was a Peugeot engine; and there is only one that fits, the EP6 series.
The first EP6 engines (then called VTI and THP) earned a reputation for poor reliability, due to issues with the timing system; but these were fixed, so that the reputation is somewhat obsolete. The improved version of the engines was dubbed PureTech.
The EP6CDTX version boasts 201 hp and 203 lb-ft of torque, using a twin-scroll turbo and direct injection. That falls between the 1.3 GSE engine (177 hp, 200 lb-ft) and the 2.0 GME (270 hp, 295 lb-ft), a little on the lower side, but peak horsepower figures don't tell the whole story; the 1.3 turned out to be slower when propelling the Jeep Renegade than the old 2.4 engine (184 hp, 177 lb-ft) had been.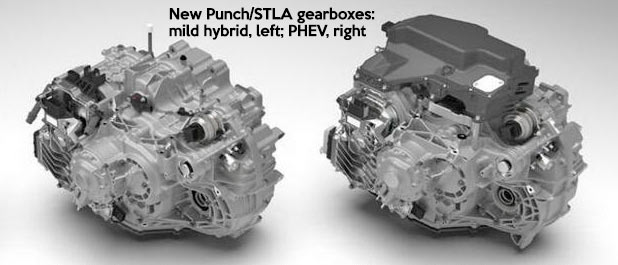 In North America, the EP6 will be coupled to a hybrid setup. The existing EP6CDTX, in hybrid form, produces either 296 or 360 horsepower, using a hybrid/transmission system supplied by Aisin. The 360 hp version is sold on the 508 PSE, DS7, and DS9, dubbed Hybrid4 because the electric motor is on the rear axle. This is not the one to be made in Michigan; that will be the new version, developed for both Europe and North America, which rumors claim will replace the 1.5 GSE engines used in the Tonale and Hornet.
The new EP6 hybrid setup will have a new transmission and hybrid-electric system, developed in cooperation with Punch Powertrain, instead of the Aisin setup. This "e-DCT electrified automatic gearbox" is, in the company's words, "similar to" a dual-clutch automated manual transmission; it has the electric motors built in. (Presumably that does not exclude the possibility of a rear axle motor). Power ratings for this new version have not been released.
Stellantis said the new setup will be used on "all compact SUVs developed on the STLA Medium (or e-VMP) platform." This may apply to Europe rather than being a global statement, given the American announcement that it is only to be used in two vehicles; alternatively, it might only be used in two vehicles at first, and then be used in more. At this time the only compact SUVs sold by STLA in the United States are the Compass and Renegade; not counting the commercial ProMaster City. The City may be replaced by a similar but newer Peugeot van, the Partner/Berlingo, once regulatory differences are resolved—which might be in a future Partner generation.
American production is earmarked for Dundee, Michigan, which will have about 18 months between the end of the 2.4 and the start of the 1.6. In Europe, they will be made in Hungary, to the tune of 200,000 engines per year, in a plant which also makes 1.2 liter gasoline engines. One source wrote that European production starts in the first half of 2023, which is quite soon; another wrote that 1.6 production will start in 2024, with new 1.2 liter hybrids starting in 2023, and is more likely to be correct. Production of the past EP6 engines was done in Douvrin, which is switching to battery production (in cooperation with Total/Saft); Trémery is switching to electric motors (in cooperation with Nidec).
American production starts in 2025. The direct injection and twin-scroll turbocharger setup have been confirmed, along with coupling the engine to a hybrid transmission. Other than that, no real details have been released in North America.
References: Largus, Diplomacy & Trade
Follow us on Post! It's like Twitter, but without ads or Nazis!
Books by MoTales writer David Zatz
Copyright © 2021-2023 Zatz LLC • Chrysler / Mopar car stories and history.