Not Absolutely Fabulous: The AMC Hornet
The Hudson Hornet, a full-sized car powered by a straight-six and sold only in luxury trim, was an unlikely stock-car championship car —but that's what it was. Hudson's successor, American Motors (AMC), brought the name back for 1970-77 for an economy compact.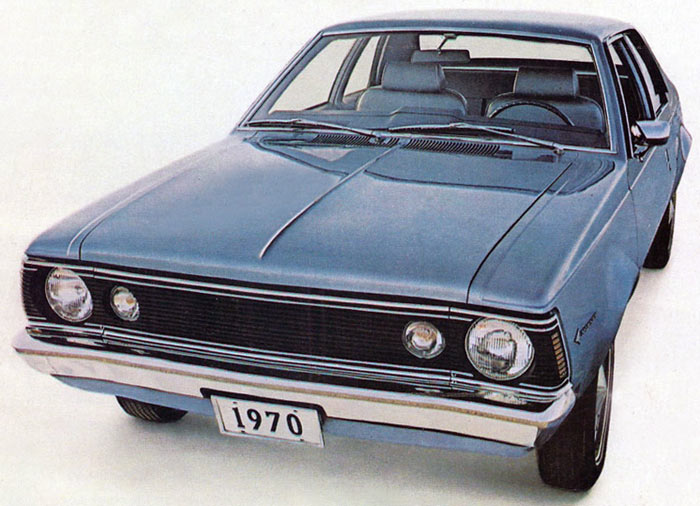 1970 was a big model year for AMC; the company debuted its Gremlin and facelifted the Javelin and AMX, launched in 1968 and successful in Trans Am racing, while adding a ram air hood option to boost the 390 V8's output to 345 bhp. A new version of the midsized AMC Rebel, dubbed "The Machine," staked out its muscle car turf. The company also enlarged two V8 engines—the 290 became the 304, and the 343 became the 360, confusing Chrysler people for decades since Chrysler later had a totally different 360 V8. AMC also started using a new twin ball joint front suspension across the line, which they claimed prevented nosedive when braking; and replaced its old "AM" script for a modern AMC logo.
On top of all that, AMC debuted its 1970 AMC Hornet, replacing the Rambler American compact. The American name itself went back to 1958—just after the Nash-based Hornet was drawn from the market. Unlike the original Hudson Hornet—a full-size upscale car—but like the Rambler American, the new car was a compact. Its main competition, for now, was the Nova/Ventura/Omega/Apollo, Valiant-Duster/Dart, and Maverick/Comet. It was also called the Rambler Hornet in large parts of the world, at least in its early days, as AMC slowly dropped the Rambler name.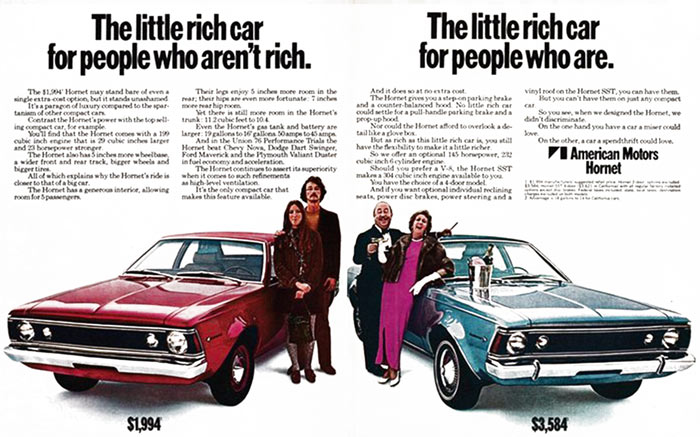 "The $1,994 Hornet ... is a paragon of luxury compared to the spartanism of other compact cars." In the Union 76 Performance Trials, the ad noted a victory in economy and acceleration over the Nova, Dart Swinger, Maverick, and Duster.  
AMC's car sales were smaller than Buick, Oldsmobile, or Pontiac, much less Plymouth or Dodge. To avoid direct competition, AMC sought niche sales with smaller cars; in 1970, they had a subcompact (Gremlin), two small pony cars (AMX and Javelin), a compact (Hornet), a midsize (Rebel), and a full-size (Ambassador). Their car sales were just one-seventh of Chrysler's in 1969—and around 5% of General Motors. AMC had also recently purchased Jeep, which added 34,000 US sales in 1970; Dodge sold 137,509 trucks that year, and Dodge was a minor player compared with Chevrolet and Ford. It's worth noting that Chevrolet did quite well with their midsize and full-size cars, which carried the most profit; Plymouth and Dodge mostly carried the compact and midsize market; and AMC's sales were mainly in their compact and subcompacts, which in the US tended (and still tend) to have the lowest profits.

AMC's straight six had two sizes, 199 and 232 cubic inches, while V8s came in three sizes, 304, 360, and 390 cid.
| Engine | BHP (Std) | Torque |
| --- | --- | --- |
| 199 | 128 | 182 |
| 232 | 145 | 215 |
| 232 2V | 155 | 222 |
| 304 | 210 | 305 |
| 360 2V | 245 | 365 |
| 360 4V | 290 | 395 |
| 390 4V | 325 | 420 |
| 390* | 340 | 430 |
* Rebel Machine only; not available otherwise.
The 1970 Hornet had a choice of either of the six-cylinders, and the bigger one, the 232, had an optional two-barrel setup. Hornet SST had an optional 304 cubic inch V8, which made the lightweight Hornet fairly quick (0-60 mph in 10 seconds), but was only available with the column-shift Shift-Command automatic supplied by Borg Warner. The sixes came with three-speed manual transmissions. The SST package sounded sporty but wasn't; it added a few amenities (electric clock, fancier steering wheel, fabric upholstery, glove box lock, and such) and made more options available—two-tone paint, vinyl covered roof, V8, bucket seats (fabric or vinyl), easier-access horn, handling package (V8 only), and power disc brakes (V8 only).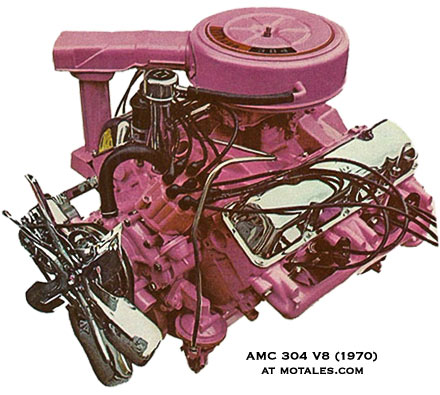 Like Hudson in its Hornet days (and Chrysler Corporation in 1970), all AMC's cars were made with a unibody design. Unlike the original Hornet, the AMC/Rambler version was an economy car, not a sports car. For that, AMC had the Rebel, Javelin, and AMX, which could be fitted with the 390 cubic inch V8.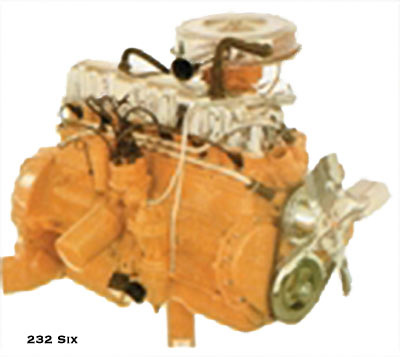 The Hornet and Plymouth Duster had the same 108-inch wheelbase, but the Duster was nine inches longer than the Hornet's 179.3 inches. Despite their short 97-inch wheelbase, AMC's own Gremlin and AMX came out to be 177 inches long. The Hornet's short overhang helped it to handle well—the wheels were closer to the corners. (The Mustang was then 187 inches long; the new-style Camaro was 186 inches; and the Duster was 188 inches.) The Hornet's curb weight (including fluids) was 2,702 lb with the six-cylinder and 2,997 lb with the 304 V8; it sat 5.4 inches above the ground at its lowest point.
|   | Wheelbase | Length | Width |
| --- | --- | --- | --- |
| Hornet | 108 | 179.3 | 70.6 |
| AMX | 97 | 177 | 71.6 |
| Duster | 108 | 188 | 69.7 |
Hornets were nicely trimmed for the price, with standard front and rear armrests and ash trays, interior lights, glove box locks, cigarette lighters, coat hooks, and full carpeting. Air conditioning was optional, and came with "high level" (mid-dashboard) ventilation. The SST added a custom steering wheel, cigarette lighter, rear ash tray, day/night rear view mirror, and other trim and functional items. The V8 appears to have been restricted to the SST; the V8 came with front anti-sway bars, which were optional on sixes.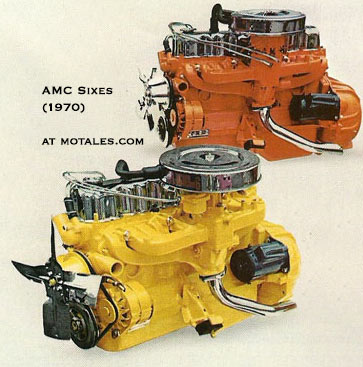 The 1970 AMC Hornet started at $1,994 for the two-door sedan, the most popular variety; the four-door added around $78 to the price. The SST added $150 to either body style and could have optional V8 power from the 304. The middle engine, the 232, had a two-barrel option, quite unusual on an American-made straight six. Brakes were drums all around, 9 inches with the six and ten inches with the V8. Air conditioning was optional; heating with integrated-into-dash ventilation was standard, as were front seat and shoulder belts, backup and turn signals, energy-absorbing steering columns, and tempered glass all around. The 1970 Hornet would be unchanged in most of its essentials until its run ended with the 1977 model year.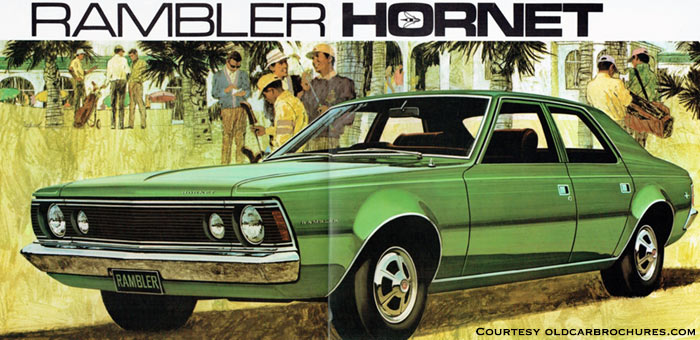 AMC still used the Rambler marque in Australia, where this ad was published; there, the Hornet had the 232 (3.8 liter) two-barrel as the standard engine, with a 155 bhp rating. Transmissions were the Borg-Warner three-speed automatic and a three-speed stick; front disc brakes were standard, with self-adjusting rear drums. The ad linked it to the Javelin, which was successfully racing in Trans Am.
Popular Mechanics noted the Hornet's "adequate power, better-than-average handling," nice trim for the price, and interior room, especially in the back, despite the small footprint. They pointed out that it felt like "a lot more than it really is," a "worthy successor to the Rambler." Consumers Guide, in contrast, later (in 1978) called the Hornet "the least comfortable of the early-'70s compacts," complaining of rough ride, hard seats, and noise; but they praised its dependability, aside from rust. They quoted the cargo space at 11.2 cubic feet (up to 74.6 in the later Sportabout wagon), and the leg room as a total of 77.5 inches in the any of the body styles. In its launch year, the Hornet took nearly a third of AMC's total sales.

The Hornet helped AMC's sales to move from 239,937 in 1969 to 254,327—as Chrysler, Ford, and especially GM lost sales. Specifically, the sedan and coupe versions had 80,305 sales in the US during 1970, making them the top sellers by far at AMC; the next top seller was the Ambassador at 42,747 (all figures from Automotive News). Early sales of the 1971 Hornet wagon added 3,695 sales to that total. By AMC standards, the Hornet was a real hit. Admittedly, the Plymouth Valiant had enjoyed 246,013 sales, and the Dart added 183,230; and the Ford Maverick passed 342,000. (The Nova only reached 240,396).
SC/360 and other 1971 updates
1971 Figures
Hornet
Valiant
Duster
Maverick
Length
179.3
201.1
195.8
187/194
Leg room
79
76.2
71.2
73.7/74.6
Cargo (cu ft)
11.2
14
15.9
10.1
Avg weight, sedan/coupe
2807-
2884
3308
3241
2,986-3,088
For 1971, AMC put the Javelin on a longer wheelbase, also widening the body and changing the styling somewhat, and moved the AMX name to a top-trim Javelin, dropping the original two-seater. The Rebel was given a new grille and name, becoming the Matador, but the Machine package continued. AMC's 390 engine was bored out to 401 cid and 330 bhp. But those were the other AMC cars.

The 1971 AMC Hornet gained a new package, SC/360, named after its 360 cubic inch V8; it also added special trim and a stripe. The engine was rated at 245 bhp and, including suspension upgrades, added 108 pounds to the 304's weight. The Standard Catalog of Independents wrote that it was meant to be "a low-priced performance car that could pass as a[n ordinary] compact and, thus, side-step rising insurance rates..."  The SC/360 labels at the ends of the rear fenders and around-the-beltline decals helped the "show," while buyers wanting "go" could get a Go-Package which added a four-barrel carburetor, ram-air induction, dual exhuasts, tachometer, white-letter fiberglass-belted tires, and a handling package. The Standard Catalog wrote that AMC intended to have at least 10,000 SC/360 sales, but only sold 784! Buyers may have found the car a bit front-heavy; a hotter version of the 304 may have been more appropriate for the Hornet.
Emissions rules had hit the six-cylinders' power ratings, so AMC dropped the 199 from the Hornet; they also stopped selling 232 engines with two-barrel carburetors, possibly because they were unable to pass emissions (though this does not seem like an insurmountable problem). To compensate, AMC added a stroked version of the 232, displacing 258 cid (4.2 liters), in some of its 1971 cars. This Mexican engine was not yet in the Hornet, but it would become a mainstay for Jeep and AMC vehicles—and the basis for the famed 4.0 in-line six. (The ratings below are still brake horsepower —gross, not net—and not comparable to modern cars.)
| Engine | BHP | Torque |
| --- | --- | --- |
| 232 | 135 | 210 |
| 304 | 210 | 300 |
| 360 | 245 | 365 |
Buyers could opt for new X and Rallye packages with the 360 V8. A new Hornet "Sportabout" hatchback, with 57 cubic feet of cargo space, got more attention—as it should, as the first American hatchback. AMC sold 92,506 Hornets in the United States during 1971, a true success for AMC; but the Gremlin easily beat it, with 104,315. Competing compacts had also gained sales.
Late in the 1971 model year, some fleet cars and rentals were built with Chrysler TorqueFlite automatics, which replaced the Borg Warner automatics for the 1972 model year. AMC used both the A-904 and A-727 varieties, dubbing them "Torque Command."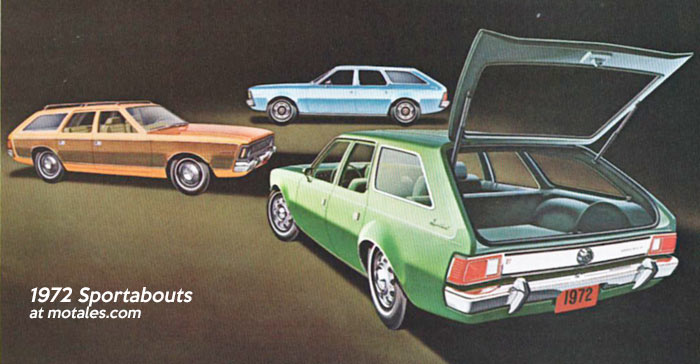 1972 was a championship year for the Javelin in Trans Am racing, while Matadors, with their new 401 engine, started showing up in police departments. The Los Angeles sheriff and police used Matadors and Ambassadors, so they started showing up on TV as police cars, too. But there were no serious changes to the Hornet.

Apparently confident in their quality, AMC introduced a 1972 warranty which was good for all parts, including most wear items (other than tires), for 12 months or 12,000 miles; it included a free loaner car from over 2,000 dealers in the United States. The 258 cubic inch engine was added to the Hornet's engine roster, surpassing the 232's ratings by 10 hp and 10 lb-ft, net. (Power ratings of the era should be taken with a grain of salt, but they were likely more accurate than the bhp ratings had been.) Note that the 232 "dropped" 35 hp and 25 lb-ft of torque from 1971 to 1972—most or all of which was likely the result of using net horsepower ratings starting in 1972. Chrysler used 1971 as an introductory year to the new measurement system, so we have both gross and net ratings for the 1971 engines; AMC did not show both at once, so it's hard to see exactly how much of the drop was due to the change in methods.
On the less technical side, to celebrate Columbus Day, AMC made 2,583 Gucci Hornet Sportabouts with special upholstery, charging $142 for the option; they sold out quickly and were a preview of the future.

For 1973, AMC contracted with Levi's to make an interior package for the Hornet and Gremlin, replicating the blue-jeans look down to red tabs, pockets, and copper buttons (Peugeot would later use these schemes in France). The Hornet Sportabout had an Adolfo Gucci interior in red and green, while the Javelin sported Pierre Cardin black seats with stripes flowing around. In addition, the Hornet "face" was updated. The Hornet hatchback (below) was named "Styling Coup of 1973" by Car & Driver, with 23 cubic feet of cargo room (with the rear seat folded down) and a locking rear compartment despite a coupe-like profile.
These changes must have made a serious hit: the Hornet shot up to 140,017 sales, and the Gremlin to 133,146. Or was the market just better for compacts because soldiers were coming home from Vietnam, with the end of the war? The Valiant also shot up, to 347,603; the Dart to a quarter million; and the Nova, to 334,371, well above its usual place in the market. With inflation, people suddenly wanted small cars, especially when the first gas crisis hit in October 1973. (The little Gremlin also shot up, to 133,146.)
The new model year also brought federally mandated 5 mph front bumpers, making the car slightly longer; and updated side marker and tail lights, the former to conform to laws which demanded lights rather than reflectors.

For 1974, The Levi's interior continued, and a new "Rallye X" package added tachometer, oil, and ammeter gauges; manual disc brakes; variable ratio power steering; and floor mounted shifter for either manual or automatic. Hornet options included the 360 V8, tinted glass (all windows or just the windshield), electric rear window defroster, power brakes, power or manual front disc brakes, power steering, and mirror group including inside hood release, intermittent wipers, day/night mirror, dual horns, and remote control outside mirrors. All 1974-model-year cars sold in America had an ignition cutoff if the driver's seat belt was not fastened—which did not make it into 1975.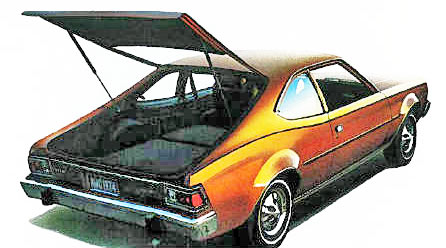 The X package on Hatchback included vinyl bucket seats, compact spare, sound insulation, and slot-type wheels. Performance options included locking differential, front sway bar (for six-cylinder; standard for V8), tachometer, and such; heavy duty options included a tow package, heavy duty cooling, handling (with heavy duty springs and shocks and the front sway bar), and sound insulation packages.
The Hornet Sportabout still continued, with its 60 cubic feet of space (with back seat folded), as did the sedans. Engines were mostly unchanged: 232 single-barrel, 258 single-barrel, 304 and 360 twin-barrels. The three-speed manual on the column (three-on-the-tree) was only sold with the 232; options included a three speed floor shift (hatchback), automatic on column, and automatic on floor (hatchback). The automatic, purchased from Chrysler, was dubbed Torque-Command at AMC. All engines could run on regular leaded or unleaded fuel. Axle ratios were 2.73 or 3.08 on the sixes, with V8s ranging from 2.87 to 3.54.
The Hornet was once more AMC's best seller, with 118,519 sales; the Gremlin took second with 104,871. Over at Plymouth, the Valiant/Duster was riding high with 351,466.

For 1975, AMC started using a new electronic ignition system which ended the need to fiddle with points, but had a reputation for unreliability. Buyers no longer had the 360 V8 option; and the standard three-on-the-tree was replaced by a sportier floor-mounted shifter. A British overdrive, controlled from a stalk pushbutton but operating automatically, was optional on the two sixes. Catalytic converters meant that leaded fuel was no longer acceptable. A luxury D/L trim level was added to the roster. The competition got tougher when Ford launched the Granada/Monarch, a pricier car that presaged the Volare/Aspen; and the Chevrolet Monza, a sporty-looking subcompact.
In other AMC news, the Javelin and Ambassador were part of history; but the new Pacer grabbed a good deal of attention, earning 96,769 US sales during its first year. Hornet sales continued to be strong, with 97,841 sold in the US during 1975, even as the Gremlin fell to 66,614 and Valiant dropped back to 228,083. Buyers were starting to opt for even smaller and lighter cars such as the newly introduced Volkswagen Rabbit and Datsun B-210, though these competed most directly with the Gremlin. Buyers have been known to cross-shop, though.
In 1976, Hornet sales fell to 81,884 in the US; Pacer also dropped, and Gremlin fell to 50,805. The Matador, née Rebel, only had 35,059 sales. It's likely the imports, led by Datsun and the SIMCA-influenced Rabbit, were taking a bigger toll—not to mention the big-selling though critically panned Chevette. The new Volare, which promised an upscale interior, more comfortable ride, and luxury-evoking exsterior trim, may also have taken a bite out of AMC's share of compact cars.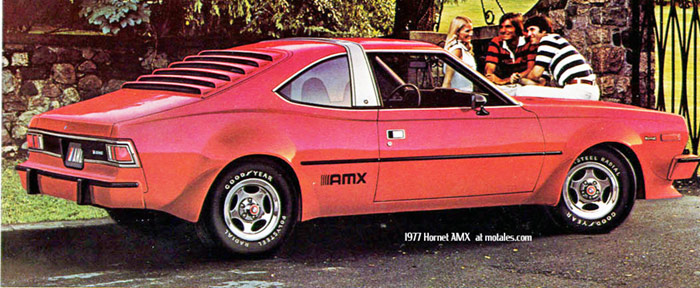 The 1977 Hornet gained a new option—the Hornet AMX, taking a serious high-performance car's name and turning it into an appearance-and-trim package (though it did add a tachometer as well as spoiler, airfoil, rear window louvers, and such). Unlike the Road Runner, which was only available with the biggest possible V8, the new Hornet AMX could come with the six-cylinder, and its V8 required an automatic. It wasn't exactly a no-holds-barred sports car. Only a few hundred of these found buyers, out of 78,332 Hornet sales.
Other changes were mainly compliance with emissions rules.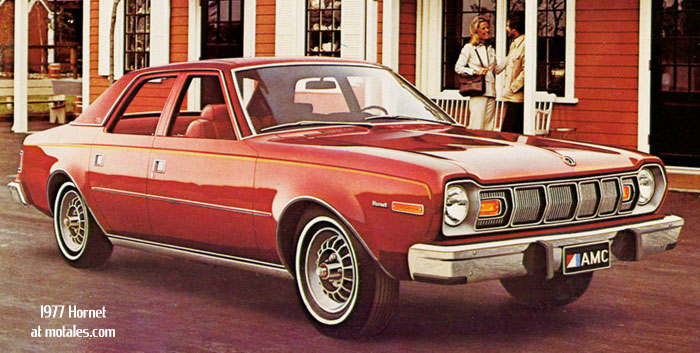 The second-generation Hornet arrived during the 1977 calendar year. Going upscale was working in the mid-1970s, so AMC turned the Hornet into more of a luxury compact; to emphasize the upscale turn, they changed its name to Concord (the sales figure for the Hornet includes 1978 Concord sales). The Hornet had been advertised as "the rich compact" back in 1970; now they tried to put more substance behind it. A luxury compact was a good idea considering the runaway success of "personal luxury cars" including the Chrysler Cordoba, though one can question whether even a re-engineered Hornet would make the grade
AMC did not fare well during 1977, with the Gremlin falling to 38,071; the Matador barely visible at 22,325; and the Pacer falling to 22,325 as other automakers provided economical cars without the same drawbacks. For 1978, AMC sold 116,043 Concords in the United States; replaced the Gremlin with the Spirit (and counted 24,414 combined sales for the two); saw the Pacer fall to 20,811; and finally dropped the dated Matador, which registered fewer than ten thousand sales of the year. The Concord launched in the same year as the Ford Fairmont, like the Volare and Hornet a more upscale version of the car it replaced.
As for the Concord: the car sold well in 1978, but by 1983 it was obsoleted by front wheel drive compacts. In 1980, for example, Chevy sold 374,706 Citations and Chrysler sold 105,273 Volare/Aspens; AMC sold just 64,991 Concords, and it was their best selling car, followed by the Spirit. 1981 was worse, with GM selling 300,184 Citations (and 346,307 Chevettes); Chrysler sold a whopping 333,777 Reliants and Aries; and AMC sold 136,682 cars in total, with the Concord again its best seller, dipping below 60,000 now. In 1982, Reliant and Aries stayed strong but Concord was now just under 31,000 and the #2 AMC car after the Eagle (at 35,209 it was not a barnstormer, either). 1983 saw the Concord drop to just 11,513—and a new car, the Renault Alliance, added insult to injury by racking up 126,008 sales at AMC dealerships.
The Hornet was completely out of character with the original, and its performance, luxury, and size hardly merited the name. That said, the Hornet was a respectable car for AMC at the time, and if sold with a Chevrolet or Ford label would likely have been better remembered—and would probably have enjoyed five to ten times its actual sales.
Recalls
Courtesy of Consumers Guide—
1971: rear auxiliary floor pan supports may be in the wrong place; door latches may fail.
1972-73: brake pedal link may not be fastened correctly
1973: master brake cylinder may not be correctly assembled
1974 Sportabout: wrong tire inflation label
1975: cars with two-wire connectors may have ignition issues; substandard strut rod bushing retaining nuts on lower control arm in front; jack may not comply with standards
1976: power steering hose might be too close to exhaust manifold
Sources: Hudson literature; Allpar; The Standard Catalog of American Cars; Consumers Guide; contemporary magazines; Ward's Automotive; John Rush.
Current and future
Follow us on Post! It's like Twitter, but without ads or Nazis!
Books by MoTales writer David Zatz
Copyright © 2021-2023 Zatz LLC • Chrysler / Mopar car stories and history.