Inside the Monroney: 1973 Dart Swinger, 1974 Dart Sport
Price stickers, called Monroneys after their sponsor, have been attached to every new car sold in America since 1958. This story is a guide to a 1970s Monroney—in this case for a 1973 Dodge Dart Swinger which I owned briefly in the 1980s.
First, if you read our previous story on the 1970 Plymouth Suburban, you may have noticed that the prior sticker was blue and black, while this one is red and black. That's because Dodge's color was red; Chrysler and Plymouth were blue.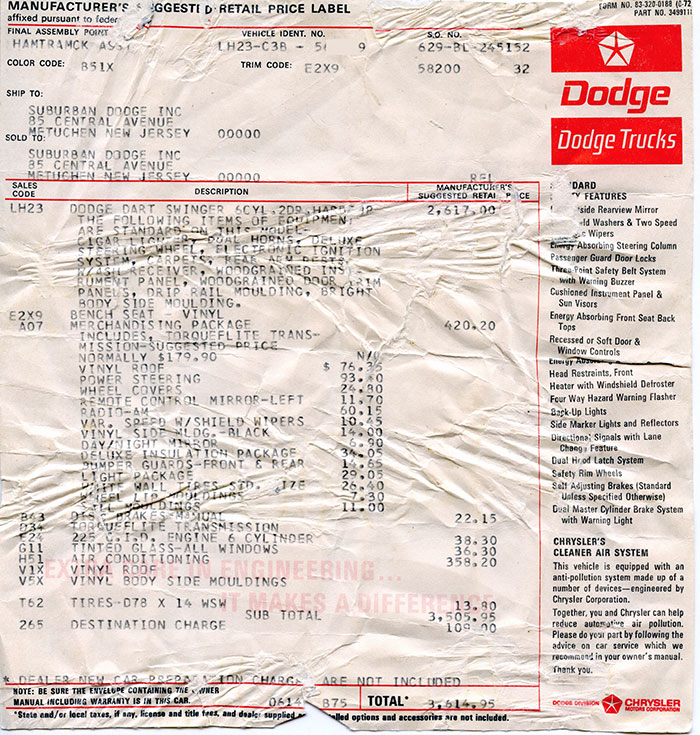 The first line shows you that the final assembly point was Hamtramck, better known as Dodge Main, a multistory plant with a tortuous assembly line and an immense capacity; indeed, it was not a single building but a complex, with fabric sewing and numerous other car-building support facilities on-site.
The VIN is again partly blocked out, but you can see LH23-C3B. Vin codes followed a uniform pattern from 1968 to 1980. The first letter, L, was the body code for the Dart (V was Valiant; the manuals show them as V/L). H was the price class, in this case High—for this particular trim line within this particular model (it certainly wasn't as pricey as a Chrysler). The 2 stood for two doors; the 3 meant it was a hardtop. That's LH23. The C3B showed that it had engine C (which decodes as a 225 slant six with single barrel carburetor); was a 1973 model; and was made at Hamtramck (plant B).
The paint code of this car is B51X—bright blue metallic—as seen below in Charlottesville, and sold to someone else in the mid-to-late 1980s. Dodge called it bright blue; every other Chrysler brand called it True Blue.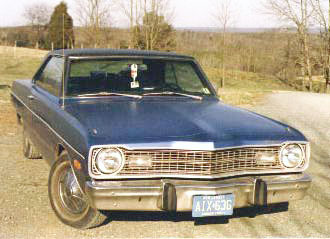 The "standard safety features" included some which were mandatory (seat belts and side markers, for example), some that were not required but which were on pretty much all cars (hazard flashers, backup lights), and some which were actually clever (recessed or soft controls). Chrysler had invented safety-rim wheels—but that was decades earlier.
The "dual" master cylinder provided two brake fluid circuits so, if there was a brake fluid leak, the driver would still have partial braking.
Chrysler started calling its combined emissions reduction tools the "Cleaner Air System" back in 1969, when one key part was a "CAP" control valve which increased or decreased spark timing to match engine conditions.
That brings us to the main section, where the first thing we see is the car itself, a Dodge Dart Swinger—a high trim package for the compact, inexpensive Dart. The price was just $2,617, or around $18,209 in 2023 dollars. Indeed, a car outfitted like the base Dart today, or as close as you could get to that, would be roughly the same price.
Most of the standard features you can (barely) read in this line are trim: a cigarette lighter, twin horns, carpets, bench seats front and rear, wood-grained plastic attached to the dashboard and doors, bright (chromed) body-side moldings, and rear armrests under the windows with integrated ashtrays. Those ash trays had durable springed covers which could deal with kids playing with them for years and years, and could be easily removed for cleaning.

There are more serious items included, such as electronic ignition, standard on all Chrysler cars for the first time in the 1973 model year; but not available at all on most cars from other companies. The drip rail moldings were ubiquitous in cars of the 1970s, and were essentially rain gutters. Not surprisingly, for the era, the car came with vinyl-covered bench seats.
A "merchandising package" included a number of common options, wrapped up together at a discount. These were an automatic transmission with three speeds, the A-904 in this case; a vinyl-covered steel roof; power steering; wheel covers (not hubcaps, but full wheel covers); a remote control driver's mirror; AM radio with one speaker; three-speed wipers; vinyl trim on the sides of the car to avoid small dents and scrapes from other cars' doors; a day/night mirror; extra sound insulation; black rubber bumper guards to protect the chrome of the bumpers and lessen the impact of "parking by Braille;" extra interior lights (including an underhood and trunk light); whitewall tires; bright chrome around the wheel wells; and extra protection for the door sills.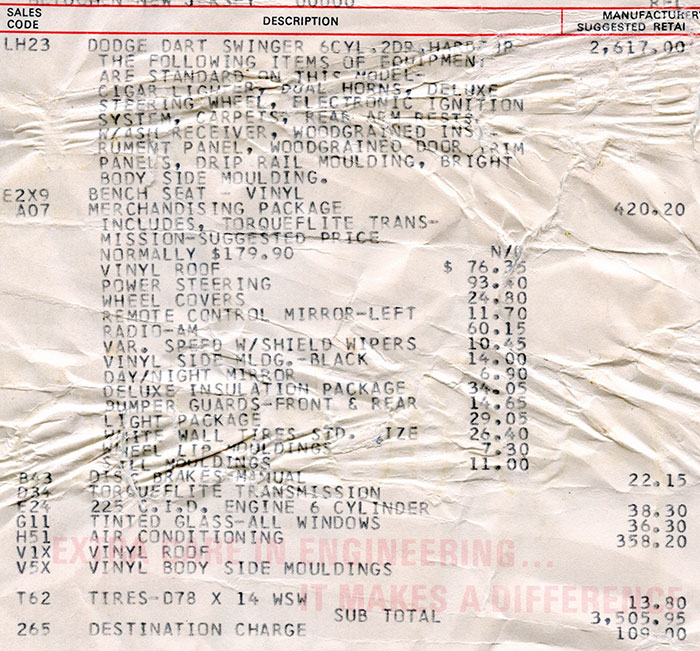 Manual disc brakes may have been the best possible brakes for this particular car (and a giveaway that it wasn't the one I owned, since that had drums). Chrysler only put disc brakes on the front wheels at this point, even if you bought a Hemi; the rear brakes were always drums. Still, the disc brakes dramatically reduced the effort needed to slow or stop the car and resisted fading quite well.
The 225 slant six engine was optional, with a 198 cubic inch slant six standard; they had the same single-barrel carburetor. Buyers paid $36, the equivalent of $264 in 2023, to get those extra 27 cubic inches, bringing a little more horsepower and 35 lb-ft more torque (though Chrysler's figures should be taken with a small grain of salt in these years). The optional 318 V8 with its two-barrel carburetor was far more sprightly, but used quite a bit more fuel; the only really high performance option was the 340, now in its final year. That was also the only Dart engine needing premium fuel, but it produced around the same horsepower as the base six plus the V8.
| CID | C/R | hp | Torque |
| --- | --- | --- | --- |
| 198 | 8.4 | 95 @ 4000 | 150 @ 1600 |
| 225 | 8.4 | 105 @ 4000 | 185 @ 1600 |
| 318 | 9.2 | 150 @ 4,000 | 255 @ 1,600 |
| 340 | 10.5 | 240@ 4,400 | 290 @ 3200 |
Tinted glass and air conditioning were often ordered together, and they were fairly pricey; but for most people the powerful and reliable air conditioner was well worth it. It also added the 1973 equivalent of 2023's $2,490 to the price.
Finally, we have the standard tires listed, D78x14—similar to 195R14 today, with 14 inch steel wheels. That was normal for an American compact car of the day.

Toss in the destination charge, and the total was a hefty $3,614.95—roughly $25,152 in 2023 dollars, pushing the car into midrange Corolla/Civic territory. That would also be roughly the price for a Mazda3, which is probably closer to where the Dart Swinger would have fit: an economy car with decent power and "sporty" looks (the hardtop and two doors contributing heavily to that, by 1973 aesthetics). They might be very different in just about every way, but their market positions were fairly similar for their times. More to the point, one can see that the Dart lined up quite well with the New Dart (2013-16).
1974 Dodge Dart Sport
This Dart Sport was made in the same plant as the Swinger we just covered, and it was almost the same car as the Swinger, but a lower-priced model, so niceties as the rear armrests with integrated ash trays were not included. The base price was $2,878; inflation was quite high in that era.
The format of sticker is different in some ways from the prior year, but it shows most of the same information; the VIN system was unchanged. Decoding the VIN again, LL29 means it is a Dart, Low price class, two doors, coupe or special. The second group has a handwritten error—that should be C4B, for 225 slant six engine, 1974, Hamtramck (Dodge Main) plant. We censored part of the VIN to protect the owner. The color code, Y9, was Tahitian Gold, according to a 1974 PPG guide.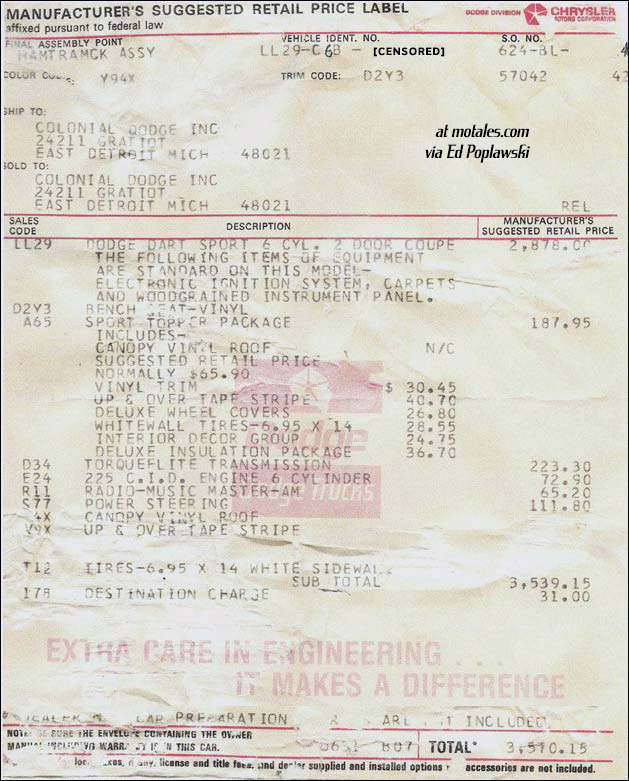 The base car had a wood-grained instrument panel (plastic was attached to the steel of the panel). The true base model cars and fleet cars would expose the painted steel except around the gauges, which may have been a more attractive look (see below); paint matched the interior trim, not the exterior, and was done in a matte finish while the upper doors were glossy. The vehicle shown below is a 1976 Valiant, which was essentially the same model but without any optional trim inside; a Dart and Valiant were only distinguished inside by a different steering wheel logo, and then only in some model years and with some trim levels.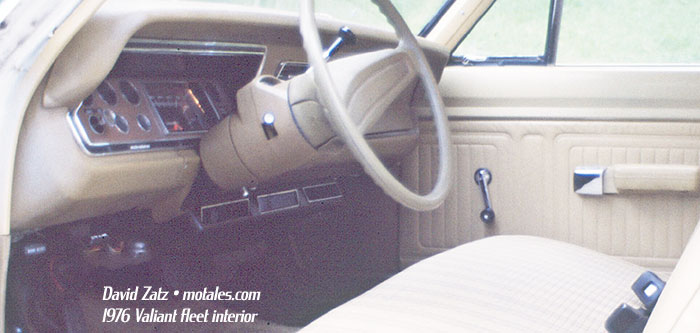 The "sport topper" package included a vinyl roof, stripe, big shiny wheel covers rather than small "dog dish" hubcaps, whitewalls, higher level interior trim, and fiberglass sound insulation glued to the backs of the plastic panels, all for $188 (which would be around $1,200 in 2023). Replacing the three-speed manual column shift with a three-speed automatic transmission added $223, and upgrading from the 198 to the 225 cubic inch engine added $73, a much steeper price increase than in the prior year. The AM radio added $65, and the power steering, which was almost a necessity for these cars, added another $112. Nearly all buyers opted for power steering and most got power brakes. Electronic ignition had been standard on all domestic 1973 Chrysler Corporation cars, and was standard on the 1974s too—still an unusual feature, and quite handy, since it eliminated ignition points.
This Dart was ordered without air conditioning, saving the owner (who lived in Michigan) a bundle. The destination charge was also much lower, since the car was sold in East Detroit (now known as Eastpointe), quite close to Hamtramck, where it was made. The car cost $3,570.15 including all options—around $23,241 in 2023 dollars. This puts it into the range of the less expensive modern compact cars; but those invariably have FM stereo (rather than single speaker AM), USB input, satellite radio, power steering and brakes, power locks and windows, rear window defrosters, and other amenities, not to mention gobs of safety gear. Modern cars also have better rustproofing and demand far less maintenance; and a 100 horsepower engine in a nearly 3,000 pound car, even with 185 lb-ft of torque, wouldn't sell well today. Still, the Dart and Valiant were rated as the top American compact cars of the day by Consumer Reports and other critics; their slant six powerplants were good for a rapid start, even if they didn't excel in 0-60 mph sprints, and provided reasonable gas mileage by the standards of 1973-74.
Also see our look at a newer (1993) price sticker
Current and future
Follow us on Post! It's like Twitter, but without ads or Nazis!
Books by MoTales writer David Zatz
Copyright © 2021-2023 Zatz LLC • Chrysler / Mopar car stories and history.