Inside the Monroney: 1970 Plymouth Suburban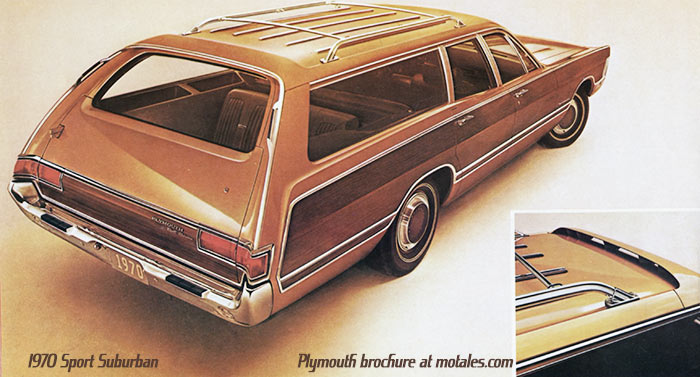 In 1958, Senator Almer Monroney sponsored the Automobile Information Disclosure Act, which mandated price stickers to tell car buyers what they were getting and how much it was supposed to cost. These price stickers, still called Monroneys, are still required, with a similar format. Still, those who did not live through olden times may not recognize everything on a vintage Monroney; so Motales is starting a series of explanations, beginning with this sample provided by Paul H. Magee.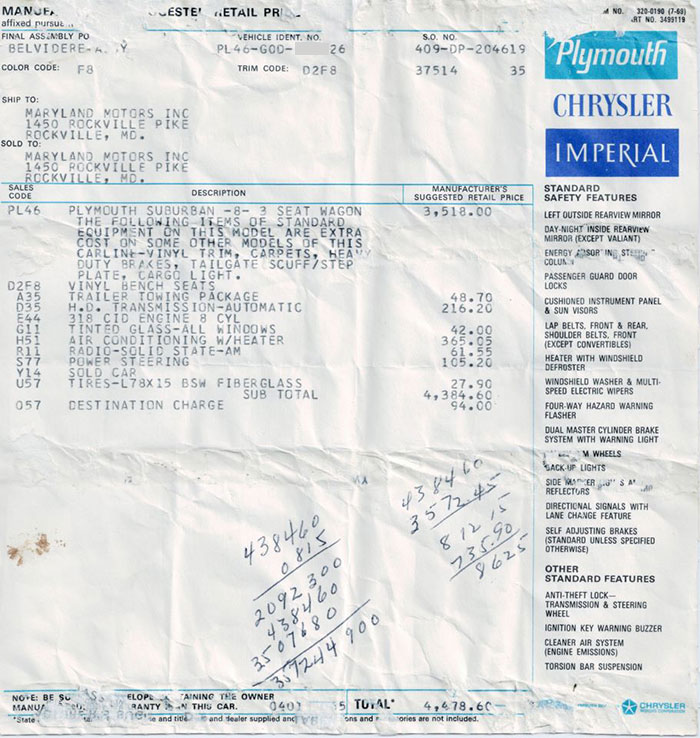 First, let's look at the "standard features" on the right. Some of these (the driver's-door mirror, side lights, and seat belts) were required by federal law. Others were neat features, such as the "dual" master cylinder which provided two brake fluid circuits so, if there was a brake fluid leak, the driver would still have partial braking (standard for Chrysler since the 1967 cars). The torsion bar suspension was still an advantage over the coil-spring front suspensions at GM and Ford.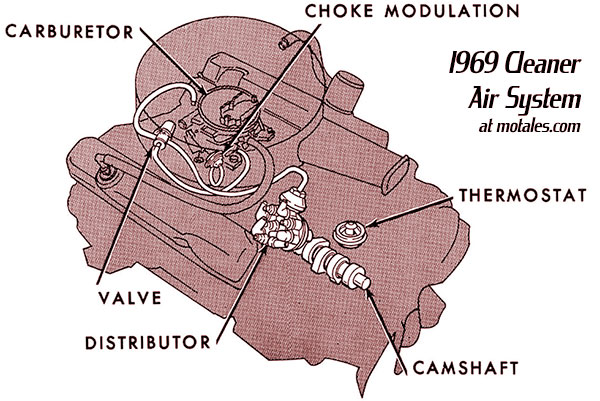 Chrysler called its combined emissions reduction tools the "Cleaner Air System." One key part for many years was a "CAP" control valve which increased or decreased spark timing to match engine conditions. Launched in 1963 on California cars and used on most Chryslers sold in the United States starting in the 1968 model year, the control valve was a clever way to cut emissions without hurting power; the 1969 model year made changes so there was no CAP valve in most engines with the manual transmission. CAP valves were still part of the 1970 cars. That said, in 1970, Plymouth's dealership book (meant to be seen by customers) defined the Cleaner Air System in this way:
It burns the fuel-air mixture in the combustion chamber so that harmful elements in the exhaust fumes are greatly reduced. The Chrysler-designed Cleaner Air System is unique because of its simplicity. A modified carburetor, a slightly altered distributor, and modifications to the combustion chamber design achieved the desired results. No special air pumps or mechanical parts that would require extra maintenance were added to the system.
Oddly left out of the standard features list was the electronic voltage regulator; first launched in some 1969 cars, it was standard in all the 1970 cars, but used a new connector. The electronic voltage regulator was used with a new isolated-field alternator, so the 1969-and-earlier alternators and regulators can't be swapped with 1970-and-later models.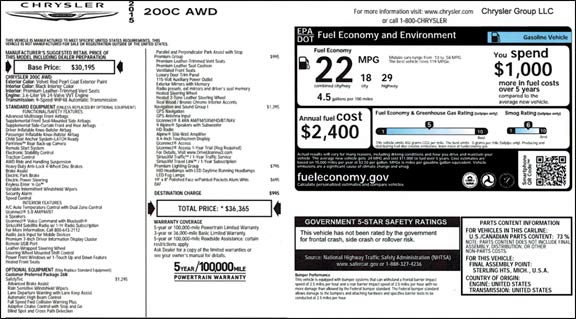 Today's version, from a 2016 Chrysler 200C.
The "anti-theft lock" prevented anyone from moving the steering wheel or shifting out of Park without turning the ignition switch. The "lane change feature" activated the turn signals before they were locked into place, so they were easy to use for just a few blinks; that was newly standard across the Chrysler Corporation lineup for 1970. It's not mentioned, but the company also had standard hazard flashers which operated even when the brakes were in use.
The top line of the price sticker shows the assembly plant (Belvidere, Illinois, which had opened in 1965); the vehicle identification number, or VIN (we've blanked out part of it); and an order number. The colors were given two-alphanumeric codes—this car was F8—and a trim code for the interior color and materials.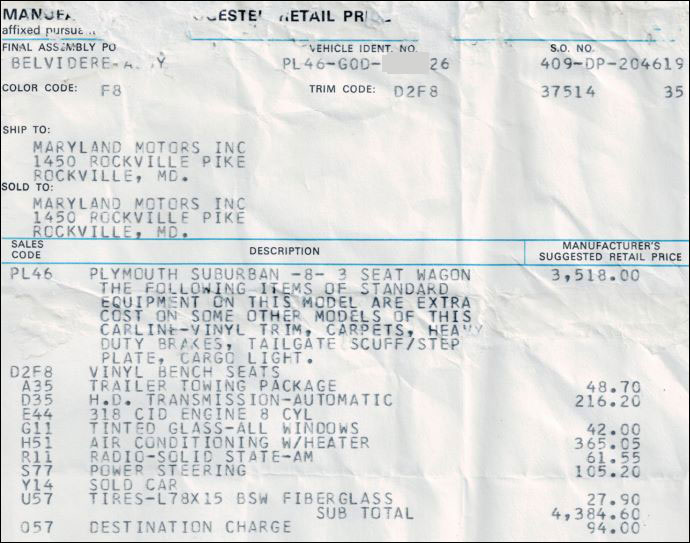 The car had a sales code with two letters and two numbers—PL46. P tells us it's a Plymouth Fury; L is the price class, Low. (Price classes started with Economy, went up to Low, then Medium and High; other codes showed police cars, taxis, Super Stock, and so on).
The next part of the code (4) showed the number of doors. Then the body code (6) identified the car as three-seat wagon. Bench seats stretched across the width of the car, so each seat was also one row of seats. A code of PL21 would be a Fury II coupe; a PL41 would be a Fury II sedan. (The other codes were 1=sedan; 2=B-pillared hardtop; 3=hardtop; 4=hatchback; 7=convertible; 9=coupe/special.)
You could also decode the middle part of the VIN to find the engine (G=318), model year (0=1970), and assembly plant (D=Belvidere). The rest of the VIN was just the serial number.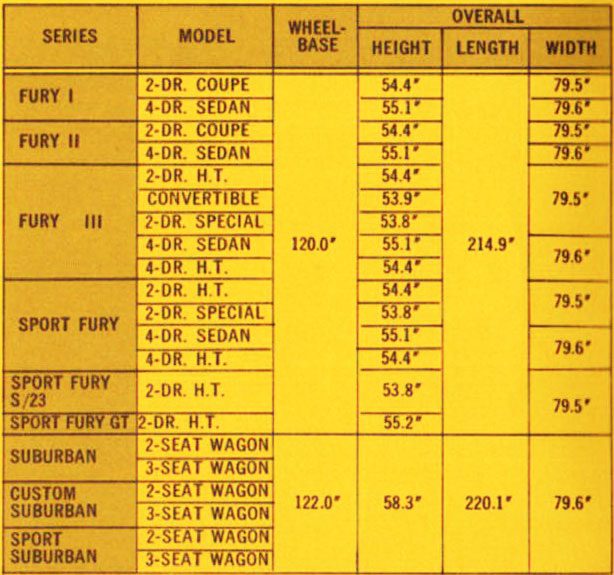 Vinyl bench seats were standard on the Suburban wagon—as the description of the car itself indicates—so there's no price listed. The 318 V8 engine was standard on the Fury nine-passenger wagon, which is why it too has no price listed; the Fury I and II series, including the six-passenger wagon, had a standard slant six. John Rush pointed out that Fury Six and Fury V8 were considered different trims by Plymouth, so a Fury I V8, for example, would still have a "standard" 318. The 318, incidentally, was ordering code 44—shown in the VIN as code G.
The other lines are for options, including the prices.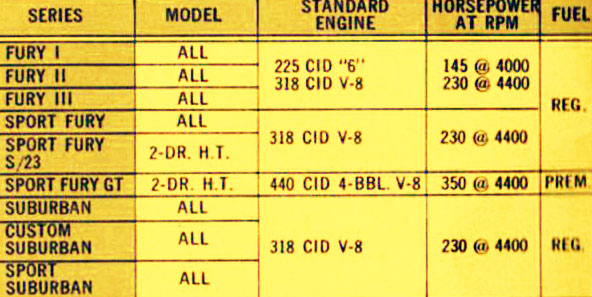 Here's a bit more information, if you were wondering about the three most common engines...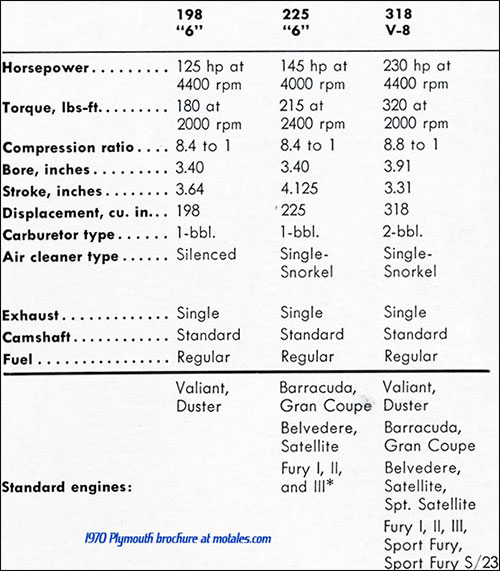 The trailer towing package was a bargain; in addition to trailer wiring and a hitch, it often had many durability upgrades such as a heavy duty suspension, larger radiator and/or fan shroud, better brakes, bigger wheels, and a transmission fluid cooler.
Some of these parts were also in the police and/or taxi packages. The 1970 Fury used the same brakes for towing, taxi, and police duty—11x3 drums up front, 11x2.5 drums in back (police and taxi vehicles also had special brake linings). These were a quarter-inch larger in front and rear than the normal drums.
All Furys had 15 inch wheels. The Fury wagon's standard wheels were wider than any other Fury's (even 440 powered coupes), to deal with more weight. Suburbans' standard wheels were size J78, while other Furys ran F78 and G78, except the 440 (H78). J sized wheels weren't even optional on other Furys. Buyers could option out even wider L-sized wheels and tires, which were required by the towing package. In today's P-Metric terms (with translations courtesy of Tire Rack), they had a 75 height ratio and width of:
| Code | Inches | mm (direct) | Closest P-Metric |
| --- | --- | --- | --- |
| F | 7.75 | 197 | 205 |
| G | 8.2 | 208 | 215 |
| H | 8.5 | 216 | 225 |
| J | 8.85 | 225 | 225 |
| L | 9.15 | 232 | 235 |
Wagons also had longer leaf springs (62 inches vs 52 inches on other Fury models), with six and a half leaves, again more even than the 440 with heavy duty suspension.
The heavy duty transmission listed on the Monroney was an A-727 TorqueFlite. The Fury's base transmission was a three-speed A-745 "three-on-the-tree" New Process Gear manual; the automatic for the 318 V8 was normally an A-904. The A-904 was a good light automatic, but the A-727 could handle more torque, which was helpful for anyone planning to tow.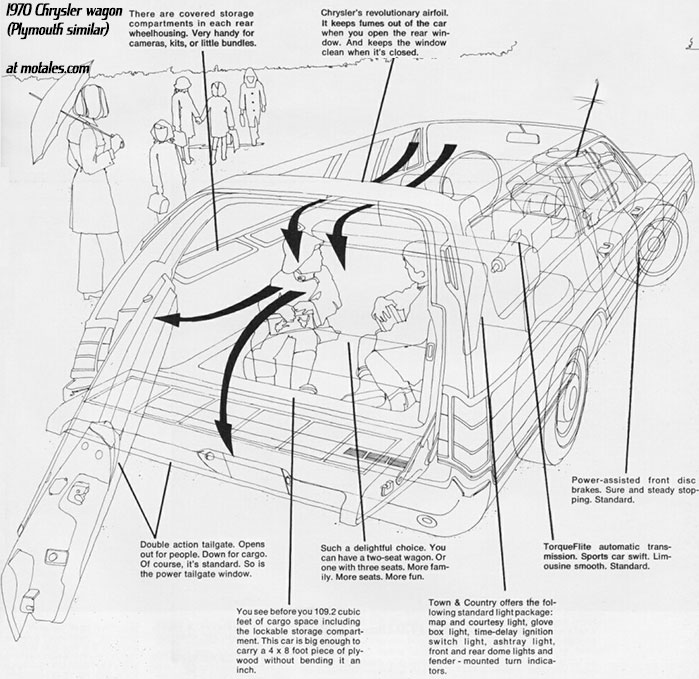 The axle ratio would normally be 2.71:1 on automatic Furys with the 318 (and, indeed, every other engine save the slant six and 440 Six-Pack), but was 3.23:1 with the towing package; wagon buyers could also opt for a 3.55:1 ratio—if they didn't get the tow package.
Air conditioning often came with tinted glass in later years, but in this case you can see that tinted glass was extra. The AM radio was costly—$1 in 1970 was similar to $7.88 in 2023, which puts the AM radio at $485 in 2023 dollars with a single dashboard speaker (an AM/FM stereo was included with the Sport Surburban). A rear speaker was optional, along with an AM/FM radio and an eight-track player (8-tracks with AM radio players cost $196—$1,544 in 2023).

Power steering was surprisingly expensive at over $105, or $827 in 2023 dollars. The radial tires with fiberglass belts were a comparative bargain. So was the destination charge, which in 2023 would be $741—compared with Chrysler's 2023 destination charges, which are around $1,600 to $2,000.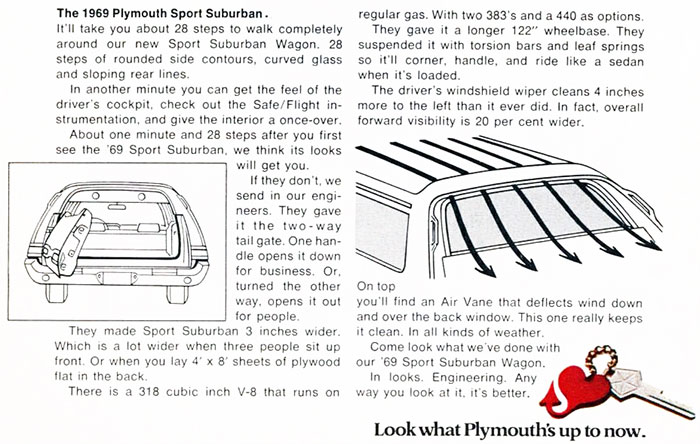 The 1970 cars were almost identical to the 1969 cars; we don't have the equivalent 1970 illustration.
Plymouth used the Suburban name for wagons for many years, regardless of the cars' actual names. The 1970 Suburban used the same body as the full size 1970 Dodge and Chrysler wagons, including its 122-inch wheelbase. The equivalent sedans had three different wheelbases—120 inches for Plymouth Fury, 122 inches for Dodge, 124 inches for Chrysler. The Suburban was 220 inches long, 80 inches wide, and 58 inches tall. The cargo area measured 119 inches from the back of the front seat to the end of the open tailgate.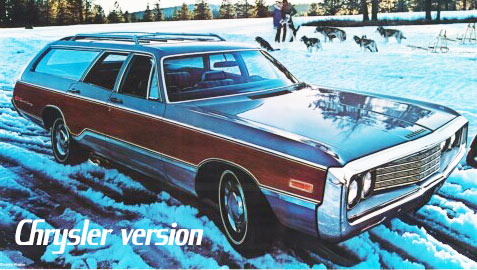 This particular car was the entry level wagon. It still had a rear roof-mounted wind deflector (launched for 1969 models), power tailgate window, and larger tires than Fury sedans. Chrysler wagons all had a "dual action" tailgate which could open as a regular door or as a pickup-type tailgate. The Custom Suburban added bigger brakes and, on nine-passenger versions, carpeting; the Sport Suburban had hidden headlights, faux woodgrain panels on the side, and armrests for the front seats. Buyers had a choice of interior colors—there were five choices for the Fury II wagon alone.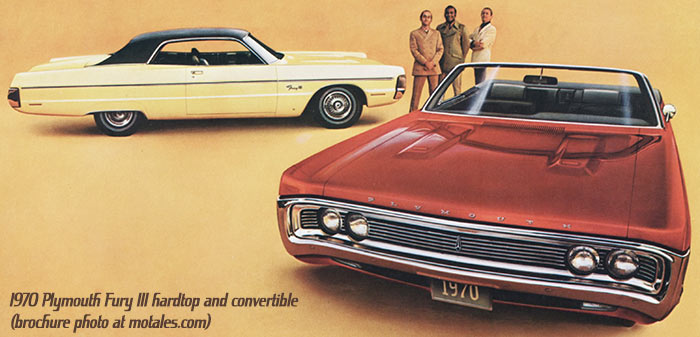 In 2023 dollars, this car cost a whopping $35,300 despite the single-speaker AM radio and other basic fittings. The price was far higher than Fury sedans, which cost around $23,640 in 2023 terms (Fury II V8). Station wagons cost more because of their low volumes; and their higher cost also restricted sales, so volumes stayed low. Wagons might also have cost more because they used more materials; while a Fury II V8 weighed around 3,675 lb, the Suburban V8 three-row wagon tipped the scales at 4,215 lb, around 500 lb more material for Chrysler to buy and shape. (These are shipping, not curb, weights.) That was why the big Plymouth wagon was shared with Dodge and Chrysler, though each of the three wagons had enough sheet metal and trim differences to stay "on brand."
One can see the appeal of minivans when they arrived—at a price premium similar to old-style wagons, they provided far more interior space and convenience with far better gas mileage. The minivan was not even starting development at Chrysler in 1970, but designers would be making their first sketches in 1972.
Current and future
Follow us on Post! It's like Twitter, but without ads or Nazis!
Books by MoTales writer David Zatz
Copyright © 2021-2023 Zatz LLC • Chrysler / Mopar car stories and history.