1971 Dodge trucks and vans

In 1971, Plymouth sold just about 300,000 Valiants and Dusters, while Dodge sold over 250,000 Darts and Demons (see cars of 1971). Jeep had a "good" year with under 39,000 sales, and they sold pickups, compact SUVs, and large SUVs—none of which were called SUVs, because the name hadn't been created yet. The SUV-and-pickup age had not yet arrived, but Dodge came out with a new van for 1971, and was about to launch a new pickup body.
Dodge vans
Chrysler's first vans, reasonably dubbed the A-vans, were popular; their clever design brought far more than the company's usual market share. As a result, product planners took the next series seriously, collaborating with customers to find out what they wanted. Customers turned out to want a larger cargo area, higher weight capacity, an independent front suspension, more comfortable seats, better gauges, and engine access from both the cabin and under the hood. The engineers provided all of that, along with a wider track and completely new styling and interiors—including seats and gauges from passenger cars.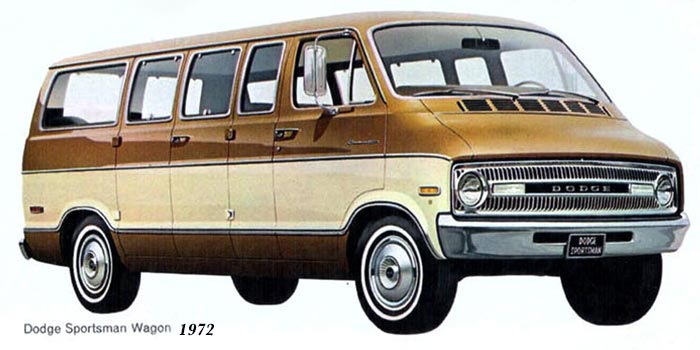 The B-vans were unibodies—as were the GM and Ford vans, until the 1975 Econoline went to body-on-frame. The B-van had a lower load floor than these competitors, and a tighter turning radius.
|   | A-Vans (1970) | B-Vans (1971) |
| --- | --- | --- |
| Wheelbase | 90"+108" | 109" +127" |
| Engines | 170, 225, 318 | 198, 225, 318 |
Designers dramatically expanded the wheelbase (by 19 inches), to a choice of 109 or 127 inches. They also cut overhang, as length grew by less than nineteen inches, reaching 176 or 194 inches, with 206 or 246 cubic feet of cargo capacity, on the short and long wheelbase models.

The base engine was the 198 slant six, which was not quite up to the task; options were the bigger 225 slant six and the 318 cubic inch V8, a workhorse engine with a two-barrel carburetor (the sixes had a single-barrel). The V8 would stay, in various forms, until the very last B-vans were made, in the 21st century.
Most trucks were sparsely equipped in those days, especially in terms of comfort. The B-vans came with a single seat and a single sun visor; two-speed wiper motors; and painted hubcaps. More comfort features were optional.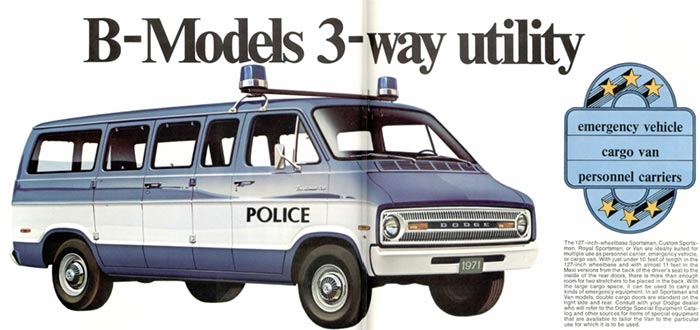 The custom van craze was largely still in the future, but the Dodge B-vans were a real hit, with 1971 model-year production hitting 91,993 (including Sportsman "station wagons"). While Chrysler was typically happy with 12% of the market, its vans were #1 in their segment.
Dodge pickups
Note: for both vans and pickups, engine availability is from Dodge materials and the Standard Catalog of Light-Duty Trucks; there may be errors.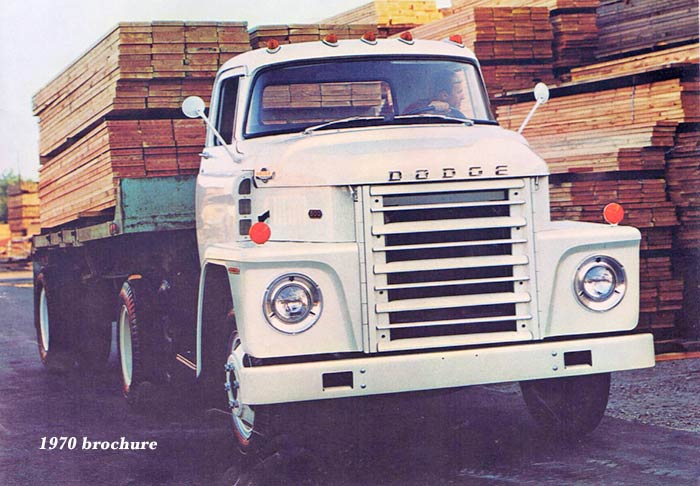 It's worth noting that Dodge still sold medium and heavy duty trucks, including bus chassis (Series 500, 550, and 600), large tandems, tilt cabs, and cabovers. These are beyond our scope, but if we include sales of all Dodge trucks together, according to Ward's Automotive, Dodge sold 159,055 trucks in 1971. That wasn't much compared wtih Chevrolet (643,668) or Ford (697,168), but it was enough to beat International (Harvester)'s 156,767 and GMC's 143,124. The next highest seller of trucks was Jeep, with 35,925 sales. White sold 16,949 trucks; Mack sold 15,361; and other brands were all below 10,000. The total market was 1.9 million.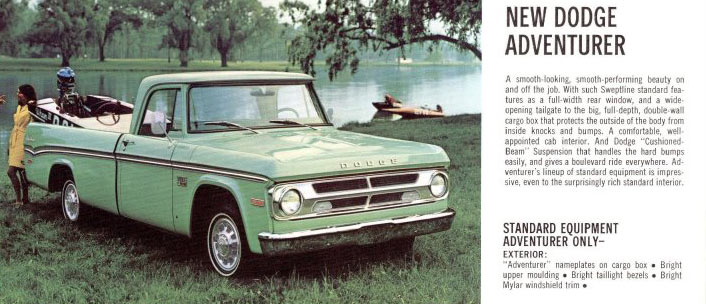 Dodge's original D-series pickups were now around ten years old, having been launched for 1961; completely new bodies would be launched in 1972, keeping the D-series name, since D-100 could now be understood as meaning "Dodge 100" rather than "fourth generation 100." 
For this final year, D-series updates were minimal. Buyers could get a new Sweptline Special version of the D100; it was a stripper bargain model and had no options. Other lines included Custom and Adventurer, the latter new for 1971 and playing off the old DeSoto Adventurer name; it included chrome trim, a full foam bench seat, color keyed interior, better sound and weather insulation, cigarette lighter, car-like headliner, Sweptline box, and choice of beige, blue, green, or black interiors. The pickups' automatic transmission option, dubbed LoadFlite, was a rebranded and beefed-up TorqueFlite three-speed.

The Adventurer Sport version added woodgrain gauge cluster, vinyl pockets on the doors, the "horizontal character stripe," and much more chrome. The Adventurer SE was also available, with a similar interior, simulated woodgrain tailgate plaque, the same wheels, glare-reducing instrument cluster trim, and a two-tone scheme.

Models prefixed with W instead of D, such as W100, had four wheel drive—a mildly confusing system. W200 buyers could option an automatic transmission and front locking hubs, or, with the manual transmission, a front winch. All the four wheel drive systems were part-time, and couldn't be used on dry surfaces without quite a bit of tire scrubbing; they also dramatically increased the turning circle.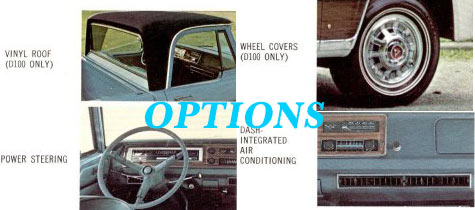 The company had launched "Lifestyle" pickups in 1970, with nicer trim and more comfort, aimed at families towing boats or trailers. They paved the way for the 1977 Warlock and 1978 Li'l Red Truck. Dodge also tried to appeal to this group by selling a slide-on camper-body prep package, which made the campers easier to install and use (they didn't make the campers). The 1970 Dodge Dude, one of the "lifestyle" pickups, continued into 1971 but didn't make it any further.

Engines were shared with cars, except that truck versions had numerous upgrades—internal engine part coatings, sodium-filled valves, and other measures to deal with heat and stress. The partnership with Cummins had not yet been started, and of the 2,835 Dodge diesel trucks sold in 1971, none had a Cummins engine. The engine choices were 198 slant six (120 hp); 225 slant six (140 hp); 318 V8 (210 hp); 383 V8 (258 hp); and, on motor homes, the 413 V8. These are gross horsepower figures, and net figures, as used today, can be 40-60 horsepower lower. They all had drop-forged crankshafts; the slant's crank was shot-peened and it had a roller timing chain. The 318 had free-turning exhaust valves (to prevent burning from hot spots) and drop-forged rods.

D100 (and W100; for convenience we will only refer to D-series names after this) buyers had a choice of two bed styles, Sweptline and Utiline (Utiline showed the wheels, as pictured above); the top payload was 1,500 pounds. The D200 were more popular for campers, capable of holding up to a 10.5 foot cabover camper and a payload of 3,100 pounds (as equipped). The D300 added the ability to use a four-door cab (six passengers), which could also take a 10.5 foot cabover camper and deal with a 3,295 pound payload. The slide-on campers were often nicely outfitted with a kitchen, dining area, and such, with sleeping for four or five people.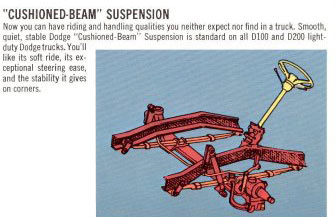 "Cushioned-beam"  suspension was a few years old despite the "Now you can have" line. A multiple color version of the same illustration was in the 1968 brochures.
D300 trucks with the Chassis-Mount system (two doors, three passengers) were available for those who wanted even larger campers; Dodge delivered them to get a permanent camper body from 12 to 14 feet long or, with a longer wheelbase, up to 16 feet long. Some of these had a cab pass-through.

Dodge also supplied chassis for true motor homes with wheelbases from 104 to 178 inches, including power steering, power brakes, automatic transmission, and a V8 engine (either the 318 or 413). These usually had a full kitchen, dinette, shower, air conditioning, and generator; they came with dual rear wheels and ran on a carbon-steel frame with heavy-gauge straight side rails. This appears to be the only place a buyer could order the 413 engine—and the 383 was not available.
Sales and specifications
While Dodge trucks were successful, trucks were not a major player in the American auto industry. Production worked out to (according to the Standard Catalog of Light-Duty Trucks):
|   | D-series | W-series |
| --- | --- | --- |
| D/W 100 | 52,931 | 3,652 |
| D/W 200 | 16,485 | 5,148 |
| D/W 300 | 10,668 | 783 |
Ward's Automotive listed 1971 Dodge truck and bus shipments from U.S. plants as 107,200 in the 3-ton-or-less category; 68,500 in the 3-to-5-ton class; 16,000 in the 5-7 ton class; 10,800 in the 19,501-26,000-pound-gross-weight class; and a total of 207,500. This includes exports.
While the D100 and D200 normally came with dry air filters, a one-quart oil bath was optional on both; for the D300, an oil bath filter was standard with the slant six, optional on the V8. Alternators were 37 amps across the board, with 50 or 60 amp versions optional, and batteries were 46 amp-hour standard, optionally going up to 70 (roughly what you get on today's Pentastar V6 engines).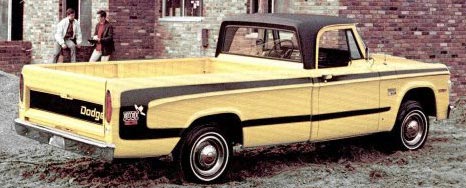 The front axle was an I-beam type; the rear had a semi-floating hypoid on D100, full floating hypoid on the heavier duty trucks. Standard brakes had drums front and rear, with optional power brakes on D100 and standard power assist on D200 and D300. Power steering was optional on all pickups. The standard transmission was a three-speed (synchronized) except for the D300, which came with a four-speed; a four-speed manual or three-speed automatic was optional on D100 and D200, and a LoadFlite automatic on D300.
The D100 had 15-inch wheels with five studs; the D200 and D300 had 16.5-inch wheels with eight studs.
The 1971 Dodge trucks sold quite well; and the future looked bright indeed, until the fuel crisis hammered recreational vehicle sales. Dodge did recover from that—in 1994—but that's another story.
1971 Dodge, Plymouth, and Chrysler cars
1971 Sales: Cars and Trucks vs GM and Ford
Warning
: include(/4.php): Failed to open stream: No such file or directory in
/home/mot/public_html/years/trucks-1971.php
on line
105
Warning
: include(/4.php): Failed to open stream: No such file or directory in
/home/mot/public_html/years/trucks-1971.php
on line
105
Warning
: include(): Failed opening '/4.php' for inclusion (include_path='.:/opt/cpanel/ea-php81/root/usr/share/pear') in
/home/mot/public_html/years/trucks-1971.php
on line
105