In 1971, 1972, and 1976, little American Motors—the combination of Hudson, Nash, and Jeep—managed to win Trans Am with the Javelin, a relatively small car with a huge engine bay.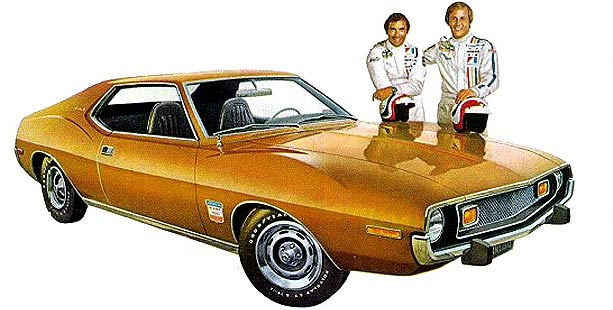 The Trans Am series was still a relatively new series, created in 1966 out of the SCCA's amateur racing classes; the cars were modified from production vehicles, with two classes, under 2 liters and over 2 liters (the classes were changed in 1971 to under and over 2.5 liters). The over 2 liter class required a wheelbase no longer than 111 inches, with a maximum of 302 cubic inches of engine under the hood. Chrysler ran the Barracuda and Challenger; Ford ran the Mustang and Cougar; GM ran the Camaro and Firebird; and AMC ran the Javelin. Other makes included Alfa Romeo, BMW, Mini, Porsche, Saab, and Volkswagen, the latter all running in the smaller-engine class.
Chrysler itself had some success; in the very first race, an Alfa Romeo GTA took the overall crown, while a Dodge Dart ran second overall, and head of the over-2-liter class. But they lost the season, and would never win a championship.
The first Javelins to race were run by Penske Racing in 1970 and 1971; Penske had switched from running Camaro Z28s in 1968-69. Mark Donohue dominated the series from 1968 through 1971, but left after 1971. He was largely responsible for AMC's dominance, along with a small, powerful, performance-engineered car. The racing cars used destroked 390 cubic inch engines, dropping it to 305 cubic inches.
Javelins essentially closed out the golden age of Trans Am; after 1972, the number of races fell, along with attendance. The racing series underwent structural and name changes; it is around today, but under rather different terms than before.
As for the AMC Javelin, made from 1968-74 (model years) in the United States, Australia, Germany, Mexico, Venezuela, and the Philippines: this was a class pony car, designed by Dick Teague and sold under the AMC, Rambler, and VAM brand names. It was based loosely on the Rambler American; despite the sporty intent, there were also numerous safety features, including flush-mounted door handles, safety padding, and an interior without bright trim (to prevent glare). It had standard bucket seats and a driver-centric dashboard, with engines ranging from a basic straight six to a 343 cubic inch V8 (a 390 cubic inch engine joined the lineup late in the 1968 model year). That engine provided 315 gross hp and 425 pound-feet of torque. The size was between the Mustang and Camaro, and the larger Plymouth Barracuda; but only 55,125 were sold in the first year, and just 40,675 in the second.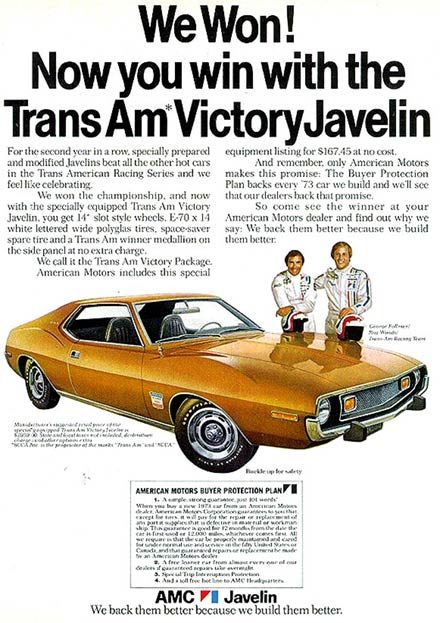 Despite less than thrilling sales, AMC redesigned the car for the 1970 model year, possibly because it was attracting much younger buyers than their other cars. 304 and 360 V8s replaced the 290 and 343 V8s; the 390 was upgraded with new heads and a different carburetor, adding ten horsepower. AMC ran a few specials, including a Mark Donohue SST (2,051 were made; they had his rear spoiler and his signature on the side) which was mainly designed to meet homologation requirements. Around 100 Ronnie Kaplan specials were made, too.
The car was restyled for 1971, including a roof spoiler and fender bulges outside, with a highly functional asymmetrical dashboard inside. Now there were three different straight sixes, from 232 to 282 cubic inches; and the 390 was expanded to 401 cubic inches, generating 330 hp (gross; 255 net). With that engine, the Javelin AMX could run an impressive mid-14-second quarter mile on low-octane fuel.
The Trans Am Victory Edition shown here was an optional package for any SST made between October and mid-December 1972.