The Car as Companion: One Family's Multi-Generational Journey with Mopar
We were returning home from a friend's house. I drove away first in my 1983 Plymouth Turismo 2.2.  My brother pulled out right behind me in his '84 Mustang GT.  Both cars were 5-speed manuals, as we figured that automatics were for sissies.  As a joke, I stomped on the throttle to pull away from my brother and get a little race going.  I figured that I might have a chance, given my head start. 

Behind me, my brother noticed the Turismo's rear end drop a bit while the exhaust puffed out a tell-tale wisp of smoke.  The 2.2 liter 4-banger was pushing out every one of its 94 horsepower.  I'm sure my brother yawned a bit, but he knew what he had to do.  I later learned that he held his 5.0 at half-throttle in 1st gear to stay on my bumper until we exited the curve we were in, then put the hammer down when he hit 2nd.  He whipped out into the opposing lane and passed me like I was sitting still.  I never caught up to him.  Once again, I was reminded that a fake hood scoop, flashy tape stripes, and white letter tires do not actually make a car fast.
The Turismo wasn't a great car. It definitely had its fair share of quirks, including its "plastic-fantastic" interior.  However, it looked and sounded great and was fun to drive.  When it topped 120,000 miles, I sold it for $500.  And many times, I've wanted it back.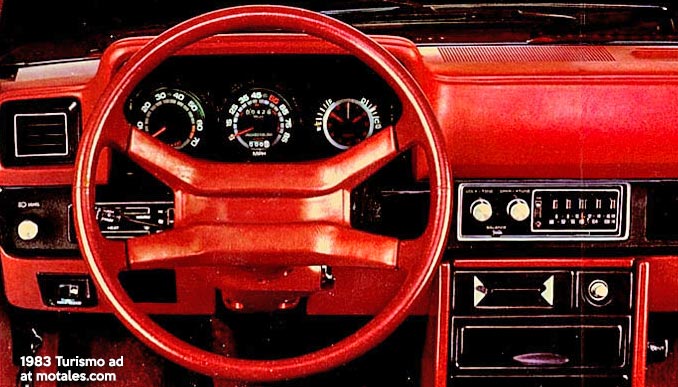 In fact, I've gotten attached to many of my cars over the years, as a lot of people do.  But why is that?  Why is it that many of us become attached to these inanimate objects like we would become attached to…say….a family dog?  Well, I have a theory about that, and I'll share it.  But that's not the real reason for this article.  It's really a bit of a "love letter" to the Chrysler Corporation. 
You see, I was raised in a Mopar family and have developed an everlasting fondness for America's perennial third-place domestic automaker.  While sometimes a day late and a dollar short, Chrysler still managed to produce and creatively market some of the most innovative and exciting vehicles over the decades.  Many Mopars have passed through my family, and so I'm going to share a little of that history. 
Who cares? Well, that's a fair question, and most people won't.  But Mopar fans will get it.  Those who were raised with these cars will see a little bit of their own stories in this article, and I hope they can reminisce along with me.
It All Started with Dad
My dad did not grow up in a Mopar family.  He was raised in the 1940s and 50s on a tobacco farm near Roxboro, NC and they seemed more aligned with GM and Ford.  That changed when my dad purchased his first new car.  It was a 1964 Plymouth Barracuda with a 273 cu. in. V-8 and a 4-speed manual with a Hurst linkage.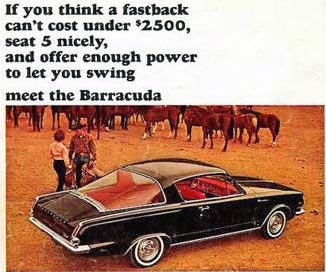 Mopar fans will know that the early Barracuda was Plymouth's attempt at a pony car and a doomed move to head off Ford's upcoming Mustang.  It actually beat the Mustang to market by just over two weeks.  But, the Barracuda was quite obviously just a "fast-back" version of the compact Valiant, and it was totally overshadowed by the more modern-looking Mustang, which outsold it 9-to-1.
In 1967, Plymouth restyled the Barracuda.  The sleek lines on the 1967-1969 models had an almost European flair.  However, the rest of the pony car world was already a step ahead.  The Camaro and Firebird had arrived and the Mustang had already moved its design forward, still leaving the Barracuda a styling generation behind.  It wasn't until 1970, with the third generation, that the stylists at Chrysler totally nailed it.  The new E-body cars were drop-dead gorgeous, with an elegant but aggressive long-nose, short-deck design.  Just in time for the muscle car era to die.  By the end of 1974, the Barracuda and its Dodge sibling, the Challenger, were gone and the Mustangs, Firebirds, and Camaros soldiered on.
Movin' On…
My dad's next car was a 1968 Dodge Charger.  It was a base model 318-powered example. However, the classic design of the 1968 looked fantastic from any angle and in any trim.  To this day, I believe the 1968-70 Charger is quite possibly the most handsome automobile to emerge from a US automaker.  The market also loved it, and Charger sales blasted off in 1968, with 96,000 units sold vs. 15,788 in 1967.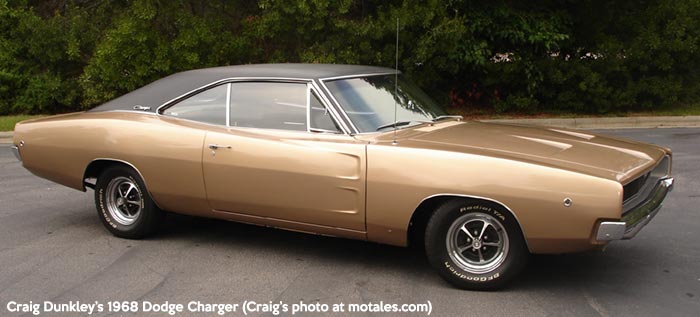 Alas, my dad's Charger was a bit of a lemon.  It always had something wrong with it.  Even the door latches would fail, trapping him in the car.  More than once he would have to simultaneously hold the door latch, lean back, and kick the door to get it open.  When I was born in 1971, he opted for more practical transportation.  But he never forgot the Charger, and would always talk about wanting to get another one. 
As I grew up, various Mopars cycled through the family.  They were almost never the top-of-the-line examples.  I won't go through the entire litany of our cars and their histories, as that would bore even me.  But I will mention some of the examples and a few standout points.
In the mid-1970s, we had a huge, dark blue Plymouth Fury III sedan and a Frost Green Dodge Dart Sport with a green vinyl interior (the "Green Bomb," as we called it).  All of our early cars seemed to have vinyl interiors.  In the summer, the seats would get as hot as Hell, and they'd stick to your legs if you wore short pants.  It's funny how cloth seats are considered bargain basement today.  We saw them as a luxury.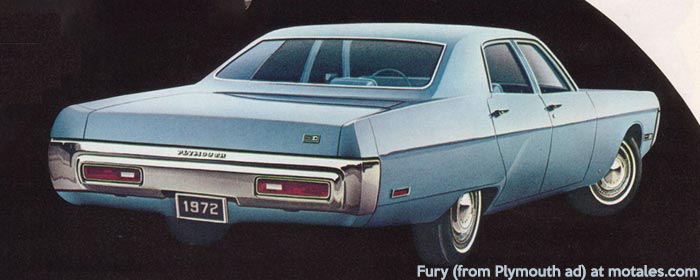 In 1979 we got the Volaré station wagon.  It was beige with fake woodgrain on the side and the "leaning tower of power," a 225 c.i. Slant-6 under the hood, same as the Dart.  This car had a nasty habit of stalling out whenever you had to punch it to pull out in traffic.  Often times, to get it restarted, mom or dad would have to pop the hood, remove the lid from the air cleaner, and shove a screwdriver in the choke while one of us kids cranked the engine. 
Other cars that came through our family included a 1986 Chrysler Laser, 1987 Chrysler Fifth Avenue, ~1990 Chrysler LeBaron, 1990 Dodge Ram, 1993 Dodge Intrepid, a Dodge Shadow, and a couple of Dodge Dakotas.
Two of those vehicles stand out to me: the Fifth Avenue and the Ram.  The Fifth Avenue was a classy car with pillow-tufted velour seats, a half-landau top, and wire wheel covers.  It was a great color, Gunmetal Blue Metallic.  When dad bought this car, our family had been driving four- and six-cylinder vehicles for years.  But this car had a 318 V-8.  I remember him saying, "Boy, it's great to be behind a V-8 again." 
I replied, "Sure, but it's an emissions-strangled 140-horse V-8.  It ain't what it used to be!"
He said, "That's true…but there's something about a V-8."  And he was right.  To this day, I have a real soft spot for the venerable 318.  It was never a performance engine, but it was a staple for the Chrysler fleet and was in production (in one form or another) for 34 years.  Many examples are still on the road today.

The Ram was the first truck my dad bought new.  This D150 was also 318-powered, painted in Colorado Red.  "Big Red" saw its fair share of towing and hauling duties. 
When Dad passed away in 2001, my mom continued to drive it.  After she was diagnosed with Alzheimer's disease in 2016, the truck was parked.  It sat under a shed for years until I could no longer watch it deteriorate.  So, I removed it, cleaned it up, replaced all the belts and hoses, and did a host of other things to it.  It's now well-preserved in my garage and still gets out on a regular basis to haul furniture, mulch, straw, or whatever.  It also introduced my kids to the now-ancient concepts of window cranks, vent windows, and manual door locks.
When a friend asked if I'd ever sell it, I said, "If you ever see that truck up for sale, then you'll know I'm flat broke, couldn't sell enough meth to make ends meet, and failed as a male prostitute."
The Tradition Continues
While my wife shows no brand loyalty to any carmaker, I've continued to purchase only Mopars for myself.  I've had a Dodge Daytona (1988 base model), three Dodge Dakotas, two Jeep Wranglers, and more.  When I traded my 2002 Dakota Quad Cab 4x4 in for a new Jeep Wrangler in 2014, a friend of mine ended up buying it from the dealer.  I told him that I'm glad it went to a good home, but that seeing him drive my old truck around town is (I would guess) kind of like seeing some other dude out with my wife…a bit disturbing. 
One of the coolest cars I've had was a 1968 Dodge Charger.  I bought the car in 2006.  It had a 383 4-bbl V-8 in it with a 3-speed TorqueFlite automatic.  The license plate read FOR-U-DAD in honor of my father.   However, the idea of owning a 50+ year old car is better than the reality of it, so I sold it in 2020.  It was a real beauty though, in Medium Tan Metallic with a black vinyl top. 

My current stable holds a 2022 Jeep Gladiator Rubicon, a 2010 Dodge Challenger SRT8, and Big Red.  What does the future hold?  I'm not sure.  With the push to battery-electrics, I fear that we're at the end of an era.  A car with an internal combustion engine is almost like a living, breathing thing. Each one has its own idiosyncrasies and "personality."  To me, an electric car is just a soulless appliance, kind of like a smartphone with wheels.  Perhaps I'll change my mind at some point, but I imagine the used car market will remain strong as gas-powered cars become less available and as guys like me continue to seek them out.
Why the Attachments?
So, why do some people become attached to their cars?  I think there are several reasons for this.  For the true gearheads, the ones who really get into the mechanical side of things, they know the ins and outs of their cars like most people never will.  They've had their hands in those machines, and truly enjoy working on them.  Think of it this way: You're more likely to be attached to a house that you built with your own hands than to one you simply bought.  It's the same principle with cars.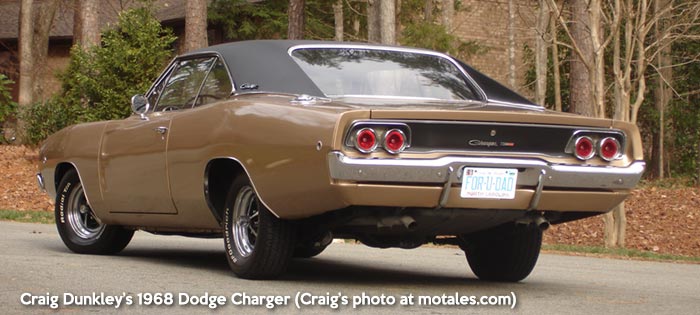 For most people though, the attachment is based on something else.  If you think about it, the car is always there.  When you're a kid, it's how your parents took you to little league practice and the games, to go the store, to go on vacation…to go anywhere.  As you turned 15 or 16, the car became your ticket to freedom.  It was there when you went out with your friends.  It was there when you went on your first date.  It might have been there for other firsts too, if you know what I mean.  The car is your companion each morning and evening as you drive to and from work.  When you got married, you drove away in the car, tin cans dragging behind.  When you brought your first child home from the hospital, you were in the car, probably sweating bullets wondering how you were going to take care of this new baby once you got home. 
The point is, the car is a companion, in attendance for many (and perhaps most) of the major milestones in your life.  It's only natural to associate those milestones and memories—on some level—with the car.  For me, the attachment to Chrysler cars is tied up in all of the things that I mentioned.  They are a part of my extended family's history and my own personal story, even for things as off-the-wall as hot and sticky vinyl seats and faulty carburetors.  They continue to be an integral part of my family's life, always playing their loyal role as my wife, my kids, and I move through the arc of our own history.  They are, for me anyway, honorary members of the family.
Books by MoTales writer David Zatz
Copyright © 2021-2023 Zatz LLC • Chrysler / Mopar car stories and history.