Jeep J90 and JJ: Compact third-world-targeted Jeeps
With the XJ-body Cherokee, Jeep sales suddenly shot up as mainstream customers bought convenient off-road wagons, finally fufilling a dream held by Willys, Kaiser, and AMC. The next step, according to head of engineering François Castaing, would be a smaller, lighter vehicle that would not just compete globally with the successful but flawed Suzuki Samurai, but give Chrysler a new entry into developing markets.
The J90 concept, or "Wrangler Lite," was made at the Renault Jeep Sport (RJS) shop in Livonia, Michigan. RJS was run by John Kent, and Del DeReese was the primary design engineer. Since it was in prototype form in 1986, it was likely started in 1984 or 1985.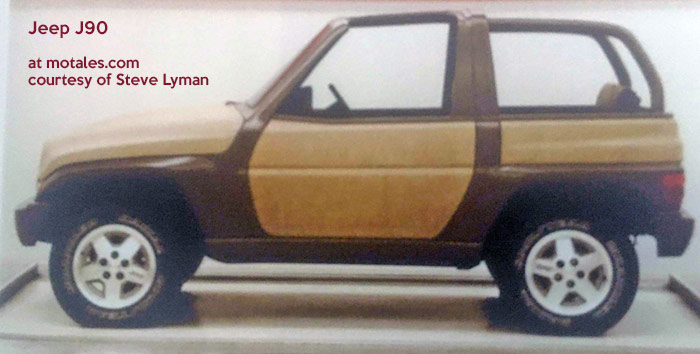 Castaing wanted to create a vehicle that could be built in third-world countries with relatively inexpensive facilities, a desire which led to numerous projects at Chrysler until the company was taken over by Daimler-Benz (he later wrote about this in his autobiographical The China Car). For that reason, the J90 was made of seven modules which could be bolted, glued/bonded, or screwed together with minimal outlay at the assembly-plant level.
Because the J90's Renault four-cylinder (2.0 liter) engine was placed longitudinally (north-south), the halfshafts became the four wheel drive system's front and rear drive shafts, removng the need for a traditional transfer case. Budd provided trapezoidal steel leaf springs which needed no anti-roll bars; and, to save money, two-piece stamped axle housings integrated the tubes. Other design features included a light fiberglass and aluminum body tub, C-channel aluminum frame rails with corrugated aluminum zigzag inserts, toggle locked and bonded together, and a windshield module that included the frame, glass, wiper arms, and motor. The body was bonded together (top, bottom, and windshield).
All this led to a curb weight of just 2,000 pounds, well within the 2-liter engine's comfort zone.
Steve Lyman and the rest of the team evaluated the J90 at AMC's St. Helens offroad facility and its Burlington, Wisconsin proving grounds. They found high potential for the concept, with two major hurdles:
The trapezoidal springs slowly yielded over time, making it impossible to maintain ride heights or ride rates; Steve blamed this on the metallurgy. Budd did the initial R&D at their own cost, but wanted a great deal of money to develop springs that would retain their shape and spring rate over time; and no other supplier was interested in replacing them, at the time.
The open axle differentials and manual transaxle meant that when one wheel lost contact with the ground, the vehicle was disabled.
Steve Lyman felt that the J90's problems "could have been solved. The transfer case technology was a little behind at that time, but it could have been adapted as a single speed unit to save weight and cost over a two speed unit... The potential market for the two-door concept could have been considerable, as a domestic and an export product (using the modular 7 chunk concept with a single main assembly line with spur lines for module sub assembly). The advanced manufacturing group had a floorplan layout of about 7-8,000 square feet and minimal jigs and fixturing required."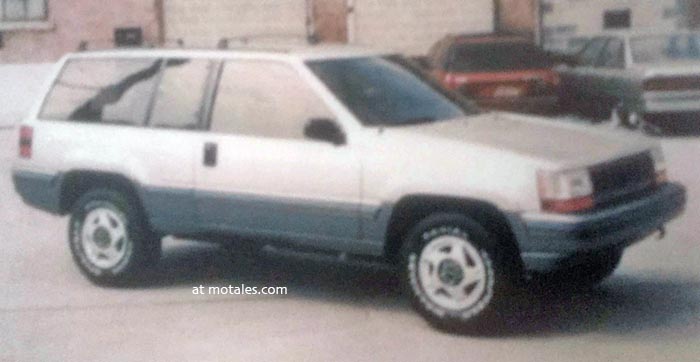 AMC was the first American automaker to invest in a venture in China, Beijing Jeep, which made the "XJ"  Cherokee for years; the J90 could have expanded that foothold, and also given Jeep much more viability in Africa, where Toyota currently dominates.
The second generation Cherokee, coded ZJ, was a smash hit—under the name "Grand Cherokee."
Jeep J90 vs Suzuki Samurai, by Steve Lyman. Our testing of the Samurai was quite timely. While we "bicycled" [lifted both wheels on one side] the Samurai in double lane change and slalom events at the AMC proving ground in Wisconsin, it was in the national news spotlight for the very same reason. It gave little feedback when it was going up on two wheels, where we were catching 12-18 inches of air under the left or right side tires, depending on the maneuver.
The Samurai axles had spherical ball ends instead of conventional uprights, dating back to WW II Japanese military trucks, which made the steering heavy with poor returnability. Offroad, it had fair performance. Its larger tires helped ground clearance, but contributed to the tall center of gravity height (cgh). There was also not enough engine torque, and it had the wrong gearing to traverse grades above 20% or so. It had the same issue on side slopes that it did on pavement—staying on all four wheels.
The Jeep JJ
JJ (nicknamed "Junior Jeep") was to be a light, softly-sprung vehicle that performed offroad around as well as the then-new Grand Cherokee while costing less—by around one quarter to one third. The idea was to have a highly mobile vehicle for third world countries—and an entry-level Jeep for North America.
Unlike the J90, though, the JJ was a four-door, since management felt there wasn't much room in the market for two-doors. Possibly to reduce risk, most of the JJ innovations were replaced by conventional setups. The JJ could probably not be assembled in a pole barn or quonset hut, as François Castaing had envisioned. As Steve Lyman wrote, "I did attend one or two initial meetings with their management team. It was obvious that these gents were looking to build a new vehicle that included none of the J90 concept vision. I am certain that parts bin engineering was employed in their designs and builds, however, I have no details on their bill of material."
The original J90 saved money largely by making the same materials fill multiple roles, and by reducing the need for manufacturing investments. The more-conventional JJ was to save money largely by using existing parts, and by its smaller size. Thus, the JJ would use a conventional transfer case, Chrysler 2.5 liter four-cylinder engine, and Plymouth Horizon five-speed transaxle. The engine was turned 90 degrees (to north-south) to make room for the suspension and a small single-speed transfer case. The length from the crank pulley to the end of the transfer gearing housing was around 26 inches, over five inches shorter than using an AMC four-cylinder, Spicer three-speed transmission, and a New Process Gear transfer case. There were straight axles in front and rear, using exposed axle shafts.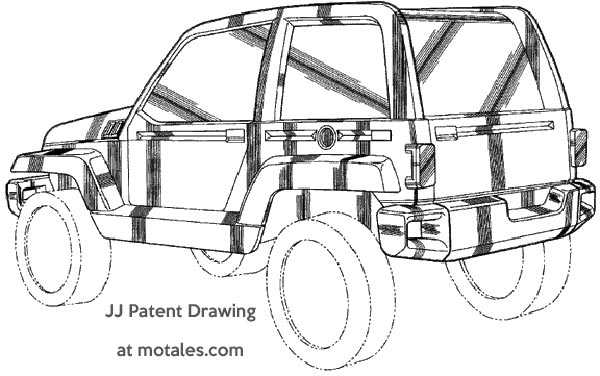 Robert Steven, Release Engineer for Body-in-White, mentioned that the design included T-tops and a glue-and-screw joint at the dashboard to the floor pan. The frame was still "toy tabbed" for assembly, using AM General's experience on the Humvee; the idea was to have 13 modules made by suppliers, put together on the assembly line—without even needing electricity, so it could be made in remote areas.
Bob Sheaves said it could "beat the pants off anything in its class" (mainly the Suzuki Samurai); however, executives felt a new plant would cost too much, and the money was needed for the new 1994 Ram and the Grand Cherokee refresh. What's more, because it could not cross the Rubicon without being towed on one steep section and did not have "the tire static loaded radius to get across" another challenge, many at AMC didn't consider it to be a real Jeep. Then again, the original Jeep MB also needed help to cross the Rubicon trail.
Part of the problem may have been the 29 inch tall tires; 31-inch tires would have hit the wheelhouse. Still, while it didn't meet AMC's target, it did outperform the Rocky, RAV4, and Samuari. The sixty prototypes all met Jeep's durability standards, though everything but the powertrain was new. It could probably pass the later Trail Rated system; while the Rubicon required climbing a 100% (45°) grade, Trail Rating only requires a 60% grade (which is steeper than people can climb while upright).
In any case, the svelte 2,000 pound two-door had become a 3,000 pound four-door with, according to Steve Lyman, sluggish performance from its 100-horse engine. It also lacked adequate yaw damping during transient maneuvers. The project was dropped, and Francois Castaing would take a different approach with his next emerging-markets effort—but that's a story for another day.
Follow us on Post! It's like Twitter, but without ads or Nazis!
Books by MoTales writer David Zatz
Copyright © 2021-2023 Zatz LLC • Chrysler / Mopar car stories and history.