The absolutely insane, rocket-fast Dodge Spirit R/T
Chrysler's turnaround under Lee Iacocca was rapid and stunning; new products based on the company's European holdings, altered by the American engineering crew, turned out to be better suited to most American buyers than Japanese cars. Quality and economy shot up, and Chrysler could do no wrong.
For around four years.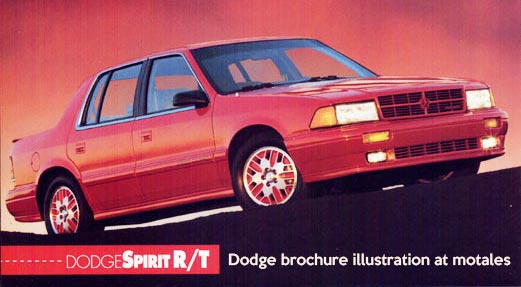 After that, despite hot items like a turbocharged Dodge Daytona, Chrysler seemed to be increasingly resting on its laurels. A series of luxury cars failed; convertibles were hot on the market but the first models had some serious quality glitches; and there was nothing really new and revolutionary coming out. After the 2.2 turbo engine and 1984 minivans, there was a long gap before the Next Big Thing to grab headlines.
Lee knew that performance grabbed headlines and was friends with Carroll Shelby, and the company had plenty of good engineers, so buyers saw a series of Shelby-branded cars converted from standard models. The showrooms, though, relied on more mundane cars, like the Dodge Spirit/Plymouth Acclaim/Chrysler LeBaron midsize sedans. They were reliable, comfortable, mildly dull transportation, built on the sturdy if unexciting architecture of the K-cars (Reliant and Aries).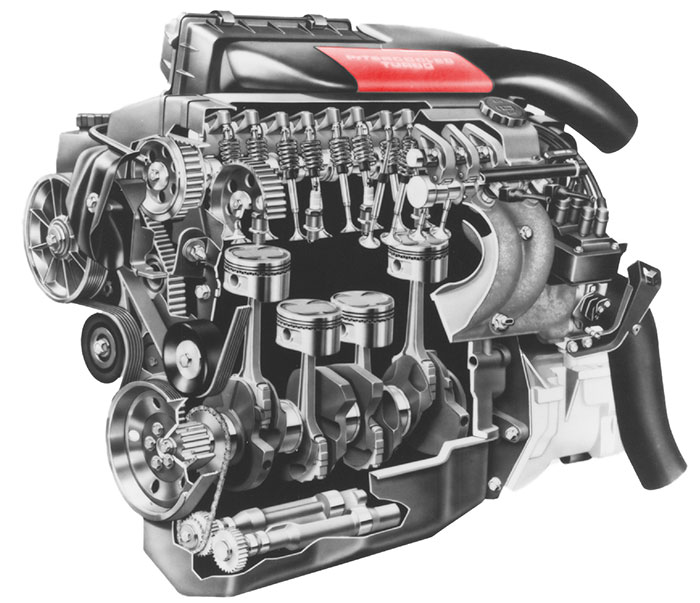 People who were not paying attention to the Shelby Lancer, a hard-riding, higher-performance of the luxurious Dodge Lancer (Chrysler LeBaron GTS), may then have been stunned by the 1991 Dodge Spirit R/T. This five-passenger sedan, sold only in red with a white stripe or white with a red stripe, didn't carry the Shelby brand, but it replaced the typical 100 horsepower four-cylinder or 150 horsepower Mitsubishi V6 with a 224 horsepower turbo engine generating 217 pound-feet of torque.
If Chrysler wanted to say "Every Clark Kent hides a Superman," this was the way to do it. The dull front-drive sedan got a reasonably sophisticated front suspension so it could deal, to a degree, with a sudden flood of torque; and its Clark Kenty 2.2 liter engine, based on one which generated just 93 horsepower, was pushing out 224 horses. The only indication that Superman was in residence were the name badge, the modest and dignified stripe, body-color grille, and a small deck-lid-mounted spoiler. Some may have noticed the P205/60VR15 speed-rated performance tires, but the higher-rate springs, special shocks, and 28.6mm rear sway bar couldn't be seen from the outside.
It was the fastest four-door sedan sold in the United States in both 1991 and 1992, running a quarter-mile time of 14.5 seconds at 97 mph and a top speed of 141 mph. That was a world class time; only two sedans in the world may have been faster, the handmade BMW E34 M5 and Alpina B10, which sold for $59,905 and $109,500. That was far out of the Spirit R/T's price range: it started at $17,820, including air conditioning.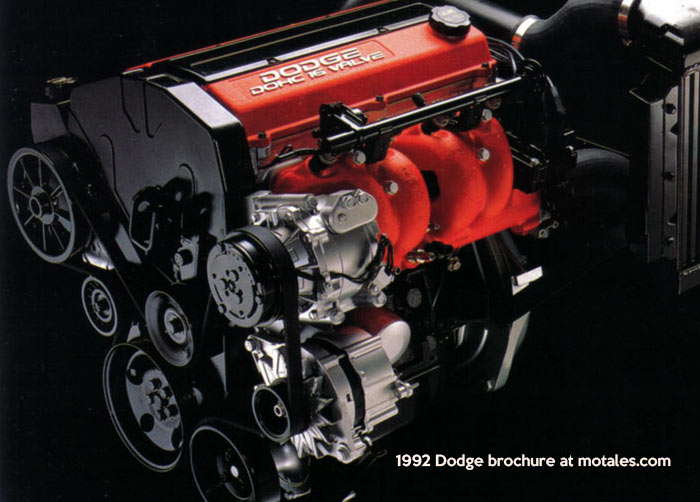 An ordinary owner with ordinary tires could get a certified track time of 14.8 at 96 mph down the quarter mile strip on an ordinary day; and there were a few performance enhancements, as well. A wider mandrel-bent exhaust helped free things up and cut the quarter-mile times, and a fellow named Neil Emiro modified a hefty number of R/T computers to gain a dollop more power.
The suspension came out of the Spirit ES, with performance front and rear shocks, higher spring rates, 70mm progressive-rate front jounce bumpers, and a 28.6 mm rear sway bar. The 15x6 wheels were shod with 205/60R15 Michelin XGTV4 tires. The front roll center was higher than in the ES to respond more quickly to inputs; the caster was higher to track better, and the steering flex was lower. Handling was surprisingly good as a result, other than torque steer. I can personally attest to feeling that the car was stable and under control at speeds of over 100 miles per hour; while Car & Driver tested the cornering to 0.80 g.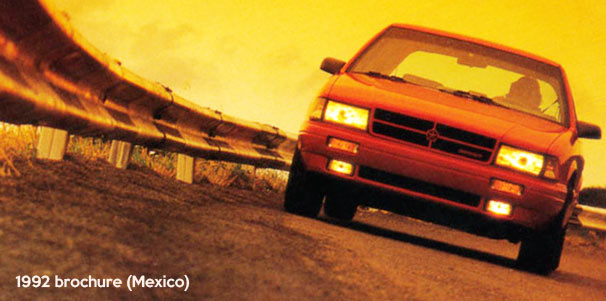 Creature comforts included some items that were new to the Spirit and its sister, the Plymouth Acclaim, for 1991. These included new HVAC controls, a faster defroster with better coverage, the Chrysler-Infinity II audio system (with a graphic equalizer and cassette player), and the overhead console that was optional on lesser Spirits. That had a garage door opener, sunglass bin, map lights, and a compass/outside-temperature display.
The engine was hot, but it was also trouble. Lotus developed the heads, since this was the first engine Chrysler would build with four valves per cylinder (using a double overhead cam). They specified very high valve spring rates to avoid the timing belt problems; and, indeed, when I had a mechanic who put a lower tension onto the belt, it failed within a week.
Ideally, the engine would have a timing chain rather than a belt; but this was not within the space budget or the financial budget. The 2.2 had a timing belt, because turbocharging was not considered when the engine was first created; and so the 2.2 Turbo III would have a timing belt. Owners had to know to get a high quality timing belt, and to retension it after running around 45 minutes to avoid premature breakage. On the lighter side, it was designed as a non-interference setup; I had four timing belt failures and no damage from any of them, other than to my wallet.
The engine had built in balance shafts, like its 2.5 liter cousins; and a charge-air-cooled Garret turbocharger. It was likely the first car in the world with returnless fuel injection; with this design, the fuel pressure regulator was in the tank, rather than under the hood, to cut the number of fuel lines in half. That saved money and prevented leaks and fires. With its multiple-port, sequential fuel injection, the engine idled smoothly.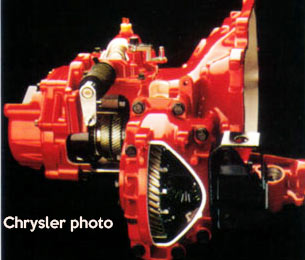 The A-568 five-speed manual was created specifically for that engine; Chrysler's other gearboxes could not handle the torque. Not surprisingly, the clutch action was heavy, and not especially smooth. No automatic was available.
There were problems, as one might expect with a "first of" performance engine that had not really undergone sufficient testing. There was a recall because the antifreeze plugs were iron rather than aluminum. The oil pumps would suddenly bind at random times, not frequently, but once or twice in 100,000 miles is enough; the result can be a broken bracket, stripped shaft gears, or even a snapped oil pump driveshaft. When the original $120 pump ran out of stock, R/T owners discovered they could get an aftermarket model for $30 that ran just as well.
The distributorless ignition system was also a first for Chrysler. It used a coil pack design; to save money, it had one coil pack, first firing plugs 1 and 4 together, and then firing 2 and 3 together. Owners report few problems with these, and similar designs ended up on later cars until coil-on-plug took over.
The cars came nicely loaded for their day, with trip computers, air conditioning, tachometers, cruise control, tilt steering, and remote release trunks; four-wheel disc brakes were also standard. 1991 models were made in just white and red, while 1992 buyers could also get silver; but very few 1992 were made, and silver is quite rare. Mexican buyers could buy 1992 or 1993 Spirit R/Ts while American buyers could buy the 1991 or 1992 models; but they may not have been the same car. The Mexican version may have been available with a regular turbocharged engine as well as the higher-end 2.2 DOHC Turbo III.
The following figures are from a comparison test run by Automovil Panamericano in November 1998. The Spirit R/T is the DOHC model; numbers are much lower than the US versions because of the extreme high altitude of Mexico City. The Grand Prix GTP is a V6, while the Camaro and Trans Am are V8s with four-speed automatics.
| Test | Dodge Spirit R/T | Pontiac GTP | Chevy Camaro Z28 | Pontiac Trans Am |
| --- | --- | --- | --- | --- |
| 0-100 km/h* | 8.00 | 10.84 | 7.89 | 8.28 |
| 0-400 m* | 15.72 | 17.54 | 15.69 | 15.98 |
| Horsepower | 225 | 241 | 352 | 345 |
* 0-100 km/h is 0-62 mph. 0-400m is close to quarter-mile.
Paul Bicknell claimed that Chrysler reported 1,208 1991 Spirit R/Ts being made, out of 93,773 Spirits overall. Only 6,613 sporty Spirit ES (with the 146-hp turbo) were made, and just 6,245 LEs; the rest were base models.
During my time with a 55-mile commute and a Spirit R/T, then with over 100,000 miles, I found the car to be moderately comfortable and roomy; if I tried for gas mileage I could hit 29 mpg regularly, but if I was less restrained, it would plummet. City mileage was around 22 when driven casually and not with performance in mind (EPA rated it at 22/29). The power and mileage balance, incidentally, was better than the tiny Audi TT I drove for around a week at that time. It took premium fuel; it could take regular, but only by cutting back the spark advance, which hurt economy and power. On the lighter side, you could easily outrun the new Contour SVT (V6) while still getting better mileage.
There was almost no power "off the line,"  but the engine would quickly run up to around 2,500 rpm, at which point the turbo whistled nicely and the seat slams into your back. On the highway, power is available within a second or so, still pushing that seat right into your back. Drive aggressively for a while, and you get the kind of V8 gas mileage you thought you'd left behind in the 1970s.
It was a thrilling car at times, but there were problems. Torque steer, for one; hit the gas and the front end sort of floats, you have to aim before you hit the gas pedal. Insurance was fairly steep, parts were more expensive, and with 103,000 miles, a lot of parts broke (oil pump, MAP sensor, timing belts, water pump). In the end, given the length of my commute and the car's habit of failing at work rather than at home, I ended up selling out and moving on. The next owner had better luck.
The Dodge Spirit R/T might have garnered more attention, but another car happened to be shown off at about the same time, though nobody could buy one yet: the Dodge Viper. With Vipers in the picture, the Spirit R/T wasn't appreciate quite as much as it could have been.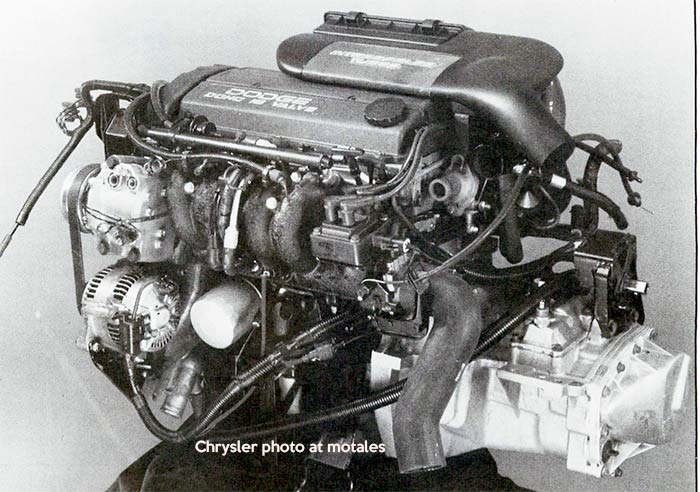 More basic specs: the wheelbase was 103.3 inches, with a 181.2 inch overall length; the overhangs were quite long. The car was 68.1 inches wide and 53.5 inches tall. Headroom was 38.4 inches up front, 37.9 inches in back; total leg room was 80.2 inches. The bore was 87.5mm, with a 92mm stroke; compression was 8.5:1. Output was officially rated at 224 hp @ 2800 rpm and 217 lb-ft @ 6,000 rpm (some sources claim 218 lb-ft; training materials indicated 225 hp and 210 lb-ft in one section and 224/217 in another). The engine's redline came up at 6,700 rpm.
The engines were made in Trenton, Michigan, while the cars were assembled in Mexico, in a plant that later made Neons.
There was some effort to make this engine look as good as it felt; the covers included a red "wrinkle" finish, and the fuel rails and regulator were chromed. A black plastic cover was placed between the camshafts. A brushed aluminum nameplate declared it to be a DOHC 16 valve engine, having an Intercooled Turbo. The cam had solid bearing stands. Bolts, coolant, and oil passages aligned with the standard 2.2 block.
The valves were set at a 29.5° included angle; cross-flow porting helped breathing, as did individual intake runners and divided ports. The combustion chamber was a "semi-hemi"  or pentroof design; the spark plug sat in the center, as you'd expect. The intake valves were 36mm (1.4 inches) in diameter; exhaust valves were 32.5mm (1.28 inches). Valve springs were made of chrome-vanadium steel; the equal-length cams were made from a common casting and driven by a 30-mm-wide glass-fiber-reinforced cogged belt with a manual tensioner.
Injectors were mounted in the intake manifold runners; as noted earlier, they had sequential fuel injection. A 52mm throttle body was large enough to handle the flow. The distributorless ignition system was adopted from the 1990 3.3 V6 engine, and had a head-mounted cam sensor and bell-housing-mounted crank sensor. The block itself was modified with a boss for a crankcase ventilation tube; the connecting rods were similar to those of the 2.2 Turbo IV, but had stronger forged bolts.
The 2.2 Turbo III engine was something of a technological tour de force, with the kind of engineering you'd have expected from Chrysler in its prime: Hemi-style heads, dual overhead cams, sophisticated fuel delivery and spark control, and all portions beefed up to deal with the power on a day to day basis for well over a hundred thousand miles. Financial and possibly size constraints caused some problems (timing belts), and it was never really installed in a car that could handle it well, but the engine was something else; and packed into the five-passenger Spirit sedan, it was simply insane.
Sources: personal experience, Chrysler press and training materials, Allpar.
Follow us on Post! It's like Twitter, but without ads or Nazis!
Books by MoTales writer David Zatz
Copyright © 2021-2023 Zatz LLC • Chrysler / Mopar car stories and history.