Car Spotter: 1914 Dodge Brothers Touring Car
Sussex, a rural town in north-west New Jersey, hosts a living treasure called Space Farms. Space Farms is primarily an excellent outdoor zoo, but there are more than a dozen farm buildings on the site that have displays of everything from antique cars, tractors, toys, taxidermy (mounted animals), farm equipment, and other antique bric-a-brac. I will tell you right off the bat that I love this place and feel very privileged to live only 25 miles from it. For me, Space Farms is a third time-travel, a third Route 66, and a third "the USA before we became so politically correct."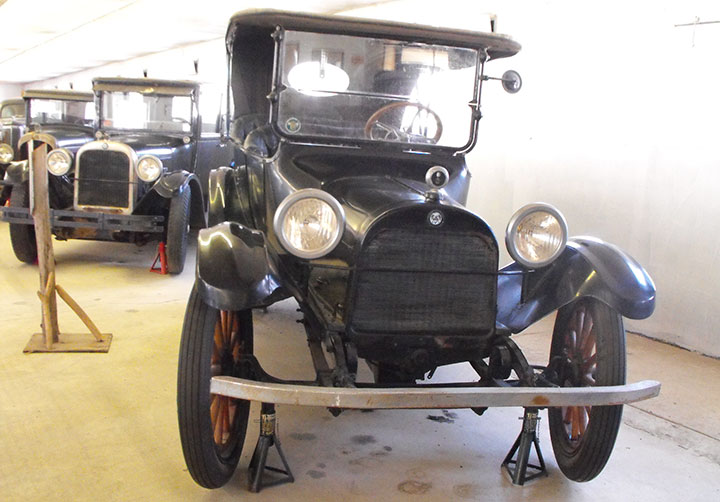 The Space Farms collection began when the Space Family operated a general store and service station on the site. Particularly during The Great Depression and World War II, many of their customers paid for goods or services by bartering items they had on their farms. The Space Family was able to keep enough items to create the large collection on display.
Today I want to show you their Dodge Brothers Touring Car. Space Farms has a few other Dodges, along with antique cars from around the world, but I am drawn to this touring car because of its kinship to my family's Series 1922 Touring Car.
I like to see an old car in most any condition, so I won't argue if the bumpers aren't correct or the rear window isn't a "Cathedral" type. I will take a guess that a previous owner put an aftermarket top and bumpers on the car, and eventually sold or bartered the car to the Space Family. I believe that each car is in the same general condition as the day it arrived here; I don't think Space Farms does restoration. They simply display their collection "as is," and I like the flavor and insight of seeing antique cars as they were actually used.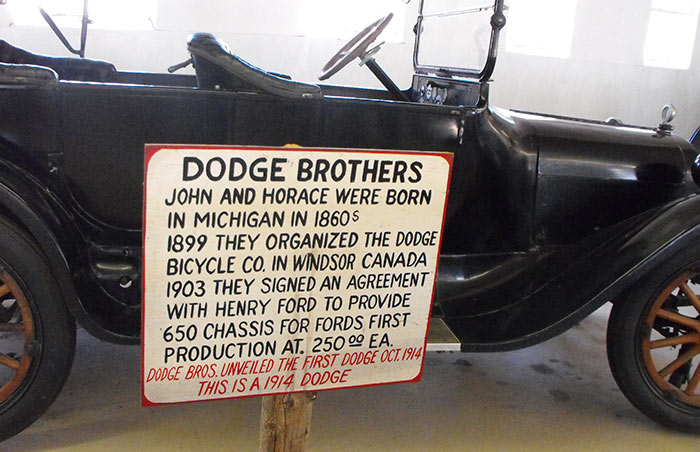 A display sign says this car is from John and Horace's first production year, the fall of 1914. My Standard Catalog of Chrysler 1924-1990 says that 370 serial numbers were assigned to Dodge Brothers cars in calendar year 1914, and the touring car body was the only style available. Standard equipment included a 12 volt electrical system (positive ground), leather seats, folding top, electric lighting, electric self-starter/generator, windshield, speedometer, and demountable rims. My book says that while this car was marketed as a four-door, the driver's "door" did not open.
Options included a spare tire, side curtains, tool kit, running board luggage rack, horn, wind wings, Motometer, manual windshield wiper on the driver's side, spotlight, and wire wheels. The sale price was $785 and the car weighed 2,200 pounds.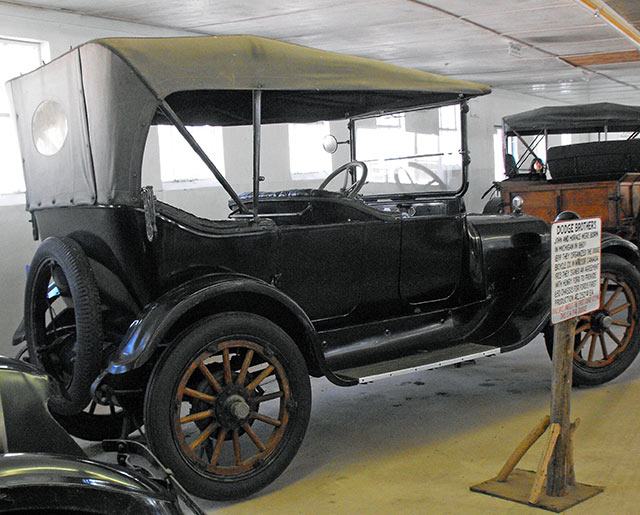 Space Farms is open from mid-April until the end of October. Check their website for dates, times, and photographs of their zoo and museum. I highly recommend Space Farms for a day-trip or vacation stop for anyone from the very-young to the young-at-heart.
---
This story originally ran in the National Chrysler Products Club Journal.
Follow us on Post! It's like Twitter, but without ads or Nazis!
Books by MoTales writer David Zatz
Copyright © 2021-2023 Zatz LLC • Chrysler / Mopar car stories and history.