Stellantis and FCA platforms of the present and future
We are only showing the primary body codes; there are also numerous "offshoot" codes for regional and special uses. There may be errors in this set of listings.
Stellantis platforms
There is a great deal of speculation; nothing below should be considered definite or final, including the car names. Ram 1200 is missing but known to be coming. The motor/electronics modules will be made in Indiana for STLA Large and Frame starting in late 2024, so there are not likely to be big electric vehicles (except ProMaster) from Chrysler brands until then—or early 2025.
STLA Large

Replacing Lx and lengthened CUSW alike, STLA Large will hold a large number of Chryslers, Dodges, and Jeeps, all to be made in Canada as far as we can tell right now. It will also be used by Maserati and possibly Alfa Romeo, and probably DS. Erik Latranyi wrote that Windsor and Toluca (current home of the Compass) will both by STLA Large, while Brampton will be STLA Medium.
The known cars under this platform so far are:
CX? Chrysler Airflow (a direct replacement for the 300)
RV or RW: next-gen Chrysler Pacifica
LB: 2024 or 2025 Dodge Challenger and Dodge Charger, once again with two-door Challenger and four-door Charger (sold in both gasoline and pure-electric forms)
WM: 2030 Grand Cherokee
EJ: Jeep Recon (new independent suspension, BEV-and-possibly-hybrid version of the Wrangler to compete more directly against Bronco, for people who are willing to take a little less rock climbing in return for far better road manners)
STLA Medium
According to Erik Latranyi, STLA Medium is to be made at Brampton.
KM: 2025 "Wagoneer S" (possibly to be a Cherokee on a lower trim and Wagoneer S on a luxury version), a battery-electric sharing nothing with the existing Wagoneer
2026 Compass (currently on SUSW)
Likely several other cars including at least a Chrysler and Dodge crossover
STLA Small
So far this is too far out for specific prognostications, but a replacement for the Dodge Hornet seems likely over the long run, as well as a Chrysler 100 (which may have a better name by then). The Hornet, as a warmed-over Tonale, which is a modified Compass, is likely to see a single-generation run on its current platform. No body codes yet.
STLA Frame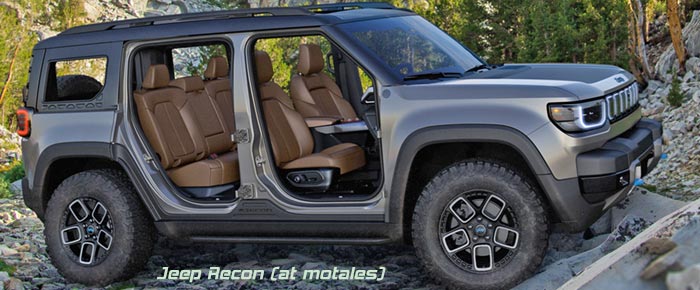 The "platform" of STLA Frame is unlikely to be a single model, but more a philosophy and an attempt to share components and assemblies. It is to include the future JM Wrangler, the future Gladiator (JU?), future Rams (1500, 2500, 3500, 4500, 5500, and possibly 1200), the Wrangler and Gladiator, the Wagoneer, and according to rumor, the Durango.
EJ: Jeep Recon? if it's on a frame
DU: Future Ram 1500 (2027/28 or so)
??: Future Ram 2500, 3500, 4500, 5500 (at least three separate vehicles—Ram 2500 and 3500 have many differences under the cab, and Ram chassis cabs, 3500-5500, are completely different under the cab. The chassis cabs may or may not continue—no word so far either way.)
JU? Future Gladiator (2028 or so)
JM? Future Wrangler (2028 or so)
FCA derived
CUSW (Compact US Wide)
CUSW, a platform/architecture, is loosely based on the Alfa Romeo Giulietta's C-EVO, which was still new when Fiat took Chrysler's reins. American engineers pushed out the length and width of C-EVO, and created space for more suspension movement in the Jeep Liberty. The compact Dart ended up being fairly wide as a result of sharing with the Liberty, 200, and (in theory) Pacifica. Body codes are:
KL: Jeep Cherokee
PF: Dodge Dart
UF: Chrysler 200
RU: Pacifica/Voyager (technically not CUSW but based on it)
Publicly, the company did not say that the RU minivans were based on CUSW; they at least shared some assemblies. There is also now talk of a next-generation RU platform extending the life of the Voyager entry-level minivan.
SUSW (Small US Wide)
Derived from GM/Fiat's SCSS, SUSW came after CUSW, so some lessons were learned. The first SUSW car, the Jeep Renegade, was sent back to the engineers because it didn't meet the program needs, resulting in a two-year reworking. The Tonale and Hornet are based on the Compass, but may not technically be SUSW.
MP: New Compass
BU: Renegade*
FB: Fiat 500X*
Alfa Romeo Tonale and Dodge Hornet*
* USA models made in Italy
Body on Frame
The old DS full-size Ram 1500 pickup continue on as the Ram Classic; the newer models, coded DT, are sold alongside them. The DT is the basis for the WS Jeep Wagoneer/Grand Wagoneer, and presumably the basis for STLA Frame (which is not yet in production, but will reportedly support the Ram 1500, Jeep Wrangler, and Jeep Gladiator).
The Wrangler has a new body code and a new frame—well, both are getting old now, but they were modified some years back from the old JK to fit the eight-speed transmission and 392 V8 engine. Gladiator is closely based on Wrangler.
Bigger Rams have their own body codes and platforms; they may or may not ride on STLA Frame. Eventually the Wagoneer will presumably also move to STLA Frame, along with a future Durango.
DS, DT: Ram 1500
D?: Ram 2500
D3: Ram 3500
JL: Jeep Wrangler
WS: Jeep Wagoneer and Grand Wagoneer
JT: Jeep Gladiator
DM: Ram chassis cabs
Disconnected cars are the Ram ProMaster, which might be dropped and replaced by a new PSA-origin van—or upgraded and run as a completely independent series for quite some time.
Big cars: Lx
The old L-car platforms were meant to have been replaced by now, but they continued on as FCA decided to move them onto a new platform which would first go to Alfa Romeo. That platform has now been dead-ended, and the big cars are finally reaching their final year of production.
LA: Challenger
LD: Charger
LX: 300
Corrections or additions? Tell us about them!

Ram ProMaster Commercial Van
Following the only large front-drive commercial van from 2014 to the present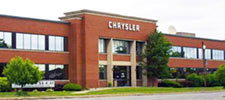 Mopar plants: rumors, what they make, and what they made
September 21, 2023 update including proposed closings, sales

Chrysler rumor wrap / upcoming cars and trucks
Sept. 6, 2023 update

Renegade: Fiat-based Jeeps
Oddly capable little crossovers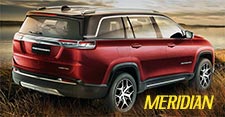 Meridian: Lux Compass with Three Rows
Sorry, it's only in India so far

GSE 1.3 Turbo
Modern "Firefly" Four-Cylinder
Current and future
Follow us on Post! It's like Twitter, but without ads or Nazis!
Books by MoTales writer David Zatz
Copyright © 2021-2023 Zatz LLC • Chrysler / Mopar car stories and history.