Mopar engine ads of the 1960s: slant six and big V8s
This page shows some of the ads Chrysler ran from 1960 to 1970 featuring various engines. We have the slant sixes after the V8s—there are more of them. The basic criteria for being shown are featuring the engine above all else; being actual magazine ads, not brochures; and being in my possession. In most places where the ad copy was unclear, I've posted transcriptions—but you should not necessarily believe it all, especially when they explain the reason for the slant six's 30° tilt.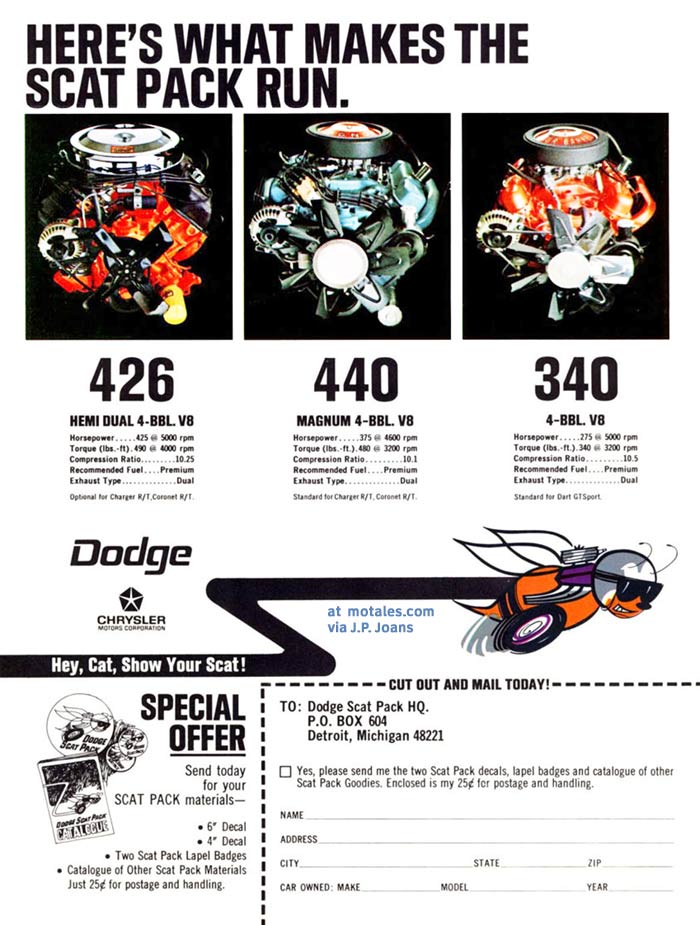 We don't have a higher-resolution image of the 1968 ad above, part of the Scat Pack campaign.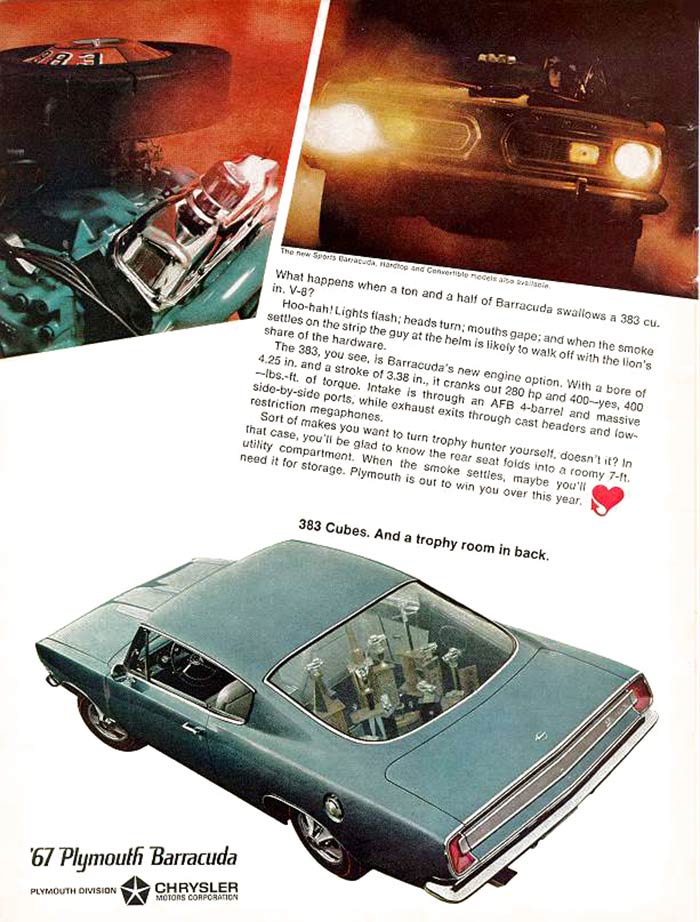 This 1968 Barracuda ad goes into some depth on the 383.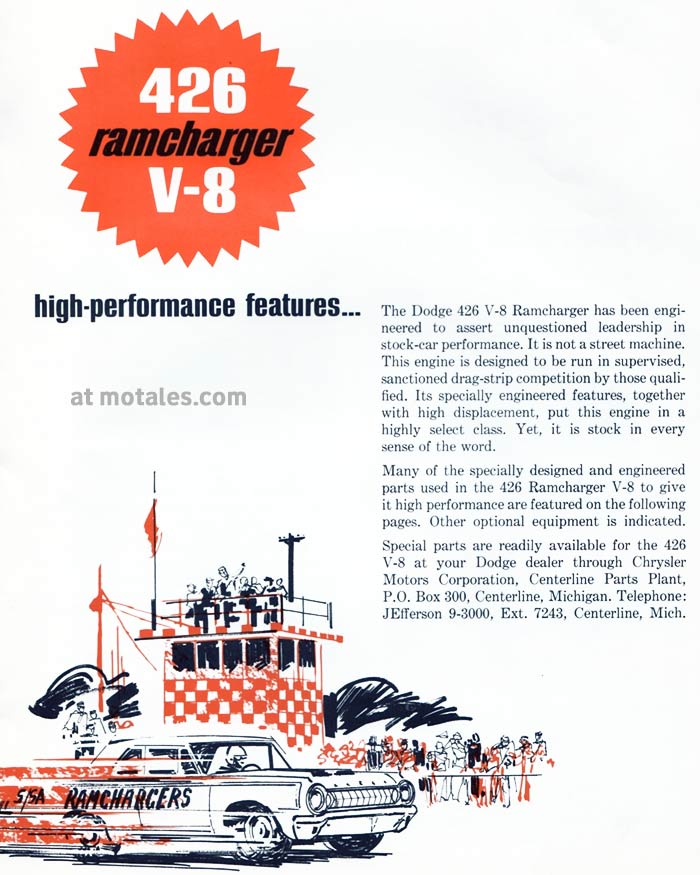 This 1964 ad talks up the new 426 Ramcharger V8 (the wedge, not the later Hemi). The engine was meant for racing, not normal driving, but it was indeed legal to drive on public roads—as long as the owner didn't mind stalling, constant retuning, and other issues; Ramcharger V8s were not meant for traffic and low speed grocery runs.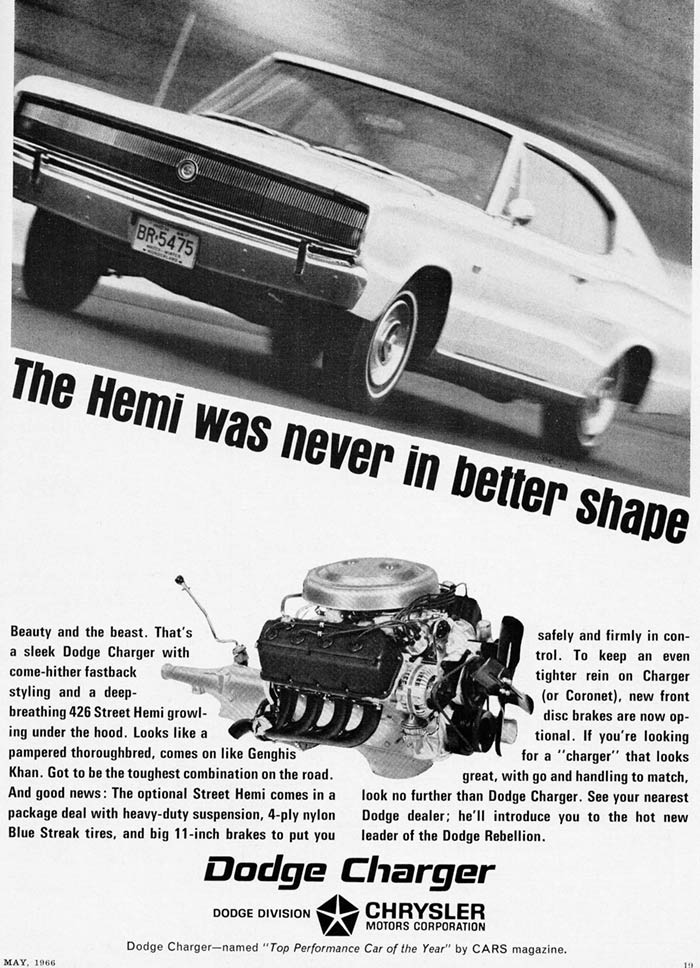 This 1966 magazine ad focused on the new 426 Street Hemi, created strictly for homologation.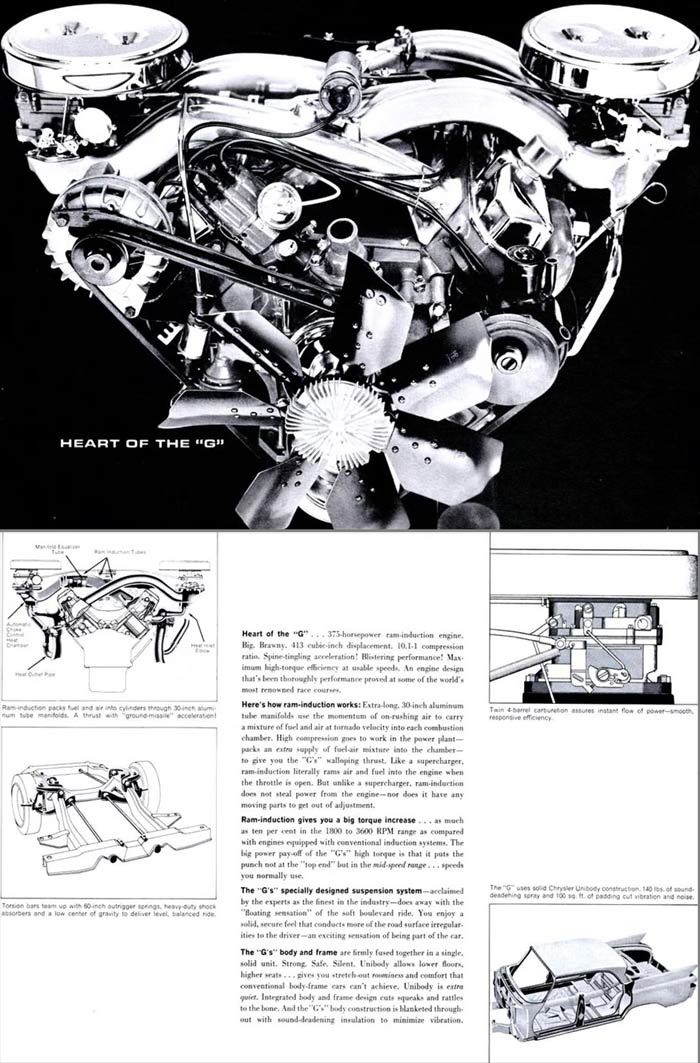 The 1961 300G was a well-rounded luxury-performance car, with world class handling, based on ordinary Chryslers but with a great deal of attention paid to the suspension, brakes, and engine—the latter being the focus of this ad. It used a cross-ram wedge V8 (introduced the prior year) with ram induction which in this case provided a supercharging effect in the 1800-3600 rpm range. That gave it a great deal more passing power than it would ordinarily have, at the cost of some power near redline.
Just the slant sixes (1961-62)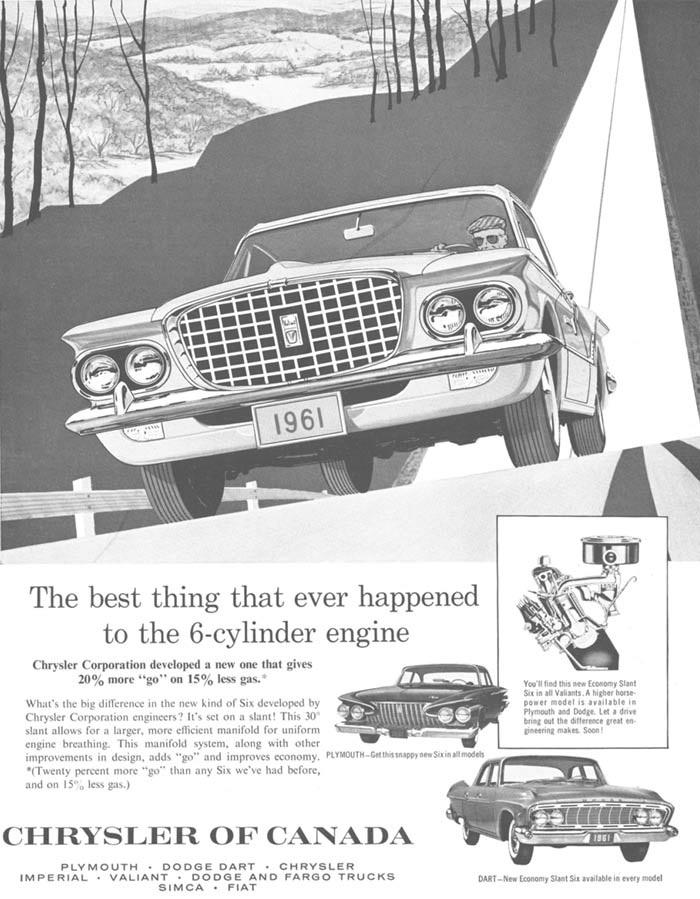 Chrysler Corporation developed a new one that gives 20% more "go" on 15% less gas.*
What's the big difference in the new kind of Six developed by Chrysler Corporation engineers? It's set on a slant! This 30° slant allows for a larger, more efficient manifold for uniform engine breathing. This manifold system, along with other improvements in design, adds "go" and improves economy.
*(Twenty percent more "go" than any Six we've had before, and on 15% less gas.)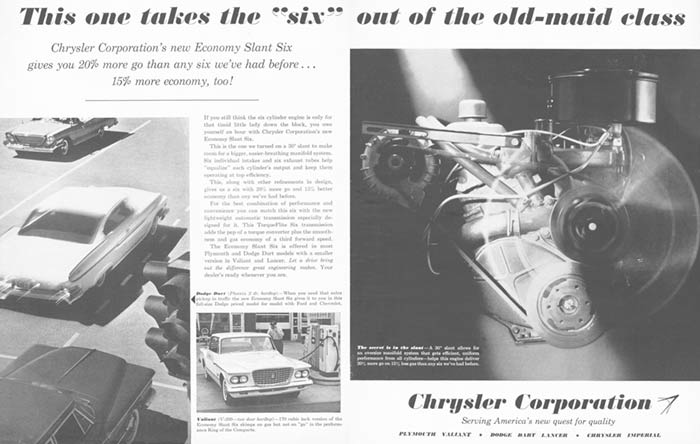 If you still think the six cylinder engine is only for that timid little lady down the block, you owe yourself an hour with Chrysler Corporation's new Economy Slant Six. This is the one we turned on a 30° slant to make room for a bigger, easier-breathing manifold system. Six individual intakes and six exhaust tubes help equalize each cylinder's output and keep them operating at top efficiency.
This, along with other refinements in design, gives us a six with 20% more go and 15% better economy than any we've had before. For the best combination of performance and convenience you can match this six with the new lightweight automatic transmission especially designed for it. This TorqueFlite Six transmission adds the pep of a torque converter plus the smoothness and gas economy of a third forward speed.
The Economy Slant Six is offered in most Plymouth and Dodge Dart models with a smaller version in Valiant and Lancer. Let a drive bring out the difference great engineering makes. Your dealer's ready whenever you are.
Scale slant sixes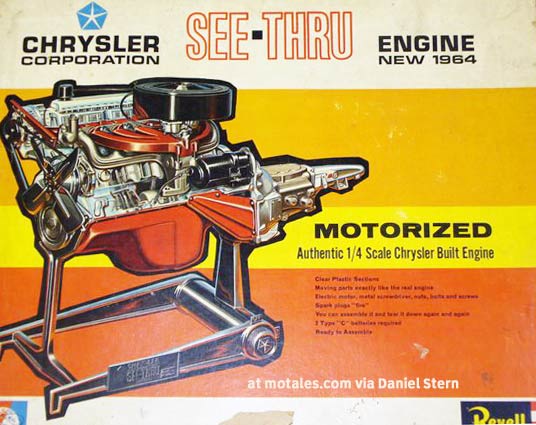 Technically this isn't an ad—it's the box the model comes in. This was a 1964 release; what changed from the earlier ones shown below isn't clear, unless it was the see through section. The ads below were from 1961 and capitalized on the 1960 slant six launch.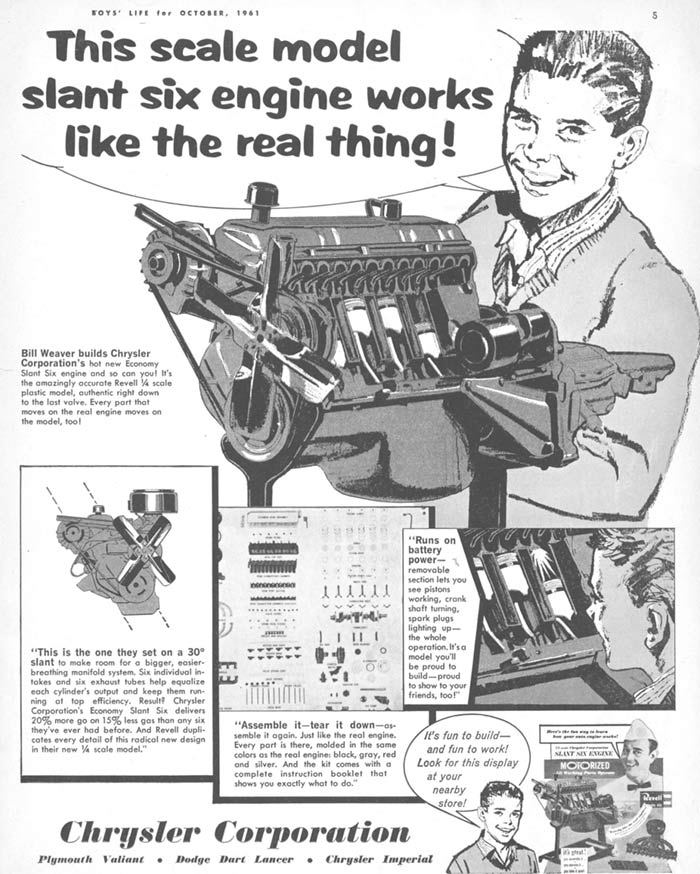 Bill Weaver builds Chrysler Corporation's hot new Economy Slant Six engine and so can you! It's the amazingly accurate Revell ¼ scale plastic model, authentic right down to the last valve. Every part that moves on the real engine moves on the model, too!

This is the one they set on a 30° slant to make room for a bigger, easier-breathing manifold system. Six individual intakes and six exhaust tubes help equalize each cylinder's output and keep them running at top efficiency. Result? Chrysler Corporation's Economy Slant Six delivers 20% more go on 15% less gas than any six they've ever had before. And Revell duplicates every detail of this radical new design in their new ¼ scale model.

Assemble it—tear it down—assemble it again. Just like the real engine. Every part is there, molded in the same colors as the real engine: black, gray, red and silver. And the kit comes with a complete instruction booklet that shows you exactly what to do.

Runs on battery power-removable section lets you see pistons working, crank shaft turning, spark plugs lighting up-the whole operation. It's a model you'll be proud to build—proud to show to your friends, too!
This next ad has quite similar text...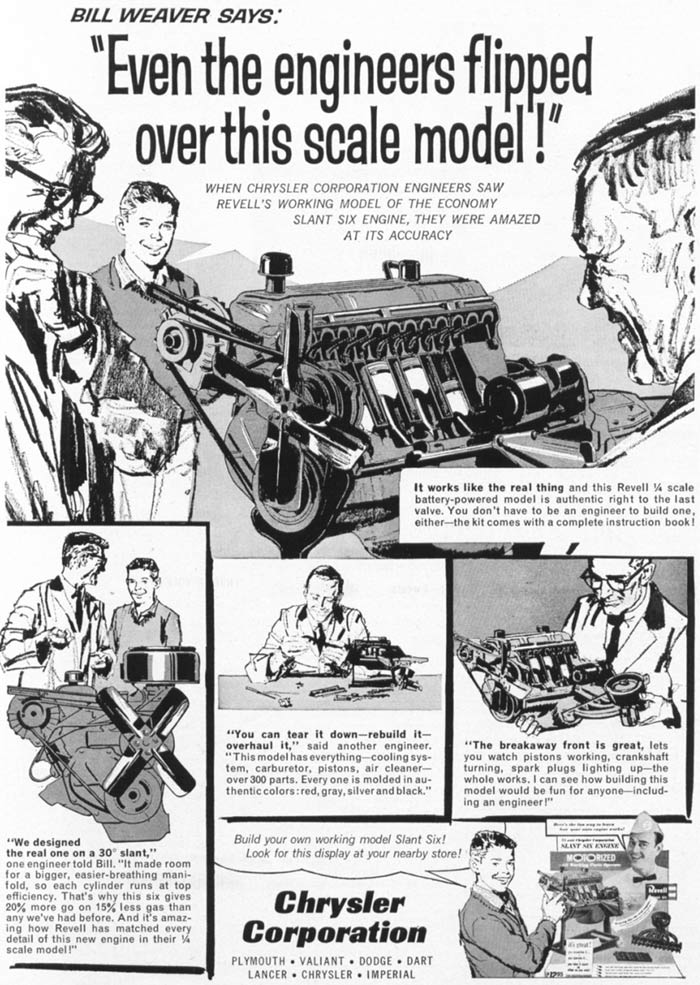 ... but you can read it pretty easily!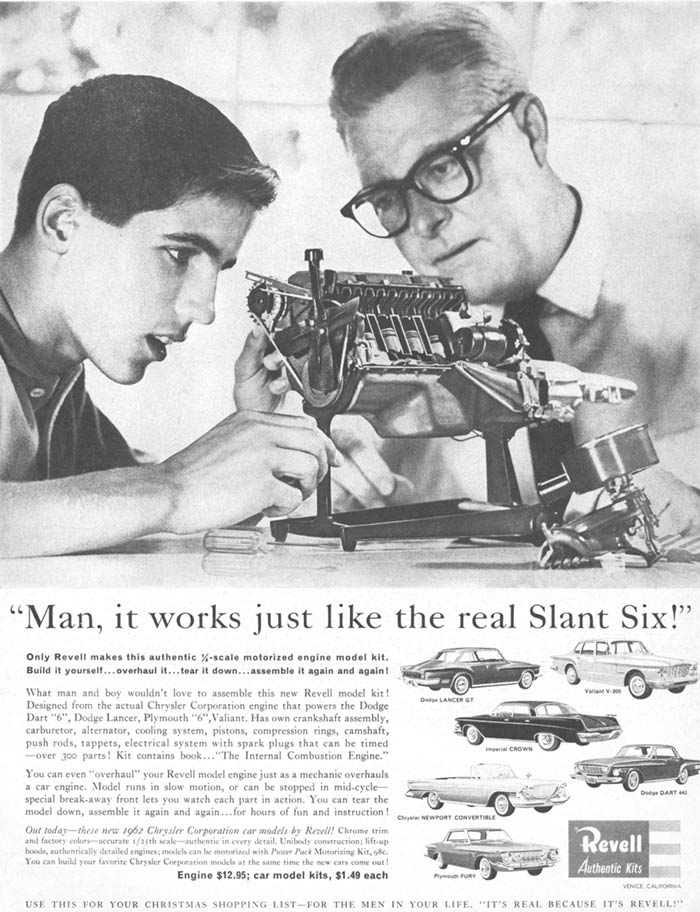 Only Revell makes this authentic ¼-scale motorized engine model kit. Build it yourself...overhaul it…..tear it down...assemble it again and again!
What man and boy wouldn't love to assemble this new Revell model kit! Designed from the actual Chrysler Corporation engine that powers the Dodge Dart 6 Dodge Lancer, Plymouth 6, Valiant. Has own crankshaft assembly, carburetor, alternator, cooling system, pistons, compression rings, camshaft, push rods, tappets, electrical system with spark plugs that can be timed—over 300 parts! Kit contains book... "The Internal Combustion Engine." You can even "overhaul" your Revell model engine just as a mechanic overhauls a car engine. Model runs in slow motion, or can be stopped in mid-cycle-special break-away front lets you watch each part in action. You can tear the model down, assemble it again and again...for hours of fun and instruction!
Out today—these new 1962 Chrysler Corporation car models by Revell! Chrome trim and factory colors—accurate 1/25 scale—authentic in every detail. Unibody construction; lift-up hoods, authentically detailed engines; models can be motorized with Power Pack Motorizing Kit, 98c. You can build your favorite Chrysler Corporation models at the same time the new cars come out! Engine $12.95; car model kits, $1.49 each.
See our 1960 Ads section for more slant sixes!
See other Chrysler materials •  If you are interested in buying brochures or press kits, see our writer's literature for sale list
Books by MoTales writer David Zatz
Copyright © 2021-2023 Zatz LLC • Chrysler / Mopar car stories and history.