Plymouth ads of 1960: slant six, Valiant, and torsion bars
The 1960 model year was stunning for Chrysler Corporation, which leaped forward with a new slant six engine created for a brand new compact car which restarted its global ambitions (and took first through fifth place in the only NASCAR compact car race). The company could also brag about standard alternators, using its own design, and unibody construction across nearly the entire product line. But how could they get the word out? The ads here appealed to emotions, fashions, and technology.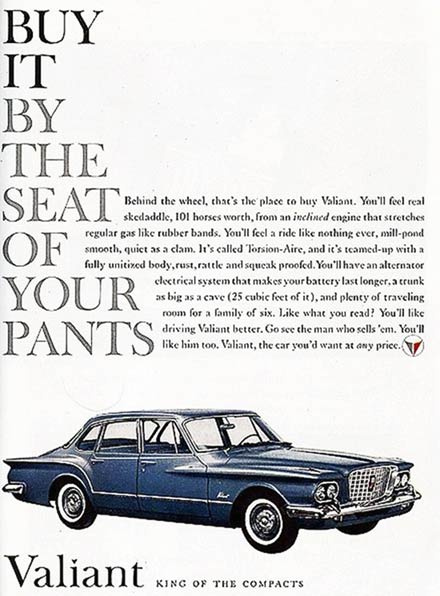 The Valiant was indeed the king of the compacts in 1960 (when this ad was posted), if its NASCAR performance was any indication. It was the prince of the Mopars, with a safer version of the torsion-bar front suspension, new axles with a more modern design, a new engine, and computer-aided engineering; other Chryslers would adopt these features in time. The text reads:
Behind the wheel, that's the place to buy Valiant. You'll feel real skedaddle, 101 horses worth, from an inclined engine that stretches regular gas like rubber bands. You'll feel a ride like nothing ever, mill-pond smooth, quiet as a clam. It's called Torsion-Aire, and it's teamed-up with a fully unitized body, rust, rattle and squeak proofed. You'll have an alternator electrical system that makes your battery last longer, a trunk as big as a cave (25 cubic feet of it), and plenty of traveling room for a family of six. Like what you read? You'll like driving Valiant better... Valiant, the car you'd want at any price.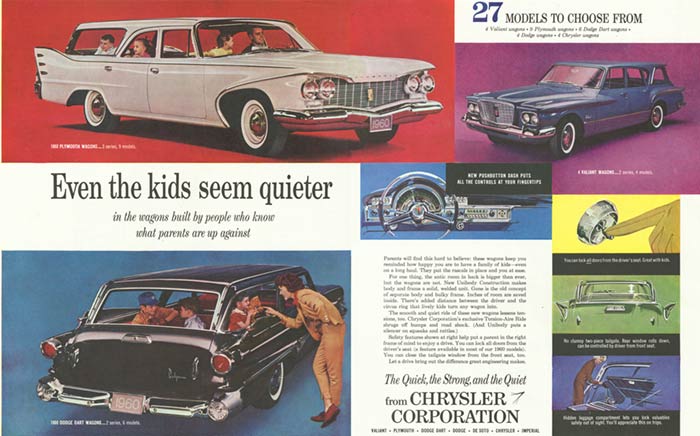 Even the kids seem quieter! Wagons were slow sellers, partly because of their premium pricing, but even the new Valiant came in wagon form. This ad was sent out in both color and black and white; it was a little different in the two formats. The ad pointed to the company's new technologies and safety features—but perhaps you'd like to read the main text:
Parents will find this hard to believe: these wagons keep you reminded how happy you are to have a family of kids even on a long haul. They put the rascals in place and you at ease. For one thing, the antic room in back is bigger than ever, but the wagons are not. New Unibody Construction makes body and frame a solid, welded unit. Gone is the old concept of separate body and bulky frame. Inches of room are saved inside. There's added distance between the driver and the circus ring that lively kids turn any wagon into. The smooth and quiet ride of these new wagons lessens tensions, too. Chrysler Corporation's exclusive Torsion-Aire Ride shrugs off bumps and road shock. (And Unibody puts a silencer on squeaks and rattles.)

Safety features shown at right help put a parent in the right frame of mind to enjoy a drive. You can lock all doors from the driver's seat (a feature available in most of our 1960 models). You can close the tailgate window from the front seat, too. Let a drive bring out the difference great engineering makes.
(The ad did not picture wagons from all the brands, because some were still body-on-frame; all did have torsion-bar suspensions. DeSoto did not have a wagon for 1960 but the brand list was common to all their ads.)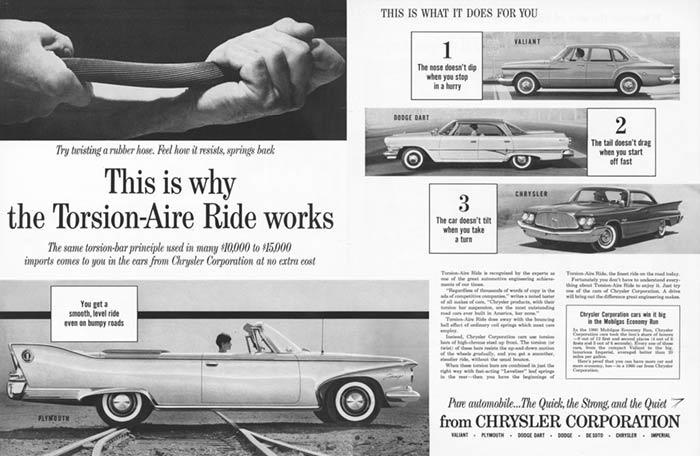 This ad focused completely on the torsion-bar suspension, "used in many $10,000 to $15,000 imports." The three advantages: the nose doesn't dip when you stop in a hurry, the tail doesn't drag when you start off fast (though that was due to the leaf-spring design), and the car doesn't tilt (much) when you take a turn. The little box on the bottom right celebrated Chrysler's success in the Mobilgas Economy Run.
This ad was for the entire corporation, not just Plymouth; the three cars were, top to bottom, the Valiant, Dart, and Chrysler (the big one on bottom was the Plymouth). At this point in 1960, Valiant was technically a separate brand, as was Imperial; and Chrysler still had DeSoto (spelled DE SOTO when in all caps, DeSoto otherwise).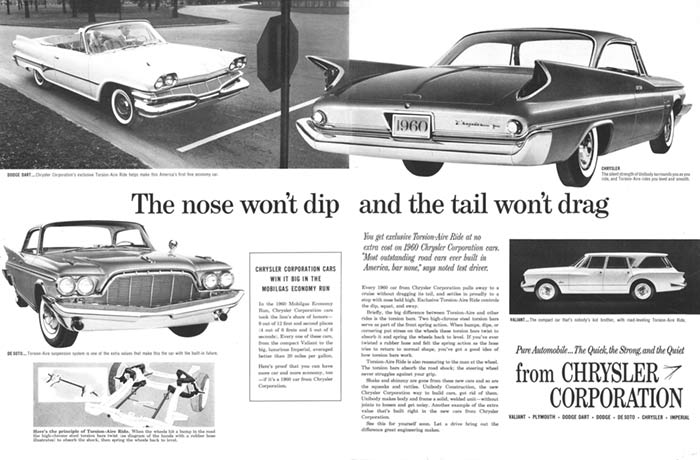 This ad had the same elements, but with a more customer-focused rather than technical focus, and included the unibody construction. The text was:
Every 1960 car from Chrysler Corporation pulls away to a cruise without dragging its tail, and settles in proudly to a stop with nose held high. Exclusive Torsion-Aire Ride controls the dip, squat, and sway.

Briefly, the big difference between Torsion-Aire and other rides is the torsion bars. Two high-chrome steel torsion bars serve as part of the front spring action. When bumps, dips, or cornering put stress on the wheels these torsion bars twist to absorb it and spring the wheels back to level. If you've ever twisted a rubber hose and felt the spring action as the hose tries to return to normal shape, you've got a good idea of how torsion bars work.

Torsion-Aire Ride is also reassuring to the man at the wheel. The torsion bars absorb the road shock; the steering wheel never struggles against your grip. Shake and shimmy are gone from these new cars and so are the squeaks and rattles. Unibody Construction, the new Chrysler Corporation way to build cars, got rid of them.

Unibody makes body and frame a solid, welded unit - without joints to loosen and get noisy. Another example of the extra value that's built right in the new cars from Chrysler Corporation. See this for yourself soon. Let a drive bring out the difference great engineering makes.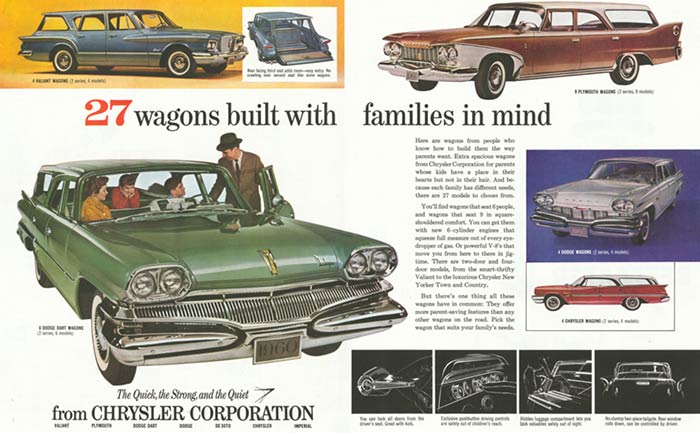 A second ad for wagons; this, too, was delivered in both color and black-and-white. The two versions also used different pictures in the bottom right, and a different view of the green car. It, too, was a corporate ad, not for any particular division.
Here are the wagons from Chrysler Corporation for parents whose kids have a place in their hearts, but not in their hair. Rugged, roomy wagons built the new Unibody way that puts space in its place-inside not out. And because each family has different needs, there are 27 models to choose from.
You'll find wagons that seat 6 people, and wagons that seat 9 in square-shouldered comfort. You can get them with new 6-cylinder engines that squeeze full measure out of every eye-dropper of gas. Or powerful V-8s that move you from here to there in jig-time.
There are two-door and four-door models, from the smart-thrifty Valiant to the luxurious Chrysler New Yorker Town and Country. But there's one thing all these wagons have in common: They offer more parent-saving features than any other wagons on the road. Pick the wagon that suits your family's needs.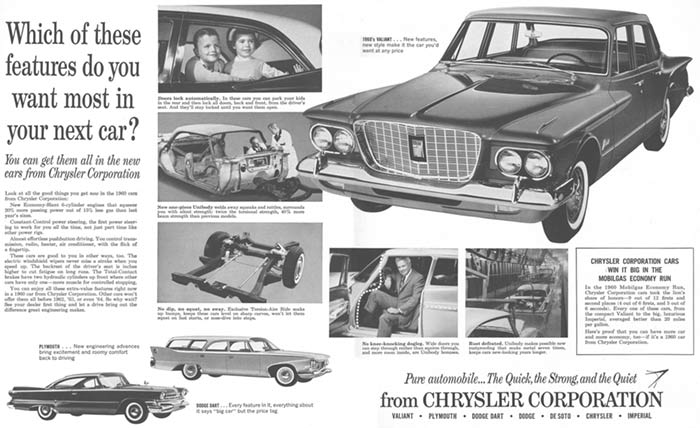 This ad, which aimed to show all the features in the reader's terms, featured seven-soak rust protection (a real and effective system), torsion bar ride, automatic door locks, child locks, unibody construction, and new six-cylinder.
New Economy-Slant 6-cylinder engines that squeeze 20% more passing power out of 15% less gas than last year's sixes.
Constant-Control power steering, the first power steering to work for you all the time, not just part time like other power rigs.
Almost effortless pushbutton driving. You control transmission, radio, heater, [and] air conditioner, with the flick of a fingertip.
These cars are good to you in other ways, too. The electric windshield wipers never miss a stroke when you speed up. The backrest of the driver's seat is inches higher to cut fatigue on long runs. The Total-Contact brakes have two hydraulic cylinders up front where other cars have only one—more muscle for controlled stopping.
As a quick side note—the new six was created for the Valiant; it was originally intended to be just 170 cubic inches, and would have been rather anemic under the hood of a bigger wagon. However, Plymouth chief Harry Chesebrough, who had to authorize its creation, insisted on a more powerful version as well, to replace the old flat-head sixes in other cars. Thanks to him, the 225 cubic inch version could power the wagons and intermediate cars—as well as Dodge trucks. The bigger version was not in the original plans; it took the engine designers about a week to figure out how to stroke the engine (there was no room to increase the bore size). Original slant six story.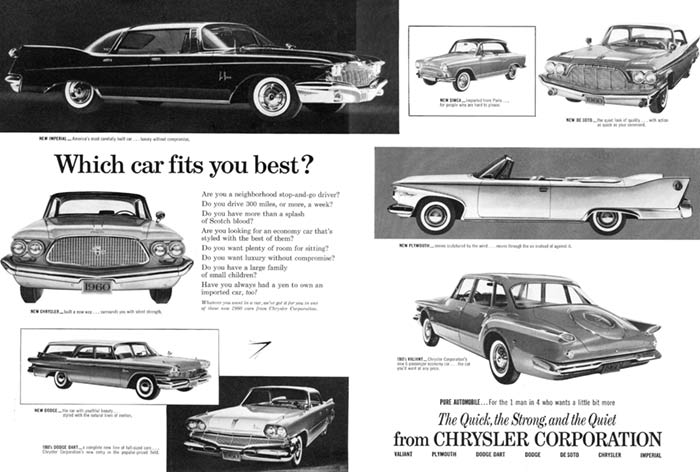 A bit less technical: just showing and describing the SIMCA, Valiant, Plymouth, Dart, Dodge, DeSoto, Chrysler, and Imperial. The biggest car and the biggest picture went to the Imperial, but the Valiant had a place of honor above "the quick, the strong, and the quiet."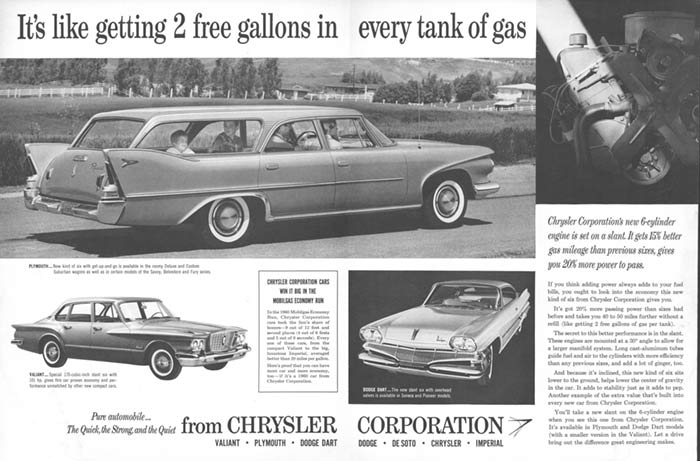 Everyone loves free gas! Though it wasn't quite that simple... This ad highlighted the new slant six engine (shown at top right), developed for the Valiant but used in many other cars:
If you think adding power always adds to your fuel bills, you ought to look into the economy this new kind of six from Chrysler Corporation gives you. It's got 20% more passing power than sixes had before and takes you 40 to 50 miles further without a refill (like getting 2 free gallons of gas per tank). The secret to this better performance is in the slant. These engines are mounted at a 30° angle to allow for a larger manifold system. Long cast-aluminum tubes guide fuel and air to the cylinders with more efficiency than any previous sixes, and add a lot of ginger, too. And because it's inclined, this new kind of six sits lower to the ground, helps lower the center of gravity in the car. It adds to stability just as it adds to pep... (The technical talk may not be entirely accurate; for one thing, the angle was needed to get it into the Valiant.)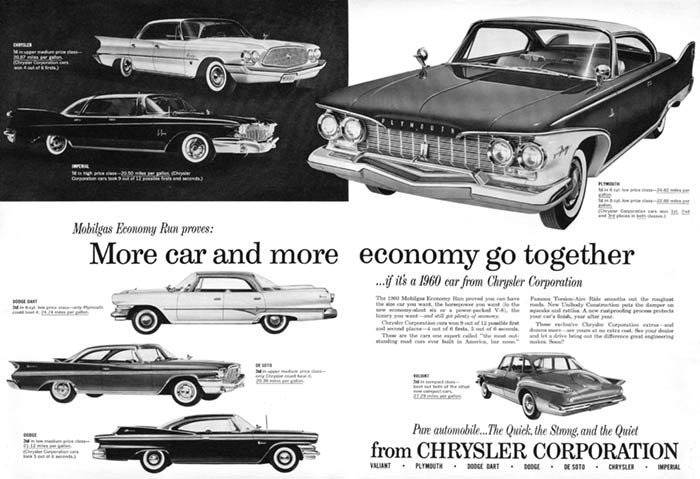 Another economy ad—this time almost focusing entirely on the Mobilgas economy run (featured in boxes in most of the other ads). The cars are shown along with their placement in the competition and their recorded gas mileage, in these days before standardized testing.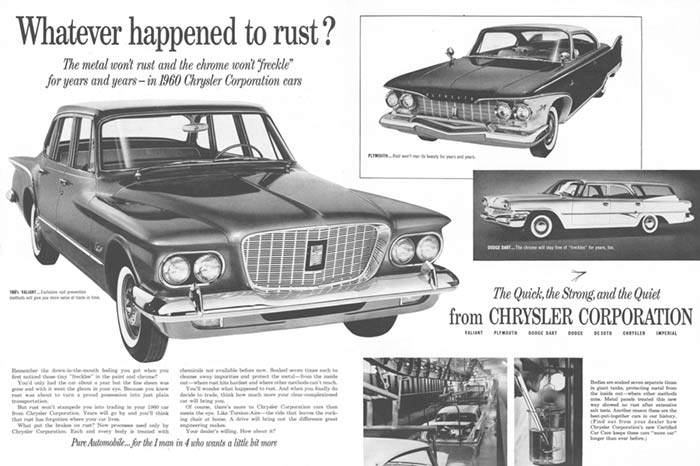 Chrysler Corp. had been devastated by premature rust (and many, many other failures) in the 1957 cars. They quickly addressed these issues; they wanted to truly get the point across with the 1960 models, especially the brand new Valiant. The ad also highlighted improvements to the chrome and tossed in torsion bar suspensions as well.

The bottom right portion of the ad, blown up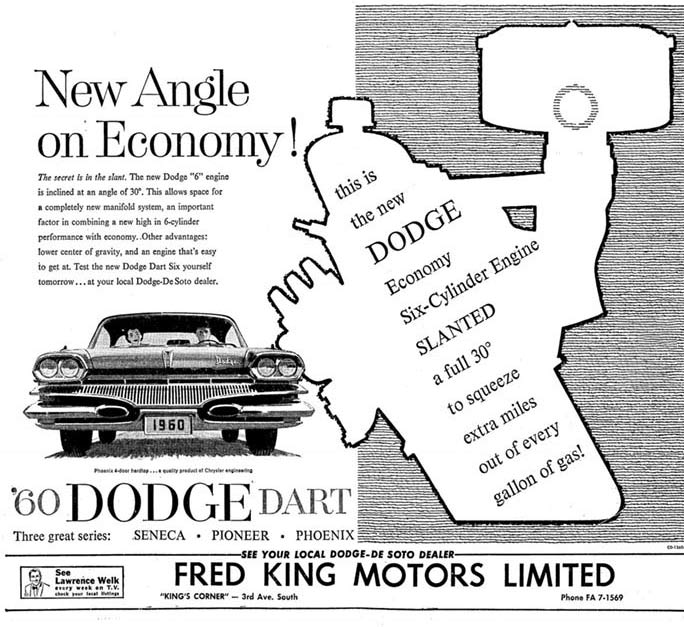 A neat take on the new slant six, as used in the 1960 Dodge Dart; John Rush pointed out the Lawrence Welk Show promotion in the ad—Chrysler Corporation sponsored his show for a long time (along with Groucho Marx's game/chat show You Bet Your Life, which ran from 1950 to 1961, and other TV series).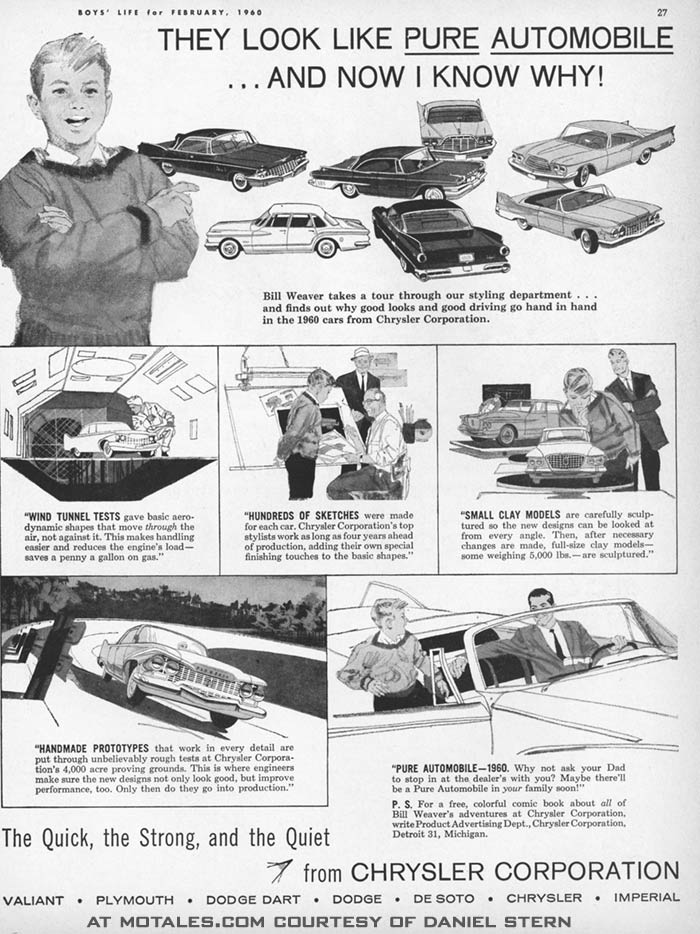 Finally, we have a Boys' Life ad which looks through the styling area and shows some of the design process—including wind tunnel tests (note that the car in the wind tunnel is a model, not an actual car).
Also see Chrysler engines ads of the 1960s
See other Chrysler materials •  If you are interested in buying brochures or press kits, see our writer's literature for sale list
Books by MoTales writer David Zatz
Copyright © 2021-2023 Zatz LLC • Chrysler / Mopar car stories and history.