Often confusing: Dodge truck body codes
Body codes before
There were no truck body codes when I started work at Chrysler in July 1963 in Truck Experimental at the Proving Grounds. If a model line-up had been published, I am sure I would have seen one. I continued workong on trucks in Product Engineering at the Warren Truck Plant until 1969—and still never remember a body designation for any truck.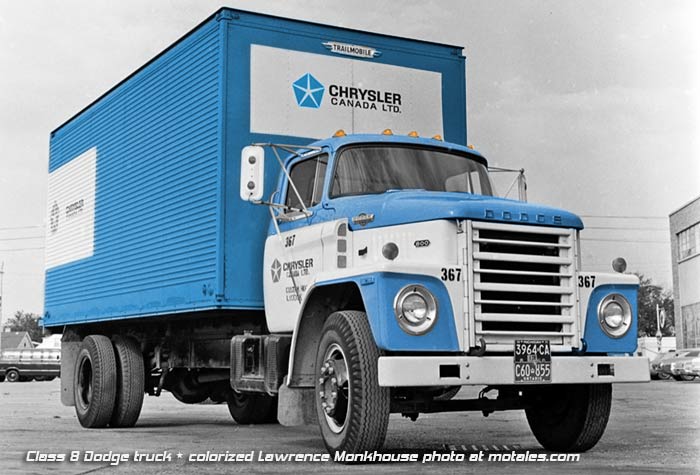 When I started at the Chelsea Proving Grounds, they were building the third (as I recall) A-100 prototype. It was a blue and white wagon with the 273 V8; I believe that a van and an express were already running endurance routes. The "prototype" for engine cooling tests was still out there—a Ford Econoline modified with Chrysler drivetrain.
Unbelievable as it seems, at that time we built the following varieties of Dodge trucks under one roof:
Conventional "D" models, D100 and so on. We often refered to these trucks as the "R" series because they were introduced in 1961 [VINs used letters to represent years; these are often referred to as D/W bodies because four wheel drive versions were named W100, W200, and so on].
LCF (Low Cab Forward) C models with swing-out fenders
Medium Duty Tilt Cab, L6 and 7, which had some common parts with the A-100
Town Wagon and Town Panel, Suburban type vehicles with pre-1961 style bodies
WM3 military style Power Wagon [closely based on a World War II design]
T-245 (full military trucks) when we got an order.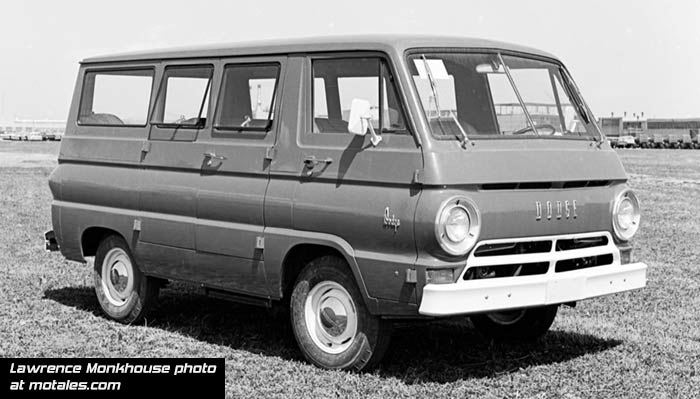 Nearby was the "Compact" building which built the A100 and KDX (Knock Down Export) units. About a mile or so away, we built the heavy duty tilt cabs, L9, L10, LT9, and LT10. I remember the diesel C9, C10, CT9, and CT10 being assembled there too. Cabs for these were assembled at the Warren Plant and trucked over.
The heavy duty "L" cabs had riveted aluminum construction, and were manufactured in Pigeon, Michigan and shipped to the heavy duty plant.
The oldest truck model chart I have is from 1979; it still uses the truck model numbers (D100, B100, etc.) with no designation for body type. In trucks, body codes were unnecessary, because, for the most part, the truck model defined the body.
Body codes from 1989 onwards
Starting in 1989, Chrysler Corporation gave body codes to its trucks as well as its cars. These codes were applied retroactively, so, for example, the B-vans, which had been around since 1971, were dubbed "AB" bodies going back to that time—even though, as Gil wrote, they did not call them that in the 1970s at all. The move was probably taken when Chrysler Corporation acquired American Motors (AMC), which already used two-letter codes; Chrysler cars, such as the P-body (Sundance/Shadow), had an added "A" (AP body) to match AMC.
The bodies assigned retroactively were:
AB: Dodge commercial vans, Ram Van and Wagon, Plymouth Voyager (1974-78), Fargo vans
AD: Dodge trucks—D-100 and up, W-100 and up, Plymouth TrailDuster, Fargo pickups
AF: AD style trucks but in Mexico, in 1993 only
AN: Dodge Dakota, 1987 to 2004
DN: Dodge Durango, 1989 to 2004
Meanwhile, Jeep brought over:
XJ: Jeep Cherokee
MJ: Jeep Comanche (pickup version of the XJ Cherokee)
CJ: the traditional Civilian Jeep, based on World War II military jeeps
YJ: 1987-96 Wrangler
SJ: Grand Wagoneer (née Wagoneer), the "Senior Jeep"
The company moved on and created new vehicles, including:
ZJ: New Jeep Grand Cherokee, originally meant as a second generation "XJ" Cherokee
BR: Second series Ram? The code was applied to 1994-2003 Ram 1500, 2500, and 3500 with standard cabs
BE: Extended? The code was applied to the extended-cab versions of the BR series
TJ: 1997-2006 Wrangler
JK, JL: Wrangler, 2007 to present
KJ: 2008-12 Liberty (originally meant as next-gen Cherokee) and Dodge Nitro
KL: 2014 and newer Jeep Cherokee
WJ, WK, WK2, WL: 1999 and newer Jeep Grand Cherokee
XK: Jeep Commander
HB: Dodge Durango (2007 to WK version)
HG: Chrysler Aspen (same vehicle as Durango)
DR: 2002-newer Ram 1500, 2003-newer Ram 2500-3500
DE: Extended cab version of DR
DA, DC, DD: Ram Chassis Cabs (various capacities, years)
In the 2000s, the body codes were used somewhat differently. The Ram 3500, for example, took on the codes D1, D2, and D3 starting in 2003 and changing with each generation. This is an incomplete list:
D1- Ram 3500 (2003-2009)
D2- Ram 3500 (2010-on)
D3- later Ram 3500
DA- Ram 4500/5500 cab chassis
DC- Ram 3500 Cab Chassis (2007-09)
DD- Ram 3500 Cab Chassis (2010-on)
DH- Ram HD Regular, Quad cab / 1500 MegaCab / Ram 2500 (2003-09)
DJ- Ram 2500/3500 (2010-on) (also, historically, Jeep Dispatcher, 1955-1982)

DM- Ram 4500/5500 cab chassis
DN- Durango 1st gen (1998-2003)
DP- Ram 4500/5500 (2010-on)
DR- Ram 1500 3rd gen (2002-2008)
DS- Ram 1500 4th gen (2009-on; Classic from 2019-on)
DT- Ram 1500 (2019-on)
DX- Ram (2005-2016, Mexico)
DY- Ram (2010-up?, Mexico)
This does not include the commercial van versions of the Caravan/Grand Caravan, which had the same codes as standard minivans (e.g. AS, RS, NS). DE-through-DG, DU-through-DW, and DZ remain unassigned.
Follow us on Post! It's like Twitter, but without ads or Nazis!
Books by MoTales writer David Zatz
Copyright © 2021-2023 Zatz LLC • Chrysler / Mopar car stories and history.