What did people think of the 1971-72 Mopars? (Dodge, Plymouth, Chrysler)
1971 was the final year of gross horsepower ratings and the end of the Hemi era, but muscle cars were still alive and well in 1972. Both years are highly regarded by Mopar muscle fans and by many vintage car enthusiasts, but what did customers think of Chrysler's lineup at the time—compared with other cars?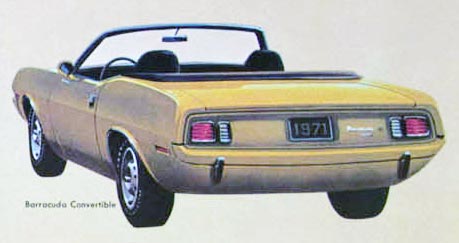 Customer loyalty: If a Valiant buyer bought another Plymouth, he or she would be considered "loyal." 
Generally, Chrysler had lower customer loyalty in those years. Chevrolet had an enviable 77% loyalty rating for ordinary low-priced cars in 1971, 76% in 1972. Ford came in next with 71% in 1971 and 69% in 1972. Plymouth was far below, with 60% owner loyalty for both years. In medium-priced ordinary cars, Buick dominated, followed by Oldsmobile and Pontiac, for both years. Dodge and Chrysler came out on the bottom in both years, beaten even by Mercury.
|   | Fall 1969 | Fall 1970 | Fall 1971 | Fall 1972 |
| --- | --- | --- | --- | --- |
| GM | 77% | 59% | 76% | 75% |
| Ford | 66% | 73% | 66% | 63% |
| Chrysler | 67% | 68% | 60% | 61% |
| AMC | 42% | 46% | 56% | 42% |
In luxury, Imperial was second to last in 1971 and dead last in 1972, despite being highly regarded by car reviewers—perhaps because Imperial placed more emphasis on handling and less on ride, which would satisfy car reviewers but not average customers.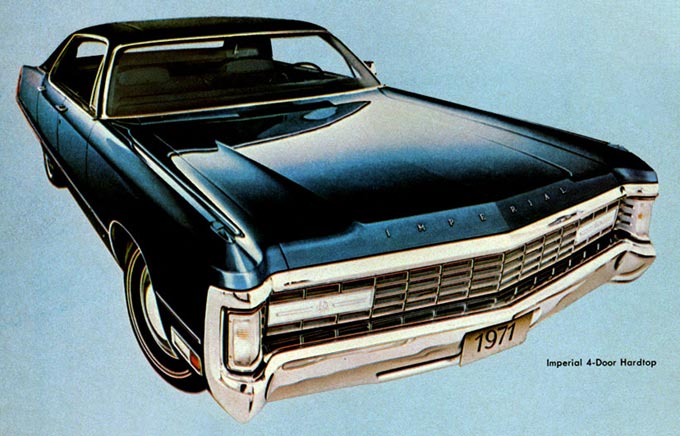 Among the cars most fondly remembered today by the typical car enthusiast were the "specialty compacts." Here, the Firebird dominated with a 70% customer loyalty rating in 1971—but just 61% in 1972, still above all others. The similar Camaro came in at #2 in both years—66% and then 58%. The Barracuda and Challenger "E-bodies," not surprisingly given their fit and finish problems and warranty repairs, came in at the bottom in 1971, with 39% for Barracuda and 38% for Challenger. For 1972 both did better—the Barracuda shot up to #3 in the class, and the Challenger improved a bit.
|   | 1971 | 1972 |
| --- | --- | --- |
| Pontiac Firebird | 70% | 61% |
| Chevy Camaro | 66 | 58 |
| Mercury Cougar | 51 | 52 |
| Ford Mustang | 50 | 52 |
| Plymouth Barracuda | 39 | 55 |
| Dodge Challenger | 38 | 43 |
While Consumer Reports and others preferred Valiants (including Dusters) and Darts (including Demons), buyers were more loyal to the Chevy Nova in 1971—the Nova had a 66% customer loyalty rating, compared with 61% for Valiant and just 58% for Dart. They did beat Ford by a good margin—the Maverick and Falcon together had a 54% loyalty rating. For 1972, the Valiant and Dart beat the Nova, and Ford dove—the numbers were, in order, 64% (Valiant), 61% (Dart), 60% (Nova), and 41% (Ford). Keep in mind, as you read this, that the Nova and Dart were primarily economy cars, not muscle cars. There were high-powered Novas and Darts and Dusters, but nearly all of them had straight sixes or economy V8s.
GM loyalty fell across the board in 1972 due to a strike. Ford had major issues in the early 1970s with rust in the Pinto and Maverick. AMC, which wasn't even considered in most of their comparisons, did not have a large enough product line to allow as much customer loyalty.
|   | 1971 | 1972 |
| --- | --- | --- |
| Chevrolet Nova | 66% | 60% |
| Plymouth Valiant and Duster | 61 | 64 |
| Dodge Dart and Demon | 58 | 61 |
| Ford Maverick and Falcon | 54 | 41 |
The most profits were often with the "intermediate" or midsized models; they were priced well above the compacts but still sold in large numbers. Chrysler fared poorly with these as well; GM, as usual, did quite well for the most part. John Rush commented that the 1971 redesigns may have lost Chrysler a good deal of loyalty, because they had been quite unique into 1970, but the 1971 models looked more like copies of GM cars.
|   | 1971 | 1972 |
| --- | --- | --- |
| Chevrolet Chevelle | 74% | 70% |
| Olds Cutlass | 74 | 73 |
| Buick Skylark | 74 | 73 |
| Dodge Coronet | 70 | 67 |
| Pontiac LeMans | 66 | 62 |
| Plymouth Satellite | 64 | 59 |
| Ford Torino | 58 | 62 |
| Dodge Charger | 54 | 44 |
| Mercury Montego | 48 | 53 |
Looking just at overall opinions of the new cars, the figures are similar. Oddly, here Ford did quite well in compact (Comet, Maverick) and Specialty Compact (Cougar), despite doing poorly in loyalty.
The Mopars are near the bottom in both years, whether we're looking at muscle cars (Barracuda, Challenger), compacts (Valiant/Duster, Dart) or midsized cars (Coronet, Charger, Satellite). Plymouth as a whole, oddly enough, did manage to beat Chevrolet, but Dodge and Chrysler nailed the bottom of the medium-priced line, and Imperial was the bottom of the luxury line.
Compact cars, order of opinion: Comet, Maverick, Hornet, Dart/Demon, Valiant/Duster, Venture II
Specialty compact: Cougar, Firebird, Javelin, Mustang, Barracuda, Camaro, Challenger
Midsize: Cutlass, Matador, Torino, Skylark, Sebring, Montego, Coronet, Charger, Chevelle, Satellite
Low priced large: Ambassador, Ford, Plymouth, Chevrolet
Large: Mercury, Buick, Oldsmobile, Pontiac, Dodge, Chrysler
Luxury: Lincoln, Cadillac, Cadillac, Imperial
We know the Mopars had the best engineering, the best powertrains, and the greatest long-term durability; so what was the problem?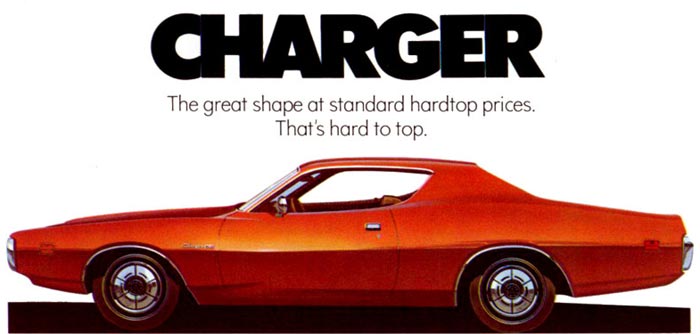 There were a number of places where customer ratings were lower for the Mopar brands than the equivalent Fords and GMs. For example, wind noise was a major issue for the Dart, Satellite, Chrysler, and even the Imperial. Customer perceptions of overall quality—which translates to fit and finish—was lower for the A-bodies and the Chrysler and Imperial, which may not be surprising for anyone who owns a '70s A-bodies (my 18,000-mile Valiant's issues include misaligned tail-lights, cracked interior trim, and a glove compartment door that rubbed paint off the dashboard, which you can see a couple of images down). Water leaks were a problem with the bigger cars.
Other areas where Chrysler had lower ratings than Ford or GM included window operation, rear visibility (on every car other than Dart and Coronet), overall quietness (every car other than A-bodies, Sebring, and Imperial), and squeaks and rattles (Satellite, Coronet, Charger, Chrysler, Imperial).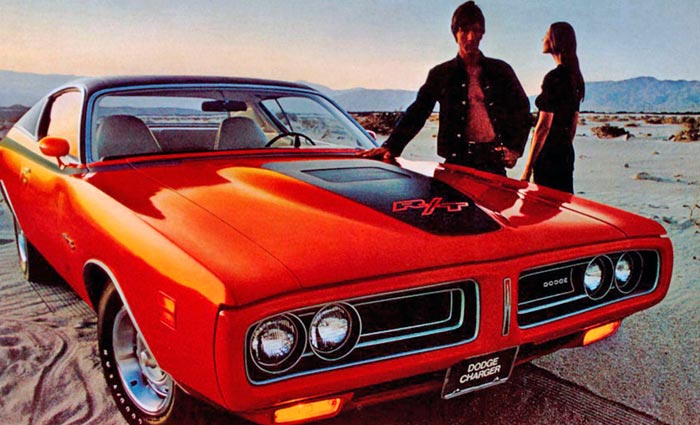 Chrysler was rated above average in a few areas—water leaks on Coronet and Charger; window operation on Satellite Sebring; and rear visibility on Dart.
Customers also rated Chrysler cars generally higher on trunk space, cost of operation, and passing acceleration. Nearly all the cars were rated above average on these, though Valiant/Duster was rated lower on over-45-mph pickup, headroom, and rear legroom. The Imperial was rated higher than all competitors except in front headroom and standing start acceleration.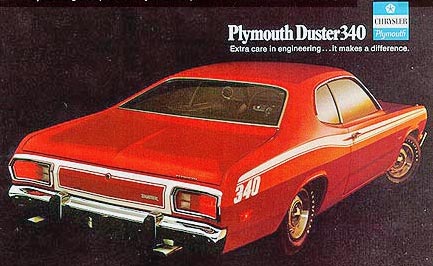 What about 1973, you may ask? Chrysler's market researchers had shown groups the upcoming cars and gauged purchase preferences. The Plymouth Fury and Dodge Monaco were both at the bottom of their classes; the Fury III was at the bottom of the equivalent two-doors, and the Dodge Polara was between the Pontiac Catalina and Mercury Monterey.
In small cars, the Duster was below Nova and Maverick. Across the board, indeed, Chrysler had the lowest intent to purchase for 1973, other than Coronet coming in between Montego and Le Mans (which was substantially lower), and New Yorker coming in fourth out of five big four-door cars. (It's worth noting that Chrysler compared itself not with Cadillac or Lincoln, as many would later assume; its competitors in four door cars were the Buick Electra, Olds 98, Mercury Marquis, and Pontiac Grandville).

According to interviews, the main problems were appearance and execution—fit and finish, assembly quality, and such, as well as styling and trim. The issues were generally not structural, though the add-on air conditioner vents of the Valiant probably hurt a little. (Here it's worth noting that the Duster did top the Nova, Olds Omega, and Ford Maverick.)
In addition, a wide range of problems had to be resolved:
Wind noise and other noises
Interior and exterior fit, finish, and color matching
Squeaks and rattles
Water leaks
Air conditioning reliability and performance
Starting and drivability
Window crank effort
Fix loose metal, solder joints, door openings, and such
Better radio sound
Switch, coupling, and motor reliability
Better temperature regulation
Better directional stability
It was impossible to fix these issues on so many vehicles with so few people. It was possible, with a great effort, if they could focus on fewer cars. That led a variety of departments to ask senior managers to focus on a fewer number of cars, while doing them far better—see our report on that report.
Perhaps increasing sales across the industry made the executives complacent—after all, as John Rush pointed out, 1973 would have the highest production for U.S. vehicles up to that point.
What would have happened if Chrysler's leaders had acquiesced? It's likely they would have powered through the 1970s in much better shape, but it's also possible they would not have needed to bring in Lee Iacocca, and would eventually have stumbled without having fixed key organizational issues. That seemed to require buying American Motors (AMC) and having the "AMC way" permeate Engineering. Then again, perhaps, if they had focused on fewer cars, newer methods would have come organically. That branch if history remains an unknown.
Follow us on Post! It's like Twitter, but without ads or Nazis!
Books by MoTales writer David Zatz
Copyright © 2021-2023 Zatz LLC • Chrysler / Mopar car stories and history.